The Rawson Lake hike or snowshoe in Alberta's Peter Lougheed Provincial Park is one of a few that you can do year-round (though summer and winter are better than the shoulder-seasons), no matter what the weather throws at you.
You can knock it off in half a day – whether you hike it in summer or snowshoe it in winter. It's family-friendly if your kids are regular hikers and are 8 years of age or older.
If you want to do a full day of hiking in summer, you can add in the hike-scramble to Sarrail Ridge or the full loop hike around Upper Kananaskis Lake.
The hike to Rawson Lake starts by Upper Kananaskis Lake, so many of the cars you see in the parking lot are filled with people enjoying the area. Still, it's a popular hike and as such is at its best on weekdays when there are fewer people.
This post includes some affiliate links. If you make a qualifying purchase through one of these links, I will receive a small percentage of the sale at no extra cost to you. Thank you very much for your support.
Rawson Lake hike or snowshoe summary
Distance: 7.8 km (4.8 miles) round-trip, 11.3 km (7.0 miles) round trip to Sarrail Ridge
Elevation gain: 300 metres or 984 feet plus another 355 metres (1164 feet) to Sarrail Ridge
Time needed: 2.5 – 3.5 hours to do the return Rawson Lake hike
Level of difficulty: Easy to moderate depending on what sort of shape you're in
Best time to go: The Rawson Lake hike is great on a year-round basis for hikers and snowshoers. In summer, it's ideal from June until October and in winter from late November through till early April but it can be hiked year round. In the winter if it hasn't snowed recently, the trail is packed down, so you don't need snowshoes though poles come in handy.
Family friendly: Yes, for kids about 8 and older
Dogs allowed: Permitted on a leash.
Route finding: Easy – lots of signage
Outhouses: One in the parking lot and one at Rawson Lake
Fishing: There is catch and release fishing for cutthroat in Rawson Lake from July 16 – October 31.
Rawson Lake elevation: 2,025 m or 6,644 feet
Sarrail Ridge elevation: 2380 m or 7,806 feet
Trailhead location: The trailhead of the Rawson Lake hike is at the Upper Kananaskis Lake parking lot in Peter Lougheed Provincial Park.
Map: Gem Trek Kananaskis Lakes or use a hiking app like Organic Maps that works offline.
Backcountry camping: No, but there is nearby front-country camping. Read A Complete Guide to Camping in Kananaskis.
Permits: You will need a Kananaskis Conservation Pass to access Rawson Lake.
Trail reports: Be sure to check the trail report for closures before heading out to avoid disappointment. Often in summer the Rawson Lake trail is closed because of bear activity.
Weather: Check the weather forecast before you head for Rawson Lake.
Don't forget: Carry the 10 hiking essentials, even if its a hot, sunny day. Weather changes fast in the mountains.
Bears: Be bear aware especially in summer. Pack easy to access bear spray. I would recommend keeping it in a bear spray holster so you don't set it off accidentally.
Cell service: There isn't any cell service on the Rawson Lake hike so make sure you've downloaded your hiking app or map and you can use it off line. This is a straight-forward hike.
Rawson Lake trail hike description
The hike to Rawson Lake starts from the trail sign in the parking lot at the southwest shore of Upper Kananaskis Lake.
For the first 1.2 km, enjoy a wide, rolling easy trail, with the odd peek-a-boo view to Upper Kananaskis Lake. The first part of the hike is also part of the Upper Kananaskis Lake loop trail.
After crossing the bridge over pretty-in-any-season Sarrail Creek Falls, look for a signed fork on the left. The trail sign will let you know that you have 2.7 km to go on the Rawson Lake trail! (One sign says 2.2 km but the map says 2.7 km to the lake from the fork.)
Next up are switchbacks. You'll hike steeply at first, through dense forest of subalpine fir and Englemann spruce. After 20 – 25 minutes, the grade moderates for the last kilometre to the lake. You'll know you're getting close to Rawson Lake, when the trail flattens and your breathing slows down.
In summer you'll see split logs put in places for the last half kilometre to prevent further erosion, especially as this is one busy trail. In winter, the area receives up to 2.5 metres of snow, so you never see the logs.
You can continue in any season for a further 300 metres, following a trail along the southeast shore. It's very wet along here but if you look hard you'll find lots of places to tuck into and enjoy a lunch or snack out of the wind.
Be careful if you're hiking the Rawson Lake trail in December as the ice is still thin around the lake. I ventured out just a foot from shore and ended up with a soaker!
From the shore, enjoy sweeping views of beautiful Mt. Sarrail curving to the west at the end of the lake. At the end of the official trail be alert to grizzly bears as they are commonly sighted here in summer.
By January, when the lake is frozen, you can walk to the far end of Rawson Lake. Be aware that there's a large avalanche path coming down from the ridge, so stop well before that.
Retrace your steps to the parking lot unless you plan to continue up Sarrail Ridge (summer only).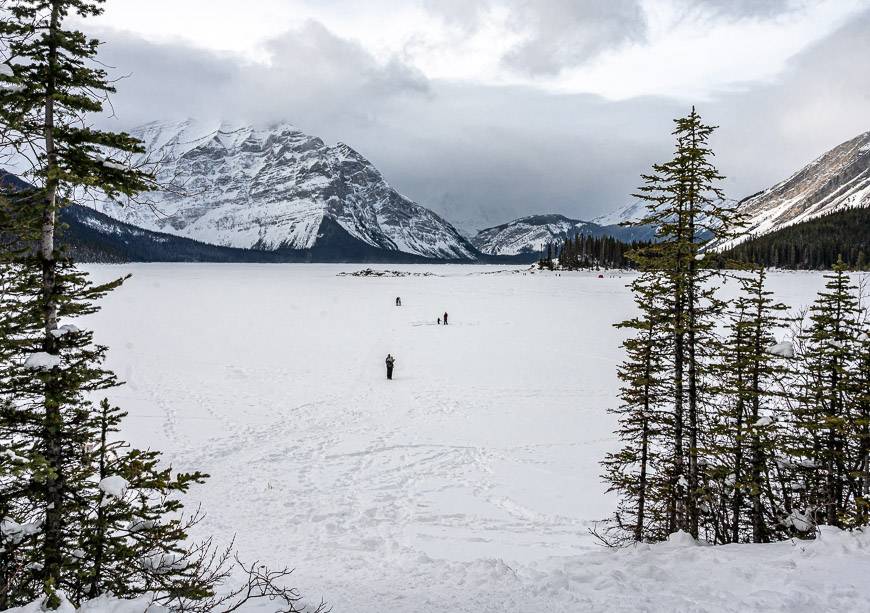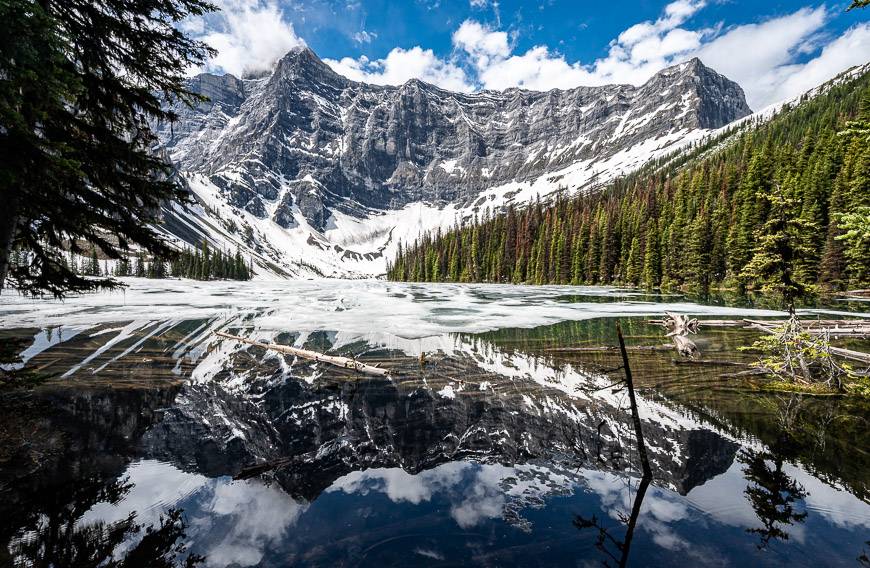 Sarrail Ridge – an add-on from Rawson Lake
I am hoping to do the hike up to Sarrail Ridge in the summer of 2023. From what I've seen from photos, the views are sublime.
But it isn't a walk in the park to get there. It's about an hour's climb up and there is scrambling involved. If you don't like scrambling, you're better off enjoying the impressive views of Mt. Sarrail from the lake.
To get to the start of the Sarrail Ridge part of the hike, follow a boot-beaten path below the cliffs around the southwest shore of the lake to an inlet stream. Sarrail Ridge stands above to the NNW. Stay tuned for the details after I've done it next summer.
Cool fact about the area
Almost 600 years ago, a forest fire swept through the area you hike on the way to Rawson Lake. Although it took a century to re-establish the forest, there are some Douglas fir trees still standing that survived the blaze.
Finding the trailhead for the Rawson Lake hike
Take Highway 40 south from the Trans-Canada Highway for 50 km to reach the Kananaskis Trails Road. If you're coming from Highwood Pass, drive 17 km north on Highway 40 to reach the turnoff.
Take the Kananaskis Lakes Trail road – ignoring the Smith Dorrien- Spray Trail heading right at the 2.2 km mark. Instead, continue straight. The total distance from the intersection of Highway 40 is 13.2 km. The parking lot is on the left hand side of the road.
On beautiful summer days and sunny weekends in winter, you can expect competition for the free parking.
What to take on the hike to Rawson Lake
I would recommend carrying a Garmin inReach Mini 2 as you can use it on all the hikes you do.
Dress in layers, no matter what the season you do the hike to Rawson Lake. I always carry my Patagonia down sweater hoody, when I'm hiking. There is a men's version too.
It gets windy and cold at the lake in winter and chances are you won't want to stay long. I highly recommend a thermos full of something hot, an inflatable seat cushion no matter what the season.
Hiking polesare great if you have trouble on steep sections – or just want to save your knees.
Where to stay near the Rawson Lake hike
In summer, there is some excellent car-camping nearby. Read A Complete Guide to Camping in Kananaskis.
If you're after roofed accommodation, there are three options in the general area – Mount Engadine Lodge at the highest price point.
The Kananaskis Mountain Lodge for a slightly less expensive option and the Kananaskis Wilderness Hostel at the budget level.
Another excellent option kids would especially love are the tipis and trapper's tents found at Sundance by Basecamp near the entrance to Kananaskis Village.
More ideas for hiking and snowshoeing in Kananaskis
Click on the photo to bookmark to your Pinterest boards.