The loop hike around gorgeous Upper Kananaskis Lake is a moderate one that offers lake side walking along with beautiful mountain views. I'd classify the 15.8 kilometre hike as easy if it weren't for its length. You never have to climb more than 60 metres above Upper Kananaskis Lake but the trail is undulating and there is a surprising amount of vertical over its length. It's a fantastic hike to do at any time of the year but winter.
Upper Kananaskis Lake hike summary
Enjoy a scenic 15.8 km loop hike around Upper Kananaskis Lake but if you don't want to hike that distance simply do and out and back hike from one of the trailheads. It doesn't matter what direction you hike the loop.
There is a 295 metre total elevation gain.
Allow 4 – 5.5 hours to hike the loop.
Park at either the North Interlakes or the Upper Lake trailhead.
The hike to Rawson Lake takes off from the Upper Kananaskis Lake trail as does the backpacking trip to Three Isle Lake.
Dogs are permitted on the trail – on leash.
You can hike 3.4 km one way to the Point Backcountry Campground and spend the night. We kayaked to the campground and enjoyed a night one summer.
Be sure to purchase a Kananaskis Conservation Pass before you start the hike.
Be bear smart and carry a can of bear spray. Always pack the 10 hiking essentials.
There are toilets at the trailheads and also at the Point Backcountry Campground – if you make the short detour.
This post includes some affiliate links. If you make a purchase via one of these links, I will receive a small commission at no extra cost to you.
Upper Kananaskis Lake loop starting point
Reach the trailheads in Peter Lougheed Provincial Park after approximately a two hour drive from Calgary. Take Highway 40 and then Highway 742 and follow the signs. We started our hike from the parking lot near the North Interlakes picnic area. The other option is to park at the Upper Lake Trailhead. (See photo at the bottom of the hike description.)
We opted to hike in a counter clockwise direction though I don't think it really matters. We did the hike one year in November before the snow arrived. It's also a great early season hike and it would be an awesome hike in summer if you don't want a lot of elevation gain.
Upper Kananaskis Lake hike description
Cross the dam if you've parked at the North Interlakes area and enjoy a pleasant walk through the forest alongside the lake until you reach a section of rockfall called the Palliser Slide. Look up to your right and you'll see Mount Indefatigable. Other mountains views you can see include Mount Lyautey, Mount Sarrail, Mount Foch, and Mount Fox from portions of the trail. On a bluebird day, this is one pretty area.
After the rockfall it's a long stretch of hiking along the south shore of Upper Kananaskis Lake – past a couple of pretty waterfalls. For the most part the views are still excellent and there's even the rare bench to rest your by now weary body.
Look for the trail to Rawson Lake. If you have the energy it would be a very worthwhile detour. You can continue even further up to Sarrail Ridge. Otherwise come back and hike into it from the Upper Lake Trailhead and enjoy it as a much shorter day hike.
The final section of trail hugs the shoreline of the lake. I was in awe of the number of old tree trunks with a new life as driftwood.
All told allow approximately five hours to hike the full loop. An out and back hike especially starting where we did would also be a great way to spend a few hours.
Upper Kananaskis Lake camping
Hike counterclockwise around Upper Kananaskis Lake. Once you're through the rockfall reach The Point Backcountry Campground. This is one of the nicest campgrounds I've come across in Alberta. Campsites are scattered across the peninsula and some overlook the lake. All have tent pads and are private. Book early for summer weekends.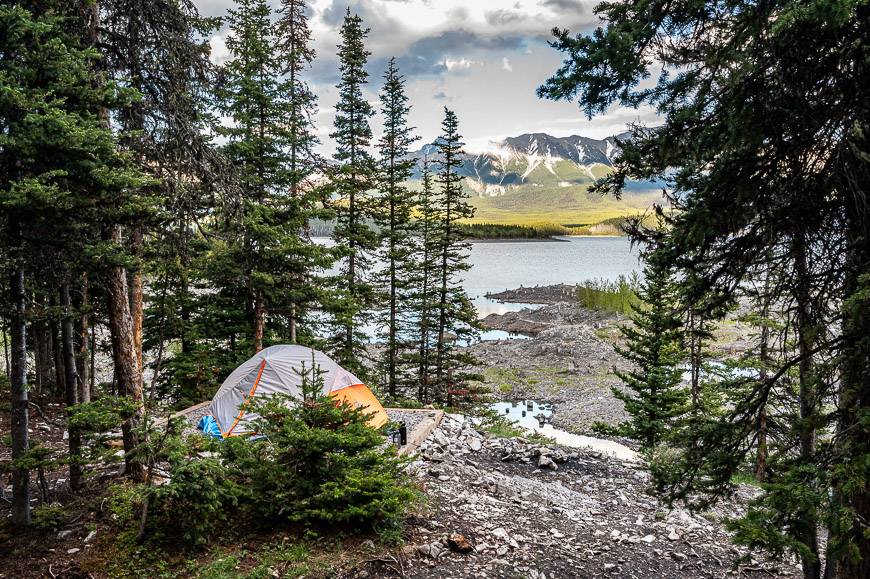 The photos take you
counterclockwise
on a loop hike around Upper Kananaskis Lake
Enjoy this spectacular lake that was turned into a reservoir to help provide some of Calgary's water reserves. Don't expect to see many people on the hike, unless it's the height of the summer. The water is very cold so swimming isn't recommended. I like to cool my feet down on a hot summer's day, but I personally wouldn't go in any further than my knees.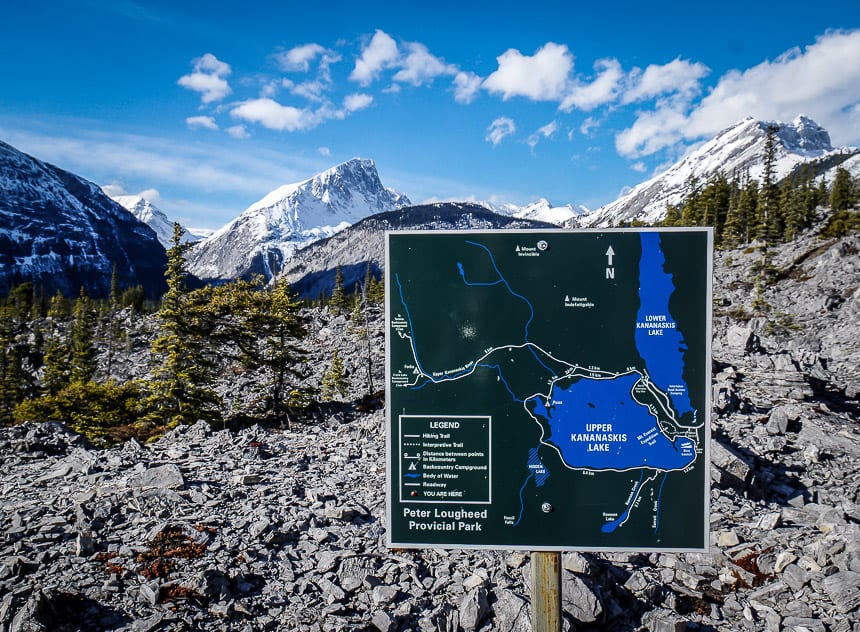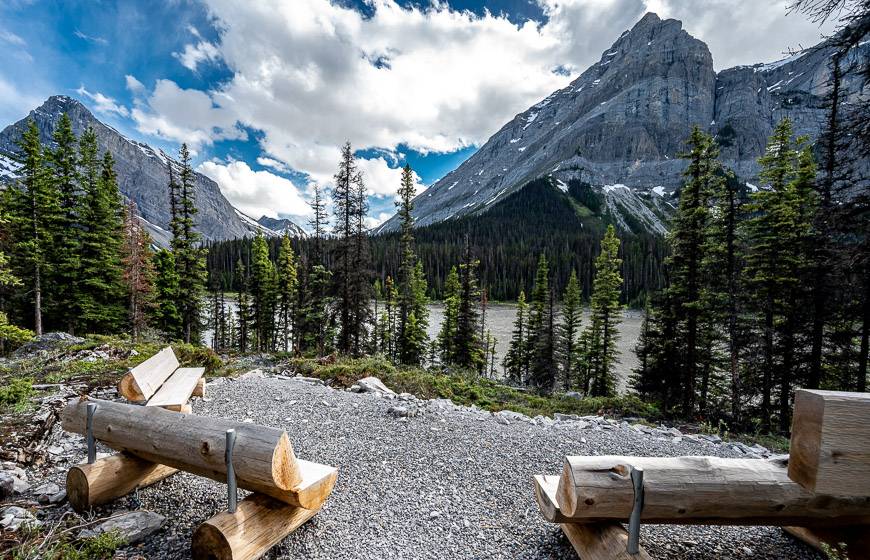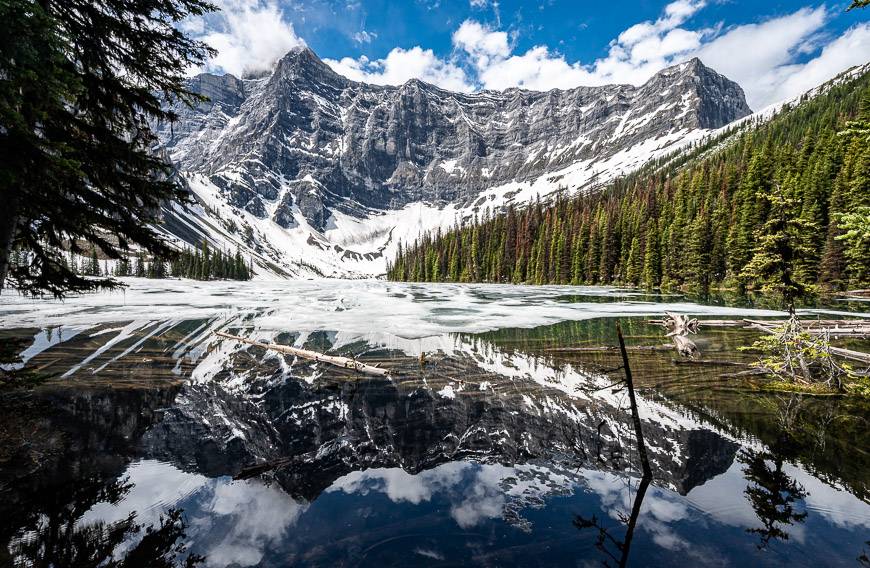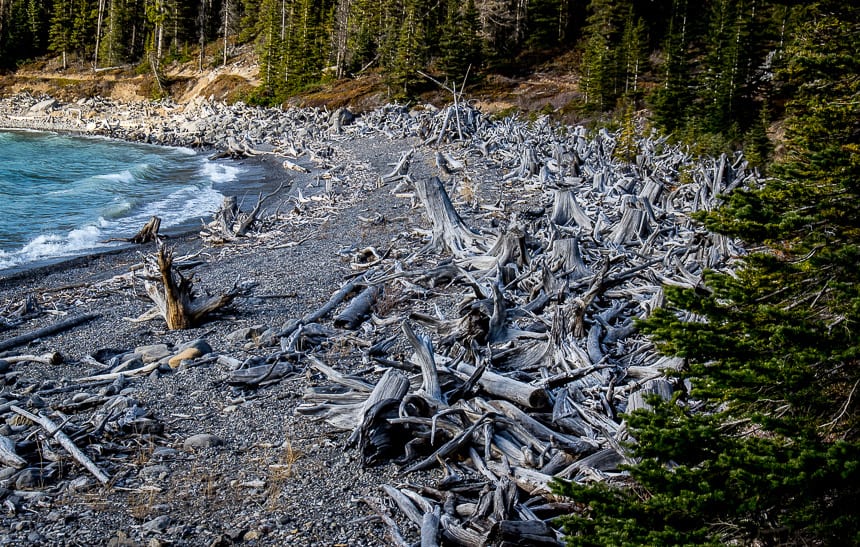 Where to stay nearby
There is lots of camping available in Peter Lougheed Provincial Park. Campgrounds can be reserved 90 days in advance. Check out my post – A Complete Guide to Camping in Kananaskis.
If you want a roof over your head, I highly recommend either Mount Engadine Lodge or Kananaskis Mountain Lodge.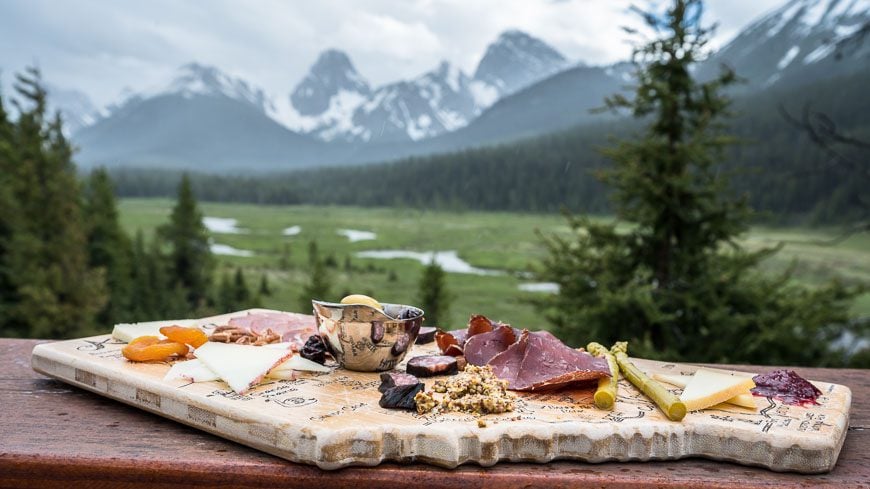 The 5 things that come with me on almost every hike
I like something comfortable to sit on at lunch time. I love by my almost weightless inflatable seat cushion.
I like using hiking poles, the older I get. On this hike, you aren't dealing with steep terrain but it's long enough that it could help take pressure off your knees and hips.
No matter how the day starts I always carry rain gear. And I find a ball cap or brim hat with a chin strap invaluable in the rain or on a hot, in your face sunny day.
I always pack a buff – great on window days to keep the hair out of your face or on a cool day to warm your neck.
Another nice addition for those of you who love wildflowers is the book Popular Wildflowers of Alberta and the Canadian Rockies.
Nearby day hikes you might enjoy
Click on the photo to bookmark to your Pinterest boards.