If you're looking for Kananaskis hikes that deliver big time on mountain views be sure to include the steep hike up Opal Ridge South. The hike is full of surprises – the good kind – especially after you get through a steep, rather nasty section of scree.
I did the Opal Ridge South hike in mid-June when it was free of snow. I wouldn't recommend it before its snow-free unless you've got experience climbing on snow. And if you go when there is snow be sure to take microspikes and an ice axe – and know how to use it. Also be sure you've purchased a Kananaskis Conservation Pass.
Read: The 10 Hiking Essentials Everyone Should Carry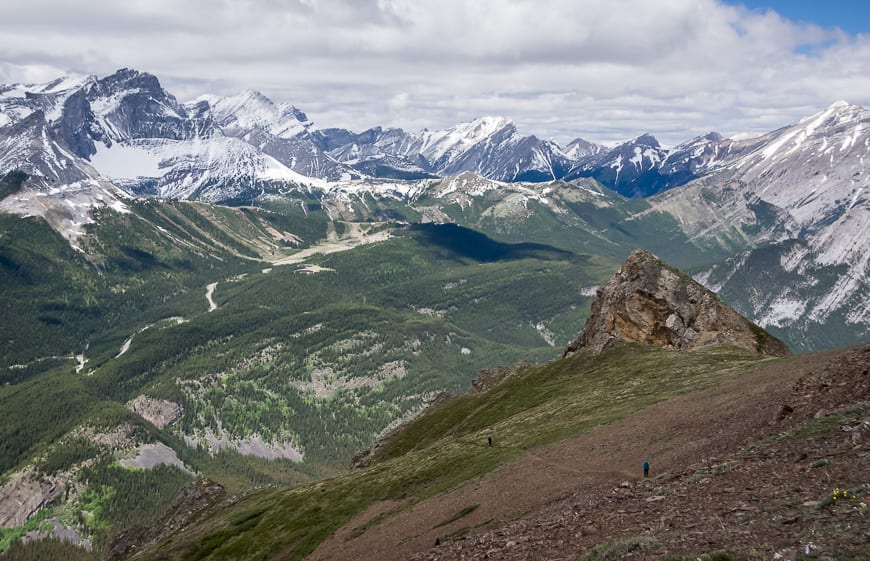 Opal Ridge South hiking route
Start at the north end of the parking lot at the gas station across from the Fortress Mountain turn-off on Highway 40. Hike up a small creek – on either side – to reach a road with a powerline overhead. It's ugly for the next 10 minutes but it's mostly flat so enjoy the warm-up before you start a stiff climb.
After crossing a small creek, look for a trail about 20 m later on the right (unmarked) heading steeply up. There are also arrows made of stones lying on the ground pointing to the trail. You'll be in the trees for about the next 20 minutes so make lots of noise to scare off any bears.
Read: Tips for Staying Safe in Bear Country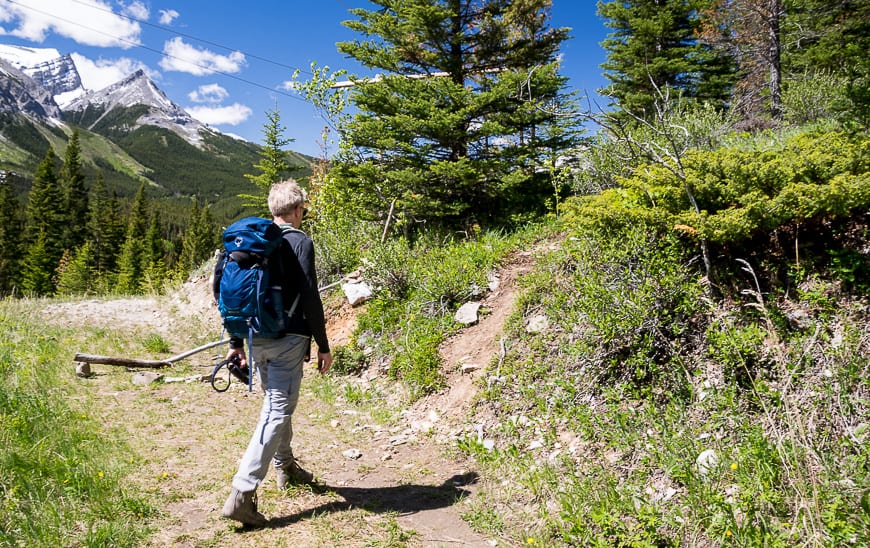 When the trail moves out of the trees you get great views looking south along Highway 40. From here continue up on one of the myriad of trails created by hikers over time looking for a way through rockbands.
There is no wrong trail to take but some are steeper than other. It took us 75 minutes from leaving the car to get to the top of the scree section.
Arrive at a large cairn and then continue on a much easier trail for 10 minutes (at the most) to reach a grassy top from which the views are nothing short of surprising. Enjoy the in your face mountain before continuing up grassy slopes, a delight after all the scree.
Continue on the obvious trail that isn't as hard as it looks through the rockbands in the photo below. From the top of the rockband it's a quick, easy walk on a good trail to reach the low point on the ridge.
Superb hiking once you're on Opal Ridge South
On the ridge, peer into the valley hidden from the highway. It looks wild, lonely and very beautiful. Keep your eye out for bighorn sheep here. We saw their dung and they are known to frequent this area.
We also saw marmots and a Clark's nutcracker just below the ridge. It's another 1.5 m to reach the ridge crest from the low point on the ridge but you'll find the hiking to be some of the easiest of the day.
There's a small wind break at the top and you can tuck in behind some other rocks if it's blowing really hard.
I'm never shy about offering advice when it comes to hiking and being prepared for a hike in the mountains. It would seem that I need to take my own advice. The wind pounded us for a good stretch of this hike and the temperature, despite sunny appearances was close to freezing.
Don't forget to dress in layers and bring warm clothes
I had long pants but I did forget a proper hat and gloves. Thankfully my husband had brought two pairs. Not only did they keep my hands warm but they helped prevent cuts on the descent through the scree.
The descent from Opal Ridge South
I always prefer the going up to the coming down and really wasn't looking forward to the steep scree. It turned out to be easier than expected but the rocks on these mountains are really sharp so for safety's sake, wear gloves so you don't beat up your hands on the descent.
All told it took us 5.25 hours, including lunch to do the return hike. It's approximately 8 km return with 1,012 m of elevation gain. Be prepared for sore legs the next day as I find you tense up on steep descents. Even my arms were sore from hanging onto trees and rocks on the way down.
If you bring your dog, take lots of water. I wouldn't call this a particularly family-friendly hike unless you're out hiking every weekend on a variety of terrain.
Trailhead location of Opal Ridge South
More reading on Kananaskis backcountry hikes
Visit the Kananaskis website for up to date information on trails.
Click on the photo below to share to Pinterest.