The Burstall Pass hike happened by accident. On a summer Sunday our extended family of four made the two-hour drive to Kananaskis Country with the specific intent of hiking up to Chester Lake. But once we got to the parking lot we saw a trail closed sign because of bear activity. Rather than drive any further we made the decision to hike to the pass as the trailhead was directly across the road – and it was open.
Burstall Pass is the first hike I've ever done where I had no clue about what we were getting into. I hadn't brought a map (as I knew the trail to Chester Lake quite well) and didn't even know how many kilometres we were about to hike.
Updated February 2022. This post includes some affiliate links. If you make a purchase via one of these links, I may receive a small commission at no extra cost to you.
Burstall Pass hike details
Distance: 15 km round-trip
Elevation gain: 475 m elevation gain
Rating: Moderate
Time needed: 4.5 – 6 hours
Dogs: Allowed on leash
Don't forget: Water sandals
Map: Gem Trek Kananaskis Lakes
Nearest lodge: Mount Engadine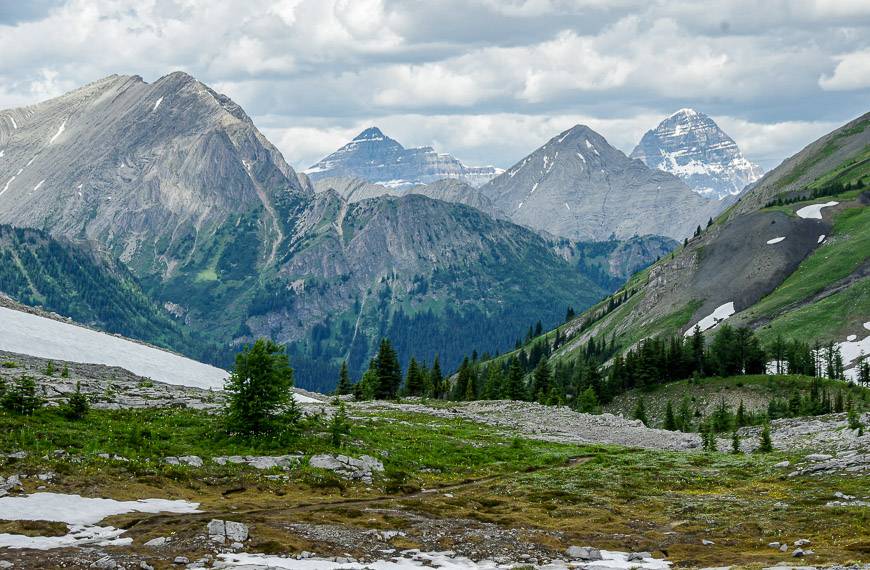 Burstall Pass hike description
The trail starts on a berm beside Mud Lake. Walk across the berm (dam) looking for the hiker sign. You end up on an old road for around 2.5 km – at which point it tapers to a trail.
You'll see a place to lock up your bikes just as it narrows. Before that look for several side trails down to all three of the Burstall Lakes, though it's hard to get to the shore of at least two of them because it's so wet.
The first few kilometres of forest according to Graeme Pole, author of Classic Hikes in the Canadian Rockies, is supposed to be good for birding. When he did the hike he heard "warbling vireos, hermit thrush, boreal chickadees and the drumming of three-toed woodpeckers."
The wet section on the Burstall Pass hike
Continue on the trail for about a kilometre until you reach a large braided alluvial fan with multiple streams from the Robertson Glacier. A pair of water shoes come in very handy here. If you look carefully you will see hiker signs leading the way across the floodplain.
We used them as a reference but went considerably off-course trying to find narrow sections of stream to jump. It's about half a kilometre across but it takes a lot longer than normal hiking unless you have on the water shoes. This section is particularly wet in early summer and during glacial melt in August.
Once you emerge from the floodplain you start climbing, though it's never overly strenuous. After about 30 minutes you arrive at a sub-alpine meadow, with a little snow still around. From there the hiking gets more interesting as you climb over limestone benches, lined with wildflowers.
You'll be stopped in your tracks by the views but continue on to reach the pass at 2,380 m. On the other side of the pass is Banff National Park and a trail that continues around a sinkhole to Leman Lake.
Before reaching Leman Lake you'll cross the Palliser Pass Trail. There are loads of options if you want to continue for up to several days. (See below.)
From the pass you can see Mt. Assiniboine – the sixth highest mountain in the Rockies. Looking north are three peaks – Commonwealth Peak, Pig's Tail (Shark's Tooth) and Mt. Birdwood while looking south and west of the Robertson Glacier, sits Mt. Sir Douglas.
Allow five to seven hours to do this trip – and a bit more if you want to climb the "Burstall Bump" or head down to Leman Lake.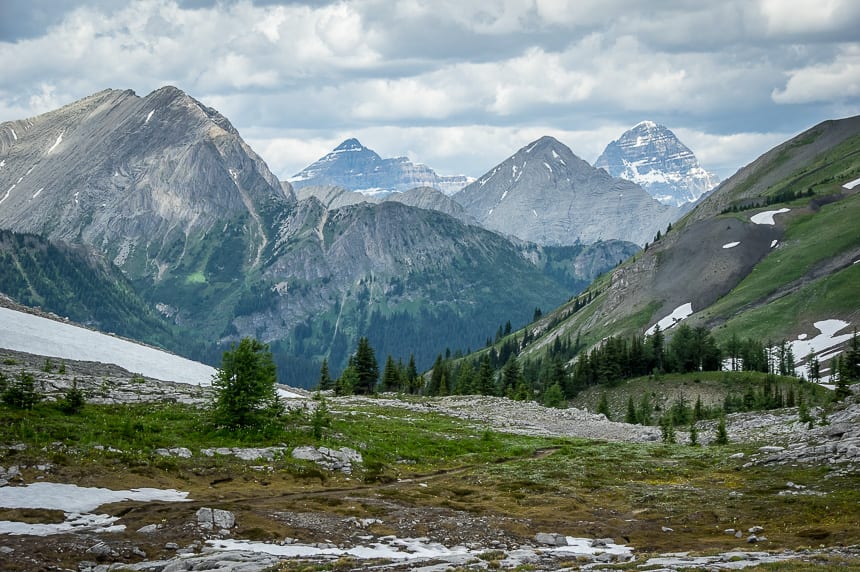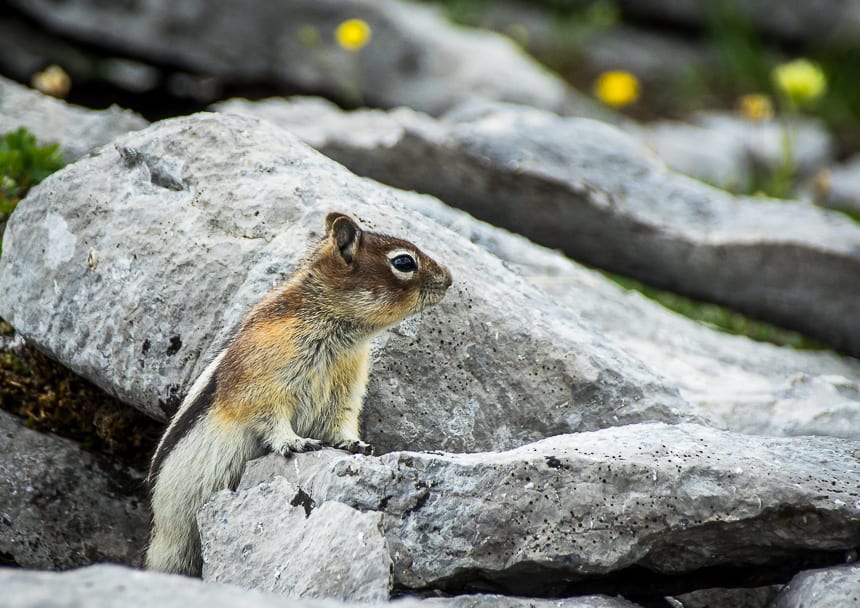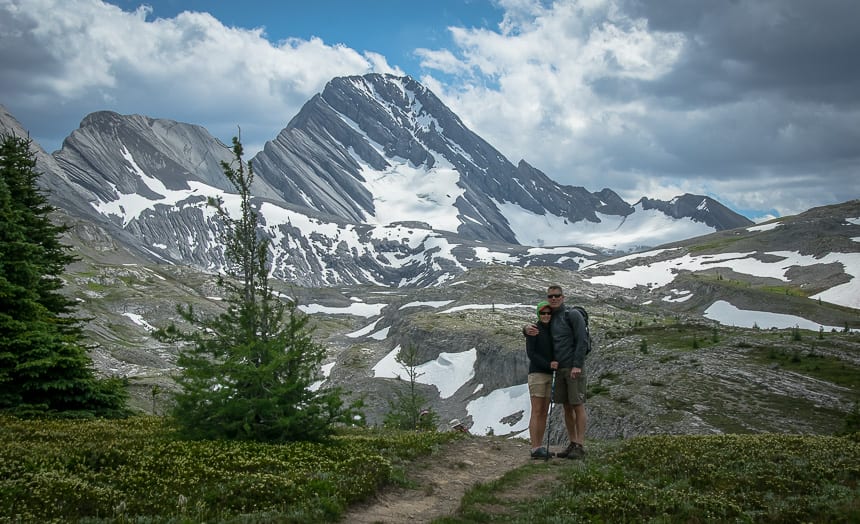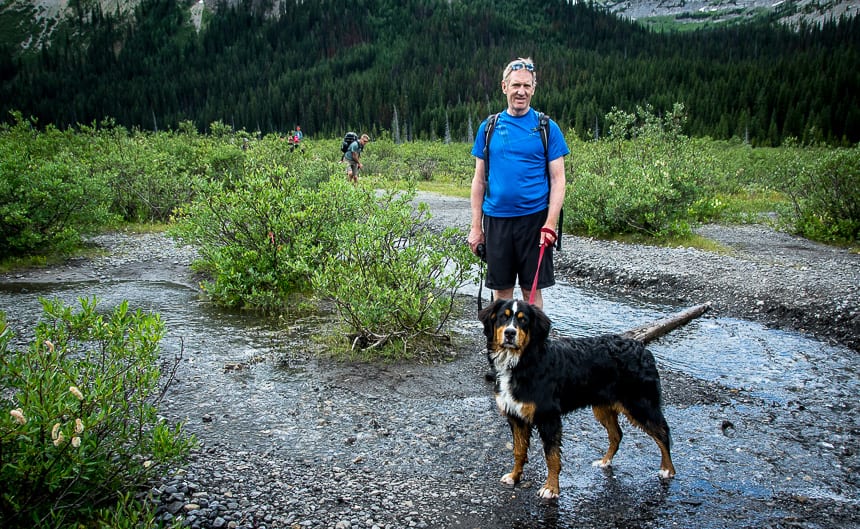 Getting to the Burstall Pass trailhead
Drive 44 km south on the Smith-Dorrien/Spray Lakes Trail from Canmore. The trailhead is on the west side of the highway. You can also drive Highway 40 to the Smith-Dorrien Trail and continue for 22 km. Be prepared to have a VERY DUSTY car by the time you get to the trailhead.
Location map
Options for more hiking from Burstall Pass
From Burstall Pass you can continue to the top of Snow Peak. To do this requires that you hike another 2 km one way with an added elevation gain of 409 m. Some easy scrambling is required. You need 7 – 8 hours to do the return hike – and that includes the pass. I have yet to do this but would like to.
From the pass you can also do the Birdwood Traverse, an epic sounding day that ideally requires a shuttle as it's 19.6 km one way with a reasonable 665 m of elevation gain.
The third option is to descend from the pass to the Palliser Trail though I'm not sure what sort of shape the trail is in.
There is a fourth option that takes off from just before the bike rack – before you've even got to the wet part of the hike. It takes you to the French and Robertson Glaciers but some basic route-finding is required.
The 5 things that come with me on almost every hike
I like something comfortable to sit on at lunch time. It can be your mitts on a warm spring day but in summer I swear by my almost weightless inflatable seat cushion.
The older I get the more I like using hiking poles, especially so when a stream crossing is involved. On this hike in particular poles are very worthwhile. Invest in a good pair that are collapsible, preferably made of carbon because of their weightless quality.
No matter how the day starts I always carry rain gear. And I find a ball cap or brim hat with a chin strap invaluable in the rain or on a hot, in your face sunny day.
I always pack a buff as it's a multi-purpose piece of cloth yet it takes up almost no room.
I don't pack gaiters on every trip, at some point on most hikes I usually wish I had them. In summer the half gaiters are ideal for keeping pebbles, sand and even some rain out of your shoes.
Another nice addition for those of you who love wildflowers is the book Popular Wildflowers of Alberta and the Canadian Rockies.
Other Kananaskis area hikes you might enjoy
Click on the photo to bookmark to your Pinterest boards.