If you live in Bragg Creek you're spoiled for choice when it comes to hiking. Fortunately for those of us who live in Calgary, all of the trailheads for the Bragg Creek hikes described below are less than an hour's drive away. The trails are all accessed off of Highway 66, with the Fullerton Loop and Sugar Mama hikes the first ones you reach, only 15 km southwest of Bragg Creek.
These ten Bragg Creek hikes are lovely – offering a mix of ridge walks and mountains. But for many, they won't replace Banff National Park hikes or the Kananaskis hikes off of Highway 40. Still you can't beat them for accessibility, especially from the Calgary area. Many are family-friendly. All are dog-friendly except the ice cave (on a leash) and some Bragg Creek hikes can be knocked off in just a half day.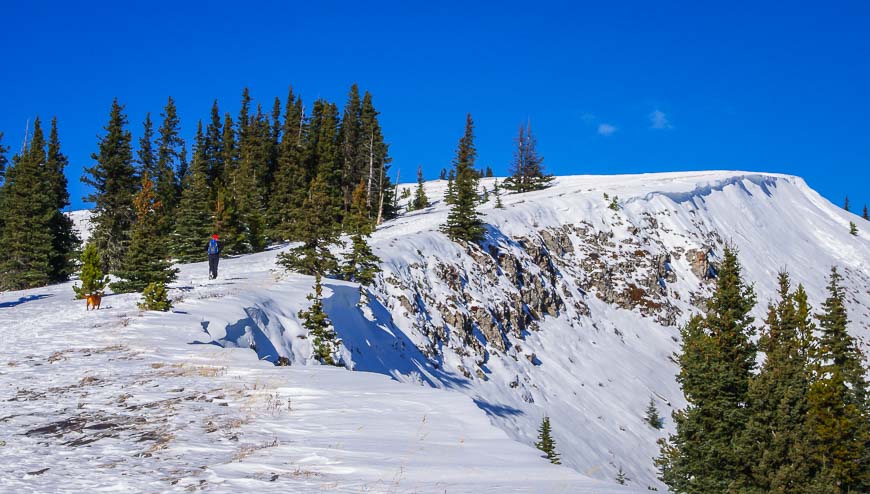 This post includes some affiliate links. If you make a purchase via one of these links, I may receive a small commission at no extra cost to you. Thank you very much for your support!
Bragg Creek hikes summary
Good to know before you go
If you're planning to do anyone of these hikes early in the season, take icers because there's still likely snow at elevation. A pair of poles and extra clothing would also be smart. On some hikes a pair of snowshoes would actually be the best way to get around. I have been on the Fullerton Trail in December and the snow was knee deep.
Where to get refreshments after one of the Bragg Creek hikes
Head to Bragg Creek and support one of the local businesses by ordering cold drinks, coffees, pastries or even a full meal after your hike. Top picks include the Italian Farmhouse Restaurant & Bar for a delicious Italian meal, The Heart of Bragg Creek for great coffee and wholesome food, and the Bragg Creek Bakery & Cafe on Balsam Avenue. I also like the Cinnamon Spoon at the four way intersection.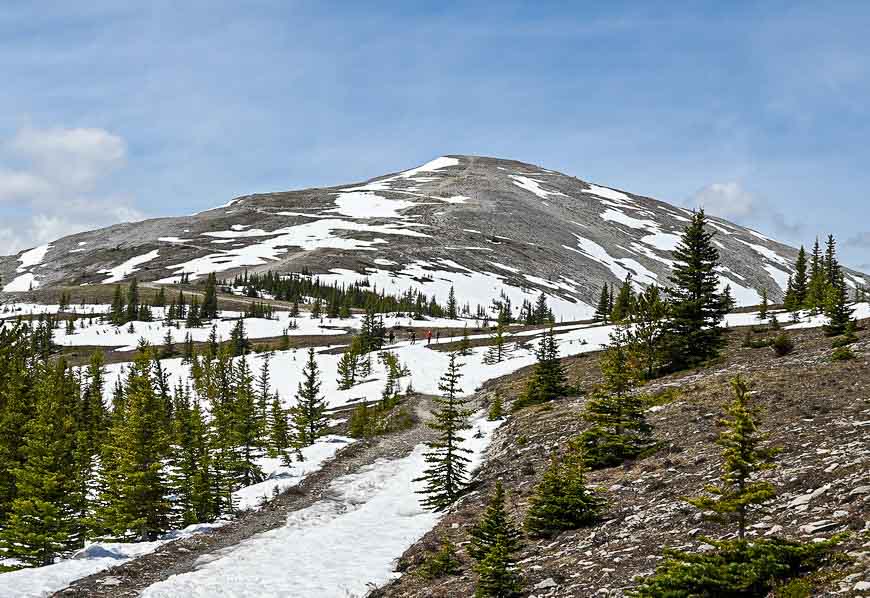 Location map of the Bragg Creek hikes
Fullerton Loop hike
Distance: 6.8 km (4.2 miles) minimum with option to add many more kilometres
Elevation: 213 m or 692 feet
Difficulty: Easy and family friendly
Time needed: 3 hours
Best time to hike: Year-round but take icers in winter
The Fullerton Loop hike is one of the easy, family-friendly Bragg Creek hikes – and it takes only half a day. I like it in all seasons except summer, when my personal preference is to be high in the mountains.
Over its 6.8 km length you experience a combination of hilly valley trails and some delightful ridge walking. There are multiple options to extend the hike into an all-day outing by combining with trails that start in the West Bragg Creek day use area.
The Fullerton Loop hike starts at the Allen Bill parking lot, with signage pointing to it from the highway.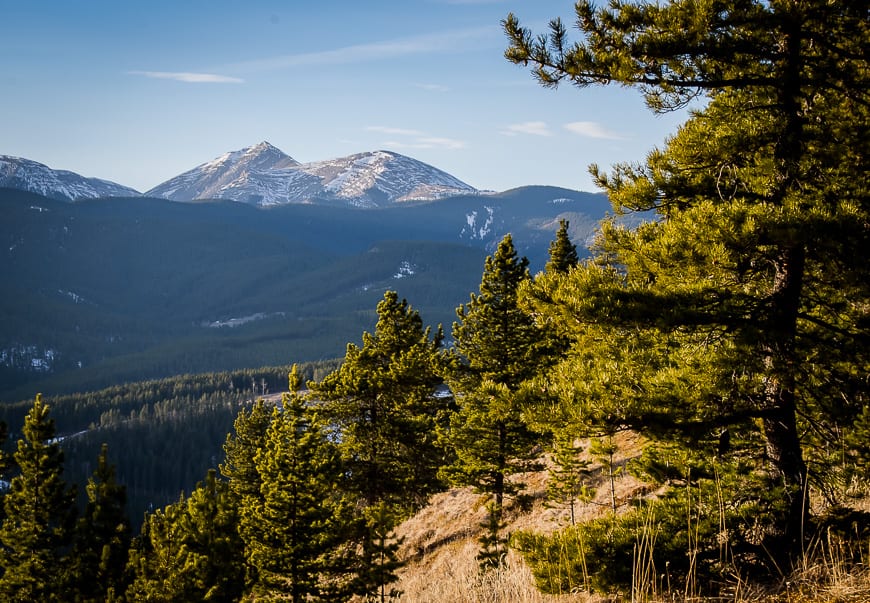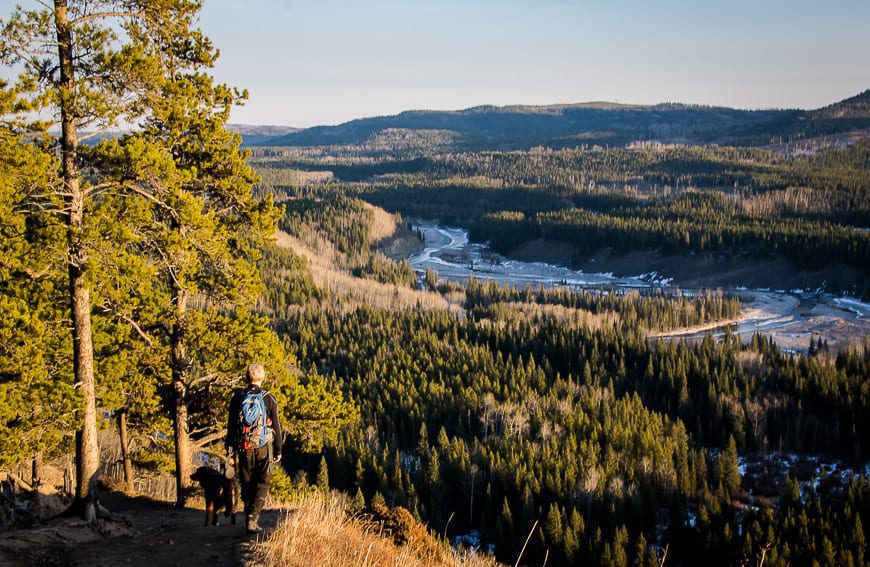 Moose Mountain – one of the top Bragg Creek hikes for views
Distance: 14.6 km (9.1 miles) return
Elevation: 470 m or 1,540 feet
Difficulty: Moderate
Time needed: 3.5 – 5 hours
Best time to hike: The road to the trailhead is open from May 15th to November 30th.
For a good workout and some of the top views in the area, do the 7.3 km one way hike up Moose Mountain. The elevation gain is a moderate 473 m), making this hike a great early season one. Ideally you want to do it after the gravel road to the trailhead has opened – usually in mid-May.
Moose Mountain tops out at 2,437 m (7,995 feet) with a 90 year old fire lookout marking the summit. (Respect people's privacy up here as it's been a working lookout.) I heard rumours last year that you can no longer hike the last few metres to the top – but don't let that dissuade you from doing the hike.
To get to the trailhead drive just past the Paddy's Flats Campground. Turn right, if coming from Bragg Creek, onto the Moose Mountain Fire Road. Follow it to the parking lot. The dirt road opens on May 15th every year. Expect snow on the hike well into May. Gaiters and poles are useful.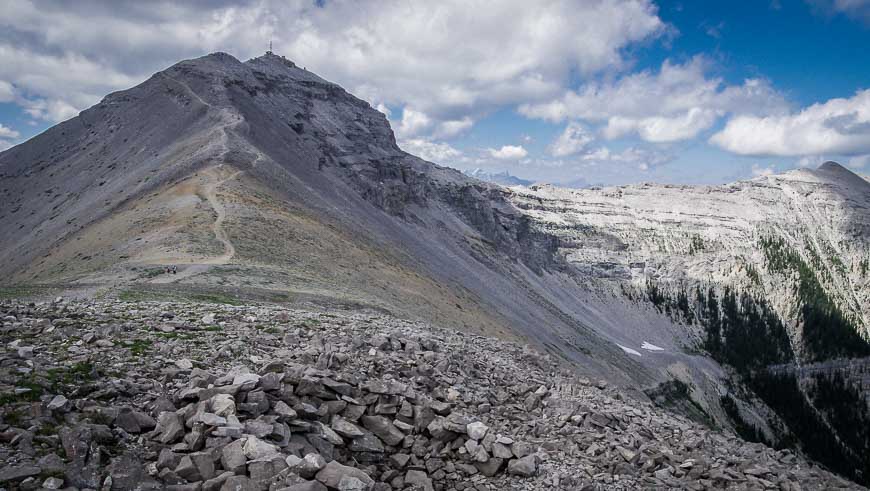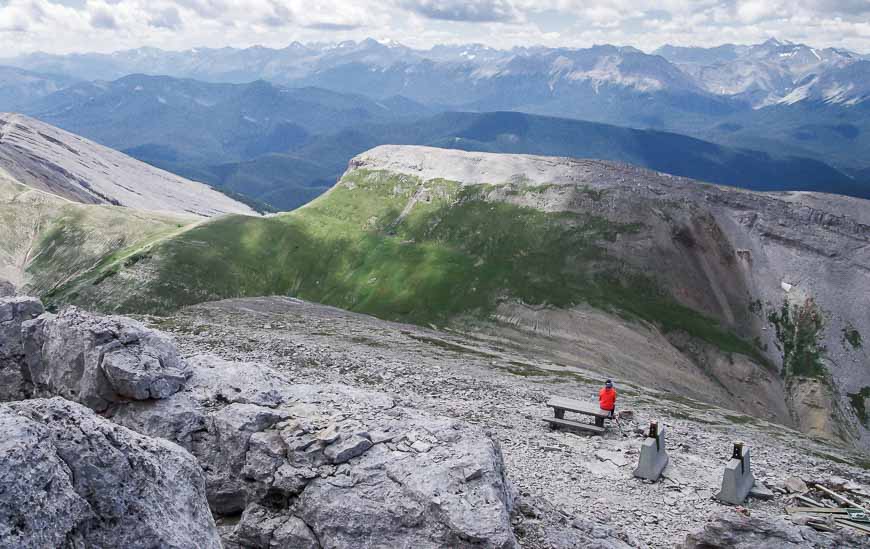 Prairie Mountain hike
Distance: 7.0 km (4.3 miles) return
Elevation: 726 m or 2,382 feet
Difficulty: Hard because it's steep. Regular hikers or the super-fit would label it as moderate. There is nothing technical about the hike.
Time needed: 2.5 – 4 hours return
Best time to hike: A great year round hike, even in the dead of winter
Prairie Mountain is my favourite hike to do from late fall until early spring. I have never hiked it in the summer as I know I can do this one in the dead of winter.
The hike starts across from Elbow Falls by the winter gates. It climbs steeply until you pop out of the trees and then it moderates to the top. In total the trail climbs 726 m in only 3.8 km. I find it's the middle section through the trees that leaves you breathless. Once you're out of the trees, you're rewarded with views that extend from downtown Calgary to Moose Mountain and a whole lot more. It is often crazy windy at the summit.
Allow 2.5 to 4 hours to do the return hike. Icers and poles in snowy months (October – May) make all the difference, especially on the knee-knocking descent.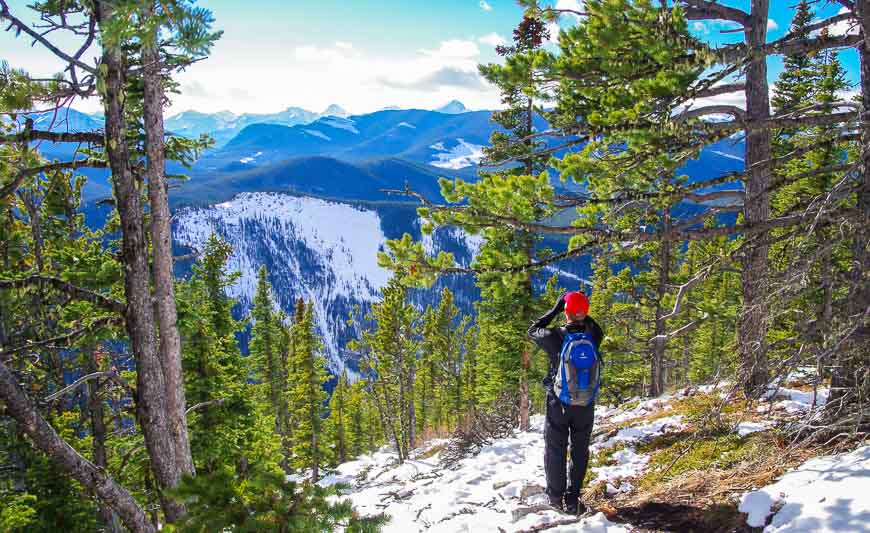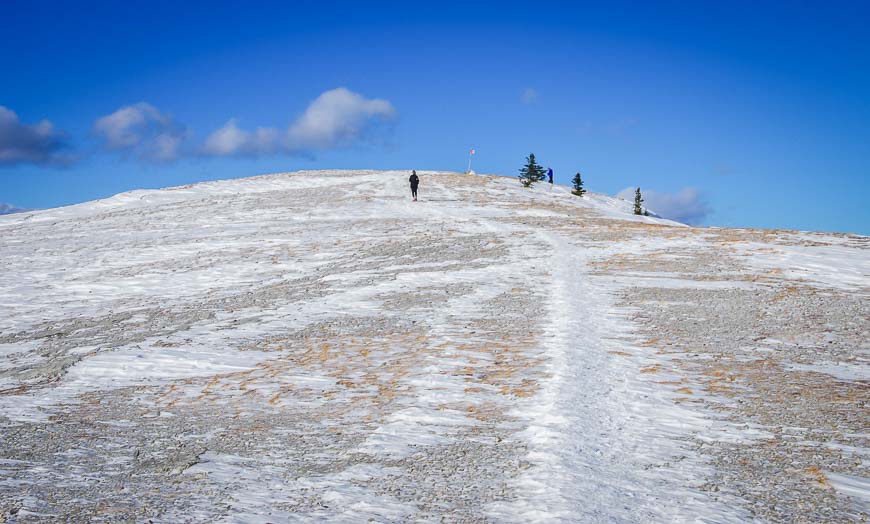 The Nihahi Ridge hike
Distance: 10 km or 6.2 miles round trip
Elevation: 735 m or 2,410 feet
Difficulty: Challenging if you go to the end of the ridge
Time needed: 3 – 5.5 hours
Best time to hike: The trailhead is accessible from May 15 – November 30th but summer and early fall are the best times to hike it.
The Nihahi Ridge hike offers some great views, lovely meadow walking and some rock scrambling which can get a little airy if you go all the way to the top. It's approximately 10.2 kilometres round trip with a modest elevation gain of 412 metres.
The trail is tough to find at first as there isn't any signage until you're through the Little Elbow Campground, accessed via a turnoff at the end of Highway 66. About a kilometre past the barricade, at the end of the campground, is a sign for Nihahi Ridge pointing into the forest. From there on, it's mostly easy to follow – at least until you get to a warren of trails by the ridge. I usually stick to the most heavily used ones. Follow the base of the ridge until you can find an easy way to scramble up onto the ridge.
Views from Nihahi Ridge are terrific, even though we didn't do the final scramble to the very top. Two hot, thirsty dogs vetoed continuing.
It only took us 90 minutes to get back to the parking lot – and a cold river to cool off in.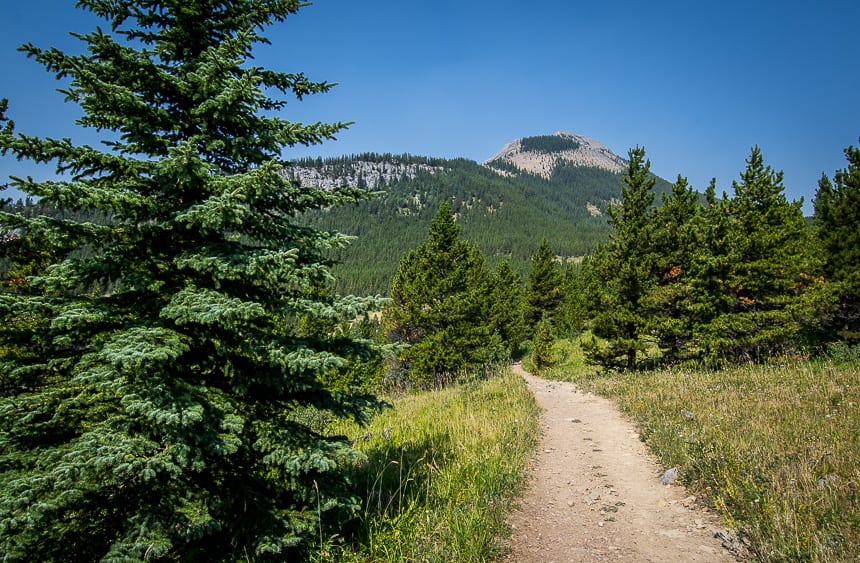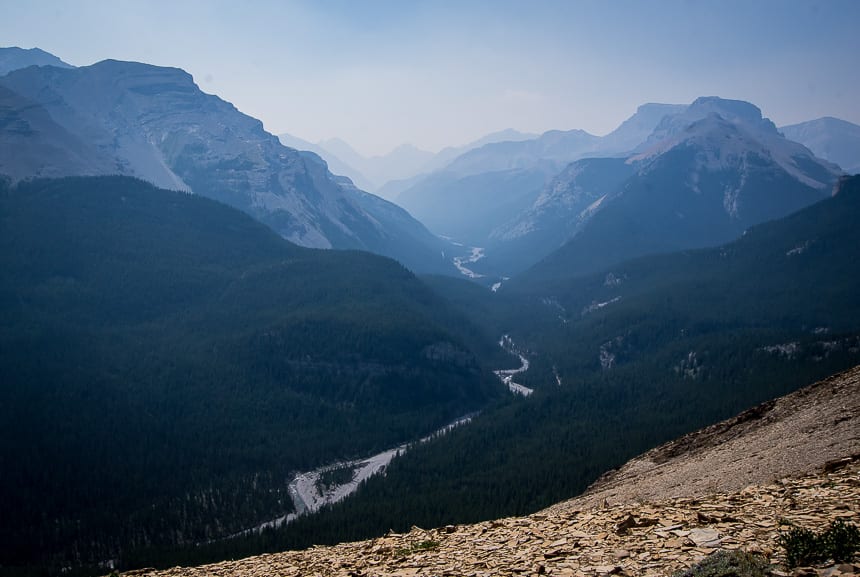 The Forgetmenot Ridge hike
Distance: 14 km or 8.7 miles
Elevation: 715 m or 2,345 feet
Difficulty: Moderate
Time needed: 5 -7 hours
Best time to hike: Access to the trailhead is from May 15 – November 30th but this is best as a summer and early fall hike.
The hard part of the Forgetmenot Ridge hike isn't the initial steep climb but finding the trailhead (detailed info in the blog). It took numerous false starts before my friend and I were sure we were heading in the right direction. Once we were on the Wildhorse Trail I knew we were on our way.
It's a very steep start on the Forgetmenot Ridge hike but once you clear the trees and get out onto a ridge, the views start to unfold. Continue on the obvious trail, a little less steeply, through trees mixed with some grassy sections. There are steep side trails up to the Forgetmenot Ridge but you can also continue on a well-trodden trail to a cairn just below the ridge some distance on.
From the cairn on the ridge you have a couple of options. Go left (north) and follow the ridge to a huge cairn (and windbreak) overlooking the Elbow River at a height of 2,240 m. This is the obvious turnaround point. Alternatively you can continue south on Forgetmenot Ridge to Forgetmenot Mountain, a one way distance of about 3.5 km.
It's about five hours round-trip once you find the trail. The vertical gain is approximately 700 m over a one way distance of about 10 kilometres.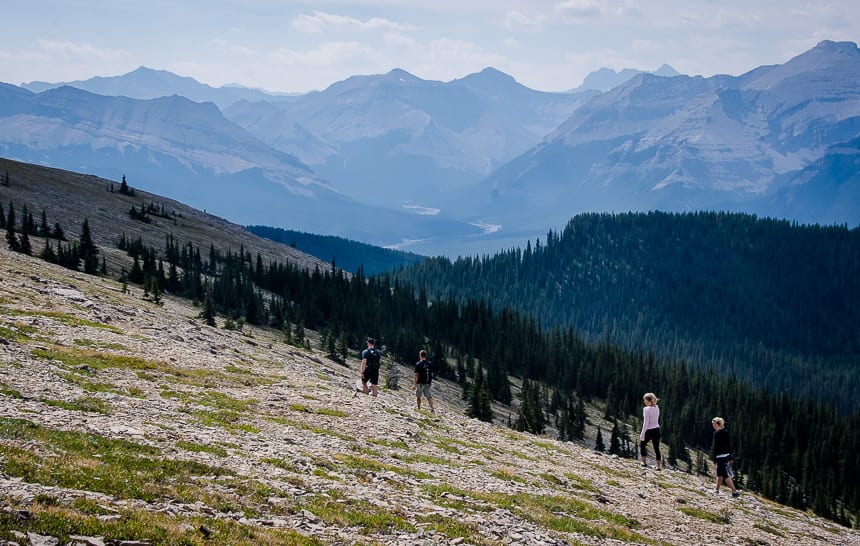 Powderface Ridge hike
***I have only done part of the ridge so look for an updated post in summer 2023.***
Distance: 14 km (8.7 miles) return approximately
Elevation: 640 m or 2,100 feet
Difficulty: Moderate
Time needed: 2 – 2.5 hours for the abbreviated ridge hike
Best time to hike: The road to the trailhead is open from May 15 – November 30th every year. Summer and fall are a great time for this hike.
The Powderface Ridge hike feels like Prairie Mountain at the start. Over the first two kilometres you climb 400 m. But once you reach the meadows, the trail moderates though it's still approximately 700 m of climbing to reach the col. From the col head right to reach the Canada flag and Rainy Summit Ridge cairn – along with great views of Mount Glasgow, Cornwall, Outlaw and Banded Peaks.
There are several additional options to do the full Powderface Ridge but I'd recommend a map and some prior planning as you may have to hitchhike or arrange a car shuttle. (See the blog below for a better description.)
The regular trailhead is at the junction of Powderface Trail road at the end of Highway 66 just before you turn to go to Little Elbow Campground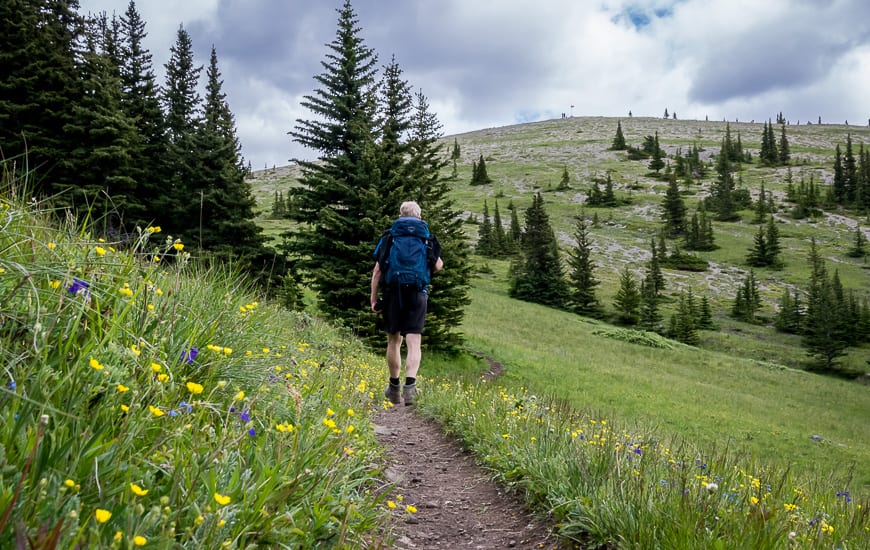 Sugar Mama – Sugar Daddy Hike – one of the lesser known Bragg Creek hikes
Distance: 14 km or 8.7 miles round trip
Elevation: Approximately 345 m or 1,132 feet
Difficulty: Easy
Time needed: 3- 4.5 hours depending on what loop you end up hiking
Best time to hike: This hike can be done year round but I think it's best in the shoulder seasons as there are more interesting hikes in summer and fall.
The Sugar Mama – Sugar Daddy hike is part of a loop that shares the same start as the Fullerton Trail at the Allen Bill parking lot. There's much to recommend it as a shoulder-season or even a winter hike that delivers a workout because of its length. You can also bike it.
The full loop comes in just under 14 km with 345 m of elevation gain. It's made up of short sections of six trails – the Elbow, Snagmore, Strange Brew, and Bobcat trails along with 4.0 km on the Sugar Daddy trail and 3.3 km on the Sugar Mama trail.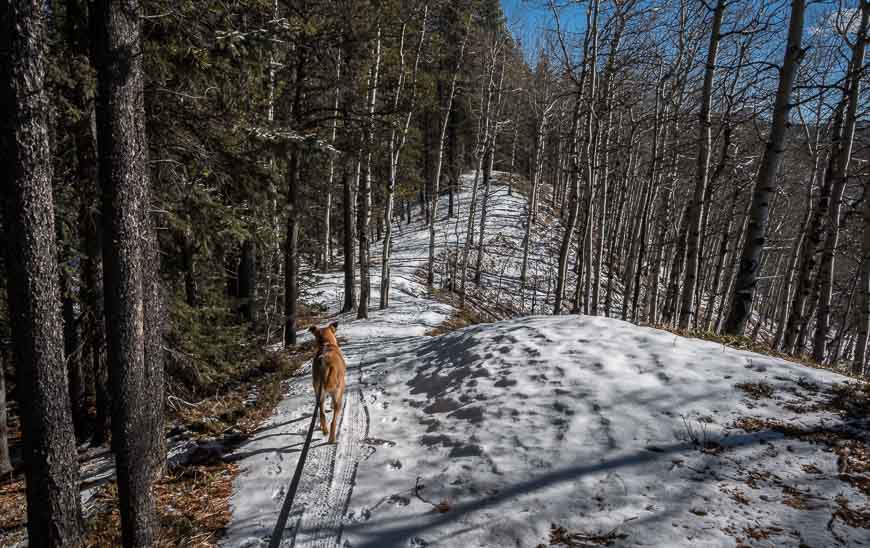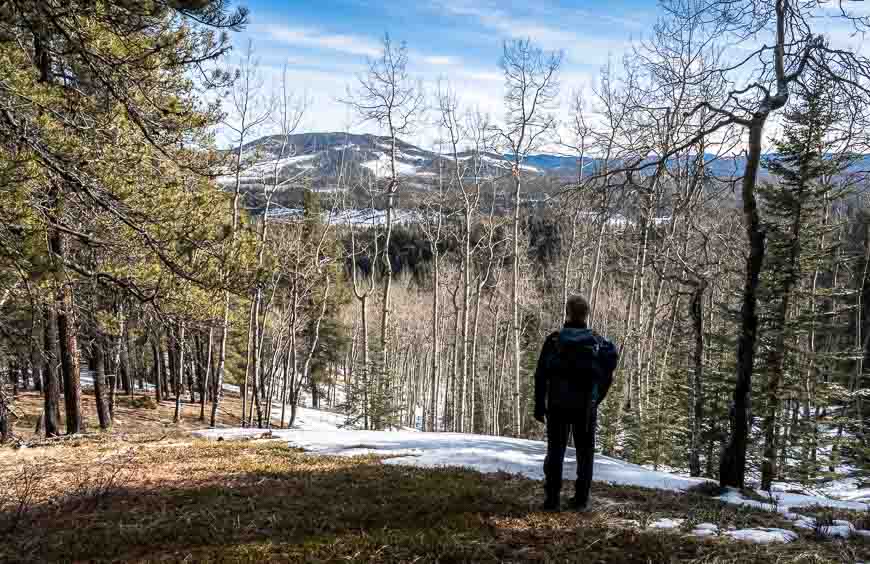 Forgetmenot Pond hike – one of the family-friendly Bragg Creek hikes
Distance: 1 km loop
Elevation: Negligible
Difficulty: Easy and family-friendly
Time needed: 20 -30 minutes
Best time to hike: Access this hike from May 15 to November 30th. Spring after the snow has left until fall when the snow flies is the best time to do this hike.
Enjoy a beautiful but dead easy 1 km loop hike around emerald-green Forgetmenot Pond. The trail is paved so its chariot and stroller friendly. There are picnic tables and fire pits so families can make it into a half day outing.
To get to Forgetmenot Pond drive past the winter gate on Highway 66, in total 28 km west of the Highway 22 and Highway 66 intersection. It's on the Elbow River side of the road and there is good signage.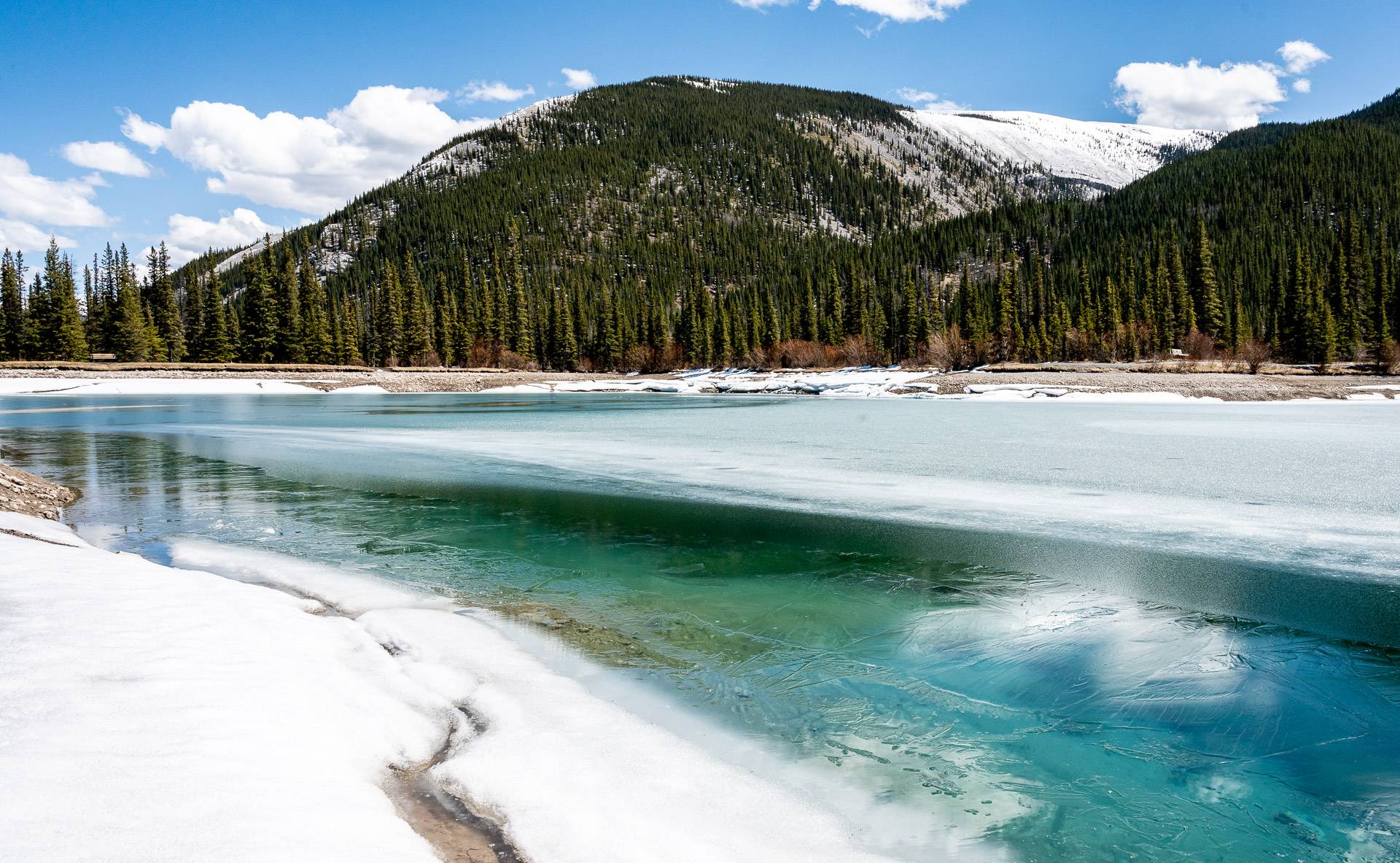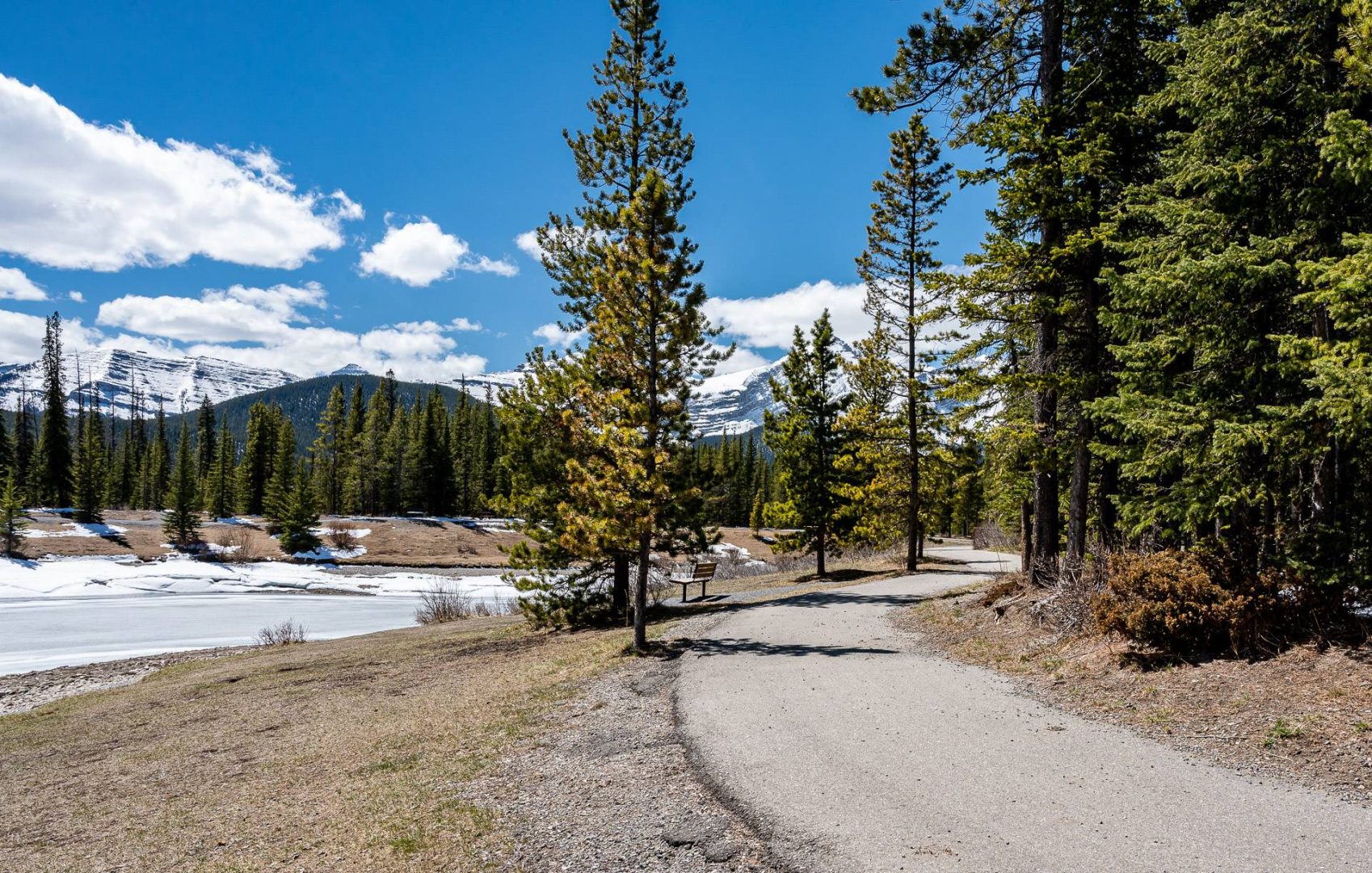 The Cox Hill hike
Distance: 12.4 km (7.7 miles) round trip to the summit
Elevation: 923 m or 3,020 feet
Difficulty: Hard, because of the elevation gain though there is nothing technical about the hike.
Time needed: 5 -6.5 hours
Best time to hike: Summer and fall but it can be hiked in winter though it can be windy and cold on top. Be avalanche aware and take personal responsibility for your safety.
Although the Cox Hill hike isn't one of the true Bragg Creek hikes because it's not on Highway 66, I wanted to include it as you can get to it from the Powderface Trail.
Most people access this hike from the Trans-Canada via the Sibbald Creek Trail (Highway 68). It becomes a dusty, dirt road and eventually the Powderface Trail – which ultimately hooks up with Highway 66. The trailhead for Cox Hill is on your left if you're coming from the Trans-Canada Highway, and it's signed.
The Cox Hill hike is 12.4 km round trip with a 914 m (3000 feet) elevation gain. It takes you to the highest point on the Trans-Canada Trail.
The trail is easy to follow though I'd recommend that you read my blog post on it to get exact details for the start of the trail. In summer there are some lovely sections rife with wildflowers. And once at the top there are nice slabs of rock to laze on and enjoy a picnic with a view.
This hike is not as well-known so you probably won't see a lot of people. At the top enjoy great views of Moose Mountain. If you're feeling energetic continue to the Jumpingpound Ridge Trail from the summit, a further 3 km away.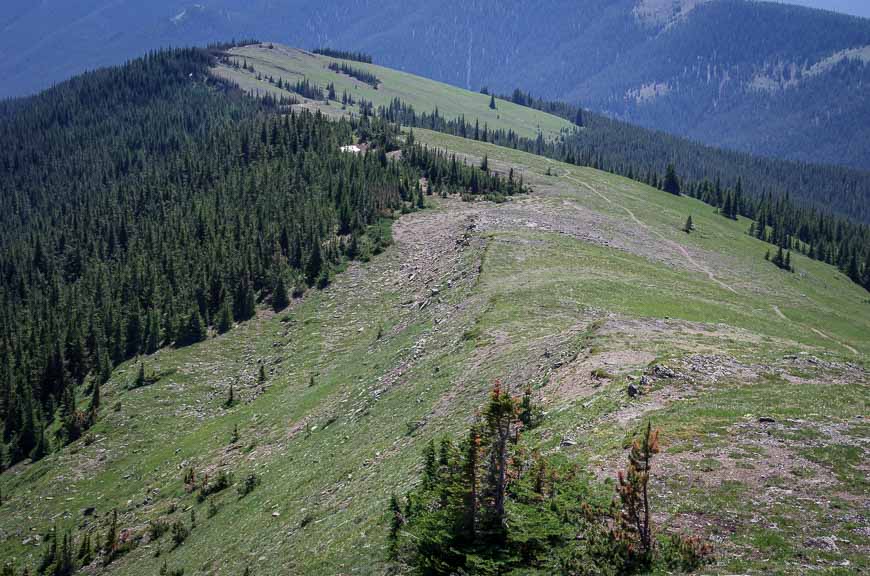 Canyon Creek Ice Cave – one of the Bragg Creek hikes where a bike comes in handy
Distance: 11.8 km (7.3 miles) return
Elevation: Approximately 275 m (902 feet), with most of it occurring from the trailhead near the gas facility
Difficulty: Moderate but watch your footing on the scree
Time needed: 3 -6 hours depending on how fast you hike and how much time you spend in the ice cave. Shorten the length by biking the road section.
Best time to hike: Spring after the snow has left until the snow flies in the fall – though some people do it in the winter.
This is a different sort of hike compared to the other Bragg Creek hikes. Instead of hiking to a summit or ridge, hike to the Canyon Creek Ice Cave off the Ing Mine Road.
A bike actually comes in handy as there is a 5.1 km road to walk before you get to the original trailhead. The total distance is 11.8 km return with approximately 275 metres of elevation gain – most of which happens once your reach the gas facility. Allow 3 – 6 hours depending on whether you biked and hiked or just hiked. If you plan to spend time in the cave, take several good lights and a helmet.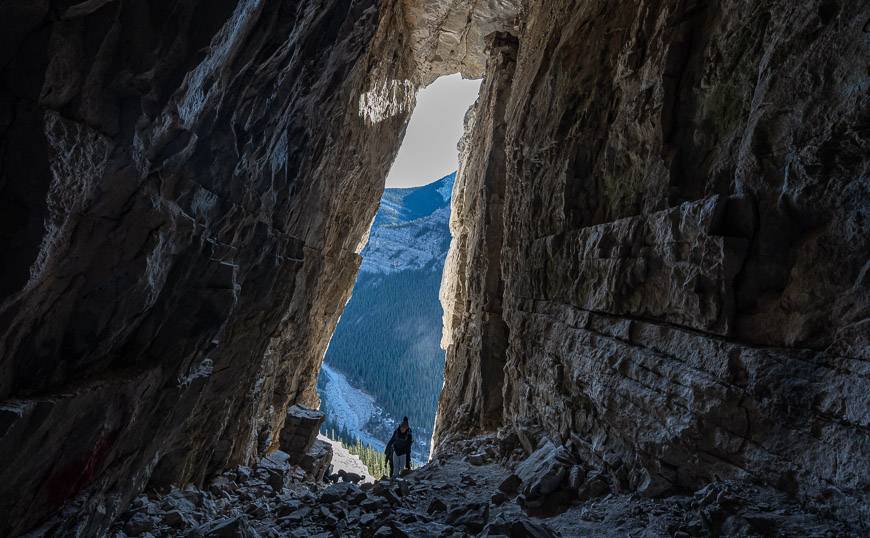 What to take on the Bragg Creek hikes
If you want to learn more about wildflowers, check out Popular Wildflowers of Alberta and the Canadian Rockies.
Which one of these Bragg Creek hikes would you most like to do?
Click on the photo to bookmark to your Pinterest boards.