Easily accessed from Calgary, the Cox Hill hike takes you to the highest point on the Trans-Canada Trail. It's 12.4 km round-trip with just over 900 metres of elevation gain. Count on a workout. The Cox Hill hike isn't one of the busier trails so there's a chance once you reach the summit, you'll have it to yourself. Sit back on rocky slabs and enjoy panoramic views in all directions – at any time of the year. You'll easily be able to see nearby Moose Mountain, another worthwhile day hike and those with energy can also continue to the Jumpingpound Ridge Trail from the summit, a further 3 kilometres away.
This post includes some affiliate links. If you make a qualifying purchase through one of these links, I will receive a small percentage of the sale at no extra cost to you. Thank you very much for your support.
Cox Hill hike summary
Distance: 12.4 km (7.7 miles) round trip to the summit
Elevation: 923 m or 3,020 feet
Difficulty: Hard, because of the elevation gain though there is nothing technical about the hike.
Time needed: 5 -6.5 hours
Best time to hike: Summer and fall but it can be hiked in winter though it can be windy and cold on top. Be avalanche aware and take personal responsibility for your safety.
Purchase a Kananaskis Conservation Pass before you start the hike.
It's a multi-use trail on the way up Cox Hill from the Dawson trailhead. Expect to share it with mountain bikers and horseback riders.
Dogs are permitted on a leash.
For trail reports visit the Kananaskis Country website.
If you're hiking from spring to late fall, be sure to carry easy to access bear spray.
How to get to the Cox Hill hike trailhead
The hike starts at the Dawson Trailhead off the Powderface Trail. To get to it, follow the Trans-Canada Highway to Sibbald Creek Trail – also known as Highway 68. (Highway 68 is a mix of tarmac and dusty dirt road). Continue on it for 23.2 km to reach a sign for the Powderface Trail. Turn left and continue for 2.9 km to reach the Dawson trailhead.
As a side note, the Powderface Trail is open year round to the Dawson trailhead. It is closed from Dec 1 – May 14th from the Dawson trailhead to Highway 66. There are lots of hikes you can access from Highway 66.
Recommended reading: 10 Bragg Creek Hikes along Highway 66 in Alberta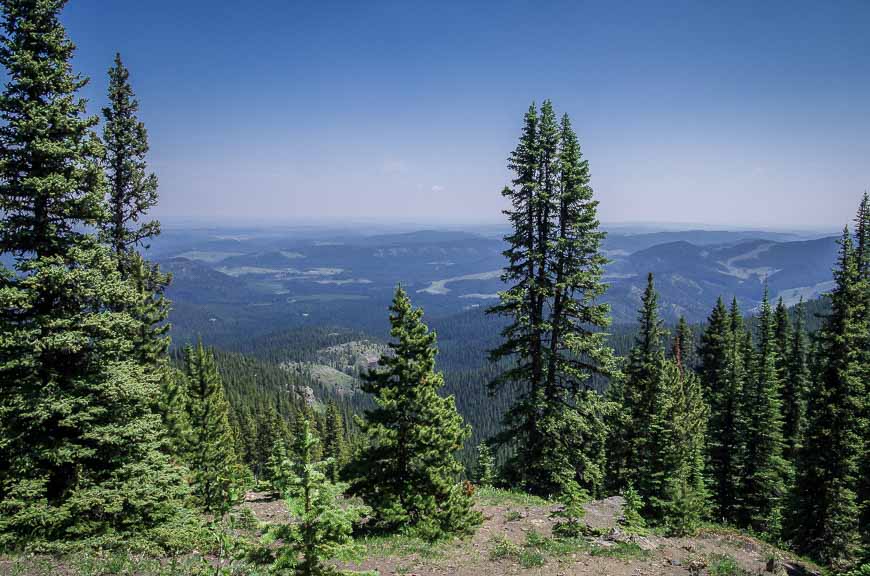 Cox Hill hike description
It took us a few minutes to find the proper trailhead. From the parking lot, walk down the road you drove up on for about 60 metres. Look right and you'll find a well-used trail and signage. Start out on the Tom Snow Trail and follow it down to the bridge across Jumpingpound Creek – where you'll see plenty of evidence of the 2013 floods. Cross the river and continue hiking to a T-junction. Look for the sign that says Coxhill Ridge Trail and go right.
Follow this trail to the summit through thick forest with only a few good views for the first 90 – 100 minutes or so. Most of the trail is steep but when you eventually break out of the trees, you will be rewarded with splendid mountain views.
There's a steep open slope to climb to get to the ridge. It switchbacks a few times and then deposits you on the ridge by a cairn. From there you're on easy street.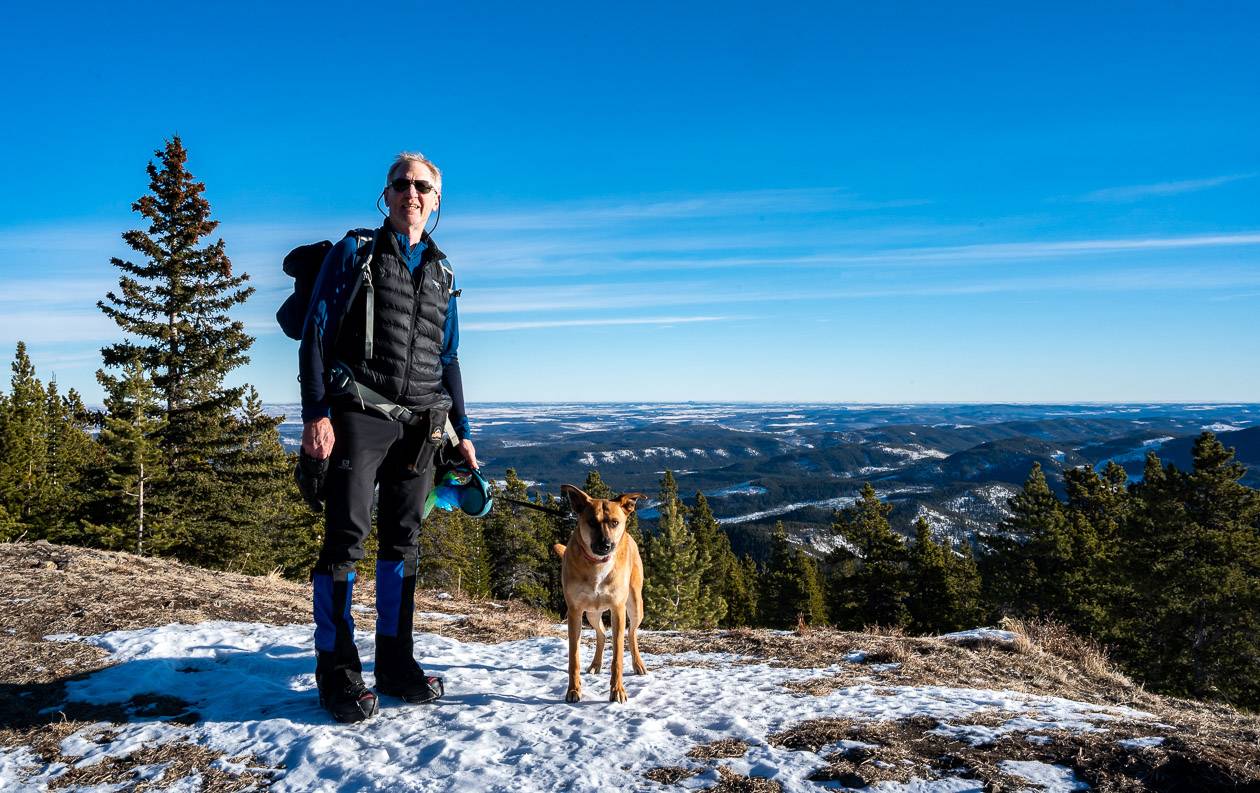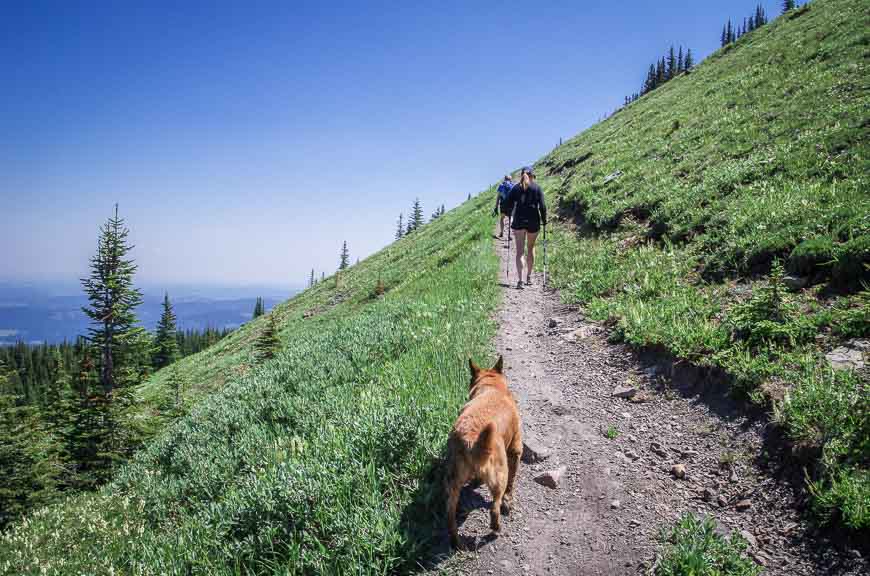 Turn right and continue walling up through a stand of trees for another 10 minutes or so until you finally pop out, just 50 metres from the Cox Hill summit. Find a slab of rock and sit back to enjoy the panorama of mountain peaks. If you've brought a picnic lunch, watch out for sneaky chipmunks at the top.
To return, simply retrace your steps though there is the option to continue on Jumpingpound Ridge Trail. I have yet to do that but the trail is obvious from the summit.
The Cox Hill hike is a workout but it delivers premium views. Be sure to take lots of water as after you've crossed the creek you won't any until you're back where you started.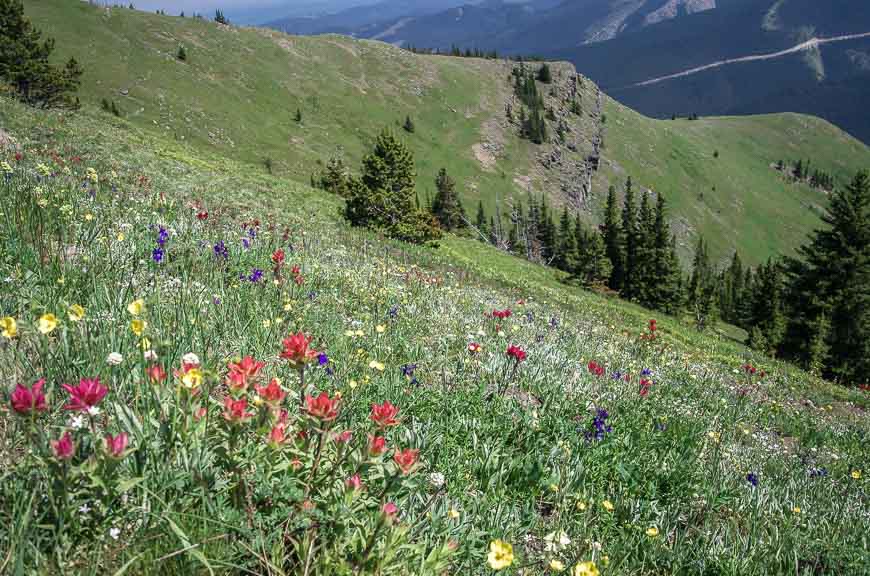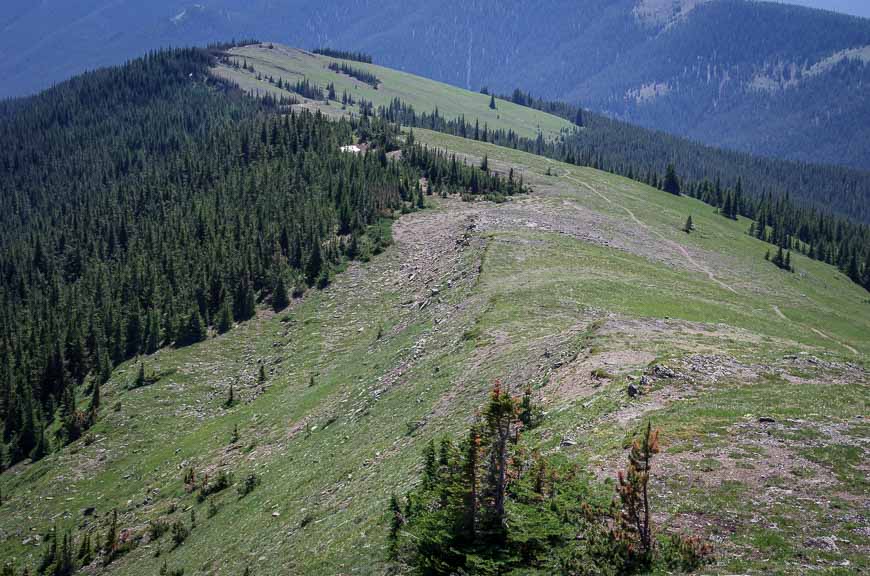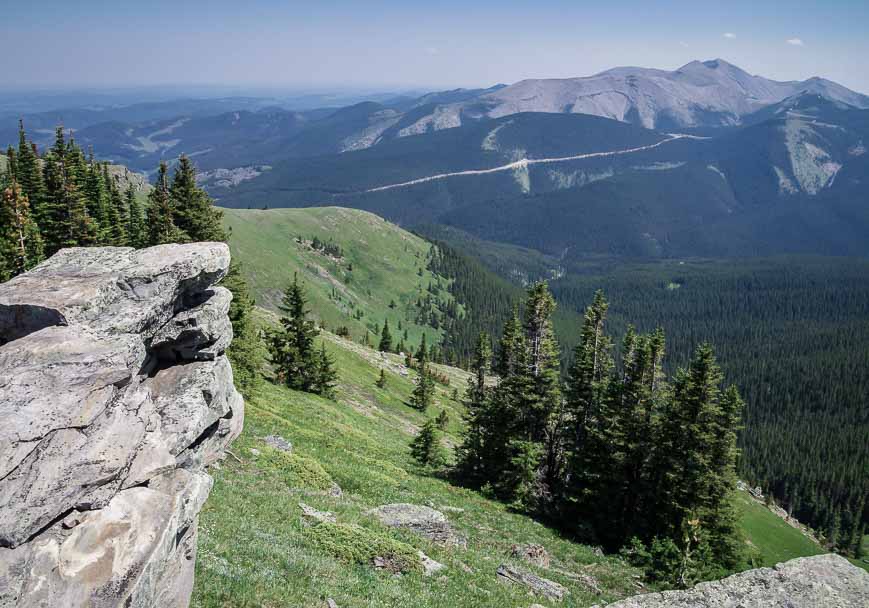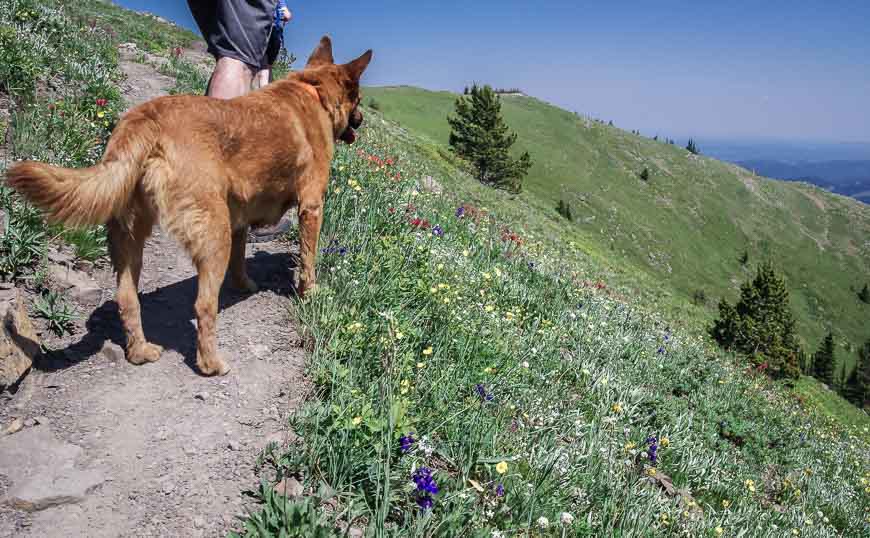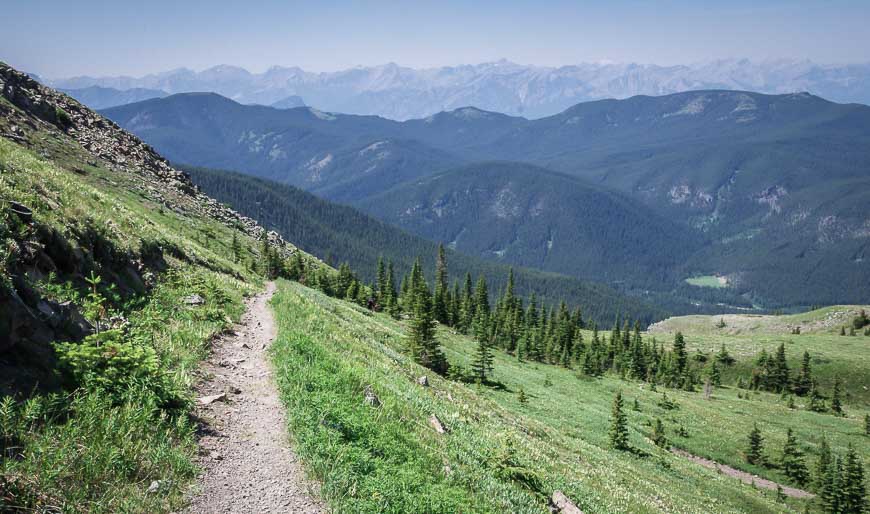 The Cox Hill hike in winter
I didn't know you could do the Cox Hill hike in winter until a friend told me she's done it in 2021. The only thing that's different than the summer is the cold and the wind. You really need to dress in layers and take very warm mitts for your lunch stop. I found it to be as beautiful as summer, but in a different way. The snow-capped peaks were a sight to see on a bluebird day.
I always think about avalanche danger. It seems low on this hike BUT be mindful as you traverse in the trees just below the bare summit slopes and on the final ascent. The summit ridge itself is prone to cornice building so stay off the cornices. The snow depth was low when we did it – and to be on the extra safe side, we moved quickly through the area, crossing it in seconds. I bet most people don't even give it a second glance.
I found the descent easy in winter (we were down in two hours) but I would suggest you carry microspikes and hiking poles.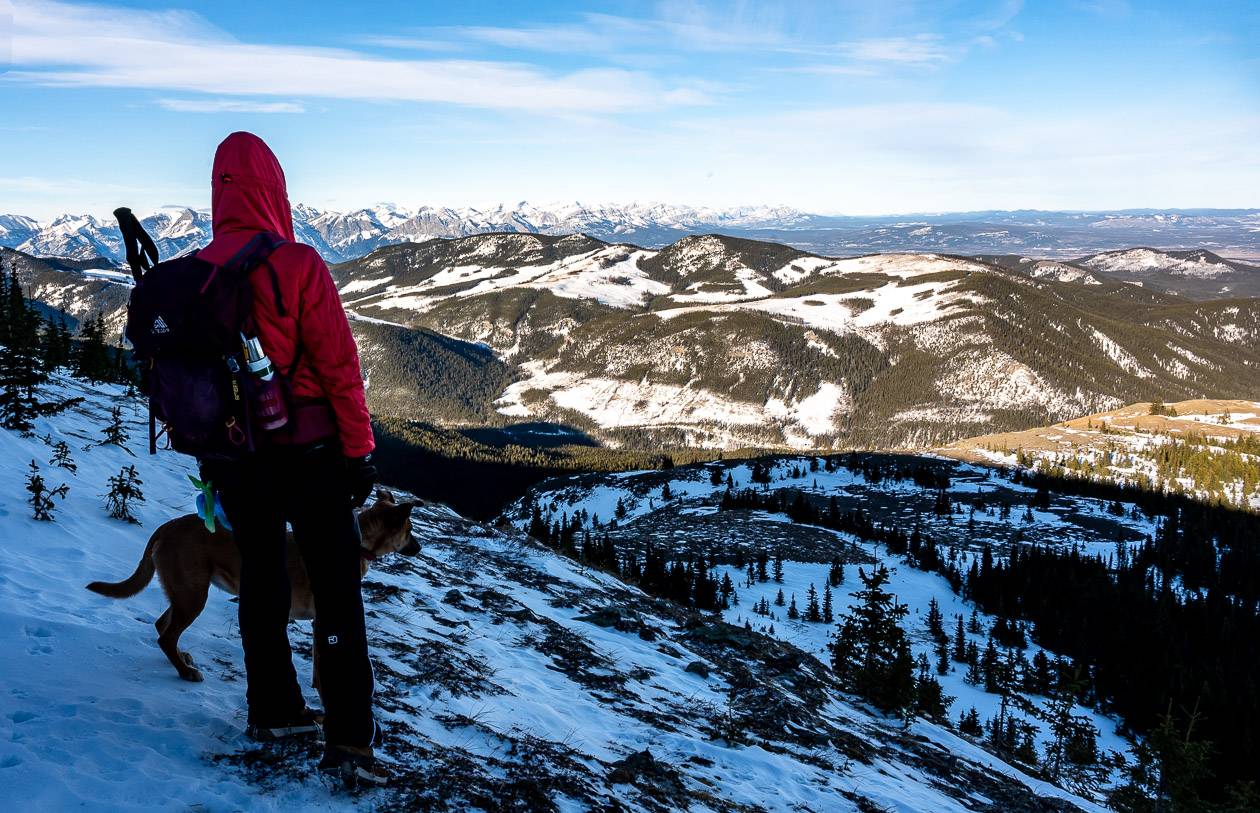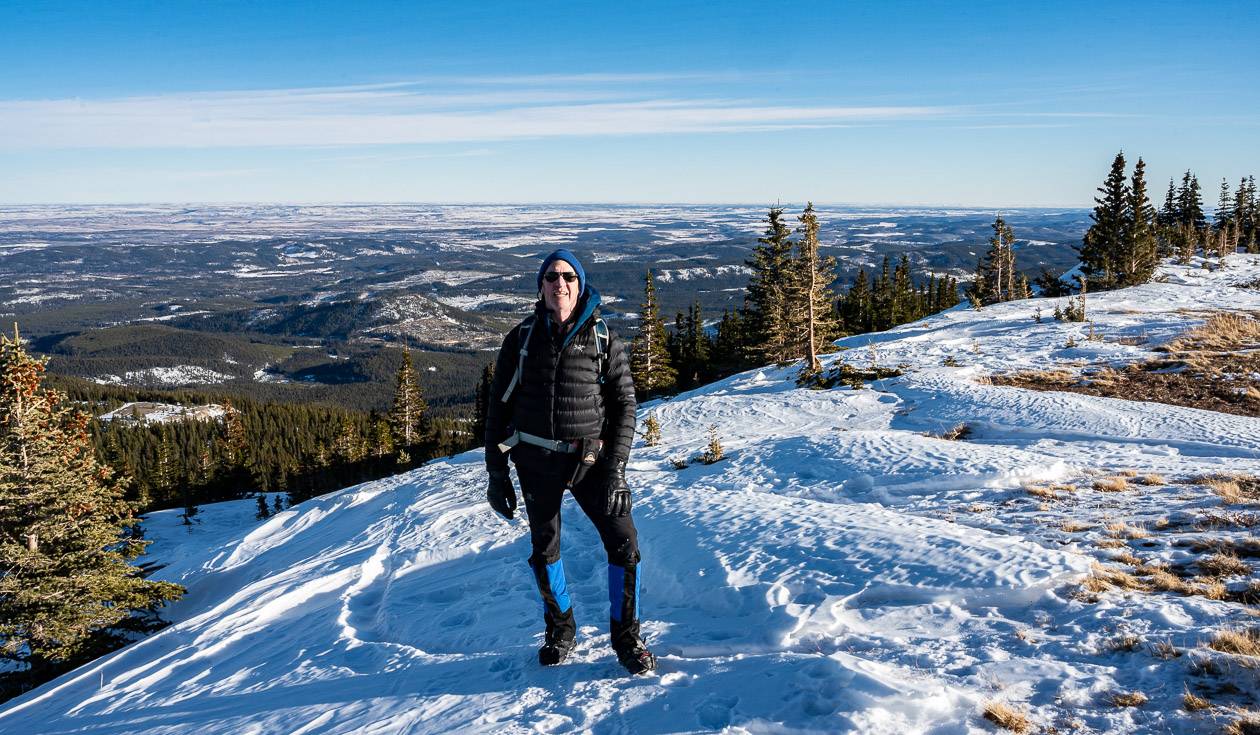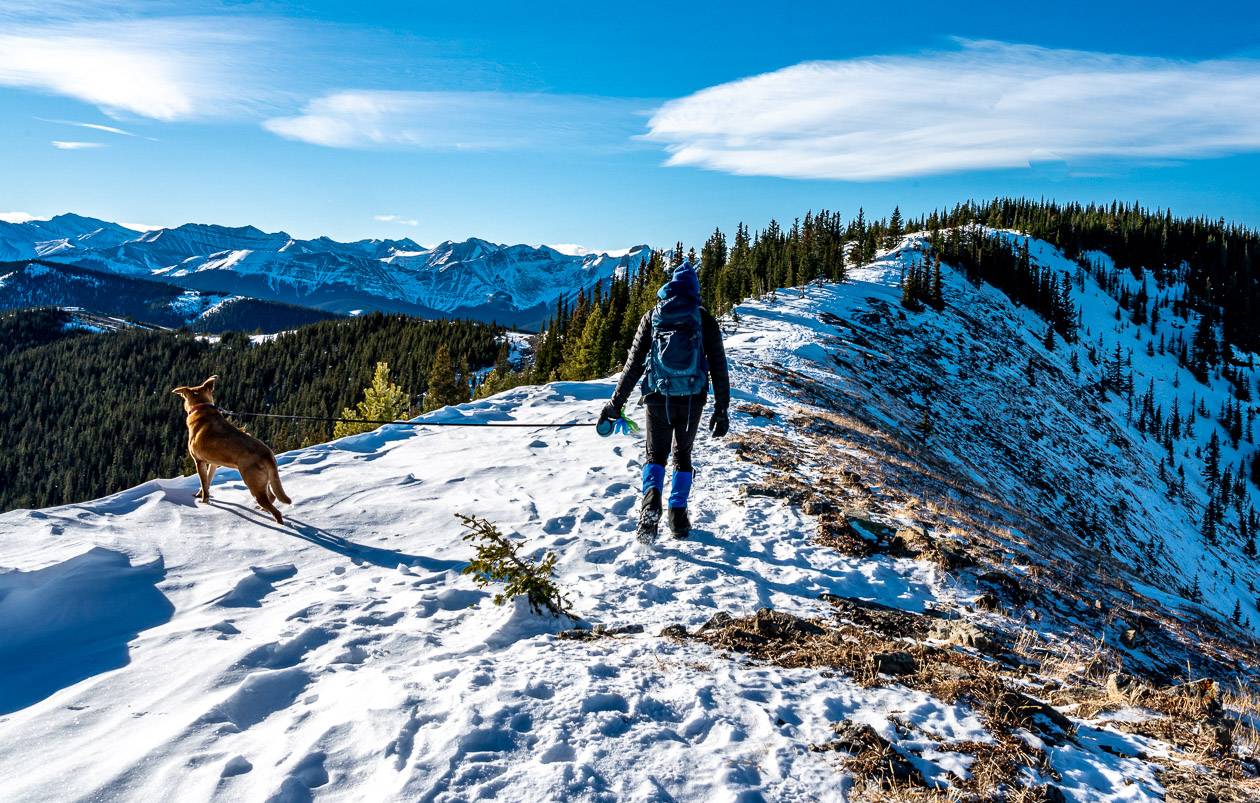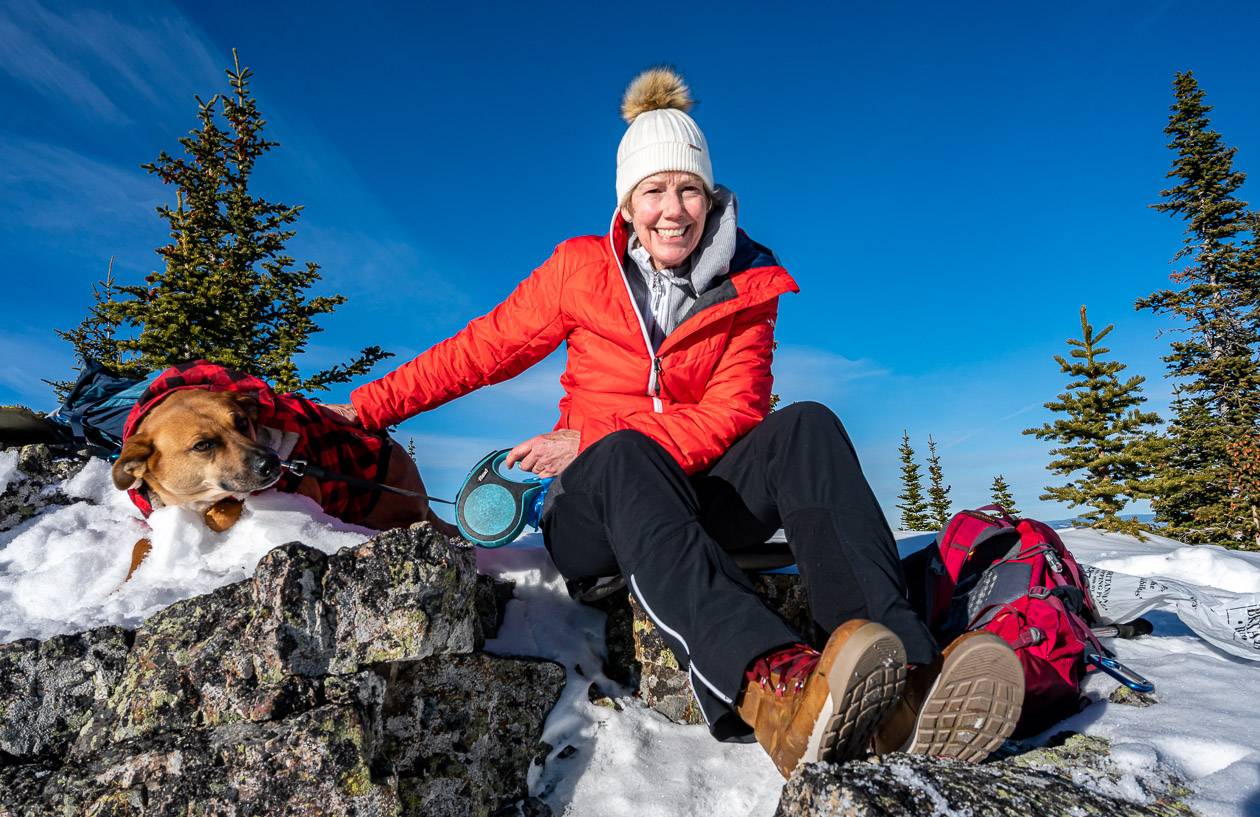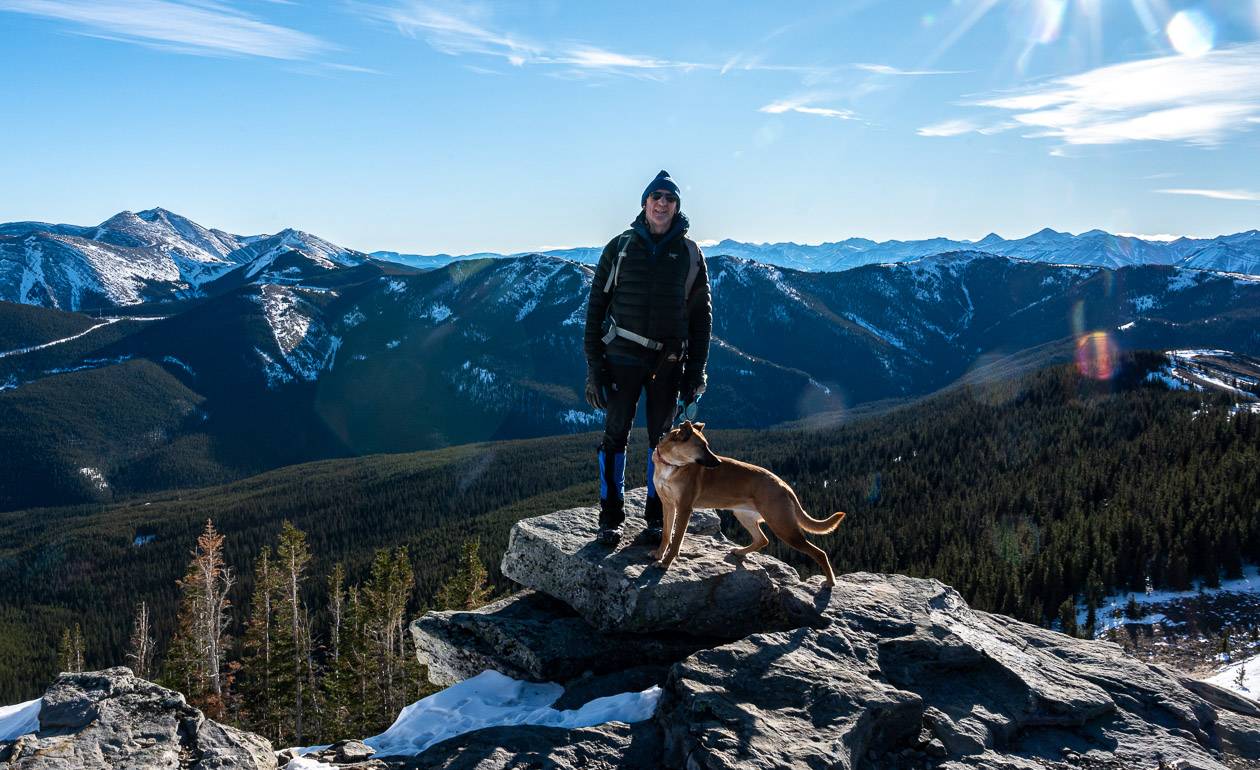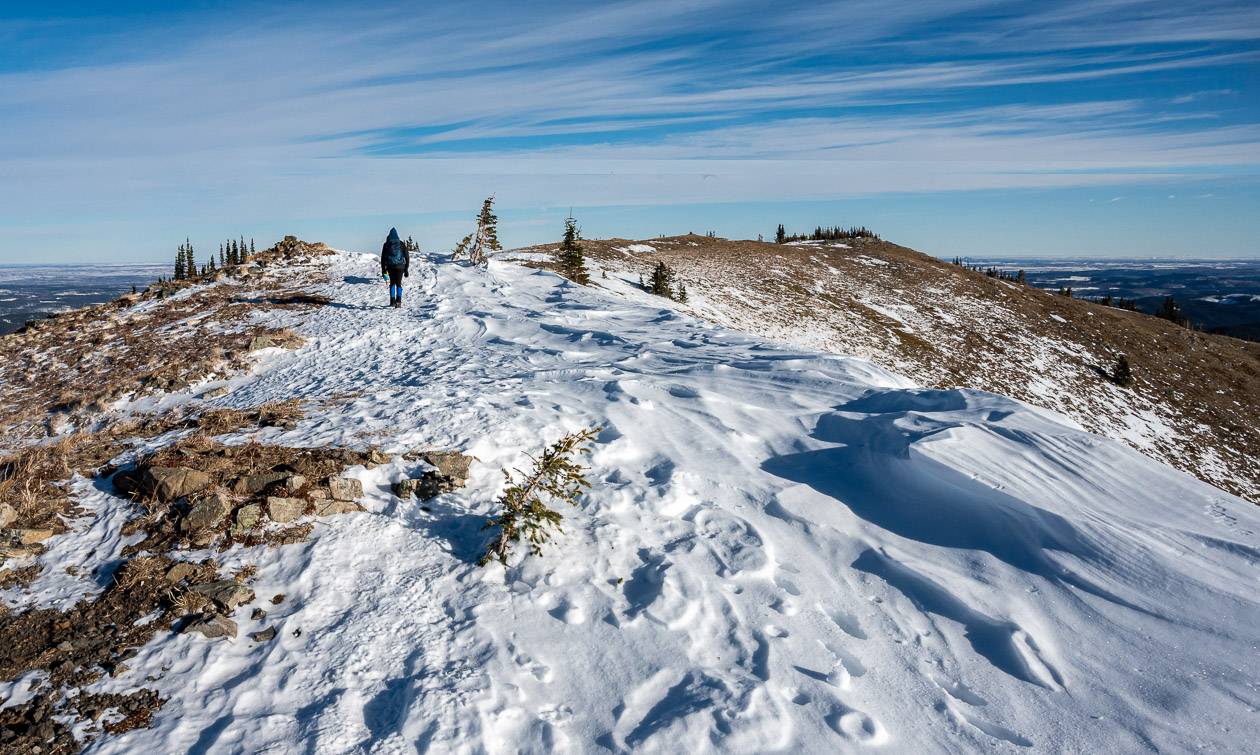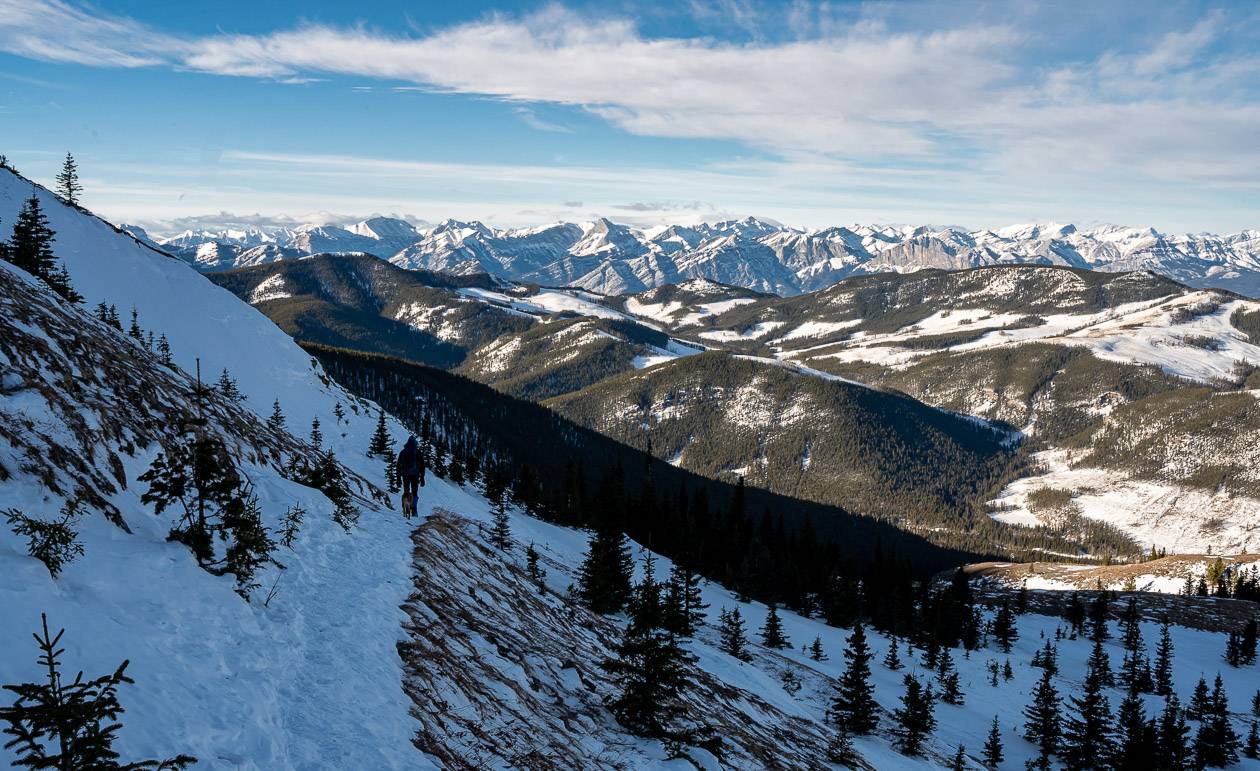 Where to stay in the area
There is camping along Highway 68 at Pine Grove and Sibbald Lake Provincial Campground.
Other nearby options include the Wilderness Hostel near Kananaskis Village and the more upscale Kananaskis Mountain Lodge.
What to take on the Cox Hill hike
Buy bear spray locally but I also recommend a holster for the bear spray so you can quickly access it.
If you'd like to learn more about the wildflowers you see, check out Alberta Trees and Wildflower Guide.
At lunch time a bum cushion is great for comfort. It might save you from sitting on something wet.
More Alberta hikes you'd probably enjoy
Click on the photo to bookmark to your Pinterest boards.