If you're looking for a long but glorious out and back day hike in Kananaskis Country then the Centennial Ridge hike up to Mount Allan should fit the bill. You can see Mount Allan from Highway 40 – but it's an altogether different experience to stand on its summit. If you want to turn it into an epic, unforgettable day day, do the Centennial Ridge hike one-way – and then from the summit of Mount Allan descend to Dead Man's Flats. You'll need a car shuttle to do that.
This post includes some affiliate links. If you make a qualifying purchase through one of these links, I will receive a small percentage of the sale at no extra cost to you. Thank you very much for your support.
Centennial Ridge hike summary
Distance: 14.6 km or 9.1 miles as an out and back hike. If you do the one way hike from the Ribbon Creek parking lot to Dead Man's Flats it's approximately a 21 km (13 miles) one -way hike.
Elevation gain: 1,347 m or 4,418 feet
Time needed: Allow 7 – 10 hours depending on whether its an out and back or one way hike.
Difficulty: Hard because of the elevation gain
Dogs: Permitted on the hike but if it's a hot day, leave them at home as there is nowhere to get water on the Centennial Ridge hike.
Best time to hike: June 22nd to October before the snow flies.
You will need a Kananaskis Conservation Pass to do the hike. You can buy a daily pass for $15 or a yearly one for $90, good for two vehicles sharing the same address.
The hike up Centennial Ridge is closed between April 1 and June 21st while lambing season is in progress.
The Mount Allan summit is 2,819 m or 9,246 feet – so the Centennial Ridge trail is the highest maintained trail in the Rockies!

The map for the hike is

Gem Trek Canmore & Kananaskis Village.

Give yourself lots of time, especially later in the summer so you aren't hiking down in the dark.
Go prepared with the 10 hiking essentials including a wind-proof jacket and lots of water.
Check the weather forecast before you go as this is no place to be caught in an electrical storm.
Let someone know where you're going and when you're due back.
Centennial Ridge hike – finding the trailheads
If you do the out and back Centennial Ridge hike you'll start and finish at the upper Ribbon Creek parking lot. But if you do it as a one way hike and finish at Dead Man's Flat then you'll need to leave a car there first thing in the morning.
To get to the Centennial Ridge trailhead, take Highway 40 south until you reach the turnoff for the Nakiska Ski Area. Follow the road until you reach Centennial Drive. It will be the first left you come to. Turn right onto Ribbon Creek Road continuing to the upper Ribbon Creek parking lot at the end of the road.
To find the trailhead/parking lot at Dead Man's Flat, take the Trans-Canada Highway and turn off at Dead Man's Flat. Drive south for about two kilometres, climbing as you go. Just before you reach Banff Gate Mountain Resort turn right into a parking lot. This is also where you park for the Pigeon Mountain hike.
Centennial Ridge hike location map
Beware of closure dates
Note that you are not permitted to hike Centennial Ridge between April 1 and June 21 every year. That is the time that bighorn ewes give birth to lambs.
Centennial Ridge hike description
Most people do the Centennial Ridge – Mount Allan trail as an up and back hike. Finding the trailhead is a bit tricky as there's a warren of roads at the beginning of the hike. We got turned around and lost about 15 – 20 minutes.
From the northeast corner of the upper Ribbon Creek parking lot follow Hidden Trail. It's signed. After about 300 m turn left onto the Mount Allan ski trail, also called the Mt Allen Centennial Trail.
When you reach the next T-junction turn left up the hill. (We made a mistake and went down. If you're going down you're not on the Centennial Ridge trail.)
Cross the first of five roads. When you reach the second road turn right for a short way, climbing as you go. Cross the third road and then take a left at the fourth road. Look for the second road on the right and you'll see the sign about spring closures. If you don't get lost it will take you about 30 minutes to this point.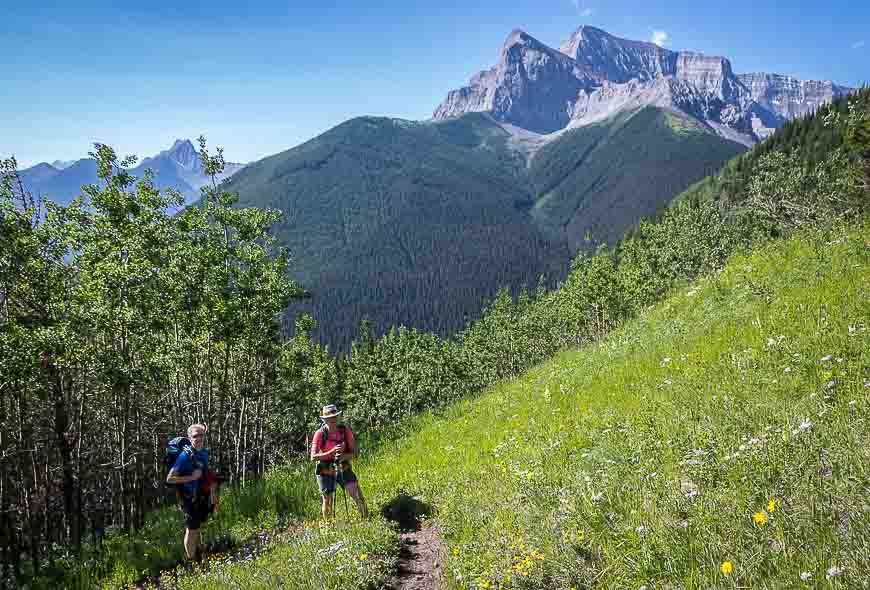 Once you're on the Centennial Ridge trail it's pretty straightforward. Enjoy peek-a-boo views as you climb through the trees. Then you're on a well-worn trail that ascends 610 m over just 2 km.
At the Olympic Summit you'll see a meteorology station and great views of the ski resort. From there it's pleasant hiking on the ridge until you reach the dip.
After you've dispatched with the dip you get into the beautiful Mushroom Garden. Hike through a row of oddly-shaped conglomerate pillars. At the gaps you can see the Memorial Lakes and several nearby peaks including Mount Sparrowhawk.
There is some down-scrambling that can be challenging for some people. If you have a spotter for those that need it, this section will go faster. Then it's up the steep scree – though it's not bad – to the summit where the views down the valley towards Canmore are spectacular.
Most people will retrace their steps. Poles would come in handy in a few places on the descent. You're very exposed on the ridge so be prepared to turn around there is any sign of an electrical storm.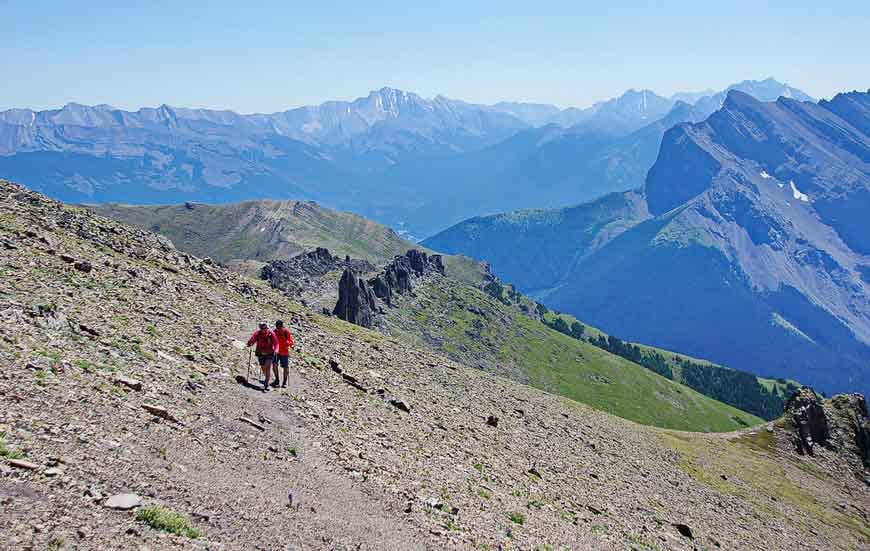 The descent to Dead Man's Flat from Mount Allan
Although the ridge in the above photo looks steep to reach from the summit, the hike down to it is actually straightforward. The walk along most of the summit is easy with an obvious path to follow.
But at a few points it gets quite steep and you really need to consider your options before bounding down.
Bounding may not be what you're doing – more like picking your way very carefully down. There is no signage so you have to go with what looks like the most used trail.
The descent alternates between easy and difficult hiking – allowing you to catch your breath in between. When you get to the east side of a rock face, pictured immediately below – take your time, especially if it is the least bit wet and focus on your footing.
When you pop out from this section it's a steep but manageable descent to reach a trail that heads off into the woods. If memory serves me correctly it's still at least 90 minutes to the car from there but the trail, even though narrow, is easy to follow.
Unfortunately once you're back into the trees it's not very interesting hiking. Your thoughts by then are probably on a cold drink and a good meal. We made good time once across the valley and into the trees.
How long does it take to do the Centennial Ridge hike?
We took somewhere between 10 and 11 hours to do the 21 km. (I may be a kilometre or two out on this number.) I know we left our house around 7 AM in Calgary and got home after 9 PM so it was one full but very rewarding day.
We did have to take our time in several places on the descent where the ground steepened and was covered with ball bearing sized pebbles.
All in all the Centennial Ridge – Mount Allan – Dead Man's Flat is one of the most impressive hikes I've done in Kananaskis Country.
A few things that will come in handy on the hike
If you're navigation skills aren't up to snuff – or if you want a way to get in touch with friends or family in the event of an emergency, purchase a Garmin InReach Mini.
You might find a pair of lightweight, collapsible hiking poles are helpful, especially on the descent.
I find a ball cap or a brim hat with a chin strap invaluable in the rain or on a hot, in your face sunny day.
You're going to need energy on this hike. Some protein bars are always a good idea – but if you want a treat, how about some chocolate. I love the Whittaker's brand, especially their peanut slab.
If you're prone to blisters, I recommend the following.
Leukotape – This came highly recommended to me by a fellow who was hiking the whole of the Great Divide Trail in Alberta and BC. I met him near the end of the trail, and he still swore by the stuff.
KT Blister Tape – Several hikers I have chatted with recently have come to love this tape for blisters. I also recommend KT Tape – an athletic tape that I've used for foot support on long hikes.
Compeed – I discovered this Band Aid-like product when I was hiking the Cumbria Way in England and ended up with massive blisters after getting wet feet. It speeds up the healing process too.
Where to stay near the trailheads
There is lots of camping in Kananaskis and some of it is first come, first served.
You can book a night very close to the Ribbon Creek trailhead at the Kananaskis Wilderness Hostel.
There are two options that are at the higher end – the Kananaskis Mountain Lodge (home to the Kananaskis Nordic Spa) and Mount Engadine Lodge – located in the heart of world-class hiking.
Near Dead Man's Flats is the Copperstone Resort, rated fabulous. It's also just a short drive from Canmore where there are hostels, B&B's, and a full range of hotels.
More hikes in Kananaskis Country you'd probably enjoy
Click on the photo to bookmark to your Pinterest boards.