I first learned about the South Lawson Peak hike via Instagram. Someone had hiked it under cover of snow and their photo caught my eye. The hike sounded intriguing – and the views from the first photo I saw were outstanding. After a bit of research, John and I decided we'd do the hike one June day on the way up to a two night stay at Mount Engadine Lodge as the trailhead is only about a 30-minute drive from the lodge.
The South Lawson Peak hike definitely needs to get added to your must-do list if you visit Kananaskis Country. Views are sublime. It's an 7.0 km return hike with a 762 m (2,500 foot) elevation gain (though one guidebook says it's a 8.4 km return hike with 690 m (2,264 feet) of elevation gain.
The first few kilometres are particularly steep but then the trail moderates save for a final short, steep section before the scrambling part of the hike. I'd call it a strenuous hike and wouldn't recommend it for young kids.
This post includes some affiliate links. If you make a purchase via one of these links, I may receive a small commission at no extra cost to you.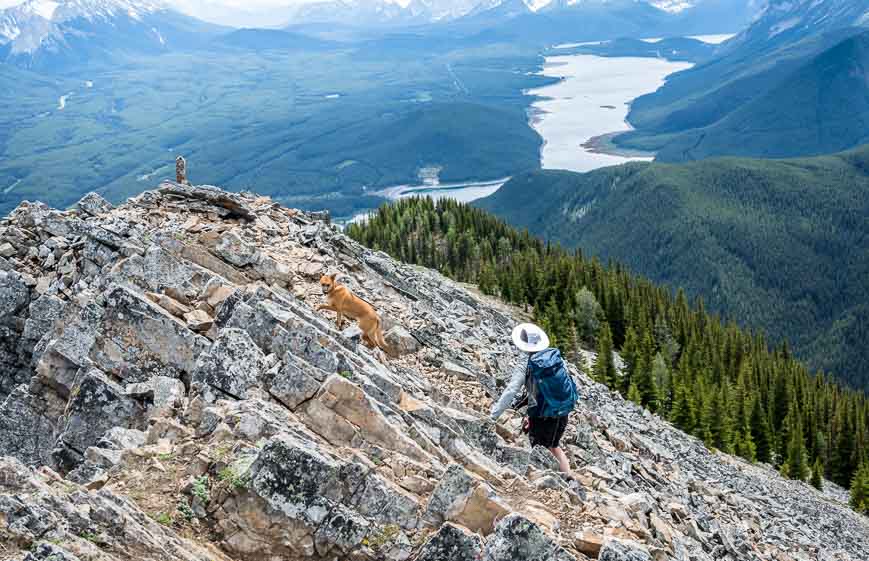 South Lawson Peak hike summary
Be sure you've purchased a Kananaskis Conservation Pass before you start the hike. You can do it online (don't count on cell service at the trailhead) or stop in at the Kananaskis Visitor Information Centre on Highway 40 close to Barrier Lake.
It's an 8.4 km (5.2 mi) round trip hike with an elevation gain of approximately 762 m or 2,500 feet.
The summit elevation is at 2,380 m or 7,808 feet.
I'd rate this as a difficult hike because of the steepness of the trail.
Allow 4 – 5 hours to do the return hike.
Dogs are permitted on a leash.
The map for this hike is

Gem Trek Kananaskis Lakes.

The hike is best done from late spring until early fall, though I see the odd person on Instagram that does it as a winter hike.
Carry easy to access bear spray.
Check the mountain weather forecast before you go.
Always pack the hiking essentials.
Finding the South Lawson Peak trailhead
Like so many hikes in Kananaskis Country, this trail is unofficial. That means you won't find signage of any sort letting you know you're on the right trail. Fortunately, it's pretty obvious.
If you're driving on Highway 40, drive south from the Trans-Canada Highway for 49 km. Turn right onto Kananaskis Trail, and then 2.1 km later turn right again onto the Smith-Dorrien-Spray Trail. Drive for another 2.8 km to reach an unsigned pullout pictured below. If you get to the Peninsula Day Use Area you've gone a couple of hundred metres too far.
Pull in and park by the locked gate. Note there is signage for the High Rockies Trail in the parking lot – as this is the end of the section of High Rockies Trail from Blackshale to Peninsula.
Location map of the South Lawson Peak hike
Description of the South Lawson Peak Hike
This is such a worthwhile hike for the effort – reward ratio. In just two hours you can be standing on the summit, enjoying the views. Note that the last 10 minutes of hiking require a bit of easy scrambling. There are excellent hand and footholds and only a minor amount of exposure.
The hike starts off easily at the locked gate. Follow the flat, curving road for 1.2 km. Along part of the road there is a flume – the V-shaped structure pictured two photos below, that reroutes water from Kent Creek.
Near the end of the flume and directly across from the set of stairs pictured below is the start of the trail up to South Lawson Peak. Cross the small creek and start hiking up on the obvious trail. It's catch-your-breath steep immediately.
Views on the South Lawson hike
Once you're on the trail, all route-finding issues are over.
The steepest part of the hike is at the beginning of the trail (save for a short section near the top) – but that means you get views of the Kananaskis Lakes – and darned good ones in very short order.
As you climb, there are some places with airy drop-offs. The trail stays well back from the edge but if you're with kids or dogs, keep them close by. The final 10 minutes of the hike includes some easy scrambling. There are plenty of foot and hand placements so it's not hard. Take your time and you'll be through it and onto a grassy slope and just a few minutes away from the end of the trail. There are enough rocks around at the top that you can get out of the wind if it's blowing.
Enjoy your lunch with a view. From the top you get views of King Creek Ridge along with Grizzly, Denny, Potts and Evan-Thomas Peaks.
Allow approximately two hours to get back to the trailhead. All told it took us 4.25 hours including the lunch stop.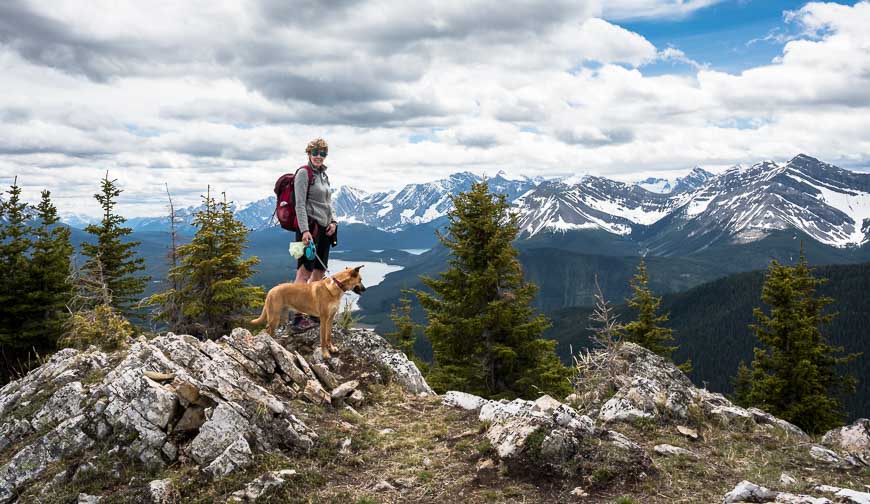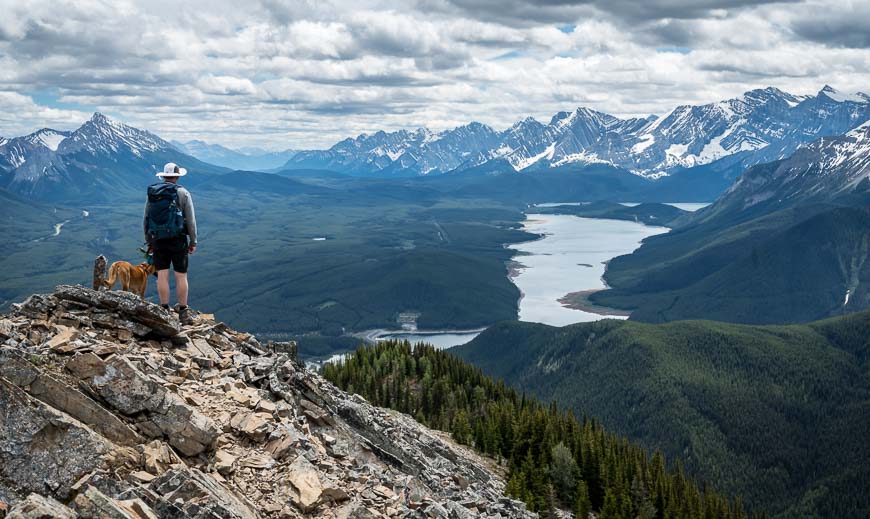 Where to stay nearby
If you're into camping, there are several campgrounds nearby in Peter Lougheed Provincial Park though my understanding is that they fill quickly. They include Canyon, Elkwood, Boulton Creek, Lower Lake, Interlakes, and Mount Sarrail Walk-In tenting. The Mount Kidd RV Park is also a short drive away.
Read: A Complete Guide to Camping in Kananaskis
If you prefer a roof over your head I'd suggest Mount Engadine Lodge, 24 kilometres away. Two other options include Kananaskis Mountain Lodge and the Kananaskis Wilderness Hostel, both about 59 kilometres away.
Further reading on hikes nearby
If you're looking for more hikes in the Canadian Rockies, particularly family-friendly hikes I'd highly recommend Family Walks and Hikes in the Canadian Rockies by Andrew Nugara, published in 2020.
Click on the photo to bookmark to your Pinterest boards.