The 10.0 km return hike to Rummel Lake in Peter Lougheed Provincial Park, is a great choice if you want an easy mountain hike that leads to a lake partially ringed by larch trees. You won't find nearly the crowds on this hike that you do on the nearby hike to popular Chester Lake. It's also a popular snowshoeing trail in winter.
The Rummel Lake hike – which gains just 421 m in total, also offers beautiful views of the Spray Lakes Reservoir. In addition, you can ogle horseshoe-shaped Tent Ridge across the Smith-Dorrien Road – perhaps another hiking adventure you'll will want to contemplate on a fine summer day. This one though is for serious hikers.
Rummel Lake hike summary
Purchase a Kananaskis Conservation Pass before you start the hike. If you're planning to do a lot of hiking, buy the year long pass for $90. It can register up to two vehicles at one address.
If you're a map person, I'd recommend both a copy of Gem Trek Kananaskis Lakes and Gem Trek Canmore and Kananaskis Village.
Before you head out on the hike, check out the trail reports on the Alberta Parks website.
The Rummel Lake hike is 10.0 km (5.2 miles) round-trip to the lake. Add 5.0 km (3.1 miles) round-trip if you hike to Rummel Pass and Lost Lake. Don't hike to the pass in winter because of avalanche danger.
The elevation gain is 421 m or 1,381 feet to the lake and an additional 185 m or 607 feet to the pass.
I'd rate the Rummel Lake hike as moderate.
Allow 3 – 4 hours for the return hike to Rummel Lake. Add an extra 1 – 1.5 hours return for the pass.
Rummel Lake is at an elevation of 2,220 m or 7,281 feet. Rummel Pass sits at 2,405 m or 7888 feet.
Dogs are permitted on the trail but keep them leashed.
Be sure to pack easy to access bear spray.
There is a backcountry campground at Rummel Lake BUT it's only open in winter, roughly from December 19 – April 1.
There is an outhouse up at the lake.
In the height of the summer, adventurous types might want to cool off in Rummel Lake.
Always carry the hiking essentials.
This post includes some affiliate links. If you make a purchase via one of these links, I will receive a small commission at no extra cost to you. Thank you very much for your support.
Finding the Rummel Lake trailhead
There is no official parking lot for Rummel Lake but fortunately the trailhead is easy to find. Drive the Smith-Dorrien Spray Trail either 35 km from the Canmore Nordic Centre or 32.5 km from the intersection of Highway 40 and Kananaskis Lakes Trail.
The trailhead is directly across the road from the turnoff to Mt. Shark Road and Mount Engadine Lodge pictured below. Park on the road – and be prepared to come back to a dusty vehicle.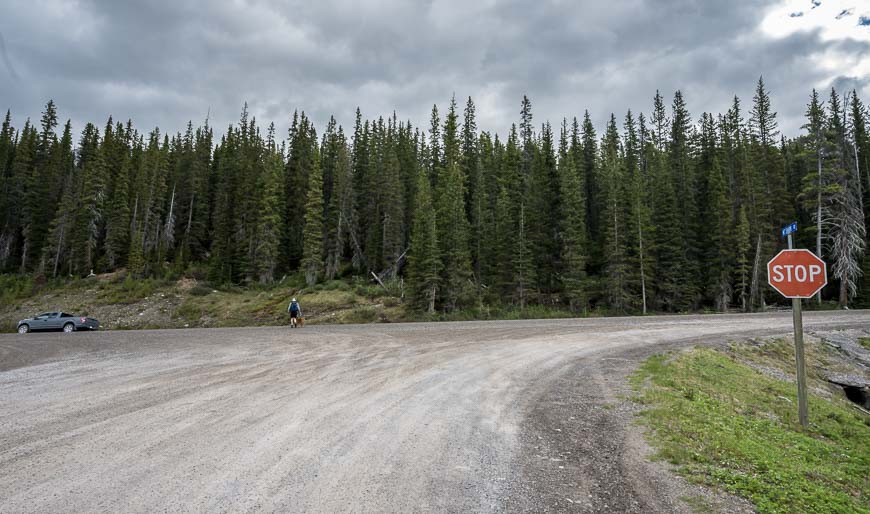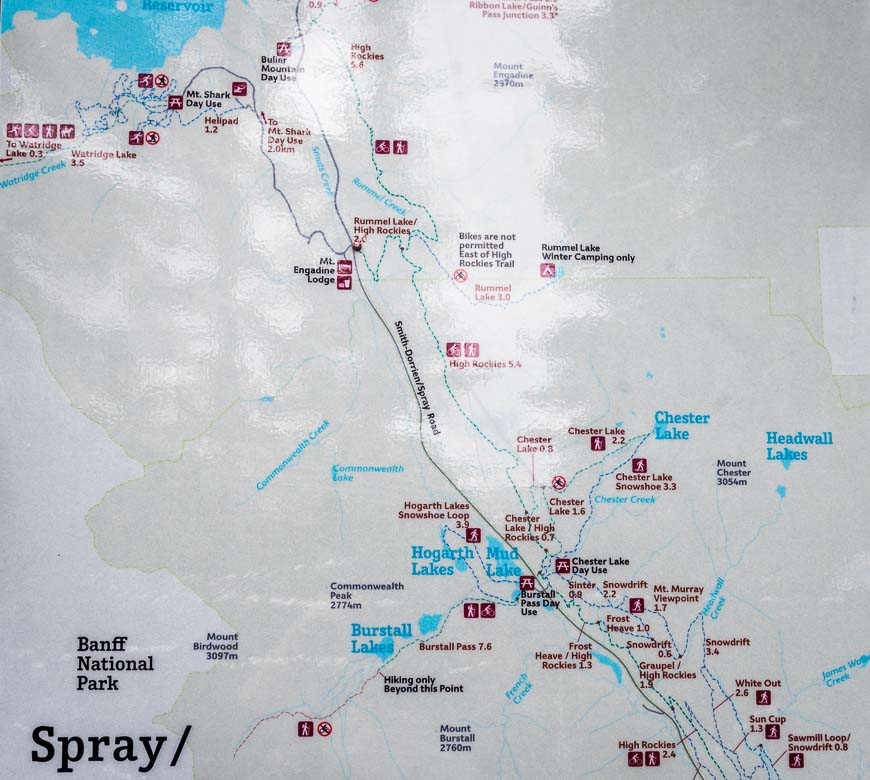 Rummel Lake hike description
Before you start hiking, have a look at the map at the start of the trailhead. As you can see the hike starts off on a trail that heads southeast and then curves left. While you're climbing up towards the High Rockies Trail, the grade is always gentle. In fact the grade is either gentle or moderate for the full length of the hike.
Meet the High Rockies Trail and a big bench with a view of the Spray Lakes after 20 – 25 minutes of hiking.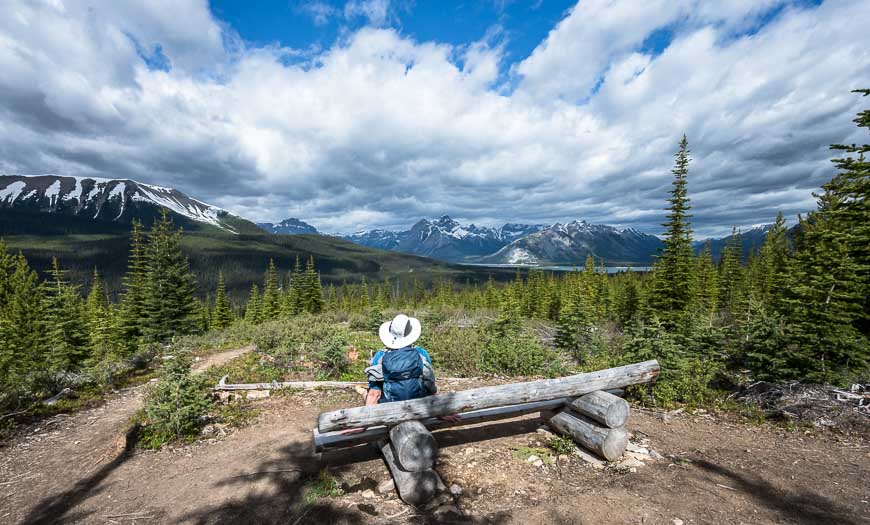 While there is no signage, you need to go left at the intersection and continue on the High Rockies Trail for perhaps 5-10 minutes. Someone had made an arrow out of sticks and stones showing that you need to turn left, but it won't be obvious to everyone.
At the next intersection, after 10 minutes of hiking, go right. You'll immediately see a sign for Rummel Lake. Now you're into more mature forest made up primarily of fir and spruce. In June the forest smelled fresh – almost delicious.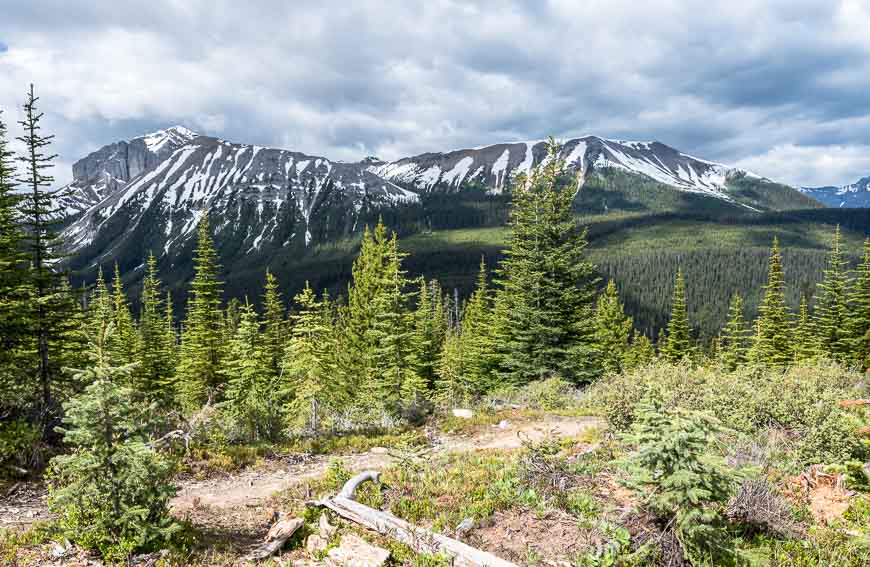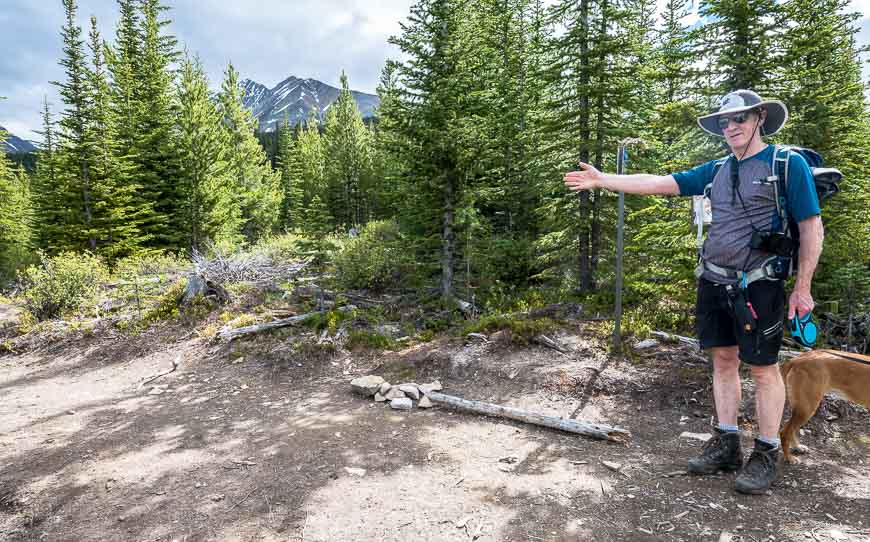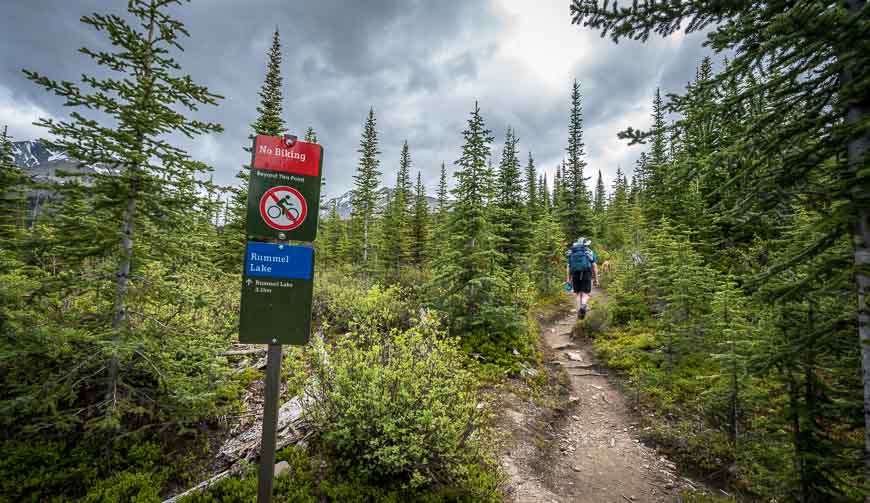 When I did this hike during the third week of June we ran into snow approximately 30 minutes from the lake. It was spotty at first until we crossed the bridge over Rummel Creek. We didn't have gaiters, but if you'd been a week or two earlier, they would have come in handy. Continue up through the trees – with little in the way of views until you pop out at Rummel Lake beside an outlet. It will likely have taken you somewhere between 1.5 – 2 hours to reach the lake. The snow definitely slowed us down a tad.
Admire 3,185 m high Mt. Galatea rising from the southeast shore of the lake as you enjoy lunch by the unbelievably clear lake. Wildflowers were starting their show in June – with marsh marigolds leading the pack.
Retrace your steps to return to the trailhead in approximately 90 minutes.
This is bear country so be smart. Speak loudly at times, especially if you see signs of bears and always carry a can of bear spray that is both easy to access and that is no more than three years old. (Some people say two years old.)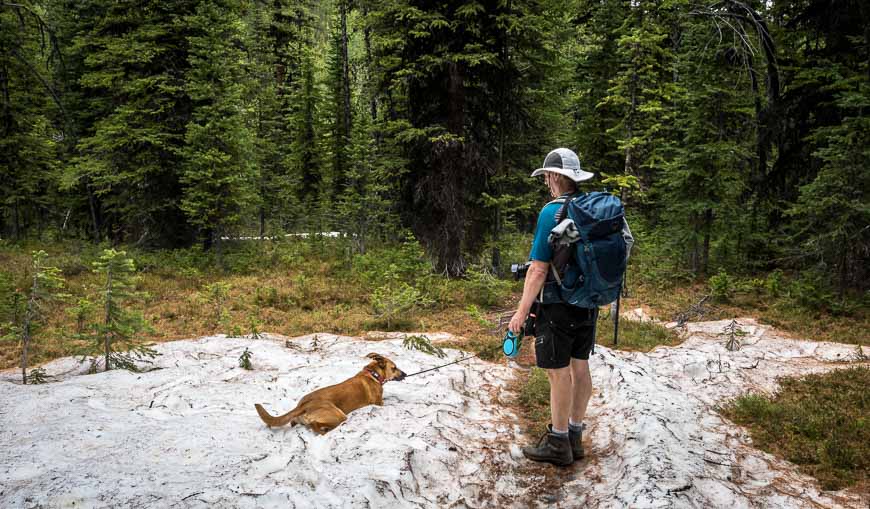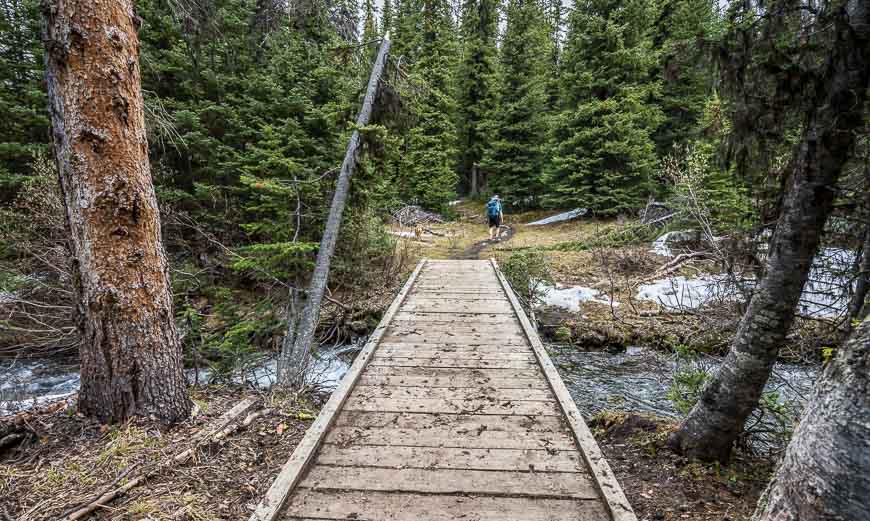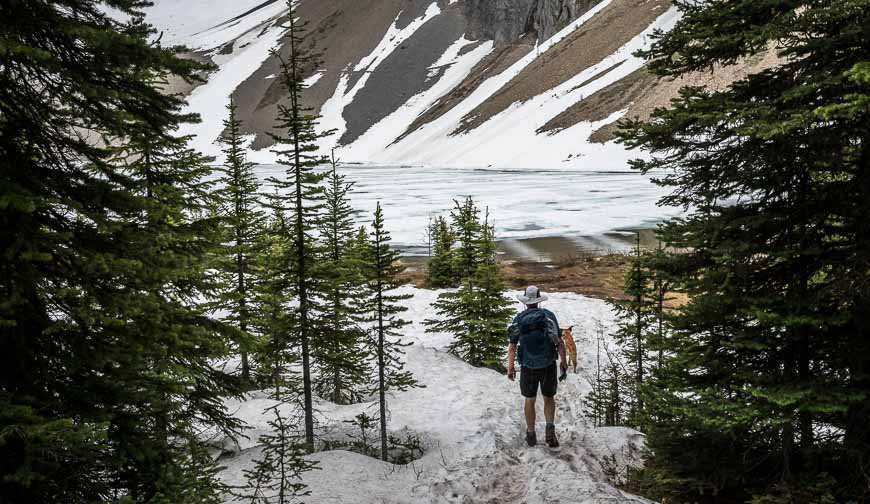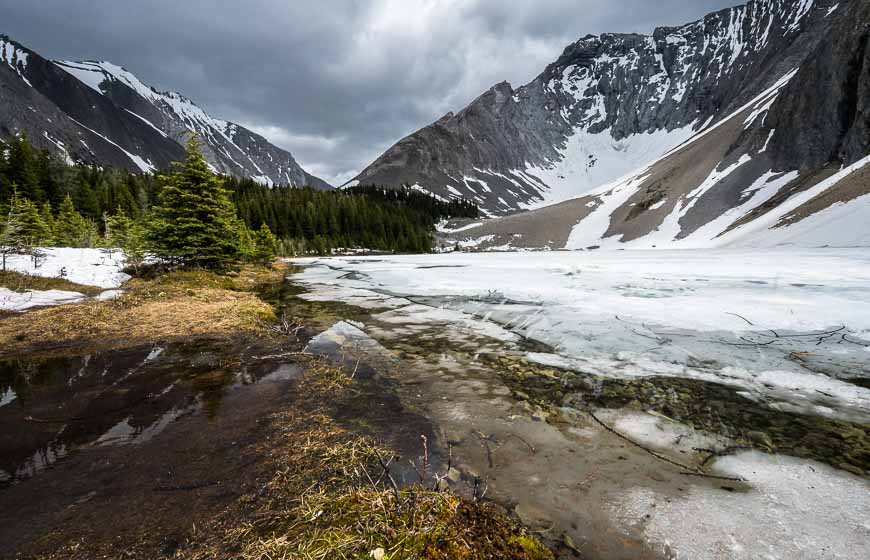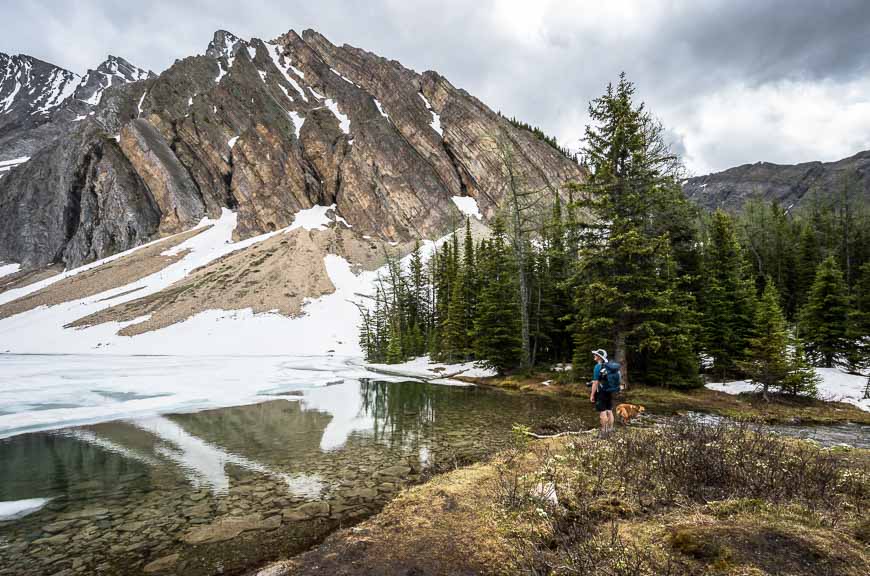 A few things to take on the hike
If you're hiking to Rummel Lake early in the season, you'll find hiking gaiters to be invaluable.
Come late June and July, it's worth carrying bug spray.
It's way more comfortable and you won't lose as much heat if you have an insulated sitting pad like this inflatable seat.
Consider bringing some extra clothes, especially early and late in the hiking season. Layering is always a great idea. I like a lightweight down sweater for instant warmth. Always take an extra pair of dry socks in case you get a soaker.
Where to stay nearby
The closest accommodation option and one of my favourites in Alberta is Mount Engadine Lodge. They offer the choice of lodge rooms or glamping tents – along with one yurt for those who want to save a little money. From my glamping tent, I walked 175 paces to reach the Rummel Lake trailhead.
If you not interested in an overnight stay I'd still recommend treating yourself to afternoon tea at Mt Engadine Lodge. Reservations are recommended. If the weather is lovey you can enjoy the charcuterie plate outside on the deck with a view.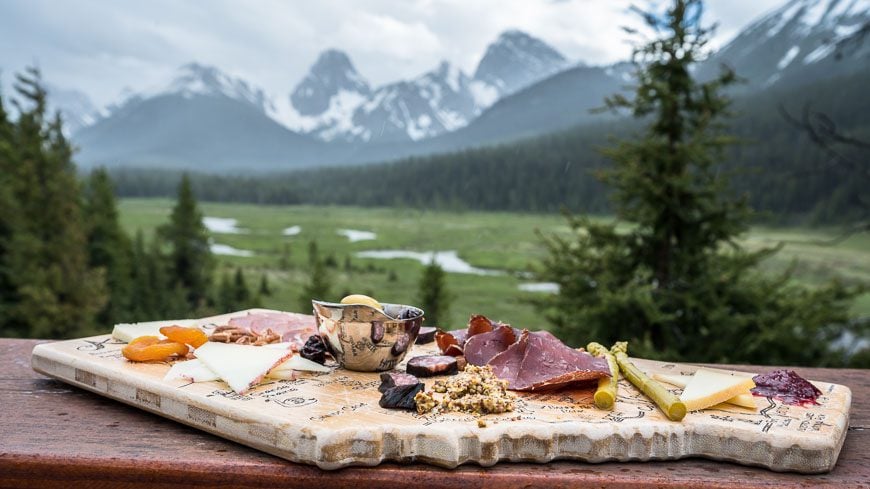 Campers might want to check out the Spray Lakes West Campground, about a 35 minute drive away. In Peter Lougheed Provincial Park there are numerous campsites – Interlakes (first come, first served), Boulton Creek (reservable), Lower Lake (reservable) ,Canyon (first come, first served), Elkwood (reservable) and Mt Sarrail for walk-in tenting.
Recommended reading: A Complete Guide to Camping in Kananaskis
Your other option is to stay in Kananaskis Village at the Kananaskis Mountain Lodge or at the Kananaskis Wilderness Hostel.
In Canmore the Malcolm Hotel with its pool with a view is a lovely choice. If you like the B&B experience check out A Bear and Bison Country Inn.
Interested in more hiking off the Smith Dorrien Road?
Check out these hikes if you want to do more exploring nearby.
Click on the photo to bookmark to your Pinterest boards.