The Three Isle Lake hike in Kananaskis Country is a great choice as it also offers several options to continue beyond the lake – including the difficult but reportedly fabulous Northover Traverse along with the easy hike to South Kananaskis Pass and Beatty Lake. Fortunately the hike to Three Isle Lake is worthwhile in itself. And Three Isle Lake is also a pretty destination in its own right, at least when the water levels are high. What little mountain scenery I've seen at South Kananaskis Pass looks fabulous.
The 10.3 km one way hike to Three Isle Lake starts by Upper Kananaskis Lake. It takes you first to the Forks Campground – a great destination for families and those wanting to do day hikes from the campground. Then a few easy kilometres later, you head up a steep headwall that will likely have you breathing hard, especially if you're carrying a backpack. At least the views are marvelous. In total you climb 500 m (1,640 feet) to reach the lake, with most of the gain after the Forks Campground.
This post includes some affiliate links. If you make a purchase via one of these links, I will receive a small commission at no extra cost to you. Thank you very much for your support.
Three Isle Lake hike + South Kananaskis Pass summary
Distance: 20.6 km (12.8 miles) return to Three Isle Lake
Elevation gain: 500 m or 1,640 feet. Most of the elevation gain comes after you pass the Forks Campground. If you continue 2 km (1.2 miles) to South Kananaskis Pass you will gain a total of 610 m or 2,000 feet from the North Interlakes Day Use Area.
Level of difficulty: Hard if you do it as a day hike – and also as a backpacking trip because it's a strenuous climb up the headwall.
Best time to hike: The best time to hike is from late June until September. We had snow in late June, so go prepared with warm clothes.
Dogs: Permitted on a leash. There are good water sources for most of the hike, so they won't go thirsty.
You will need a Kananaskis Conservation Pass to do this hike. If you're planning to hike more than six times in a year in Kananaskis Country, consider purchasing the yearly pass for $90, good for two vehicles at the same address. A day pass is $15 for one vehicle.
You can make online reservations for backcountry campgrounds 90 days in advance of your visit. There are 16 campsites.
There is the option to hike to South Kananaskis Pass and Beatty Lake from the campground – or make it into a larger trip. (See the bottom of the blog for details.)
You'll be in grizzly bear country on the Three Isle Lake hike – and in fact we heard one as we were heading for the headwall. Always carry easily accessible bear spray. And you might want to read Tips for Staying Safe in Bear Country .
Practice Leave No Trace principles – packing out whatever you pack in.
Be sure to let someone know your itinerary and when you're expected to be back.
For timely information on Kananaskis trails visit the Alberta Parks website.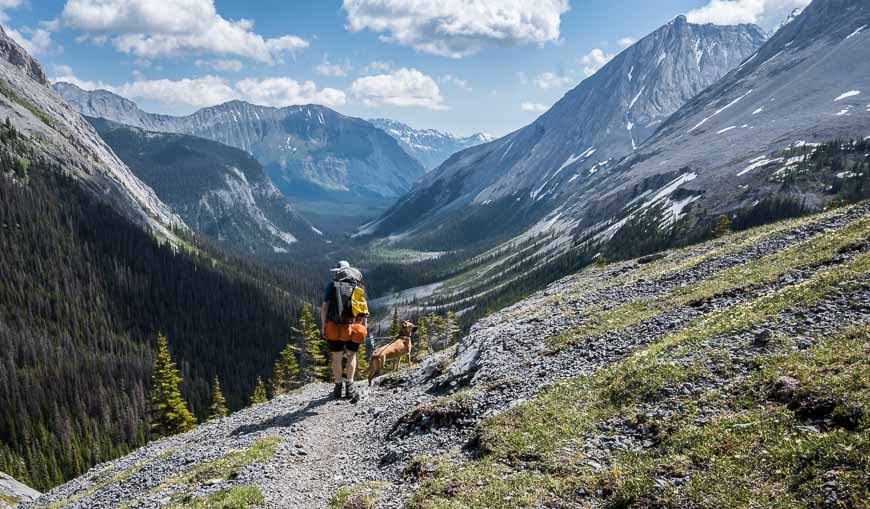 Finding the trailhead for the Three Isle Lake hike
The trailhead starts at the kiosk at the north end of the North Interlakes Day Use Area, on the northeast shore of Upper Kananaskis Lake. To get there, drive south for 50 km on Highway 40 from the Trans-Canada Highway. Turn southwest (right if you're coming from the Trans-Canada) onto Kananaskis Lakes Trail.
Continue on the paved Kananaskis Lakes Trail past the turnoff to the Canyon Creek Campground, William Watson Lodge and Boulton Creek. (But go here after your hike if you want cold drinks and ice cream!) Do not take a left towards the Upper Kananaskis Day Use Area. Instead continue past the turnoff to the Interlakes Campground to reach the North Interlakes Day Use Area, basically at the end of the road. From the turnoff at Highway 40, it's approximately 15 km to the parking lot.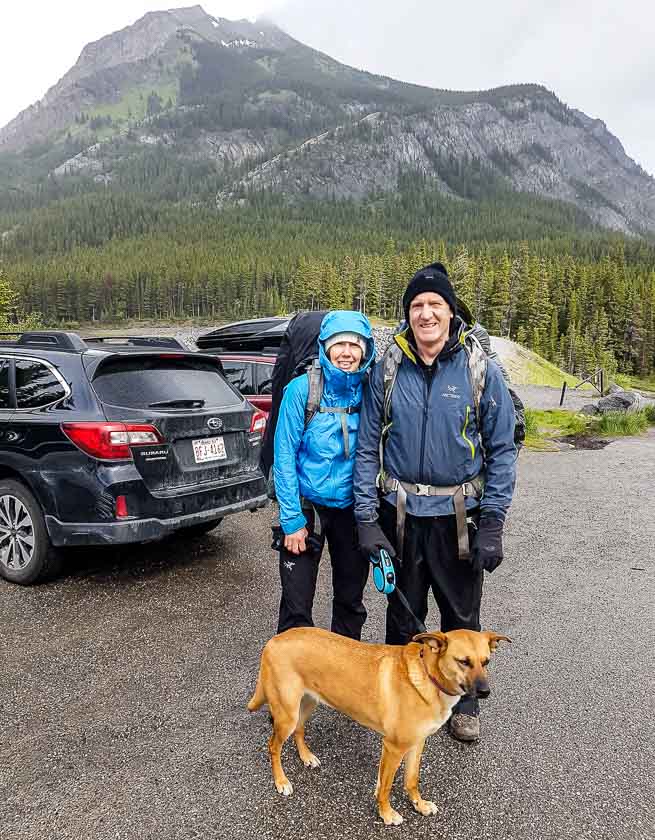 Where to stay the night before
If you want an early start before the hike to Three Isle Lake there are a couple of options. There is lots of car-camping available, with much of it first come, first served.
Recommended reading: A Complete Guide to Camping in Kananaskis
If you're after a nice meal and a hot shower before you start camping, there is the option to book the Kananaskis Mountain Lodge in Kananaskis Village.
The Kananaskis Wilderness Hostel is also an option.
If you're coming from Canmore, and you are after the B&B experience, check out A Bear and Bison Country Inn. The Alpine Club of Canada also runs a hostel in Canmore.
Three Isle Lake hike description: Part 1 – Upper Kananaskis Lake to the Forks Campground
From the parking lot cross the footbridge over the spillway and turn left onto an old road. Pass a turnoff to Mt Indefatigable – a trail decommissioned to protect grizzly habitat.
At 0.8 km stay right on the upper trail. The lower trail is best used if you're planning to hike the Upper Kananaskis Lakes Circuit – a very worthwhile day trip.
At the next intersection, 2.2 km into the hike, keep right and follow the rocky road beneath the steep slopes shown in the photo below. Continue hiking along the road, passing the Palliser rockslide. Reach a bridge over Invincible Creek, 1.6 km past the last intersection. You have now hiked 3.8 km. Mountain bikers must stop at this point.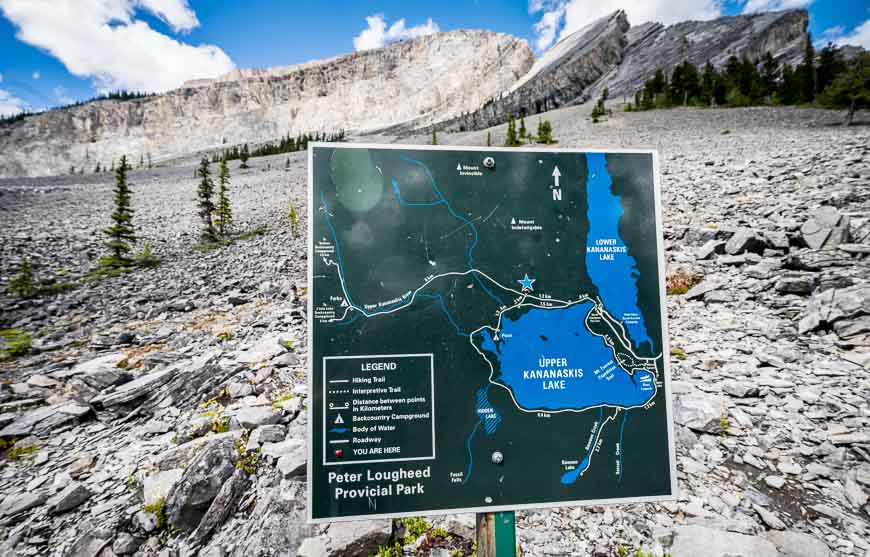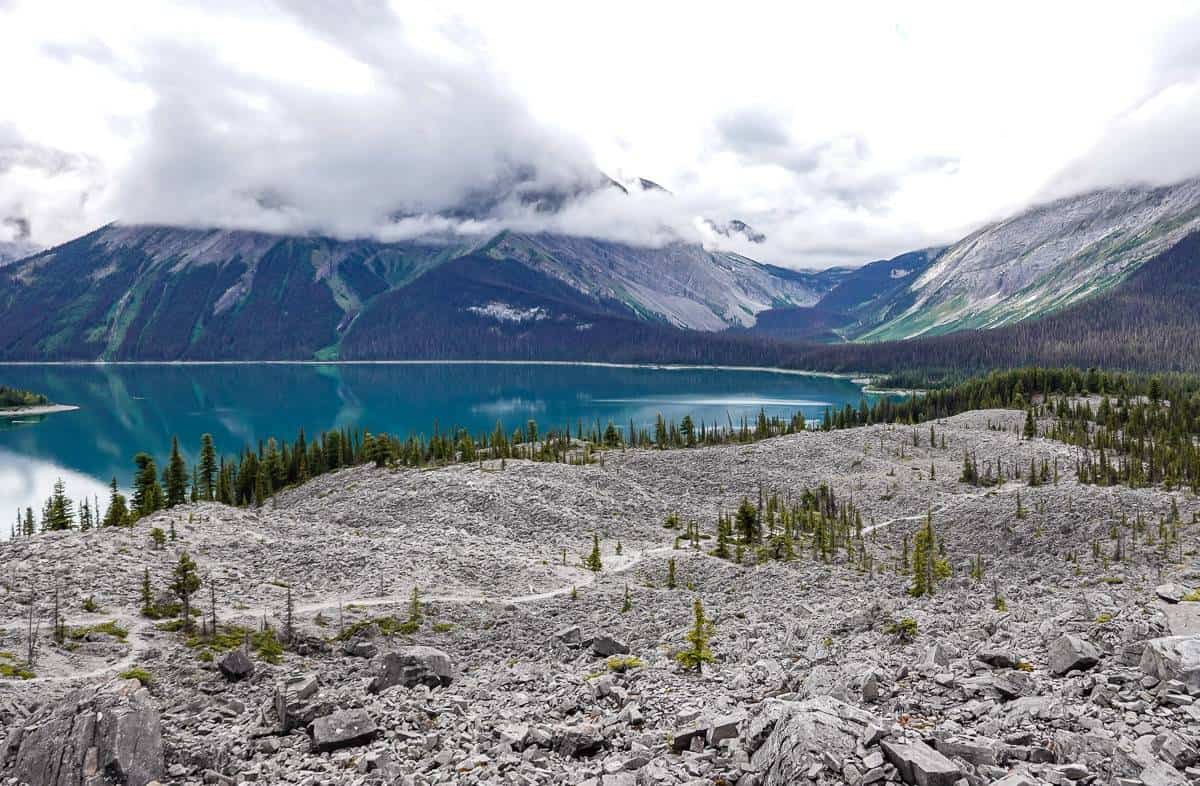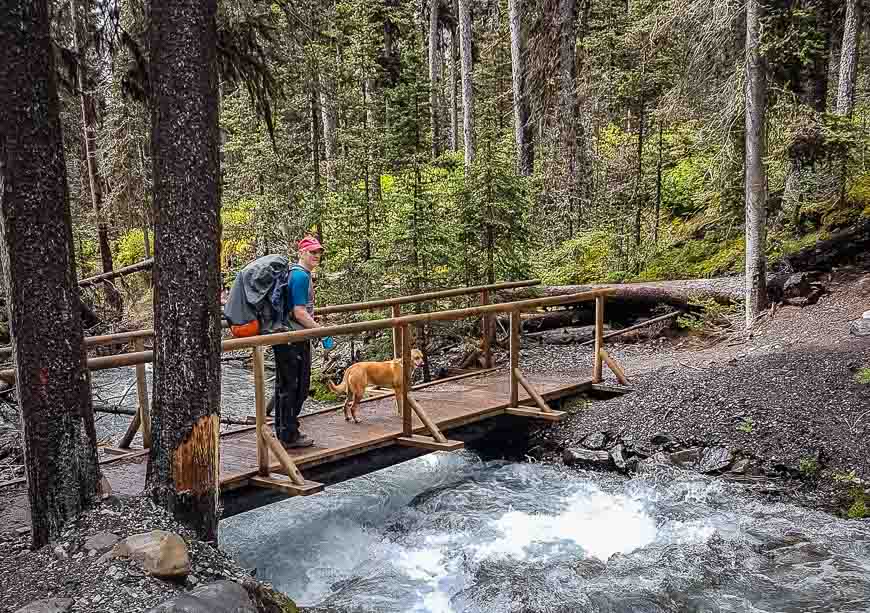 Continue on a dirt trail through old forest to reach a bridge over the Kananaskis River at the 5.8 km mark. Skirt another rockslide at the base of Mount Lyautey. If you look up from that rockslide, you can just barely make out the headwall you'll be climbing in short order.
The rest of the hike to the Forks Campground at 7.2 km is flat and easy. We saw a lot of moose poop, especially when leaving the campground but no sign of the animal.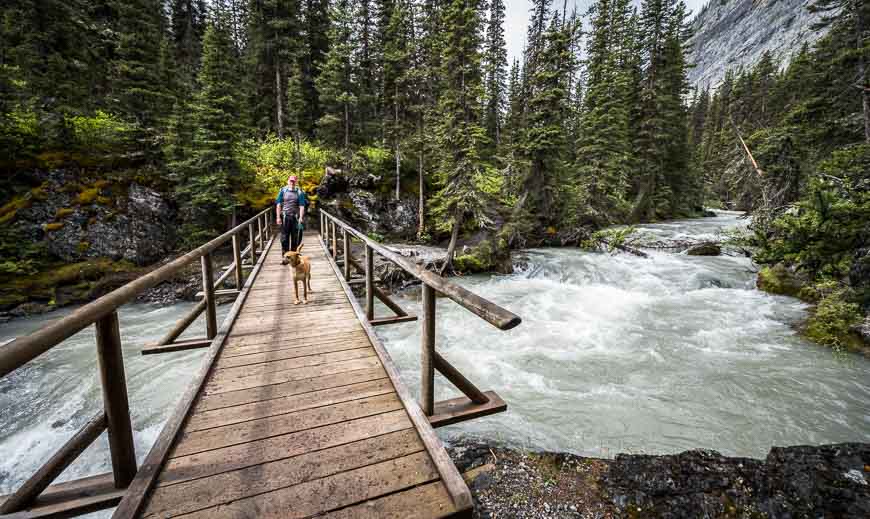 The Forks Campground
The Forks Campground (newly renovated in summer 2022) sits at the confluence of the Upper Kananaskis River and Three Isle Creek. It's one of the nicer backcountry campgrounds I've seen and the perfect place for lunch. There are lots of picnic tables and even a fire pit with benches all around it. (Firewood was provided, at least in July 2023.)
At the campground you'll find 20 campsites along with bear lockers and a pit toilet. It was very popular with families when we passed through it, probably because it's an easy destination to reach. It's also a good spot to do day trips from – like the up and back hike to Three Isle Lake, without the weight of a backpack.
From the Forks Campground you can also head north on the Maude-Lawson Trail for 7.8 km to reach the Turbine Canyon Campground. From there, more exploring is possible including a hike up to see the Haig Glacier or a trip to visit Maude Lake and North Kananaskis Pass. Both of those trips would be long day hikes from the Forks Campground.
The hike to Three Isle Lake from the Forks Campground
The real work starts after the Forks Campground. The trail starts climbing about 10 minutes after leaving the campground. It's gentle at first but it gets steeper, especially once you get onto the avalanche slope.
When we hiked it in early July, it didn't take long to figure out we were following a bear. In fact I un-holstered my bear spray… just in case. Signs of a bear were everywhere once we crossed the stream pictured three photos below. There was plenty of fresh digging along with flowers strewn helter-skelter along the trail. They hadn't even had time to wilt. About 15 minutes up from the stream crossing, a couple in front of us by just a minute, yelled down that they'd just seen the bear head into the forest.
The following day we also spoke to a man who had been bluff-charged by a grizzly near the Forks Campground a few years back. He didn't carry bear spray then but quickly became a convert. (I would also recommend a bear spray holster so you can get to the bear spray FAST.)
Back to what's ahead of you.
Be mentally prepared for a stiff, hard climb up the headwall. There are some stairs in place to help. Don't forget to look up periodically as this is a really glorious mountain landscape. When you get to the top of the headwall, you're 10 kilometres into the hike – and have only 0.4 km to go.
Descend 30 m (we were mostly on snow in early July) to reach a signed junction. Day hikers will want to go left to reach the Three Isle Lake. Campers head right to find one of the 16 campsites.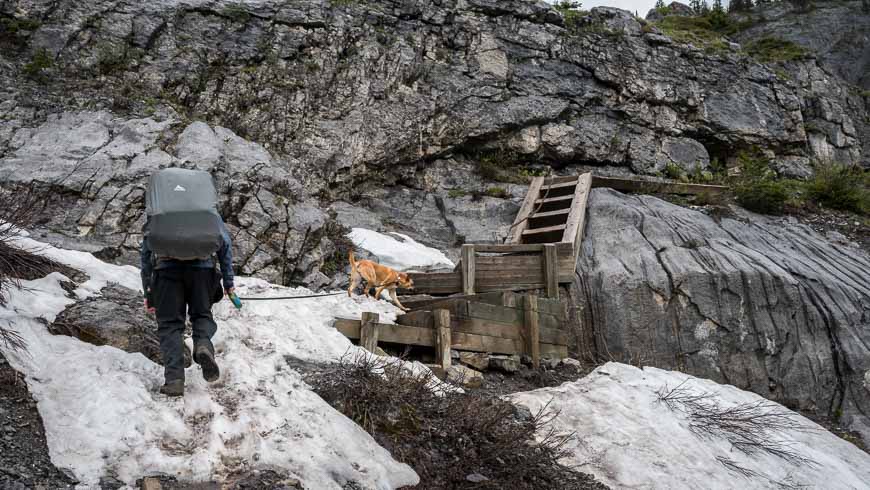 The backcountry campsite at Three Isle Lake
There are actually two backcountry camping areas at Three Isle Lake as we discovered when we hiked to South Kananaskis Pass. They are about half a kilometre apart. They both have sets of bear boxes (way easier than hanging your food), picnic tables, earthen tent pads, and an outhouse.
I found the campsites to be nicely spread out and quite private, though I only found one with a view of the lake.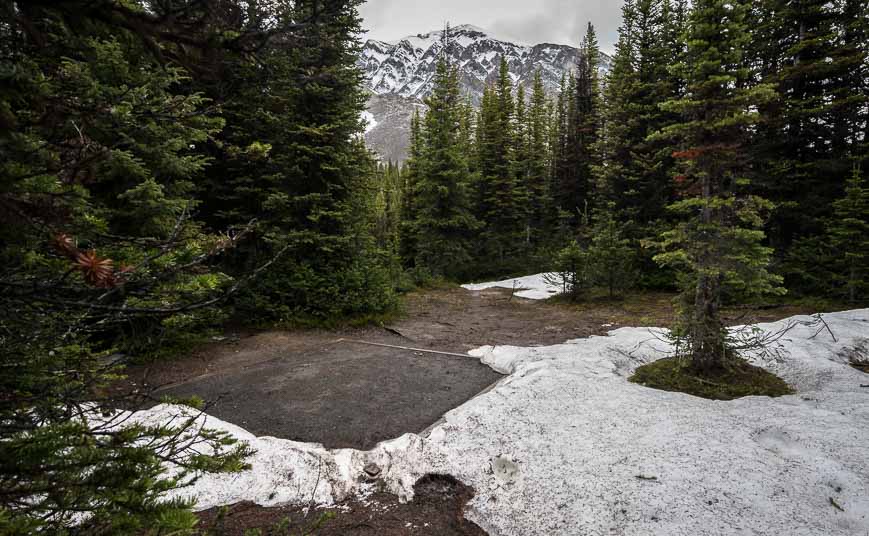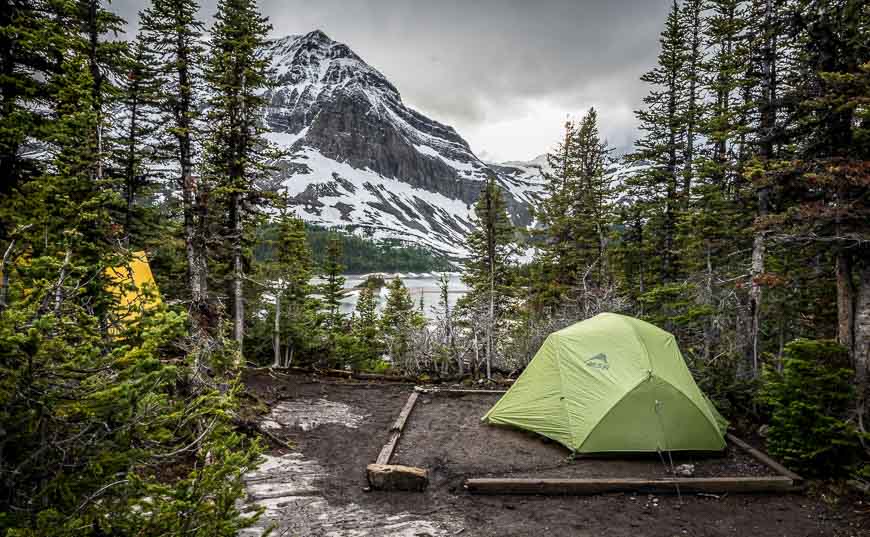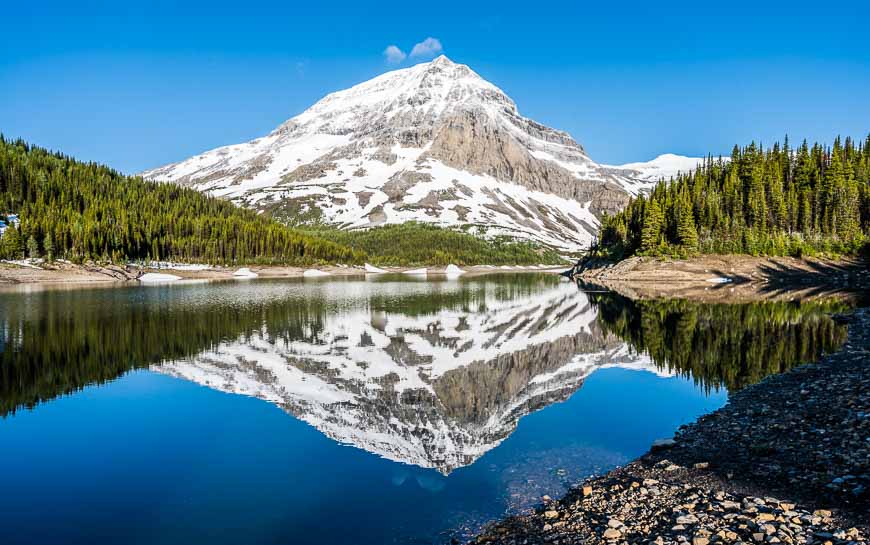 The hike to South Kananaskis Pass
We did the 2.1 km one way hike up to South Kananaskis Pass after breakfast. The climb was an easy 145 m (475 feet) though much of it was on a very snowy trail.
To find the trail follow the lakeshore northwest from the first campground to the second campground. From the western most campground it's easy to pick up the trail. Head up through sub-alpine forest, descend briefly to the lake again and then continue northwest on a gentle grade to reach the pass.
There's a sign on the Great Divide that says Provincial Park Boundary – British Columbia. In BC you're in Height of the Rockies Provincial Park.
Retrace your steps. We were back at the lake in about 30 minutes, even with the snow.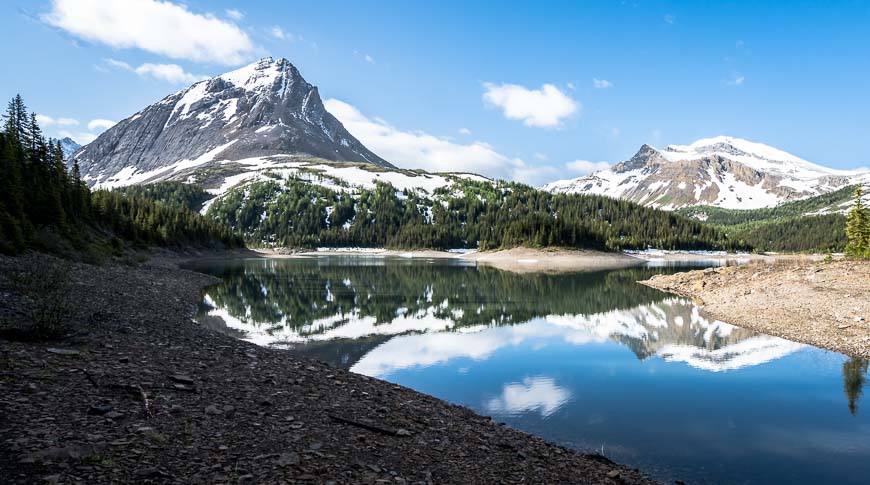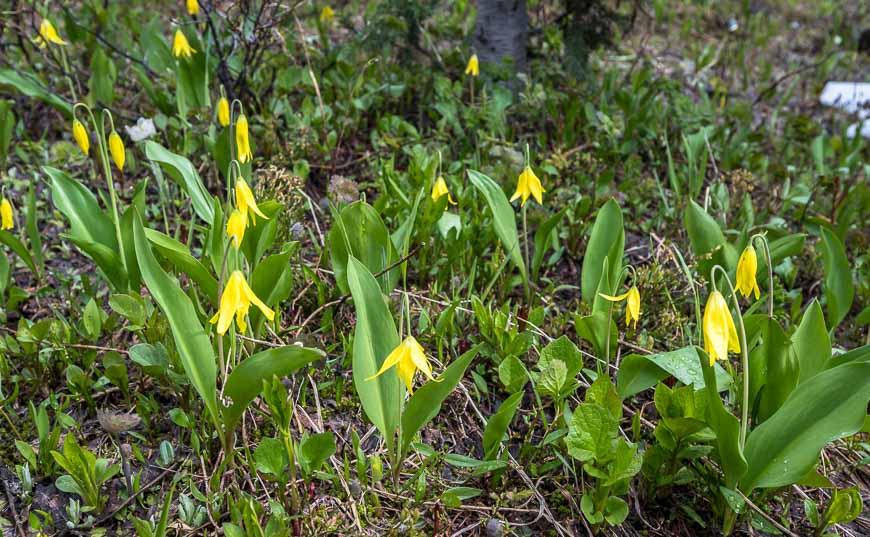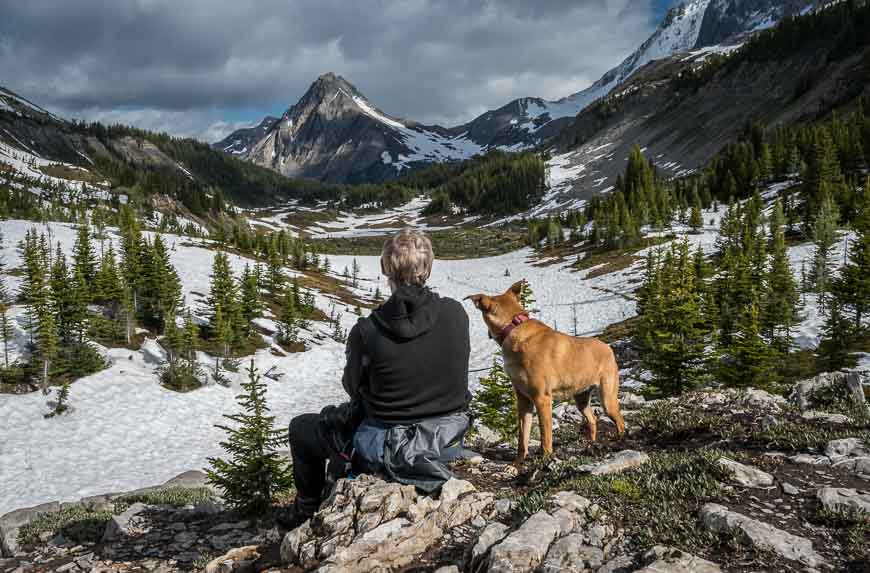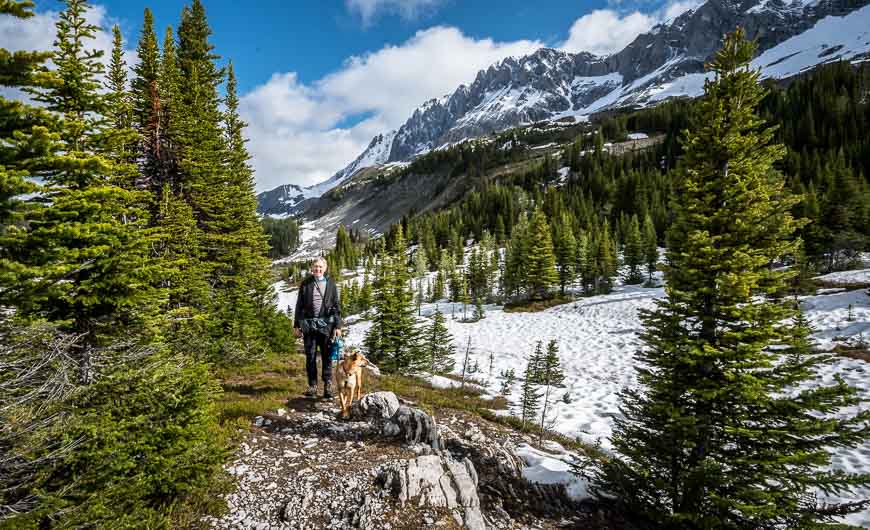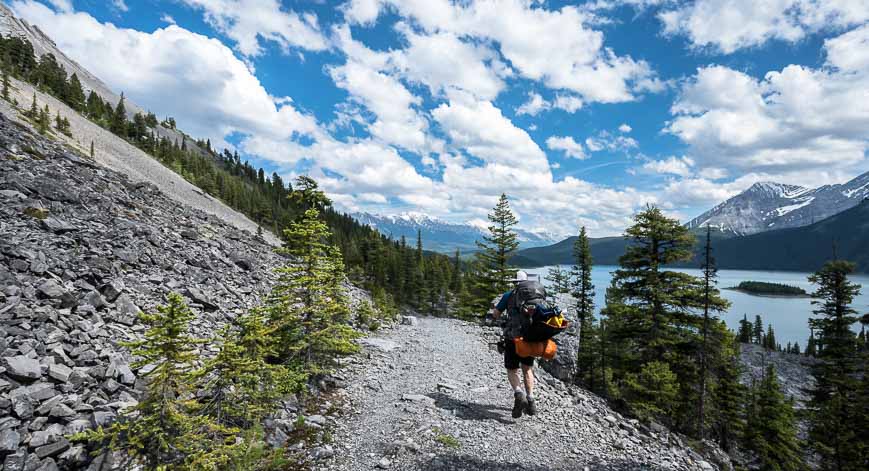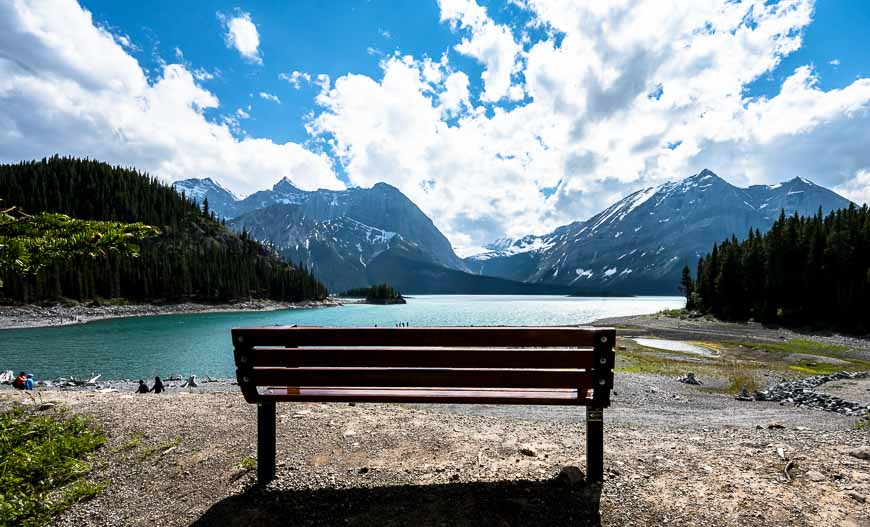 A few things worth taking with you
Even if you're a fan of a GPS, I highly recommend taking a paper map – for trip planning purposes and especially if you're considering the hike between Three Isle Lake and Turbine Canyon campgrounds over North and South Kananaskis Passes. The Gem Trek Kananaskis Lakes Map is the one to get.For the nature lover who wants to learn the names of wildflowers, the compact Popular Wildflowers of Alberta & the Canadian Rockies is a great choice.
For those unexpected gear fails on a trip, Gear Aid Tenacious Tape Repair is the way to go. It will fix sleeping pads, rain pants, down jackets, tent flies, tarps and more.
And if you're not a big fan of backpacking because of uncomfortable nights in a tent, consider investing in a deluxe pillow that weighs next to nothing.
In case of emergency it's well worth carrying the InReach Mini – but know how to use it.
Another hiking option from Three Isle Lake
Intrepid hikers with good route-finding skills could plan a 40 km, three-day backpacking trip from North to South Kananaskis Pass or vice versa. From the Three Isle Lake campground continue to South Kananaskis Pass, then Beatty Lake where there is backcountry campground with four tent pads.
From there route-finding is slightly harder as there is no marked trail. Continue to North Kananaskis Pass, Maude Lake, and then the Turbine backcountry campground. On the final day, head for the Forks Campground and then out to the parking lot.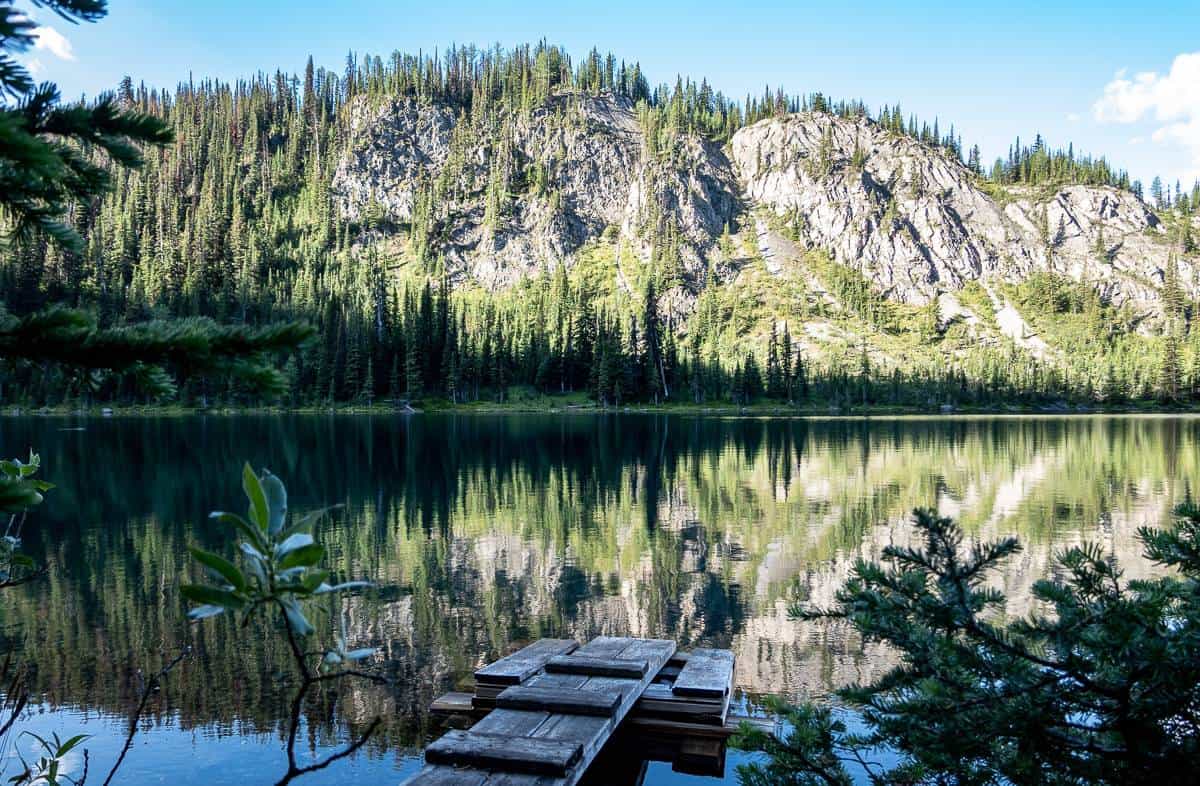 Further reading on hikes and backpack trips in Kananaskis Country
Click on the photo to bookmark to your Pinterest boards.