As a Calgary resident, I often hear people say that summer is such a nice time to be in the city that they don't want to leave. I don't mind some city time – more to stay on top of my garden than anything – but what I really love to do is get into the mountains. Even with COVID in our midst, I feel like I'm leading a close to normal life while I'm out in the hills immersed in nature. Hiking feels no different than before COVID – though mind you I'm not out doing popular trails like Ha Ling Peak near Canmore.
In June, John and I spent two nights in a Kananaskis Lodge you've read about before on my blog – Mount Engadine Lodge. It's one of those places that speaks to my soul. I love it for the kind of people it attracts, its location overlooking meadows, where moose are commonly seen in the fall and grizzlies were sighted the week after our visit. Their afternoon tea is always worth showing up for (also possible to reserve if you're not staying at the lodge), and meals are consistently delicious.
I had never visited in summer and what a treat it turned out to be – especially with loads of world-class hiking either right out the door or just a short drive away. If you're looking for a two or three night summer getaway, I think you'd be surprised at the number and quality of hikes so close by.
Mountain bikers would also enjoy a stay as the High Rockies Trail – an 80 km stretch of trail between The Goat Creek Parking Lot and Elk Pass on the Alberta-BC border is very close by.
This post includes some affiliate links. If you make a purchase via one of these links, I may receive a small commission at no extra cost to you. Thank you very much for your support.
Mount Engadine – A Kananaskis Lodge
We stayed in one of the glamping tents at Mount Engadine Lodge with our dog. Between visitors. Dining – which has always been done family-style is now done at stand-alone tables, more than six feet apart.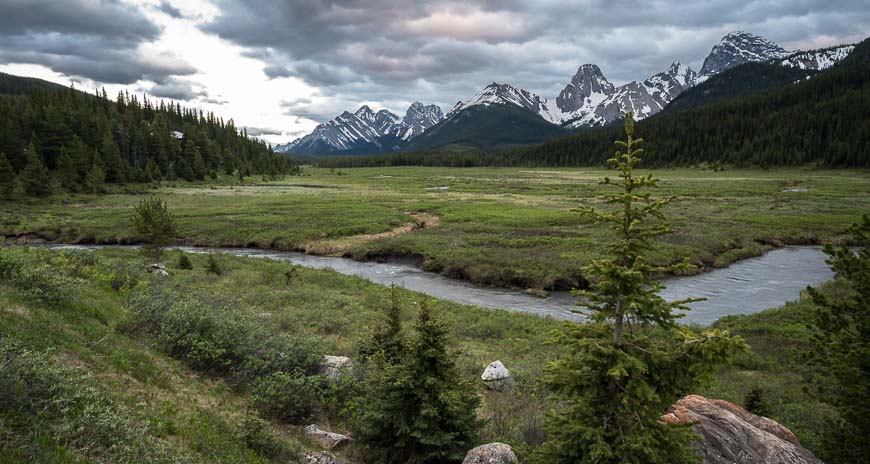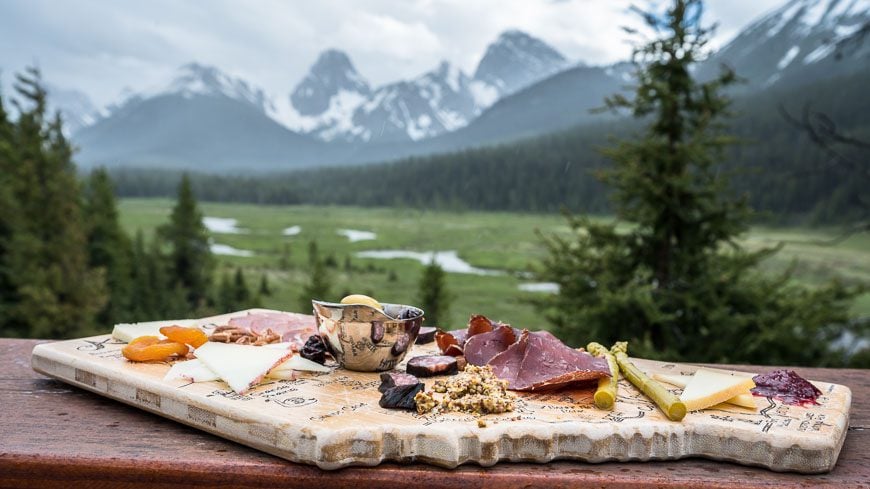 Mount Engadine Lodge area hikes
There are at least a dozen hikes near Mount Engadine Lodge that are worthwhile. I haven't done all of them but every year I work my way through a few more.
Within walking distance of the lodge is the 10 km return hike to Rummel Lake. It's not as crowded as nearby Chester Lake and still very beautiful – in an austere kind of way.
Tent Ridge
Tent Ridge, just a 5 minute drive away from the lodge, has been on my hiking wish list for years. But you really need a beautiful sunny day without threat of a thunderstorm as most of the hike is exposed. There was still too much snow on the ridge for my comfort in June but with luck we'll be back to do it in August.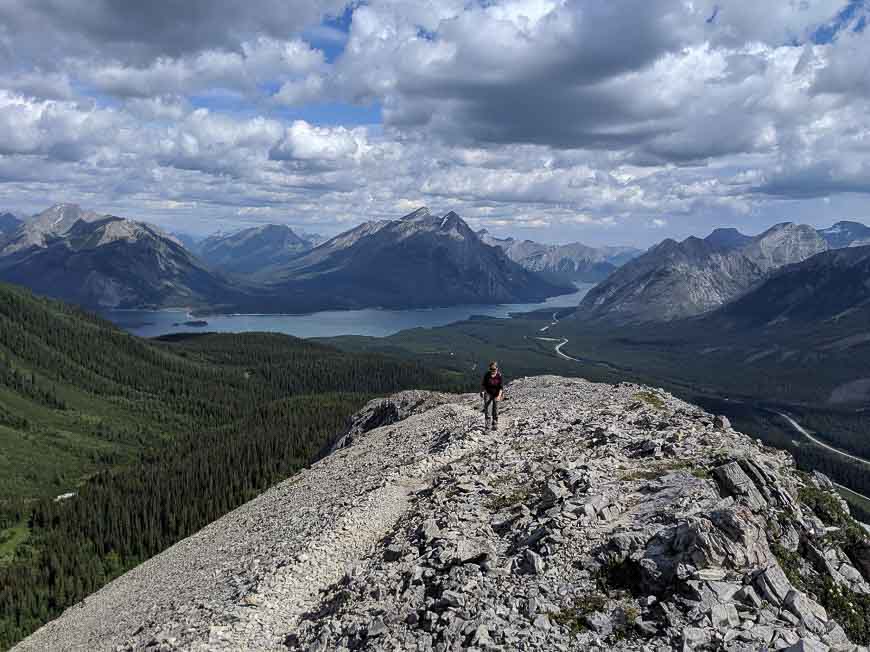 Chester Lake
Chester Lake is another excellent choice especially as the trailhead is just a 10 minute drive from the lodge. The round-trip hike is 9 km with 315 m of elevation gain, most of it at the beginning. The hike doesn't open until July 1 on account of the bears. The hike is particularly beautiful in the fall when the larches glow yellow.
Adventurous hikers can continue past Chester Lake to Three Lakes Valley. That adds another 4.5 km to the day and 240 metres of elevation gain.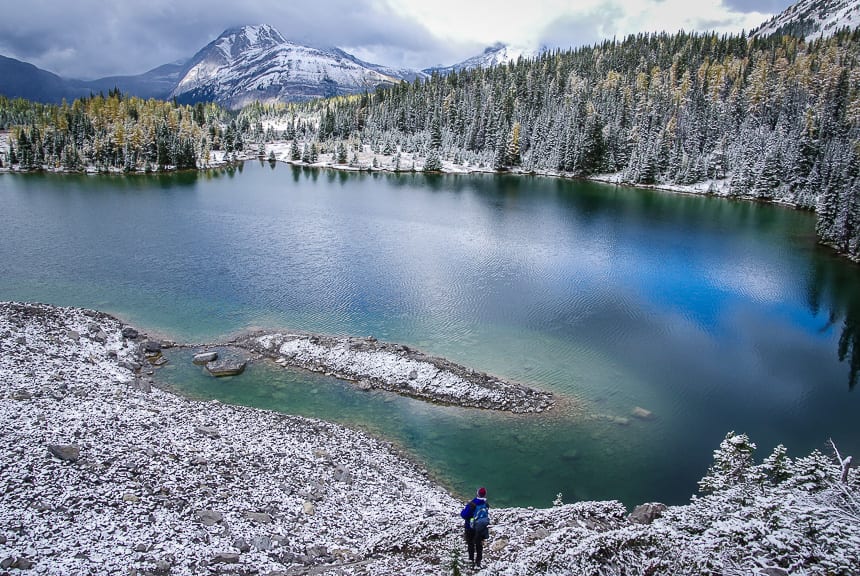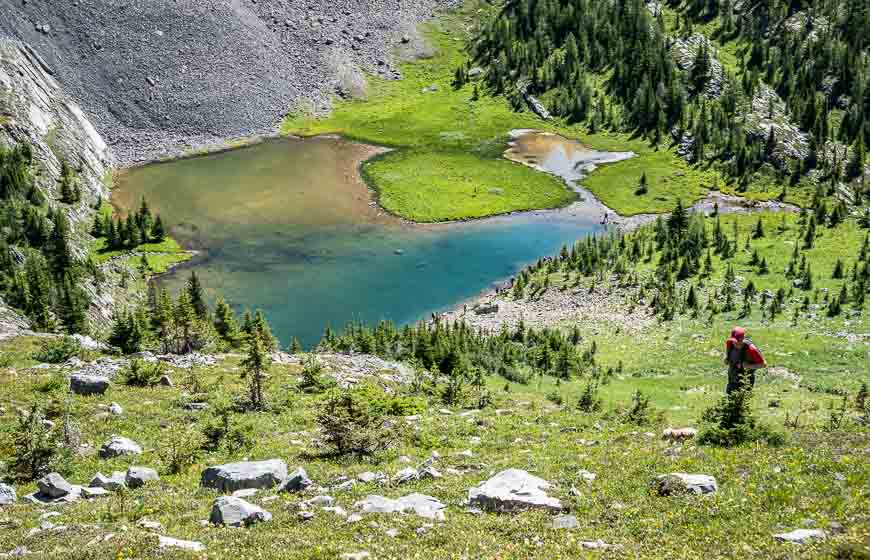 Burstall Pass hike
The 15 km round-trip hike to Burstall Pass is a great one. It offers an excellent effort – reward ratio as you only climb 480 metres. From the pass there is the option to bag Snow Peak or do the Birdwood Traverse – that comes in at 19.5 km – with a car shuttle.
The Burstall Pass trailhead is directly across from the Chester Lake parking lot.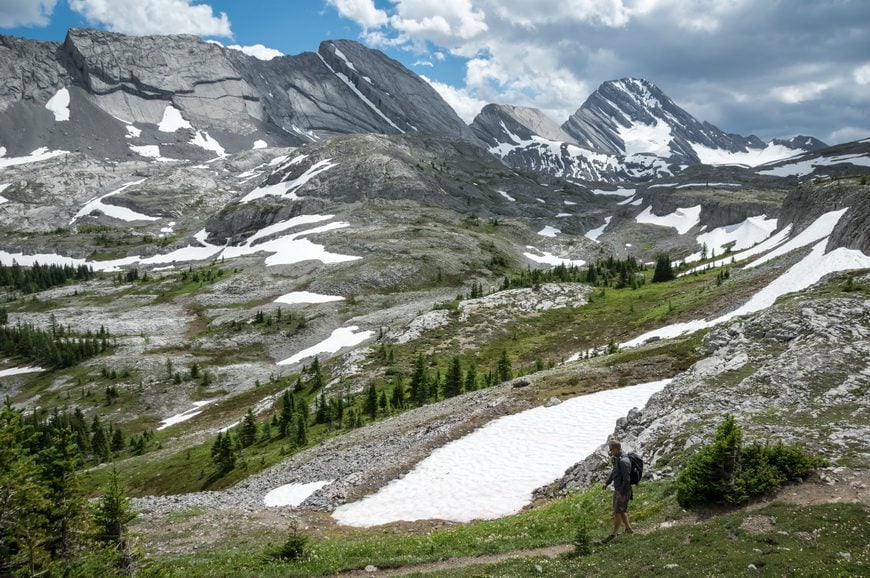 Warspite Lake – Black Prince Cirque
The hike to Warspite Lake is ideal for families or a hiker who wants an easy out and back hike to a beautiful lake in 60 – 75 minutes. For those looking for more you can continue to Black Prince Cirque – steeply through swaths of wildflowers – and enjoy some superb views.
The trailhead is 30 minutes south of the lodge.
Sparrowhawk Tarns
The best time to do the 13.7 km return hike to the Sparrowhawk Tarns is early in the summer when the tarns are still full of water. This is a moderate hike, as the trail climbs 720 metres. When we did the hike in early July one year, we saw all of about five people on the trail and yet it's one of the great hikes to do in Kananaskis.
The trailhead is only a 20 minute drive north of the lodge along the Smith-Dorrien Trail.
Upper Kananaskis Lake hike
The trailhead for the Upper Kananaskis Lake hike is about a 50 minute drive from the lodge. But it's worth it as this is a great hike for people who want to hike some distance but with little elevation gain. Its 15.8 km if you do the whole loop – with some pretty nice views along the way.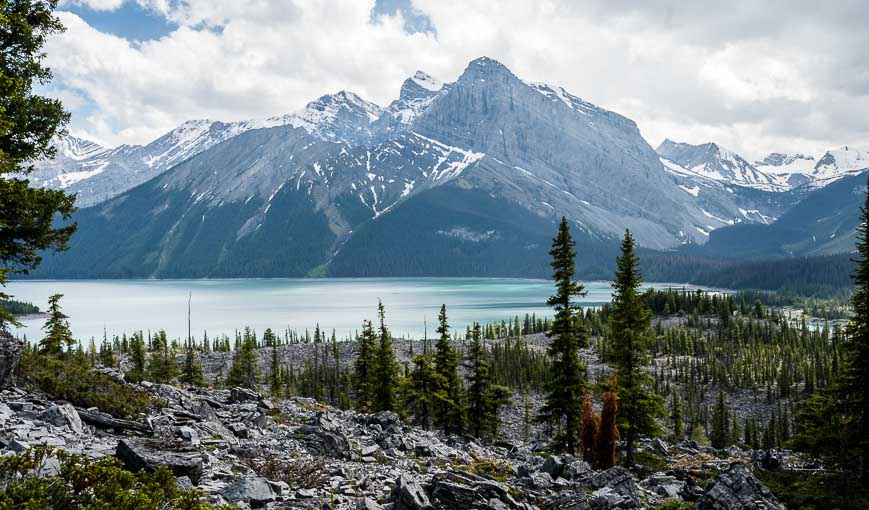 South End of Lawson hike
The South End of Lawson hike takes place on an unsigned, unofficial trail. It's a highly worthwhile hike and just a 30 minute drive away. Views within 20 minutes of starting out are fantastic. This is a steep hike with a small amount of easy scrambling near the end of it.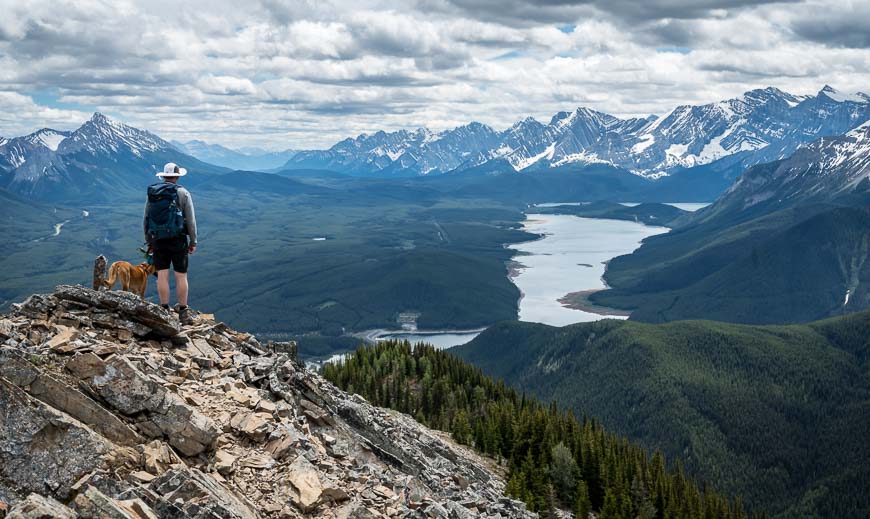 I would happily go back to Mount Engadine Lodge so I can easily explore more of Kananaskis Country without a 90 minute to two hour drive each way from Calgary. And prices just so you know include your room, three meals per day and the afternoon tea.
Mount Engadine Lodge is one of the Charming Inns of Alberta – a group of 12 lodges and small hotels that offer unique and beautiful getaways.
Booking a stay at the Kananaskis Lodge
You can book a stay at Mount Engadine Lodge here.
Thank you to Mount Engadine Lodge for hosting my stay. This is one lodge I always like going to and hope you enjoy it as much as I do.
Click on the photo to bookmark to your Pinterest boards.