Drumheller, a town of about 8,000 people (10,000 if you include greater Drumheller) is a fantastic destination if you love any combination of the following – canoeing, biking, badlands scenery, world-class museums or dinosaurs.
I have been to the Canadian Badlands area on many occasions and always find new things to do in and around Drumheller. There's a lot to discover in the area if you're the curious type. I think you could easily spend several days in the badlands so plan accordingly.
Drumheller is an easy 90 minute drive northeast of Calgary – past fields of yellow canola if you visit in summer. A visit to the world-class Royal Tyrrell Museum needs to be at the top of your must do list. And if you've never spent any time exploring the badlands I highly recommend exploring them on foot – with a camera in hand.
Drumheller is a four season destination but I think it really shines in summer when you can see the area from the river, on two wheels or two feet.
Location map of things to do in Drumheller
This post includes some affiliate links. If you make a purchase via one of these links, I may receive a small commission at no extra cost to you.
Things to do in Drumheller – canoe the Red Deer River
Canoeing the Red Deer River is a fun thing to do for a few hours or better yet, a few days. Two years ago John and I along with a couple of friends did a weekend trip. We started with a shuttle from Drumheller to Dry Island Buffalo Jump Provincial Park and then over two days paddled back to town, wild camping one night along the Red Deer River.
There are also plenty of opportunities to do day trips out of Drumheller. Paddling through the Canadian Badlands landscape is a beautiful way to spend time in the summer. This is an easy, family-friendly river to paddle.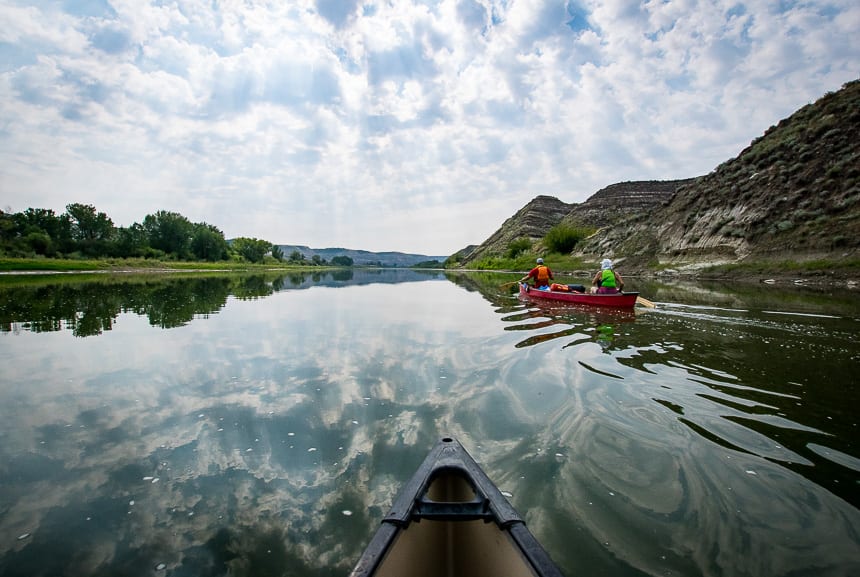 Walk the Hoodoos Trail
Drive Highway 10 southeast from Drumheller for approximately 16 kilometres to reach the Hoodoos Trail, on the north side of the highway.
Walk among the hoodoos – geological wonders made of sand and clay from the Horseshoe Canyon Formation. They have stood like sentinels at the mouth of the Willow Creek Coulee for thousands of years.
While there are stairs to aid in exploration, it would seem most people just head off trail to explore, with some people climbing to a height of land for a better view. (See photo below.) Be careful when it's rainy as the clay becomes very slippery.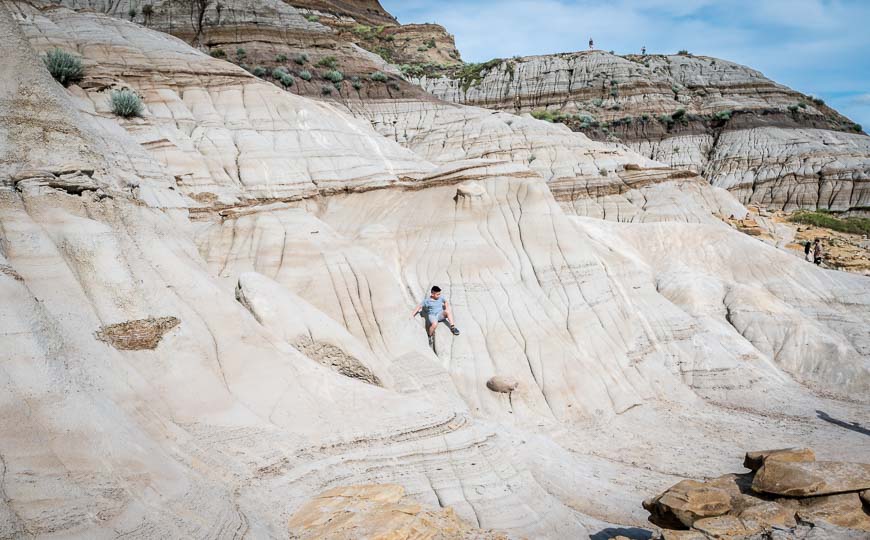 Photograph the canola fields in summer
Drive to Drumheller in summer and you'll be dazzled by fields of yellow canola. If you're a photographer explore the backroads to catch their beauty. You'll get amazing shots on a stormy evening or during the golden hour.
Did you know canola was developed in the early 1970's? The word canola comes from "Can" for Canada and "ola" standing for oil low acid.
Bike the Dinosaur Trail loop
The Dinosaur Trail loop is a hilly (about 160 m of elevation gain) but scenic 50 km outing that includes the Bleriot Ferry. Allow two to three hours to complete it, depending on how many stops you make. A good place to start and finish is at the world's largest dinosaur in downtown Drumheller as there is plenty of parking. Be sure to check out the view from the Orkney Viewpoint.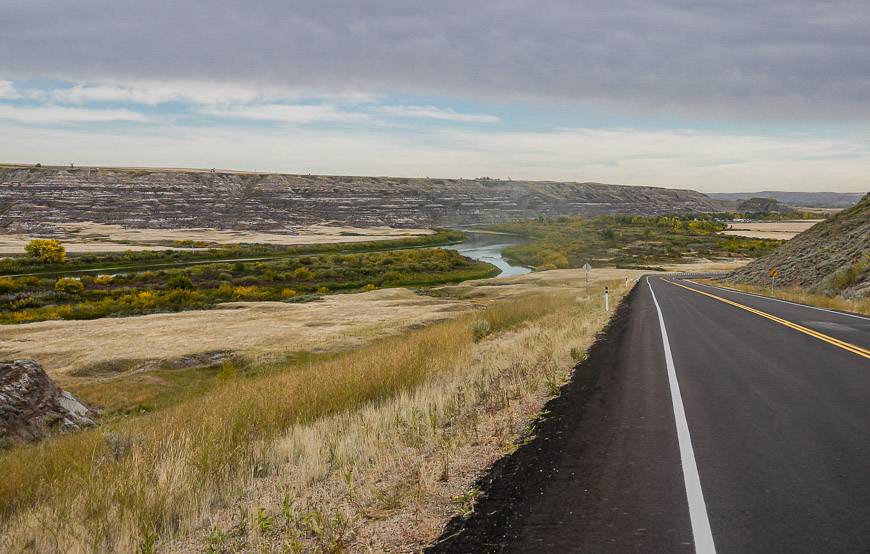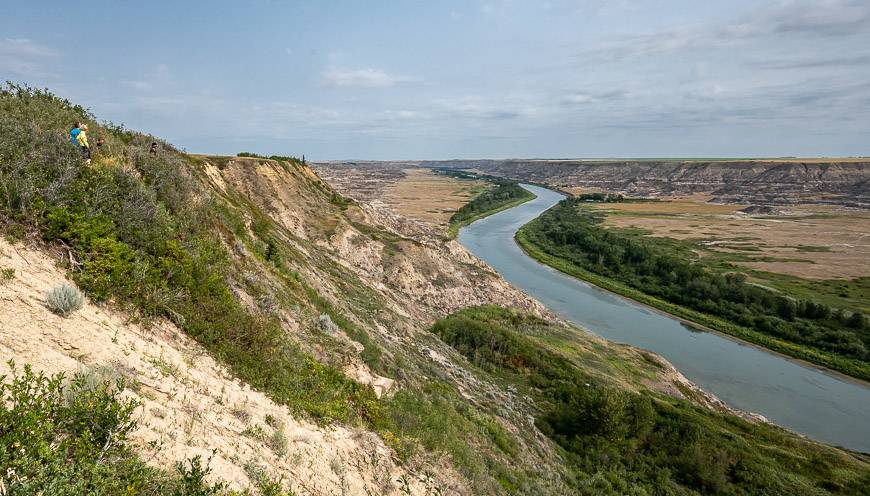 Check out the world's largest dinosaur
The world's largest dinosaur standing 25 m tall in Drumheller is a sight you'll want to see on any visit to Drumheller. It's a female, 4.5 times the size of a living Tyrannosaurus rex.
The dinosaur officially opened on October 13, 2000. You can pay to go inside at a cost of $4. Climb to the mouth for a better view.
Visit the Royal Tyrrell Museum
To appreciate the Royal Tyrrell Museum of Paleontology I think you'll need to visit many times as there is so much to learn and take in. This world-class attraction put Drumheller solidly on the map.
The displays are breathtaking – with a big WOW factor, even if you're not that into dinosaurs.
It is recommended that you buy tickets in advance, so you can enter the museum at the time you would like to.
Dinosaur Provincial Park, a UNESCO site well worth a visit, is not in Drumheller but closer to Brooks, Alberta, 164 km and a 1.75 hour drive away. Many people get the two confused.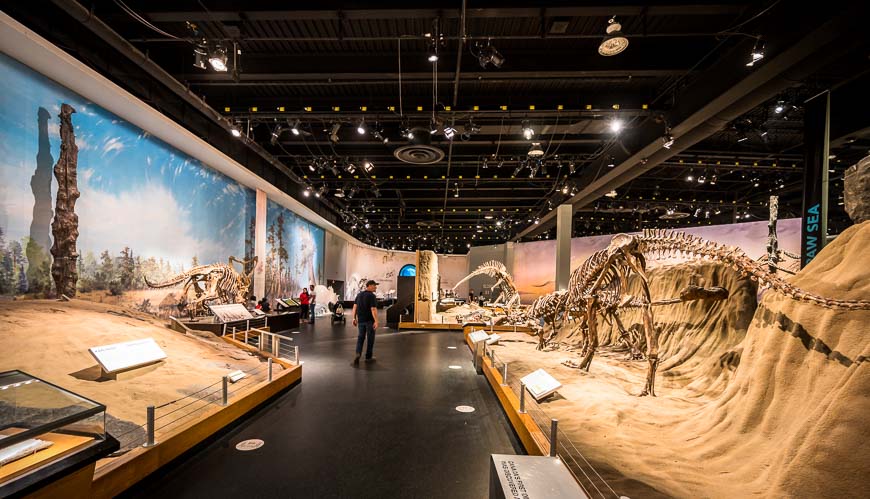 Walk the Interpretive Trail behind the museum
Either before or after you've visited the museum, wander around behind the building and do the easy one kilometre hike on the Interpretive Trail. You'll find hoodoos, informational signs and some very beautiful and compelling badlands scenery.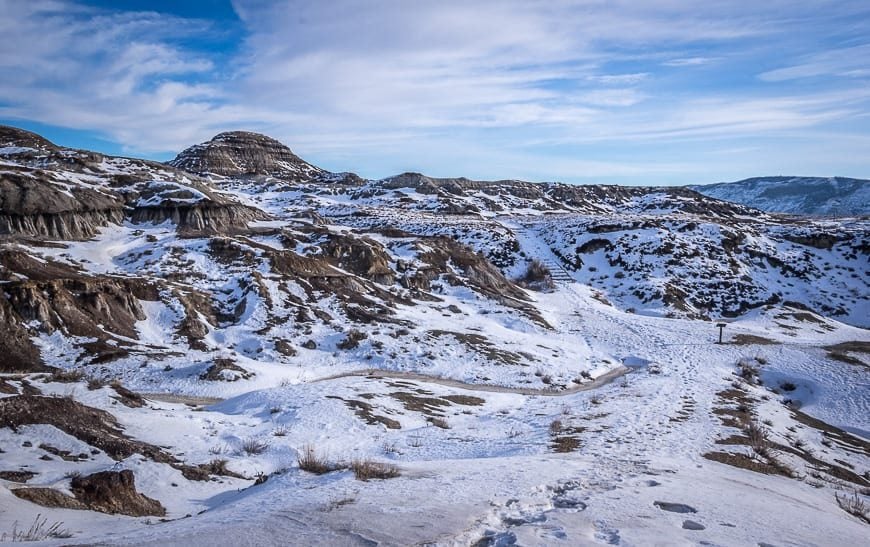 Have a burger at Bernie & the Boys
Profiled on the show, You Gotta Eat Here, this restaurant serves old-fashioned milkshakes in at least two dozen flavours along with a list of hamburgers that reads like a pizza menu. Their most famous one, that should serve a family of four, is the Mammoth Burger. It's a 24 ounce patty on a homemade bun with mayonnaise, lettuce, tomato and pickles.
Visit Horsethief Canyon
Horsethief Canyon, named after outlaws who hid stolen livestock here over a century ago, isn't as touristy as Horseshoe Canyon but it's still very beautiful. You'll find it on the east bank of the Red Deer River, 16 kilometres northwest of Drumheller.
You are allowed to hike down into the canyon – though that's for more adventurous people as you won't find signage and trails are less well-used than in Horseshoe Canyon.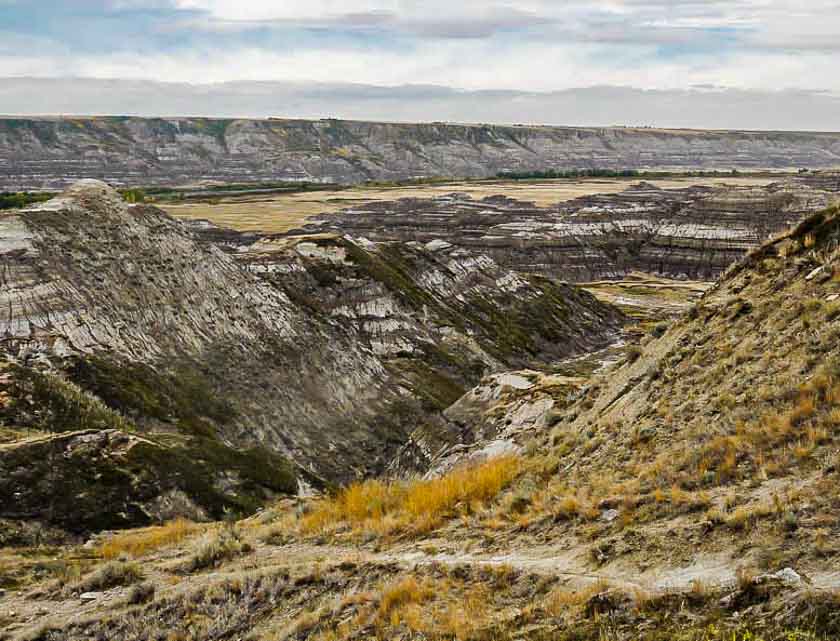 Visit Horseshoe Canyon
Drive 17 km west of Drumheller on Hwy 9 and then take the signed turn-off to reach the huge u-shaped Horseshoe Canyon. There are several viewing platforms easily accessed from the parking lot. From the top of the canyon admire a geological history dating to the Cretaceous period, some 70 million years ago when dinosaurs called this area home.
There is the option to explore inside the canyon. There are a couple of trails down into it – and from there you can spend the better part of a day, if you're adventurous. The two arms of the canyon each extend about 5 kilometres. If you plan to explore them in summer, be sure to take lots of water and a sun hat.
Read: Horseshoe Canyon Hike Near Drumheller, AB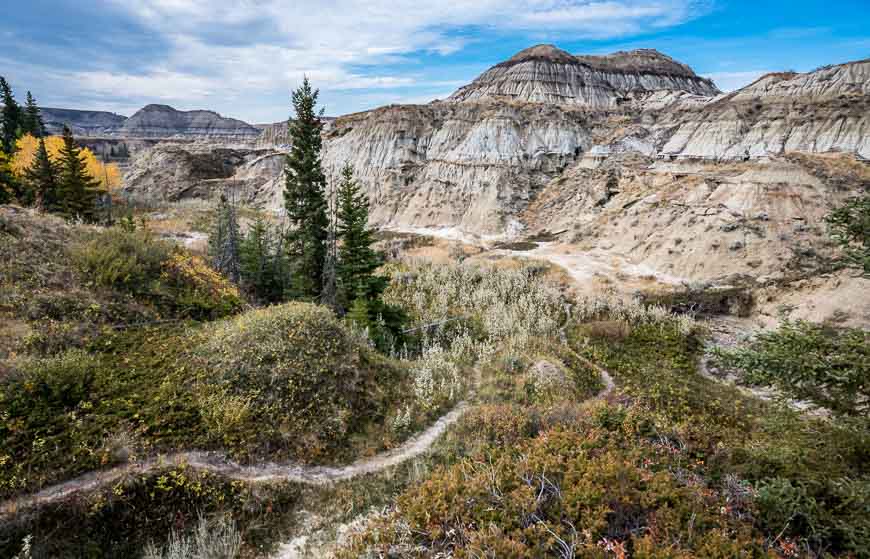 Pay your respects at the Little Church
The Little Church, built in 1968, was designed as a place of worship though it's also a tourist attraction. It seats just 6 people at a time.
You'll find it on the north side of the North Dinosaur Trail at the corner of Murray Hill Road – after the Royal Tyrrell Museum, if you're driving towards the Bleriot Ferry.
Go the theatre in nearby Rosebud
Head to Rosebud, a 25 minute drive southwest of Drumheller if you enjoy a night at the theatre. The small hamlet is home to a professional theatre company offering six shows every year on two stages from March until December.
Though they aren't offering as many shows during COVID, they still have some programming in place.
Bike or drive the 11 Bridges Road to Wayne
Bike or drive Highway 10x – the 11 Bridges Road from Rosedale to Wayne. Along the six kilometre stretch you'll cross 11 one-lane metal bridges, enough to earn bragging rights in the Guinness Book of World Records – as the most bridges to be found within the shortest distance.
Stop in at the Last Chance Saloon in Wayne – not just for the food, but to marvel at the antiques and memorabilia from the early 1900's when coal mining was alive and well.
This is an exceptionally pretty road with lots of canyon scenery.
Visit the Atlas Coal Mine National Historic Site
You'll find the Atlas Coal Mine 23 kilometres southeast of Drumheller via Highways 56 and 10. It's a large site – which you can experience on a tour. During COVID be sure to pre-book.
Between 1911 and 1979, the Drumheller Valley was a hotbed for coal mining with 139 mines operating at different times. The Atlas Coal Mine preserves and showcases the history when "coal was king." It's a fascinating site to see and definitely worth a visit.
Drive scenic Highway 10 to Dorothy
The drive from Drumheller to Dorothy along Highway 10 is an exceptionally scenic one. Surprisingly, at least at dusk, you need to keep an eye out for moose. Who would have guessed?
There isn't a lot to see in Dorothy but there are two white, restored churches across the road from one another, a beautiful grain elevator and the Arthur Peake First Ranch House.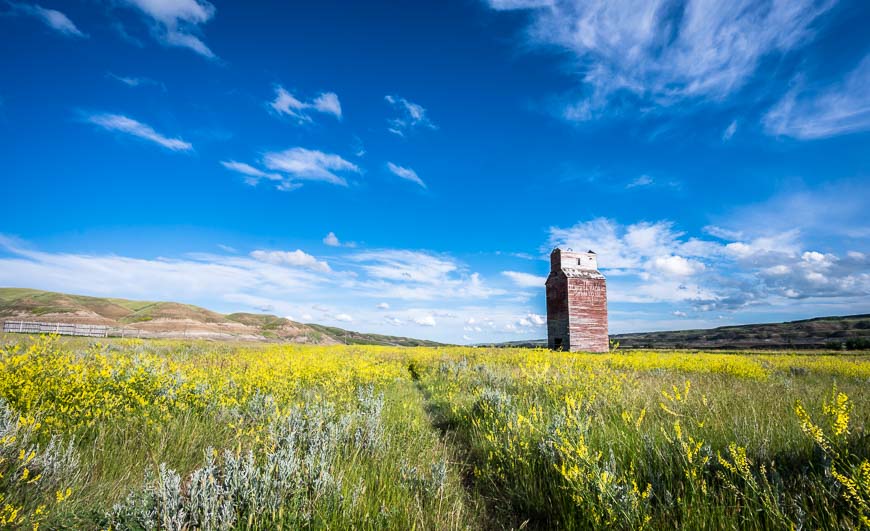 Where to stay in the Drumheller area
If you want to stay in one of Alberta's Charming Inns book the Heartwood Inn & Spa – a B&B not from from Drumheller's downtown area.
For a mainstream overnight stay, check out the Canalta Jurassic.
There are also several RV resorts and campgrounds, most with nice locations along the Red Deer River.
Click on the photo to bookmark to your Pinterest boards.