I don't know how many times I have whizzed past Medicine Hat on the Trans-Canada Highway without giving the city a second thought. Located on the South Saskatchewan River in eastern Alberta its tagline – "The Gas City"- is hardly an endearing term for tourists but great for industries in need of low-cost energy. Fortunately Medicine Hat is far more interesting than it appears from the highway. Next time you're in the area check out these 7 fun things to do in Medicine Hat – and nearby.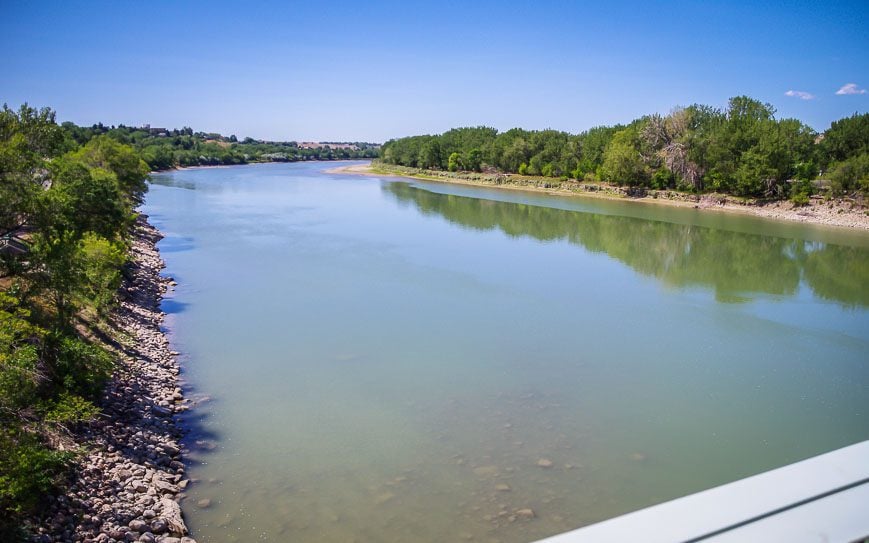 This post includes some affiliate links. If you make a qualifying purchase through one of these links, I will receive a small percentage of the sale at no extra cost to you. Thank you very much for your support.
Take a hike in Medicine Hat
Stretch your legs on over 100 kilometres of hiking trails. Strathcona Island Park, Police Point Park and Mr. Burnside Trail are all excellent choices. You can check out a full list of the hiking trails on the Medicine Hat website here.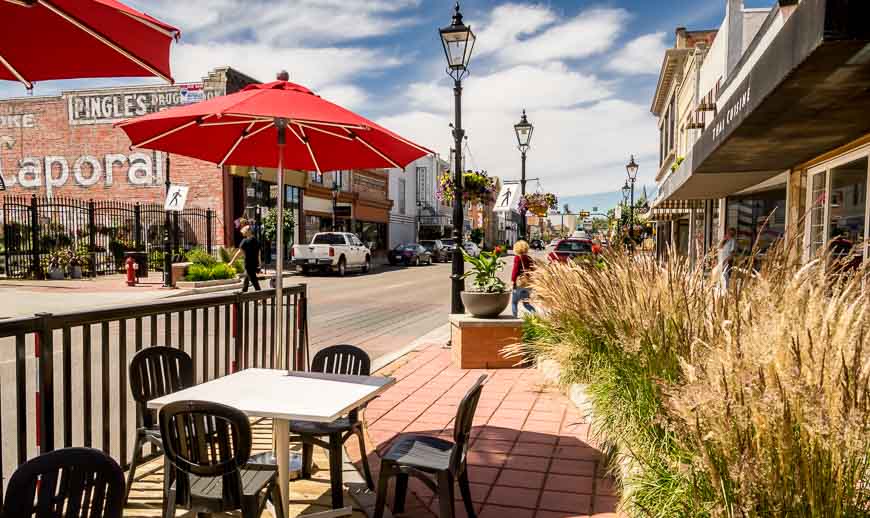 Visit Medalta – a fascinating industrial museum in Medicine Hat
The cheap, accessible natural gas along with access to train transport and clay fueled the brick and pottery factories that started to pop up around 1910. Today the area known as the historic clay district is a must-see for anyone interested in history, pottery or the arts.
Even without a map it's easy to find Medalta (short for Medicine Hat, Alberta) by following the signs from the Trans-Canada Highway.
Not only is it an industrial museum with original equipment in place, but it's home to an artist-in-residence program, a contemporary gallery and a very popular Thursday night market (4:30 – 8:30 PM) complete with music.
The museum is open year round but guided tours are only available from Victoria Day to Labour Day.
In the museum you can see examples of the products they produced including collectible stoneware crockery and porcelain ware as well as more practical items like sinks, toilet bowls and sewer pipes. (Check your crockery and if it says Medalta on the bottom it's worth something.)
I found the wall of old photos very interesting especially the ones with women wearing curlers to work on Friday so they would look good for the Friday night dance.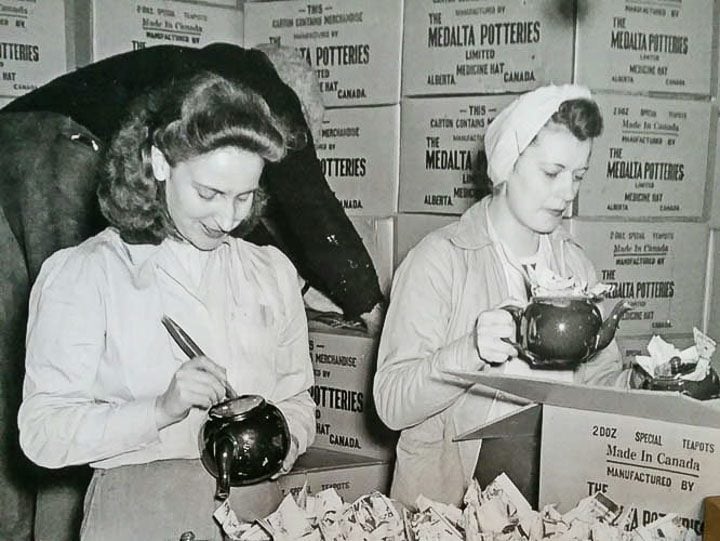 Explore the historic downtown in Medicine Hat
Downtown Medicine Hat is definitely worth a visit too. Explore several city blocks filled with handsome heritage buildings housing interesting retail stores and lots of locally run cafes and restaurants.
Aside from the restaurants and cafes, you can shop and relax in a park facing the South Saskatchewan River. I highly recommend the garden store on the main street. It's an oasis of calm, full of things you didn't know you needed.
Check out the coffee culture
With five locally run cafes there are plenty of options to get a caffeine fix. All are within a few blocks of each other. The smell alone will have you ordering a coffee at the Pool House Cafe & Roastery where beans are roasted onsite.
For a meal surrounded by the artwork of Maureen Newman, head to Inspire Café. If it's a calorie laden pastry made in house you're after as well as a great coffee and music then The Station Café across the street from the garden centre is the place to go.
Cafe Verve on Dumore Road SE offers a casual setting and friendly service, along with live music and local art.
Other restaurant choices suggested by a local include The Mango Tree for East Indian cuisine and Skinny's Smoke House for a BBQ fix and a beer.
Play a game of chess outdoors in Medicine Hat
Did you know the world's largest chess set is in Medicine Hat? Stop by to watch or play a game of chess. Note the size of the chess pieces.
If you're willing to do a short drive from Medicine Hat
Check out Red Rock Coulee
Just 35 minutes south of Medicine Hat sit the otherworldly rock concretions known as Red Rock Coulee. The concretions are basically in the middle of nowhere but if you're looking for a nature or photography fix, they're an excellent place to visit.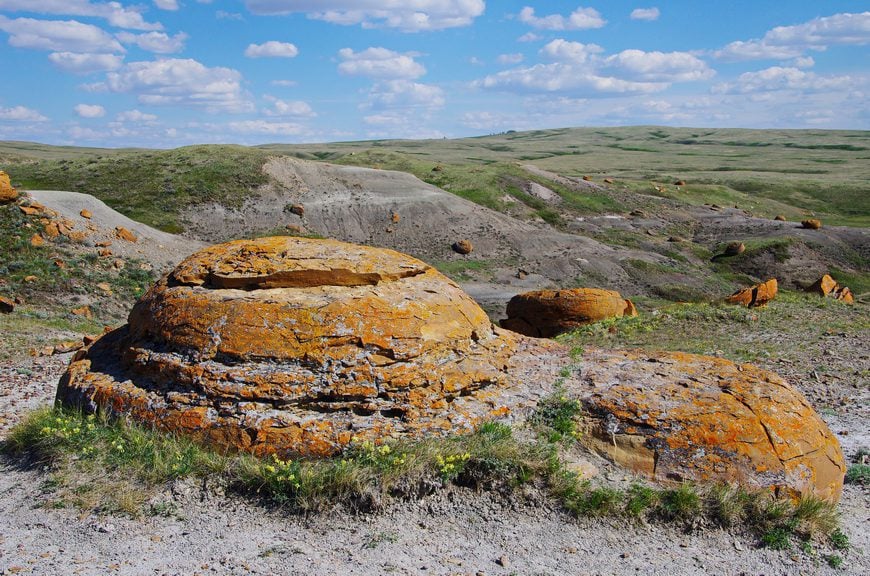 Explore Cypress Hills Provincial Park
Drive 40 minutes south from Medicine Hat and you'll enter one of Alberta's most beautiful parks – Cypress Hills Interprovincial Park as it shares a border with Saskatchewan. It's a four season gem with skiing and snowshoeing available in winter, and hiking, mountain biking and water sports available in the summer. There's also a beach, boating, a couple of decent restaurants and lots of birdlife and wild animals.
In the park you can camp, glamp or book a stay at Elkwater Lake Lodge & Resort.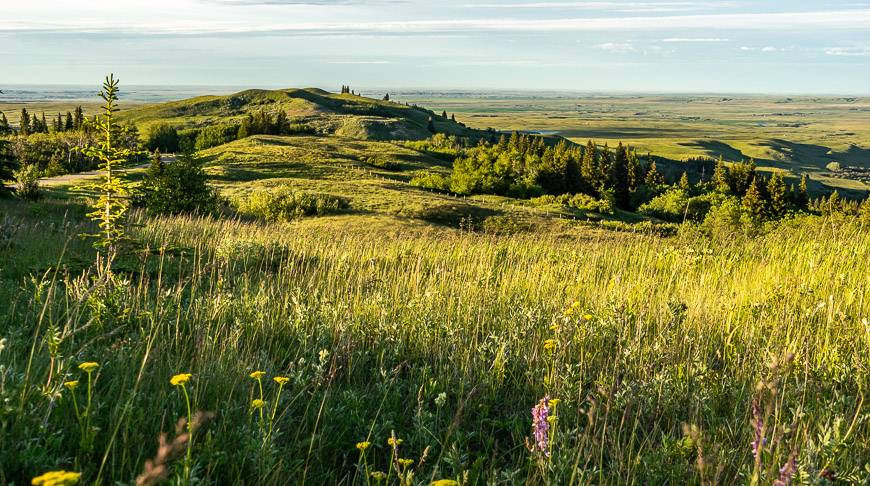 Places to stay in Medicine Hat
If you're planning to stay in Medicine Hat your best bet is one of the chain hotels.
Baymont by Wyndham Medicine Hat is rated as fabulous.
Wyndham Garden Medicine Hat would be another solid choice.
Further reading on things to do in southern Alberta
Next time you're driving past Medicine Hat – the sunniest city in Canada – stop and see how much more there is to the city than meets the eye on the highway. It's so much more than just a "gas city."
Click on the photo to bookmark to your Pinterest boards.
Thank you to the Chinook Country Tourist Association for sponsoring this trip. All opinions as always are my own – and I will be stopping at the local cafes the next time I'm in the area.