Red Rock Coulee Natural Area in eastern Alberta has an otherworldly feel to it. Littered with sandstone concretions, the red rocks measuring as much as 2.5 metres in diameter are formed naturally via the sediments they rest upon. The area is popular with geologists, photographers, and hikers who don't mind a lack of formal trails.
Red Rock Coulee is a scenic treasure – and yet it doesn't see a lot of traffic. You'll probably have the place to yourself.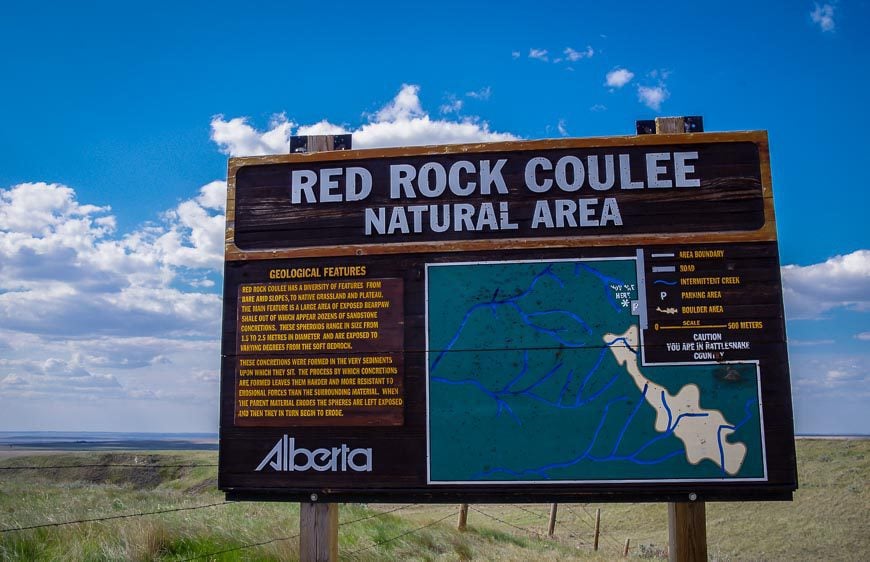 This post includes some affiliate links. If you make a qualifying purchase through one of these links, I will receive a small percentage of the sale at no extra cost to you. Thank you very much for your support.
How the concretions start
First you need a natural occurring nucleus just like a pearl. A bone or shell works well. The concretions grow by the concentric deposition of minerals around the grains before it hardens into rock. The concentric rings can be seen in some concretions.
According to the sign at the parking lot "the process by which concretions are formed leaves them harder and more resistant to erosional forces than the surrounding material. When the parent material erodes the spheres are left exposed and then they in turn begin to erode."
The landscape here is strewn with concretions left behind after the softer rock eroded away. Look for the beautiful lichens called Xanthoria that can withstand extremes of temperatures from -46°C to 42°C.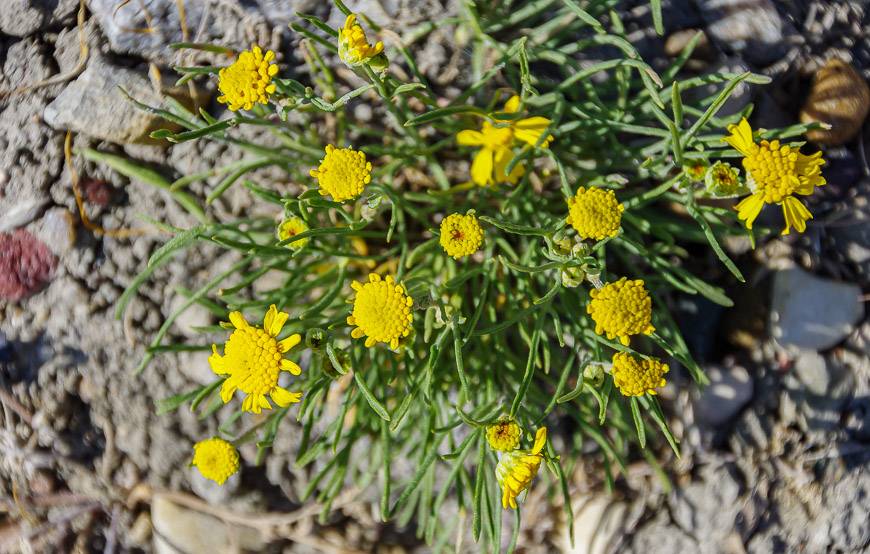 Red Rock Coulee feels like it's in the middle of nowhere
Accessed via Highway 887, 60 kilometres south of Medicine Hat, near Seven Persons in southeast Alberta, Red Rock Coulee is not really on the way to anywhere. On a clear day you can see Montana's Sweet Grass Hills, about 100 kilometres away from the high point in the parking lot.
We decided to make a detour and hit it on the way back from Writing-on-Stone Provincial Park. Although we didn't spend much time in the area, there would be some lovely hiking. Just carry lots of water. Try to time your visit for sunrise or sunset, when the rocks at Red Rock Coulee positively glow.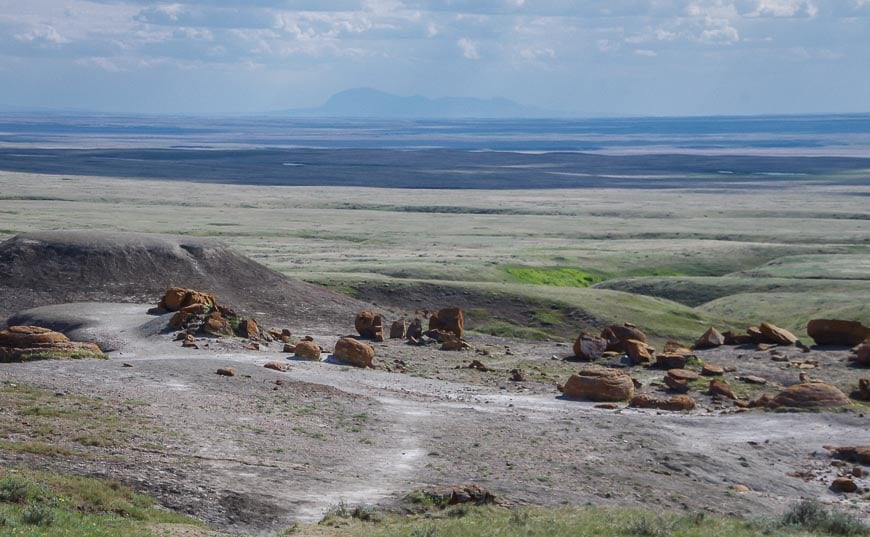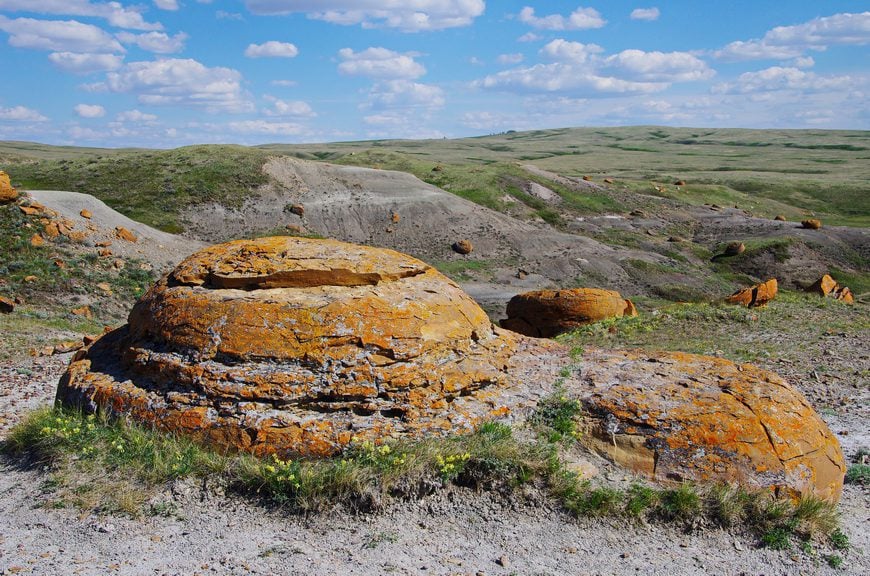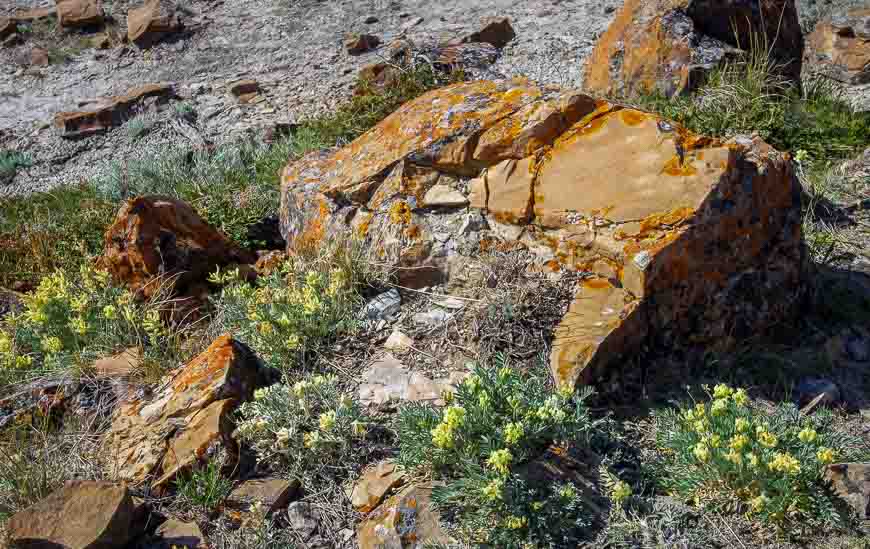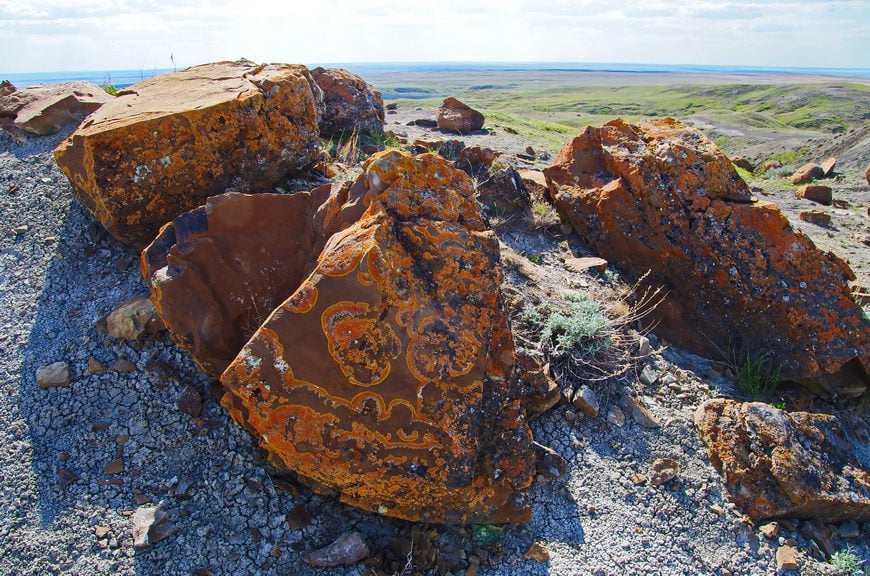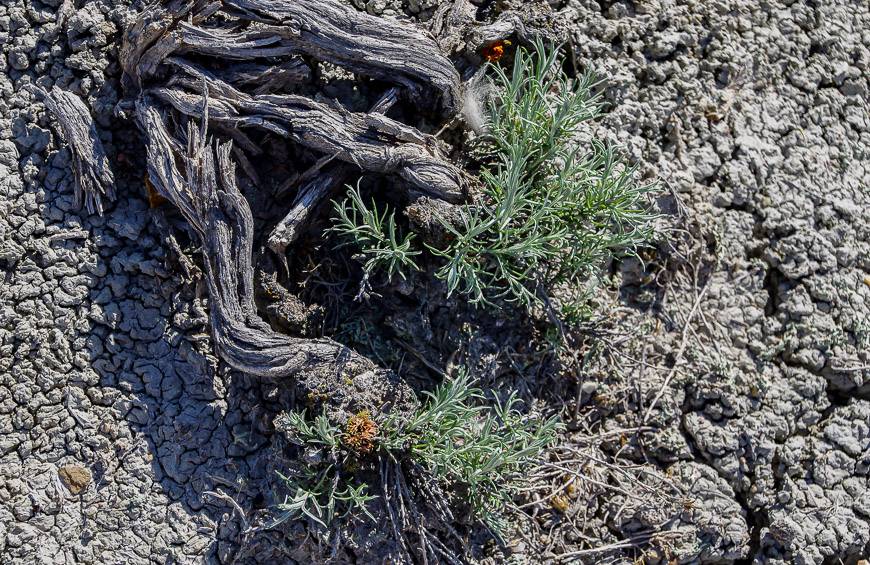 Look for hardy plants
The plants that grow in the Red Rock Coulee area are extremely hardy. Look for prickly pear cactus, prairie crocus, juniper, sagebrush, broomweed, and gumbo primrose.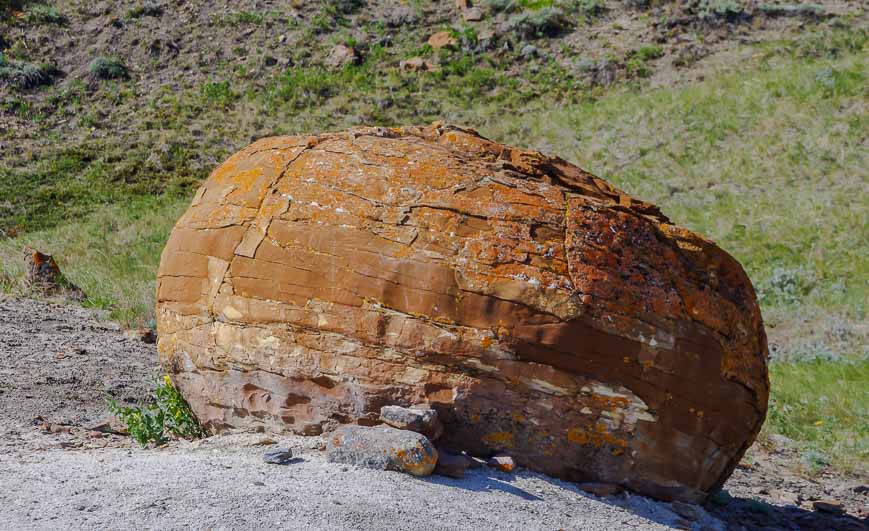 Wildlife you might see at Red Rock Coulee
Although we didn't see any wildlife, it's quite possible you'll see mule deer, pronghorn antelope, white-tailed jack rabbits, bull snakes, rattlesnakes (give them space), short-horned lizards, and if you were very lucky – scorpions – as they are considered rare in Alberta.
It's certainly worth making the detour to Red Rock Coulee if you're nearby.
Useful items for a visit here
The Southern Alberta Backroad Mapbooks would be a useful item to have with you, especially if you're planning to explore more of the region. It covers everything (campsites, logging roads, paddling routes, points of interest…) from Banff to Waterton.
Don't forget the sunscreen and a sun hat. This place can get brutally hot in summer.
Location map of Red Rock Coulee
Need a place to stay in nearby Medicine Hat?
There are lots of chain hotels in Medicine Hat. The Hampton Inn & Suites is one of your best bets. Holiday Inn Express would be another option ranked as very good.
Further reading on things to do in southern Alberta
Click on the photo to bookmark to your Pinterest boards.