Southern Alberta is home to some stunning scenery as evidenced by visits to three southern Alberta Parks – Police Outpost Provincial Park, Beauvais Lake Provincial Park, and Lundbreck Falls Provincial Recreation Area.
These three southern Alberta parks don't see nearly the traffic as Alberta's more popular mountain parks, so it's quite easy to get campsites, even on busy summer weekends. Bring binoculars, fishing rods, hiking shoes, and a camera and you'll have a grand time exploring this part of Alberta.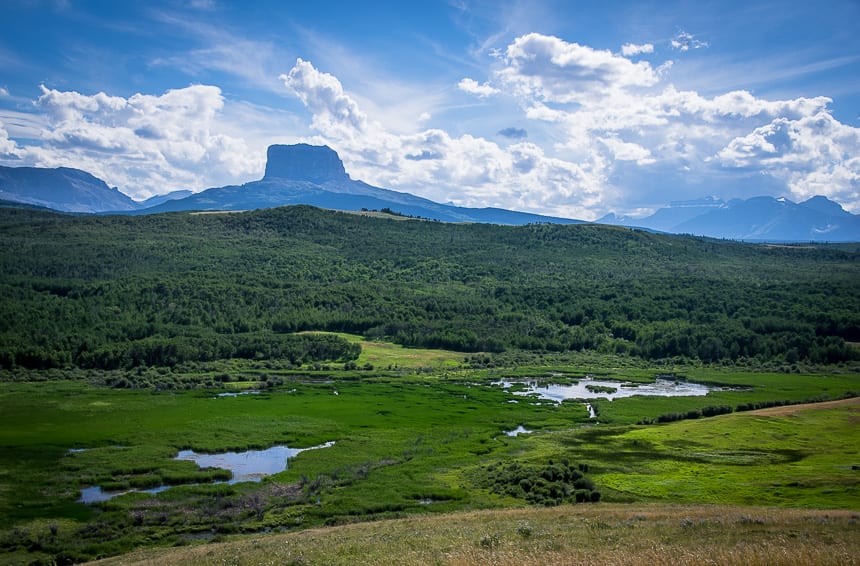 Location of the southern Alberta Parks
Southern Alberta Parks – Lundbreck Falls Provincial Recreation Area
Lundbreck Falls Provincial Recreation Area is an easy place to visit if you're driving through the Crowsnest Pass area as it's just minutes off Highway 3 and not far from the junction with the Cowboy Highway (Highway 22).
There are two entrance points to Lundbreck Falls that provide access to either side of the river and both are signed from Highway 3. If you enter west of Highway 22 off of Highway 3 you'll reach several scenic overlooks without having to hike.
From here you can also access the Crowsnest River via a set of stairs. The second access point is via Township Road 74C east of Highway 22, off of Highway 3. Drive through the campground, park and then take the trail to the falls.
No matter how you get to Lundbreck Falls plan ahead. Bring a picnic and then find a pretty spot along the Crowsnest River to admire the falls. Take the time to do short walks on either side of the falls.
Reportedly the trout fishing on the river is also some of the finest in North America but make sure you have a license. And on a hot day, plan to cool off in the river.
Come winter, Lundbreck Falls are still worth a visit – with the river, a ribbon of turquoise flowing out of falls, shrouded in ice.
Police Outpost Provincial Park
You'll find Police Outpost Provincial Park in southern Alberta on the border with Montana. (You'll probably need to Google its location as it's off the beaten path via a maze of Township and Range roads west of Highway 2.)
This park takes its name from the fact the in 1891 the North-West Mounted Police established a post to bring a semblance of law and order to the area as it was popular with whiskey runners. But with a remote location, recruits didn't last long so the post was closed in 1899, then reopened with a single officer from 1902 – 1909 before being abandoned completely.
Visit Police Outpost Provincial Park if you love fishing. Outpost Lake is stocked with rainbow trout. The lake would also be an easy, beautiful place to explore by kayak or canoe.
Check out some of the lovely hiking trails – with one of the trails taking you down to the Canada – US border. There's a fantastic amount of birding both in the park (the park is home to more than 50 bird species) and in a wetland area immediately west of the lake.
With 240 plant species, there will be something in bloom no matter when you visit in summer. When we were there the Saskatoon berries were prolific – as were the cedar waxwings feeding on them.
There is loads of camping with a high probability of nabbing a spot even on a summer weekend but come prepared with everything you need as there are no services for miles.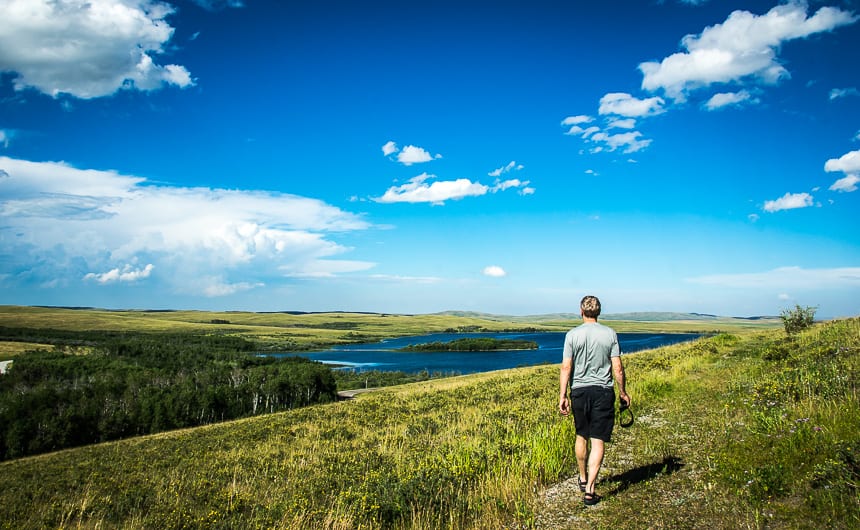 Southern Alberta Parks – Don't miss Beauvais Lake Provincial Park
Beauvais Lake Provincial Park located west of Pincher Creek is a great place to plunk yourself down for a couple of days. There are lots of campsites with RV style camping (reservations accepted) as well as walk-in tent camping. Once you've got yourself settled and oriented in Beauvais Lake Provincial Park you'll find plenty of activities to fill your days.
There is some particularly good hiking with approximately 18 km of trails in total. Pick up a brochure showing all the trails and then decide how little or much you want to tackle. The hike out to Scott's Point and along Chipman Creek is particularly lovely as is a stretch along the lake.
There are a couple of hikes that take you to viewpoints if you don't mind some elevation gain. And if you're feeling ambitious you can basically walk around all of Beauvais Lake though doing it in a canoe or kayak would be more interesting. (Bring your own.)
With a diverse landscape around the lake that includes woodlands, wetlands and grasslands, there's a range of habitats that are home to many uncommon birds. The lake also lies along a major north-south flyway so birding is extremely good, some of the best we've experienced in Alberta.
Lying in our tent at tent we drifted off to sleep listening to two types of owls and loons. Come morning, we heard loads of songbirds and saw red-necked grebes, spotted sandpipers, ospreys and bald eagles.
In winter you can cross-country ski and snowshoe on 28 km of trails or ice-fish on the lake.
All in all Beauvais Lake Provincial Park – and of southern Alberta's parks worthy of a visit.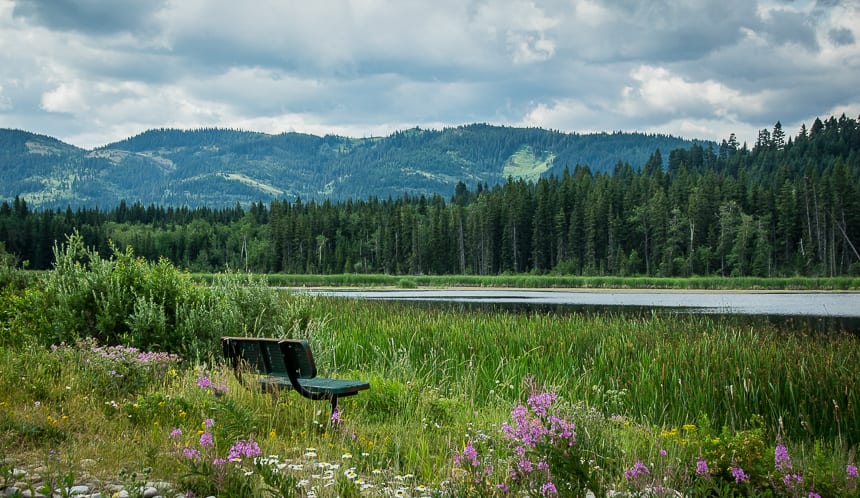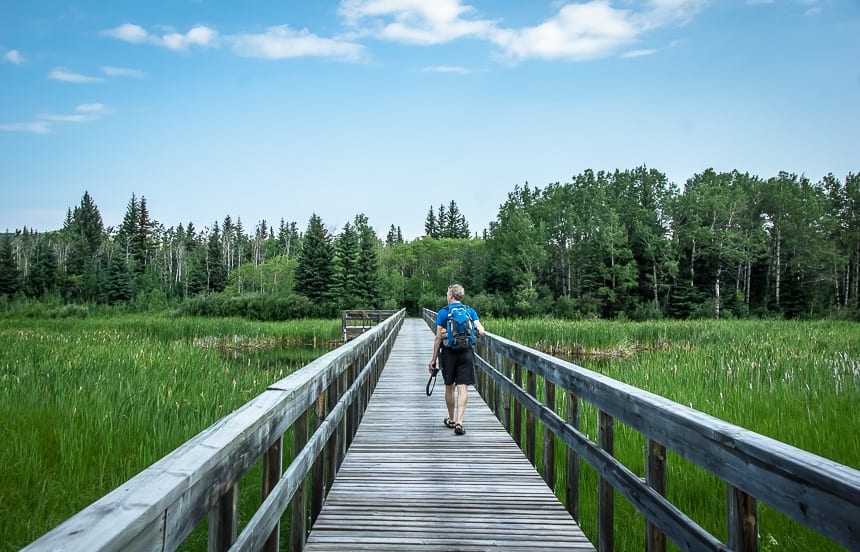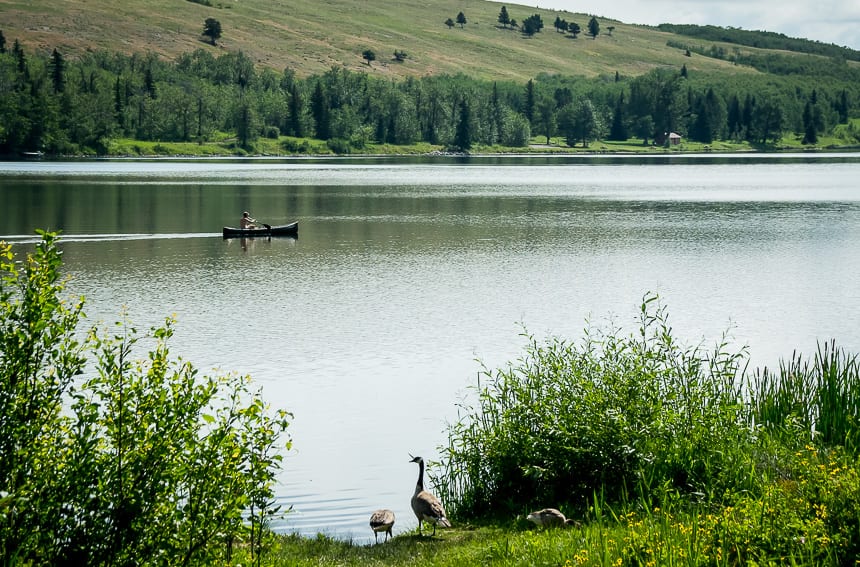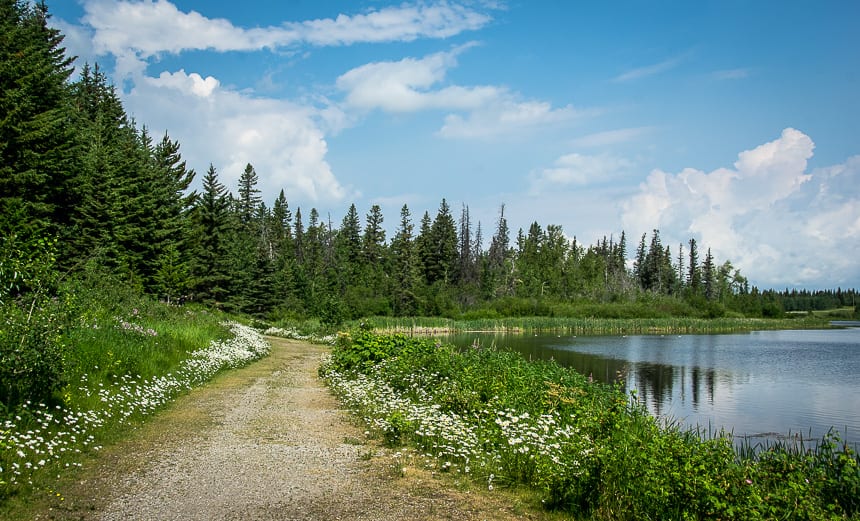 Further reading on things to do in southern Alberta
Click on the photo below to bookmark to your Pinterest boards.