When Alberta Parks got the go-ahead back in May to open parks for camping at half capacity beginning in June 2020, I was intent on getting some reservations to parks and backcountry campgrounds I'd never visited before. A getaway to local provincial parks may not be as exciting as travel to far-flung places around the globe, but I am truly thrilled just to be out of Calgary and exploring a new part of Alberta. I felt lucky to nab a single night in Kinbrook Island Provincial Park.
Kinbrook Island Provincial Park, near Brooks in eastern Alberta is the first reservation I nabbed, and the first park we have camped in this year. While I didn't pick the best campsite, we did have a very enjoyable 24 hours out of the city – drinking wine while listening to non-stop bird song and an evening nature walk that was both beautiful and rewarding with the number of birds sighted. Come the morning we launched our kayaks and enjoyed a few hours of easy paddling on Lake Newell.
Lake Newell is a man-made reservoir that was filled in 1914 with the construction of the Bassano Dam. The lake is large, boasting over 66 square kilometres of surface area. It won't be the prettiest lake you've ever seen, but in the prairies it's a treat in the summer to have water to swim and play in. Its waters are clear and warm – so it's the perfect destination for young families wanting some beach time, or for anyone who has a penchant for boating in the summer.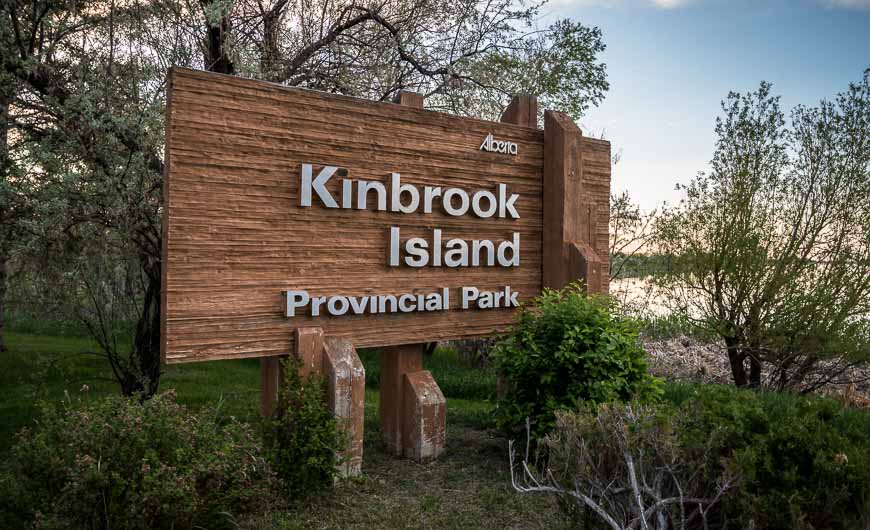 Kinbrook Island Provincial Park location
The park is about a 2.25 hour drive east of Calgary. Drive the Trans-Canada Highway to Brooks, turn south onto Highway 873 and follow it for 13 km to reach the well-signed park turn-off. Anyone who has driven to Dinosaur Provincial Park, has in all likelihood been through Brooks, so most of the drive will feel familiar.
If you need any last minute camping or food supplies you'll find them in Brooks.
Camping in Kinbrook Island
The park offers over 160 campsites, most with power. There are lots of large trees, so chances are pretty good your campsite will have some shade.
When I booked our campsite, I hadn't picked up that there was a cottage subdivision and a road behind our campsite. I wouldn't recommend B -20, 22, 25, 28, 30, 31 or 32 along with F-77, 78, 79, 81 and 83 – if you prefer not to hear car traffic behind your campsite.
Knowing what I know now, I would choose to camp in the I or G areas so I could enjoy the peace and quiet and be closer to the lake. Fortunately when you're only camping for a night, it doesn't matter too much.
When we drove into the less than half full campground, we were met by three deer grazing on the grass. It got better. The minute we hopped out of the car the bird-song started – along with flashes of yellow and orange flitting by. We had Baltimore orioles, warblers, along with western and eastern kingbirds in abundance right off the bat. John would happily have wandered off for hours with no thought to getting a tent up or a meal prepared.
This campground enjoys large, well-spaced campsites. While all shower services are closed during COVID, washrooms are open. I found them to be very clean and non-stinky. In our case toilet paper and hand sanitizer was provided though you're told to take your own.
It is hard to get a campsite this year with vastly reduced numbers of sites available but there may be cancellations and going forward, campsites are booked 90 days out. You can check online here. There is a reservation fee of $12 and a cost of $37/night with a hookup. I find the Alberta Parks website to be cumbersome and not intuitive, but the good news is even today, I found open campsites in August.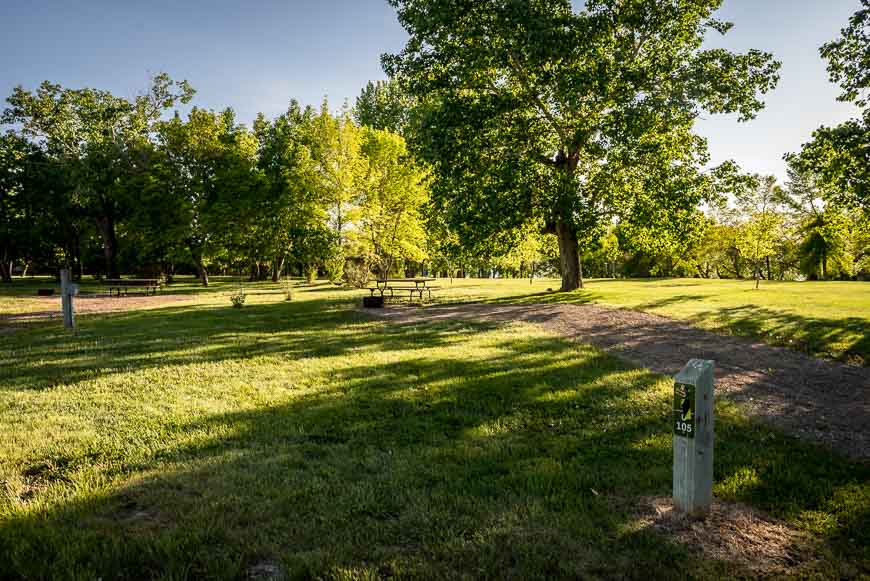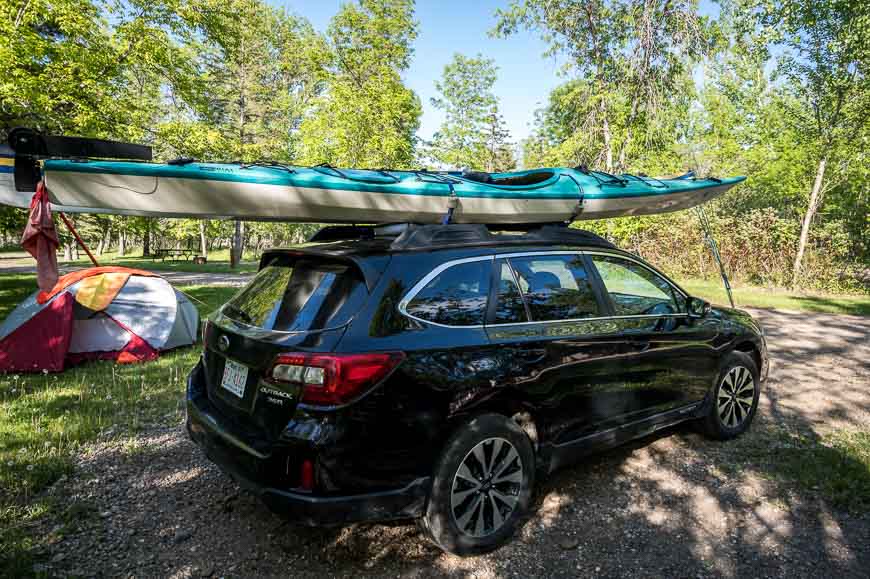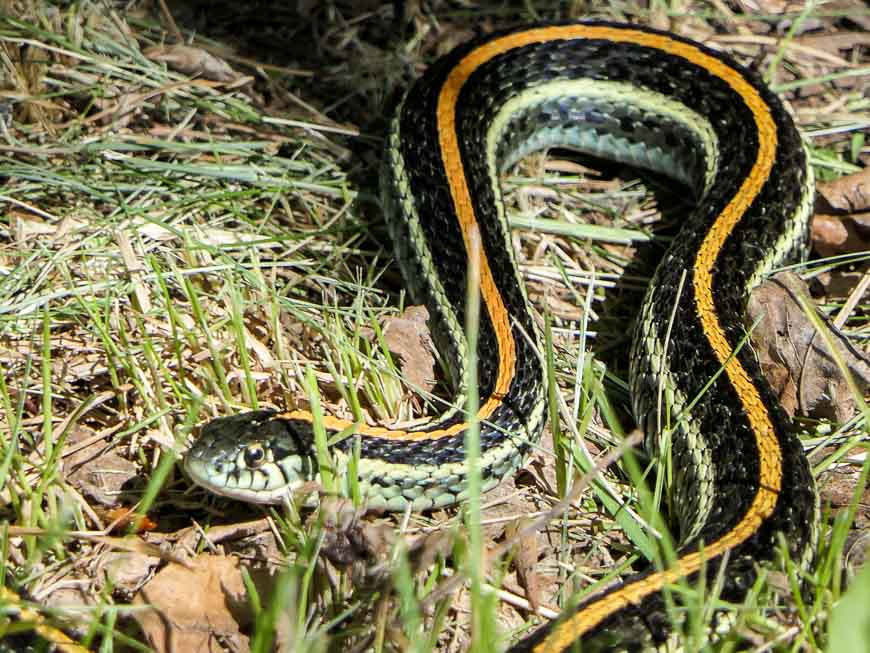 The beach at Kinbrook
The highlight of the park for many visitors is the beach. In summer I suspect you need to show up early to carve out your space. There's a shallow slope in the water so it's ideal for youngsters who just want to frolic at the water's edge. I was amazed at how warm the water was in early June!
Nearby are washrooms and a playground – and as you can see in the photo, shade trees aren't far away.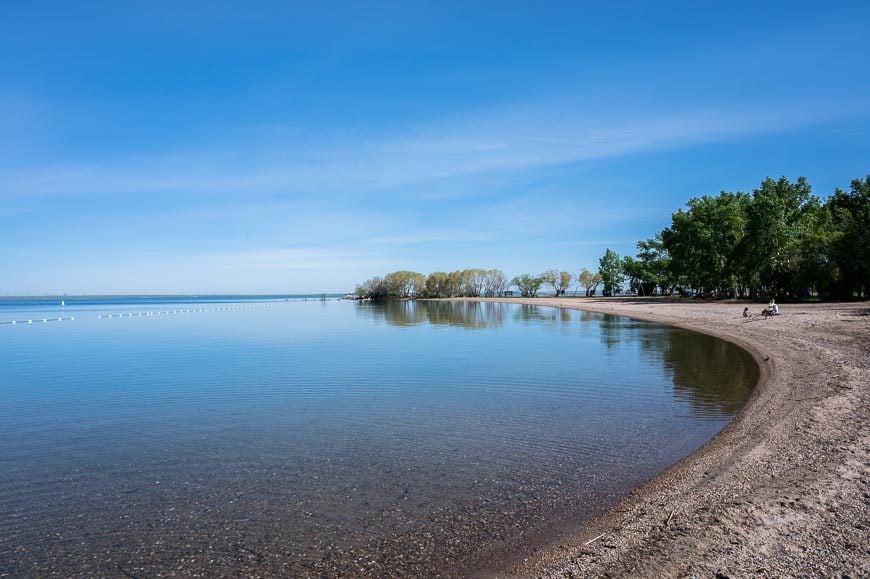 Kinbrook Island Loop via the Marsh Trail hike
A walk on the Marsh Trail, especially in the evening light, is a total delight. You can do an out and back hike or a 6.4 km loop but that requires some walking on the road into the park – and the road doesn't have much of a shoulder.
Pick up the trail beside campsite I-136 and follow it until you reach the first observation tower. The birding is phenomenal with a mix of shorebirds, gulls, and song birds. In the evening it can be a bit buggy so don't forget the bug spray.
The Marsh Trail turns away from the water at the tower (a misnomer as its just about 8 feet above grade) and while not quite as obvious, there's a definite track to follow. Continue on it to reach the Kinbrook Marsh Trail – accessed via a short gravel road off the road into the park.
On the next section of road we were captivated with the sound of American bitterns – a bird that we still haven't seen but what a treat it is to listen to. If you hear something that sounds a bit like a frog in an echo chamber, oonk-a-lunk, and you're in a reed-filled area, then it could well be a bittern.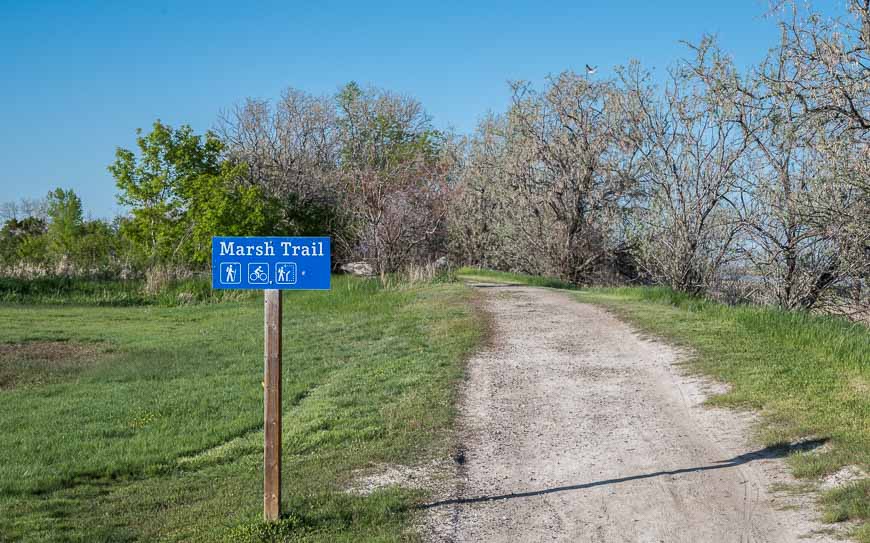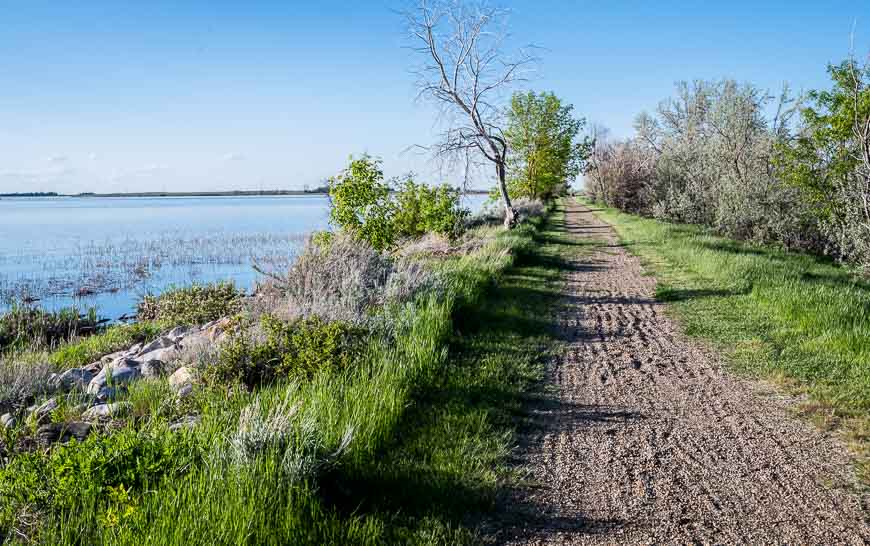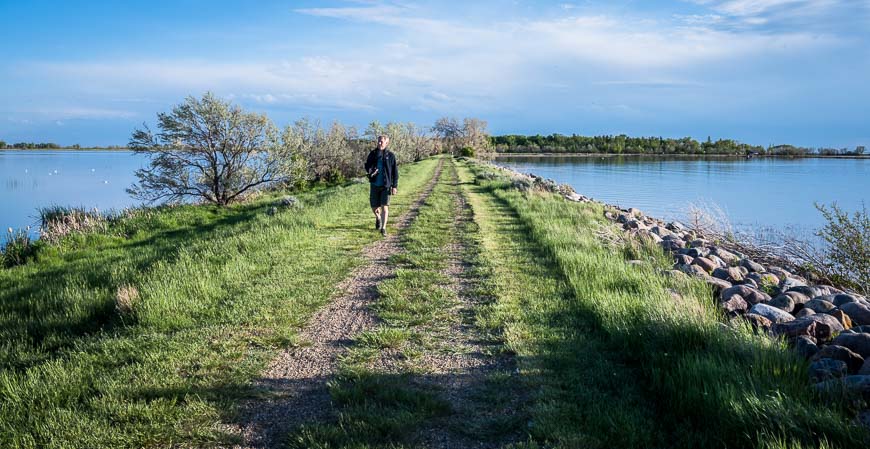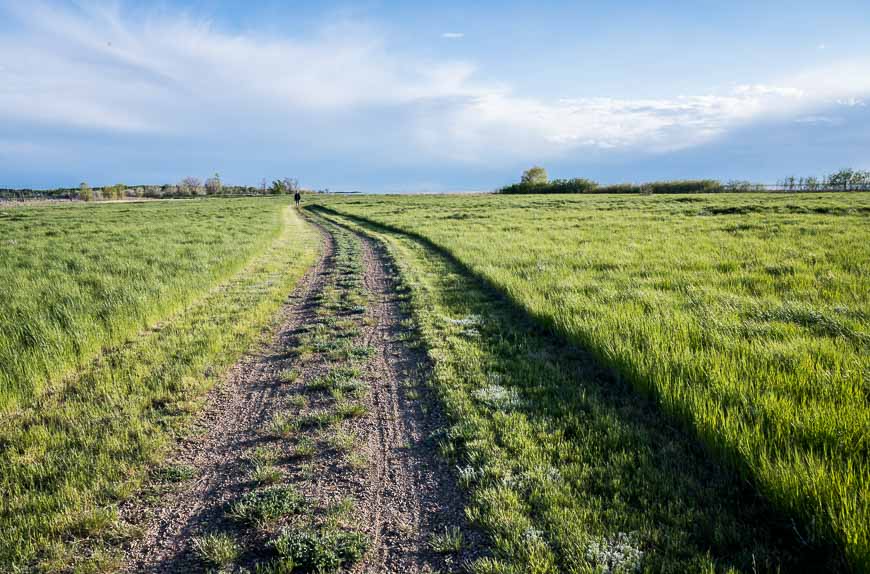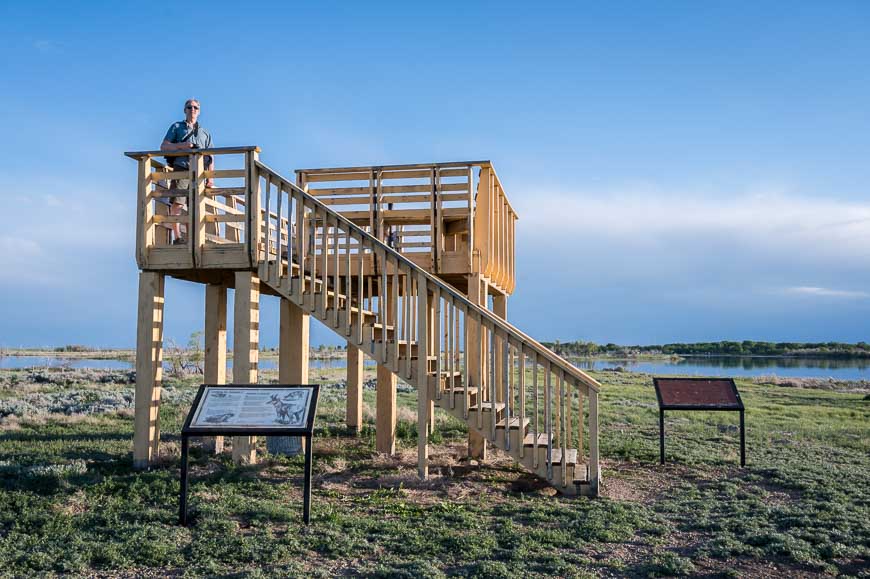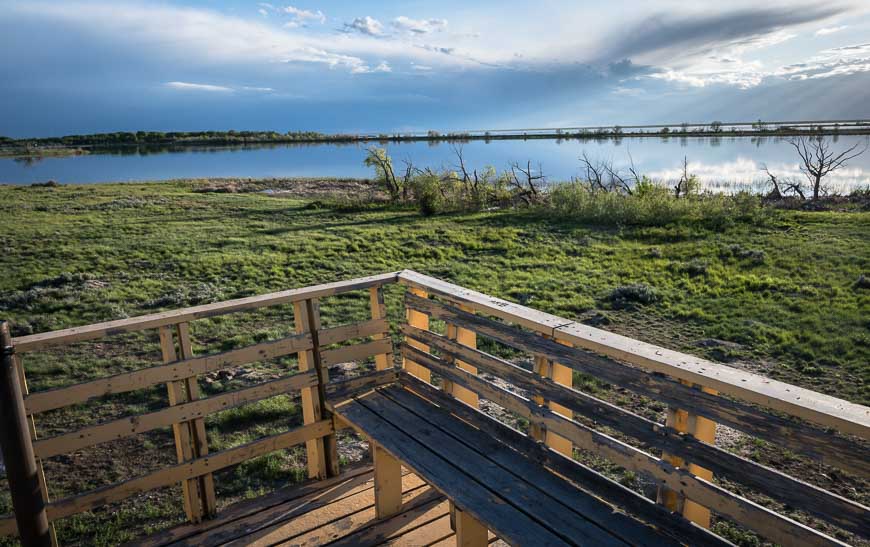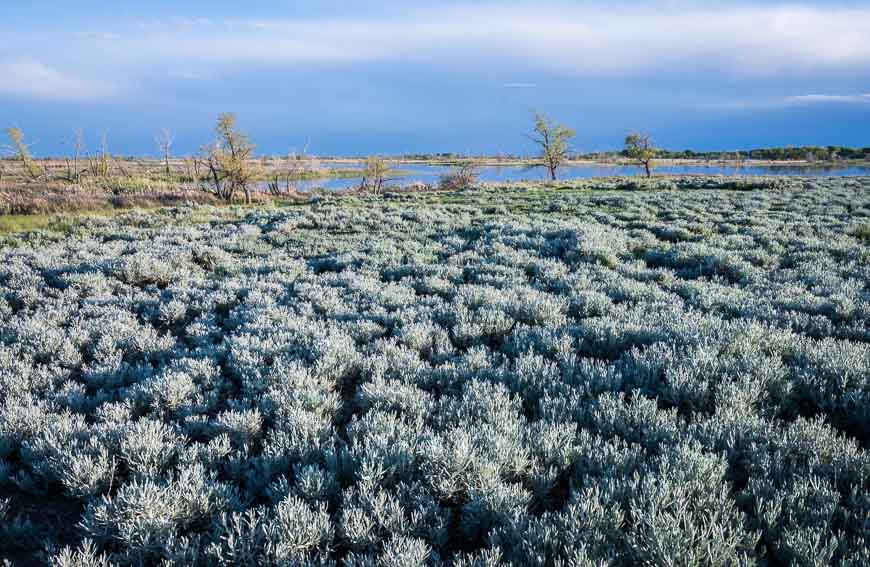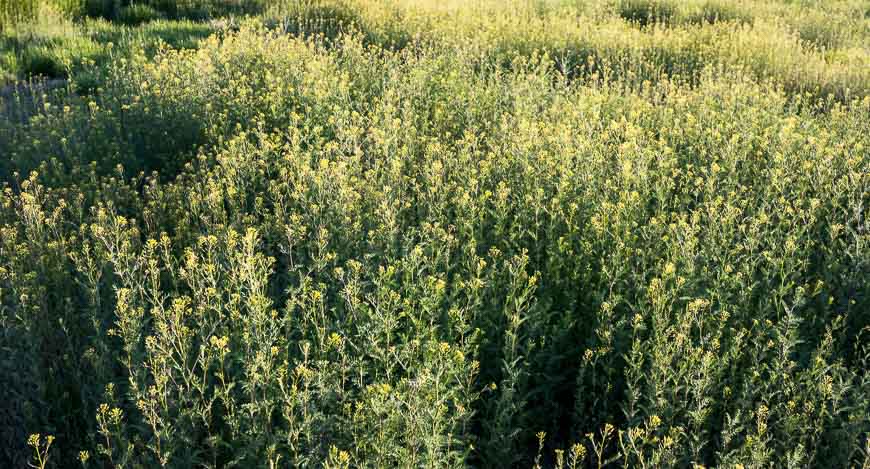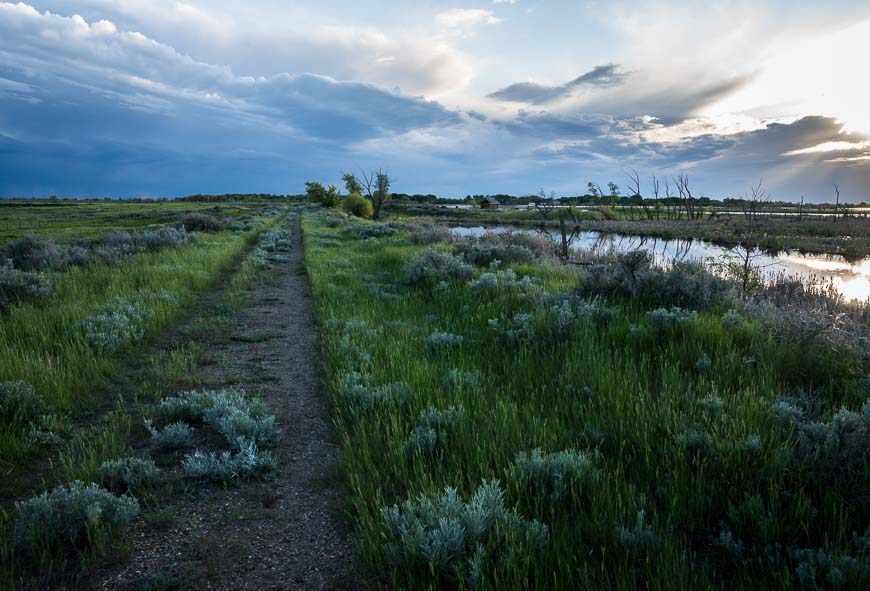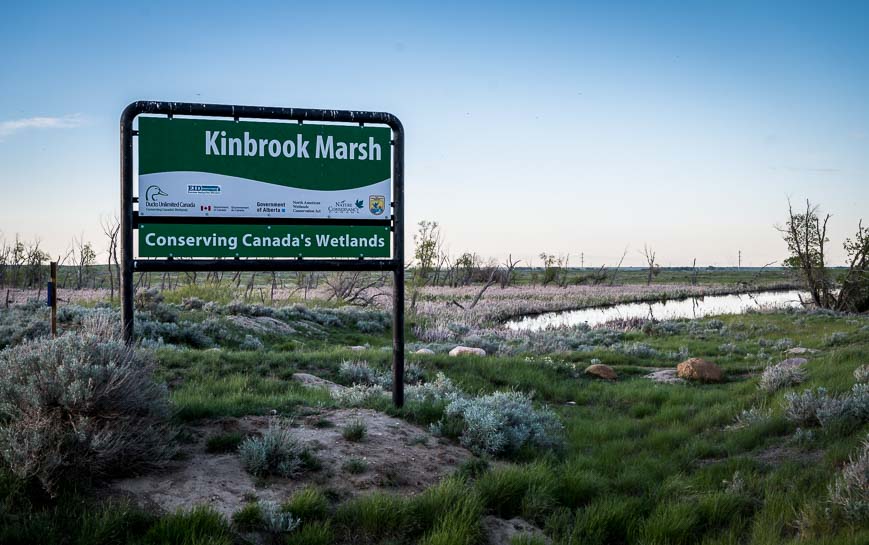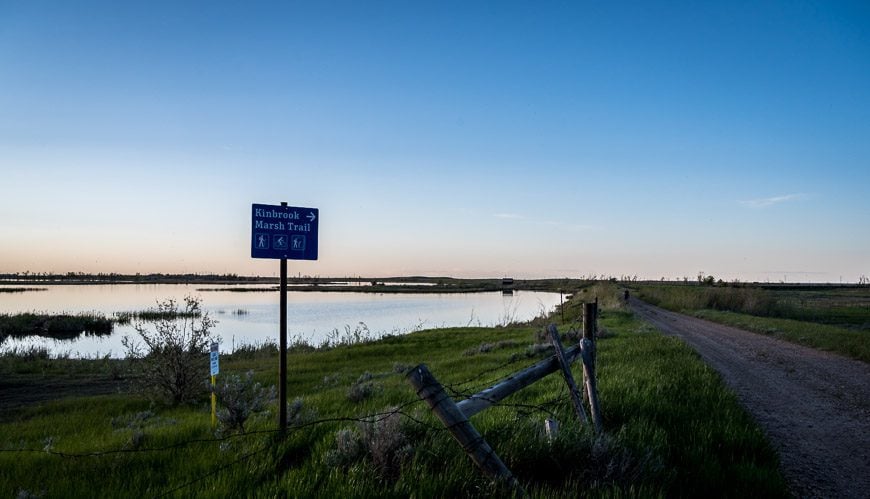 Birding in the park
Approximately 270 bird species have been sighted in Kinbrook Island Provincial Park. Be sure to ask at the camping check-in kiosk for their bird list. John counted 42 species but there were another half dozen that he couldn't positively identify.
Some of the birds to look out for are white pelicans, Caspian and common terns, eared grebes, coots, black-necked stilts, seven species of flycatchers, seven species of sparrows and 20 species of warblers.
I highly recommend Birds of Alberta as a resource.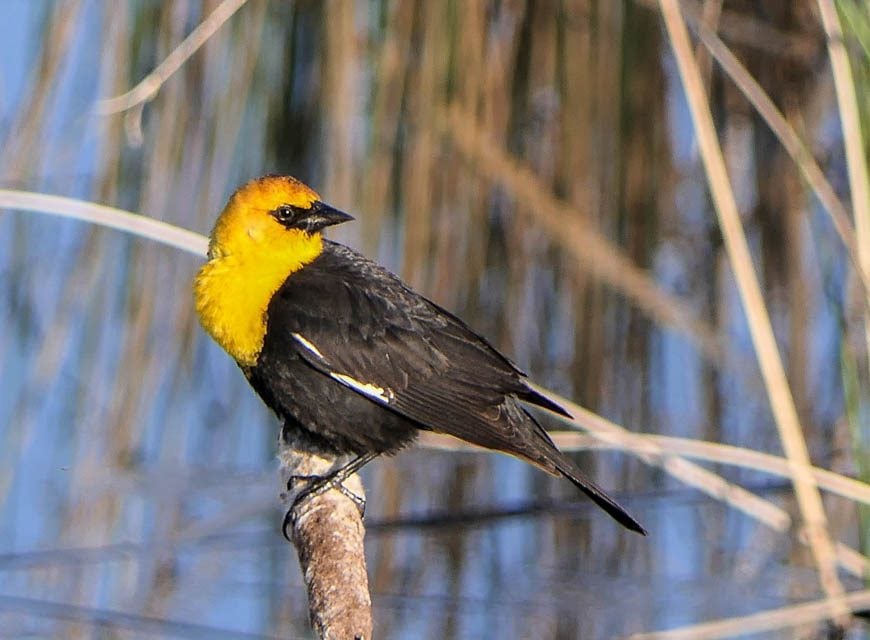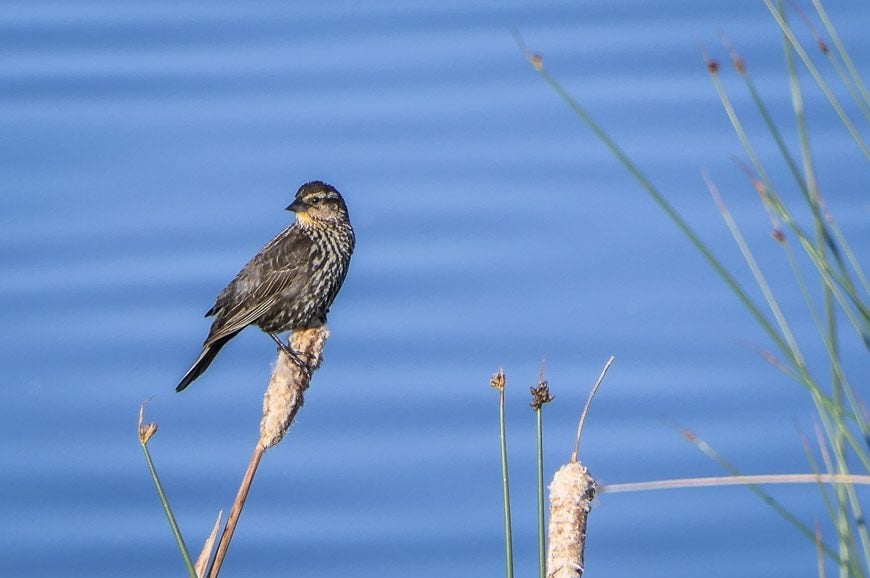 Boating on Lake Newell
Boating is extremely popular on Lake Newell though we were the only ones out in kayaks. Motorboats are popular – for exploring the lake, waterskiing and as a means to go fishing for northern pike and walleye. We also heard seadoos when we arrived.
It felt great to be out in our kayaks – which we haven't used since we kayaked in the Broken Group of Islands a few years ago. The scenery isn't much to look at around Lake Newell as there isn't a lot of relief – or trees, but still it was a treat to use our paddling muscles and be out on a body of water.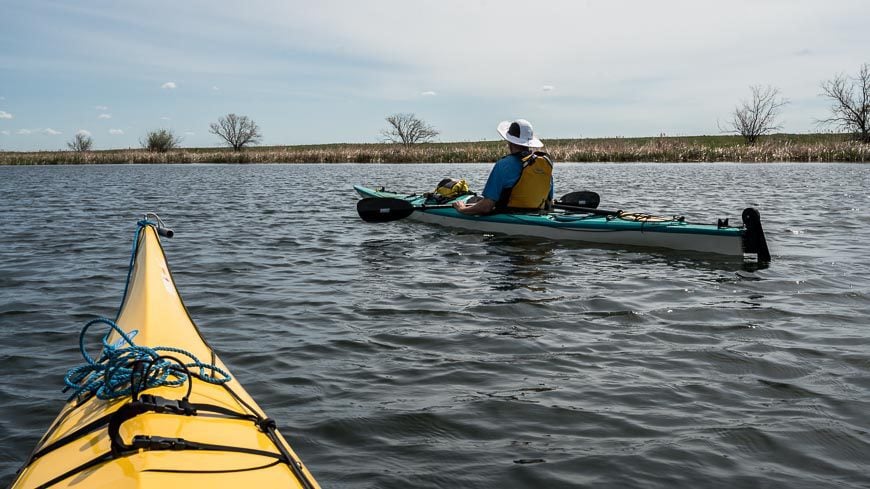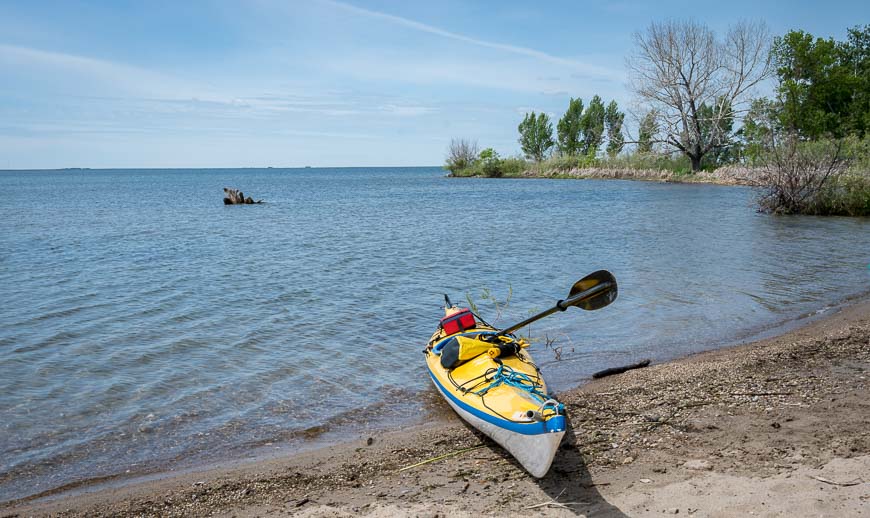 For more information on Kinbrook visit the Alberta Parks website.
Further reading on provincial parks in Alberta
Click on the photo to bookmark to your Pinterest boards.