Glenbow Ranch Provincial Park, located between Calgary and Cochrane is an excellent four season destination. Over 1,300 hectares of fescue grasslands, some of it rare, are protected along a section of the Bow River. Explore approximately 30 km of paved trails running through these grasslands on foot, by bike or on snowshoes in winter. In summer there are even golf carts for those with mobility issues.
The park is a delight for the nature lover. If you visit Glenbow Ranch Provincial Park at dawn or dusk keep your eyes peeled for deer, coyotes, elk, badgers, weasels and even cougars. Should your visit coincide with a time when the Visitor Information Centre is open, be sure to pick up a bird, animal and plant checklist.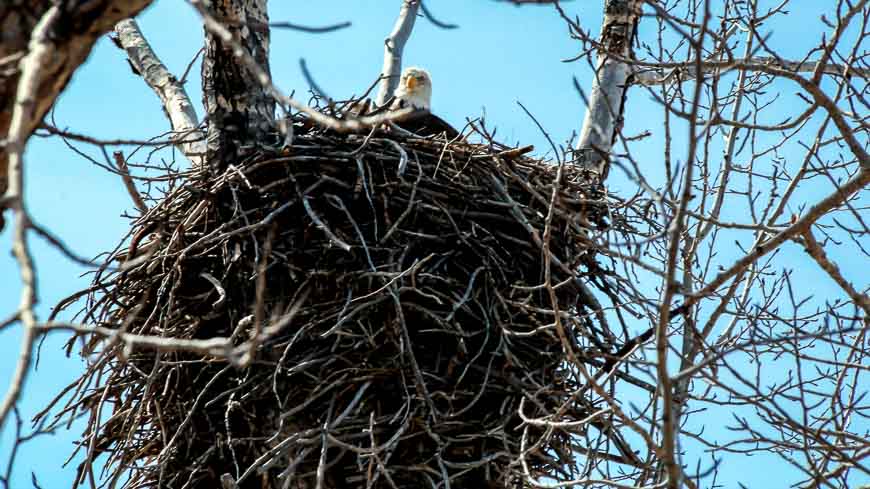 Glenbow Ranch Provincial Park History
This is primarily ranch country and in fact Glenbow Ranch Provincial Park continues to be a working ranch. The ranch was originally established by the Harvie family.
The provincial park came into being when the land was sold for less than market value to the Government of Alberta – with the express intention of both protecting the land from development and conserving it. We have the children of Neil Harvie to thank for that.
Also within Glenbow Ranch Provincial Park is the Glenbow Quarry. Outcrops of the Porcupine Hills Formation sandstone are still visible on the cliffs (above the trains in the photo below). This is the rock that was used in the construction of many downtown Calgary buildings including the Calgary Courthouse building and Edmonton's Alberta Legislature Building.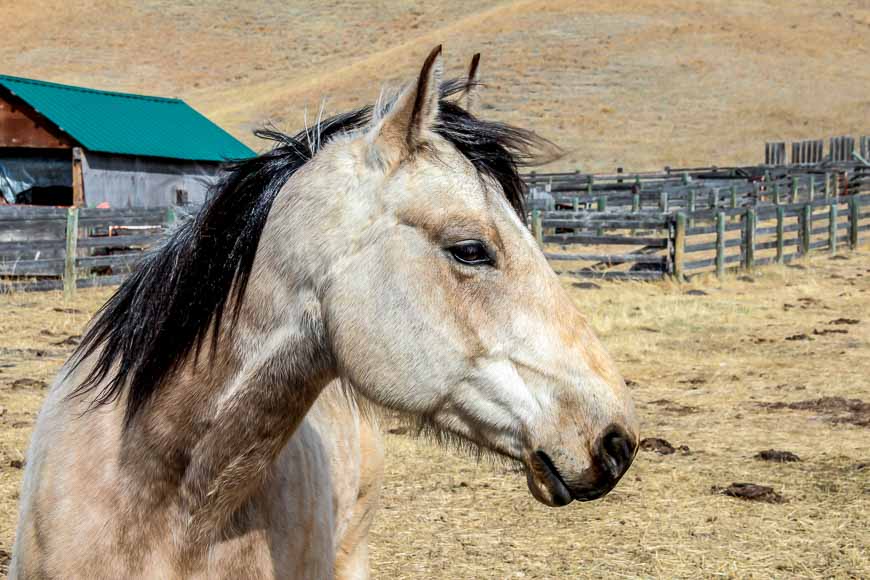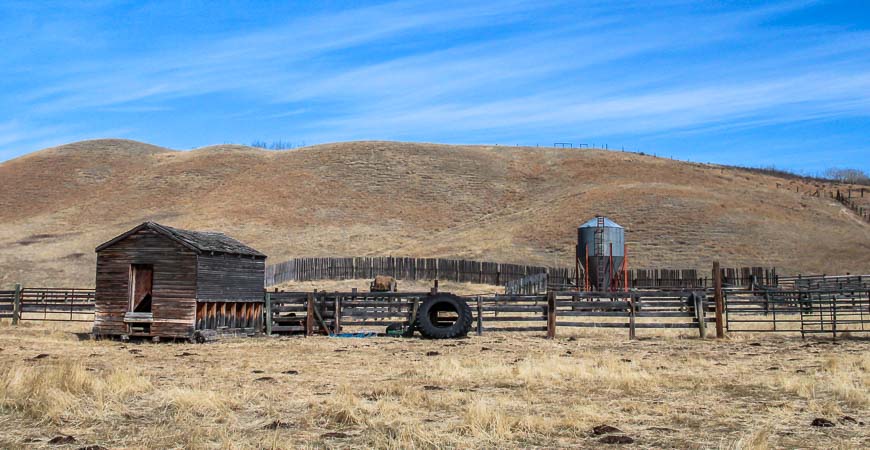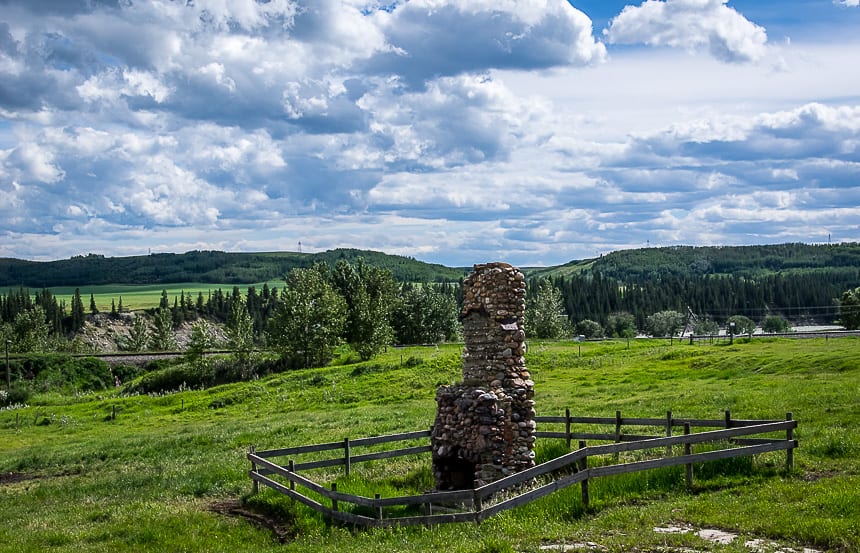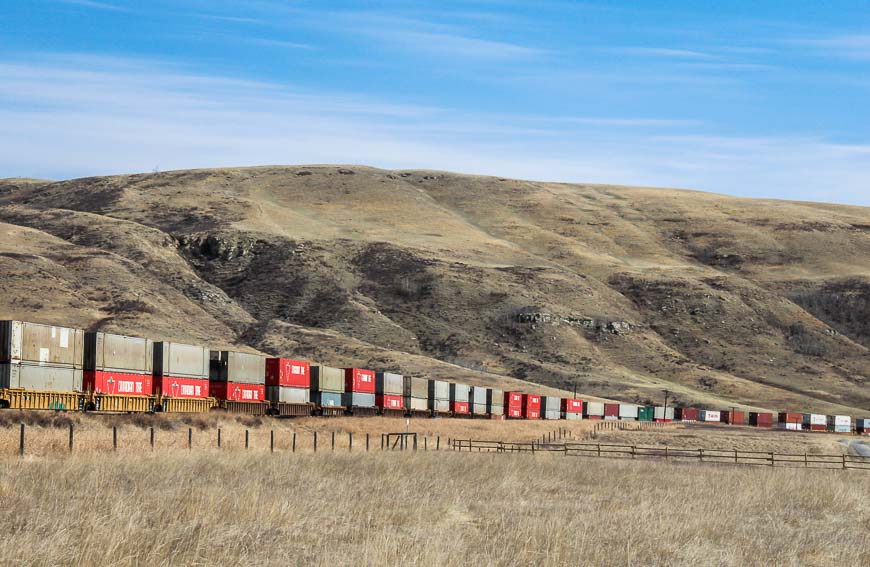 Biking and hiking in the park
With over 30 km of trails accessible to hikers (and most trails are open to mountain bikers) there's a lot to see. Signage is excellent – so don't worry about getting lost. I always recommend taking a photo at the beginning of the hike or bike ride so you can get your bearings if you're not near a trail intersection – which is where you typically find the signage.
Trails are a combination of asphalt and dirt. You can do and out and back type of hike or bike ride but there are plenty of loops do hike/bike too.
Read: Biking the Trans-Canada Trail in Glenbow Ranch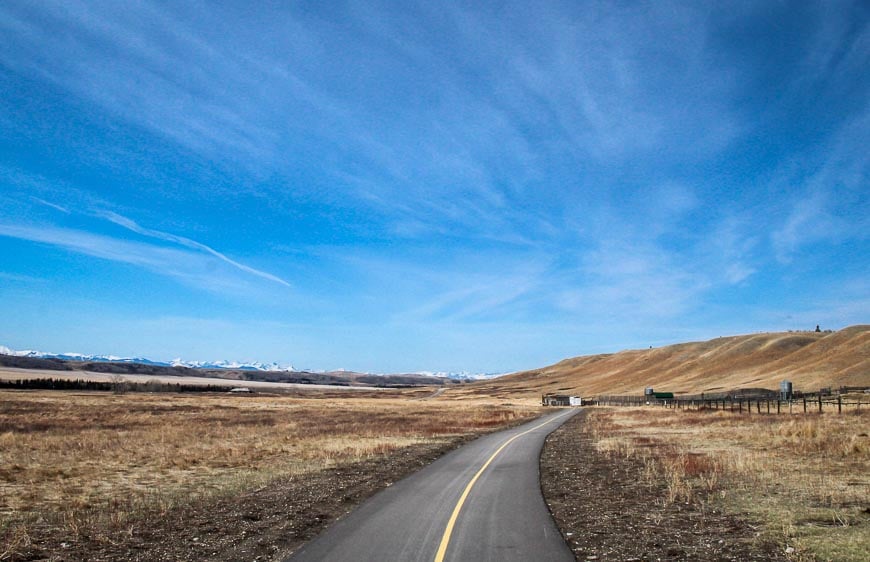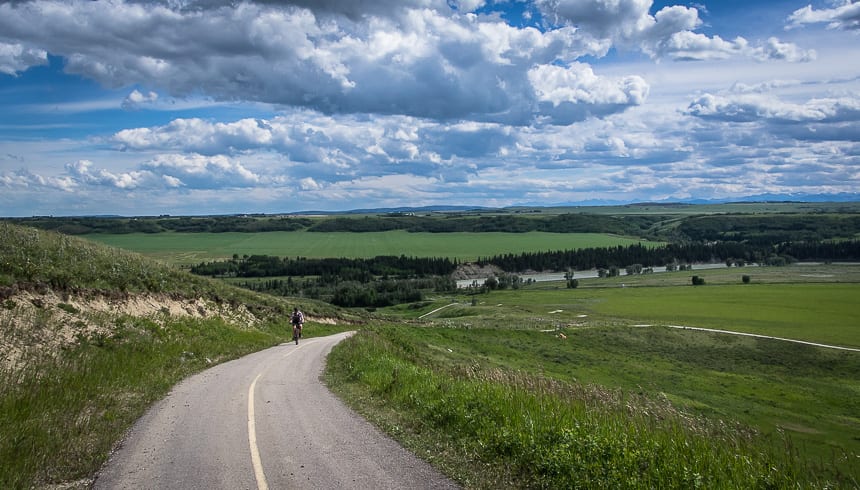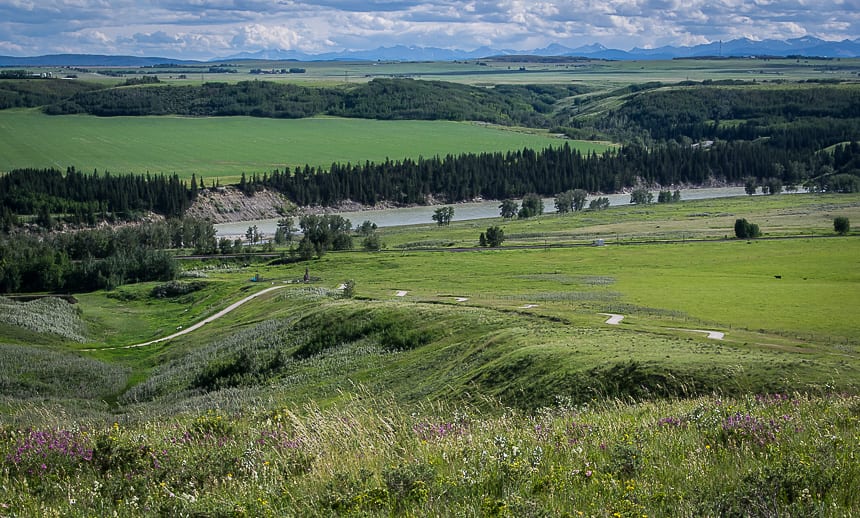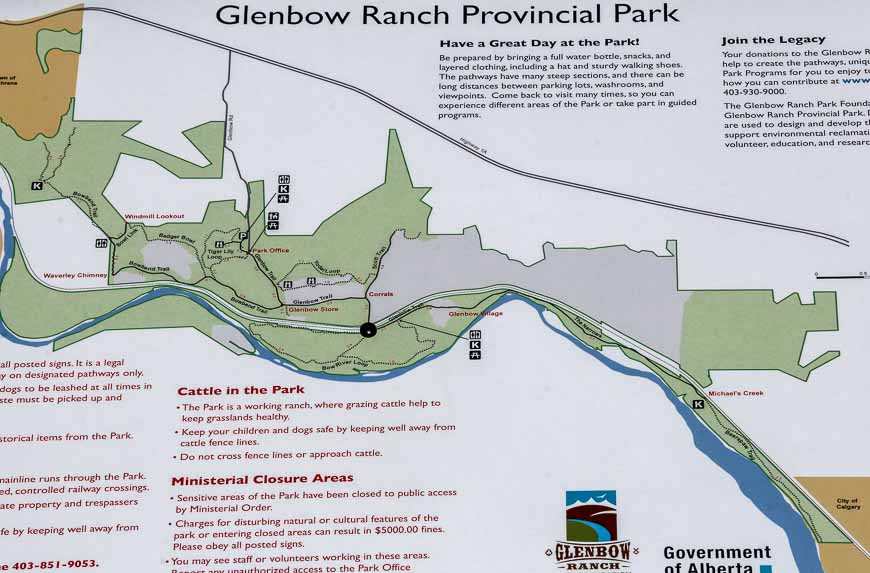 I have hiked most but not all of the trails in Glenbow Ranch Provincial Park. I haven't taken the Bearspaw Trail east along the train tracks.
Most people start on the Glenbow Trail, one that offers gorgeous views of the Rocky Mountains. I think the Tiger Lily Loop is a great one to start on – because there are usually fewer people and it takes you down through a beautiful forested section to the Bowbend Junction. From there you can head west and pass a pretty pond that often has a lot of duck action. Keep going west and you eventually get some exceptional views.
No matter where you hike or bike, look for signs detailing the history of the Glenbow Townsite, school and quarry. Fascinating reading. Really.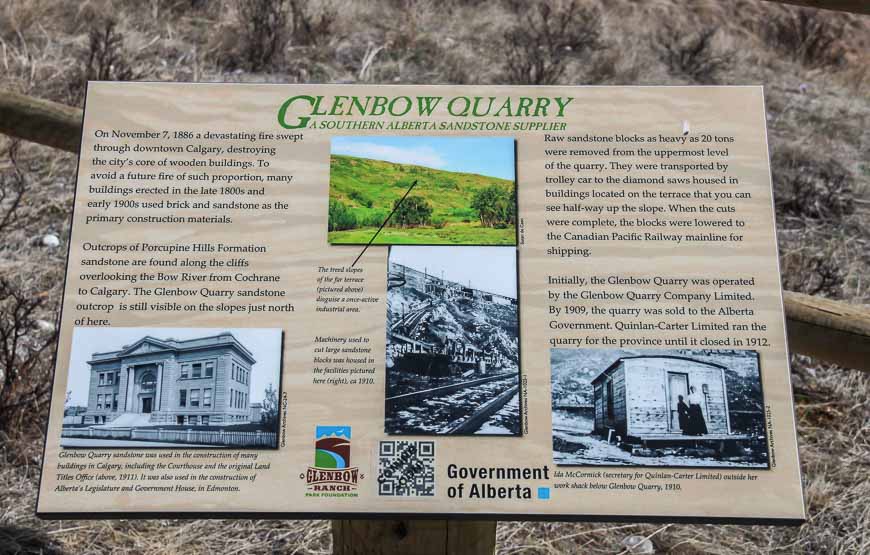 On one of our hikes we took the Bow River Loop – a 4.9 km circuit that takes you across the railway tracks. If you're into trains, park yourself on the nearby bench and count away. These trains are like long snakes and in the three plus hours we were there, we saw four of them.
The Bow River Loop parallels the Bow River for several kilometres. As my husband and I walked along I noticed a monster-sized nest in a tree beside the Bow River. My first thoughts were it must be a squirrels nest. But it was a bald eagle's nest with not one but two bald eagles in it. It was certainly the highlight of our 11 km hike.
And the scenery on the rest of the hike wasn't too shabby either.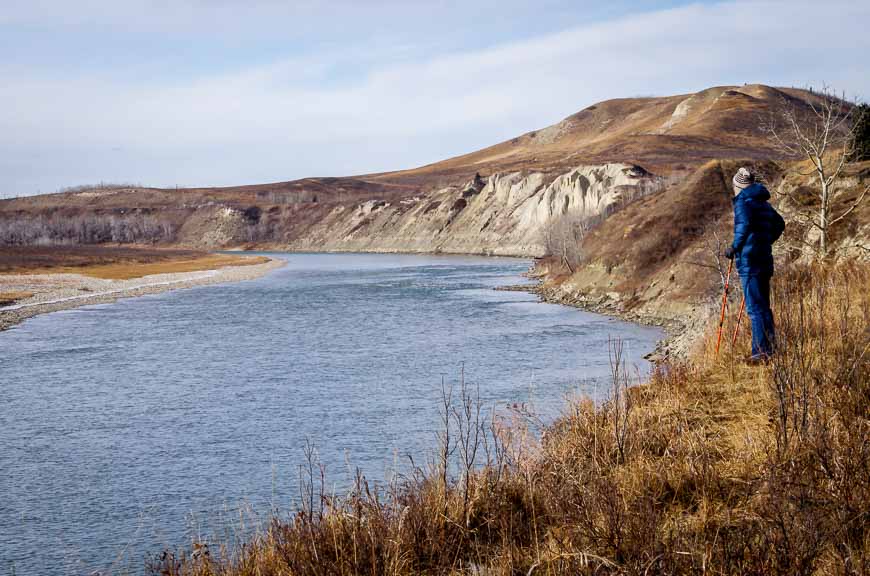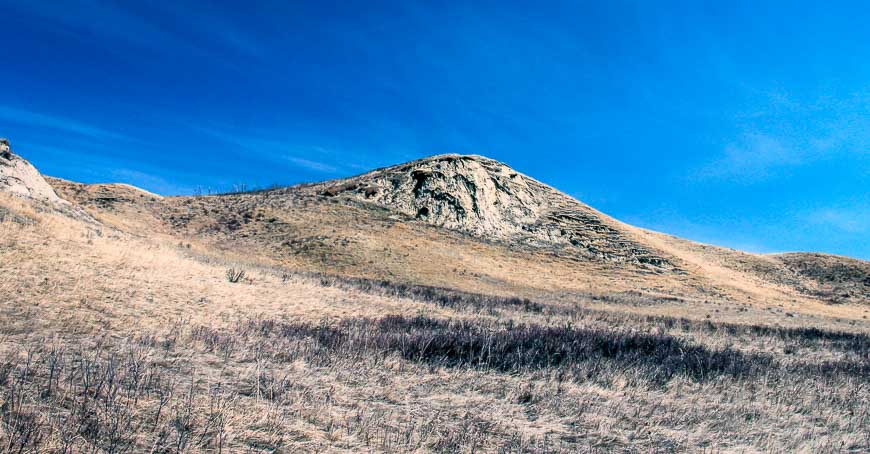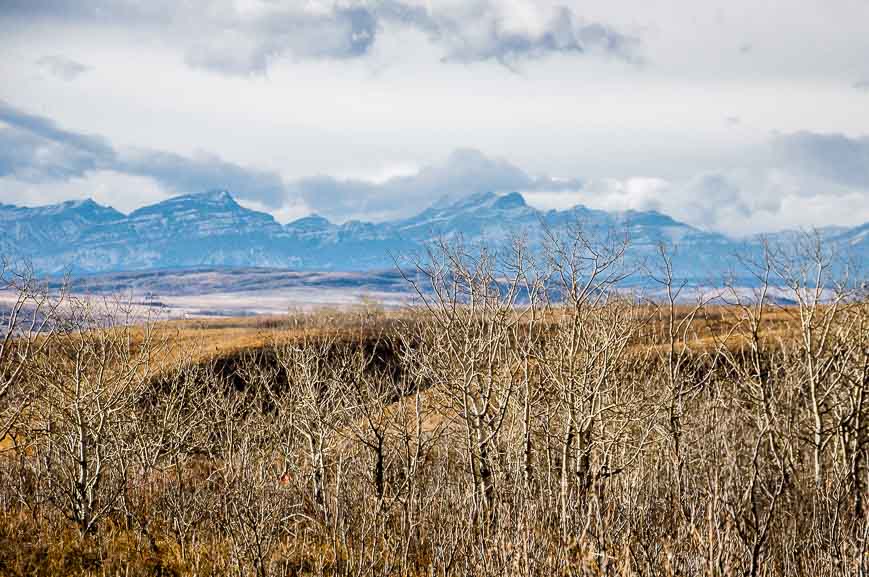 The park in winter
I have been on several occasions to Glenbow Ranch in winter and absolutely love it. There are rarely many people and yet the same trails you hike in summer are ideal for snowshoeing – or for hiking boots, though often I'd suggest bringing icers along as well.
Enjoy the peace and solitude but be prepared to bundle up as the winds in the winter in the park can be particularly cruel.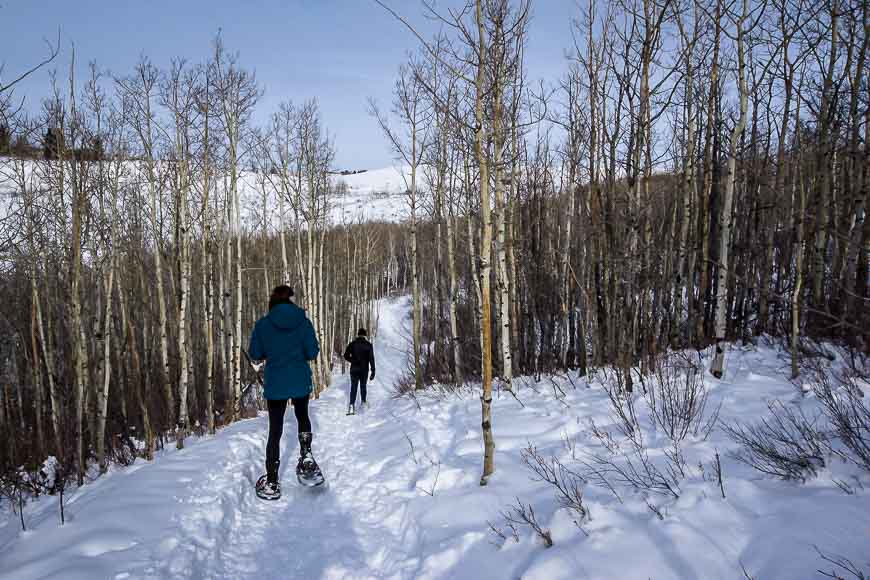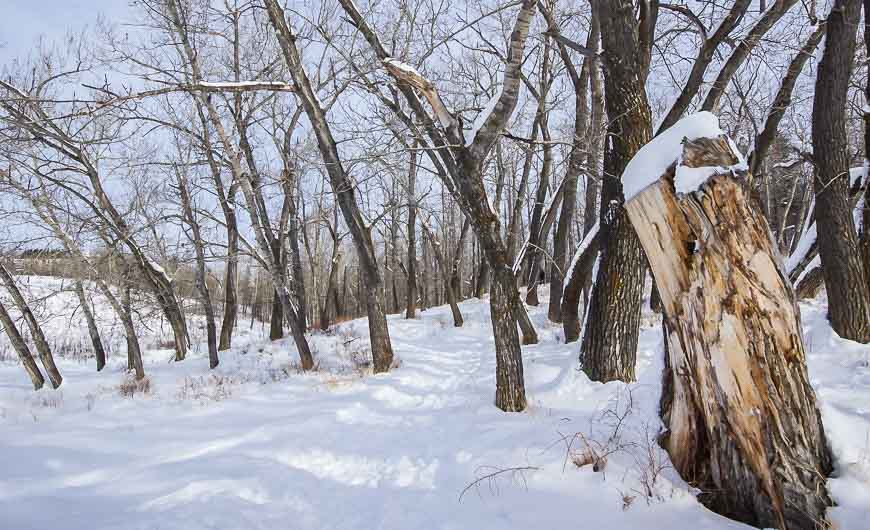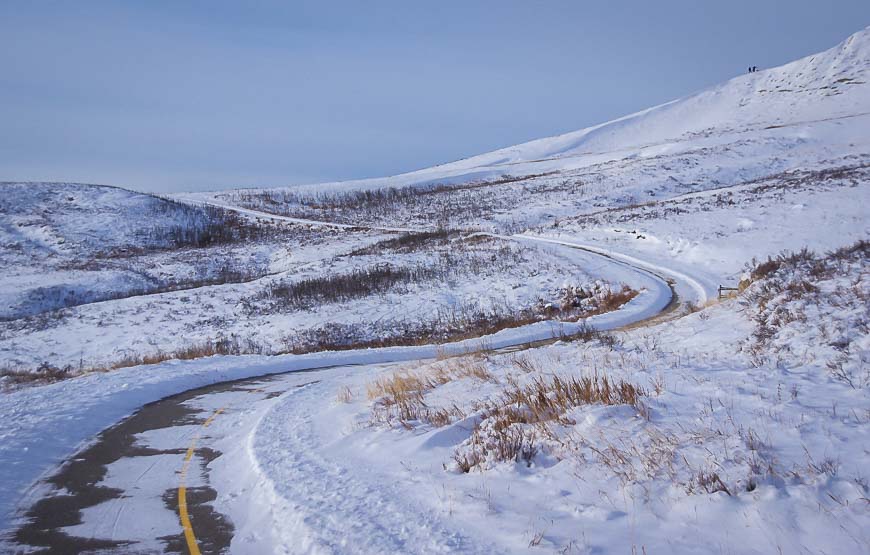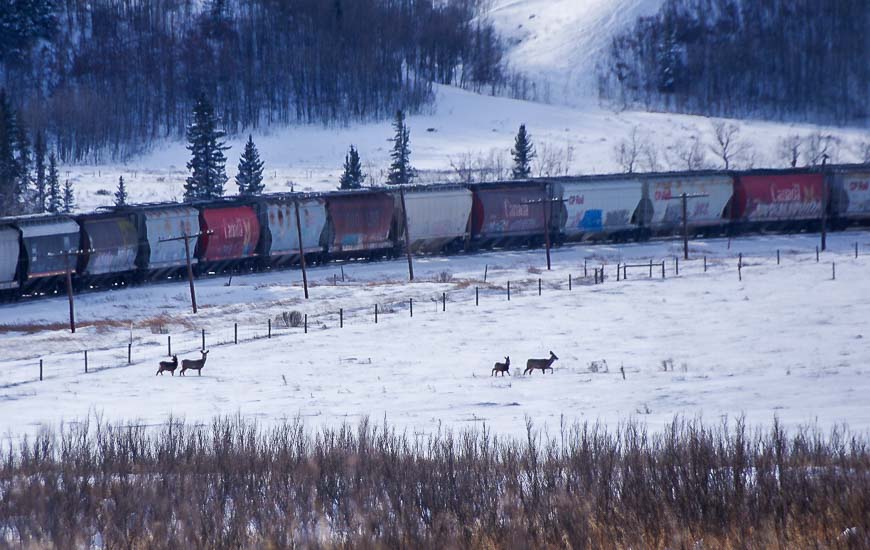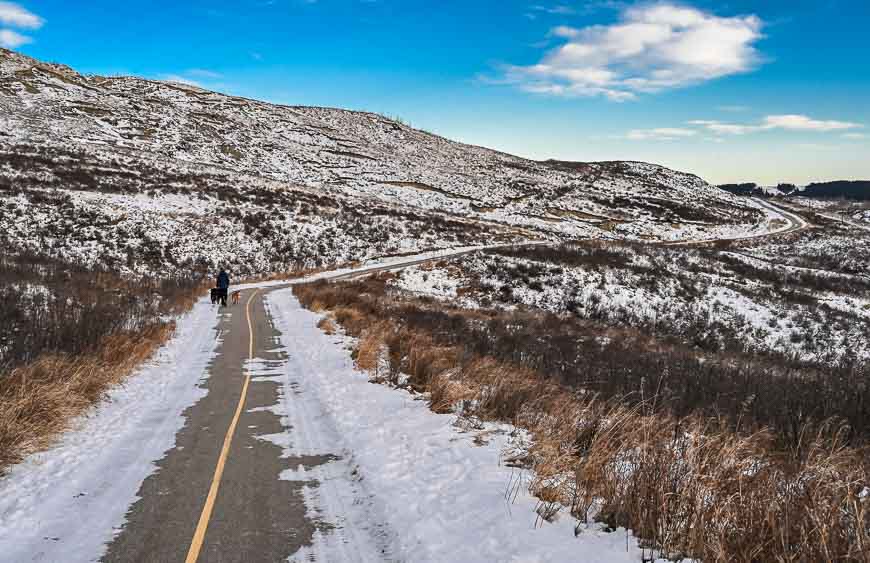 Close to cities but a feeling of being far-removed
The beauty of a visit to Glenbow Ranch pProvincial Park is its proximity to Calgary and Cochrane and the fact that it's a year-round destination. I can get to the park within 40 minutes of my house in Calgary. If you lived in the north you could probably halve that.
The park doesn't offer the jaw dropping vistas you get in the mountains, but prairie skies have their own charm. And it's hard to beat all the bird and animal sightings, especially of a bald eagle in a nest.
Getting to Glenbow Ranch Provincial Park from Calgary
From downtown Calgary take Crowchild Trail North and stay on it as it becomes Highway 1A west for 24.1 km.
Turn left onto Glenbow Road (look for highway signs too) – a dirt road, and follow it 1.1 km to the parking lot. Parking is free as is entrance to the park.
More useful Glenbow Ranch Provincial Park information
Dogs are allowed on a leash
Bring water especially as it warms up.
Glenbow Ranch Provincial Park gets hot on summer days. I'd recommend hiking either early or late in the day.
Camping is not allowed. It's a day-use park only.
There are pit toilets, one in the parking lot and one in the park along, I believe along Glenbow Trail.
The Visitor Centre is typically open only on weekends.
Visit the provincial park website for more information.
Further reading on things to do in Alberta
Click on the photo to bookmark to your Pinterest boards.