Calgary, referred to by some as Cowtown, is a fun, dynamic city with a young demographic. Even when the oil business slowed down, it retained its positive energy, one of the things I love most about the city after living here for over a decade. There's always lots going on especially in the summer when the Calgary Stampede and the Calgary Folk Music Festival come to town. I think this sampling of fun things to do in Calgary will appeal to locals and visitors alike. I am always surprised, when I get out of the bubble I live in, just how much the city of Calgary has to offer.
This post includes some affiliate links. If you make a purchase via one of these links, I will receive a small commission at no extra cost to you. Thank you so much for your support.
Location map of fun things to do in Calgary
Head up the Calgary Tower – one of the fun things to do in Calgary
You have to ride the elevators up to the observation deck on the Calgary Tower at least once. Then step onto the glass floor and watch 190 plus metres disappear beneath your feet.
If that freaks you out, then just wander 360 degrees around on the Observation Deck reading all manner of informative signs. Did you know you can have lunch or dinner in the restaurant a floor above the observation deck? That's one of the fun thing to do in Calgary as the restaurant rotates – so over about an hour you see the layout of the entire city.
Bike or walk the RiverWalk and Prince's Island Park
Calgary's RiverWalk is a great destination at any time of the year. Look for dedicated bike and pedestrian lanes that run alongside the Bow and Elbow Rivers. Bikers, joggers, birders, walkers …you name it the RiverWalk draws an eclectic crowd. It's great for people watching too.
Want to be spoiled? Have brunch at the River Café on Prince's Island? And if you're just looking for coffee and some of the city's best baked goods head east to the Simmons Building and line-up at the Sidewalk Citizen Bakery. Their gooey cinnamon buns are a decadent treat.
For more ideas of where to walk in Calgary read: 25+ Walking Trails in Calgary & Nearby
Explore Calgary's Stephen Avenue on foot
Calgary's historic Stephen Avenue is a pedestrian-friendly street from 6 AM until 6 PM every day of the week. Historic buildings, many made with locally quarried sandstone, line much of the street – which received National Historic Site status in 2002.
Shop at a mix of high end retail stores like Holt Renfrew, relax in the Devonian Gardens – an indoor park and botanical garden or eat in one of the many excellent restaurants. In summer visit for outdoor lunchtime concerts.
Those white dinosaur looking pieces (at least to me) you see on Stephen Avenue are called the Galleria Tree sculptures. They're an iconic part of Calgary's downtown landscape found just outside Bankers Hall. Interestingly they were installed in 2000 to reduce wind gusts.
Don't miss the Calgary Stampede in July
The Calgary Stampede, also known as the Greatest Outdoor Show on Earth comes to the city early in July every year and stays for 10 days. As a local I love the way the city transforms during this period. The atmosphere is laid back. Jeans, a pair of cowboy boots along with a cowboy hat (don't be like me and wear your hat backwards) are the clothing of choice.
Did you know you can stuff yourself at free pancake breakfasts all over the city every day of the Stampede? Check out one of the many agriculture shows like the sheep shearing, miniature horse or vintage tractor pull. And catch some country music by some of the biggest names in the industry.
Not interested in the rodeo or chuckwagon races? No problem. Stick with the amusement park. Do research on the food scene. In 2018 the Sweetheart from The Peanut Butter Cupboard won best new sweet food for its "two honey cruller doughnuts pressed together with peanut butter and a peanut butter cup, all grilled."
Check out the recording studio at Studio Bell in Calgary
Allow at least an hour or two to visit Studio Bell, located in Calgary's East Village. If you're a true music lover you could very easily spend an entire day here. There are a few things you shouldn't miss:
Elton John's piano where he wrote his first five albums. Two songs were massive hits – Tiny Dancer and Rocket Man.
There's a Rush Hockey Night in Canada drum set custom built for Neil Peart. It was used for his rendition of Hockey Night in Canada.
Try and time a visit so you can see a demonstration of the Kimball Theatre Organ. It was used during the silent movie era and is capable of making an enormous variety of sounds.
There are vocal booths where you can practice singing.
If you want to be a rock star, try out some of the instruments.
Visit the Calgary Library – the architecture might surprise you
Opened in November 2018, Calgary's flagship public library is worth a visit for the architecture alone. Even the New York Times agrees. They listed it as one of the top 52 places to go to in 2019.
The library is the sixth most used library in North America. Over 360,000 people visited the new library over the first two months alone.
Built over a LRT line, the new library features cool amenities like Chromebook laptops, gender-neutral washrooms, more than 30 free and bookable meeting spaces and Luke's Restaurant. Head to the Prow on the top floor for one of the best views in Calgary.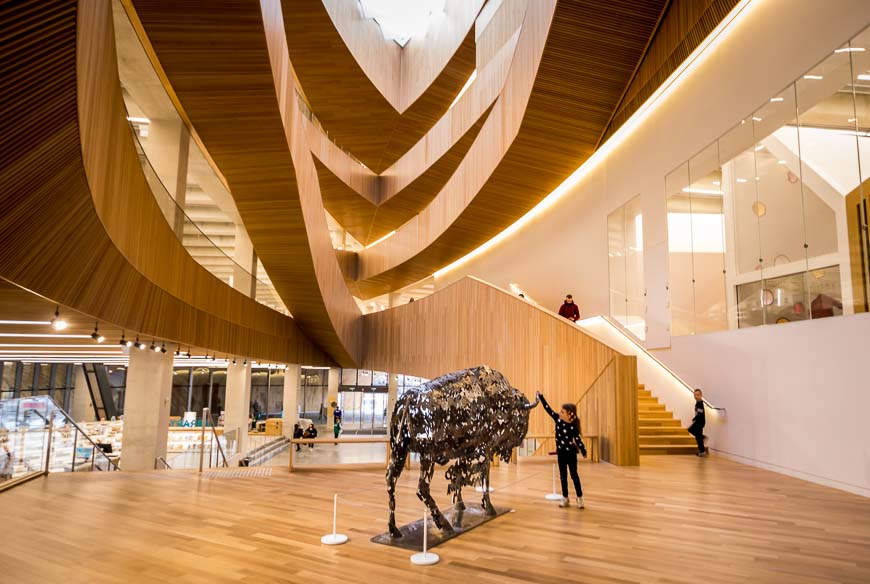 Visit the Calgary Zoo

– one of the top fun things to do in Calgary

Chances are you'll be one of the lucky few if you ever see a panda bear in the wild. While the beloved pandas have returned to China, there are still nearly 1,000 animals that call the Calgary Zoo home.

Allow at least a few hours to leisurely wander through the grounds and pavilions. Don't forget to say hello to the penguins. You might also want to try the family-friendly Sunday Safari Brunch.
Explore Calgary by bike – one of my personal faves for fun things to do in Calgary
We're very lucky in Calgary when it comes to biking. The City of Calgary reports that there are "approximately 900 kilometres of pathways and 400 kilometres of on-street bicycle routes within the city." And that doesn't reflect all the biking you can do in Fish Creek Park – which isn't within the city limits. The bottom line is that Calgary has more to offer the cyclist than almost any other city in North America.
Bike in Calgary on any day of the year though in winter fat tire biking would be the way to go. The pathways are often in better shape than the roads.
Read: 5 of the Best Bike Rides around Calgary and 11 of the Best Places to Cycle Within 75 Minutes of Calgary.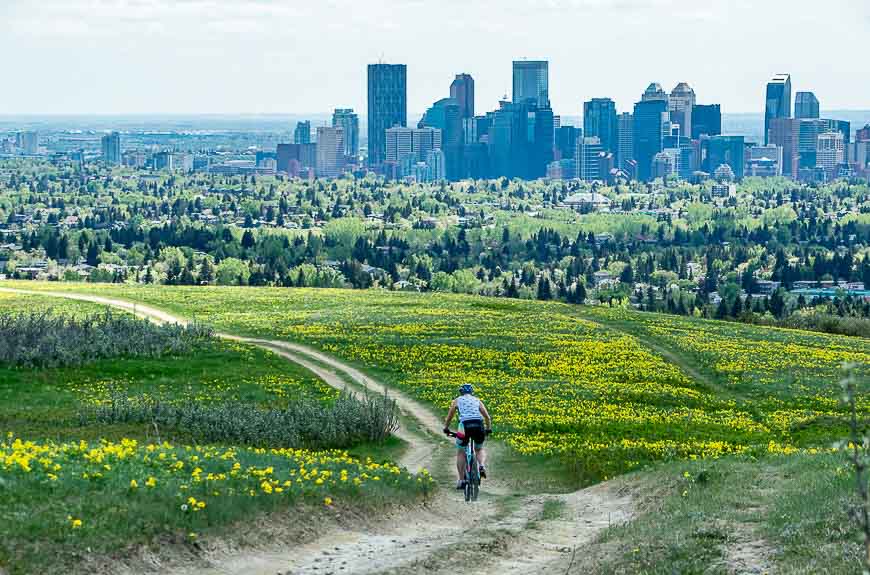 Take in one of the annual festivals in Calgary
Aside from the Stampede, there are lots of festivals going on in Calgary, particularly in summer. The annual Calgary Folk Music Festival down on Prince's Island is always a popular event. And the family-friendly Beakerhead – a smash-up of art, science and engineering is more popular every year and of the fun things to do in Calgary as a family. It's free to attend but you must register.
Explore Calgary on a scooter
In 2019 the city of Calgary rolled out a scooter program. It was an instant success. Two companies offer scooters – Neuron and Bird Canada in 2023. You'll need an app on you phone to rent one. This is one of the top fun things to do in Calgary – but please wear a helmet and give pedestrians some space.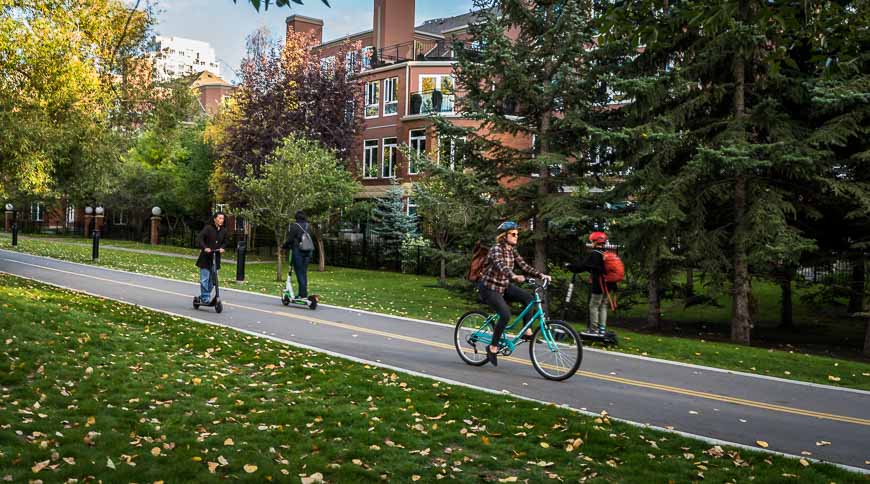 Go flying with IFly –
one of the top fun things to do in Calgary –
If you've always wanted to skydive but don't like the thought of jumping out of a plane then Calgary iFLY – an indoor skydiving experience would be perfect for you. I tried it with my son – and did two, two minute segments. That doesn't sound like much but it was enough. There's a lot of force on your body and it takes energy to stay in the right position. But it's also a real thrill to do. Afterwards, we both said our ankles were sore – and we felt like we'd had a workout but we were all smiles too.
Check out Calgary's Avenida Food Hall & Fresh Market
If you've ever been to some of the great food halls in Paris, Lisbon or New York then you know how different they are from a food court. The Mercantile at Avenida is the first food hall in the style of the great European ones to open in Calgary.
Beyond the 25 full-service restaurant options, visitors can visit vendors like the ones you'd usually find at a traditional farmers' market. Look for butchers, bakers, artisans and even micro-artisans who are able to rent wall space.
If you love great food and want to explore the local growers and makers check out the food hall from Thursday to Sunday between 11 AM and 8 PM.
Look for street art in Calgary
Walking randomly around Calgary looking for art in unexpected spaces is something I love to do. Downtown Calgary in particular, is home to some excellent and thought-provoking artwork.
One of the most photographed pieces is the 12-metre-high wire sculpture of a young girl's head called Wonderland. You can't miss it outside of the Bow Building. And once there it entices you to explore inside. Photographers and Instagrammers will love it.
Another favourite, especially at night, is the Chinook Arc in Barb Scott Park.
When you're on a mission and focused you might be surprised at the street art you find. I personally think it's one of the fun things to do in Calgary – as you never know what you'll find.
Calgary's Chinook Arc at the corner of 12 Avenue SW and 9th Street SW in Barb Scott Park
Visit the Yamnuska Wolfdog Sanctuary outside of Calgary
Head west to Yamnuska Wolfdog Sanctuary just outside of Cochrane if you'd like to learn something about wolfdogs. The first thing I learned is that the wolfdogs have varying degrees of wolf in them from high content wolfdogs – which are mostly wolf, to low content wolfdogs – which are mostly dog. These animals are considered to be exotic – but many people who buy one are unable to look after them in short order because of annual feeding costs (about $6000/year), the amount of exercise they need (these animals live in 1 – 2 acre pens) and their temperament.
The 160-acre sanctuary offers tours including a sanctuary walk (for ages 6 and older), an intro tour (ages 10 and older) and an interactive tour (ages 15 and older). I would suggest visiting on a day that isn't too hot – as they are like the rest of us – in that they want shade and to move as little as possible when the mercury climbs.
For many, seeing the wolfdogs will be a thrill, especially the high content wolfdog. But you should know that even on the interactive tour – the wolfdog may not approach, despite the fact you have been given food to offer. So keep your expectations in check. There is no cuddling or touching of the wolfdogs, but you will leave much better informed.
More fun things to do in Calgary
I've just scratched the surface of some of the fun things you can do in Calgary. A book published in December 2020 – 111 Places in Calgary That You Must Not Miss, will open your eyes to even more things to see and do than I have mentioned in the post.
A few other suggestions of fun things to do in Calgary include:
Raft the Bow River on a hot summer night. You can do it on your own or sign up for a guided outing with Calgary River Experience.
Catch a Calgary Flames NHL game or a CFL Calgary Roughriders football game.
Go bobsledding at Calgary Olympic Park. Expect to scream as you reach speeds of 95 km/hour. Or do their monster zipline! This ranks near the top of fun things to do in Calgary.
Try speed skating around the Calgary Oval at the University of Calgary.
Head to Hotel Arts – a summer hot spot in the city – and soak up the pool setting. You'll feel transported to a different place.
Where to stay in Calgary
There are lots of hotels in the downtown core – and from there it's easy to explore much of the city on foot, bike or on a scooter.
Suggestions include the following.
Hotel Le Germain Calgary is a centrally located boutique hotel with a fitness centre located across the street from the Calgary Tower.
The Calgary Marriott Downtown Hotel is an excellent choice as is the Calgary Airport Marriott In-Terminal Hotel should you fly in late or be leaving early.
I love the vibe at the central Hotel Arts and their dining room is excellent. They have an even more upscale property in Kensington which would also be a great choice.
Interested in more fun things to do in Calgary and nearby?
Click on the photo to bookmark to your Pinterest boards.