We're extremely lucky when it comes to biking in Calgary. According to the City of Calgary "there are approximately 900 km of pathways and 400 km of on-street bicycle routes within the city." None of these numbers reflect the opportunities for biking in Fish Creek Park. The following are five of the best bike rides around Calgary from my personal experience.
This post includes some affiliate links. If you make a qualifying purchase through one of these links, I will receive a small percentage of the sale at no extra cost to you. Thank you very much for your support.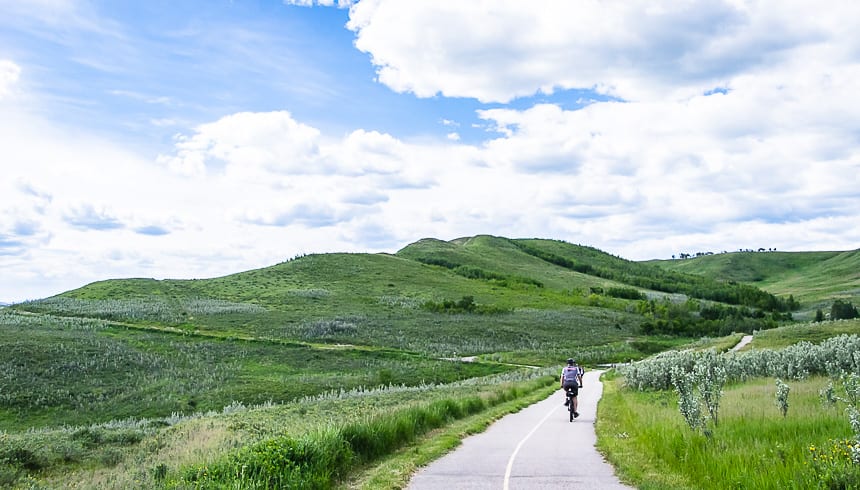 Glenmore Reservoir – one of the pretty bike rides around Calgary
This is my go to bike ride in Calgary as it's easy to access from my house near the downtown core. There are a couple of ways you can do this Calgary bike ride.
You could of course drive to the reservoir, park and do the loop. But if you want to avoid the car, take the trails – either the Elbow River Pathway or the one coming up from the south that deposits you near the Weaselhead part of the loop.
This 16 km trail can get really busy with walkers on a weekend. I like to go early in the day or in the evening.
Glenmore Landing has a Good Earth Café which makes a nice stop along the route. Do this trail with your mouth closed in the summer so you don't swallow bugs. Enjoy a waterfront setting with distant mountain views and a lovely long stretch through aspen trees that glow yellow come the fall.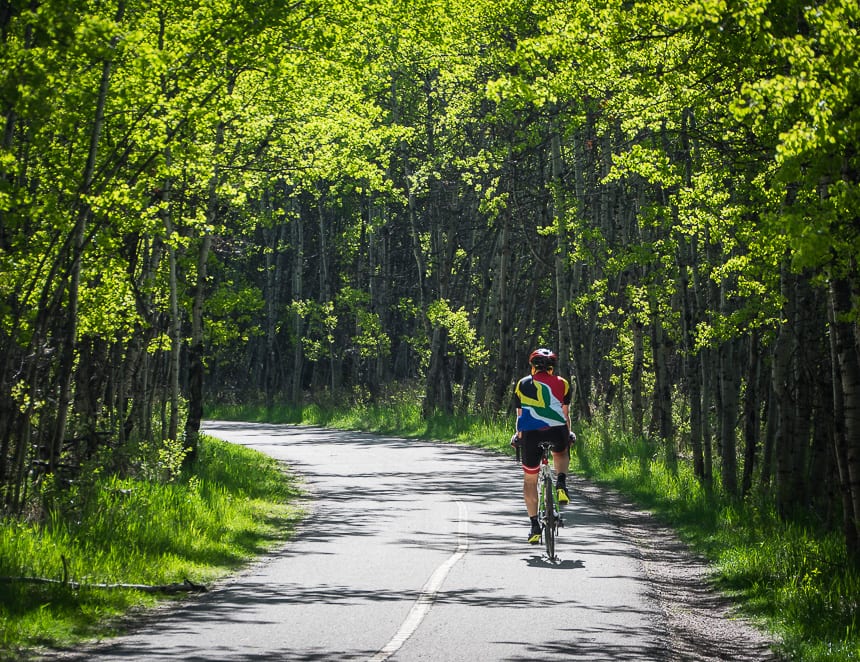 The Road to Nepal – Priddis Area – one of the bike rides in Calgary with a surprising amount of climbing
The Road to Nepal lives up to its name as is climbs approximately 600 metres over 55 scenic kilometres. If you're new to Calgary, you'll quickly see that the area around the city is a mix of flat and rolling hills, including many that will test your conditioning program.
Start at the parking lot at the junction of Highway 773 and 22X and do the loop shown below. It's easy to add mileage and include a trip to Priddis and the backroads around this small community. Stop at Jane's Cafe to refuel.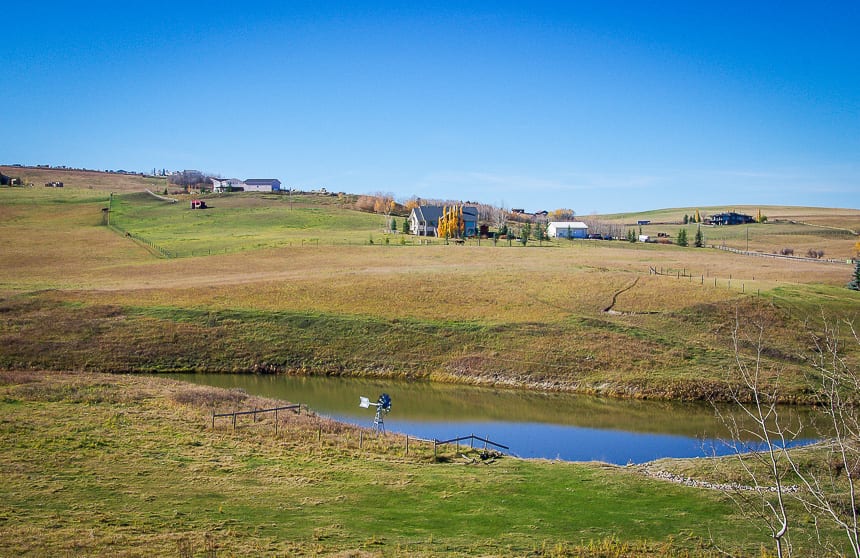 Biking in Glenbow Ranch Provincial Park
Glenbow Ranch Provincial Park is just 25 minutes outside of Calgary via Crowchild and Highway 1A. Within the park are a number of trails suitable for biking.
Start at the Visitor Centre and go down the big hill. Then either go west towards Cochrane on the Bowbend Trail or east towards Calgary on the Glenbow, Narrows and Bearpaw (gravel) Trails. If you go late in the afternoon you might just have the trails to yourself.
It's an exceptionally beautiful area – a rolling prairie landscape with lots of wildflowers and bird life. The paved trails are part of the Trans-Canada Trail. There are plans to fully connect Calgary to Cochrane via a bike path in the next few years.
Read: Biking the Trans-Canada Trail in Glenbow Ranch
Calgary to Chestermere – one of the best bike rides in Calgary hardly anyone knows about
This may not be the prettiest bike ride you do in Calgary but you'll see a side of the city you'd otherwise miss – the industrial heartland. Once you get past it you're into some truly lovely countryside with horses, birds and wildflowers. All of the bike ride is on a dedicated albeit a sometimes bumpy bike trail.
Pick up a bike trail east of the Calgary Zoo and stay on it as it heads over over Deerfoot Trail in the direction of the Max Bell Arena. Look for signs saying Western Irrigation Ditch Canal and follow it for 29 kilometres to Chestermere.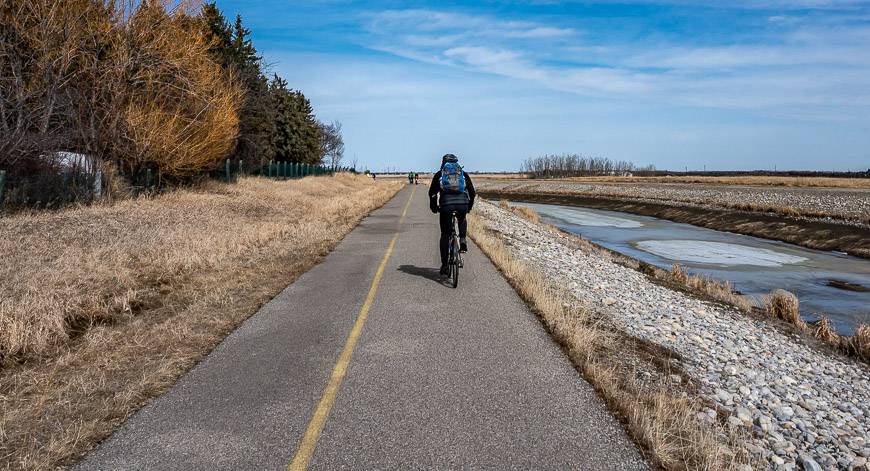 Best bike rides around Calgary – The Rotary/Mattamy Greenway
The Calgary Greenway also called the Rotary/Mattamy Greenway makes a 138 km loop around the entire city traveling through 55 communities. Along the way it links parks, green spaces and natural areas and connects with the 1,000 km of existing pathways.
On their website you can get more information about shorter sections. It's also got a complete map showing the areas that are still under construction. Some can be easily bypassed while others will present problems in the short term. There is a City of Calgary map showing the Rotary Mattamy Greenway that is useful for getting your bearings.
A few things to take on any of the best bike rides around Calgary
Don't forget to pack

a bike pump

in case you get a flat.
A bike lock is a necessity if you want to make any stop along the way.
I like to carry a handlebar bag with my raincoat and bike tools rather than having something on my back.
Bike lights are one of those things you should always have in case you're out later than expected.
I also love a good pair of

padded bike gloves

, including full-fingered ones if I'm biking early or late in the season.
A bike phone mount is another great option for your bike.
Further reading about things to do in Alberta
Click on the photo to bookmark to your Pinterest boards.