The first time John and I did the Calgary to Chestermere bike ride we were trying to ready our legs and butts for the 154 kilometre Kootenay Gran Fondo we are planning to do in Cranbrook. To that end we were looking for bike rides in the Calgary area we'd never done. Oddly enough I found out about the Calgary to Chestermere bike ride along the canal from my hair stylist. I didn't even know there was a canal (used for irrigation purposes) and neither did my neighbour who has lived in Calgary for decades!!
This post includes some affiliate links. If you make a qualifying purchase through one of these links, I will receive a small percentage of the sale at no extra cost to you. Thank you VERY MUCH for your support.
Getting from Calgary to Chestermere by bike
With a little research we figured we could cycle from our house near Mission south to the downtown via the Elbow River bike trail. Then we'd cross the Bow River and cycle behind the Calgary Zoo and pick up the Bow River Pathway heading south. With a few wrong turns – on both bike rides we've done, we eventually found the often bumpy trail that would take us to Chestermere.
The first time we biked to Chestermere we took the pedestrian/bike crossing over Deerfoot that takes you towards the Max Bell Arena. But the second time we just took an immediate right turn before Deerfoot and followed the Bow River Pathway – which is the easier way to go.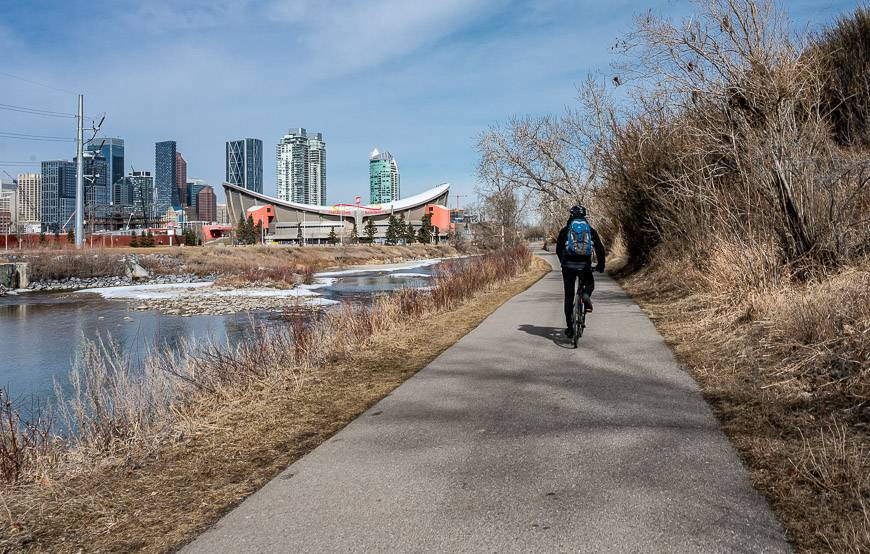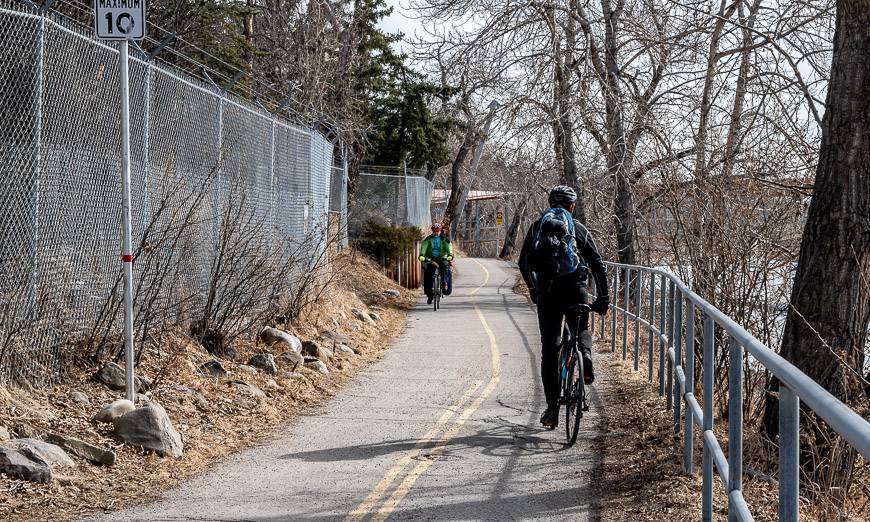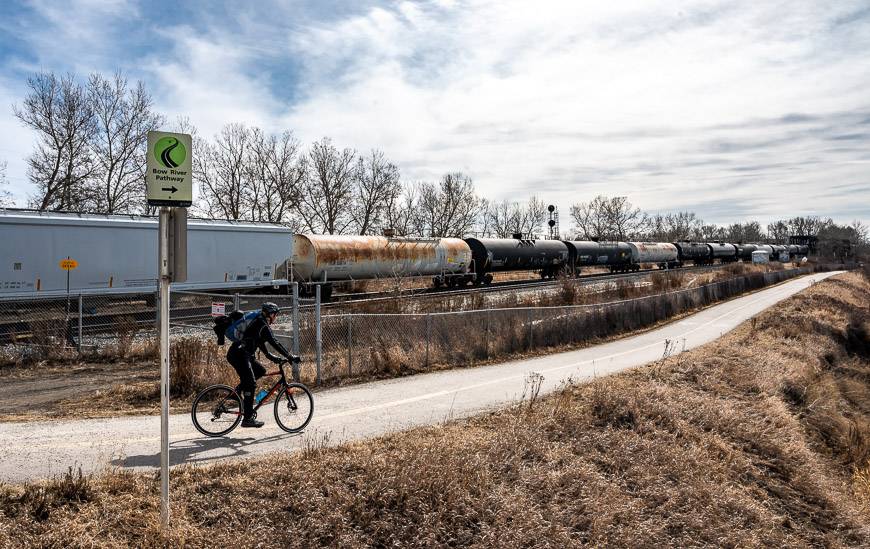 A few things to take on your bike ride to Chestermere
Don't forget a bike pump in case you get a flat.
A

bike lock

comes in handy if you decide you want to go into Chestermere for food.
I like to carry a

handlebar bag

with my raincoat and

bike tools

rather than having something on my back.

Bike lights

are one of those things you should always have – just in case.
Don't forget some

energy and protein bars

to fuel your bike ride.
Finding the bike trail to Chestermere – option one
On our most recent bike ride to Chestermere, we rode the Bow River Pathway, parallel to Deerfoot Trail until we reached 17th Ave SE. Then we crossed Deerfoot on a bike trail and picked up a new multi-use trail east of Deerfoot that ran close to 26th St. SE. When we reached 34th Avenue SE, we cycled over the Deerfoot again to pick up the trail by the Southview Off Leash Dog Park. We stayed on that section until we reached 50th Avenue SE. (Check out the Google map and it all makes sense!)
From there we cycled across a bridge and finally picked up the trail beside the Western Irrigation Ditch Canal. We stayed on it all the way to Chestermere.
Option two – do this instead
If we'd been smart would have picked up the trail beside the Western Irrigation Canal from the 17th Avenue SE crossing over Deerfoot. To get your bearings, note the Rocky Mountain Paddling Centre on the east side of the canal. Ultimately you want to be on the west side of the irrigation ditch canal.
Western Irrigation Ditch Canal
Once you're on the trail beside the Western Irrigation Ditch Canal you'll see that it's not in the best of shape. In fact, I wondered if it was going to be nothing but a series of bumps and waves in the pavement for the 29 km we planned to ride to Chestermere. It turned out to be fine – but there were a few uncomfortable kilometres. Roller blading on this section wouldn't be any fun.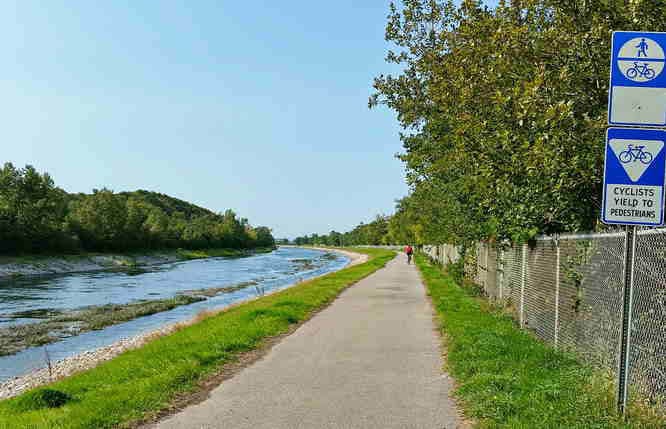 Discovering Calgary's industrial heartland
There was a long section of bike trail that took us through Calgary's industrial heartland – one I never knew existed. At one point along the trail I was thinking to myself about a title for this blog post – and what came to mind – was the ugliest bike ride you'll ever do in Calgary.
One of the factories you pass on the bike ride, Evraz PLC, has as its largest shareholder none other than billionaire Roman Abramovich – the owner of Chelsea FC.
There is pretty scenery on the Calgary to Chestermere bike ride
Almost immediately after having the thought about the ugliness of the trail, we hit farm country and a long stretch of delightful bike riding. We stopped at the fence of one farm to check out a handful of horses looking for a treat.
A little further on we came across a wetlands area though we'd forgotten the binoculars and didn't see anything. Along the canal itself, we were able to see grebes, Canada geese, mallard ducks, killdeer, and even a loon.
Soon Chestermere came into view. Full of new housing developments, you can't help but wonder how long the rural land will last before being swallowed by tract housing.
For several kilometres heading into Chestermere there are also signs along the canal where they have cautioned paddlers to pull out and portage to avoid an incident. We didn't see anyone paddle and over the course of roughly four hours we probably saw no more than a few dozen cyclists.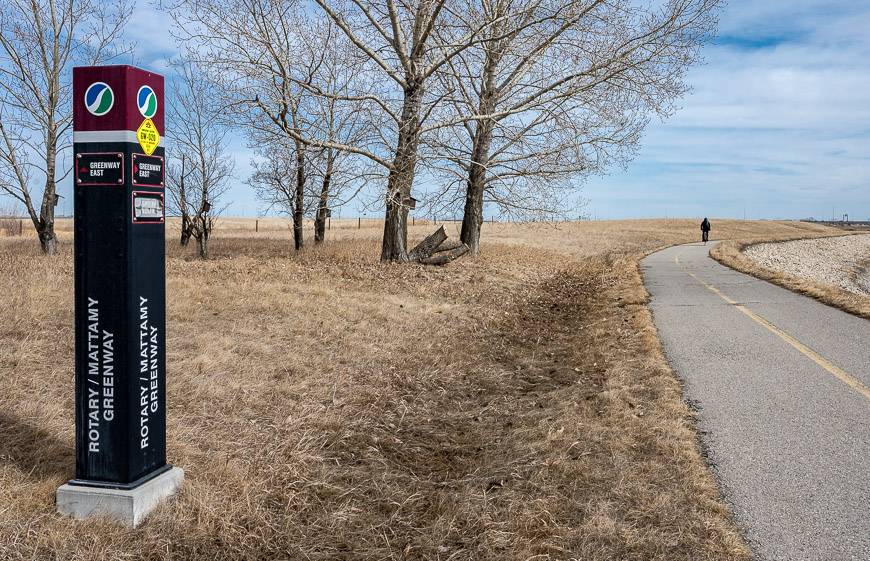 The trail itself ends at Chestermere Lake
There are shady benches just up from the lake if you've brought a lunch with you. We hadn't so off we headed down the street for several kilometres until we found a shopping plaza. It was nothing special but I don't know where else you can find food in town.
Chestermere Lake can get busy in summer with boats and water skiers. On a Sunday at noon it was still peaceful on our first visit.
You can make good time cycling along the irrigation canal between Calgary and Chestermere IF THE WIND IS AT YOUR BACK. On the way to Chestermere it was, but on the return to Calgary it blew hard in our face – no matter what direction we rode. It was Murphy's Law at work!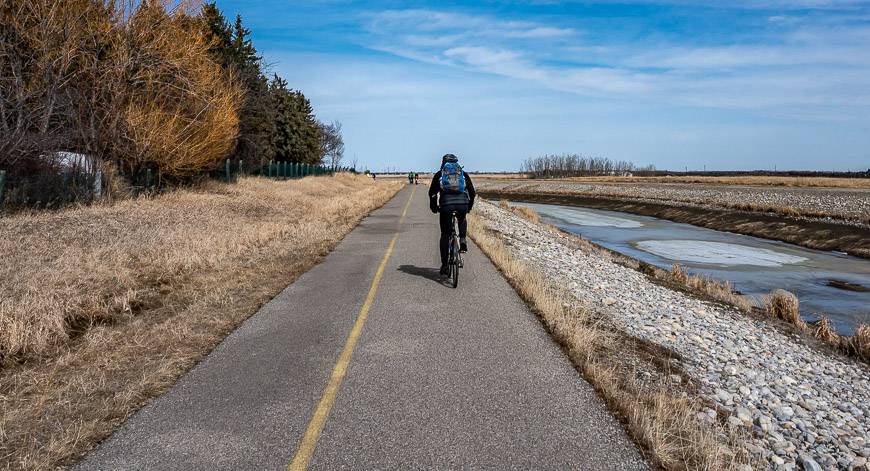 How long is the bike ride from Calgary to Chestermere?
From Chestermere to the Calgary Zoo it's 28.8 km, 46.2 km if you were to continue to Bowness Park. I figure we cycled 80 km with all the add-ons we did. What impressed me was the fact that I cycled no more than 10 km on the road. Everything else was on a dedicated, car-free trail.
The Calgary to Chestermere bike ride is not the prettiest one you'll ever do – but it's interesting to see the factories and businesses that normally remain out of public view. Photographers with a passion for industrial landscapes will love it.
All told it took us five hours – including at least an hour's worth of stops and studying of maps. For something different, it's worth cycling at least once.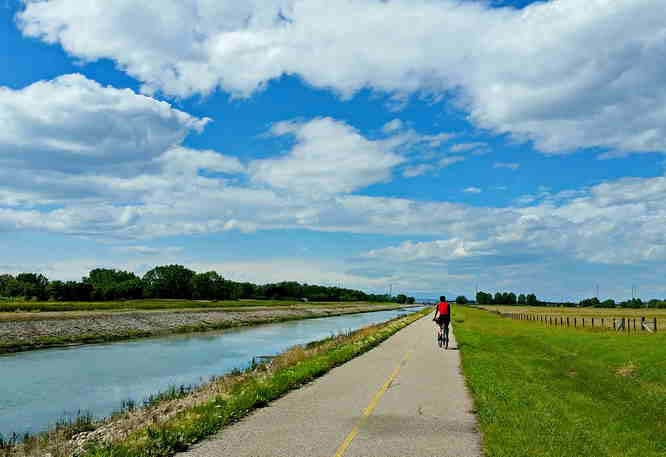 Location map of the Calgary to Chestermere bike ride
Further reading on cycling in Canada
Click on the photo to bookmark to your Pinterest boards.