There is excellent mountain and road biking in and around the town of Banff. In just a few hours you can get a good taste of the area and hit some of the iconic spots – without getting caught up in traffic. Mountain biking seems to be growing – partially as there has been some trail building in the last few years in the Tunnel Mountain area. But if you're not into mountain biking, there are plenty of opportunities to explore on a road bike or an e-bike.
Updated May 2022. This post includes some affiliate links. If you make a qualifying purchase through one of these links, I may receive a small percentage of the sale at no extra cost to you. Thanks for your support.
Here are 5 great bike rides in the Banff area I can recommend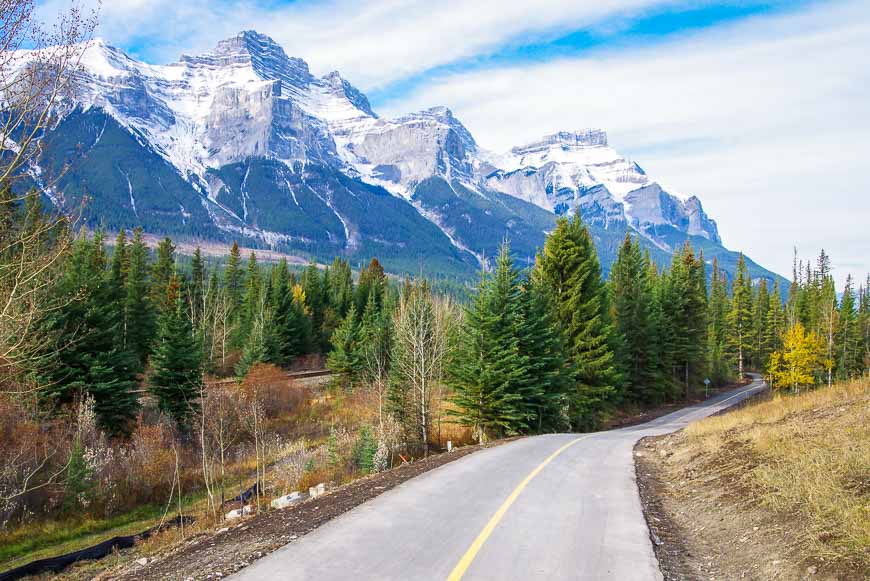 Tunnel Mountain for mountain bikers
There are two ways to explore the Tunnel Mountain area – via the road and via the mountain bike trails.
For some fun and excitement I recommend mountain biking. There's a bonus – stellar views of the Banff Springs Hotel, the Bow River and the hoodoos. There are several trails in the Tunnel Mountain area catering to different abilities.
The 5.7 km Tunnel Bench Loop starting at the Hoodoos Lookout parking lot is perfect for beginner mountain bikers.
Experienced riders can add The Toe – a 7.9 km technical loop with winding, narrow singletrack. I did it (lost my phone with the pictures to prove it) but had to hop on and off my bike on a few of the really steep sections.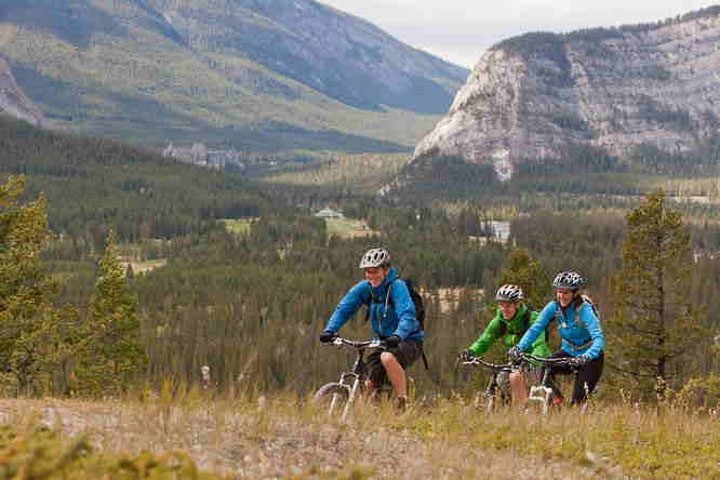 Tunnel Mountain road tour
Tunnel Mountain Road is the first exit if you take the easternmost exit into Banff. Follow this road as it gently climbs to a high point overlooking the hoodoos. Continue on Tunnel Mountain Scenic Drive and descend into the town of Banff on Buffalo Street.
This is about an 11 km loop but with the climb it's rated as intermediate. It can easily be combined with a loop ride up to Lake Minnewanka – and the two together are sometimes called the Figure Eight. It's also fun to ride some of the back streets of Banff on the way back to your starting point.
Lake Minnewanka Loop
The 15.5 km loop from the Cascade Pond picnic area up to Lake Minnewanka and back is entirely paved and suitable for road or hybrid bikes. You can do it in either direction but I prefer counterclockwise so I can have Two Jack Lake and Lake Minnewanka on the same side of the road as my bike. Before April 15th part of the road is off limits to cars – and especially lovely to cycle.
You can knock this loop off in about 90 minutes but there are distractions that might make it longer.
Chances are you'll see bighorn sheep and recently I was treated to my first sight of a grizzly bear in Banff National Park in the meadows close to where we'd parked the car.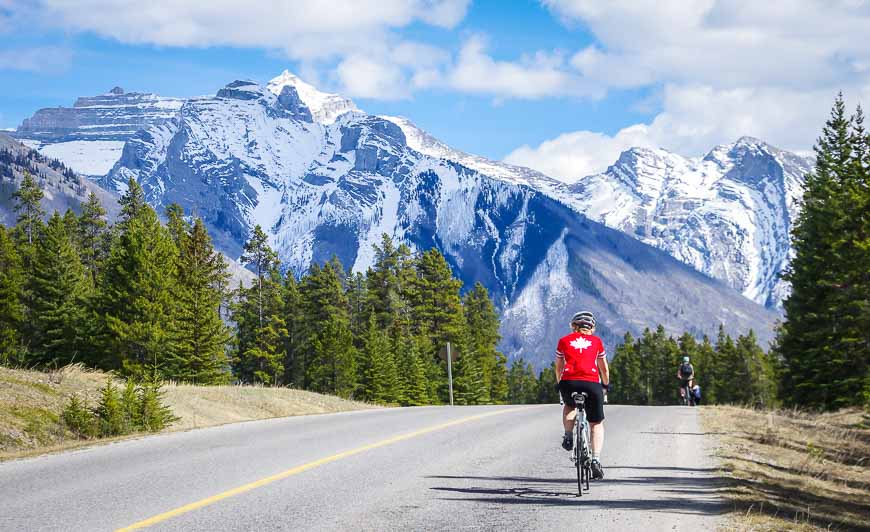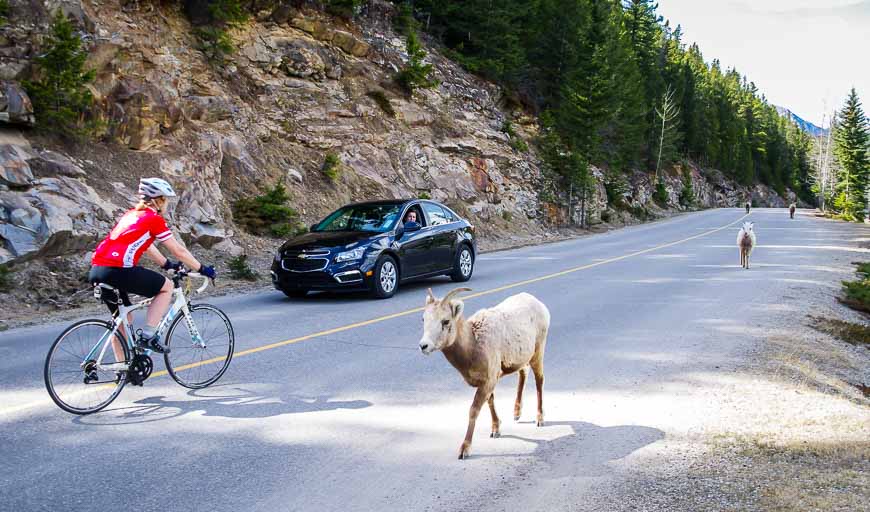 From the Lake Minnewanka parking lot, hard-core, experienced mountain bikers can follow the single-track trails alongside Lake Minnewanka to the junction for Aylmer Lookout and Pass. If your legs still have juice continue all the way down the lake to the Warden's Cabin for a total of 32 tough kilometres.
Because of bears, the area is closed every year from July 10th to September 15th unless you're hiking as a tight group of four. I'll happily hike this trail but I won't bike it.
Goat Creek Trail – Spray River Combo
This is a popular mountain bike ride on a fire road that offers several variations. You can do and out an back ride along the Spray River starting at the trailhead just past the Banff Springs Hotel. Alternatively start above Canmore at the Goat Creek Trailhead and do a one way 19 km bike ride into Banff (much easier as there is less climbing) and organize a shuttle back. Note that in 2022, the Goat Creek parking lot is getting a face lift so you can't access the trail here.
Be warned. You'll be eating dust on the road from the Canmore Nordic Centre to the Goat Greek parking lot on the climb up the hill. And the road is narrow and not a great one for cyclists.
You could also do a full out and back ride starting either at the Banff Springs Hotel or at Goat Creek. Don't miss the side trip to see Bow Falls.
Read: Biking Alberta's Goat Creek Trail from Canmore to Banff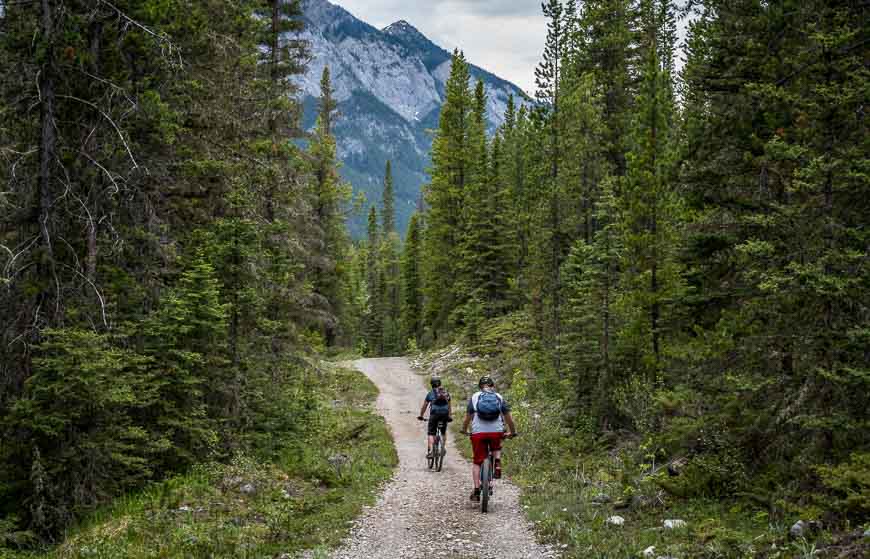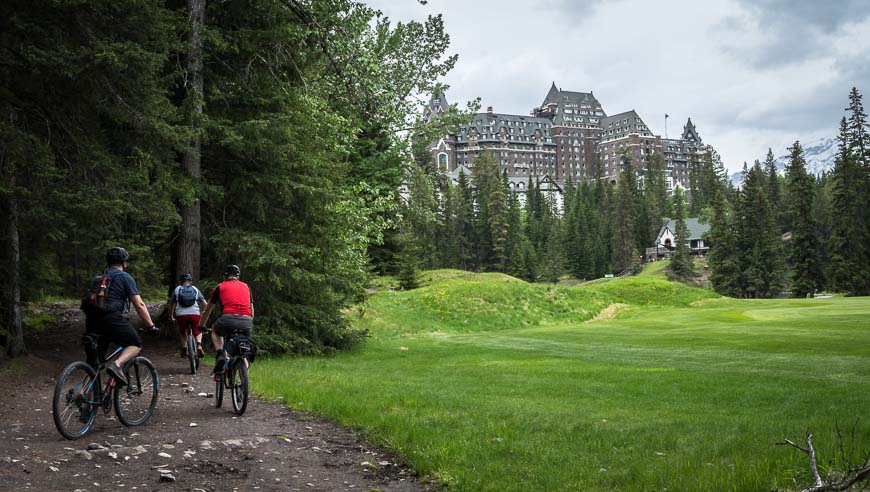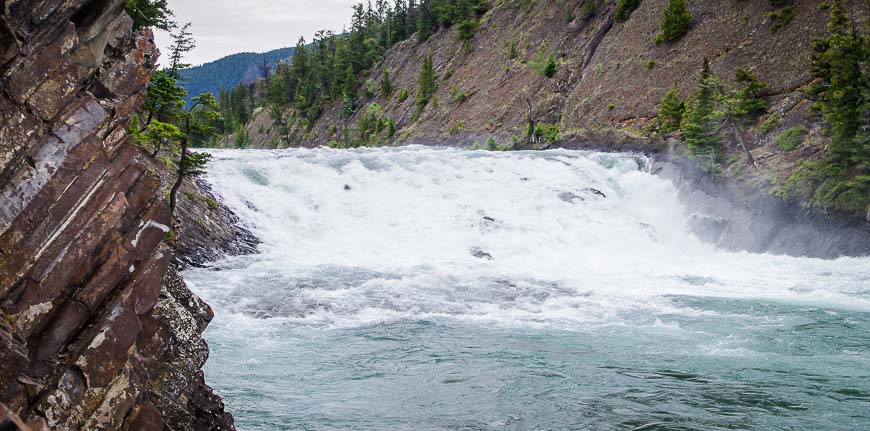 Bow Valley Parkway cycling
Since COVID hit, a long section of the Bow Valley Parkway has been closed to cars – save for the odd shuttle bus or Parks Canada vehicle. There is NO PARKING at the east end of the 1A in 2022. They have changed things around in 2022. You can drop off someone, but you cannot leave a vehicle here. Free parking options in Banff include the train station and Fenlands Recreation Centre. In 2022 you can enjoy a car-free experience from May 1 – June 25th and again from September 1 – September 30th.
The Bow Valley Parkway is a quieter alternative to the main Trans-Canada Highway with the added benefit of being a wildlife corridor. On many rides you'll see bears, so take a can of bear spray if you're cycling solo, especially if its early or late in the day when there aren't many cyclists.
To get to the Bow Valley Parkway (also called Highway 1A) from Banff, cycle the Mount Norquay Road to Vermilion Lakes Road. Turn left and follow it to reach the bike path at its end. Be sure to stop for the classic shot of Mount Rundle. The bike path is signed and easy to follow but you will have to go through two large gates to reach the Bow Valley Parkway. Once on the parkway, enjoy the scenic car-free ride as far as the Johnston Canyon trailhead, about 25 km one way from Banff. There's a café beside the Johnston Canyon trailhead and a place to put your bikes. If you've got energy to burn, don't miss the gorgeous, one-of-a-kind hike up Johnston Canyon.
In July 2021, the highway was reopened to cars from Castle Junction to the Johnston Canyon trailhead, so its a good place to turn around if you're car adverse or your biking with kids.
Alternatively you can keep cycling. It's 30 km one way to Castle Junction where there washrooms and places to buy cold drinks. Still have some juice? Bike another 15 km to reach Baker Creek – where you can pick up snack items at the Baker Creek Mountain Resort. (Hopefully in 2023 there restaurant will have been rebuilt.)
Wherever you stop, simply retrace your steps to return to Banff.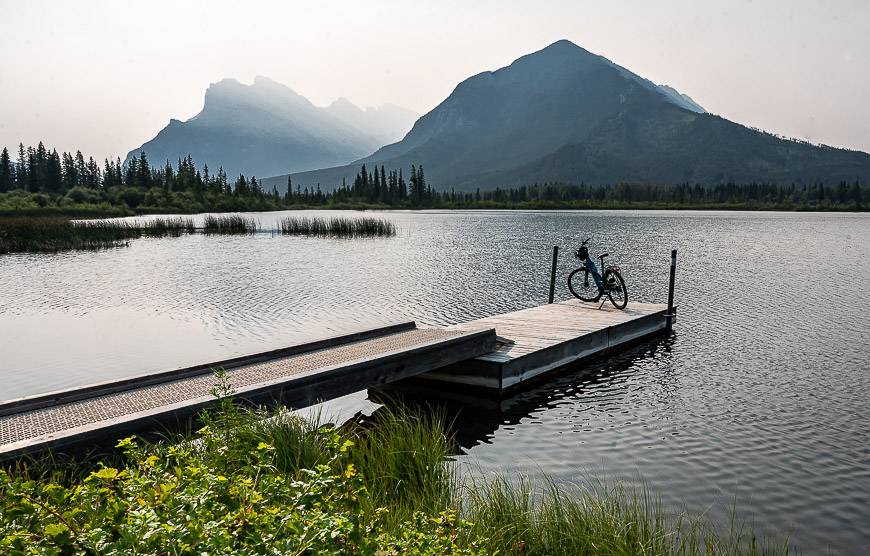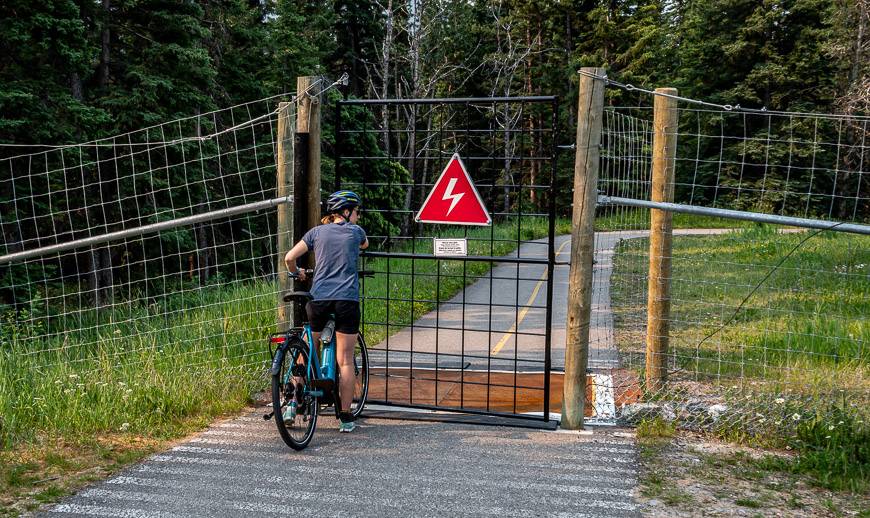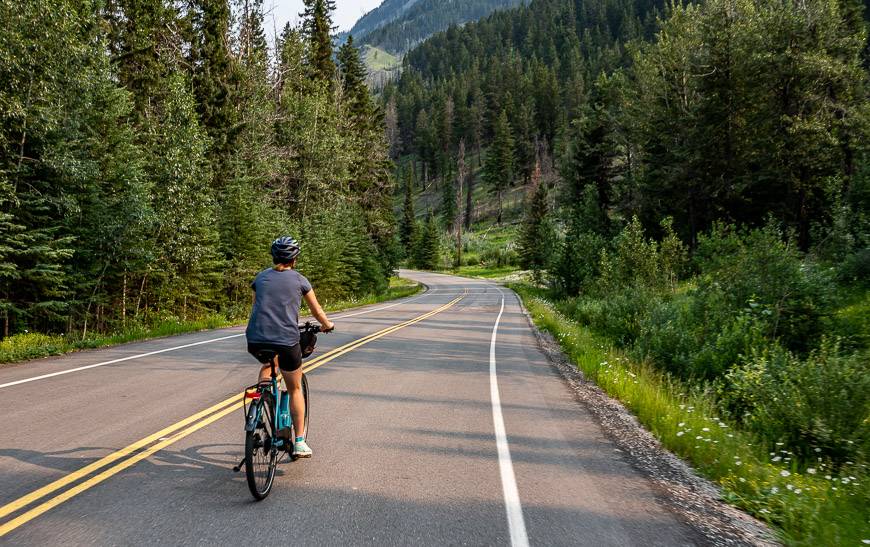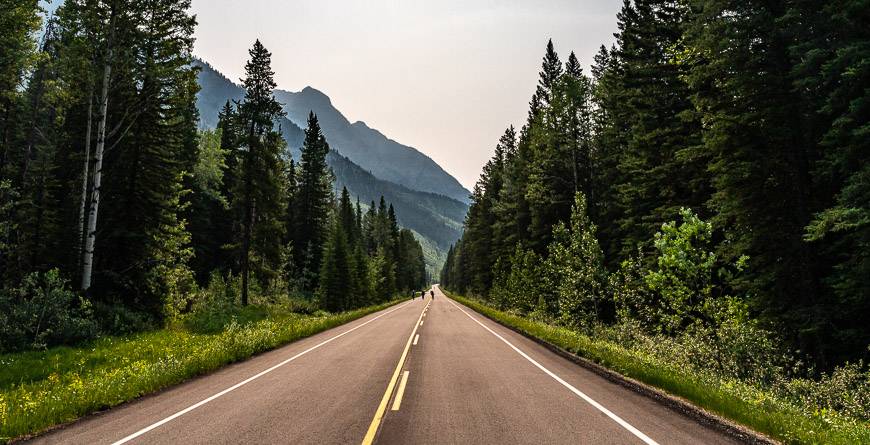 More options
There are many more mountain bike rides – most of them short, within spitting distance of Banff, including a ride along the Bow Valley River to Sundance Canyon, accessed from the Cave and Basin area. Alternatively, pop into one of the Banff bike stores and pick the brains of a local. Most will be happy to offer suggestions.
For people looking for a fabulous multi-day bike ride you can't beat the Banff to Jasper trip. Also popular is the Banff Legacy Trail that runs from Canmore to the junction of the Bow Valley Parkway, almost all of it which is on dedicated bike trail.
Bike Rentals in Banff and Canmore
You can rent bikes in both Banff and Canmore. If you're thinking of doing the Legacy Trail first, rent in Canmore at Rebound Cycle. They have an awesome selection of both road and mountain bikes and loads of local advice. If you're starting in Banff you can check out Soul Ski and Bike. In prime season – eg. summer weekends – reserve bikes ahead of time.
Another great option, particularly for e-bike rentals is Banff Cycle. Park your car for free at the Banff train station and then walk the path to their kiosk. Pick up your bike and enjoy a car-free experience on Highway 1A (the Bow Valley Parkway) for several hours. I'd also recommend that you take a bike lock with you. That way you'll have peace of mind if you stop for a snack at the Johnston Canyon Market Café.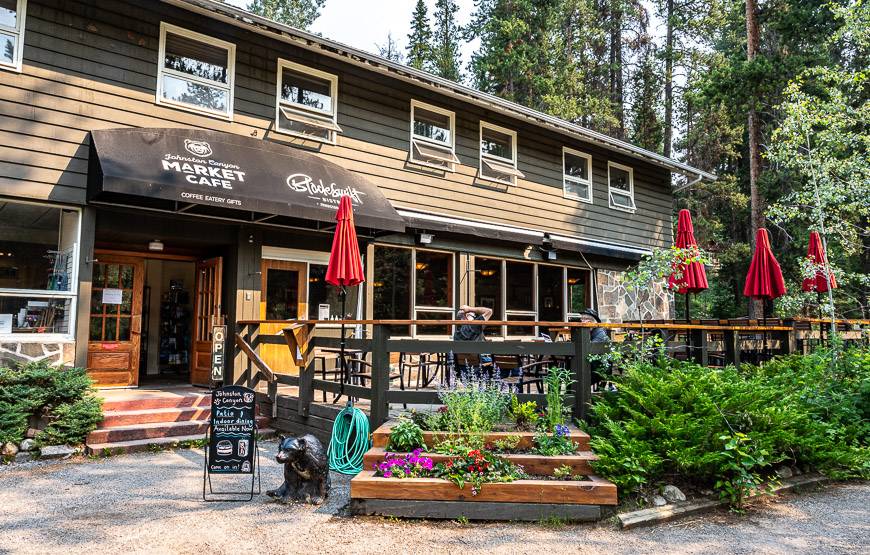 Where to stay in Banff
The

Fairmont Banff Springs Hotel

is a beautiful place to stay and a real treat. I got lost trying to find my room though.
The Juniper Hotel & Bistro located on the road up to Mount Norquay gets you out of town and away from the craziness of Banff – at least in summer. Great views and an excellent casual restaurant.
I have enjoyed several stays in Buffalo Mountain Lodge. They have an awesome outdoor hot tub and the dining room serves up delicious meals. Plus free bikes in summer.
On the hotel strip on Banff Avenue look for the large moose outside of the Moose Hotel. I've stayed here a few times and like the clean aesthetic of the rooms.
If you're traveling in a group or as a family and you're cool with bunkbeds (not all rooms) then the cheerful

Canalta Hotel

is a great choice.
For a hostel check out

Samesun Banff

.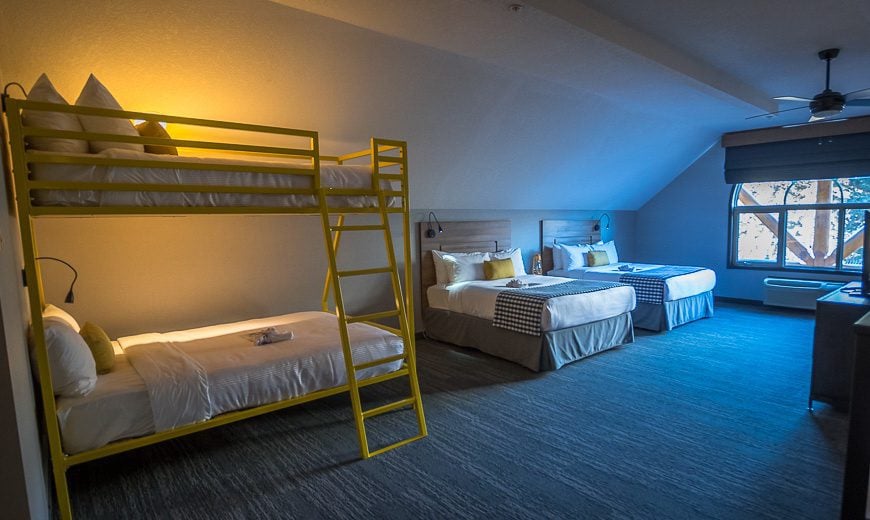 A few useful items for any bike ride
Don't forget a bike pump in case you get a flat. This one fits in your jersey pocket.
A bike lock could come in handy if you decide you want to go for a short hike or get a bite to eat.
I like to carry a rack-mounted bag with my raincoat and bike tools rather than having something on my back.
More reading about biking
Click on the photo to bookmark to your Pinterest boards.