I love biking. Not only it is a great means of transportation, it is fast and it is eco-friendly; but it also gives me a huge sense of freedom and closeness to nature. When I read that it was possible to visit in Parque Nacional Vinales in Cuba by bike, I had no doubt that I would want to do that. And it was the best decision.
For some reason, I had decided to visit Parque Nacional Vinales at the very end of my trip to Cuba. I am glad I did so. Although it is a fantastic country, and there are so many incredible places to visit in Cuba I think Viñales and its Mogotes Valley really are the cherry on the cake.
A stop at a tobacco plantation
The first stop of my guided biking tour of Parque Nacional Viñales was a tobacco plantation. Cuba is one of the biggest tobacco producing countries in the world, and while the majority of the tobacco leaves are bought by the government to then be sold to huge producers such as Cohiba, tobacco farmers still get to keep some of their production to make handmade cigars.
A tour of a tobacco plantation normally includes a visit of the fields and then of the secadero, where the leaves are placed to dry. The owner then showed me how to roll a cigar. This is how I found out that handmade cigars are held together with honey!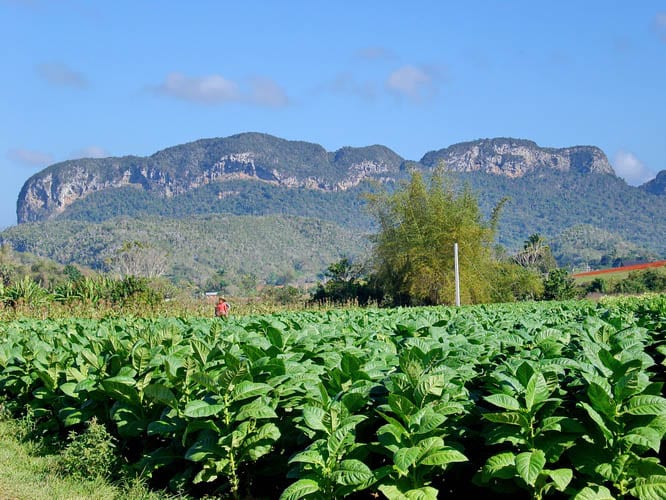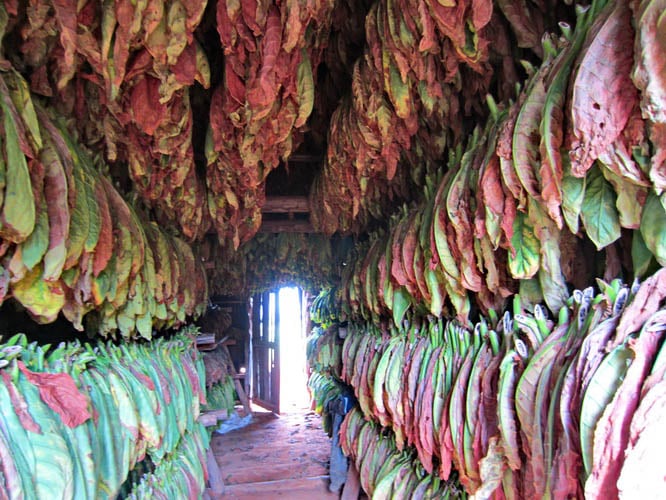 More stops worth doing in Parque Nacional Vinales
The tour then continued to the Cueva de Palmerito, a lovely cave with a natural pool where it is possible to swim. Unfortunately the cave was not accessible due to some maintenance work when I visited, so we kept biking to the Mural de la Prehistoria, a huge mural painted by González Morillo, one of Diego Rivera followers, right on the walls of a mogote.
It took 5 years to complete the mural, which can actually be seen from a distance (no reason to pay the entrance fee!) and which represents the theory of evolution. We then stopped to the Campismo Dos Hermanas, a camping site which actually has a small museum about pre-historic art.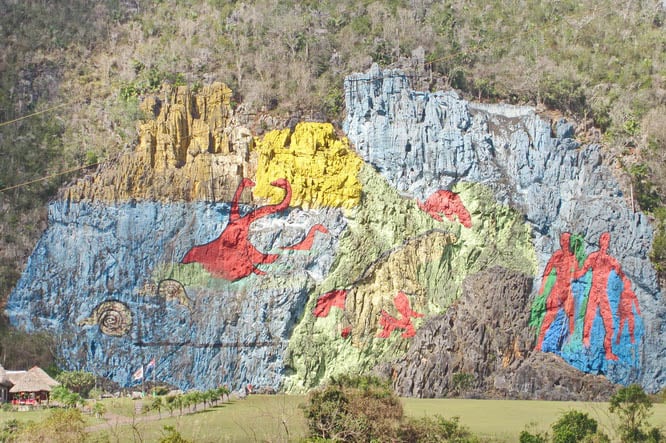 A good three km away, we reached the hiking trail to go to Los Aquaticos (there is no road access to drive or bike there). This is a mountain community founded in 1943 by the followers of Antoñica Izquierdo, who believed in the healing powers of the local water that the peasants used to cure their illnesses, since they had no access to conventional medicine.
The last member of the community who practiced the water therapy died in 2002, but it is still an interesting place to visit, as it is completely cut off from the city, there is no electricity, and the view from the hill is spectacular.
The last stop before heading back to town was the terrace of Hotel Los Jazmines, from where there is an incredible view of the valley below.
Overall, it was a tiring but very rewarding day. There is quite a distance between the various places to visit, and going by bike means speeding up the day a little bit to be able to see more. Most of the trails are slightly uphill, but the main difficulty is posed by the muddy terrain.
The overall tour lasted about 8 hours, for a total of around 30 km between biking and hiking. By the end of the day, I was tired yet I felt very accomplished.
This post is brought to you by Claudia who blogs at My Adventures Across the World. She writes about biking in Cuba, a country I have always wanted to explore on two wheels. Claudia Tavani is a former human rights lawyer and academic from Cagliari (Sardinia) and is obsessed with travelling. After devoting her life to the protection of cultural identity, in November 2013 Claudia decided to give in to her biggest passion and started travelling around Latin America.
You can find Claudia on Facebook and on Twitter.
Further reading on bike trips