Cycling the Blueberry Route, also known as the Véloroute des Bleuets in French gives you a great sense of the countryside and the culture around the Saguenay – Lac-Saint-Jean region in Quebec. The 256 kilometre route can be comfortably biked in three to four days.
Cycling the Blueberry Route self-supported is easy to do but there are companies around that will move your bags. Alternatively you can join a tour like the one Freewheeling offers. Route finding is rarely an issue and volunteer roving ambassadors are there to help with any problems you might encounter. Parking is also easy and free in municipalities along the Blueberry Route.
This post includes some affiliate links. If you make a qualifying purchase through one of these links, I may receive a small percentage of the sale at no extra cost to you. Thank you very much for your support.
The Green Route in Quebec
The province of Quebec has done a brilliant job of putting together a series of biking trails (many are multi-use trails) around the province. All of them bundled together are part of what is called the Green Route.
A couple of years ago I cycled the Green Route through the Eastern Townships and loved the experience. Cycling the Blueberry Route was the same positive experience.
What is the Blueberry Route?
The 256 km Blueberry Route is a loop that takes you around Lac-Saint-Jean in Quebec's Saguenay region through a variety of landscapes – including farm, city, neighbourhood and semi-industrial, on through a national park, and alongside Lac-Saint-Jean.
The terrain varies from flat to gently rolling hills to a few outright hills. It's popular – very popular in fact – primarily with locals and people living within the province of Quebec.
A decade ago when they kept track of numbers, the Veloroute des Bleuets hosted an amazing 223,820 cyclists. Of those 63% came from the immediate Saguenay – Lac Saint-Jean region, 30% visited from other parts of Quebec and 7% came from outside of Quebec. From mid-May until mid-September roving ambassadors on bikes are present to help you with any troubles or support you might need.
I was obviously in the minority and judging from my experience very few English speaking Canadians know anything about this route – a shame as it and the other Green Routes in Quebec are a fantastic way to see the countryside.
My plan was to cycle the Blueberry Route – self supported – meaning that I had everything with me in a couple of panniers – over the course of three days.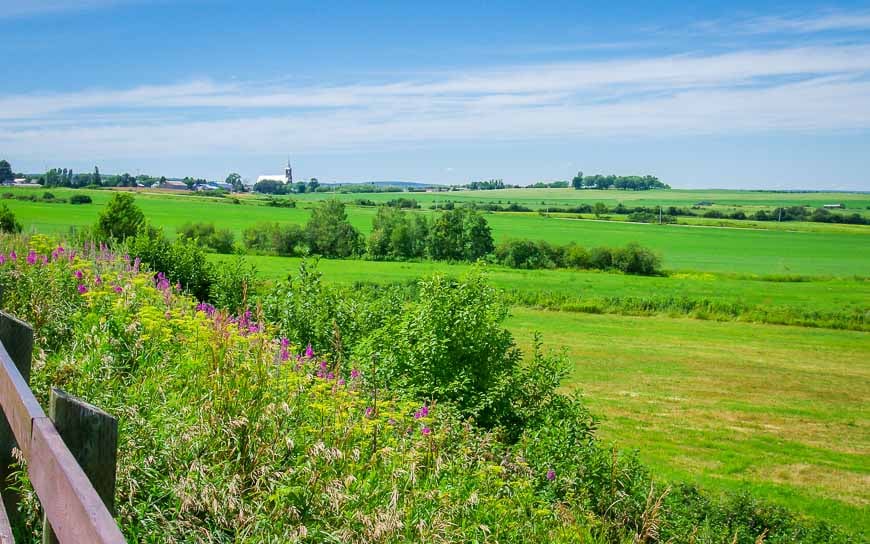 Here's what my cycling trip along the Blueberry Route looked like
Day 1: Pick up a bike in Alma from Equinox Adventure – complete with a set of panniers, a helmet and repair kit. Bike 94 km (58 mi) from Alma to Dolbeau-Mistassini. Stay at the Motel Chute des Peres. (You can safely leave your car overnight by the Equinox shop.)
Day 2: Cycle 92 km (57 mi) from Dolbeau-Mistassini to Roberval. Stay at the Gites les 2 Soeurs.
Day 3: Cycle 70 km (43 mi) from Roberval back to Alma. (I stayed in Gite Almatoit in Alma the night before I left.)
The Equinox Adventures shop is a busy spot. Every day they send out large numbers of people. Some are families just off for a few hours and many others are like me and off on a multi-day adventure.
The staff give you a thorough briefing of what to look out for, the highlights of the route and a map. And then you're off and on the route immediately outside their shop.
Tips for cycling the Blueberry Route
You have to get the hang of all the Blueberry Route markings – and to anticipate where you're going. Over the three days there were only a couple of occasions where I really felt turned around – and one was a detour that just needed more signage.
The Blueberry Route endeavours to keep you off the highway, but should you be on the highway there will be a sign at the beginning warning motorists that cyclists will be on the road for however many kilometres.
The shoulders on the highway are wide and I always felt safe. There are kilometres of dedicated bike paths too – and many a back road through neighbourhoods where you just look for the bike painted onto the road or one of the Véloroute des Bluets signs.
Some of the paint on the roads is disappearing – especially on the way to Dolbeau-Mistassini so do keep an eye open for even part of a bike painted on the road.
Day 1: Cycling the Blueberry Route from Alma to Dolbeau-Mistassini
Leaving Alma on a bike – when you're heading in a counter-clockwise direction – isn't pretty. It's a city that owes its existence to aluminum, paper and water. That should explain everything. But fortunately within 30 minutes you are in full-on quiet countryside.
It's very pleasant cycling through a couple of small towns – past some truly beautiful farmland until you reach Point-Taillon National Park. There is an entrance fee to visit.
Don't miss Point Taillon National Park
The highlight of my first day was the 20 km of cycling through Point Taillon National Park (Parc national de la Pointe-Taillon). If you only have the time for one part of the Blueberry Trail then I'd suggest doing a loop that's approximately 32 km long entirely in the park.
It's easy and perfect for families. You would have to add on a few more kilometres getting to and from the start point as well. And if it's a nice day don't forget bathing suits as the water in Lac-Saint-Jean beckons you to swim.
I stuck to cycling along the shore of Lac-Saint-Jean. I passed beach after beach – many deserted – until I reached kilometre 20 and the point where I could catch a ferry across the river to Péribonka. There is a ferry schedule but it wasn't adhered to – at least on the day I traveled.
Nonetheless waiting on a beach for a ferry is not a hardship. It's about a 15-minute crossing to Péribonka. Bring cash for that. You don't have to take the ferry and you could follow the Blueberry Route to the letter but then you'd miss cycling 14 km along the lake.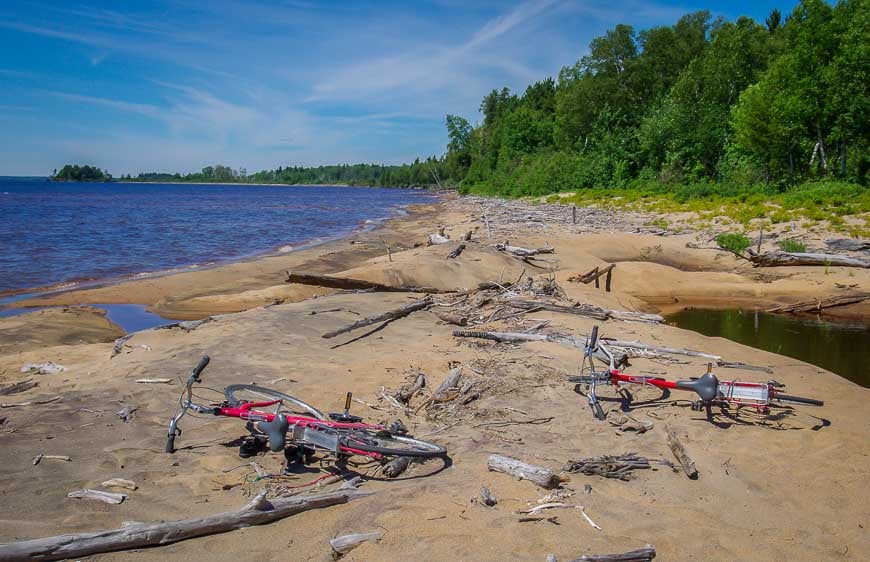 Péribonka to Dolbeau-Mistassini
From Péribonka it's another 27 km to reach Dolbeau-Mistassini. It's primarily farm country through this section and the roads are dead quiet. There are long stretches of dedicated bike paths and several places where waterfalls force you off your bike for closer inspection.
I finished at the Motel Chutes des Peres, scenically situated directly across the road from a huge set of falls. Day one cycling the Blueberry Route from Alma to Dolbeau-Mistassini took me about 6 hours – but I stopped a lot to take photos – or at least that's my excuse.
Over the next two days I continued cycling around Lac Saint-Jean – and finally found the blueberries I'd been searching for
Day 2: Cycling the Blueberry Route from Dolbeau-Mistassini to Roberval
On my second day I cycled 92 km (57 miles) from Dolbeau-Mistassini to Roberval. Before I even got on my bike I went back to check out the waterfalls that sat directly across from the hotel I stayed at. The day before the falls had been overrun with people but on an early Sunday morning I had the place to myself.
Under cloudy skies I finally hit the road at about 9 AM. It felt like it took a while to get out of Dolbeau-Mistassini – a town where the biggest employer is the paper mill. That's probably because the Blueberry Route takes you on the highway past homes and businesses for some time before reaching sections of dedicated bike trail.
The cycling for most of the day was pleasant and easy. A good part of it was through rolling farm country. I passed by bright fields full of yellow canola that called to be photographed, green fields filled with oats and past numerous local cheese companies.
Some of the cheese companies offered free tastings, tours and even picnic areas. Don't forget to carry along a sharp knife and some fresh bread so you can enjoy a picnic of your own making along the way.
The bike ride took me through the small towns of Albanel and Normandin – before sending me into Saint-Félicien. There is a zoo in Saint-Félicien– which I didn't have time to visit – but now wish I had for your role is reversed compared to other zoos. You are behind the bars and the animals are free. My husband still remembers his visit here as a child.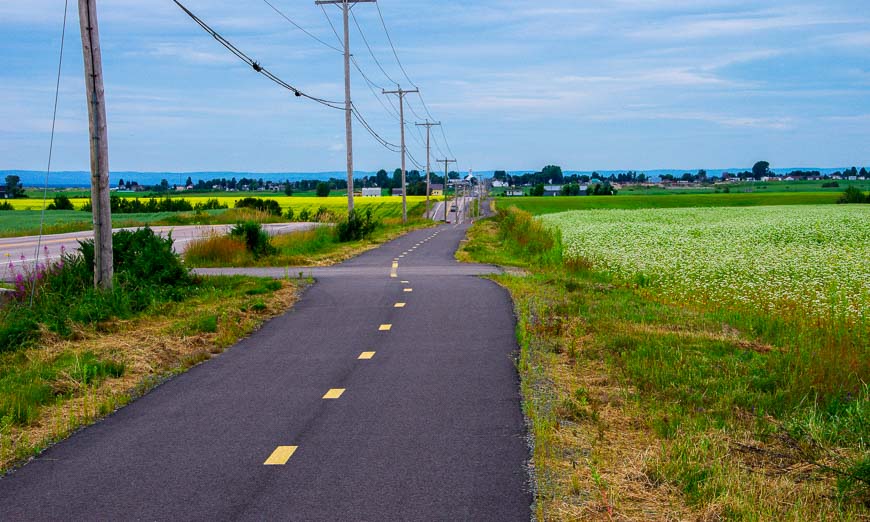 I passed fields of blueberries before Saint-Felicien. The area had a huge fire back in 1870 – and thanks to that fire the growing conditions for blueberries are ideal. Around that area I saw blue shelters – rather shaped like a blueberry – though I'm not sure if they're related to blueberry picking or not.
My one disappointment cycling the Blueberry Route was the lack of blueberry pie. As blueberries were in season I was a little shocked that no business I came across had embraced the idea of pie. Cyclists burn off lots of calories and like to eat, so pie and biking seems like a match made in heaven to me.
The last part of my second day took me along the shores of Lac Saint-Jean. There was a storm brewing so the waves were crashing into shore – delighting the group of kids I saw in the photo below. I ended the day at the Gîte les deux Soeurs, located right on Lac Saint-Jean.
Day 3: Cycling the Blueberry Route from Roberval to Alma
I woke to sunshine and a fabulous breakfast on a porch overlooking the lake.
I only had to cycle 70 km (43 mi) today – something I did with several breaks in four hours. Again the scenery was rolling farmland – though this time there were more views of Lac Saint-Jean. I had planned to visit the waterfall at Val-Jalbert but somehow missed the turn and then didn't feel that I had the time to retrace my steps.
I cycled on and was very pleasantly surprised at the route I followed – on dedicated bike paths and quiet roads – into Alma. It was so different and far more peaceful than the one I'd driven on just a few days earlier.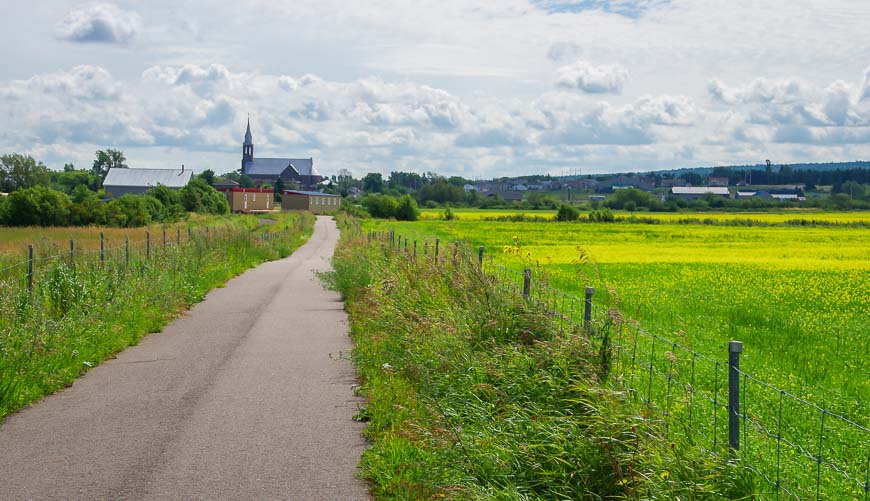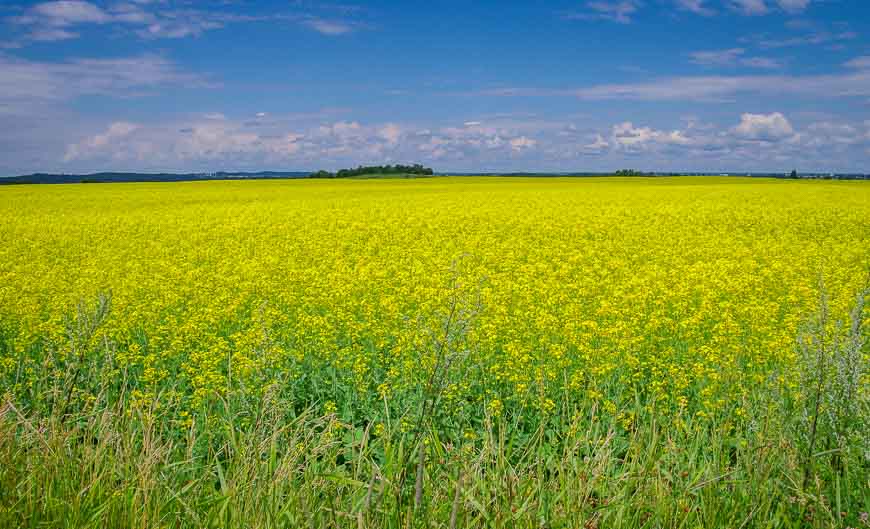 Route finding
The Blueberry Route is extremely easy to follow. I got turned around twice – once because of a poorly signed detour before Roberval and once because I didn't pay attention to the signage.
A few things you might want to bring on the bike ride
I love my Ortlieb waterproof bike panniers. Mine are over a decade old and still in great shape.
Don't forget to pack a bike pump in case you get a flat.
A bike lock is a necessity if you want to make any stop along the way.
I like to carry a handlebar bag with my raincoat and bike tools rather than having something on my back.
Bike lights are one of those things you should always have – just in case you're out late.
I also love a good pair of padded bike gloves, including full-fingered ones if I'm biking early or late in the season.
A bike phone mount is another great option for your bike.
Useful information if you're cycling the Blueberry Route
If you don't speak any French bring along a small French-English dictionary, or use Google Translate, as this part of the world is predominantly French speaking. I used my rusty high school French all the time.
Don't expect to find much in the way of high-end accommodation. The B&B's are clean and comfortable but not luxurious.
Always carry some food with you as there are long stretches between stores or restaurants. You can buy fresh cheese curds at every gas station and grocery store.
Cycling the Blueberry Route is perfect for people of all abilities. The hills are never that big and the route feels very safe for biking. Equinox Adventure – the company that provided me with my bike – can also move your baggage from point to point – making it that much easier.
Further reading on bike rides in Canada
Click on the photo to bookmark to your Pinterest board.
*** A big thanks to Equinox Adventures for providing me with a bike and for Tourism Saguenay-Lac-Saint-Jean for assistance with accommodation.***