Prince Edward Island (PEI) is Canada's smallest and least populated province, measuring only 220 kilometres (137 mi) long by 64 kilometres (40 mi) at its widest. It's a great cycling destination for people who like quiet back roads and little in the way of hills. If you are new to multi-day bike trips, this is a good one to start with.
Cycling PEI is easy because most of the roads are flat to gently rolling and the grade on the Confederation Trail is never more than 2%. We cycled PEI over five days covering its entire length – but it could be done in one very long day. But then what would that accomplish? Perhaps bragging rights but this is a bike trip that is meant to be savoured.
This post includes some affiliate links. If you make a qualifying purchase through one of these links, I will receive a small percentage of the sale at no extra cost to you. Thank you very much for your support.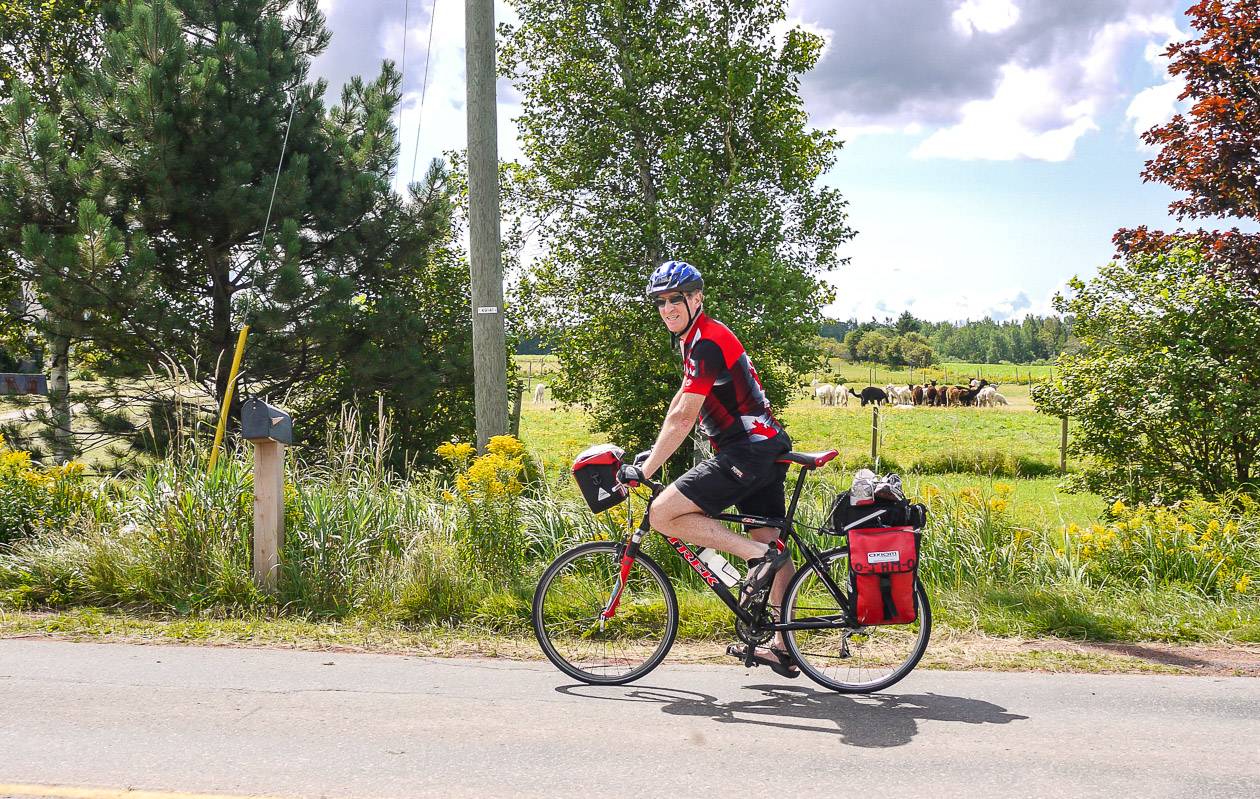 Cycling PEI summary
You can very easily build your own itinerary if you want to cycle the length of PEI. What I've suggested worked well for us, but as this is an easy island to cycle around, you can follow your interests. But be sure to reserve accommodation well in advance.
There aren't a lot of bike shops on the island so if you're bringing your own bike, be sure to have it serviced ahead of time.
Carry a bike pump, extra inter tubes and tire levers at a minimum. Before you start cycling PEI, check to see the hours and locations of bike shops on PEI.
I'd also suggest packing some cutlery and a plate so you can enjoy impromptu picnics.
Here's a packing list for a multi-day bike ride along the length of PEI.
Cycling PEI – the kind of roads and trails to expect
You can expect to ride a mix of scenic roads as well as sections of the 273 km long Confederation Trail, an old rail bed that is now a multi-use trail. The roads and trail take you through a patchwork of farmland, past thousands of acres of potatoes fields (PEI's most famous export) on gently rolling terrain with occasional coastal sections.
While you could cycle the length of the Confederation Trail and be off road the whole time, I think it's a far more interesting trip if you include some of PEI's quiet backroads.
A real treat is the 10 km (6 mi) multi-use trail along the Gulf Shore Parkway in Prince Edward Island National Park.
Where to start your cycling trip in PEI
If you want to cycle the length of the island, then you need to start at either North Cape or East Point, and for that you'll need to arrange a shuttle.
We had flown into Charlottetown and had no interest in renting a car and so organized a shuttle from Charlottetown to the North Cape via MacQueens, a bike company specializing in tours of PEI.
Note: Another company in PEI that offers rental bikes, shuttle services and help with trip planning is Outer Limit Sports.
Where to stay in Charlottetown
I'd suggest The Great George near the historic Charlottetown waterfront based on personal experience. You can walk everywhere from this hotel.
Inn on the Harbour across from the Charlottetown waterfront would also be an excellent choice.
Prince Street Suites, a historic hotel built in the 1800's is just 400 metres from the Confederation Centre for the Arts – and its rated superb.
When is the best time to cycle PEI?
I would recommend cycling PEI from early June until mid-September. That's not to say you couldn't cycle in May or even into October but there are many restaurants and hotels that won't be open so you'll have to work a little harder finding the right accommodation.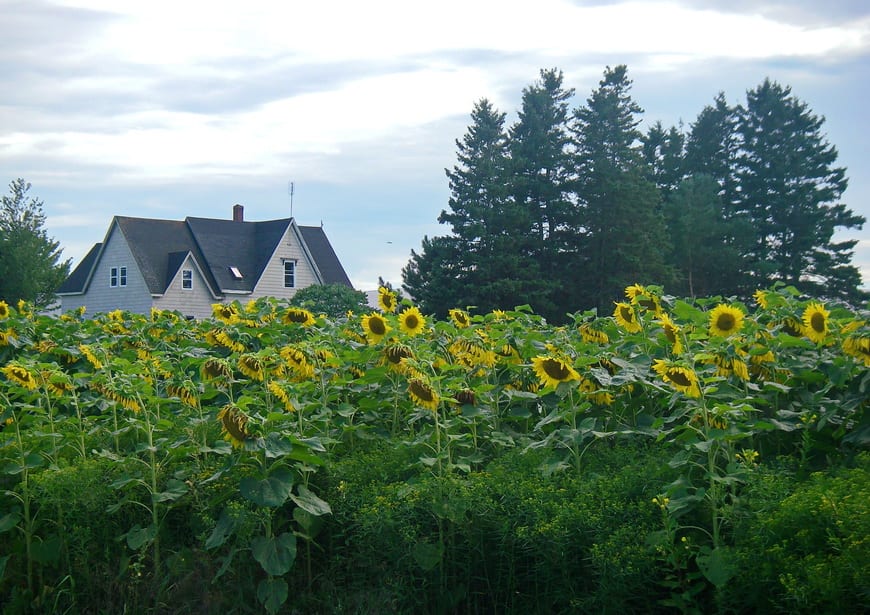 Day 1 Cycling PEI: North Cape to Northport
If you start at North Cape, you can visit the North Cape Wind Energy Interpretative Center and take the prerequisite starting photograph at North Cape Historic Lighthouse before heading out.
The North Cape is a spot where they test wind turbine design…so you can imagine the start on a windy day. But it is easy cycling, if the wind is at your back for the 35 km (22 mi) to Northport, a lovely spot to spend the night.
Where to stay in Northport
We stayed at the Northport Pier Inn located on the scenic waterfront of Northport Harbour and a short walk from the Northport Pier Boardwalk. They offer indoor bicycle storage.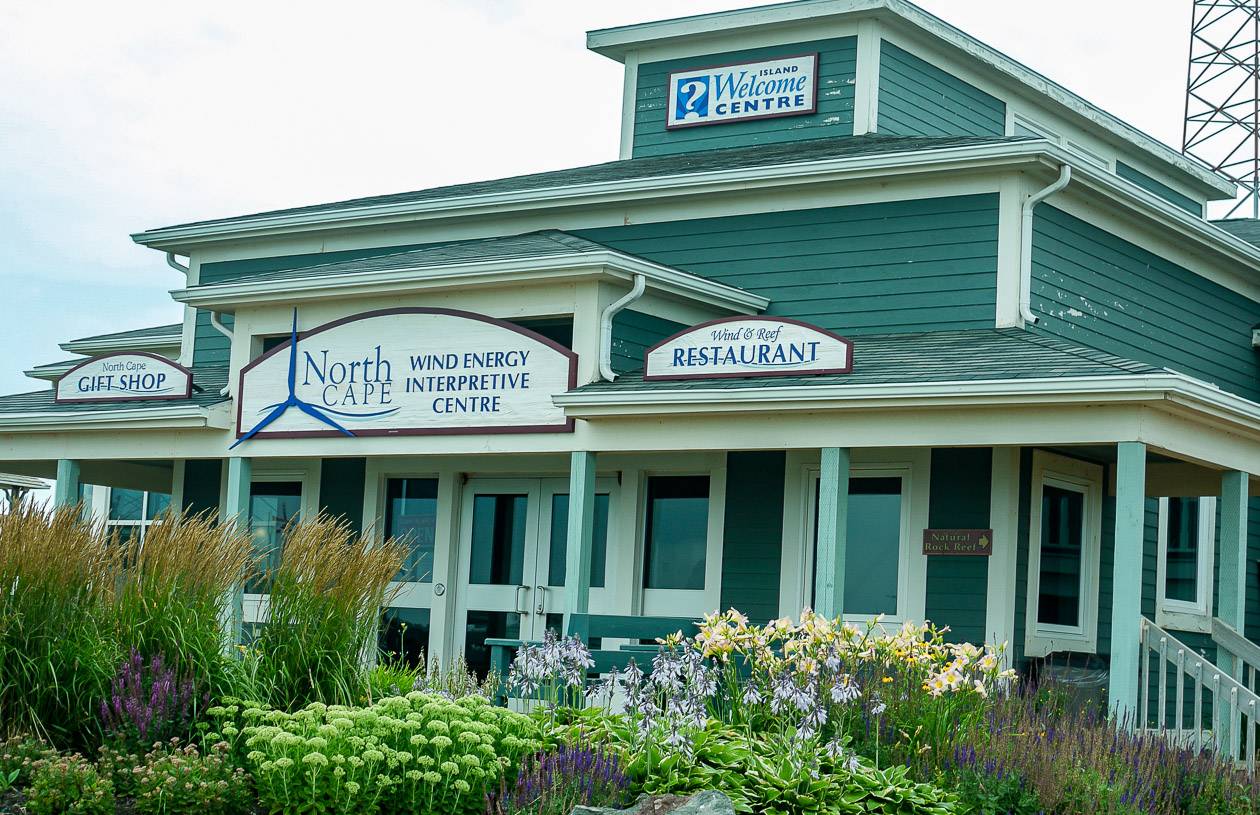 Day 2: Northport to Summerside by bike
From Northport, it's 84 km (52 mi) to Summerside. The roads take you through picturesque fishing villages, past rivers where you might see oyster fisherman working. You'll cycle in sight of Malpeque Bay – world famous for its oysters.
Where to stay in Summerside
Just a few minute's from the Confederation Trail is Guest Suites at Willowgreen Farm, a farm within the city. It is rated superb.
Baker Shore Bed & Breakfast is rates as exceptional.
Holman's Heritage Suites is also rated superb.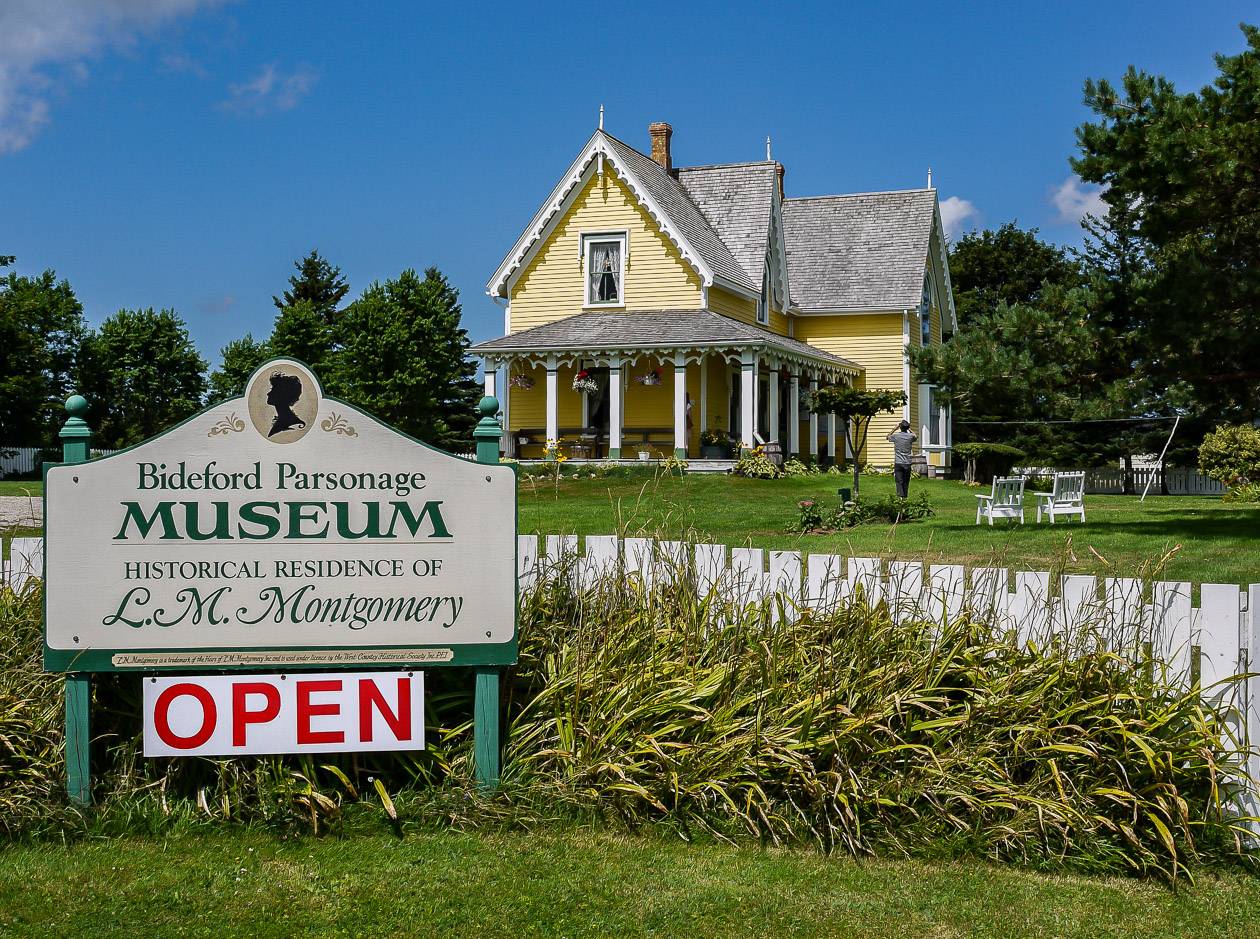 Day 3 Cycling PEI: Summerside to Cavendish, Brackley Beach or Rustico
Next up, and only 58 km (36 mi) away, is Cavendish and Prince Edward Island National Park. This is where you'll find some lovely beaches and the Anne of Green Gables House.
From there, the ride to Brackley Beach, 33 km (21 mi) to the east, is beautiful. This is one of the most famous of the 40 or so beaches in PEI. The swimming is pleasant too. Water temperatures are as warm as any you'll find north of North Carolina.
Where to stay
Cavendish
The Inn at the Pier offers a seasonal outdoor pool and hot tub.
Check out the centrally located Boardwalk Motel.
Another option are the Cavendish Maples Cottages, rated superb.
Brackley Beach and Rustico
In Brackley Beach Baywatch Lighthouse Cottages & Motel offers self-catered cottages.
I'd recommend the Barachois Inn in Rustico. A full English breakfast comes with a stay.
Day 4: Cavendish to Saint Peters Bay by bike
The next destination, Saint Peters Bay, can be accessed via highways but do the Confederation Trail through here. It's flat and in no time you'll knock off the 68 km (42 mi).
Should your legs have some extra juice, cycle the very scenic section of road around Saint Peters Bay to Greenwich. Lock your bikes and head out for a 4.8 km (3.0 mi) walk on the trail to the Greenwich Dunes. Spectacular boardwalks, parabolic sand dunes and a beautiful beach are the reward.
Where to stay in Saint Peters
If you want something a little smaller check out Gateway to Greenwich Suites. All rooms have lake views.
We didn't stay in Saint Peters and elected to cycle back and forth to The Inn of Bay Fortune – as the place is so fantastic – both for the rooms and the food.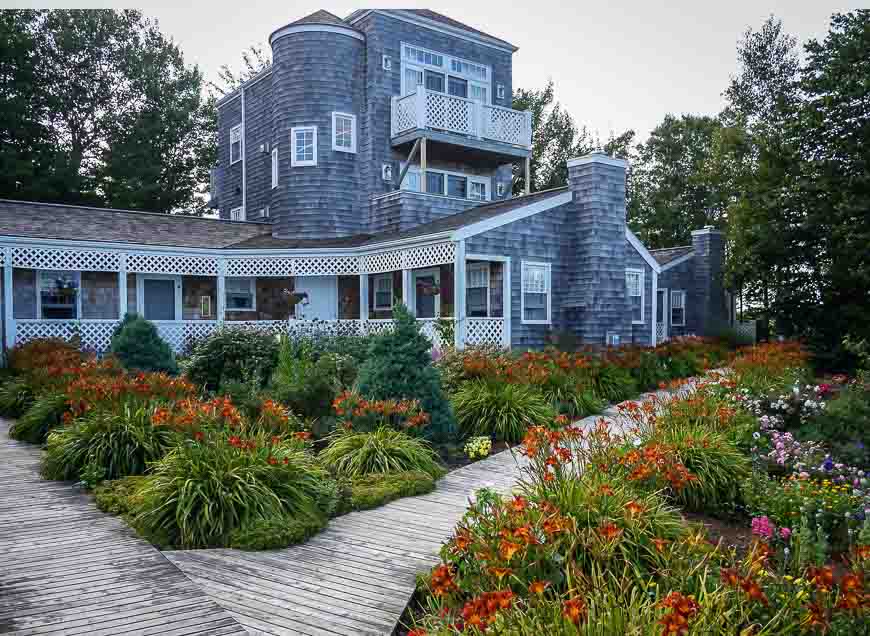 Day 5: St Peter's Bay to East Point Lighthouse
The final 56 km (35 mi) to the East Point Lighthouse can be dispatched in just a few hours. Here, you can see where the Northumberland Strait meets the Gulf of St. Lawrence. From here you can hop a ferry and five hours later land in the Magdalen Islands, another great spot for cycling….and photography.
That ends the tip to tip part of the bike ride. But if you've got time, I'd recommend weaving your way down the coast and back around to Charlottetown. It could be comfortably done in a few days.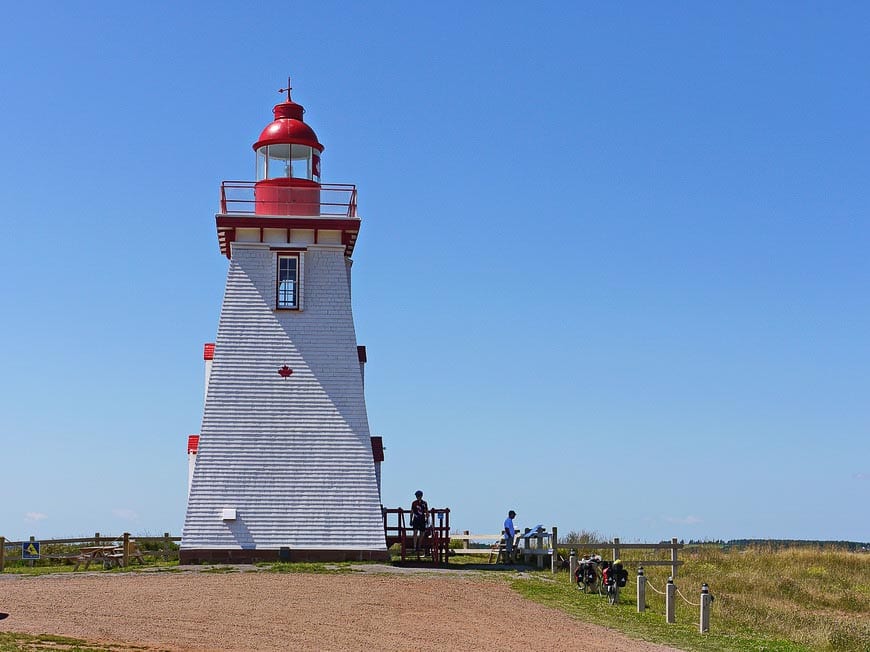 East Point Lighthouse to Charlottetown
John and I took off on the ferry to the Magdalene Islands after cycling the length of PEI.
If you're not adverse to road cycling, you could pick your way back to Charlottetown over one – 100 km day or two shorter days. Pick up a map and look for the back roads to make it that much more interesting.
Your other option is to get a shuttle back to Charlottetown from the East Point Lighthouse.
Places to stay on the way to Charlottetown
The Library Inn in Souris would be a fine choice. Enjoy an onsite garden, a shared lounge, and breakfast every morning.
In Little Pond, enjoy a stay at Ned's Landing at Spry Point and The Barn at Spry Point. It overlooks the sea, red cliffs and fields and is just a kilometre from Sally's Beach Provincial Park.
The best part about cycling PEI
PEI is clean, tidy and safe. There's barely a blade of grass out of place. The citizens are law abiding – coming to a screeching halt at any intersection with the Confederation Trail.
It's quite unlike anything I encountered when I lived in Vancouver. Friendliness and helpfulness must be in the gene pool. Three offers of truck rides for our bikes occurred in just a few days.
Enjoy the food in PEI – especially after burning off all those calories cycling. Look for scallop burgers, lobster in every form imaginable, and lots of delicous haddock.
Life is good in PEI. Come see for yourself.
Location map of the cycling stops in PEI
Further reading on biking in Canada
Click on the photo to bookmark to your Pinterest boards.