Biking Salt Spring Island is a great way to experience the largest of British Columbia's Gulf Islands but only when it's quiet – as the island is getting busier and busier and many roads don't even have a shoulder. Go in spring or fall if you can. Once the tourists show up in summer you have to fight harder for space on the narrow, winding roads – something I actually wouldn't recommend doing. In spring especially, the traffic is light and often you'll have the backroads to yourself. I would also highly recommend that you make yourself visible when biking Salt Spring Island. Wear a lime green cycling jacket or a safety vest.
There are two loops bike rides on Salt Spring Island – one in the north and the other in the southern part of the island. They could both be done in one long day but that wouldn't leave you much time to get off your bike and explore or visit any of the local artists on the studio tour.
You can download a detailed guide for biking and visiting the Gulf Islands here.
This post includes some affiliate links. If you make a qualifying purchase through one of these links, I will receive a small percentage of the sale at no extra cost to you. Thank you very much for your support.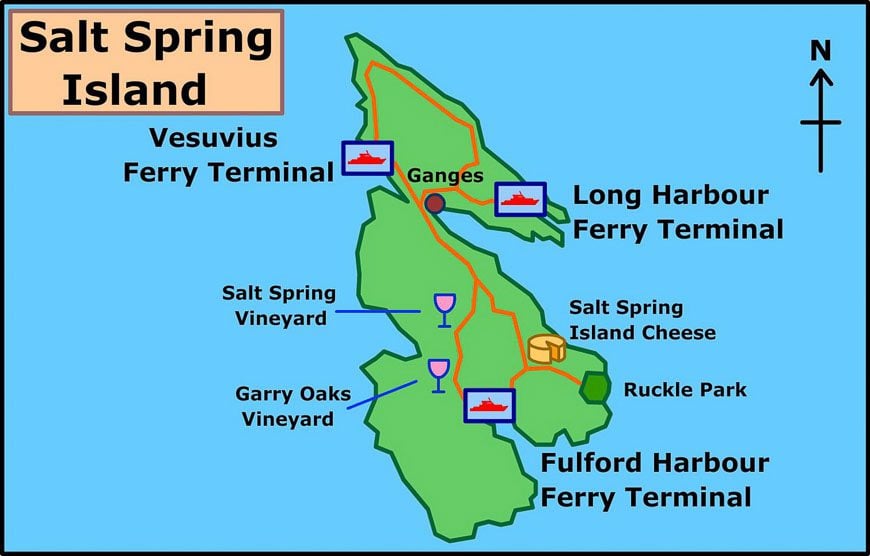 Where to rent bikes on Salt Spring Island
There are a couple of places where you can rent bikes on the island.
Here's what to pack for a multi-day bike ride around Salt Spring Island – and the other Gulf Islands.
Bike 30 – 35 km on a northern route on Salt Spring Island starting from the Long Harbour Ferry Terminal
There isn't much of a shoulder, if any on most Salt Spring Island roads, so exercise extreme caution. Note the photo – three photos down to give you an idea of what to expect when it comes to biking Salt Spring Island.
From the Long Harbour Ferry terminal you can expect some easy biking (with a shoulder) until you reach the Upper Ganges – Robinson Road intersection. If you cycle counterclockwise via Robinson and Walkers Hook Roads, count on a workout with some very steep but short hills and a pretty section of ocean side biking near the Fernwood Road Cafe. If you need a coffee or lunch, it's a great place to stop.
Near the northern tip of the island (off North Beach and North End Roads) there are a couple of detours worth doing. One is a visit to the Blue Horse Folk Art Gallery, one of the stops on the Salt Spring Studio Tour. It offers wonderful sculptural pieces, raku pottery, and paintings.
The other side trip takes you down Southey Point Road for a kilometre or so (past Sunset Drive) where you'll find the Jack Foster Trail, accessible via a 45-minute hike, but only at low tide. It's a great picnic spot. Explore tide pools, and enjoy great views across the Trincomali Channel to Galiano Island.
If you cycle to the very end of Southey Point Road, you'll run into a kayak launch site and a very pretty pocket beach, at least at low tide but it's a hilly ride.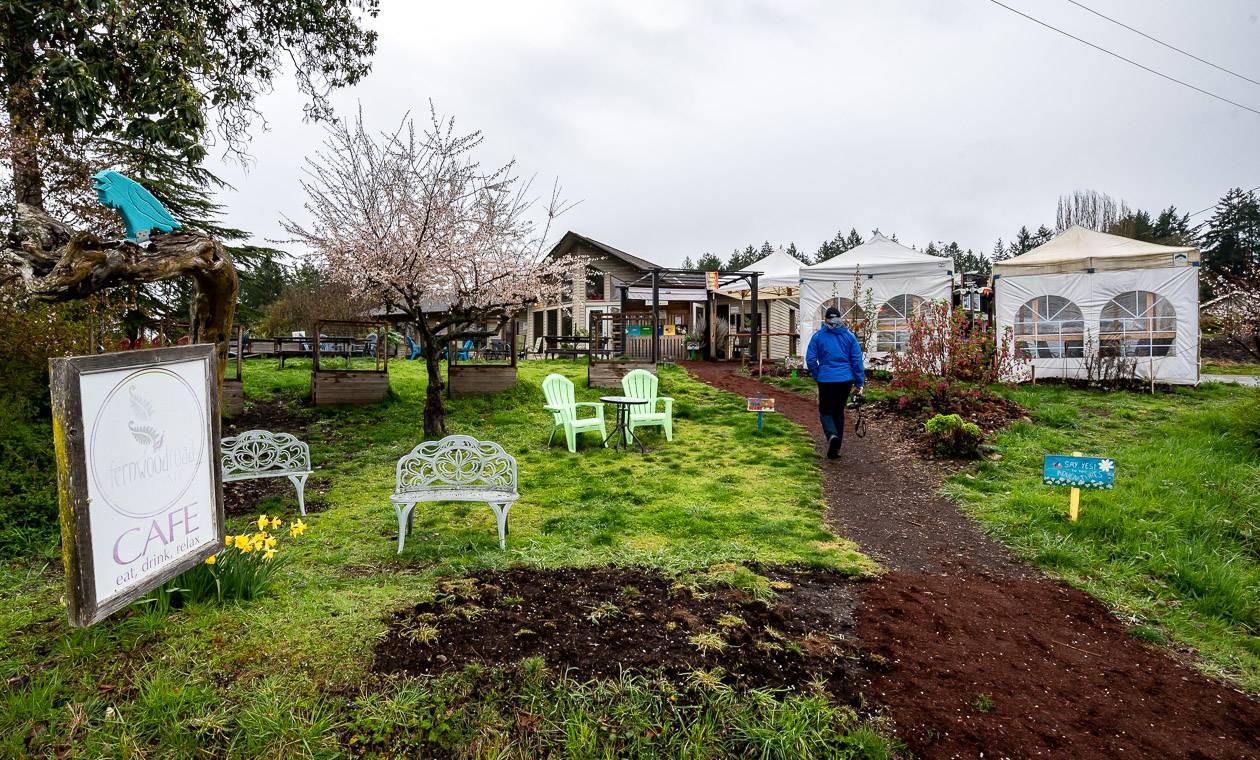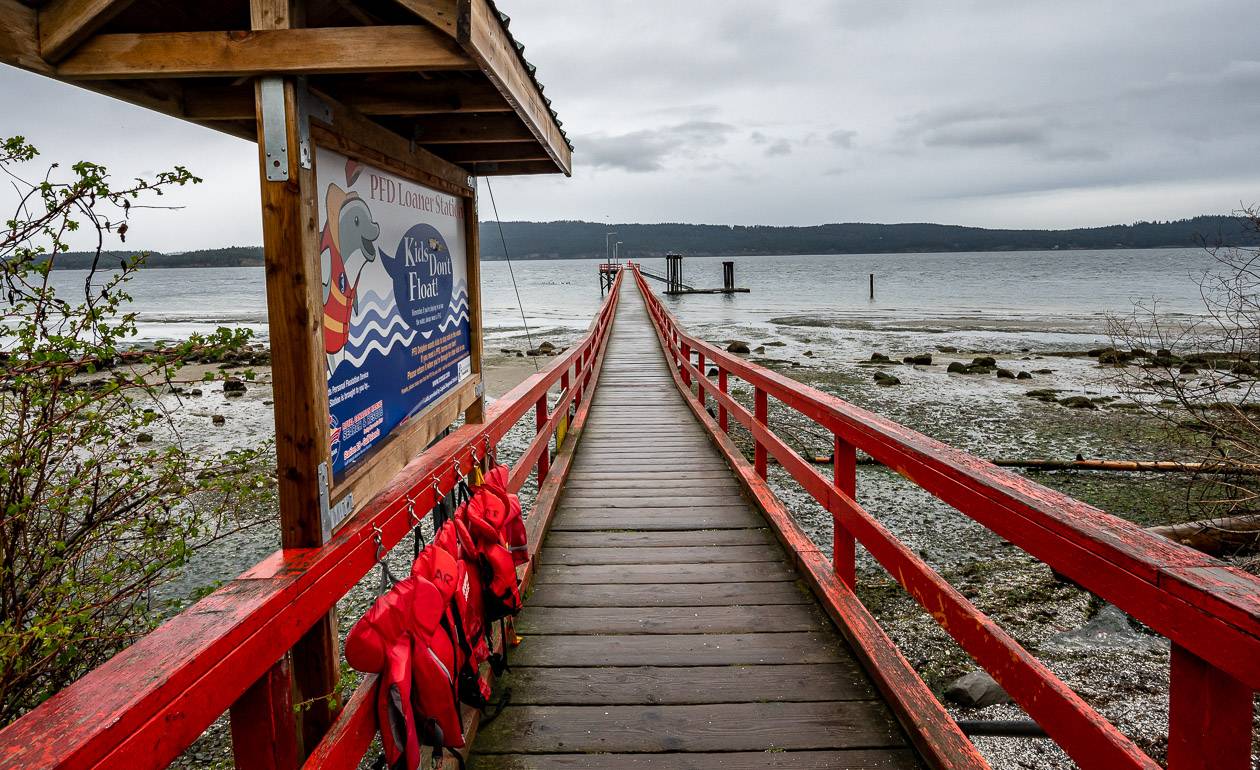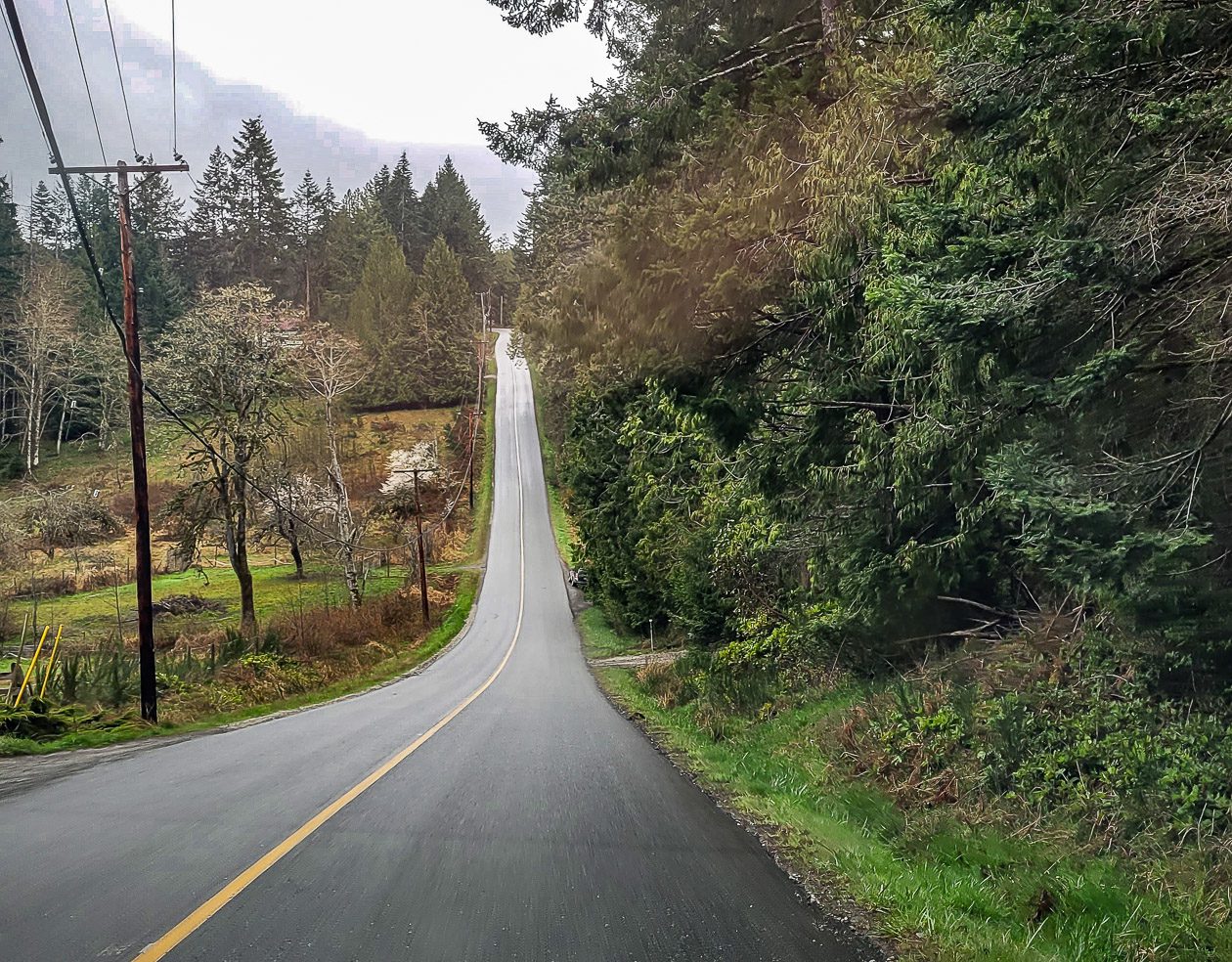 Return to Ganges via Sunset Drive (mostly quiet), Vesuvius Bay Road (much busier) and Lower Ganges Road – which is also busy. If there is ever ferry traffic, pull over and let it pass.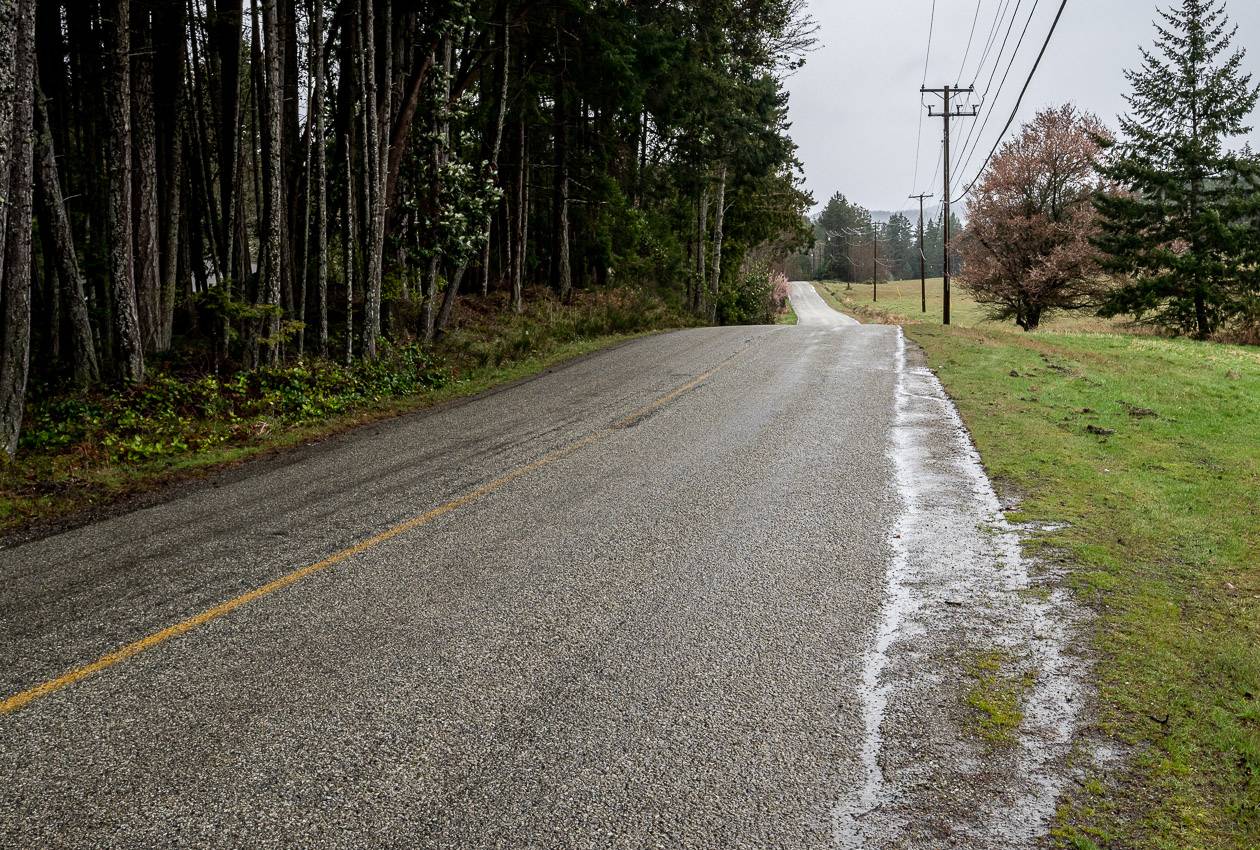 Bike the 50 km southern loop starting in Ganges on Salt Spring Island
There are lots of great stops to be made on the southern loop bike ride on Salt Spring Island. Starting in Ganges cycle a short distance on the Fulford Ganges Road (at least there is shoulder but the speed limit is a crazy 80 km/hour) to reach the turn off to Beddis Road. At the end of Beddis Road, about seven kilometres from Ganges is a beautiful white clamshell beach. To get there you pass Sean Goddard Insects who makes the most amazing sculptural insects. I have a colourful dung beetle in my garden. The place is well worth a stop.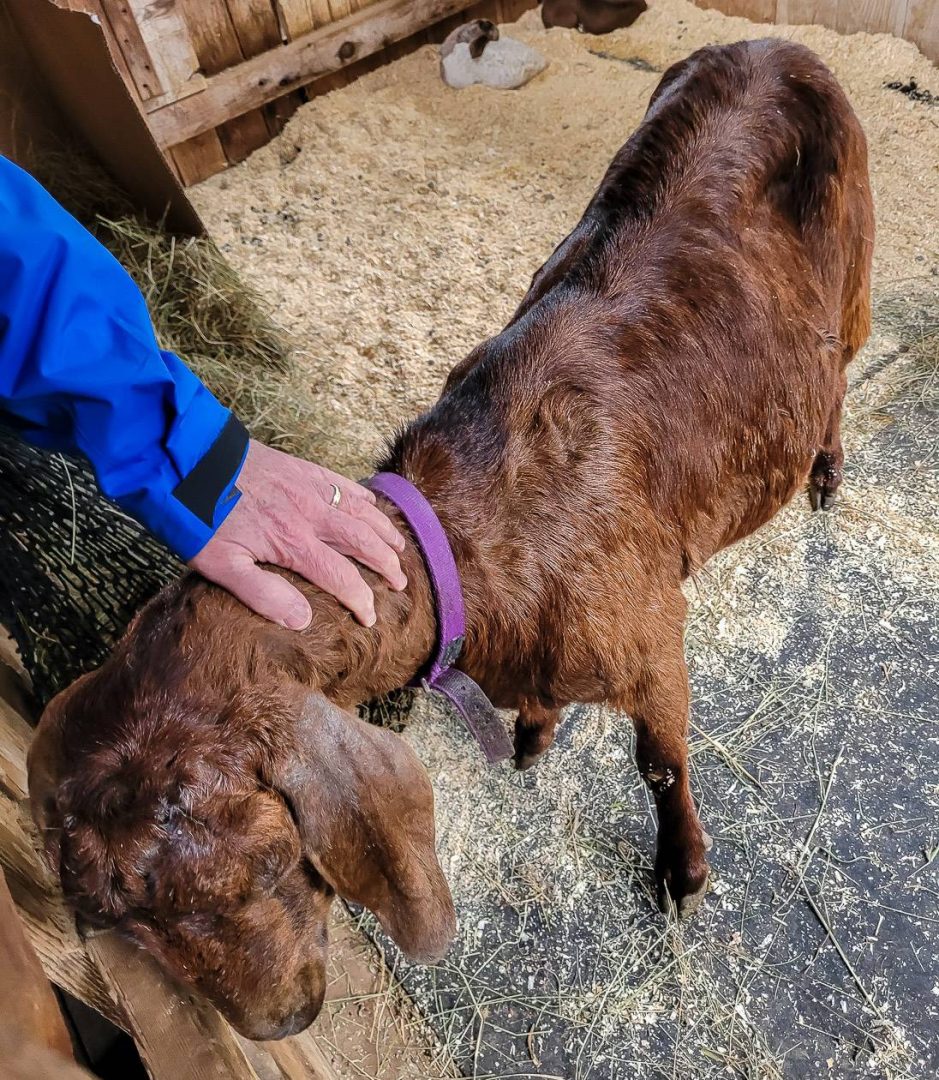 From Beddis Road head south on Stewart Road to reach Beaver Point Road. Turn left – and if you entertain ideas of a picnic lunch at Ruckle Provincial Park then make Salt Spring Island Cheese your next stop. To do this take the next right off Beaver Point Road onto Reynolds Road and look for the sheep sign about a kilometre down the road on your left. You can park your bike and wander around the garden and farm.
Well placed windows allow viewing of the operation and once inside the shop you can sample the cheese and olives. Attention to detail and beautiful packaging of the cheeses is trademark David Woods, the founder of Salt Spring Island Cheese.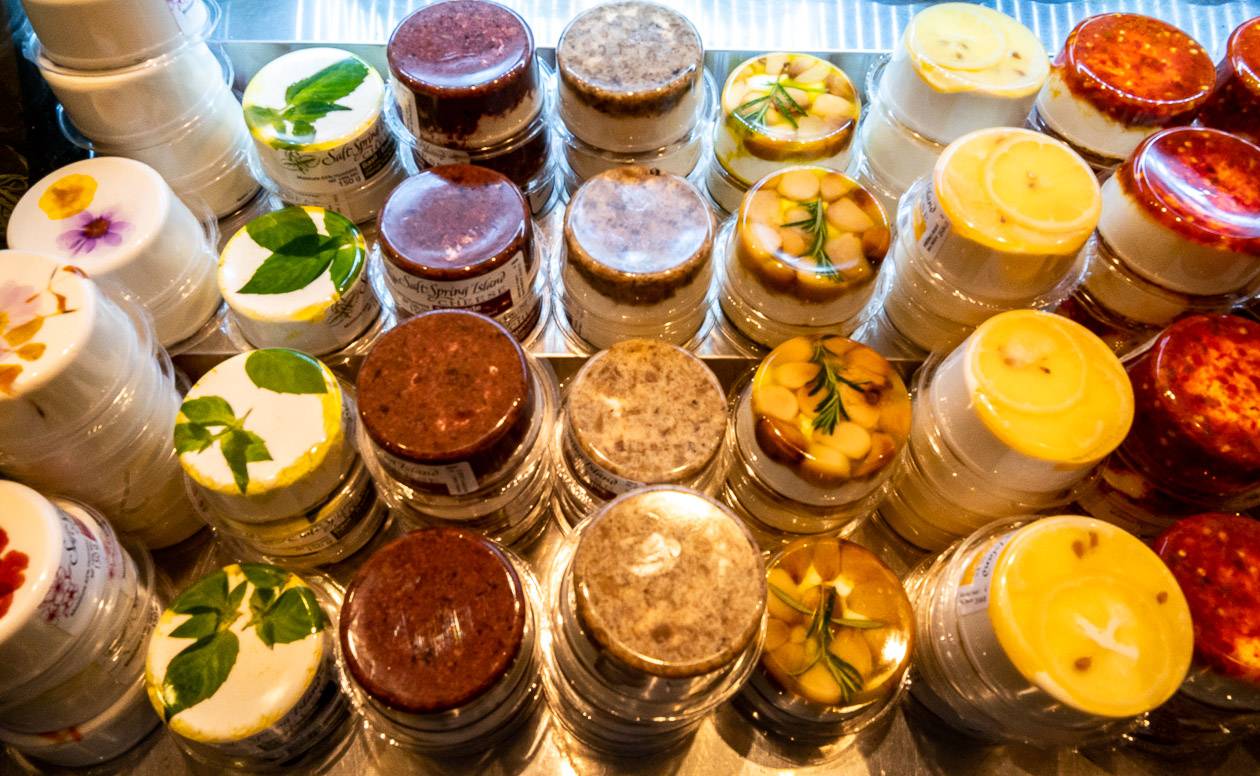 Stop in at Ruckle Provincial Park
Head for Ruckle Provincial Park, about seven kilometres from Salt Spring Island Cheese via Beaver Point Road. Ruckle Provincial Park offers many kilometres of shoreline trails so after lunch you could always lock up your bike (just to be safe) and do some exploring. To return to Ganges head back along Beaver Point Road and stay on it until it meets the Fulford-Ganges Road, about nine kilometres away.
If you are heading for the Fulford ferry then turn left and cycle down the road half a kilometre.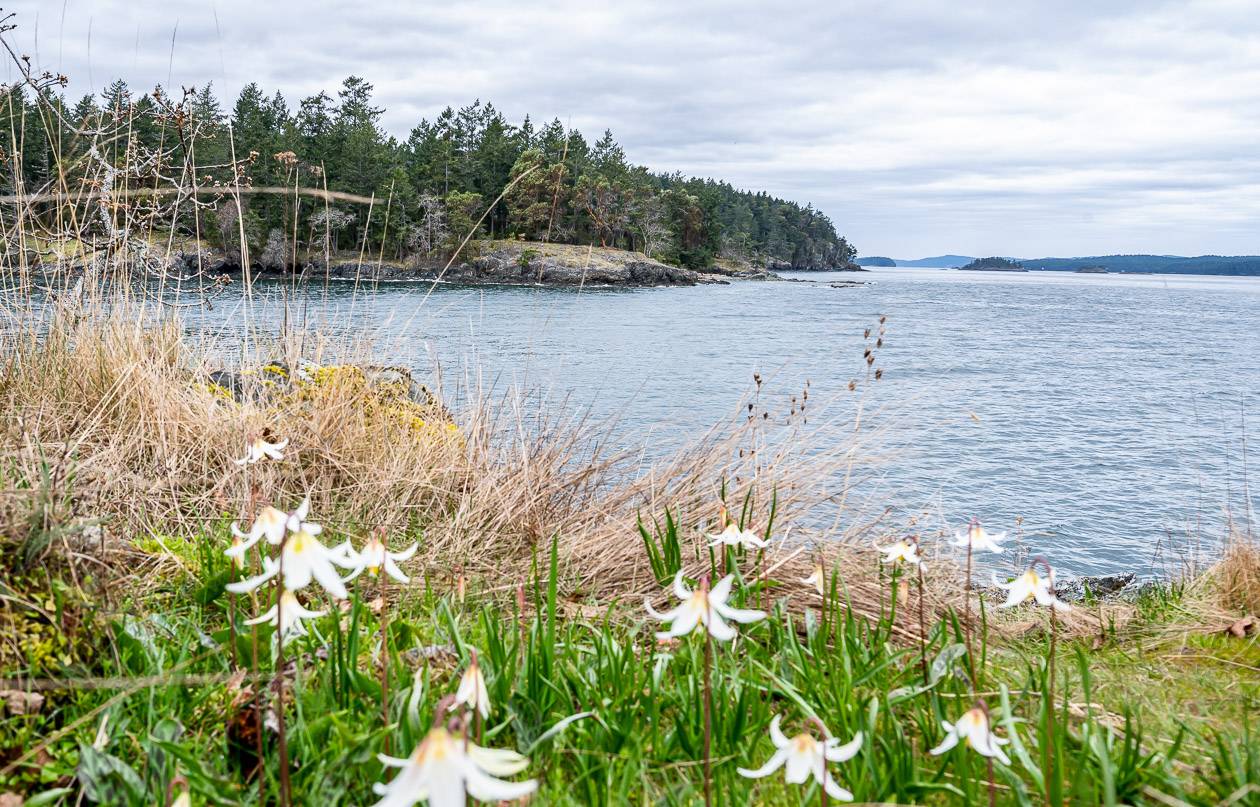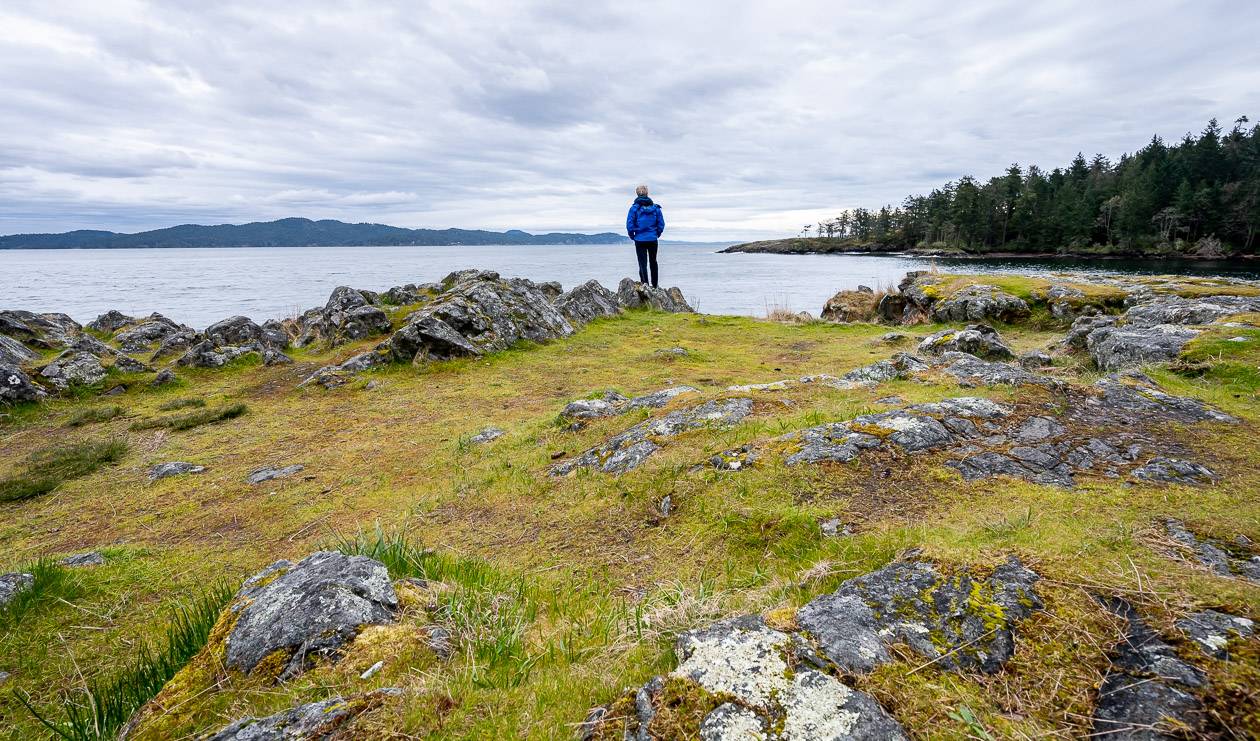 Fulford Harbour
Fulford Harbour is a small hamlet with a few shops and very good cafes so even if you aren't catching the ferry you might enjoy a quick tour of the area.
In the summertime rent sea kayaks right on the dock by the Fulford ferry and head out for a few hours of poking about. On a nice day this can be a good spot to watch the comings and goings of the people that make up the eclectic population that call Salt Spring Island home.
If you elect not to go to Fulford Harbour then make a right at the intersection of Beaver Point and Fulford-Ganges Roads. This road is much busier than the ones you have cycled on so far. The shoulders are narrow so exercise extreme caution.
If a ferry has just unloaded it would be wise to let the cars pass before continuing on your way. The upside is that the hills are gentler and there are two wineries to visit on the way back to Ganges via the Fulford-Ganges Road. (There is another winery – Kutatás Wines – that is accessed off Lower Ganges Road.)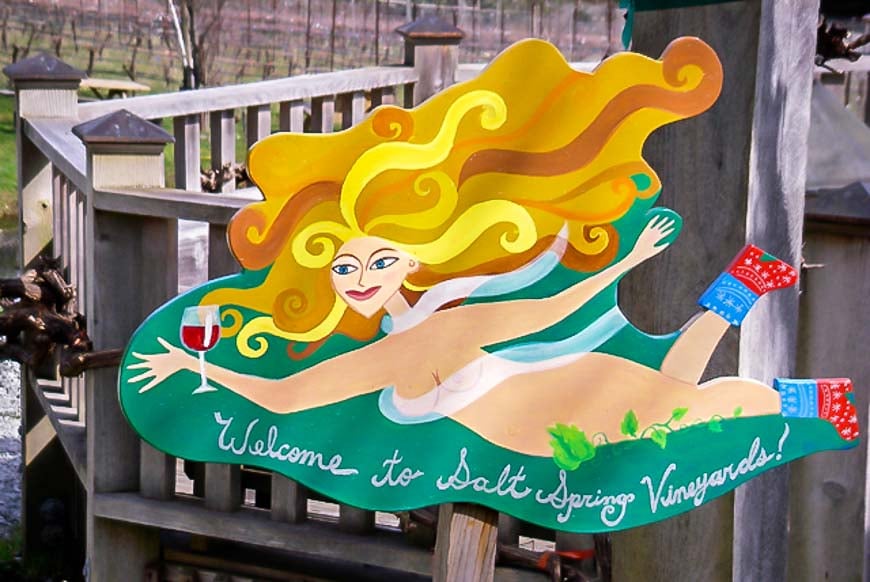 Wineries to visit by bike on Salt Spring Island
Two wineries are easily accessed 5.5 kilometres up the road from the Fulford Harbour ferry terminal. The first one is the Garry Oaks Winery which doesn't usually open its doors until sometime in May.
Salt Spring Vineyards are a further half kilometre up the road. They are open every day in the summer and weekends in the spring and fall. Free tastings are available and wine is available for purchase. Try the blackberry port from Salt Spring Vineyards for something a little different!
Hop back on your bikes and in half an hour or so you should be back in Ganges…unless you have energy to burn in which case cycle nine kilometres up Mount Maxwell on a partially dirt road and top out at 588 metres (1,929 feet). It's the highest point on Salt Spring Island.
You can reach the turnoff for that about two kilometres outside of Ganges by taking a left on Cranberry Road and following it to the top. That should finish all but the hardiest of souls off for the day.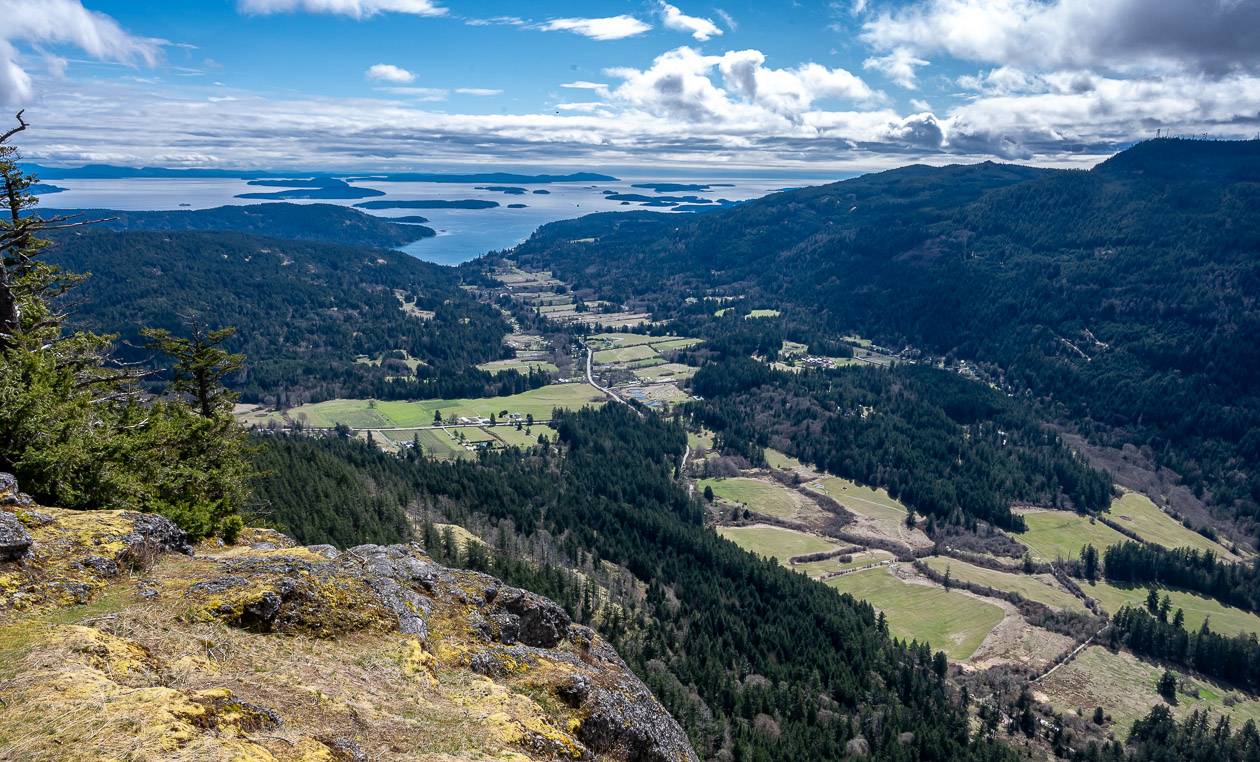 Other activities on Salt Spring Island
There is lots of hiking and kayaking available and if you're visiting in the summer there is some lovely lake swimming – and it's not too cold. If you're around on a weekend starting in the spring check out the well-attended Saturday Farmer's Market.
You could easily spend the better part of a week on Salt Spring Island depending on how much exploring you wanted to do. There is a wide range of accommodation from camping through to the very luxurious and expensive Hastings House. Two nights will give you a good sense of the island and help meet the minimum stay requirements of so many places.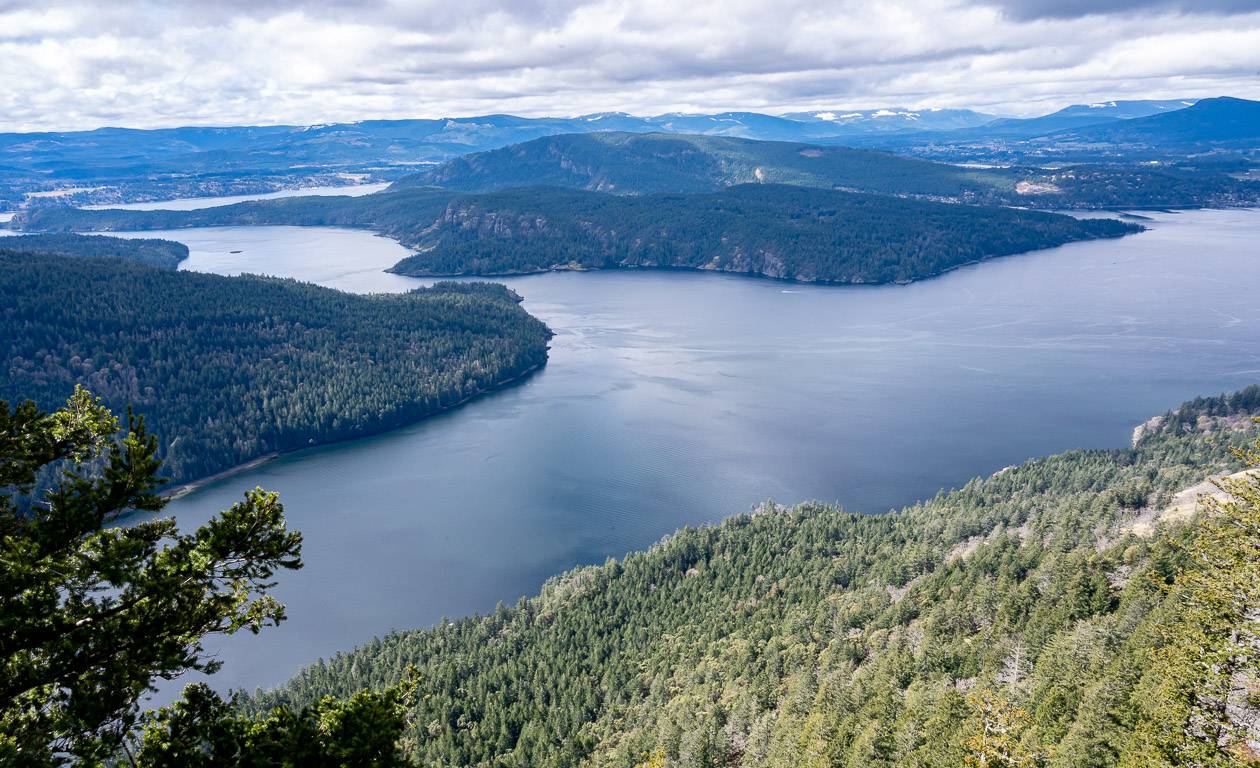 Getting to Salt Spring Island via the ferry
There are three ferry terminals on Salt Spring Island – Fulford Harbour, Long Harbour and Vesuvius, making it a very accessible Gulf Island.
Fulford Harbour ferry
Fulford Harbour is to the south with ferries coming in from Swartz Bay. There are eight departures a day from Swartz Bay to Fulford Harbour, a short 35-minute sailing, so it is a very convenient entrance point. It deposits you at the main road leading to Ganges.
Vesuvius – Crofton Ferry
Vesuvius is to the west with ferries from Crofton on Vancouver Island.
Long Harbour to Vancouver ferry (and other Gulf Islands)
Long Harbour is in the northeast part of the island and has ferries directly from Tsawwassen on weekends only and via Galiano, Mayne and Pender twice a weekday.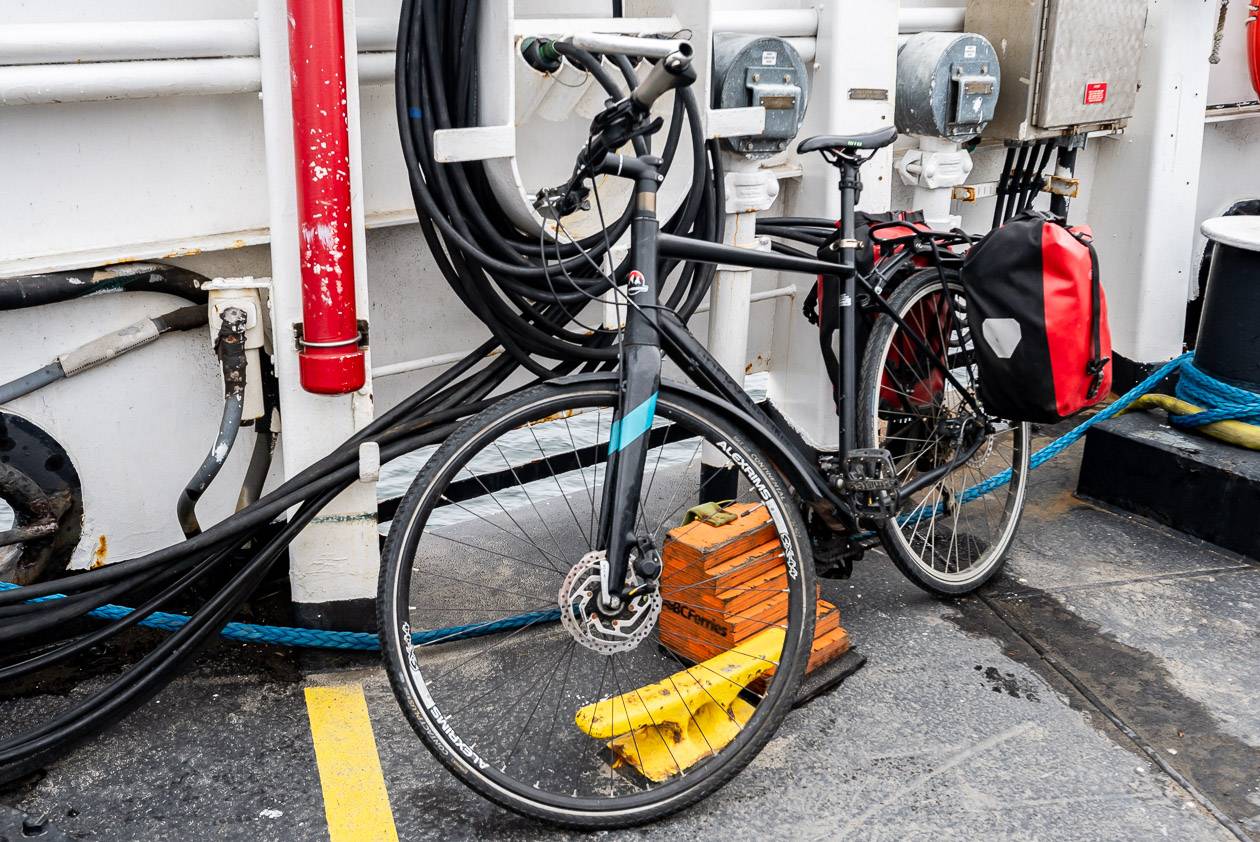 Where to stay on Salt Spring Island
There is a huge range of places to stay on Salt Spring Island from the fancy Hastings House Country House Hotel to loads of B&B's, with the majority of accommodation close to Ganges.
Some great options include The Mariner's Loft, rated fabulous. It's a self-catering apartment in Ganges with great views of the harbour.
The Sanctuary Salt Spring offers a stellar view and is rated exceptional.
Wisteria Guest House is home to a one acre garden – and a stay comes with a gourmet breakfast.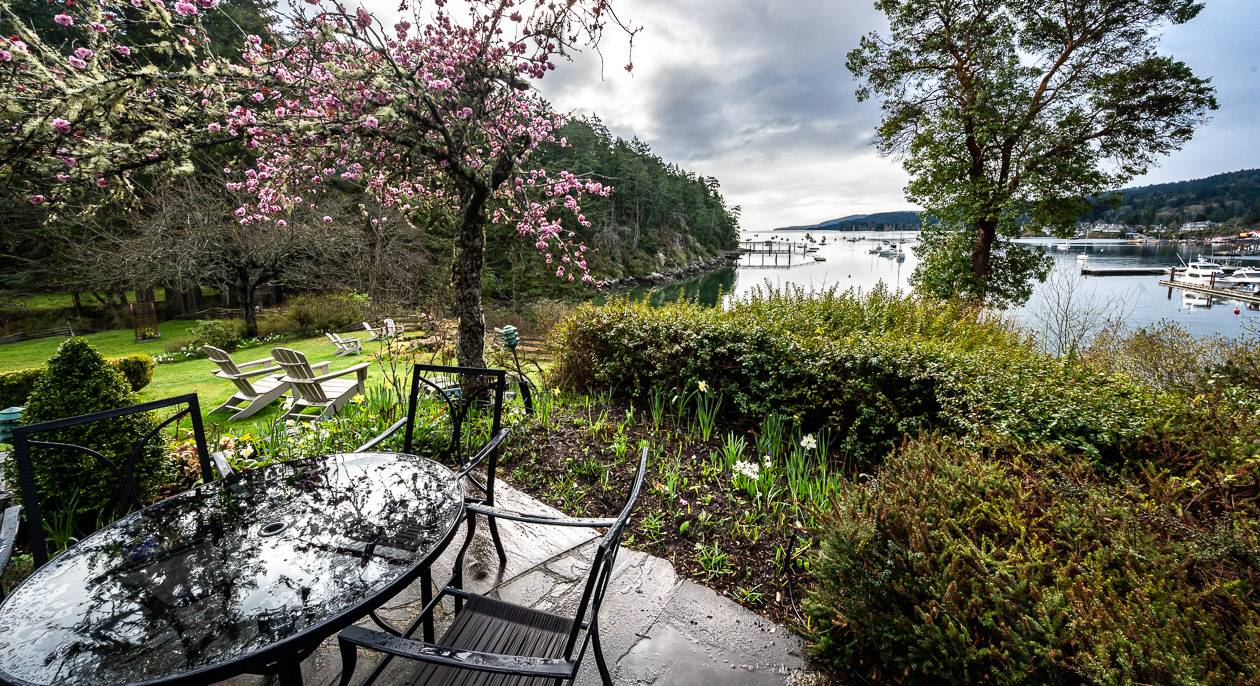 A few things that you might like while biking Salt Spring Island
I love our

Ortlieb waterproof bike panniers

. Ours are over a decade old and still in great shape – and ideal if you're biking Salt Spring Island self-supported.
Consider a lightweight safety vest so you're visible to drivers, especially on rainy days.
Don't forget to pack a bike pump in case you get a flat.
A bike lock is a good idea, even on Salt Spring Island, especially if you want to hike, picnic or stop at a restaurant.
I prefer to carry a handlebar bag with my raincoat and bike tools rather than having a pack.
Bike lights are one of those things you should always have – just in case you're out later than expected.
I also love a good pair of padded bike gloves, including full-fingered ones if I'm biking early or late in the season.
A

bike phone mount

is a great option for your bike.
Further reading on things to do in BC
Click on the photo to bookmark to your Pinterest boards.