If you're planning a trip to Tofino, be sure to allow part of a day to visit Ucluelet so you can hike the Wild Pacific Trail Lighthouse Loop section – a stunning 2.6-kilometre section that features spectacular ocean views along with lots of vegetation that loves the damp of the west coast – like western hemlock and Sitka spruce. The Wild Pacific Trail Lighthouse Loop is a great choice if you're short on time as you can knock it off in as little as 45 – 60 minutes.
The hike is fun for families – with most of the trail stroller-friendly, especially the paved section from the Coast Guard parking lot to the Amphitrite Lighthouse. (Most of it is wheelchair friendly too.) And if you've never spent much time on the coast, you'll love watching the massive rollers crash into land.
John and I hiked the Wild Pacific Trail Lighthouse Loop in September on a beautiful sunny day. But believe it or not, sunshine doesn't always offer the best experience. If you time your visit between October and March, you may catch one of the notoriously awful west coast storms – and with that, monster big waves. They are intimidating but so worth seeing.
Wild Pacific Trail Lighthouse Loop summary
Distance: 2.6 km (1.6 miles) long loop that can be hiked in either direction.
Time needed: Allow 45 – 60 minutes plus time for stops and an extra 15 minutes to do the 0.5 km Terrace Beach Trail.
Difficulty: Easy and great for families. There are no challenging sections.
Opening times: Year round during daylight hours.
Best time to hike: Summer for fine weather and fall and winter for storm watching.
Dogs/bikes: Allowed on the trail, but they must be leashed. Bikes are not permitted.
Camping: None permitted along this trail.
Other hiking options: The 8 km Wild Pacific trail is often walked in two main sections: the Lighthouse Loop (2.6 km loop) plus the Terrace Beach Interpretive Trail (0. 5 km one way), 5 km one way from Big Beach to Rocky Bluffs, and the 1 km Ancient Cedars Loop Trail.
Don't miss: Look for a tunnel through the trees, thanks to the Krummholz effect. The trees get twisted and bent out of shape because of the wind and salt spray.
What to take: Pack a picnic lunch on a sunny day and enjoy the beach. Just be sure to leave no trace and pack out what you pack in.
Toilets: Portable toilets are available at the Lighthouse Loop parking lot. Pit toilets are available at the lighthouse.
Drones: Not allowed.
Exercise caution: Treat Wild Pacific Lighthouse trail with the respect it deserves. Stay well back from the water's edge – as rogue waves have a nasty habit of catching people off guard. Obey all posted signs and use some common sense.
Finding the trailhead
To get to the start of the Wild Pacific Trail Lighthouse Loop, drive through Ucluelet on Peninsula Road. Turn right on Coast Guard Drive near the end of the peninsula. Park in the obvious Visitor Parking Lot. It's free.
Details of the Wild Pacific Trail Lighthouse Loop hike
We hiked the trail in a clockwise direction, but it doesn't matter what direction you hike it. The trail starts off in the forest on a wide path. In short order you're on the coast and it stays that way for most of the hike.
What I loved about the Lighthouse Loop were the sheer number of viewpoints – and the option to get down to the beach and see the landscape from eye-level. It is also ideal in storm season as you can safely watch the massive waves roll in from numerous vantage points scattered along the trail.
Be sure to check out a couple of beaches on the hike. Perhaps do a bit of poking around, looking at tide pools. Enjoy a picnic lunch or simply a nap on the sand in the sun.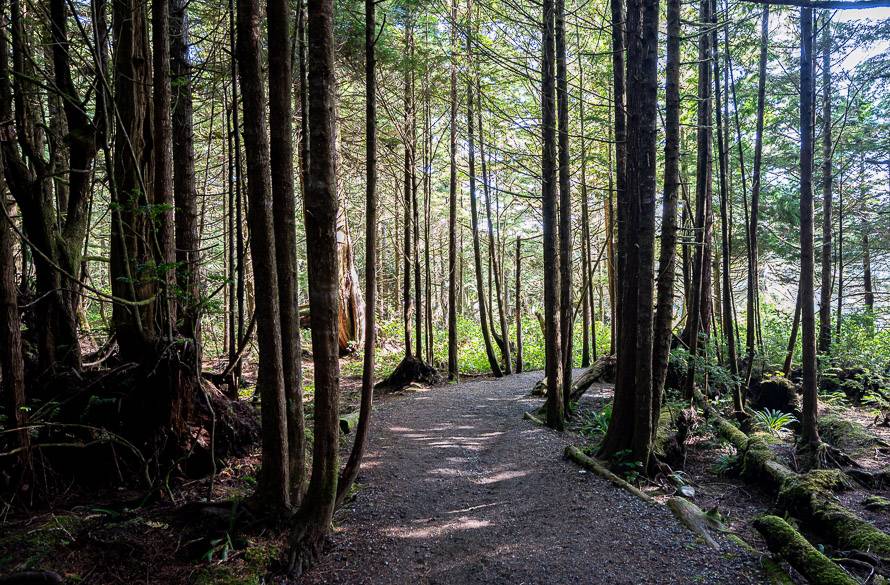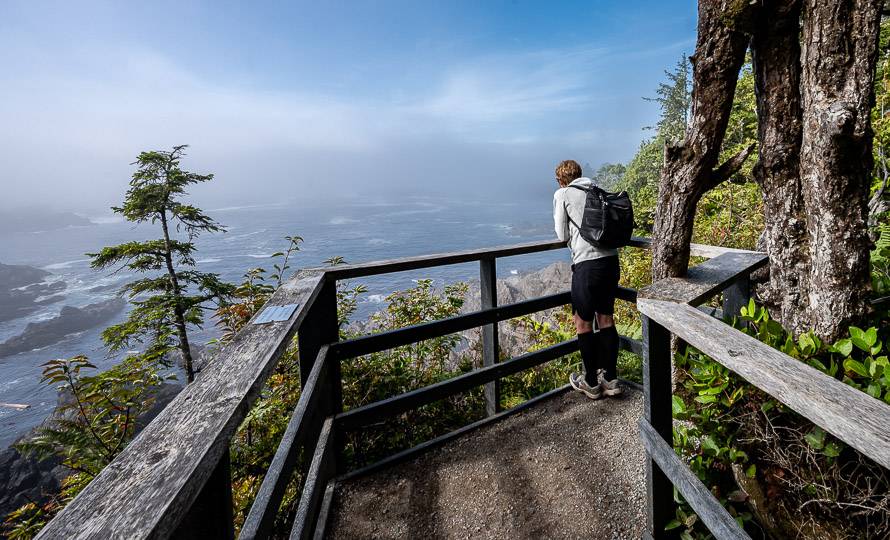 Amphitrite Point Lighthouse
The squat Amphitrite Point Lighthouse, named after Amphitrite, a sea goddess and wife of Poseidon in Greek mythology, is a working one. The first version was built in 1906 – just after the tragic shipwreck of the Pass of Melfort on Christmas Day 1905. Every one of the 36 people on board perished when they ran into a ferocious storm in the Ucluelet area. Two weeks before the shipwreck, a whistling buoy that marked the reef had disappeared because of heavy seas.
This shipwreck was the reason for building a lighthouse to warn of the reefs. The initial lighthouse lasted for eight years – until a tidal wave took it out in 1914. Construction of the new lighthouse started in 1915. Sea captains were requesting an up-to-date lighthouse along with a wireless station and a fog alarm.
The present 1915 lighthouse is 20 feet tall and flashes a white light every 12 seconds. It may not be the most beautiful of lighthouses, but it works and keeps boats safe.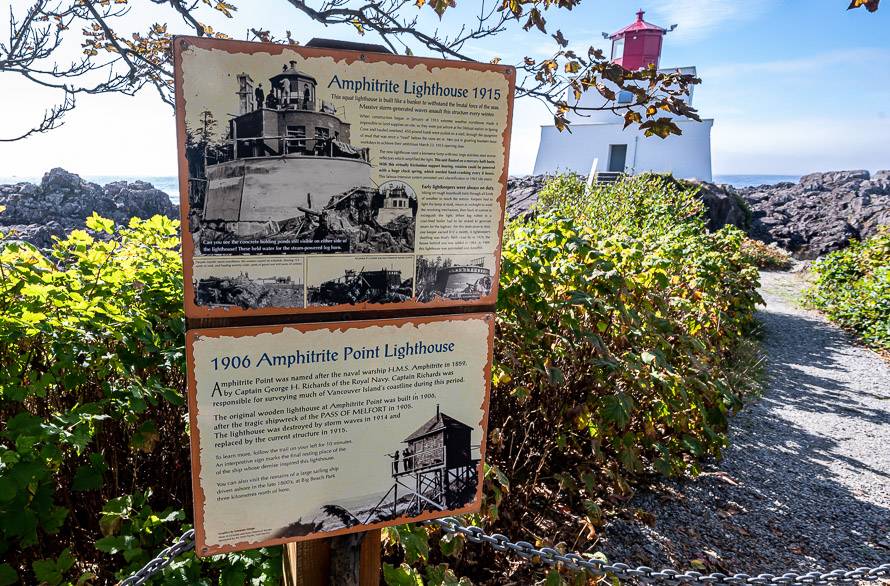 Walk the Bog Woodland Loop
There is the option to walk the Bog Woodland Loop at the start/end of the Wild Pacific Trail Lighthouse Loop. It will only take you 10 minutes at most to walk it – a little more if you read all the interpretive signs. It may not offer all the glorious views of the Lighthouse Loop, but it is surprisingly interesting to walk.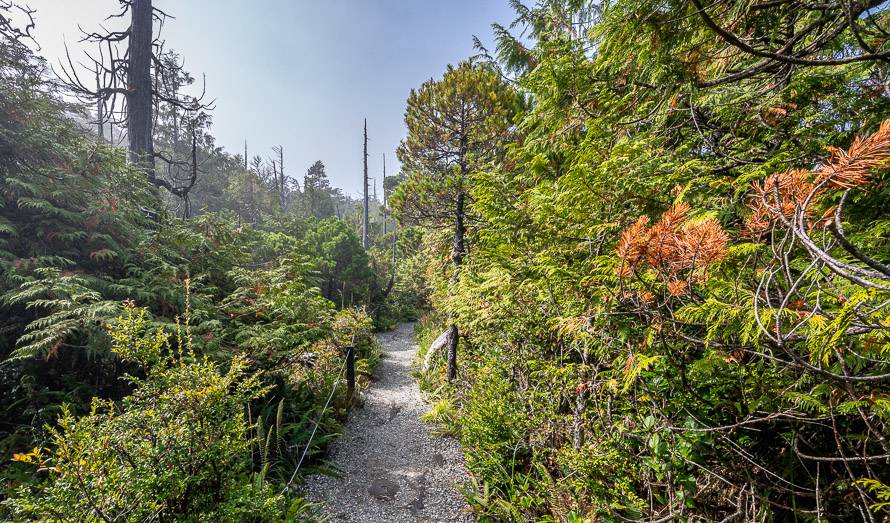 Nature videos to inspire
The Wild Pacific Trail Society founded in 1999 has had trail development as its biggest focus for years. But they want to do more by connecting people with nature and as such have trail-based educational programs, lots of interpretive signage (which we found very helpful) and a series of highly informative videos with titles like What's That Smell? Follow That Slime, For Peat's Sake and Remarkable Ravens. These are great learning tools for kids who can't be there in person.
Where to stay in Ucluelet and Tofino
There are so many great places to stay in both towns – but with their soaring popularity it's worth booking well in advance, especially in summer. Ucluelet is less touristy than Tofino and also less expensive.
Ucluelet
The Black Rock Oceanfront Resort is a popular and highly rated choice. It comes with an outdoor swimming pool and an onsite restaurant.
Pluvio restaurant and rooms is rated exceptional. The restaurant has won many awards.
Reef Front Oceanfront Bed & Breakfast is rated as exceptional. All rooms offer ocean views.
Tofino
In Tofino our family has had many wonderful stays at Middle Beach Lodge. We love their breakfasts and the Great Room.
The Pacific Sands Beach Resort on Cox Bay features full kitchens. They also offer daily surf lessons and bike rentals.
Long Beach Lodge Resort is also fantastic. I love the beach, the rooms and the restaurant food has been amazing.
Location map of Ucluelet's Wild Pacific Trail Lighthouse Loop
What you should know before you do the Wild Pacific Trail Lighthouse Loop
This can be a busy hike in which case you're not likely to run into wildlife – but its always possible. Be aware that black bears, cougars and even wolves can on occasion be seen along the trail.
Always dress appropriately. Even though the trail is short, carry water and an energy bar or two.
On rainy days, you will need full rain gear – tops and bottoms and a hat that will stay on in the wind, if you want to remain dry.
More reading on things to do on Vancouver Island
Click on the photo to bookmark to your Pinterest boards.