One of the best things that has happened to the Tofino – Ucluelet corridor in years, at least in my opinion, is the building of a new 25 km multi-use trail called ʔapsčiik t̓ašii (pronounced: ups-cheek ta-shee and meaning going in the right direction on the trail) through Pacific Rim National Park Reserve.
The trail in the park is bookended by a multi-use trail in Tofino along with another multi-use trail in Ucluelet, providing an almost seamless 76-km return bike ride. What is missing right now is a short stretch of trail near the intersection of Highway 4 on Alberni-Clayoquot Regional District lands. There are also a few kilometres in the park that are still under construction so in the short term you need to cycle on the road – but the trail was formally finished in spring 2022.
Years ago, I cycled from Tofino to Ucluelet by bike to celebrate a birthday. Tofino wasn't as busy at that time, so I didn't feel unsafe biking on the highway. But in the 14 years since I did that bike ride, the highway traffic has increased to the point that it just isn't a lot of fun biking the road.
Not only does the trail provide a family-friendly safe alternative, but it's also a beautiful one as it weaves through temperate rain forest, on boardwalks over second-growth bogs and past some of the most beautiful beaches in Canada.
This post includes some affiliate links. If you make a qualifying purchase through one of these links, I will receive a small percentage of the sale at no extra cost to you. Thank you very much for your support.
ʔapsčiik t̓ašii – a cultural and environmentally sensitive trail
The idea of a trail linking Tofino and Ucluelet has been discussed for years by locals, visitors, and First Nation communities alike. After consultation with stakeholders including the Tla-o-qui-aht First Nation and Yuułuʔiłʔatḥ First Nation, construction began in 2018 and will be completed in spring 2022. The trail has been designed to be both environmentally and culturally respectful.
For example, an Elders Working Group chosen by The First Nations offered crucial project guidance. According to National Parks Traveler, not only did this group select the trail's name but "it has already blessed the path site, determined a route that doesn't disturb culturally sensitive sites, and identified opportunities for economic benefits for First Nations."
When it came to the environment, issues around sensitive salmon habitat was fully considered and planning and timing of the work was integrated into the building of the trail. What I hadn't appreciated while I was biking the trail was that there are amphibian trails under the highway to help species like northern red-legged frogs that breed in the bogs. Those are just two of many environmental concerns that the trail designers and builders have taken into consideration.
Tofino to Ucluelet by bike – our experience
John and I cycled on a late September weekday from the Tofino Bike Company building where we picked up rental bikes (located in the complex with Tacofino, Live to Surf and Tofitian on the Pacific Rim Highway near Mackenzie Beach) to Zoë's Bakery Cafe (now closed) in downtown Ucluelet.
We were in no rush, so we stopped often to take photos and explore some of the interesting spots like accessible sections of Long Beach along the route. We happened to time our ride to coincide with the snow geese migration – so we made lots of stops to listen to their honking and watch them go by. Along the way we met a helpful Parks Canada employee who told us that cackling geese and white-fronted geese were also on the move. Craning our necks, it was hard to tell the difference between them all.
The multi-use trail out of Tofino sticks to the left-hand side of the highway as you head for Ucluelet. It's bumpier than the new trail because roots of nearby trees are causing the pavement to buckle.
In fact, just 2 km shy of the bike shop I crashed at the end of the day – something I rarely do. I hit a wet raised area at speed and next thing I knew I was in the ditch – with the biggest bruise of my life and a cracked rib. Oh well – it will teach me to slow down under less-than-optimal conditions.
Eventually you end up crossing Highway 4 onto the 3.5 m wide ʔapsčiik t̓ašii trail. It is beautifully built with lots of curves to keep you interested in what lies around the next corner though I'm not sure that was intentional or it was simply being environmentally sensitive. The boardwalk sections are covered with a metal mesh that is good for traction – whether on foot or bike. And there's plenty to see along the route – from beach stops to rainforest hikes.
We stopped at two places 16-km long, Long Beach and the Ancient Cedars Loop Trail in Ucluelet. Other stops we didn't have time for include the Canso plane crash site where the wreckage of a WWII bomber is visible, the Kwisitis Visitor Centre located at the south end of Wickaninnish Beach and the Rainforest Trail in Pacific Rim National Park.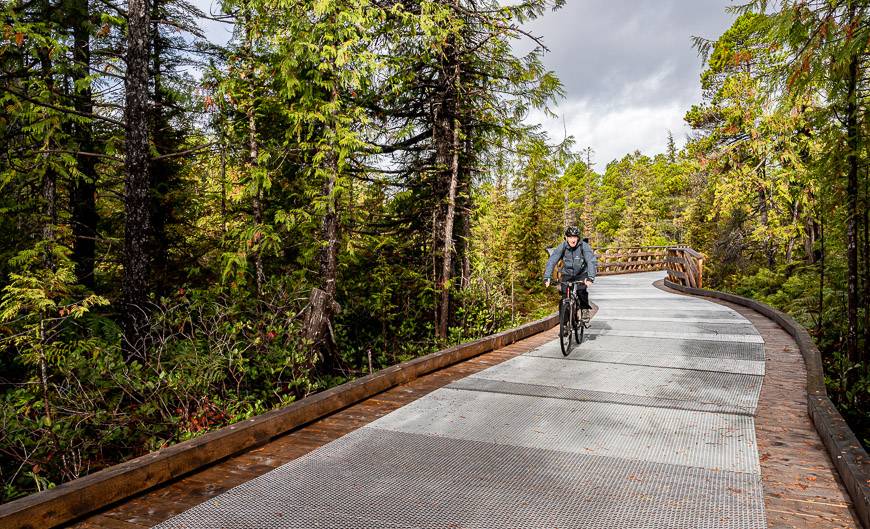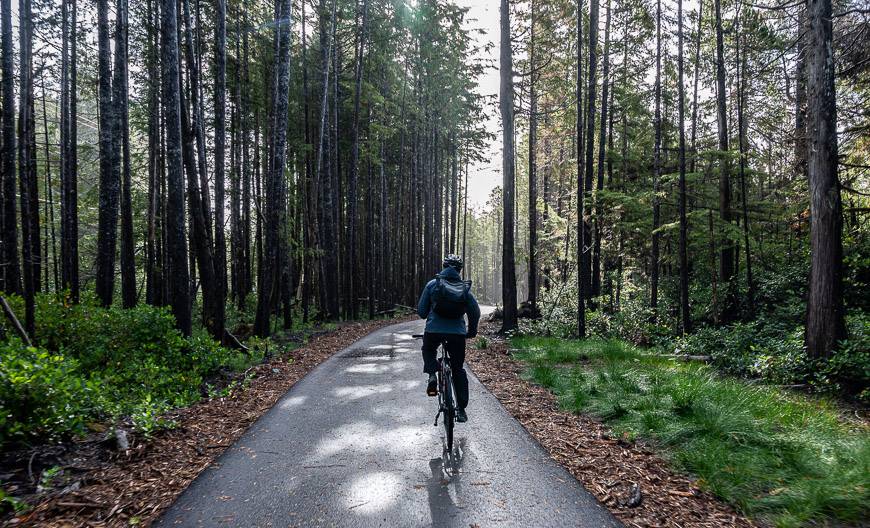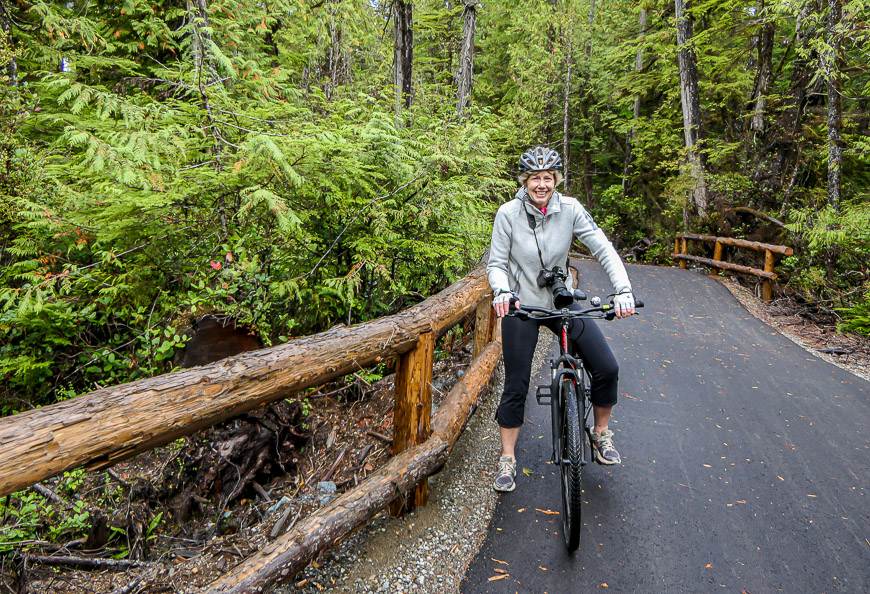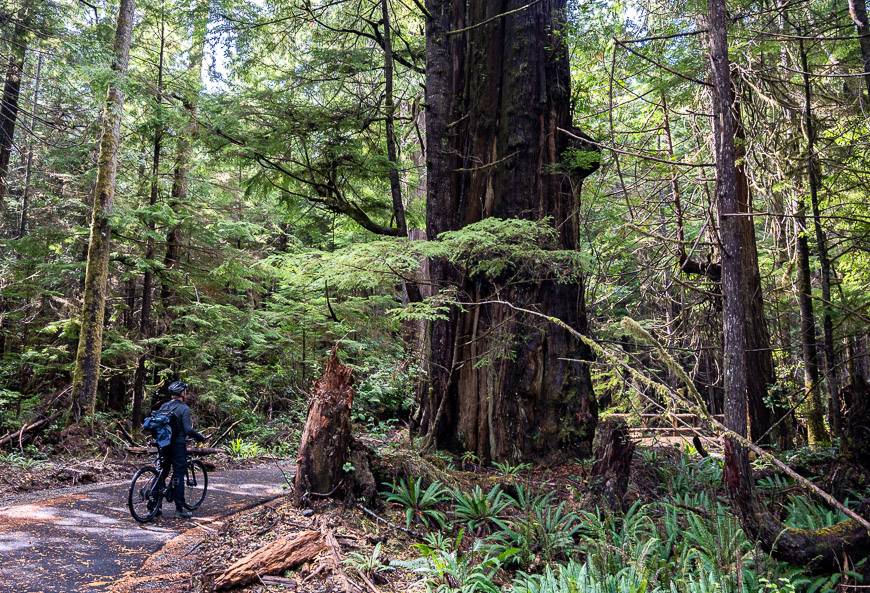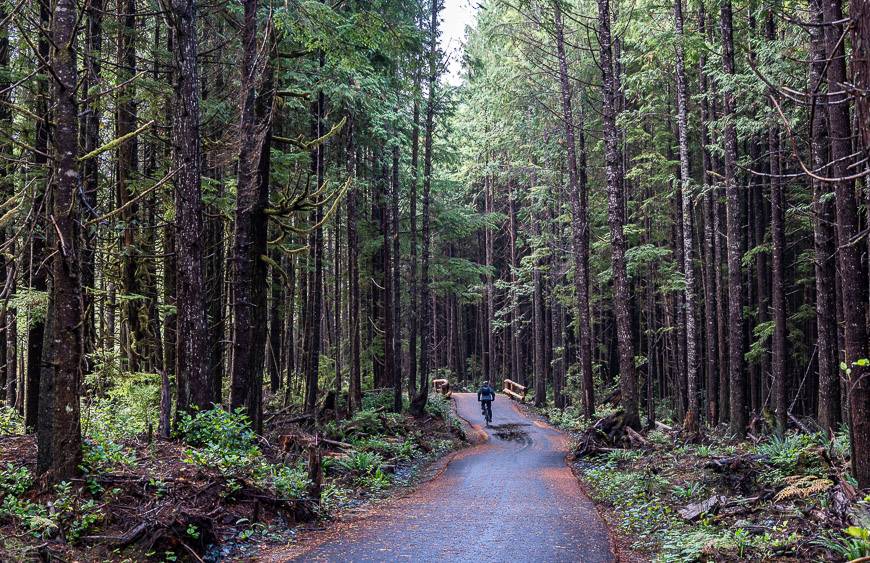 Long Beach, Pacific Rim National Park
Pacific Rim National Park came into being in 1970. The park is famous for sections of temperate rainforest interspersed with beautiful beaches on wild sections of the Pacific Ocean. Parts of the park have an otherworldly feel to them, partially on account of swirling fog and the combination of monster big trees and crazy big waves.
Fortunately, you don't have to be a surfer to enjoy Pacific Rim National Park. But if you're traveling by bike, I do recommend getting off and exploring at least a couple of the beach areas that are easily accessible from the multi-use trail. They are all well marked.
We stopped at Long Beach at two different locations, on the way to and from Ucluelet. On the way there, I left John with my bike and headed off on foot to explore a giant rock with a view. A plaque on the rock told the story of the two types of whales you're likely to see – the Pacific gray whale, weighing in at 40 tons, that feeds on the sandy bottom and killer whales, often seen as part of a pod.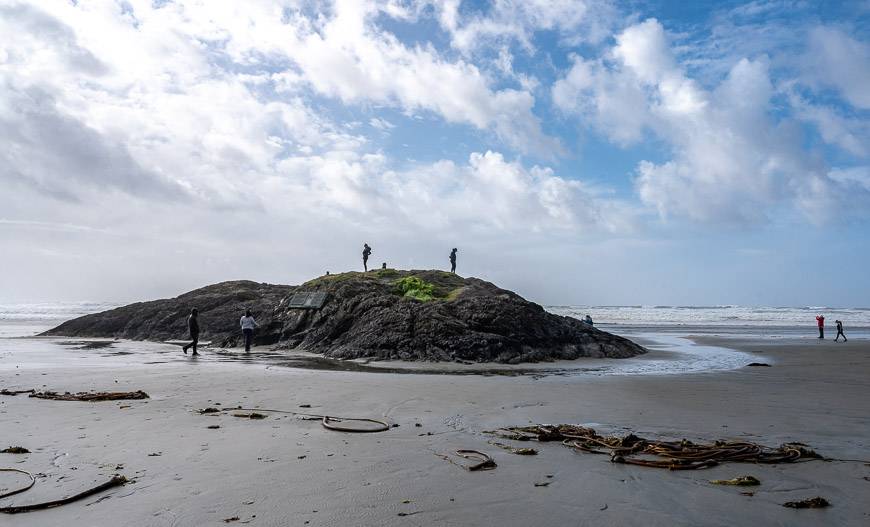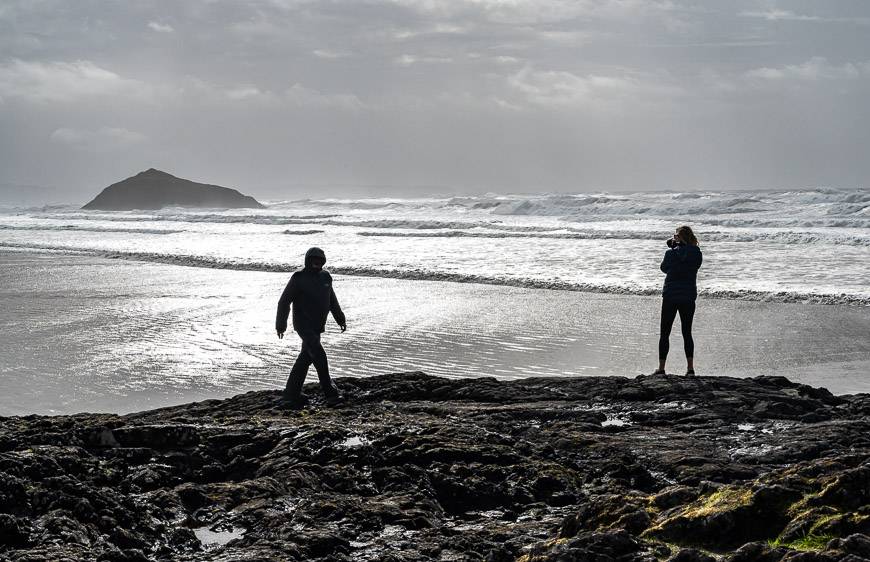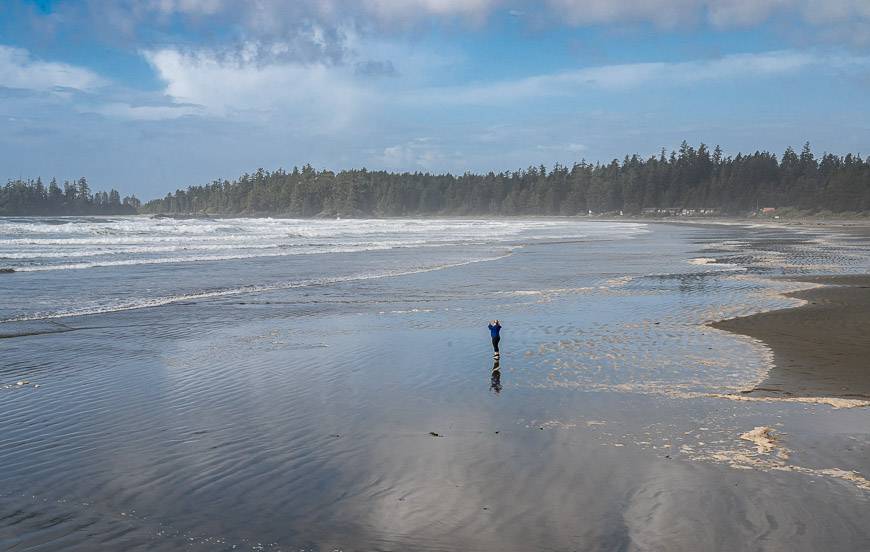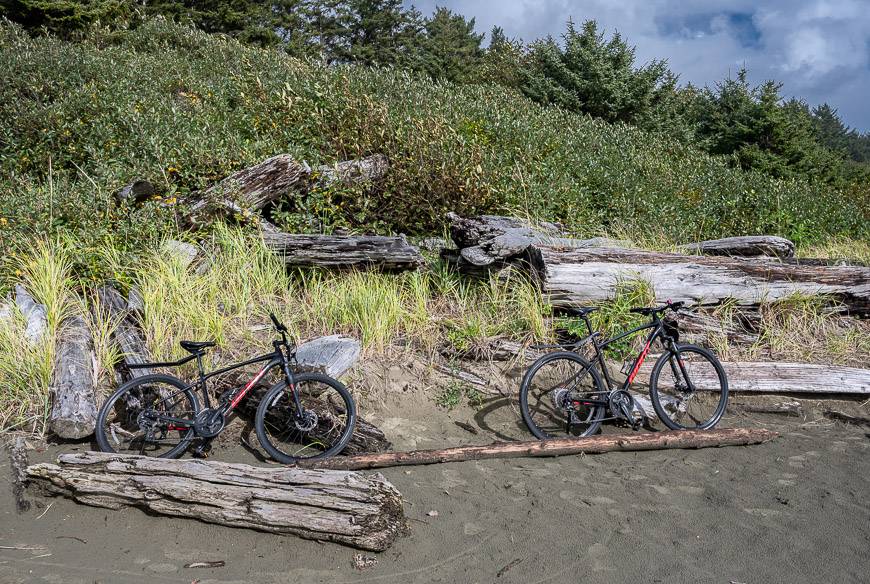 After you finish cycling through Pacific Rim National Park Reserve, it's roughly 8 km to get into Ucluelet from the Highway 4 intersection. The trail into town is surprisingly hilly so be prepared for more of a workout than anywhere else on the bike ride. When you get close to town, be mindful of cars as there isn't any barrier between the trail and the road. Reach the Ancient Cedars Loop Trail on the outskirts of Ucluelet.
Ancient Cedars Loop Trail
It's worth the 15 minutes or so that it takes to hike the Ancient Cedars Loop. Add 5 – 10 minutes to the loop and hike down on the Wild Pacific Trail to see the crashing waves. It was called an EXTREME wave day when we did this hike and what a thrill it was. Sets of massive waves roared in and then crashed onto the beach.
There are some dandy big cedar trees on the hike too – so lock up your bike and be sure to do this quick side trip.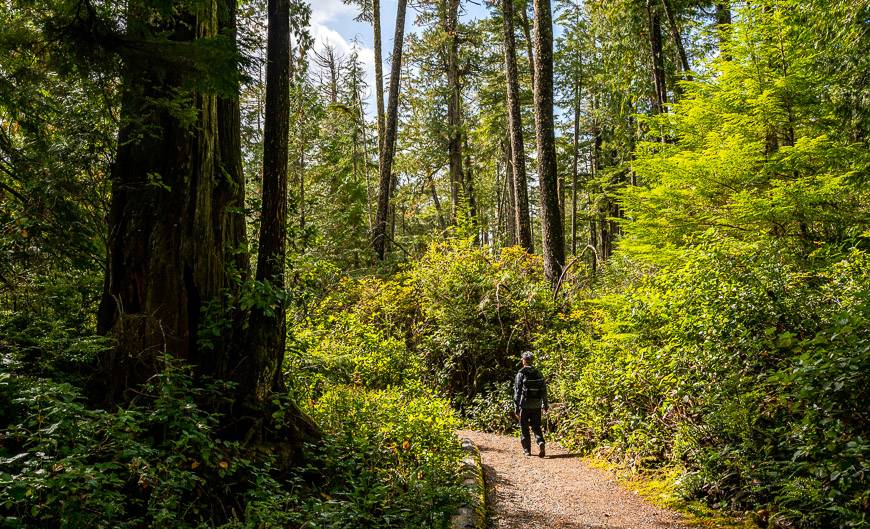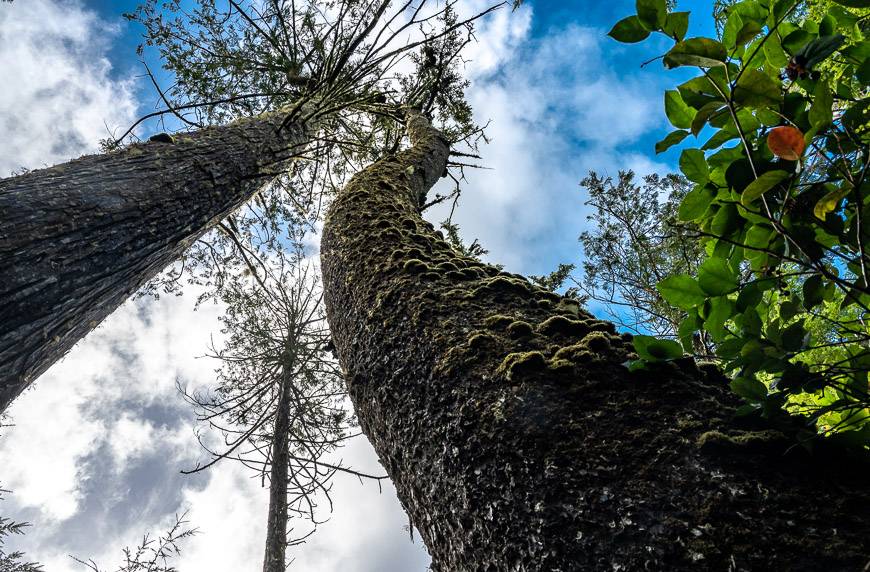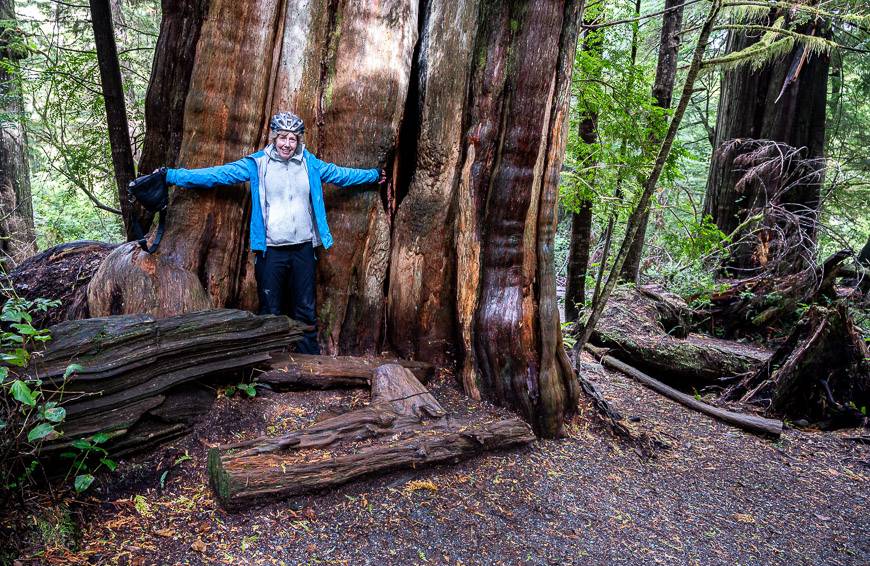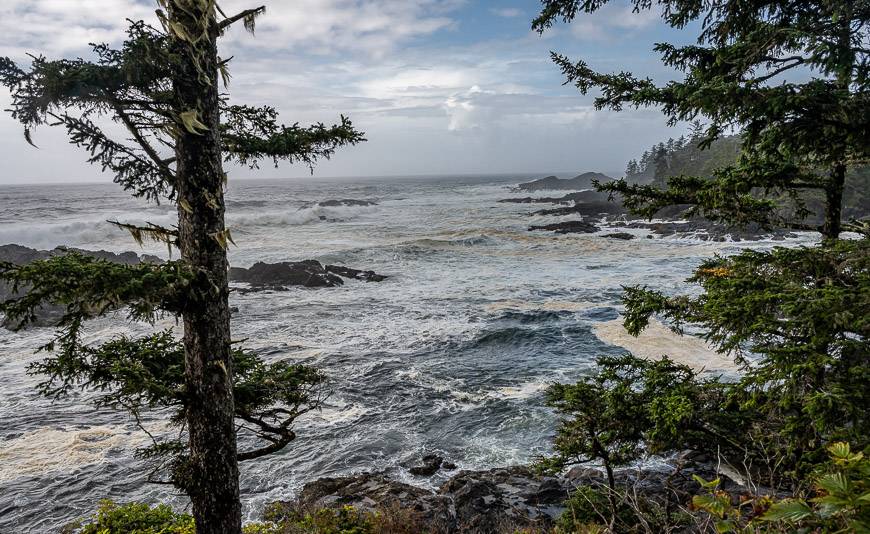 Where to eat between Tofino and Ucluelet
If you started in Tofino and have made it to the end of ʔapsčiik t̓ašii, then you might be getting hungry. For those of you comfortable cycling the shoulder of a highway for a short distance (about a kilometre), keep going towards Ucluelet. At the intersection with Highway 4 where the highway takes off to Port Alberni there is a food truck serving sandwiches and UkeePoke – serving from what I understand fantastic poke. You can't miss either of them.
If you can hang on, there is lots of choice once you reach Ucluelet – but you will have to climb some hills to earn your lunch. Snag a picnic table at Zoë's Bakery Cafe and dig into one of their soups or sandwiches. Baked goods are excellent too.
Once you're back in the Tofino area there are loads of restaurants and cafes. Tacofino, a stone's throw from where you drop your rental bike, is one of your best bets.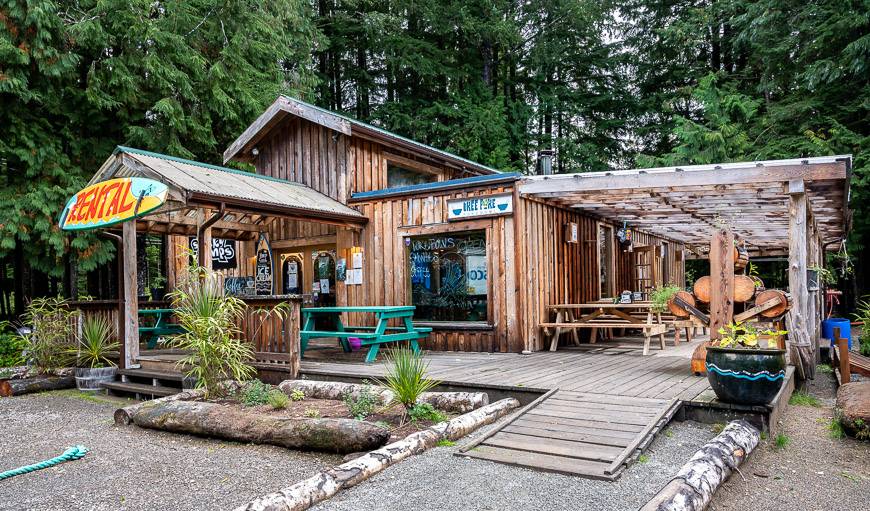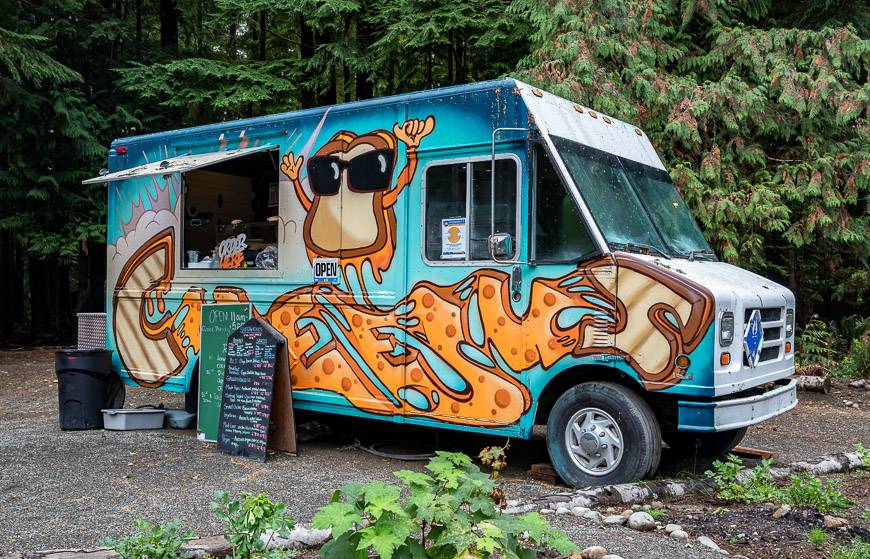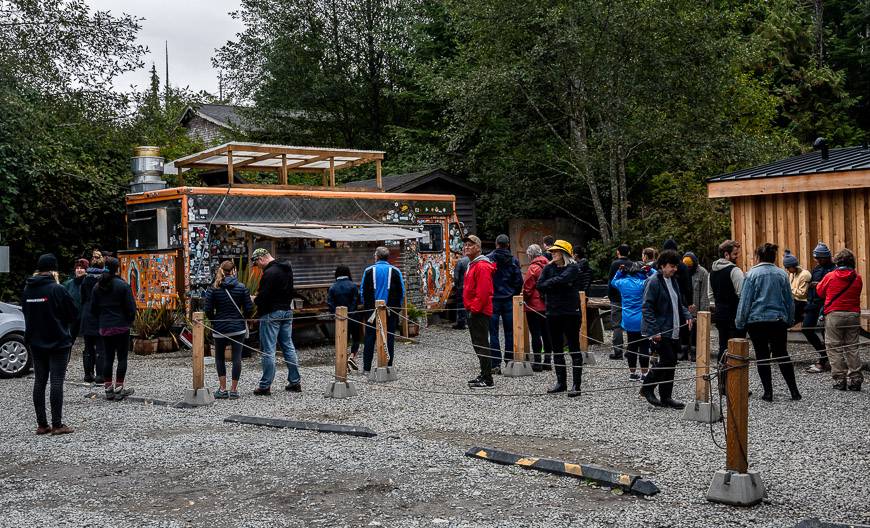 Where to rent a bike in Tofino
We were provided with two complimentary bikes from the Tofino Bike Company, located just off Tofino's multi-use trail. (Thank you.) Rentals come with a lock, helmet, and map. Rates are in the order of $35 per half day and $45 per full day. They do not rent e-bikes, but you can rent one in town from Tofino Electric Bikes.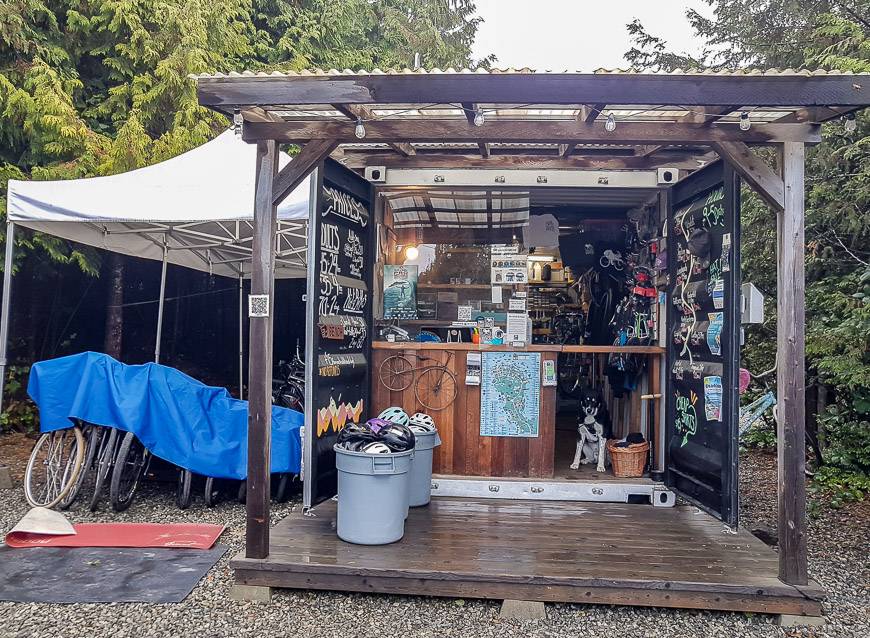 Where to stay in Tofino
I have a few favourite places to stay in Tofino over my multiple visits to this charming town.
A few of my favourites include Long Beach Lodge Resort – offering up easy access to the beach and a wonderful hot tub.
I have also enjoyed multiple stays at Middle Beach Lodge. Their great room is a fantastic place to hang out.
Seafarer's Bed & Breakfast, just 100 metres from the beach, comes highly recommended.
Even though Zed Tofino isn't on the water, it's a popular hotel and the dining room is very good.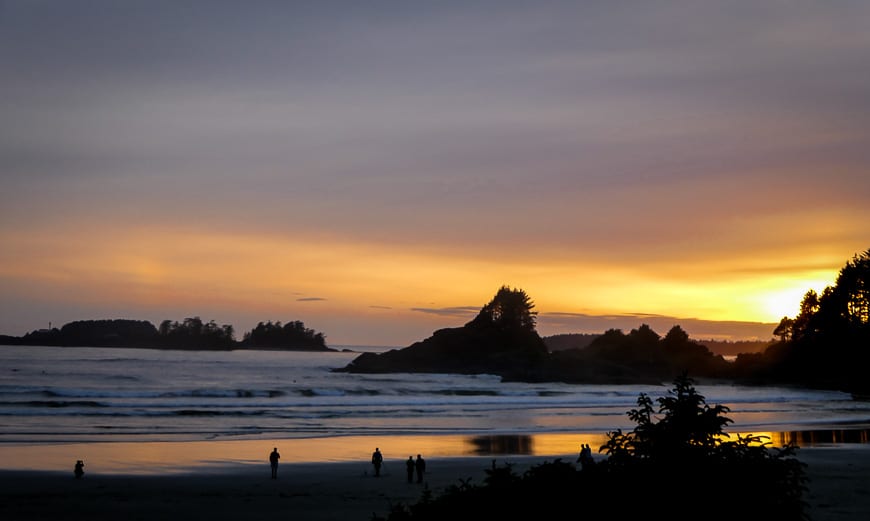 Getting to Tofino
If you don't live on Vancouver Island, you'll need to take one of the BC Ferries to Departure Bay or Duke Point in Nanaimo, Swartz Bay in Victoria, Port Hardy or Comox depending on where on the mainland you're starting from. The drive from Nanaimo to Tofino is normally three-hours long via Highway 19 North and Highway 4.
The Kennedy Hill project is finished but can still visit Drive BC for updates.
You can also fly to Tofino from Vancouver, though rental cars are at a premium.
A few things that will come in handy on your Tofino to Ucluelet bike ride
In this part of the world, it can rain A LOT, though summers can be amazing. Still if you don't want to be stopped by the rain, it would be a good idea to dress for it.
Being the fashion queen that I am, I would recommend a hotel shower helmet on top of your bike helmet if it starts to rain. You can also buy a helmet cover that would make you look a little sportier.
Long fingered bike gloves could come in handy on cool days.
Carry a few layers. I love arm warmers and leg warmers that are easy to slip off and on. If you stop at Long Beach for any length of time you'll probably also want a raincoat or wind breaker.
For more information and to keep current on the trail status visit the Pacific Rim National Park Reserve website.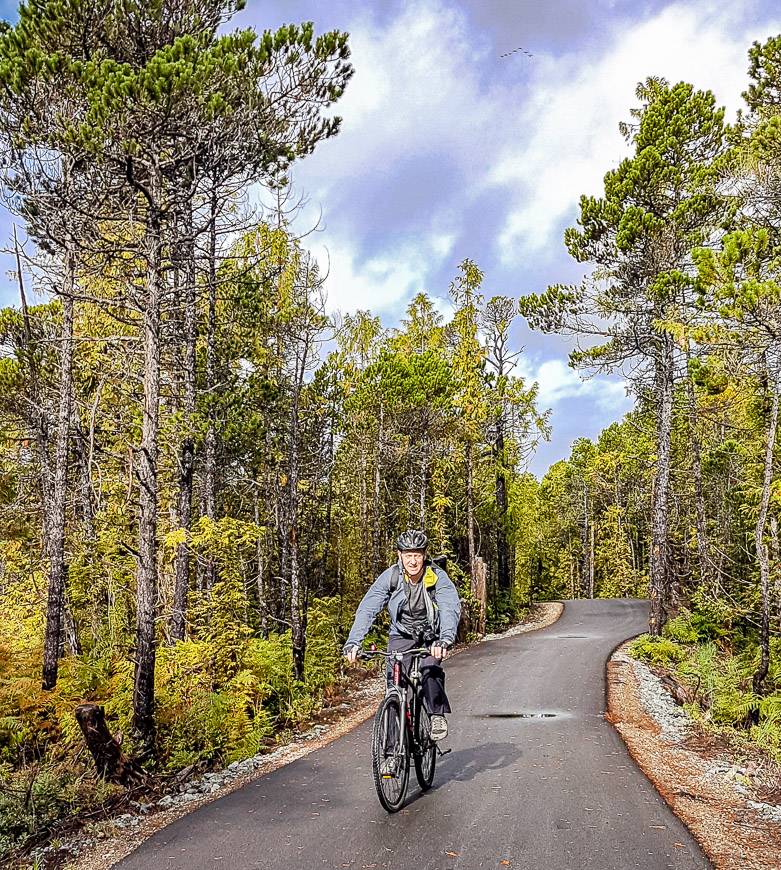 Further reading on things to do on Vancouver Island
Click on the photo to bookmark to your Pinterest boards.