The Nootka Trail now ranks as my favourite coastal trail in BC. It stretches for 37 kilometres along the west coast of Nootka Island off the coast of Vancouver Island.
What it offers is a true wilderness experience with a backdrop of sublime west coast scenery. Most of the hike is beside the ocean on a mix of hardpacked sand beach, slippery boulders, and rocky shelves. The forest hiking ranges from spectacular with massive giant trees to horrible sections filled with mud and slippery logs.
What sets the Nootka Trail apart from other coastal hikes is the lack of people as it sees perhaps 500 hikers a year, versus around 9,000 on the West Coast Trail.
And while the number is growing, you still won't run into as many as most people hike from north to south. John and I shared this adventure with two blogger friends – Gemma and JR from Off Track Travel. A big thank you to them for making it so much fun.
Put this Nootka Island hike on your must do list – and do everything in your power to keep it pristine. It still feels untouched, save for some of the junk that washes up from Japan and it would be great to keep it that way.
In this blog you'll find most everything you need to know to hike it. Scroll through the table of contents to get to a section that interests you and shoot me any questions if I've left something unanswered.
This post includes some affiliate links. If you make a qualifying purchase through one of these links, I will receive a small percentage of the sale at no extra cost to you. Thank you very much for your support.
Nootka Trail highlights
A quieter experience than most: Few people especially compared to the West Coast Trail. Four of us had the trail to ourselves.
Animals: You can count on seeing animals, whether its bears, whales, seal, or wolves.
Beaches: Lots of beach hiking. Although there are stretches in the forest, most of the hike is along a beach, so you get continuous views for hours at a time.
Campsites: They're beautiful – and they are roomy. You also don't have to worry about booking in advance.
First Nations history: You end in Yuquot, on the traditional lands of the Mowachaht Muchalat First Nations. Allow time to visit the church, learn the history and speak to Darrell, the son of the chief who spends his summers here.
Location of the Nootka Trail hike
You'll find the Nootka Trail on the west coast of Nootka Island. It's about 30 minutes by float plane west of Gold River.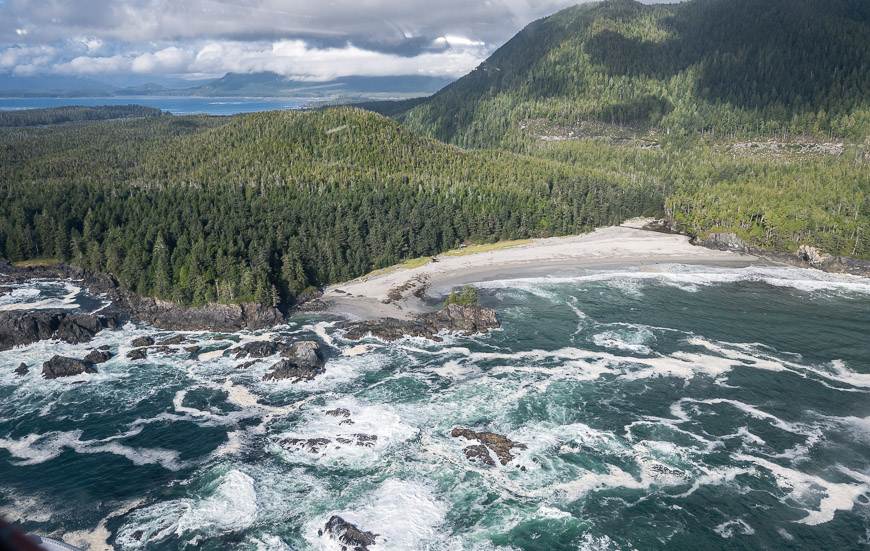 Best time to hike the Nootka Trail
July and August are the most popular times to hike the Nootka Trail, but May, June and September can also work. According to the lighthouse keepers at Friendly Cove, there are more people hiking it in October now but consider how much daylight you have!
Sarah from Shorebird Expeditions says she is getting more calls from people inquiring about doing the trail in the winter.
However, she states "the creeks become rivers, the surf is huge, the winds are nasty, and the rain can be non-stop, sometimes for days and even weeks at a time."
Even on a peak season trip you may experience cool temperatures, fog, sun, high winds, and unrelenting rain. We did a five-day hike beginning on September 18th and enjoyed almost summer-like weather on four of the five days but if we'd booked the week before, we would have run into a major storm that dumped about 10 cm of rain.
The bottom line – go prepared for whatever Mother Nature dishes out.
Know before you go on the Nootka Trail
The Nootka Trail is not for the novice or out of shape hiker. Even though the trail distance is short – under 40 km – there are numerous hazards.
You need to be mindful of foot placement especially in wet conditions where one fall can become a serious problem.
Look for fallen logs (often slippery), blowdown, slippery roots, boulders, mud, steep slopes where climbing up with the aid of a rope is a must, creek crossings, tidal lagoons and tidal creeks, rogue waves and even tsunamis. Wildlife encounters are a possibility too.
Wildlife you might encounter on the Nootka Trail
On the Nootka Trail you can count on seeing wildlife.
We saw seals and sea lions at Bajo Point. And we ran into black bears on numerous occasions – counting eight in total, including three cubs.
JR and I also saw a lone wolf briefly, but we saw their tracks everywhere. When we flew out, our pilot commented that a pack of wolves was on the beach at Beano when he'd flown by earlier in the day.
Maquinna Point is reportedly a great spot to see whales – including gray whales, humpback whales and orcas. Unfortunately, we didn't see any but at least the view is still first-rate.
There are cougars but we didn't even see tracks – and plenty of sea birds.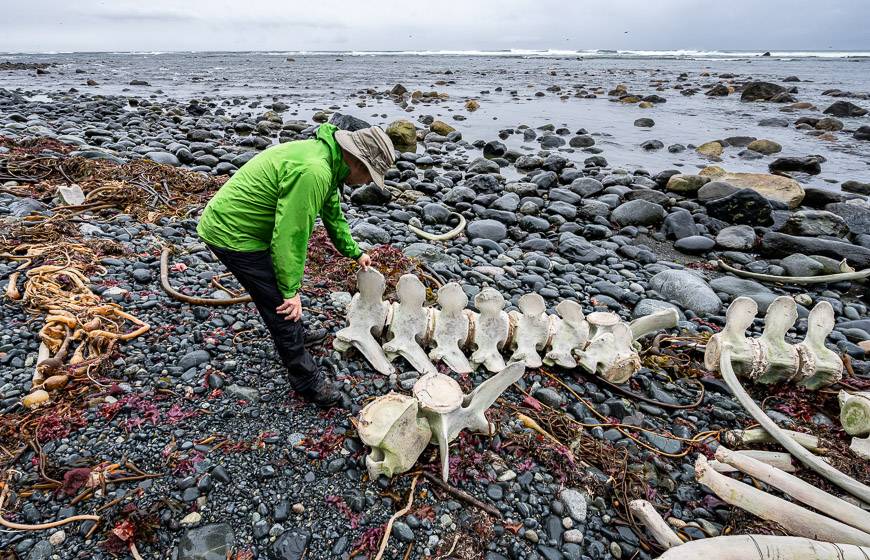 Daily distance and campsites on the Nootka Trail
There are three trailheads – Starfish Lagoon – which on some maps is Louie Bay Lagoon, Tongue Point, and Yuquot or Friendly Cove.
Bear lockers: What you won't find at any campsites are bear lockers (be prepared to hang your food) but all have water sources. Note that the first campsite east of Maquinna Point has brown water but its fine.
Open toilets: Also called green thunder pots. They have now been placed along the Nootka Trail (as of summer 2022). Locations include First Beach, Third Beach, Calvin Falls, Beano Creek, Calcium Creek, and Sea Stack. According to one reader, she thinks they are probably also at Skuna Bay and Sunrise Beach.
Campsite location: Campsites are located at First Beach, Skuna Bay (though not a great camping area), Calvin Falls, Beano Creek, two marked on the map around km 27 near a waterfall – that may or may not be running, along with one at the boundary of the Yuquot Indian Reserve.
Getting to and from the Nootka Trail
It's a great adventure just getting to and from Nootka Island – and a scenic one too. But be sure to make reservations. The advantage with most of the operators is that you can book the exact day and time you want to travel.
Access points to water taxis or the float plane are via Gold River, Tahsis and Zeballos. I found Gold River, a logging town, to be the easiest to access.
The vast majority of hikers fly into Louie Bay Lagoon (Starfish Lagoon) at the north end of the trail with Air Nootka though a water taxi to Tongue Point is also an option.
At the end of the trail at Friendly Cove you have many choices. You can book a water taxi through Shorebird Expeditions out of Tahsis, the Zeballos water taxi out of Zeballos, the M.V. Uchuck III – a supply ship which is offering Fridays only boat rides to Gold River during COVID or the float plane back to Gold River.
As of 2023, BC Air out of Campbell River flies to Nootka Island. They fly with up to five people to Calvin Beach. They are a great option if you only want to hike part of the Nootka Trail.
Our group of four opted for the float plane to save time.
Getting to Gold River
Many hikers travel some distance to experience the Nootka Trail. If you're coming from the mainland, hop on board one of the BC Ferries – and get off at Departure Bay or Duke Point in Nanaimo, Swartz Bay in Victoria, Port Hardy or Comox depending on where you're starting from.
Drive to Campbell River. Then go west on Highway 28 through Strathcona Provincial Park for 90 km. The Air Nootka facility is 13 km south of Gold River. Access to Tahsis is also from Gold River.
Costs to hike the Nootka Trail
There are no reservation or campsite costs associated with hiking the trail. But there is a fixed cost of $50 per adult payable to the Mowachaht/Muchalaht First Nation through this website or you can pay in cash when you get there.
The fee allows you to hike through the Yuquot portion of the Nootka Trail and to camp in the village of Yuquot. I also noticed on the website that there is a $20 landing fee per group, but I believe that pertains to landing at the dock in Yuquot, though I could be wrong.
The bulk of the cost relates to getting to and from Nootka Island.
By air
By air with Air Nootka to Louie Lagoon it's $708.75 CAD for 3 passengers in a Cessna. A Beaver that can hold 6 passengers is $945. Flying back from Friendly Cove to Gold River will set you back $393.74 for 3 passengers in a Cessna and $525 for 6 passengers in a Beaver.
You can also fly to Calvin Beach with BC Air out of Campbell River as of 2023.
Advantages of flying: The flight itself is spectacular, especially on a clear day. The route takes you along the length of the trail, so you get an idea of the terrain you'll encounter.
It's also easier to drive to Gold River than anywhere else. And it's fast. We didn't get on the plane till 3:45 PM but still had enough daylight to hike to the first camp so if you're short on time, flying is great.
Disadvantages of flying: It's certainly more expensive, but the biggest issue is fog as the planes get grounded when it rolls in. The month of August is sometimes called Fogust – and you can end up waiting for a day to several days for the fog to lift. The reality is that the fog can show up at anytime though it's usually worse in summer.
By water taxi
Book a water taxi from Tahsis with Shorebird Expeditions. It's $500 for 5 people to Tongue Point near Louie Bay Lagoon. Add $20 more per person to a maximum of 10 people. The return trip from Yuquot is $350 as a base rate and $20 more per person to a maximum of 10 people. Prices may go up in 2022 if fuel prices stay high.
The advantages of a water taxi are price and the fact they can operate in fog. Also, landing at Tongue Cove allows you to hike past the shipwreck – a Greek freighter, Treis Lerarchi that was owned by Aristotle Onassis. It went aground on its maiden voyage after the autopilot failed and then broke up the next day in a big storm.
The disadvantage of a water taxi is the extra time to drive in on sometimes rough roads to either Tahsis or Zeballos. There is a minor parking fee in Tahsis of between $15 and $25 for the week.
Via the MV Uchuck III
Seasonal passenger service is offered by the MV Uchuck III, a converted minesweeper that is a link to communities in Kyuquot and Nootka Sounds. The boat boasts a lounge and a café with homemade food and books for sale.
Walls are lined with nautical charts and historic photos. Seating is both in and outdoors, so the boat ride is really part of the whole Nootka Trail experience.
The cost per person to take the boat to Gold River is $121. You can make an online reservation for the boat.
Important Nootka Trail hiking information
Dogs – This is not a trail where I'd recommend you take your dog, especially with all the wildlife. In fact, Darrell from Yuquot says he regularly loses a dog to the wolf packs.
Emergencies – There is no cell service along the trail, so you must be self-reliant. And the reality on some sections of trail is that help can be difficult to get, even if you get the word out. It would be a good idea to carry either a Satellite phone or an InReach. Gemma sent out daily texts to a few friends and relatives that included our location and how we were doing. She was also able to get weather reports.
Tide charts – The tides will dictate your hike because of tidal lagoons and cliff cut-offs. Carry tide tables with you. The best one for this area is Saavedra Islands but be sure to put in your trip dates.
Along the Nootka Trail there are 5 places that can be problematic.
The beach before Calvin Falls is not passable at high tide.
Wade Calvin Creek at low tide.
You need a low to intermediate tide to cross at Beano Creek.
Two kilometres past Beano Creek is a headland. Take the trail up the gully.
Tsa'tsil Lagoon at 32.5 km must be waded at low tide. Some people will swim it with packs on their heads at high tide, but I don't think I'd recommend that.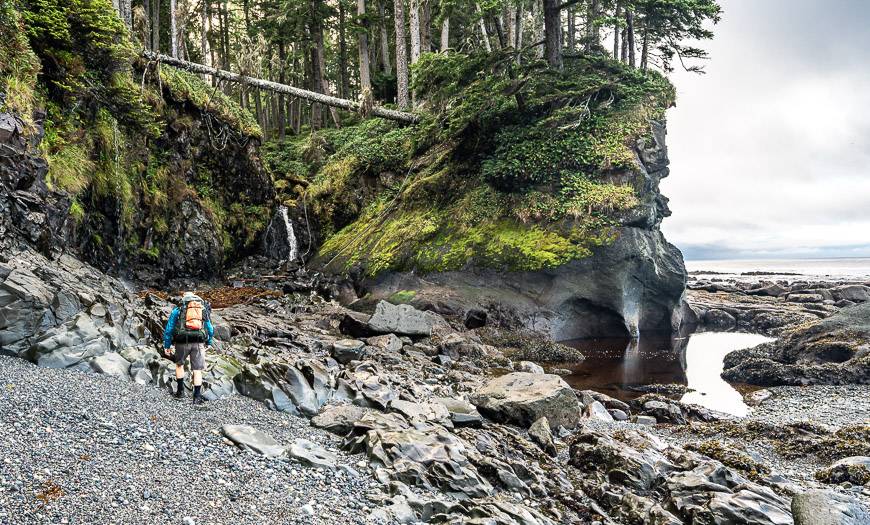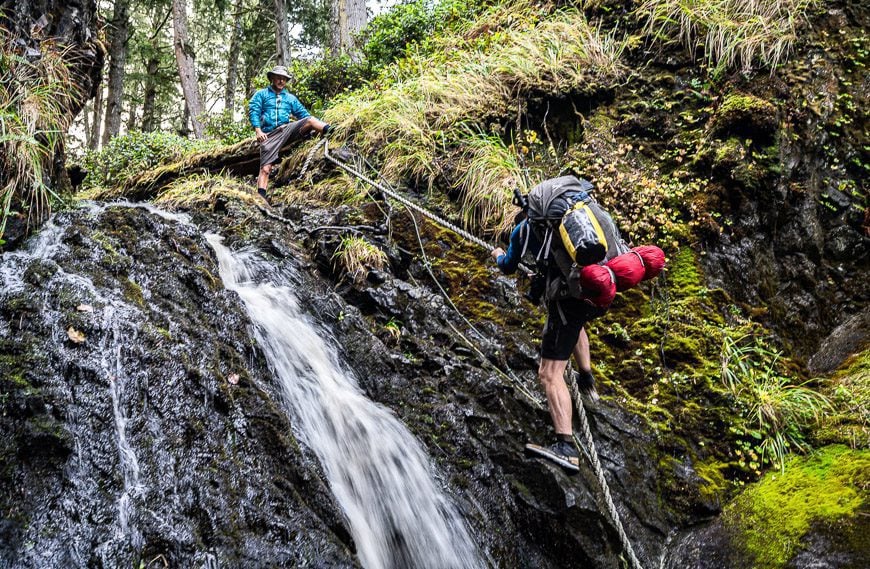 Maps
I highly recommend purchasing a paper map so you don't have to rely on a device with batteries. I bought John Baldwin's topo map for $25.

I also understand there is a map put out by Wildcoast. What it shows that others don't is the trail from Tongue Point to First Beach that cuts off a section along the coast that can be problematic at high tide. This wouldn't be an issue if you flew in.
Trip report from our hiking experience on the trail
It's only 37 km to hike the length of the Nootka Trail, but you still need to allow somewhere between 4 – 8 days, depending on your fitness level, side trips and days off. We did it in five days with each one briefly described below.
Day one on the Nootka Trail
We didn't even leave Gold River until 3:45 PM, so we didn't land in Louie Bay Lagoon until 4:15 PM. It probably took us another 15 – 20 minutes to get our hiking boots on (it's a wet landing) and packs ready to go.
Although it's only a kilometre to First Beach, it's a rough one and it took us just under an hour. In fact, within seconds of leaving the packs came off so we could get under a massive log.
I found the terrain tough going on the first day – mostly because I really didn't know what to expect despite all the research I'd done. It was a treat to arrive at the beach – my favourite, perhaps on account of the beautiful weather. It's on a large creek and there's lots of exploring you can do from there.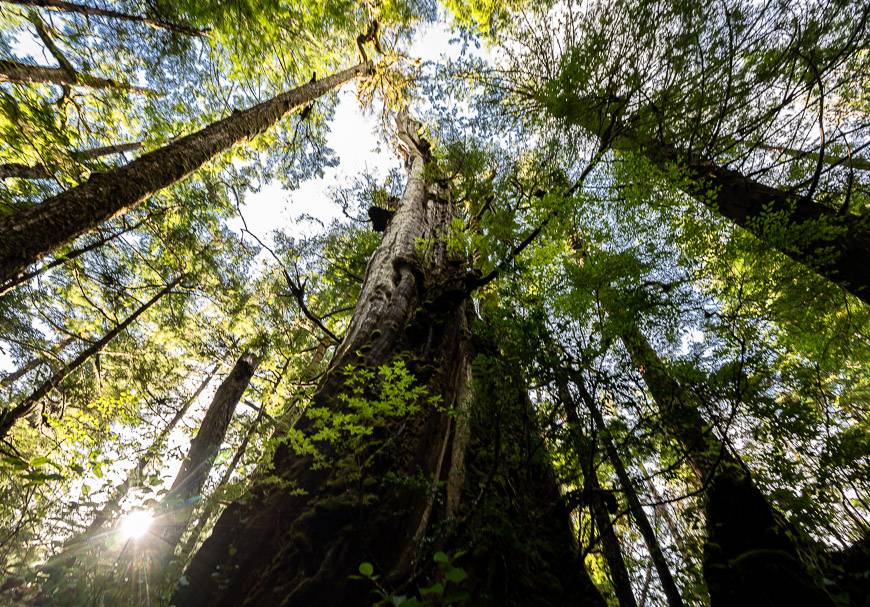 Day 2 to Calvin Falls on the Nootka trail
We woke to cool weather and cloudy skies. From there we had off and on showers – and enough stream crossings that by the time we rolled into camp 9 km later at Calvin Falls, we were all quite soaked.
Calvin Falls is considered to be the best campsite on the Nootka Trail. It's on a long, pretty stretch of sandy beach though when we were there it was windy and unappealing. On a hot summer day, hikers can get up the face of the waterfall with the help of a rope and soak in some potholes.
Most of the day was on the beach – though often it was hiking in knee-deep kelp. We saw bears on two occasions. The first time we noticed a large black bear on the beach and figured if we all had our bear spray out, we could make noise and march on by.
But then we saw not one but two cubs along with mama bear so we retreated to a log for about 45 minutes. They were in no rush to move on, but we were cold at this point and wanted to get to camp.
John beat an old oil drum washed up on shore and we marched along making lots of noise. The cubs and mama scattered but the male went up a tree and watched our movements. That was quite a sight.
One more bear sighting 10 minutes later – along with at least a hundred piles of bear scat had us all wondering how many more there would be. Fortunately none.
Camp on the second night was in the forest near some old surf shacks. It wasn't the prettiest place to be, but it was out of the wind, and we could cook inside the dry shacks.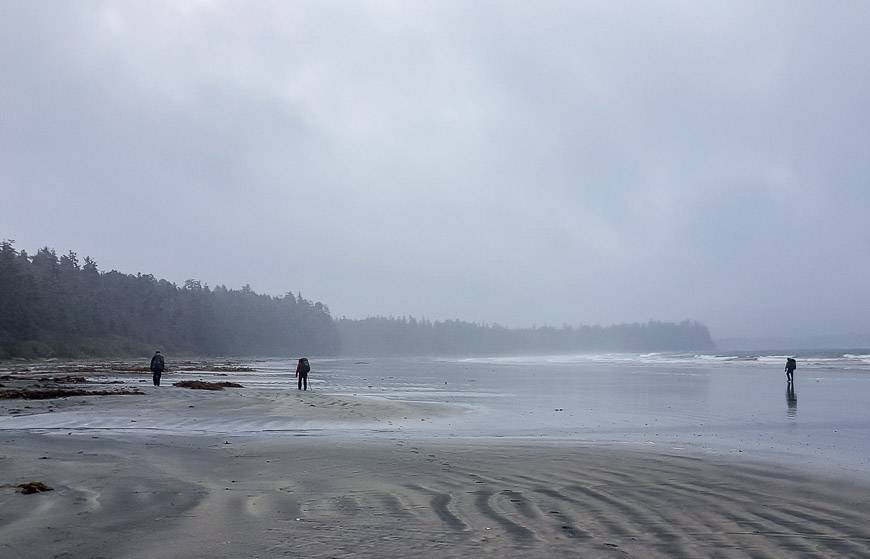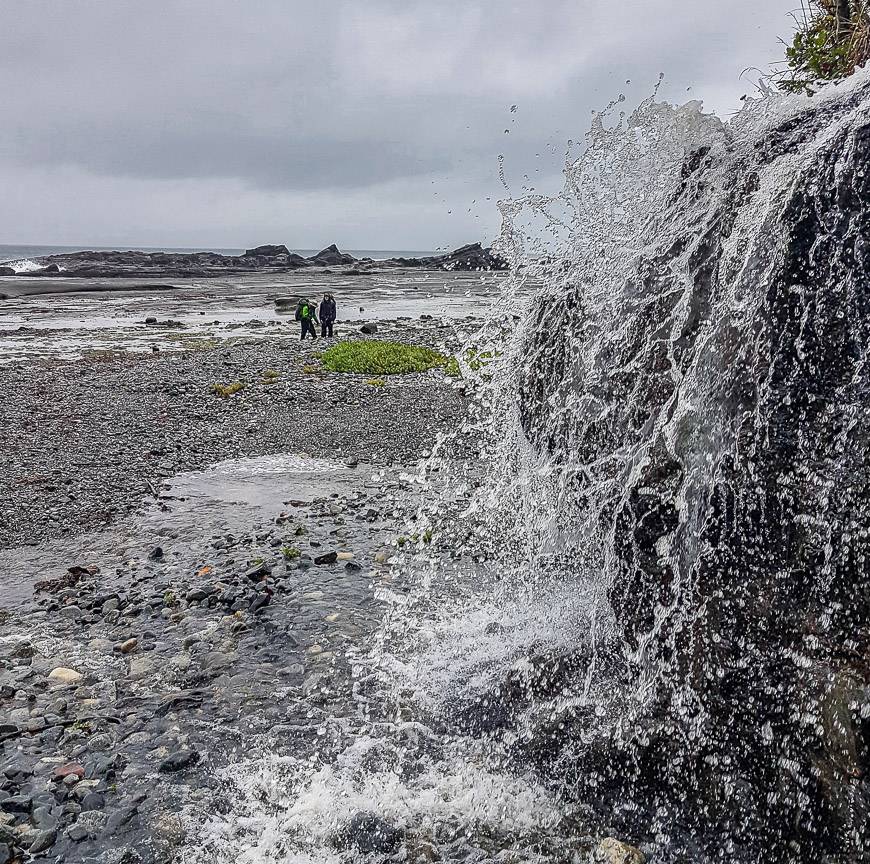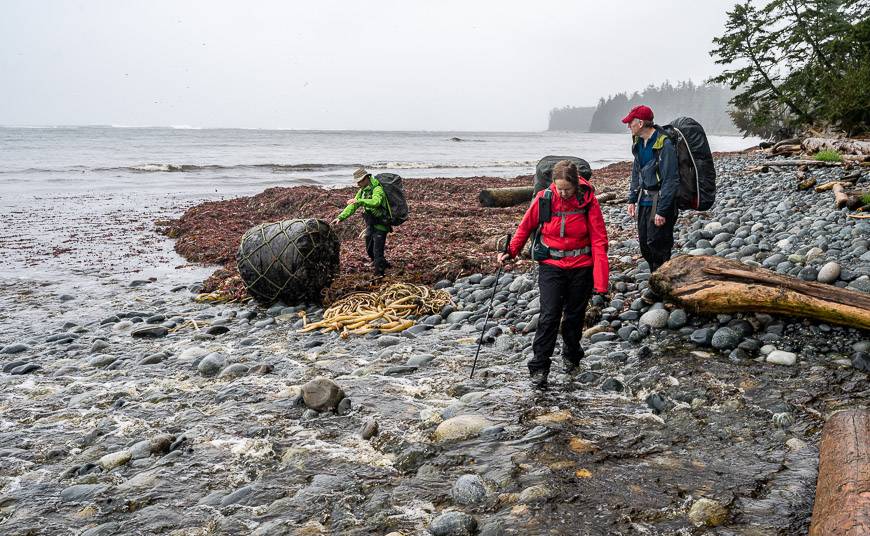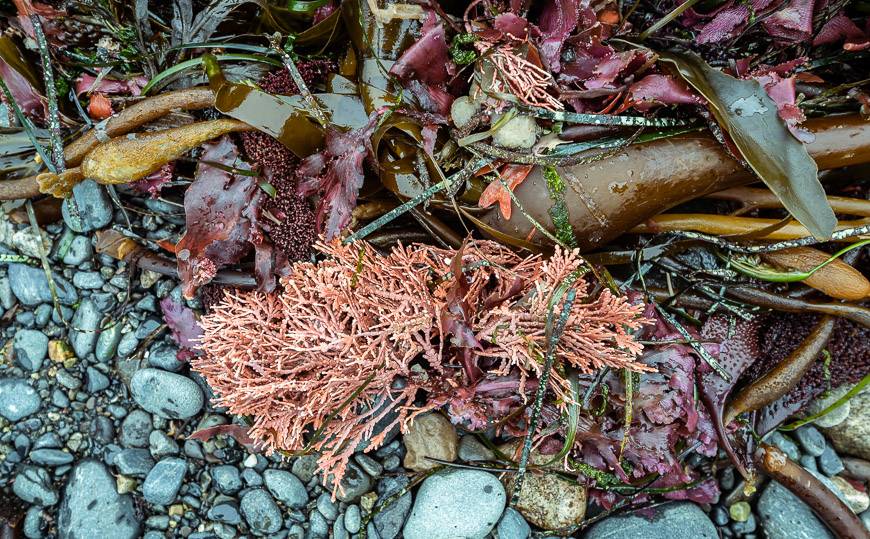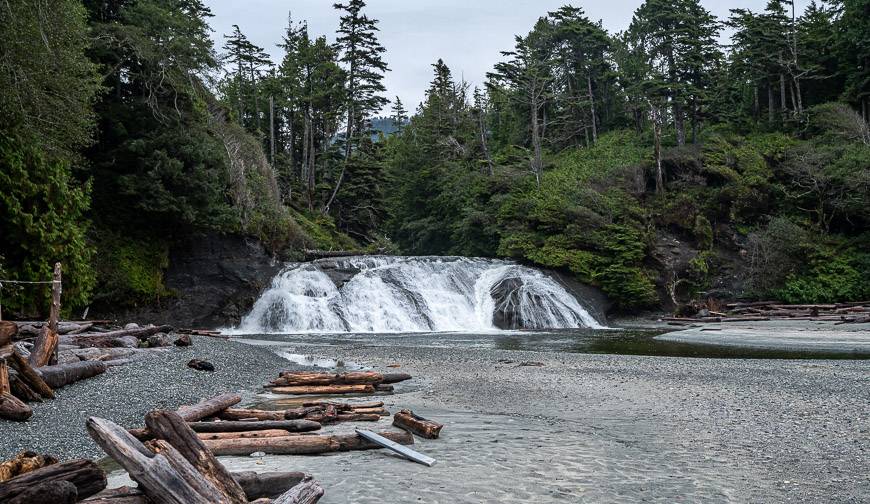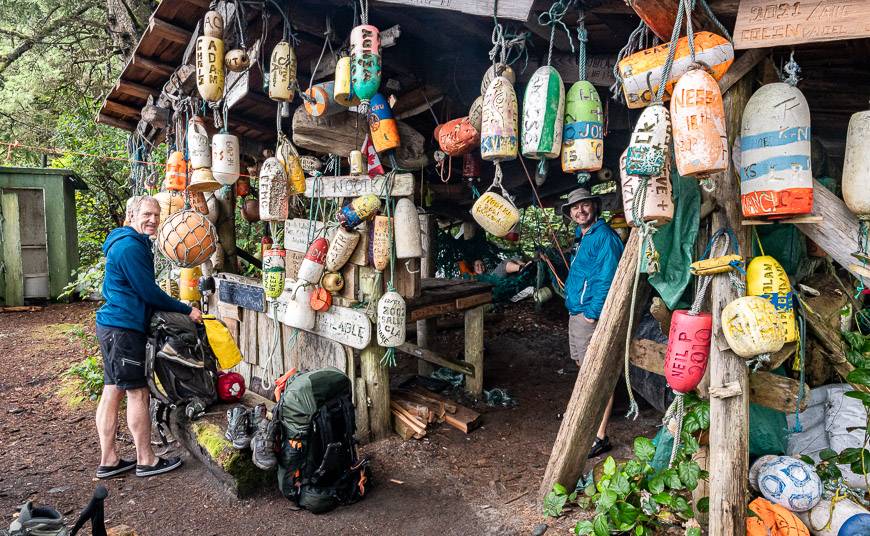 Day 3 hiking to Beano Creak on the Nootka Trail
Our goal on the third day was to hike to Beano Creek, 11 km away. The hiking was primarily along the beach or on rock shelves.
But the beach wasn't always easy walking – because of slippery small boulders. Still, it was only about a 5.5 – 6-hour day. We got lucky with the weather too – no rain, just cloudy skies.
We stopped at lunch time at Bajo Point – the outer southwest point of the island. We could hear the seals barking as we enjoyed a break. After we explored an ancient village called Aass but really didn't see much in the clearing.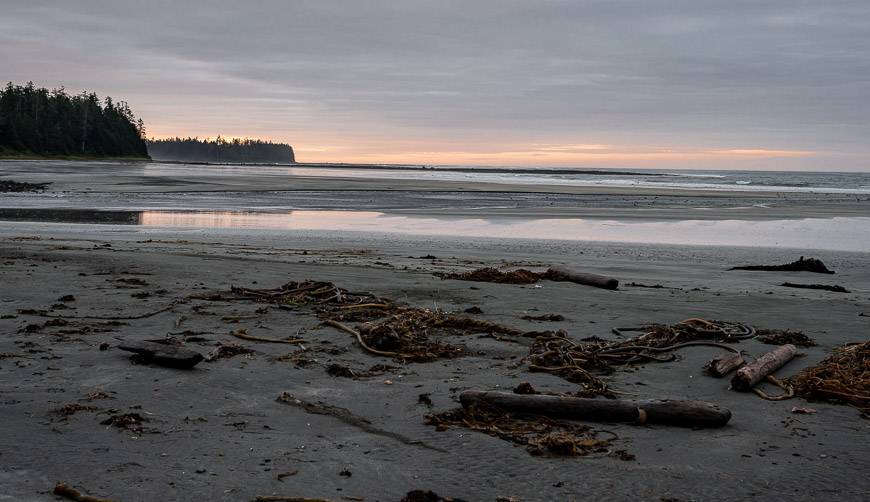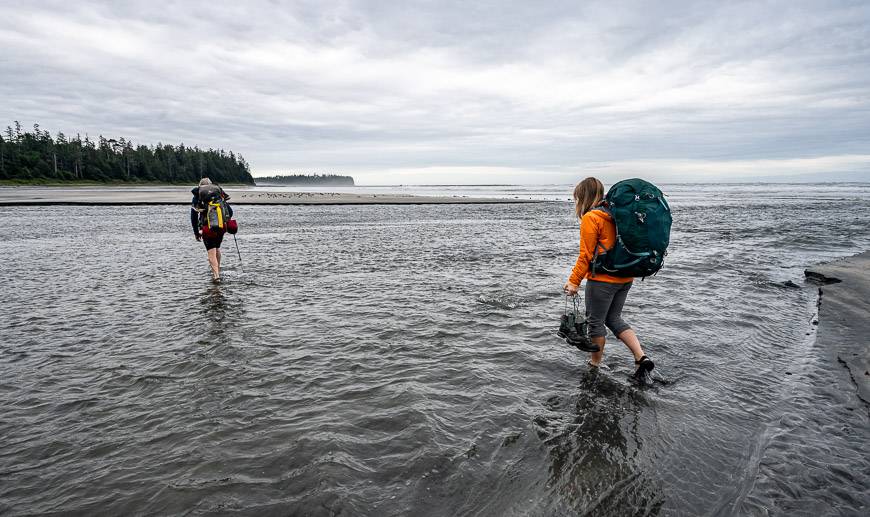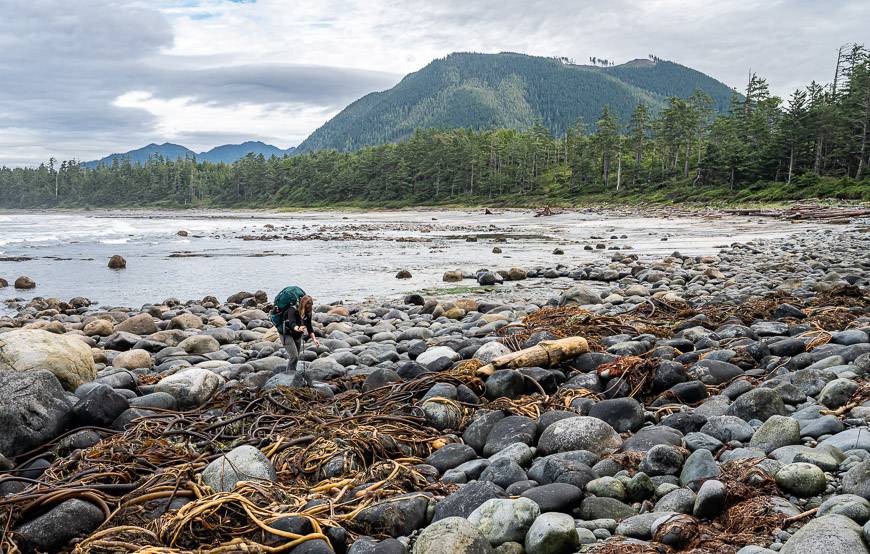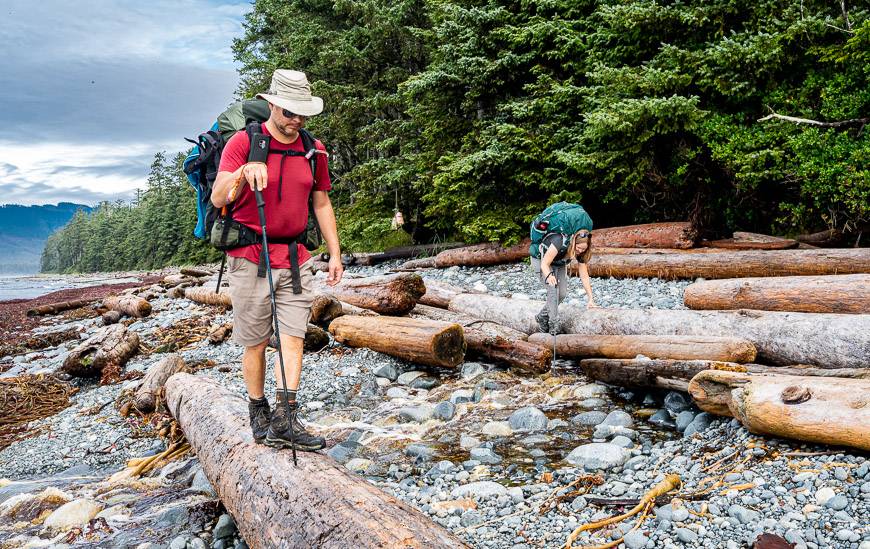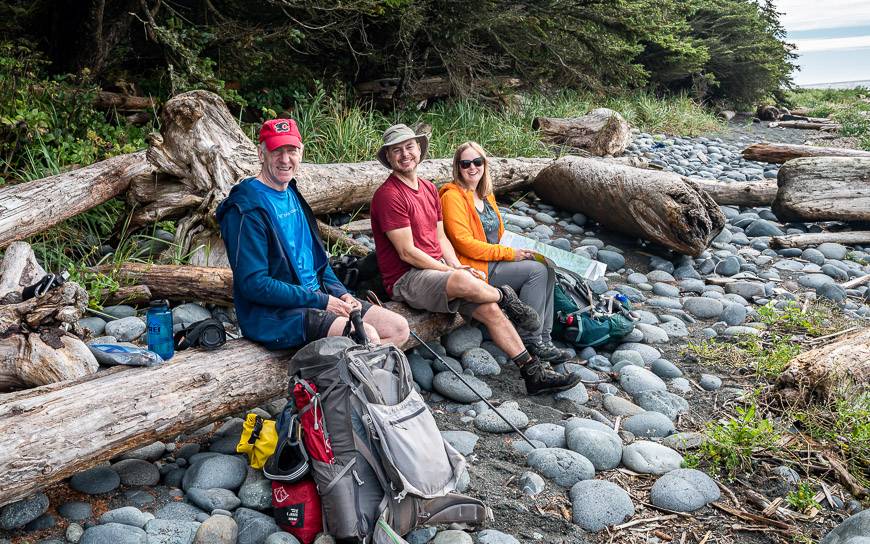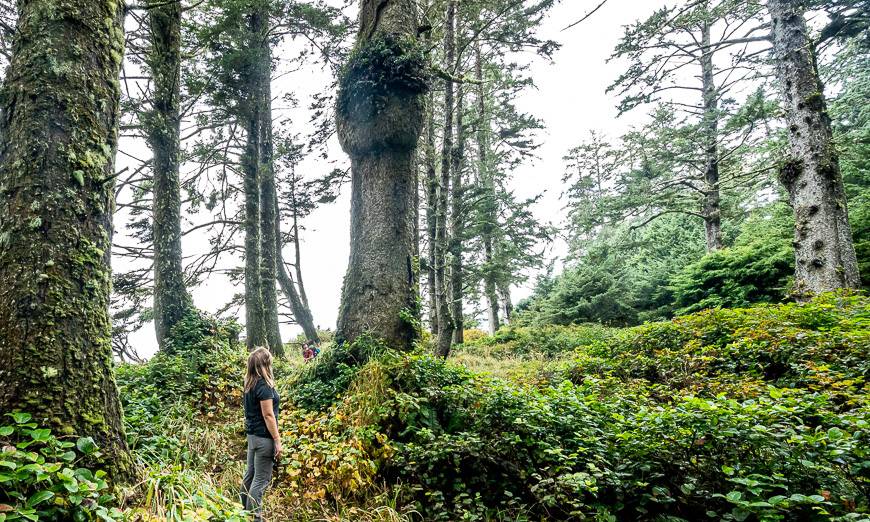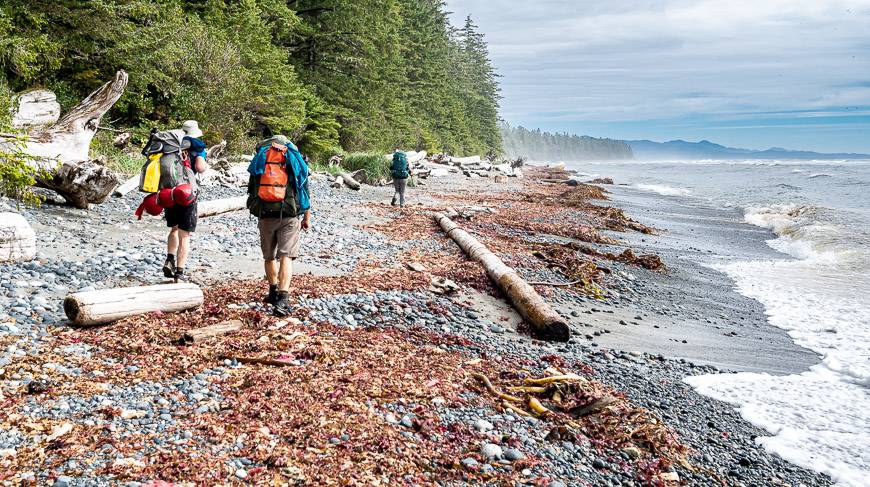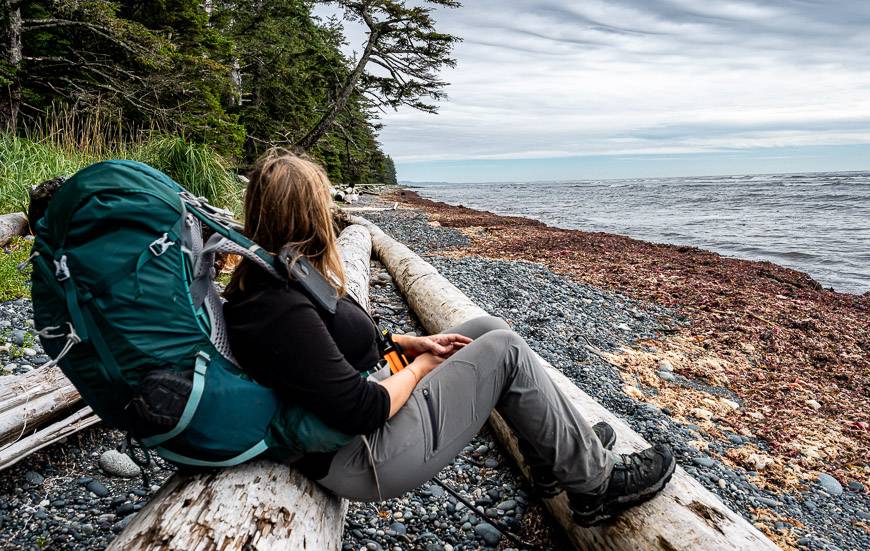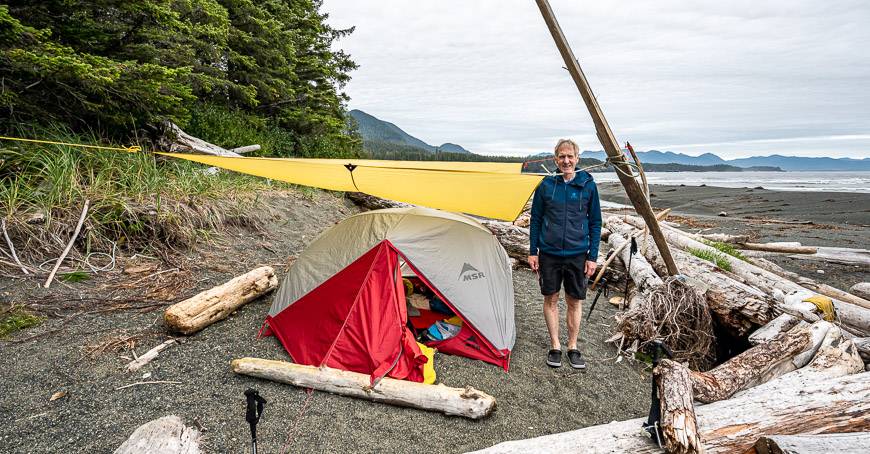 Day 4 – the hardest day on the Nootka Trail
This is the hardest day on the hike with people taking upwards of 11 hours at times to do the hike. We covered the 8.9 km in about 8.5 hours including a 45-minute lunch break. We were lucky with the weather – sunshine and warm temperatures.
We were up at 5:30 AM so we could be hiking by 7 AM as we didn't know how long it would take, and in late September it gets dark early.
I think we were all surprised at how well we moved and how quickly we reached Maquinna Point. The hike did start off with a deep wading of Beano Creek – followed by meeting up with one of the cottagers who looked like a sage with her robe and staff.
From there we had a steep climb up a cliff face (use the rope on the left!) followed by lots of time in the forest.
We crossed numerous pocket beaches before reaching the campsite with a small waterfall. Do make the short side trip to Maquinna Point as the coastline in the area is gorgeous. From there it was a slog through thick forest to reach another nice campsite at Sunrise Beach.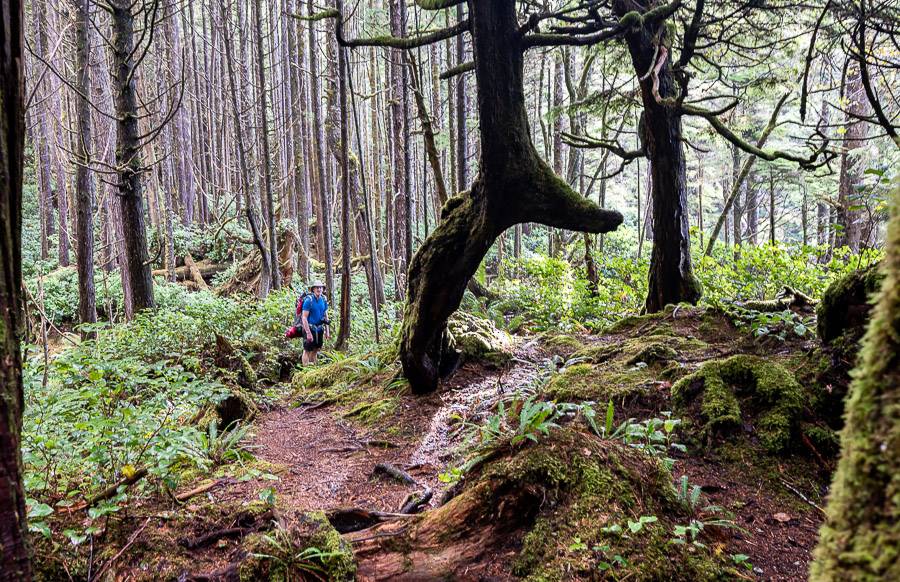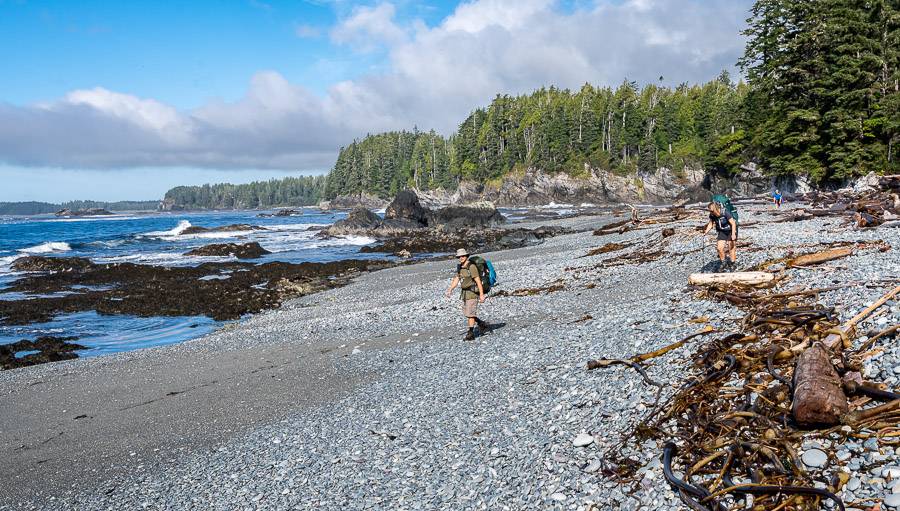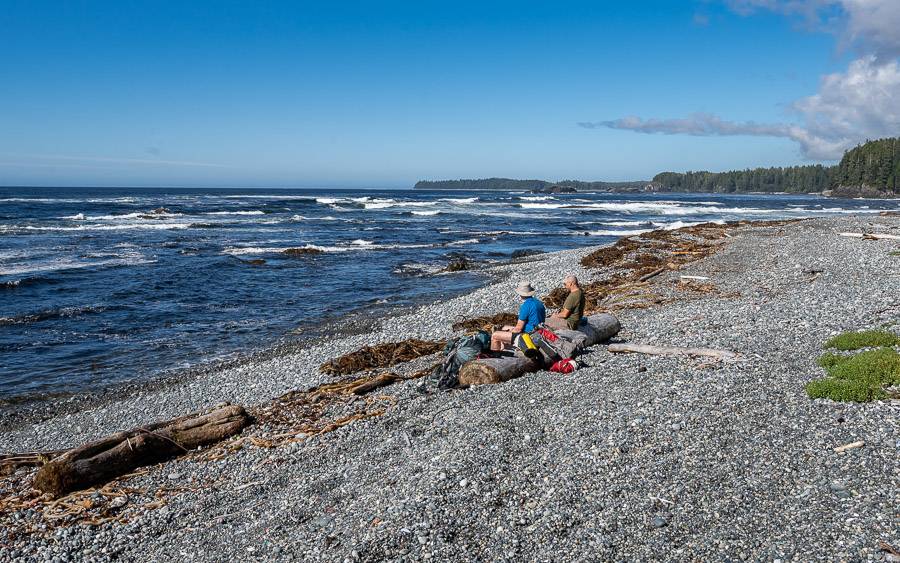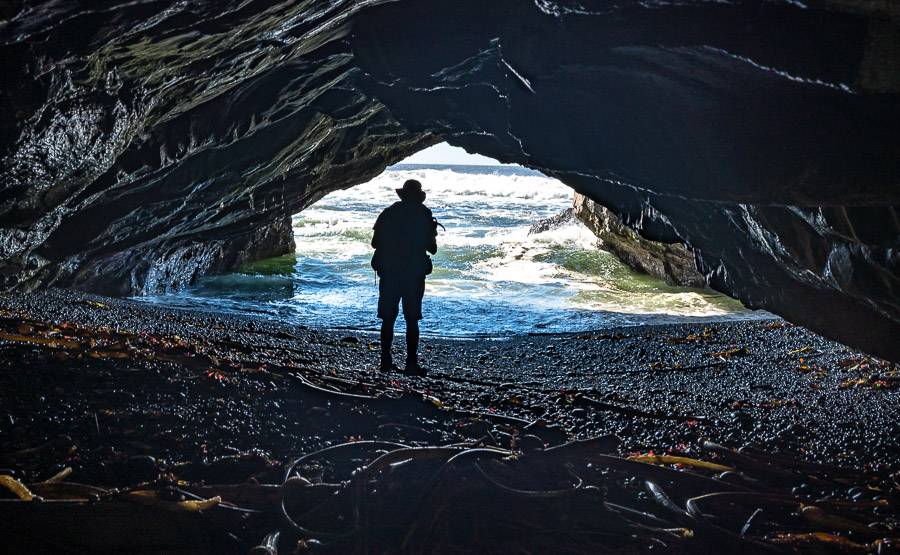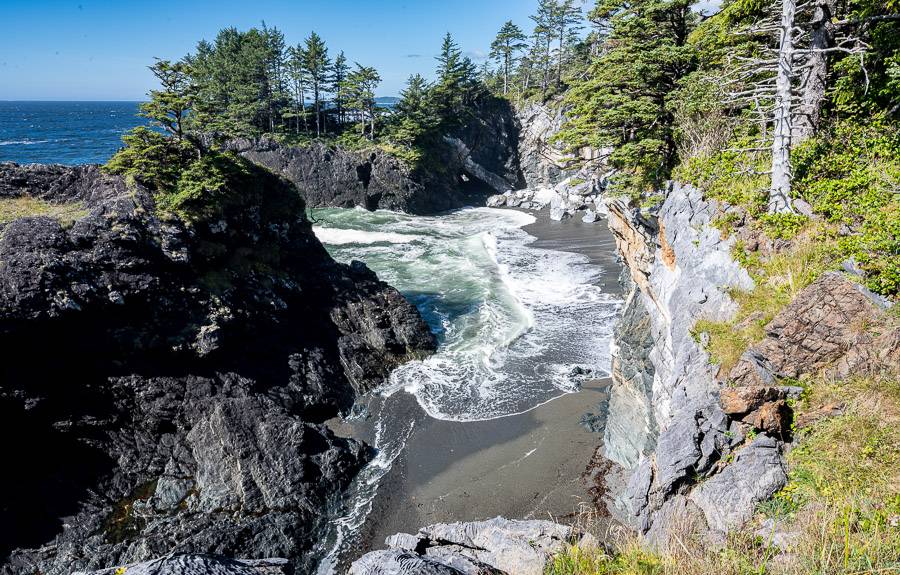 Day 5 and the last day on the Nootka Trail
Our last day was a short one. We only had to hike about 3.5 km, something we were able to comfortably do with lots of stops in under two hours.
After crossing the tidal lagoon, it was only about a 30 minute walk to the village. That gave us plenty of time to explore Yuquot and visit the lighthouse before our plane came to pick us up at 3:30 PM.
You can finish the trip with a stay in a cabin – which might be quite appealing if its rained a lot. Learn more about them here.
At the lighthouse be sure to go up and visit the lightkeepers – a husband and wife team that have been doing this full time for over five years now. They have loads of stories to tell and are happy to tour you around.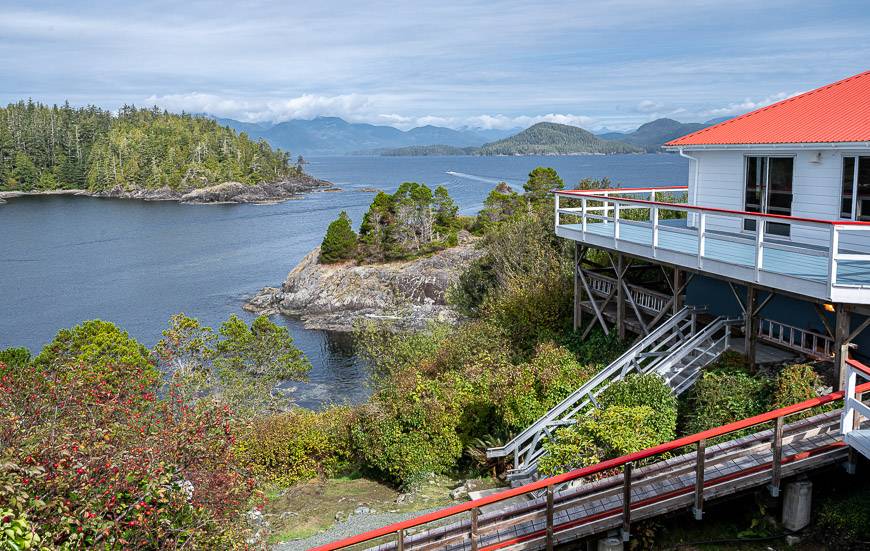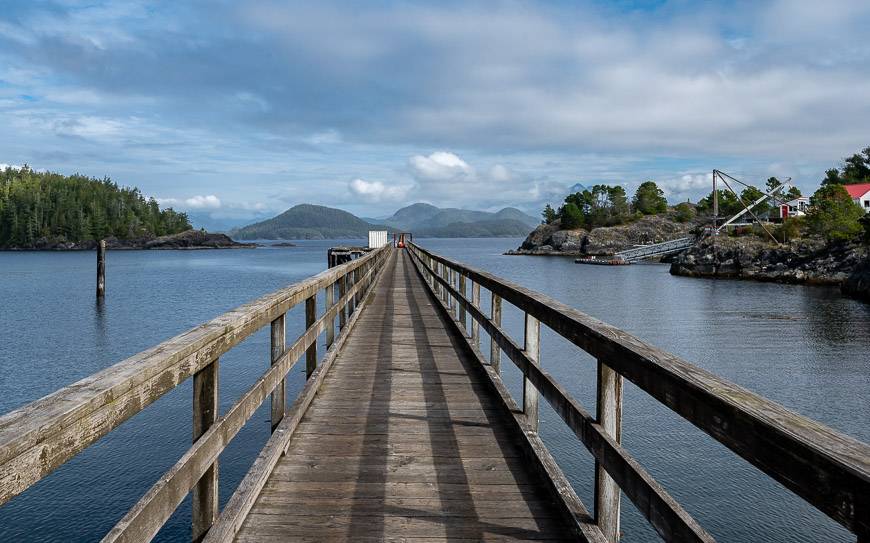 Yuquot – Friendly Cove at the end of the Nootka Trail
Yuquot is the end point of the Nootka Trail. The area has a long and colourful history including the fact that Captain Cook landed here – claiming the land for England in 1778.
Then the British and Spanish almost went to war over the sea otter fur trade. And now it's the traditional summer home once again of the Mowachaht/Muchalaht First Nation though only one family lives here full time. Be sure to go inside the church and read the plaques describing the history in greater detail.
Items I'd highly recommend you take on the Nootka Trail hike
Although weight is a factor when it comes to backpacking, so is going prepared. Apart from your usual backpacking kit (good tent and fly, quick dry clothes, warm clothes, raincoats) I would highly recommend you include the following.
bear spray – and you can fly with it on float planes as its put in a separate compartment, but keep it in a holster so you don't accidently set it off as JR did
take an axe so you can enjoy a campfire, especially on cold, wet nights
a tarp can be a lifesaver on a wet day
rope and a carabiner for hanging your food
Hiking poles can be a big help. I took two but only ever used one so think about splitting up a pair between two people.
Blister care
Leukotape – This came highly recommended to me by a fellow who was hiking the whole of the Great Divide Trail in Alberta and BC. I met him near the end of the trail, and he still swore by the stuff.
KT Blister Tape – Several hikers I have chatted with recently have come to love this tape for blisters. I also recommend KT Tape – an athletic tape that I've used for foot support on long hikes.
Compeed – I discovered this Band Aid-like product when I was hiking the Cumbria Way in England and ended up with massive blisters after getting wet feet. I always pack it on multi-day hikes – and I find it speeds up the healing process too. It's pricey but worth it.
Guided hiking trips
If you're more comfortable on a guided trip you can check out Coastal Bliss, Island Alpine Guides and MB Guiding.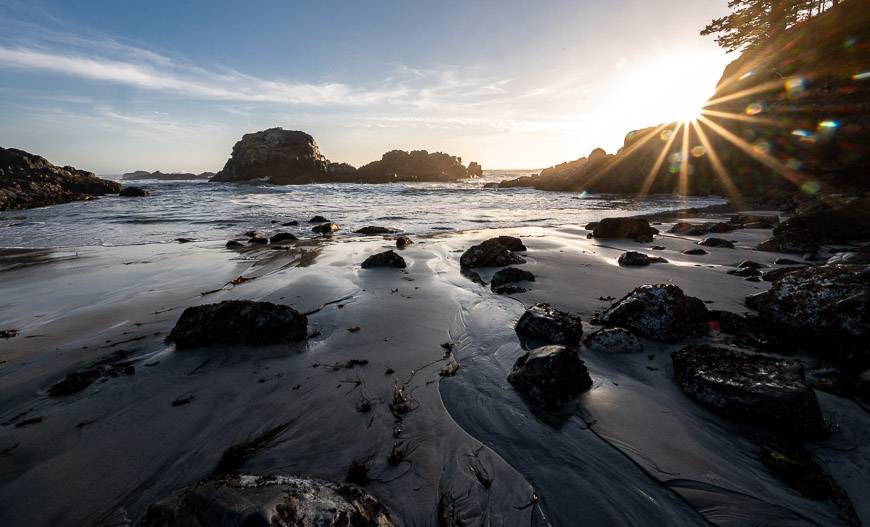 Further reading on coastal hikes on and near Vancouver Island
Click on the photo to bookmark to your Pinterest boards.