Salt Spring Island is the largest and hilliest of BC's Southern Gulf Islands. It's an amazing island for hiking because of the great diversity in the types of hiking trails. Want to climb a mountain? You've got a choice of three peaks (602- m Mount Erskine, 448-m high Mount Maxwell and 709-m high Bruce Peak). Prefer pocket beaches? Not a problem. Or maybe it's a coastal hike with views and scenic overlooks you're after. You'll have several to choose from. The bottom line is that Salt Spring Island is a top destination for hikers. The must do Salt Spring Island hikes I describe take you up mountain peaks, through rainforest with monster big Douglas firs and along the coast.
This post includes some affiliate links. If you make a qualifying purchase through one of these links, I will receive a small percentage of the sale at no extra cost to you. Thank you very much for your support.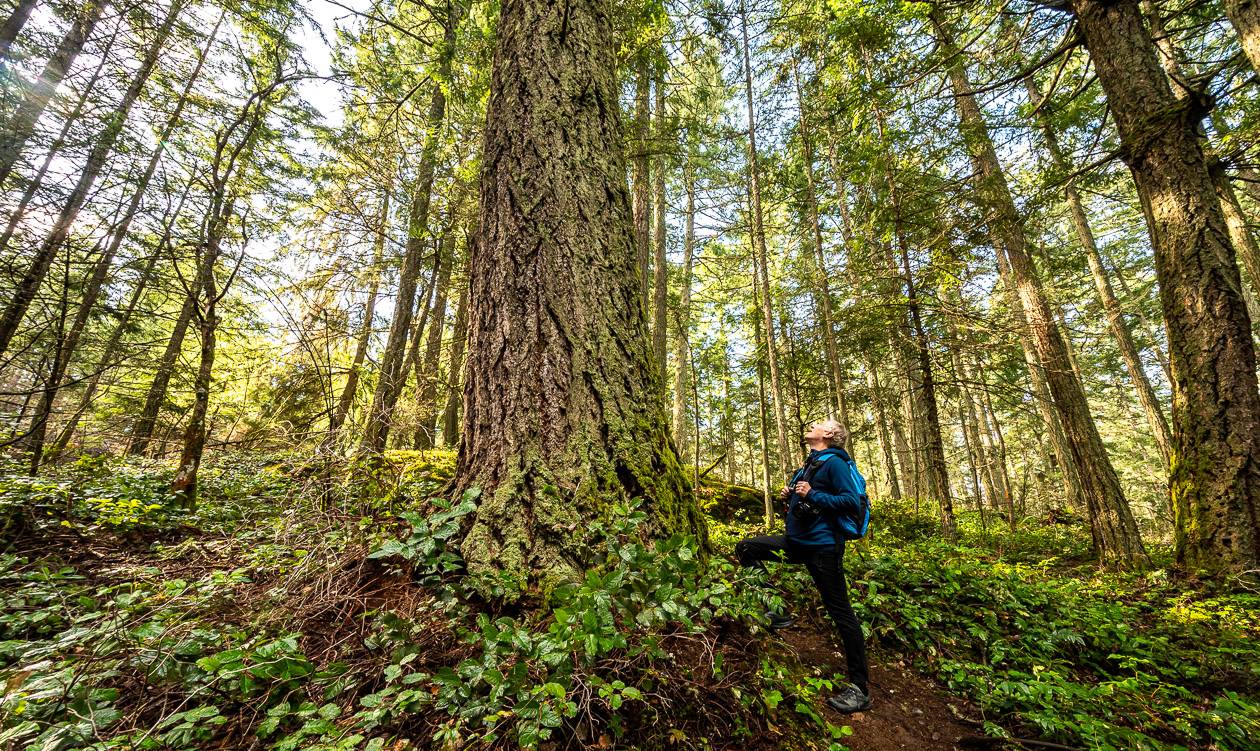 Salt Spring Island hikes summary
Pack the 10 hiking essentials for all the Salt Spring Island hikes.
All of the hikes on Salt Spring Island can be done year-round but avoid the mountain hikes after a fresh snow. I would also recommend staying away from the trails in a wind storm.
Be careful with foot placement. There are lots of slippery roots, and sometimes slick rock so it's easy to take a tumble.
Consider packing a set of collapsible hiking poles.
In summer especially, take plenty of water.
Let someone know where you are hiking and when you're due back.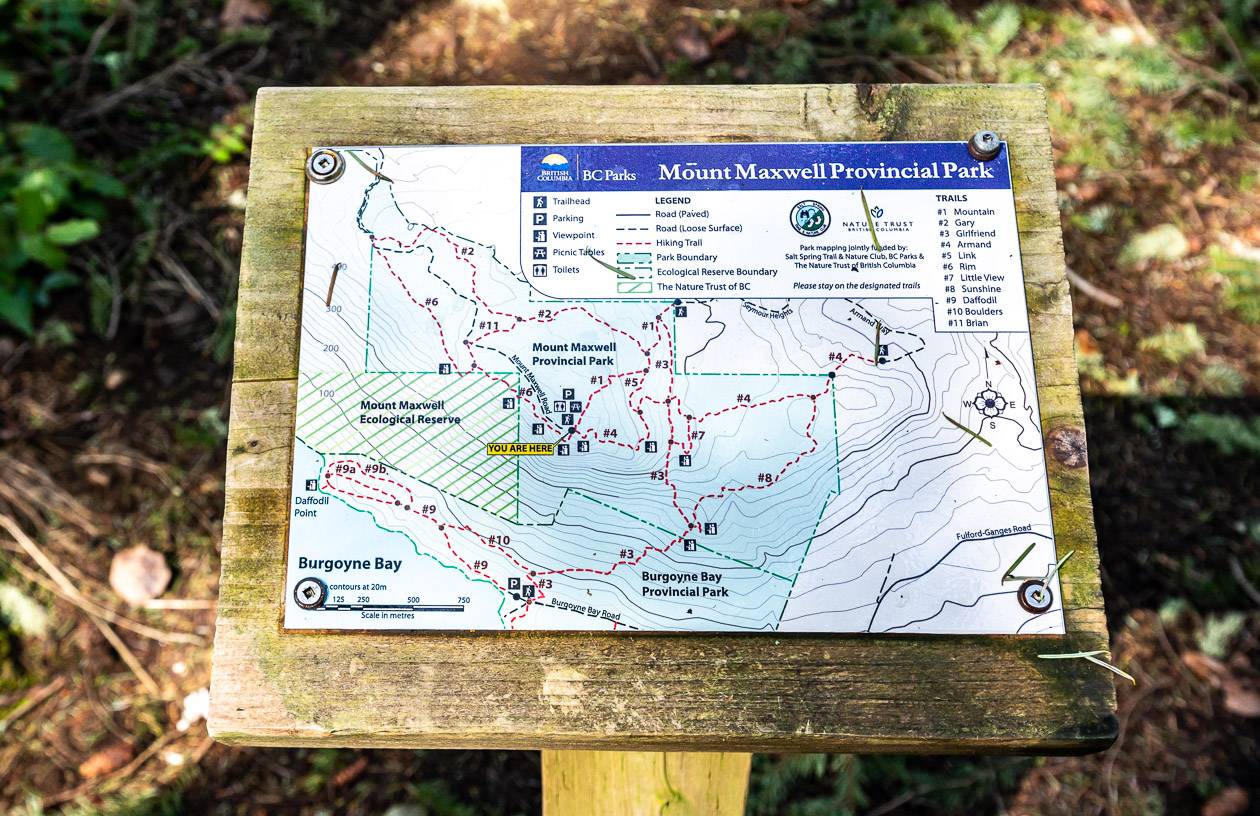 Location map of the must do Salt Spring Island hikes
Click on the three dots near the right-hand corner to email a copy of the map.
Must do Salt Spring Island hikes
Salt Spring is home to a large number of hiking trails, most of which I've done thanks to the fact my mother lived on the island for 10 plus years. I've picked five hikes on Salt Spring Island that showcase the best of the island. I think these hikes will stay with you long after you've left.
Mount Erskine hike, Salt Spring Island
Distance: 3.5 km (2.2 miles) round trip
Elevation gain: 175 m or 574 feet
Time needed: 1 – 2 hours if you linger at the top.
Difficulty: Easy
Dogs allowed: Yes, on a leash.
Trailhead location: From Ganges go west on Rainbow Road. Turn left on Juniper Place and left again on Spring Gold Way. Make a right on Trustees Trail and park at the side of the road across from the signed trailhead.
Reward: Far reaching summit views of Vancouver Island, fairy doors.
Trail description: One of the premier hikes on Salt Spring Island take you to the summit of Mount Erskine which tops out at 448 metres. There are a lot of ways to climb to the summit – as you'll see by looking at the map. Trails are numbered from 1 to 5, and there is a trail map at every intersection. We did the Mount Erskine hike as a loop in one hour as described below.
From the cul-de-sac on Trustees Road, head into the grove of trees pictured below on trail #2. We took it to the intersection with trail #1 and continued on #1 through the forest to reach trail #3. It's on trail #3 that you can enjoy fantastic views from the Mount Erskine summit. The #3 trail steepened after leaving the intersection with trail #1 and deposited us close to the summit with a viewpoint that looks over to Vancouver Island.
To continue to the high point, stay on trail #3 as it climbs up rocky conglomerate slopes to the summit. Look for the markers. Walk to the high point of the trail, passing the turnoff to trail #4 as you go. We came back down to this one on the way out.
From the windy summit enjoy spectacular views of Crofton, the ferry that runs between Crofton and Vesuvius and north up Vancouver Island. This is a great hike to do around sunset, if you head down before it gets too dark – and carry a headlamp.
Do look for the fairy doors we noticed at several locations along the Mount Erskine hike, especially near the summit.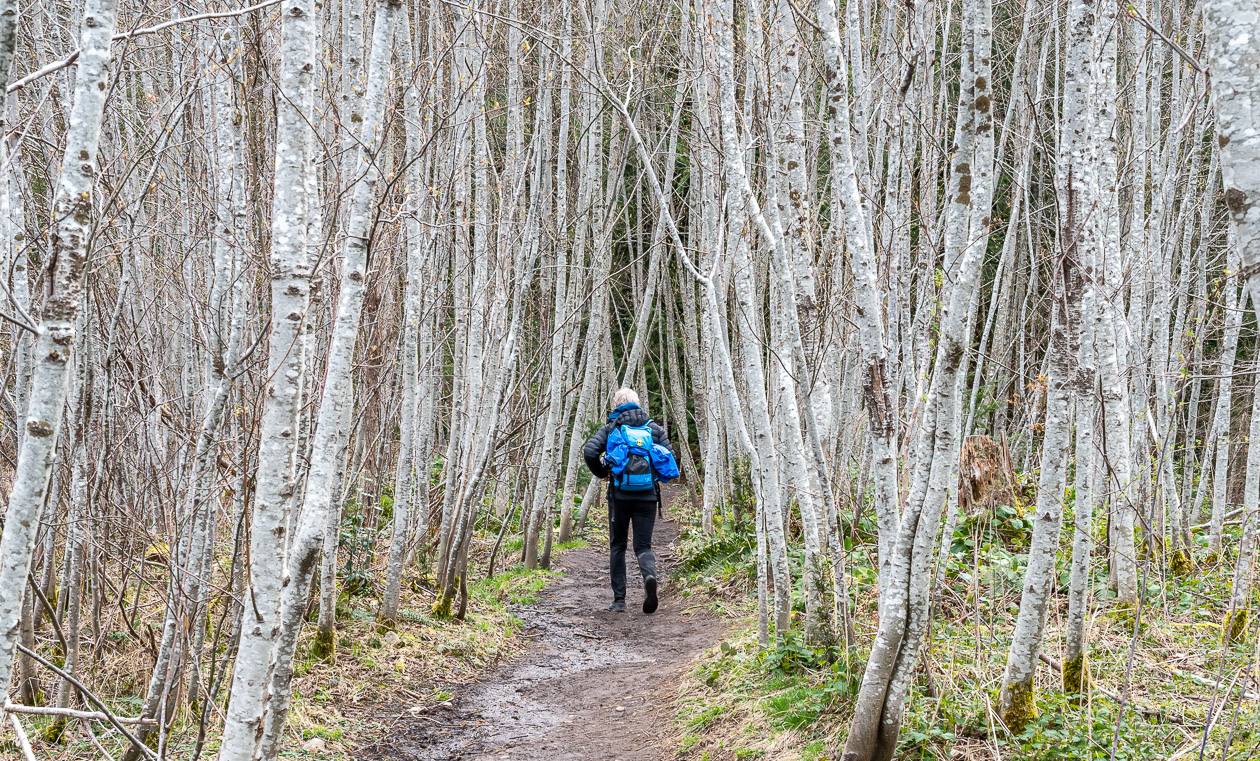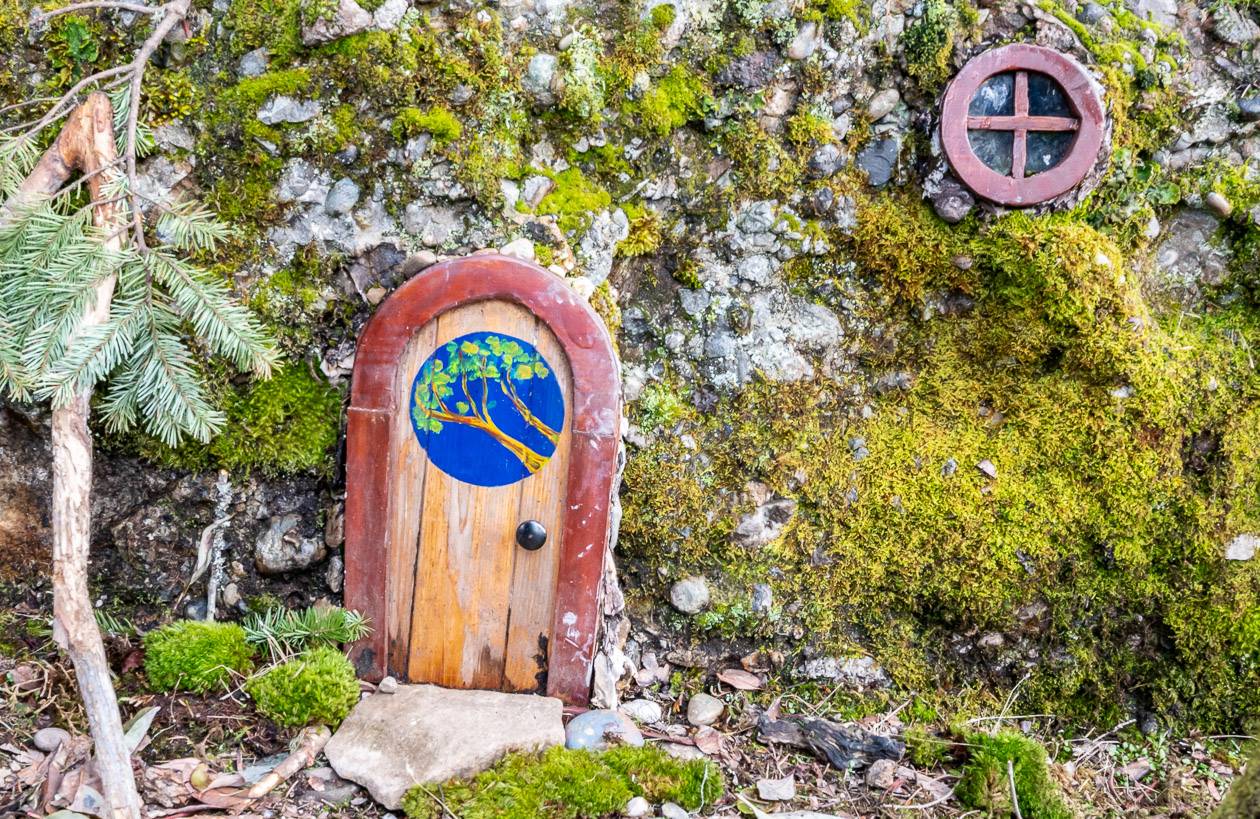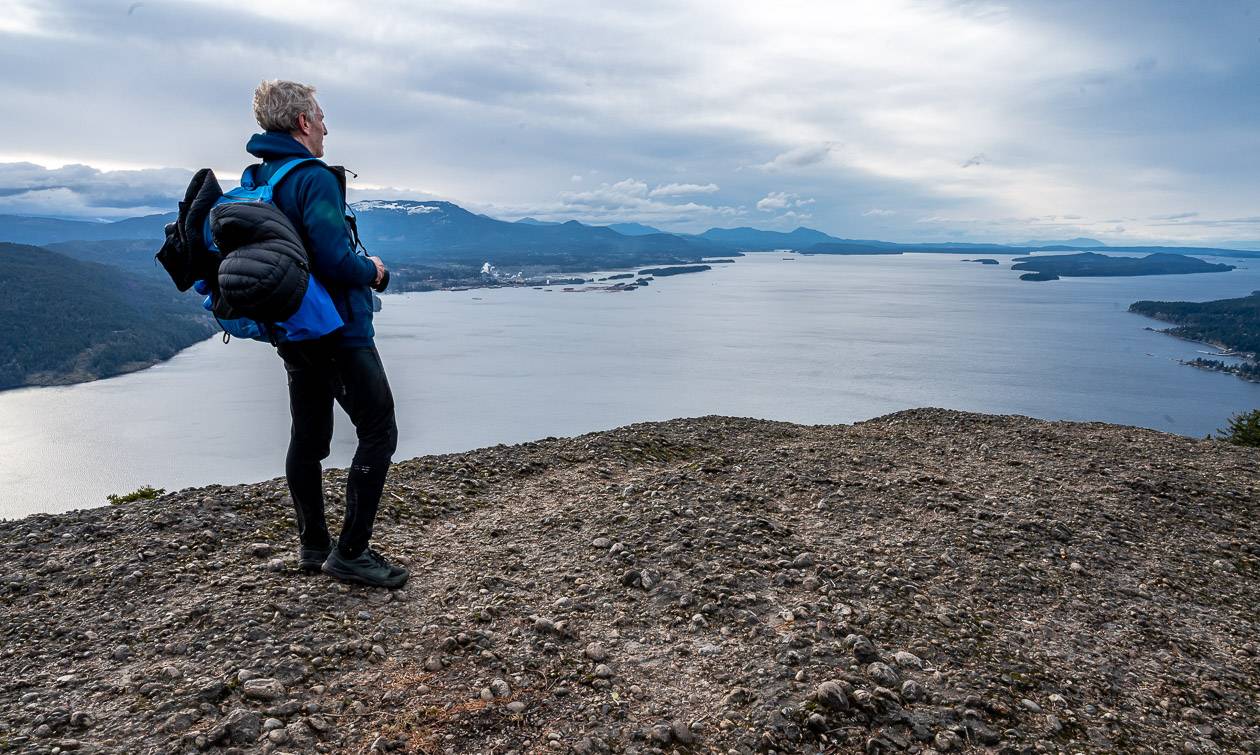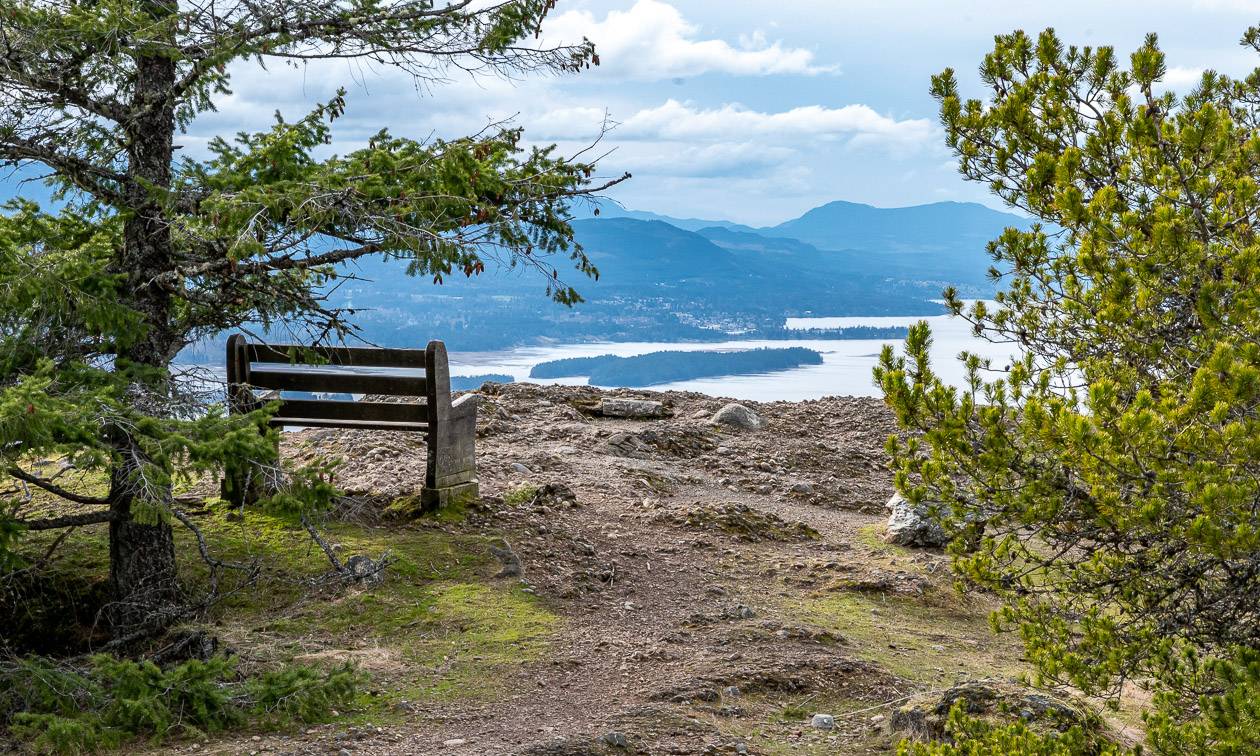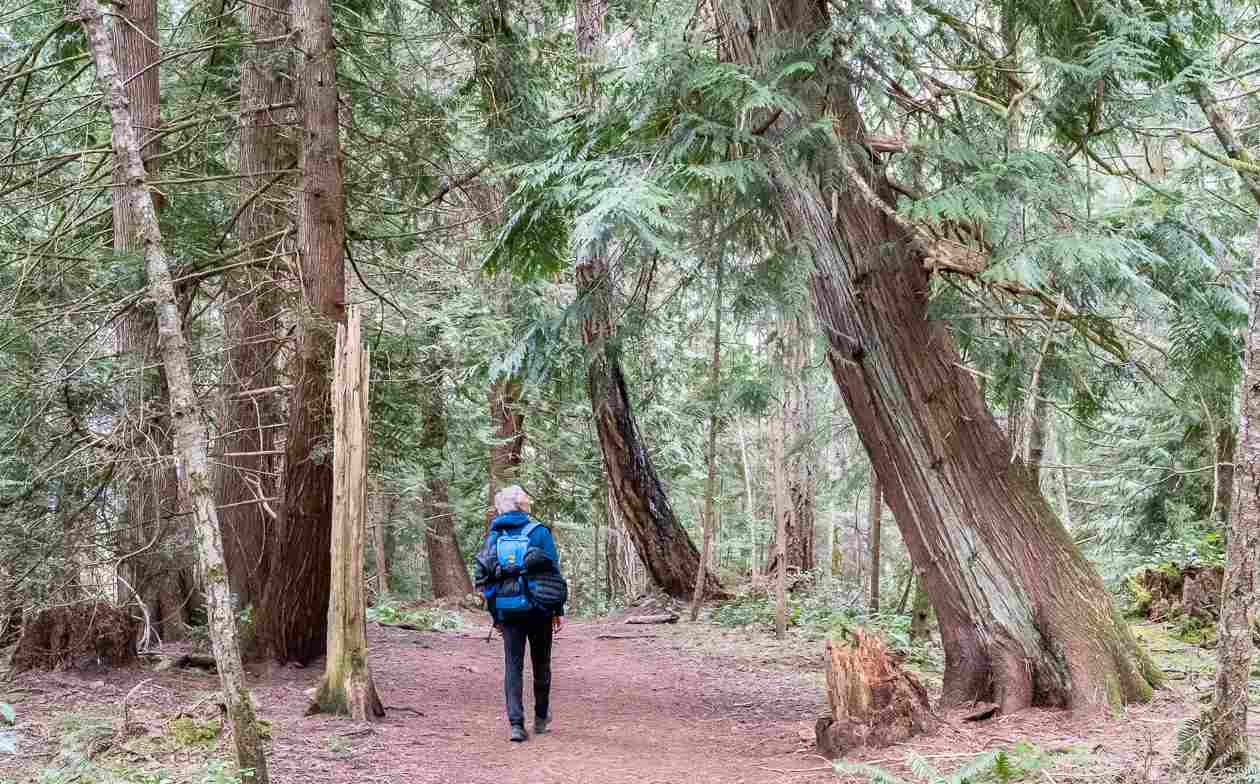 Mount Maxwell from Armand Way
Distance: Approximately 5.5 km or 3.4 miles round trip
Elevation gain: 270 m or 886 feet
Time needed: 2 – 3 hours.
Difficulty: Easy to moderate depending on how much you hike.
Dogs allowed: Yes, on a leash.
Trailhead location: This hike starts at the end of Armand Way. There is also the option to start at the Burgoyne Bay trailhead, but that route has more elevation gain and is in the trees for longer. Locals we ran into say they much prefer the Armand Way start.
Highlights: Massive trees, beautiful open woods, mossy sections, phenomenal views
Hike description:
The hike to the top of Mount Maxwell (also called Baynes Peak) is one of the premier hikes on Salt Spring Island. On a clear day the view of the Gulf Islands from the summit is spectacular. The hike offers vibrant mossy sections, large open areas with mixed forest, and a huge number of giant Douglas firs trees that will leave you in awe.
The hike takes places in Mount Maxwell Provincial Park and as such is very well marked. The trails are numbered and there is a trail sign at every intersection. There are numerous trails leading to the summit so there is no right or wrong way to get there. As a side note there is a rough 4-wheel drive road to within a hundred or so metres of the summit. You need good clearance to drive it.
We parked at the cul-de-sac at the end of Armand Way – and picked up Trail #4. The sign says its just 350 metres long – but that's to the first intersection, though that wasn't apparent to me initially. The hike starts off parallel to the road before heading left and up into the forest. At the first junction we went left to continue on Trail #8.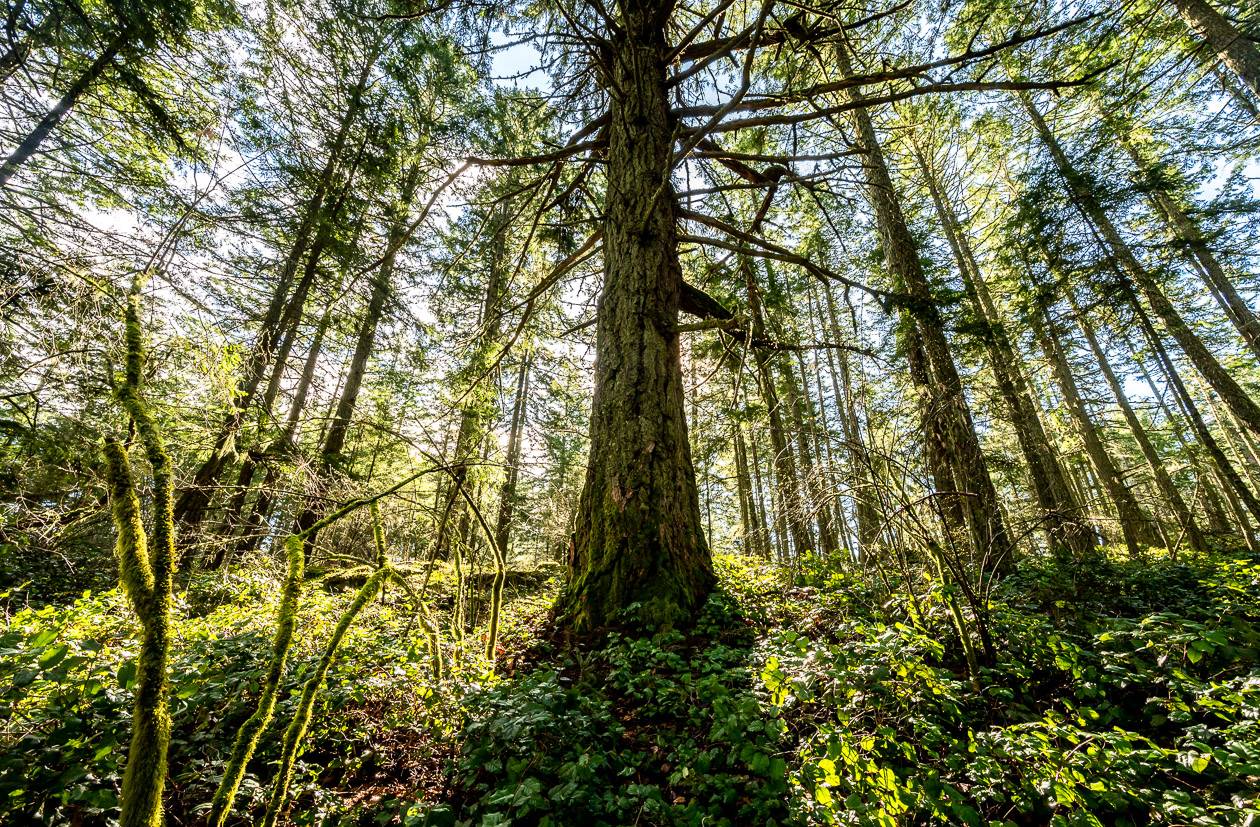 Trail #8 climbed gradually on the way up to Trail #3. Some of the open sections in the forest were glorious and there were numerous Douglas firs that stopped us in our tracks. At the end of Trail #8 there's a short spur trail to a lookout. It offered a taste of what was to come. At the intersection of Trail #8 and #3 we went right. If you go left, you'd descend to the trailhead at Burgoyne Bay.
Trail #3 climbed at a consistent grade to reach an intersection with Trail #7. We gave that trail a pass and instead continued climbing past more giant Douglas firs before heading left to pick up Trail #4. After enjoying a flatter section, the grade increased as we headed for the summit. We passed a giant log that had a section cut out of it parallel to the trail. From there we climbed up rockier slopes to emerge on a false summit, but the views were still fantastic.
From there it was a mostly gradual climb to the top. When we popped out into the open area near the summit, I was surprised to see picnic tables, chain link fences and even an outhouse by the 4-wheel drive road. After meandering around for a while and enjoying the view from one of the benches we opted to descend via Trails #1 and #4.
One of the sections had a lot of blowdowns. This part of the park with the big trees would be a scary place to be in a big storm. The trees we saw were scattered helter skelter like pick up sticks.
I found the descent to be fast – perhaps because we weren't stopping at every big tree we saw. This was my favourite of all the Salt Spring Island hikes we've done.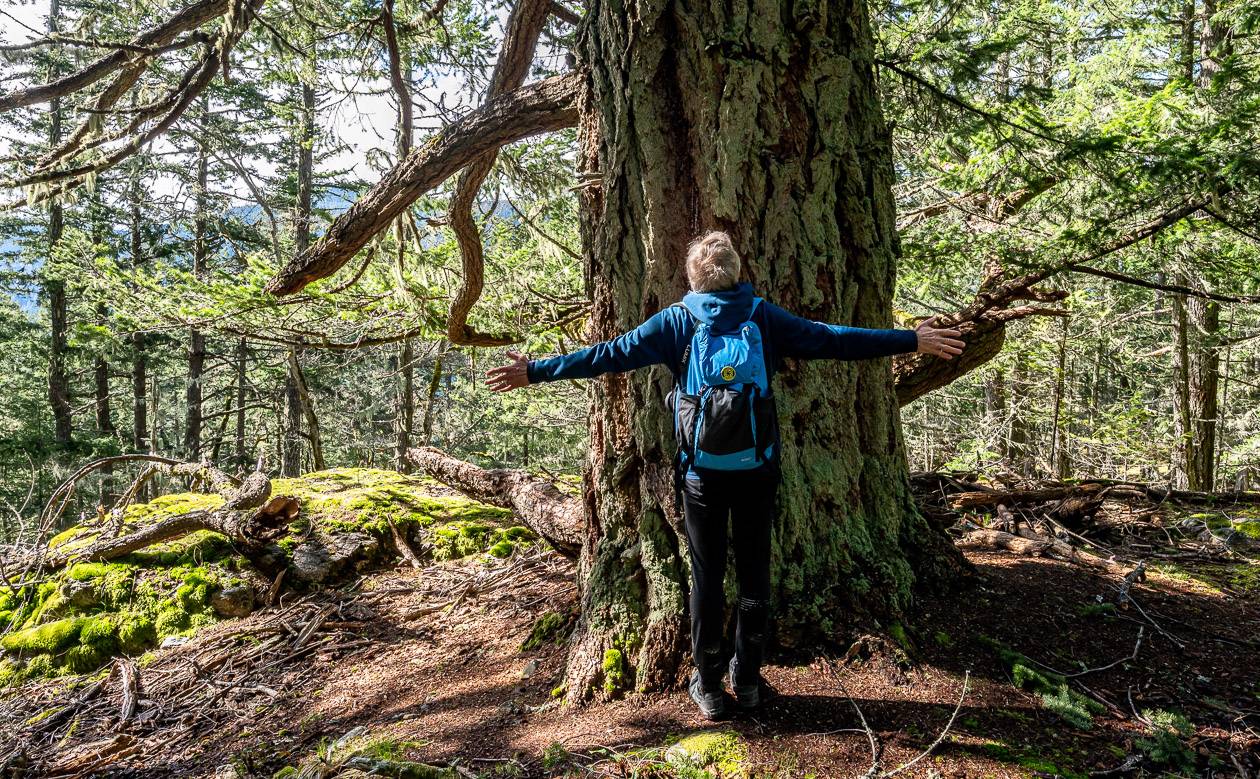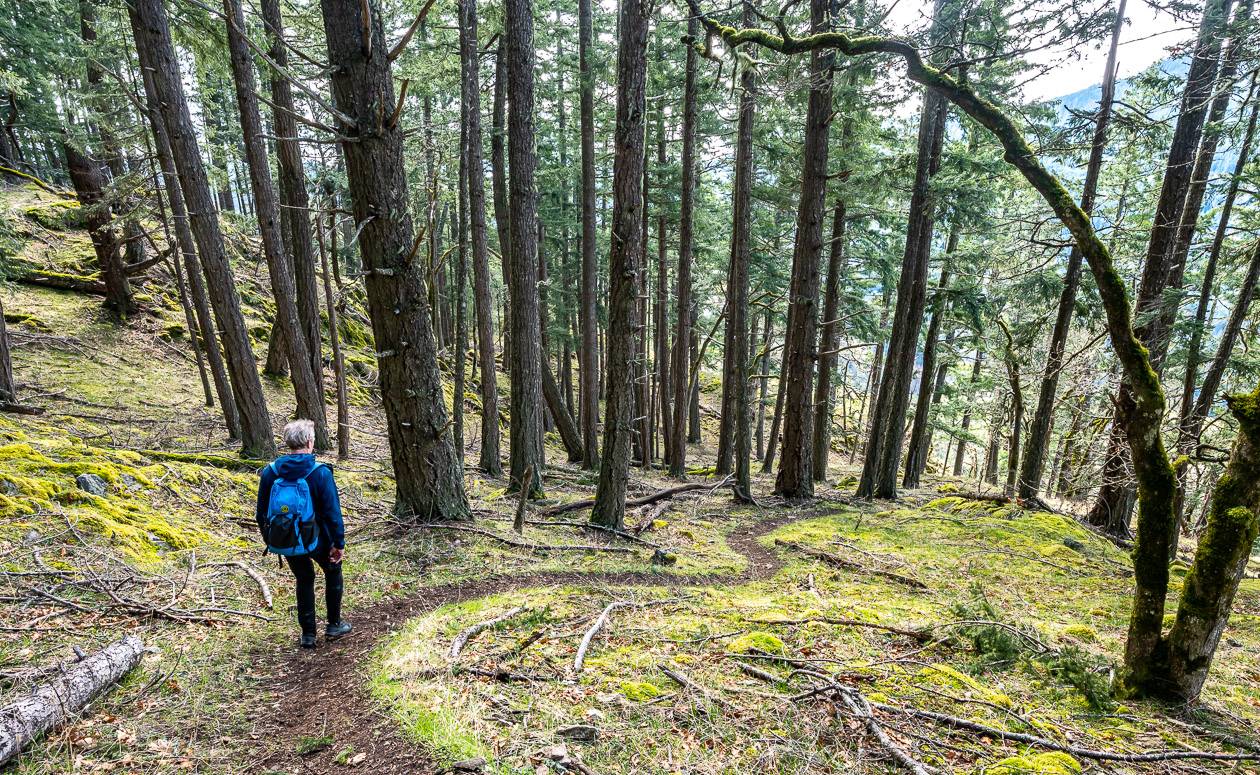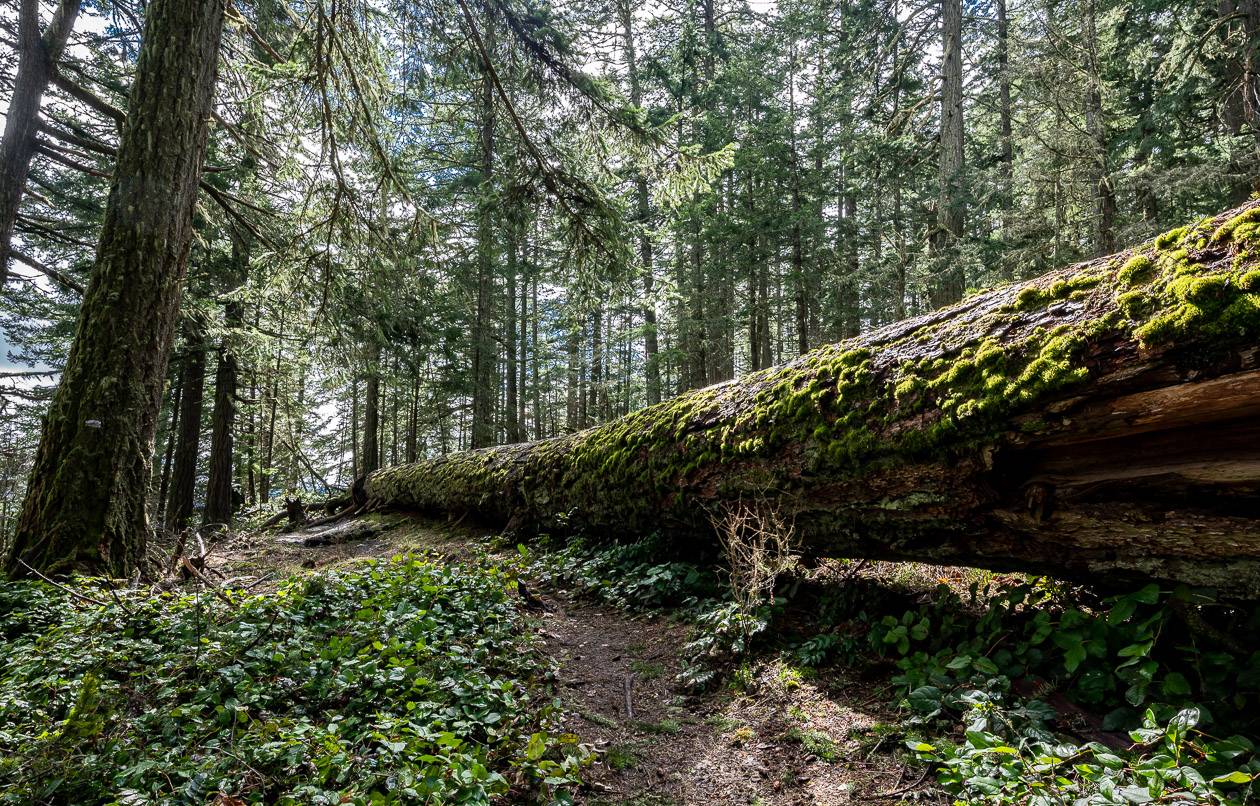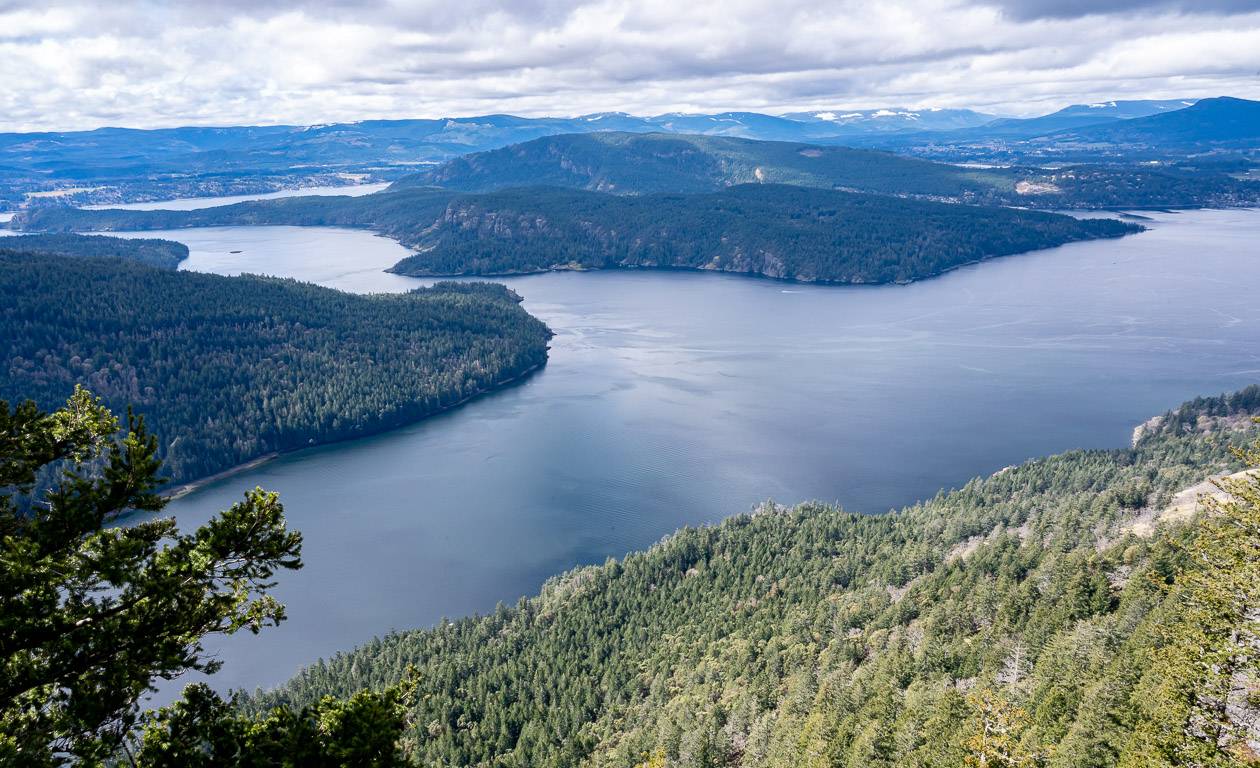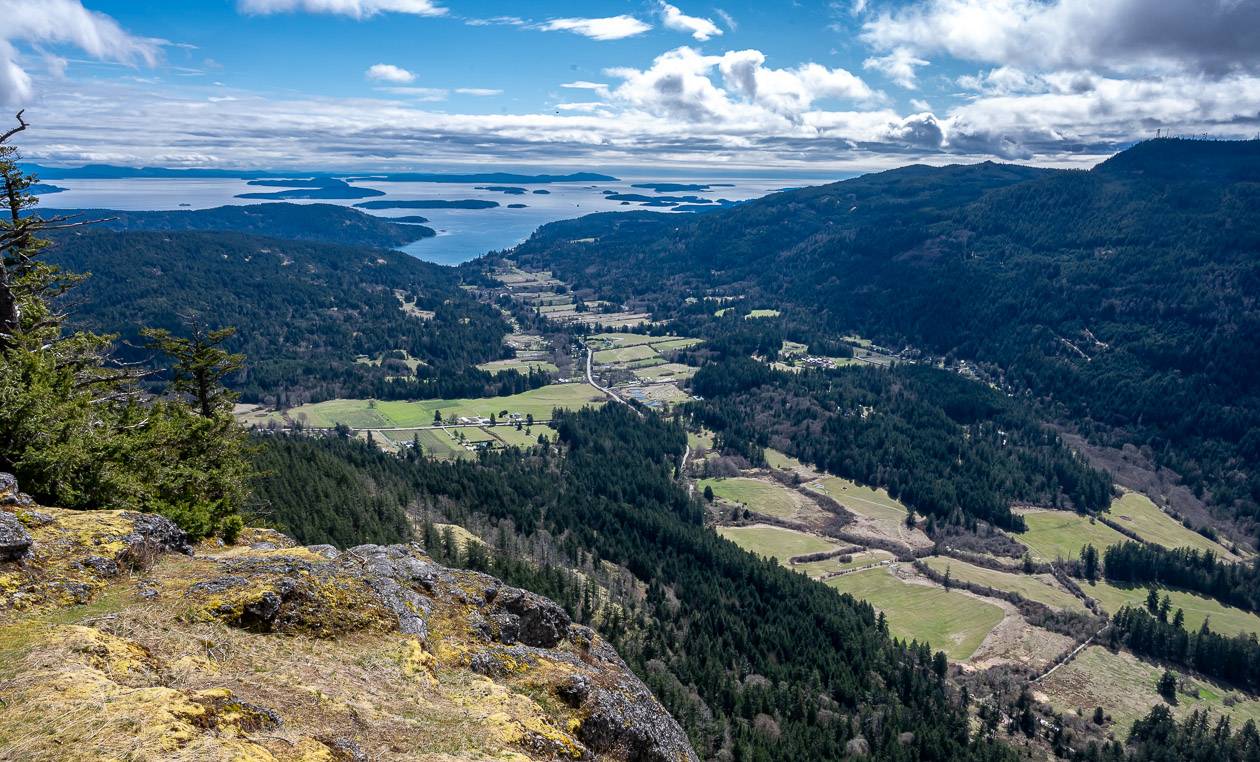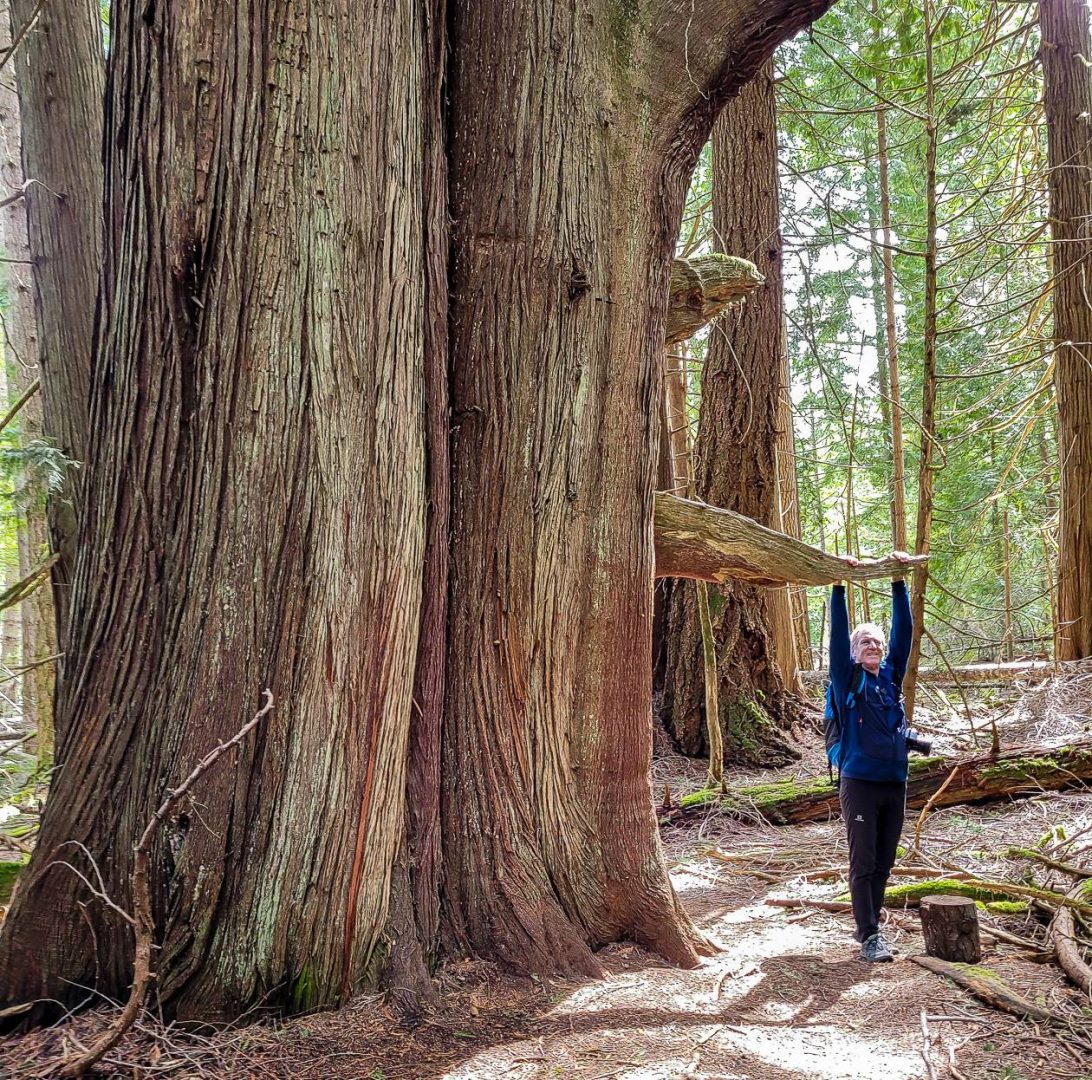 Daffodil Point hike, Salt Spring Island
Distance: Approximately 5.3 km (3.3 miles) return
Elevation gain: 151 m or 494 feet
Time needed: 90 minutes or more if you stay at the point for a picnic.
Difficulty: Easy
Dogs allowed: Yes, on a leash.
Highlights: Lovely stands of Garry Oaks near the end of the hike, lots of Douglas firs and daffodils galore in early April into May.
Trailhead: Drive the Fulford-Ganges Road towards Fulford Harbour. Make a right onto Burgoyne Bay Road and follow it to the end. There is an upper and lower parking lot.
Hike description:
From the parking lot look for an old road and follow it as it parallels the water, climbing and then descending a series of mostly short hills. Along the route you'll pass many Douglas fir trees and beautiful mossy slopes. As you get close to the end of the trail, Garry Oaks pop into view. In fact, the largest Garry Oak population is in the Mount Maxwell Ecological Reserve at the end of the trail. You're asked to refrain from entering the reserve, but you can still admire the trees.
Fun fact: Garry Oaks are drought tolerant, slow-growing and can live to be 500 years old.
At Daffodil Point, if you're visiting in April and perhaps into early May, you'll be treated to hills carpeted with yellow daffodils. They brighten even the dullest of days. There's a tiny pocket beach at low tide and some nice views over to Vancouver Island. Retrace your steps back to the parking lot.
The Daffodil Point hike is one of the top Salt Spring Island hikes, especially in daffodil season. Thank you to the couple we met on Mount Maxwell for suggesting this hike.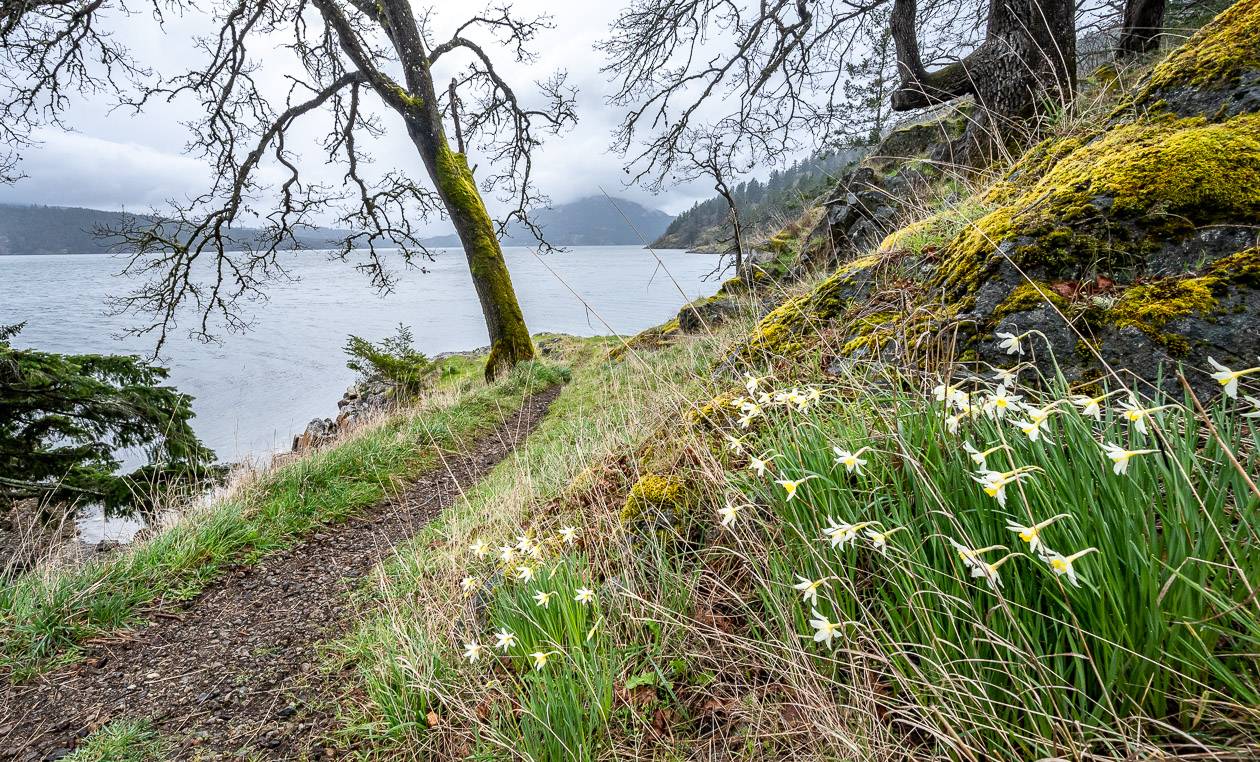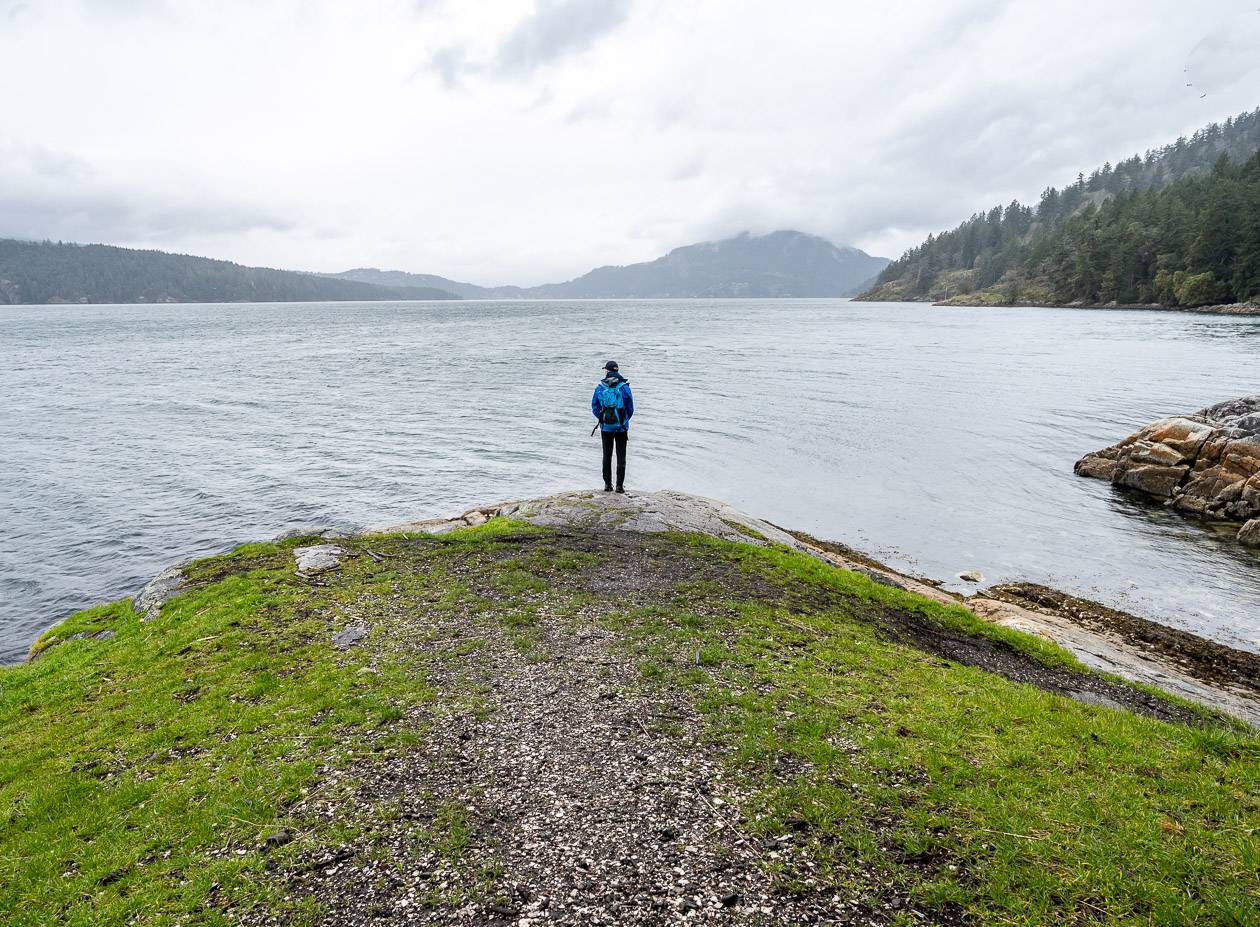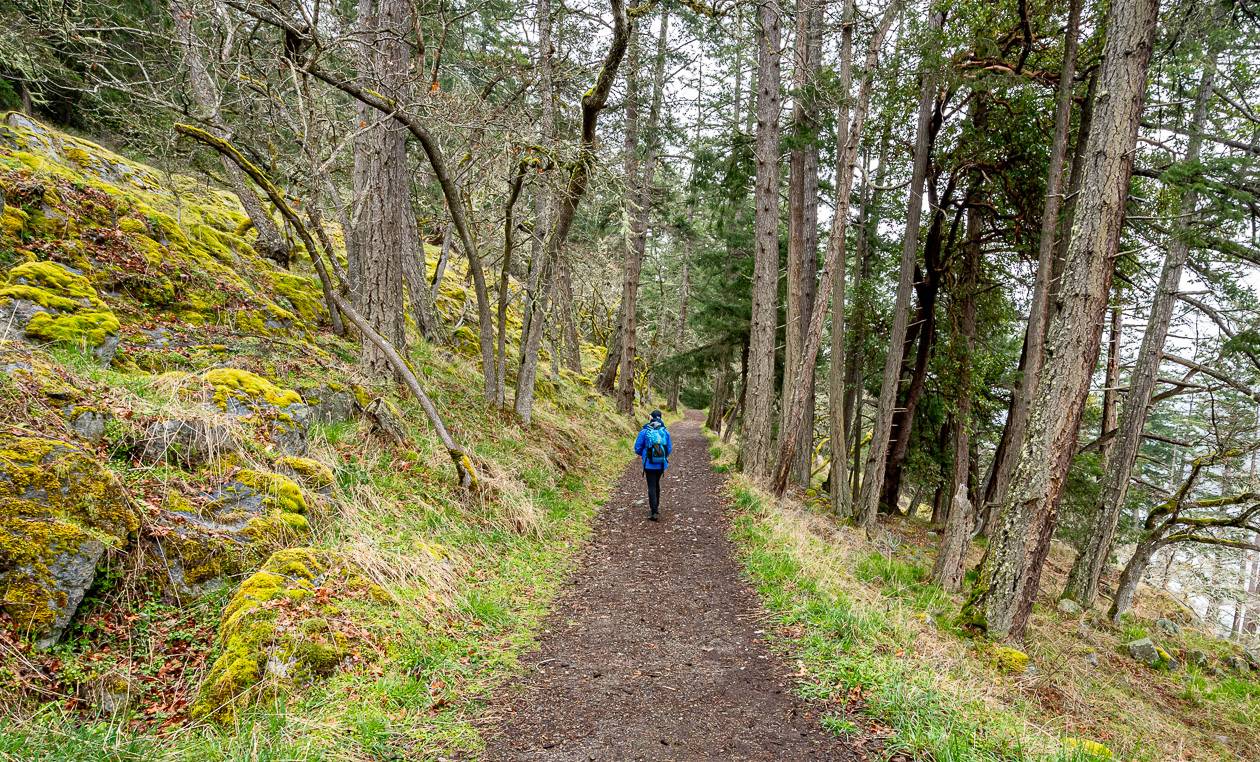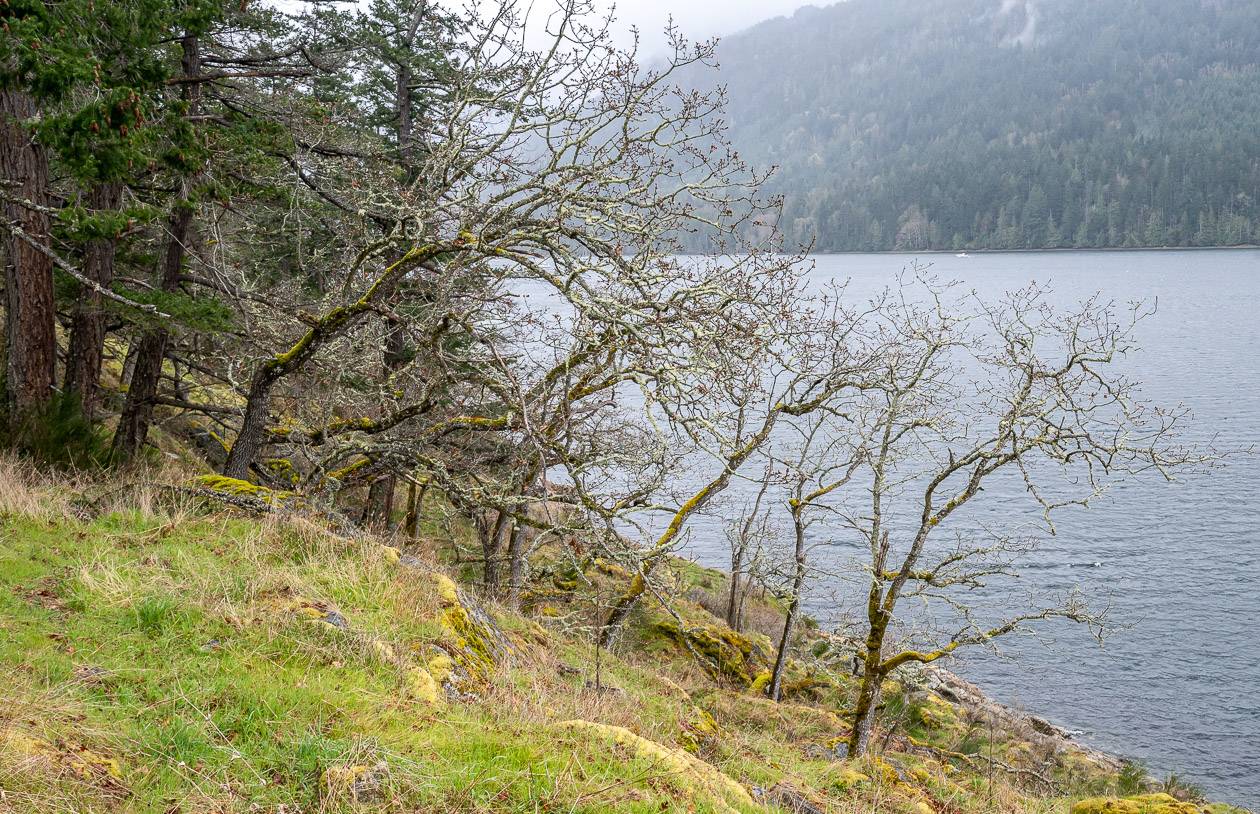 Chris Hatfield Trail – one of the easiest Salt Spring Island hikes
Distance: 2.8 km return
Elevation gain: 70 m
Time needed: 1 hour.
Difficulty: Easy
Dogs allowed: Yes, on a leash.
Trailhead location: Drive Beaver Pond Road west towards Ruckle Park. Turn left onto Bulman Road and then right onto Meyer Road. You can park at the end of Meyer Road but be sure you don't block any of the resident's driveways.
Trail description:
You only need about an hour to knock off the Chris Hatfield hike. It takes you to scenic Yeo Point at the northernmost tip of Ruckle Park. The point is also accessible from the main entrance in Ruckle Park but from there it's a long out and back hike.
At the Chris Hatfield hike trailhead there's a big rock and a good trail sign, but we only saw one more trail sign after that. The trail is mostly flat and easy to follow. There's a short new boardwalk section and a bridge accessed down a slippery-if-wet slope where there's a muddy rope to hold onto. When you cross the small bridge, go left if you can do a side trip to Cusheon Cove. You'll be there in 5 -7 minutes. It's a scenic spot, especially with the daffodils blooming in April.
If you go right after crossing the small bridge, you'll meet up with a trail that is part of the Ruckle Park trail network. Go left and follow it to Yeo Point. We reached Yeo Point by going down to the small crescent-shaped beach pictured below, climbing up on a rocky trail at the end of it – and then we were at the point. We returned on the main trail.
The beach would be a lovely destination for a family picnic. We saw several parents carrying young kids on their backs. I can see why you'd want to do that after hiking to Yeo Point. The Chris Hatfield trail (named for Chris Hatfield, a man who retired to Salt Spring Island and donated a significant chunk of land around Cusheon Cove to Ruckle Park) is one of the top hikes on Salt Spring Island, especially for families.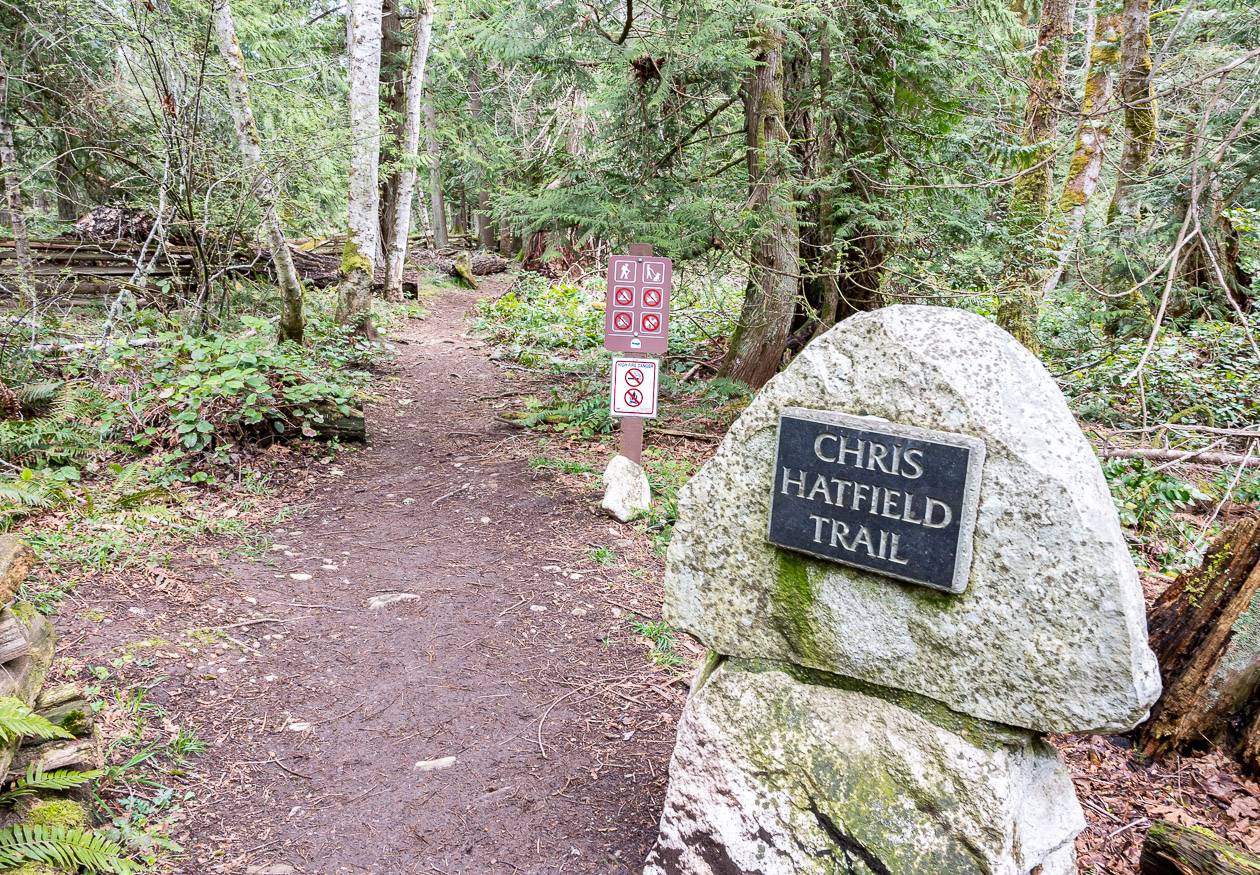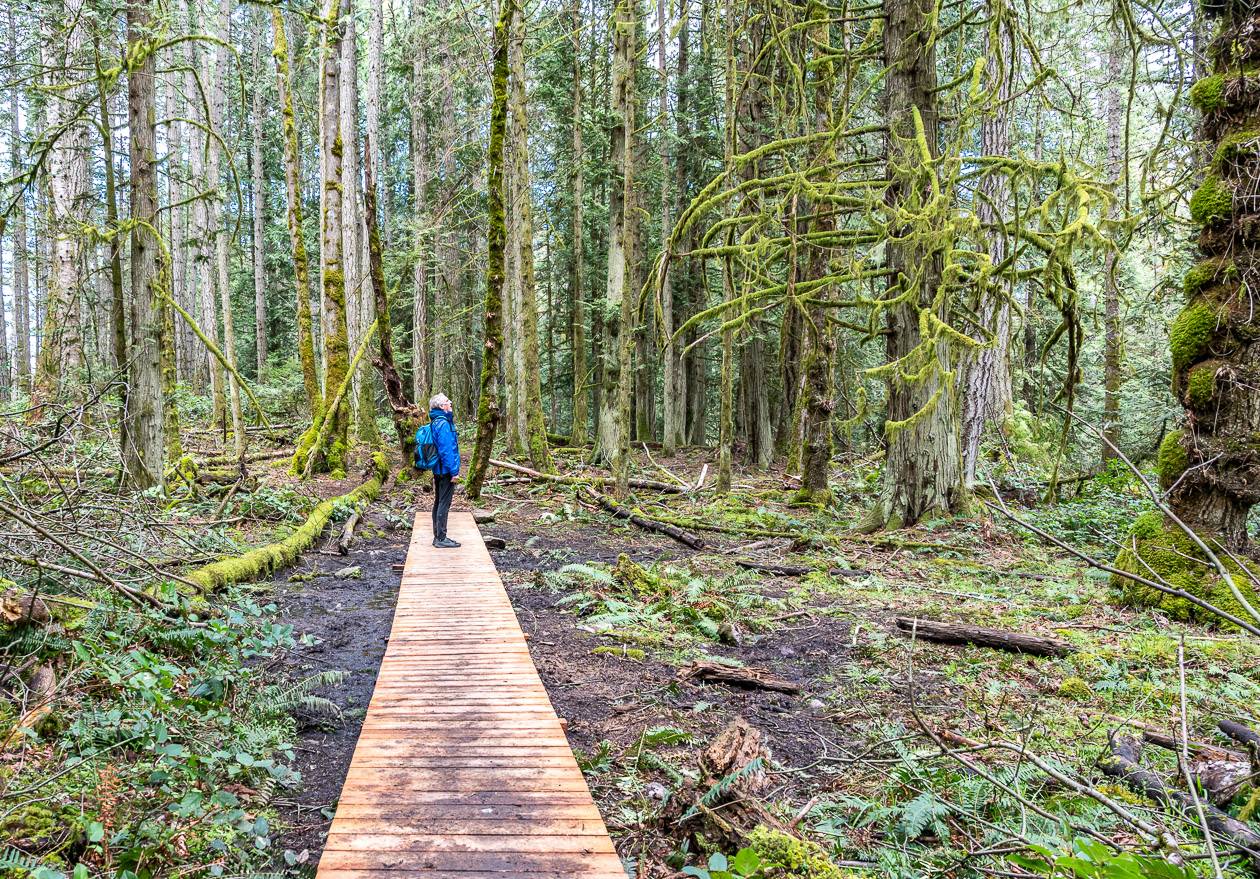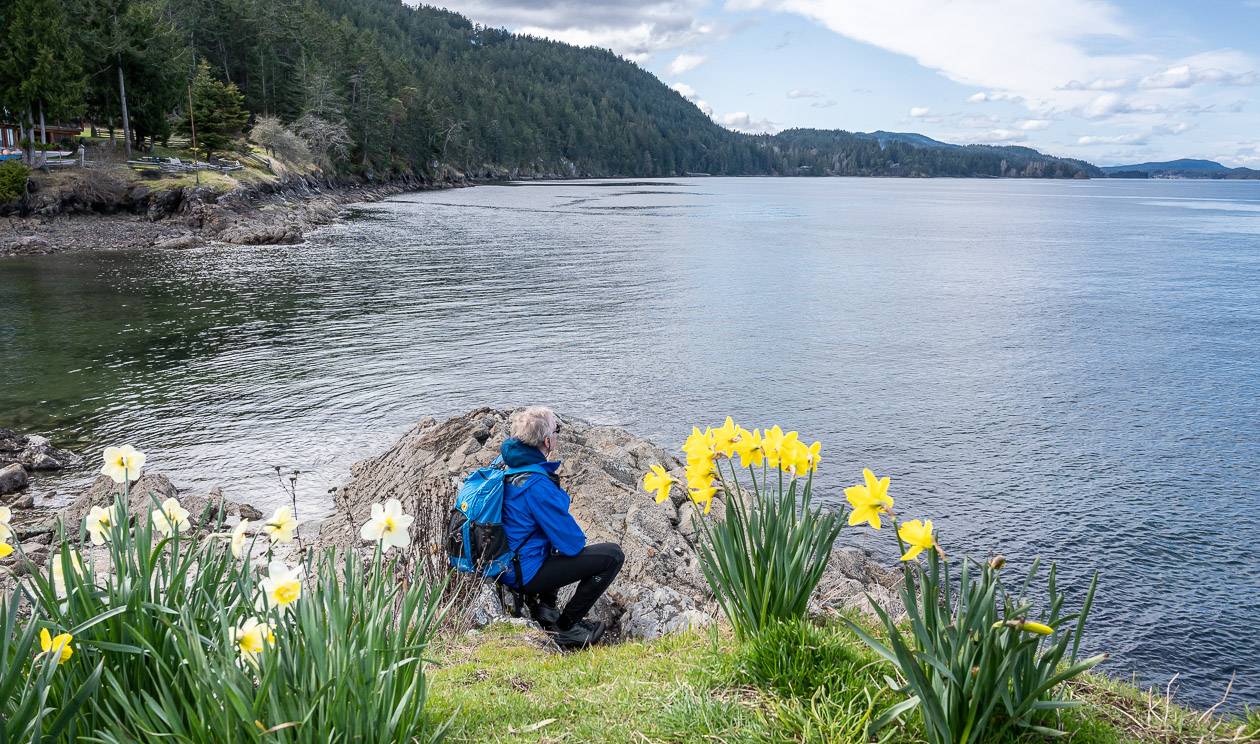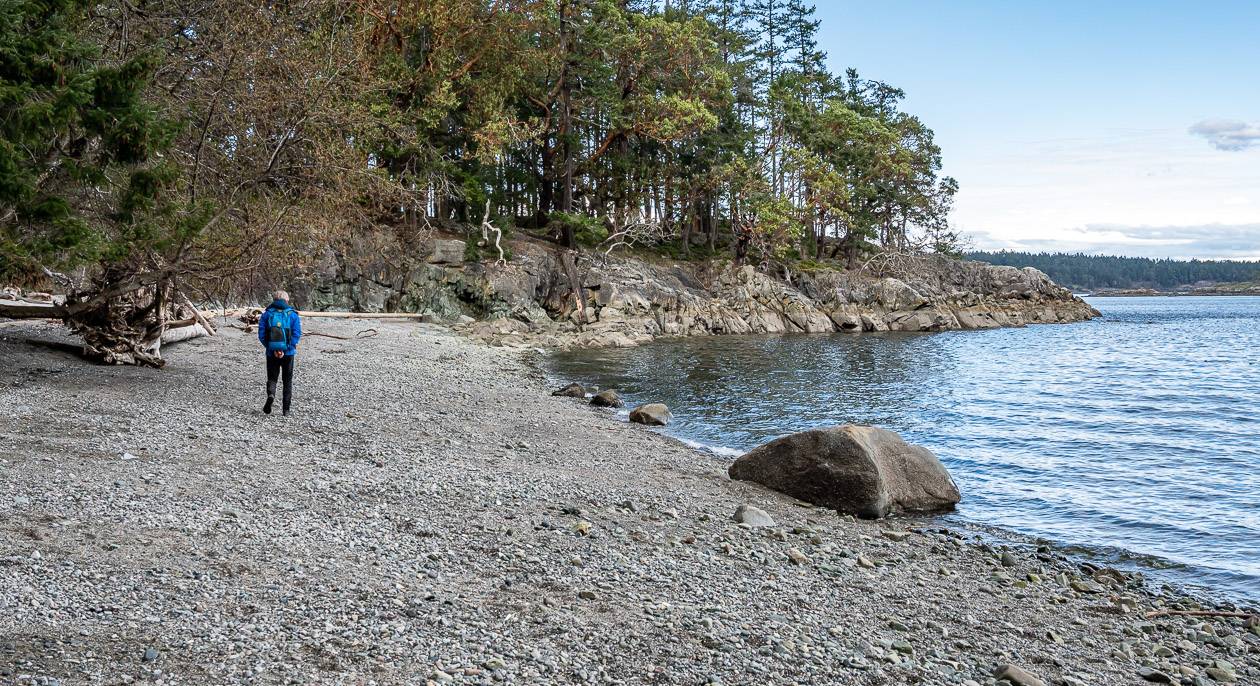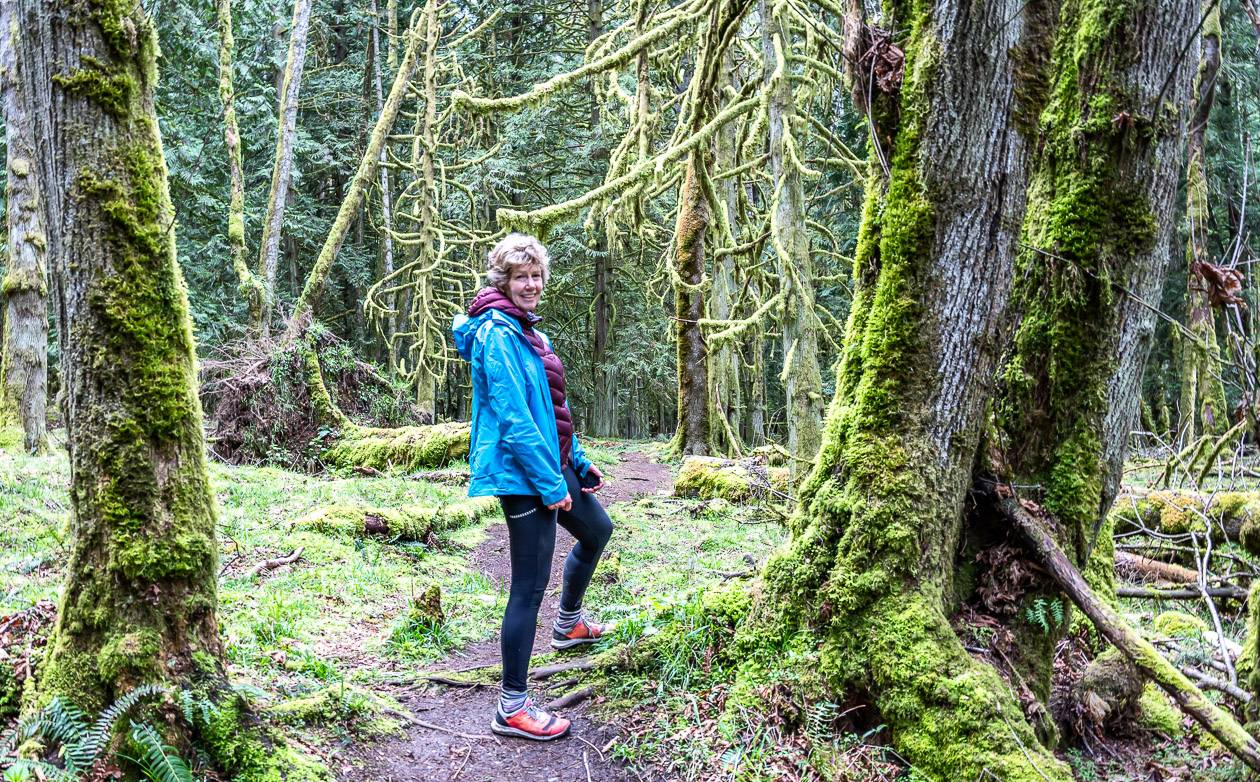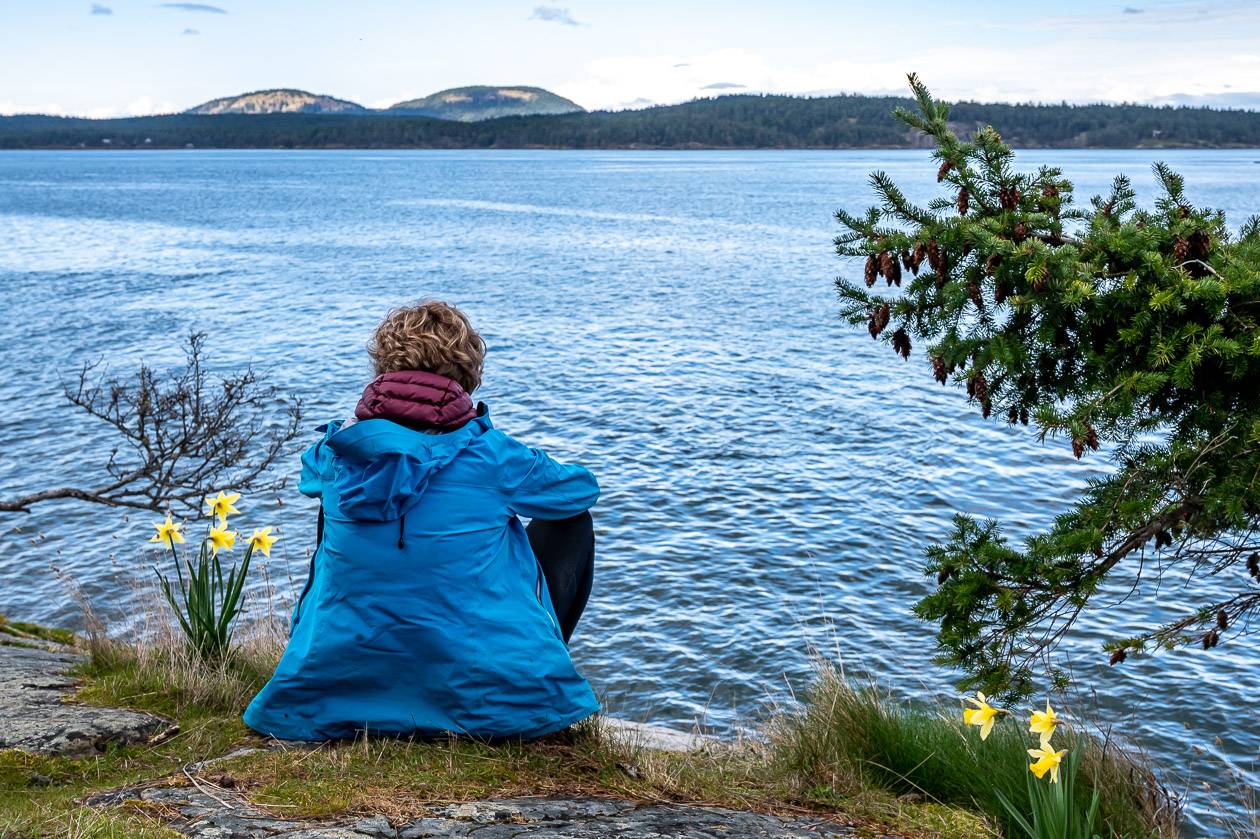 Ruckle Park
Distance: 1.5 – 8.8 km (0.9 – 5.5 miles) return depending on how far you hike north along the coast from the parking lot and picnic area; lots of additional mileage is possible.
Elevation gain: Highly variable but not a lot.
Time needed: One hour to a full day.
Difficulty: Easy to moderate depending on how far you go.
Dogs allowed: Yes, on a leash.
Trailhead: Park at the main parking area after you pass the historic orchard and farm buildings.
Hike description: This is a good map with mileage.
John and I had flown to Victoria, rented a car, waited for a ferry and then took the ferry to arrive at Fulford Harbour. We were ready to stretch our legs and go for a hike in Ruckle Park.
In typical fashion, I would have loved to hike the 4.4 km to Yeo Point from the picnic area in Ruckle Park, but as it was, we only had time to hike part way to Bear Point and back. The hiking is gorgeous along the coast with lots of muscular looking arbutus trees, tiny pocket beaches, wildflowers, lichen-covered rock, and views out to the Swanson Channel.
However, like most coastal hikes in BC, the hiking is slower going than you might expect. Mossy rocks and roots can trip you up in a split second so you usually can't take your eyes off the trail. We took the time to go to one of the viewpoints and what a sight for my water-deprived prairie eyes. It was such a treat to look out at the ocean, listen to the seabirds, and marvel at the wildflowers in early April.
The hikes in Ruckle Park will engage all your senses. There are plenty of trails to explore but I think the coastal trails are the premier hikes in this park. Be sure to include a visit to Ruckle Park, if even for an hour's hike on the trails.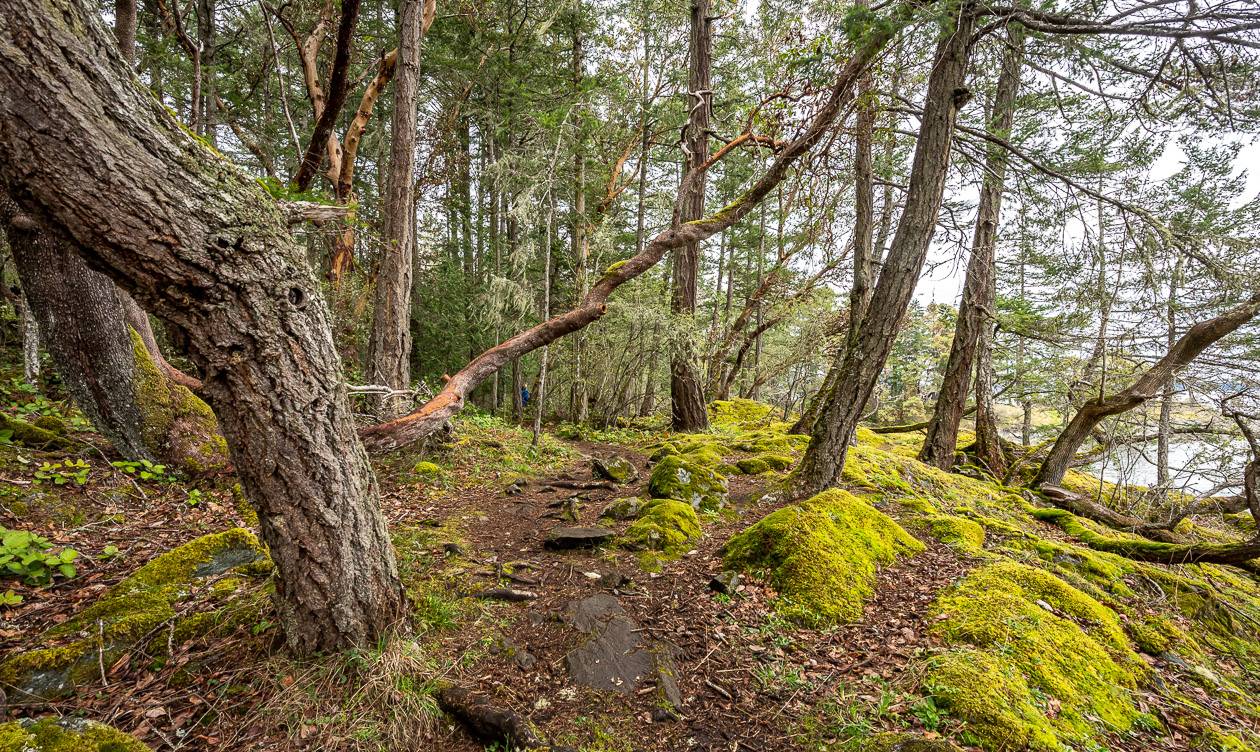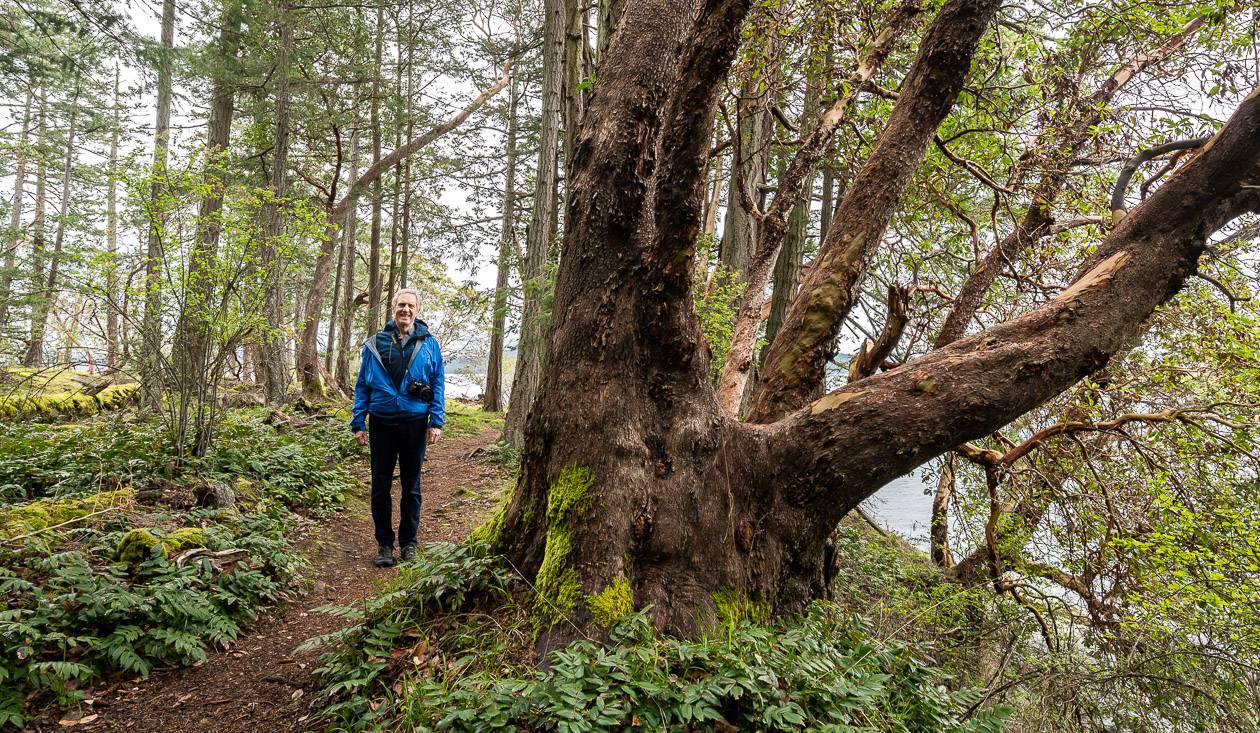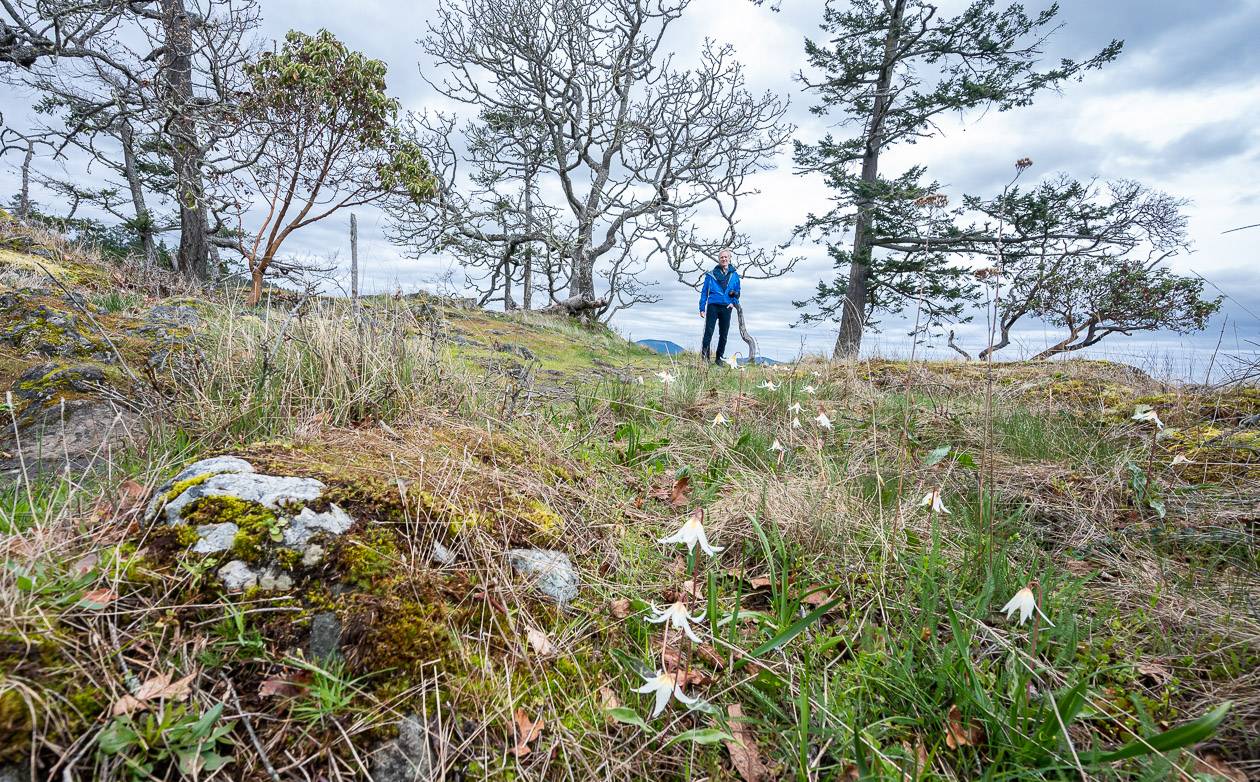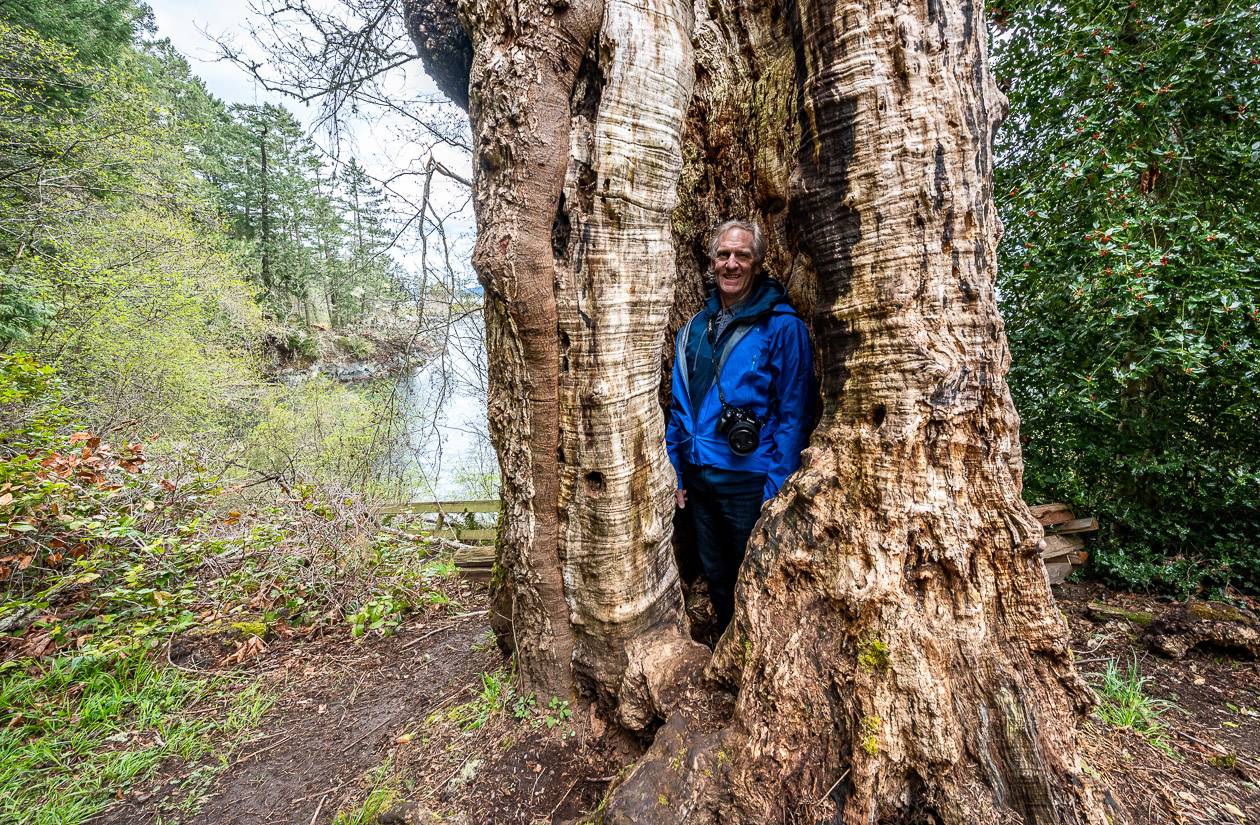 Where to stay on Salt Spring Island
There are lots of places to stay on Salt Spring Island from the fancy Hastings House Country House Hotel to loads of B&B's, with the majority of accommodation close to Ganges. We did stay at Hastings House on our revent trip – and loved our room, the daily warm muffin delivery and the beautiful gardens.
Some other great options include The Mariner's Loft, rated fabulous. It's a self-catering apartment in Ganges with great views of the harbour.
The Sanctuary Salt Spring offers a stellar view and is rated exceptional.
Wisteria Guest House is home to a one-acre garden – and a stay comes with a gourmet breakfast.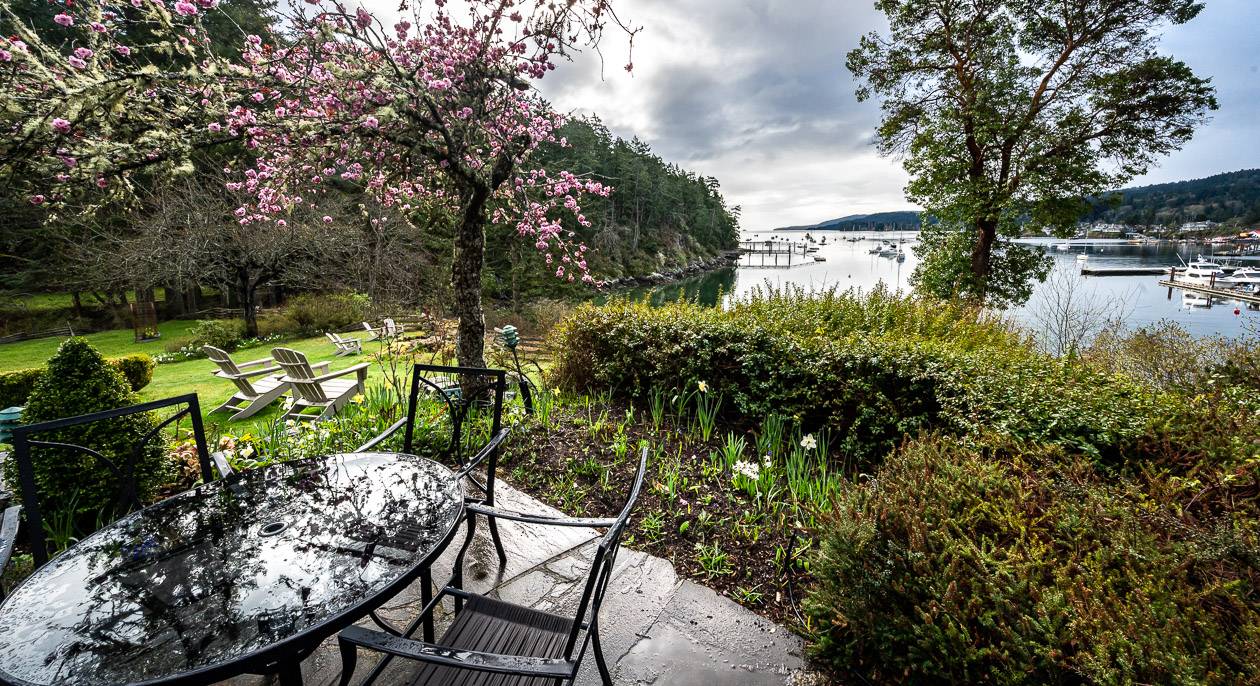 Interested in exploring more of Vancouver Island?
Click on the photo to bookmark to your Pinterest boards.