The 10 km hike on the Coast Trail in East Sooke Park is a standout if you're looking for a full day outing near Victoria. The trailhead is only about a 45-minute drive from downtown Victoria. but it feels like a world away.<
The hike along the Coast Trail in East Sooke is a great one from start to finish. It's a model in contrasts: spectacular and rugged coastal scenery is broken by temperate rainforest filled with massive cedars and firs, some draped in moss. Throw in pocket beaches, tide pools, views of the Olympic Mountains, windswept pines and red barked arbutus trees, as well as swaths of wildflowers in season and you'll understand the appeal of this hike in East Sooke Park.
You might not see a soul either. I didn't see anyone for the first 90 minutes on a glorious Sunday.
This post includes some affiliate links. If you make a qualifying purchase through one of these links, I may receive a small percentage of the sale at no extra cost to you. Thank you very much.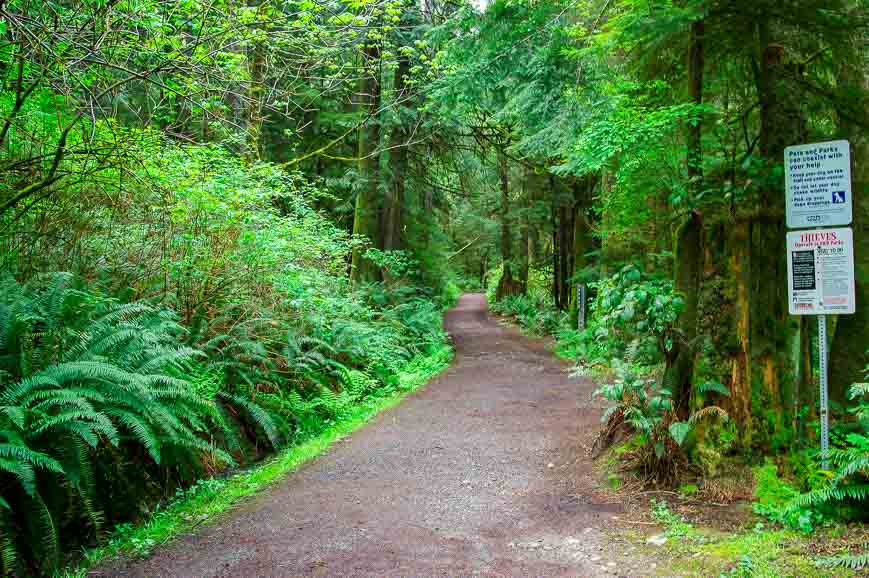 Coast Trail in East Sooke Park
Make no mistake. The Coast Trail not an easy hike like coastal trails everywhere in British Columbia. The 10 km (6 miles) takes a solid five hours. The trail moves between shaded valleys and narrow cliff-side paths.
In wet weather, the trail would be slick. Other than the flat walk in or out from the parking lot at the northern trailhead, the trail offers nothing but continuous ups and downs. Like many a coastal trail, its name belies the level of difficulty.
Watch your footing constantly. Near the end of the trail when I was busy taking pictures, I stumbled ass over teakettle as the saying goes, and ended up splat in the bushes – fortunately with only my pride wounded.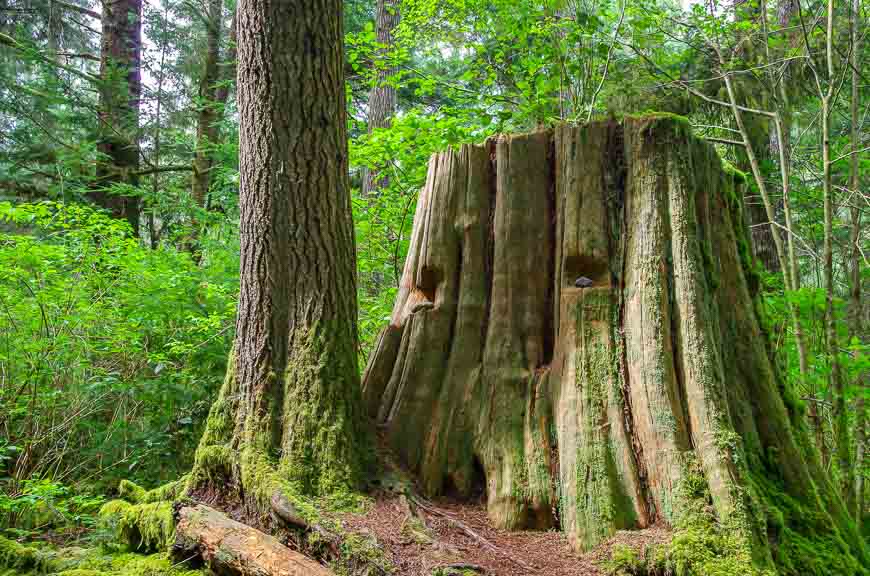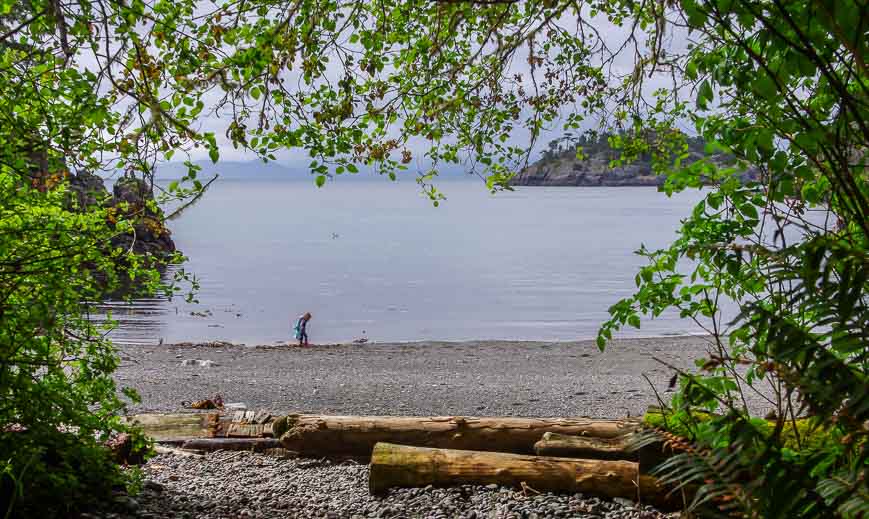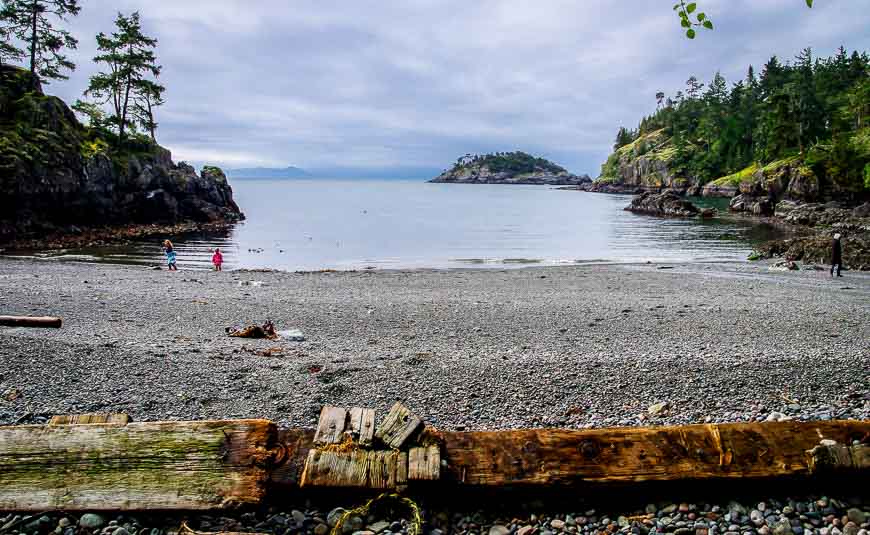 Coast Trail Hike Logistics
The hike requires some pre-planning with respect to transportation logistics. A car shuttle or a drop off is the ideal scenario so you only need to hike it one way. Otherwise count on a brutal 10 + hour day.
Your options include starting at either Pike Road at the northern end of the trail or Aylard Farm at the southern end.
If that's not possible consider doing a loop beginning and ending at Aylard Farm. Take the interior trail out to Cabin Point and return to the parking lot via the Coastal Trail. Don't worry about finding your way either. Signage is excellent with an easy to understand map at every intersection. The loop hike is probably not a full 10 km (6 mi) but it will still take you a solid three to four hours.
You can take your dogs on the trail – and there is cellphone coverage though you might end up paying US roaming charges. There are no charges to visit this park.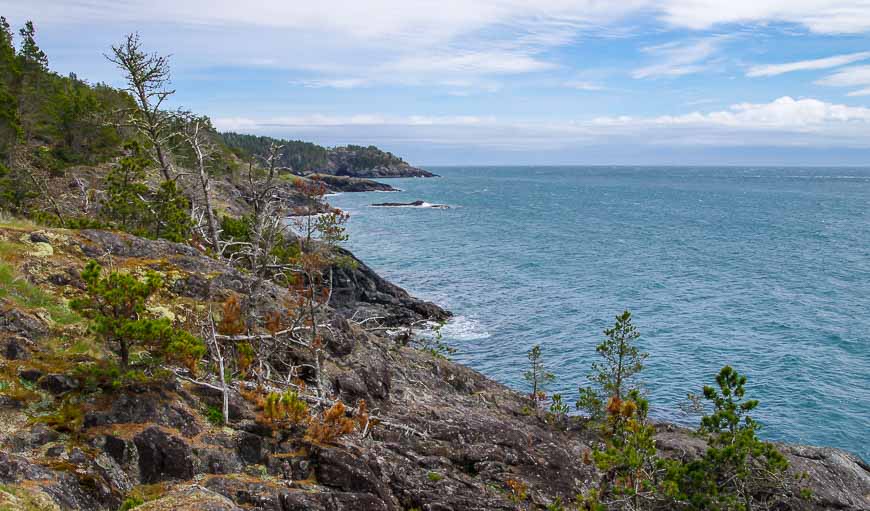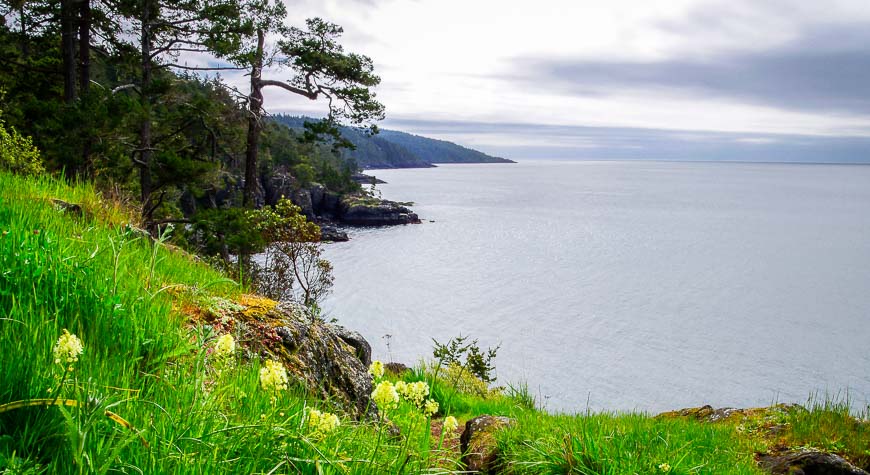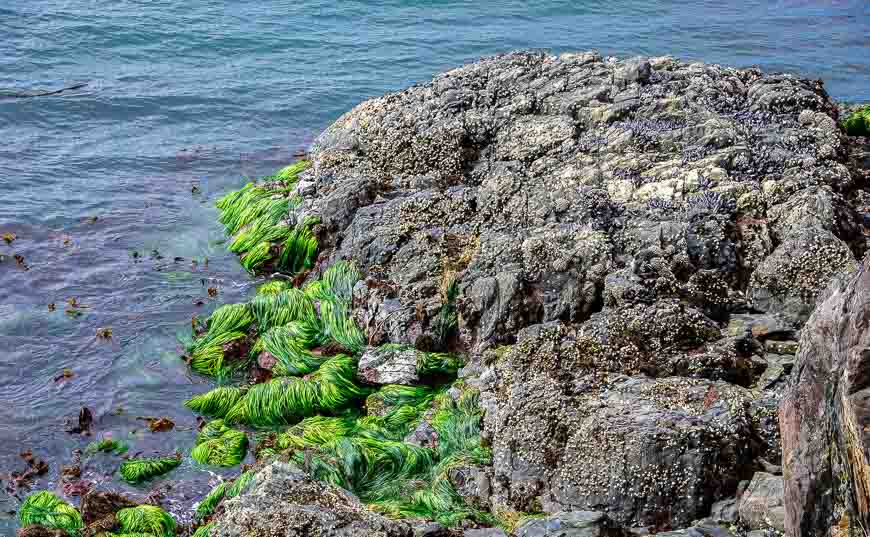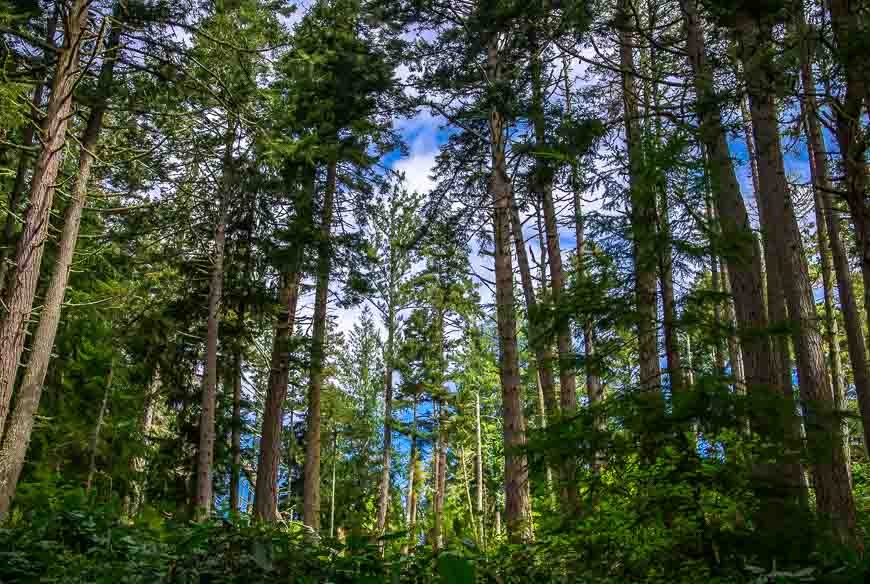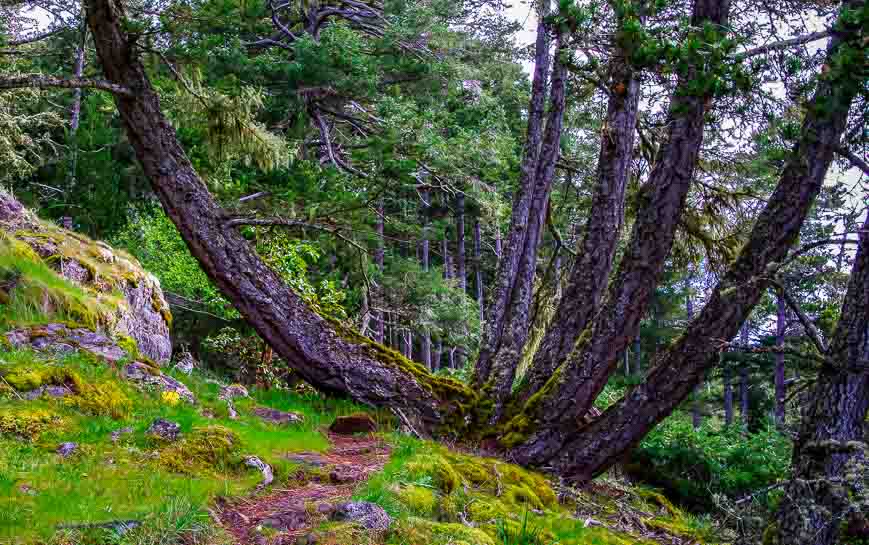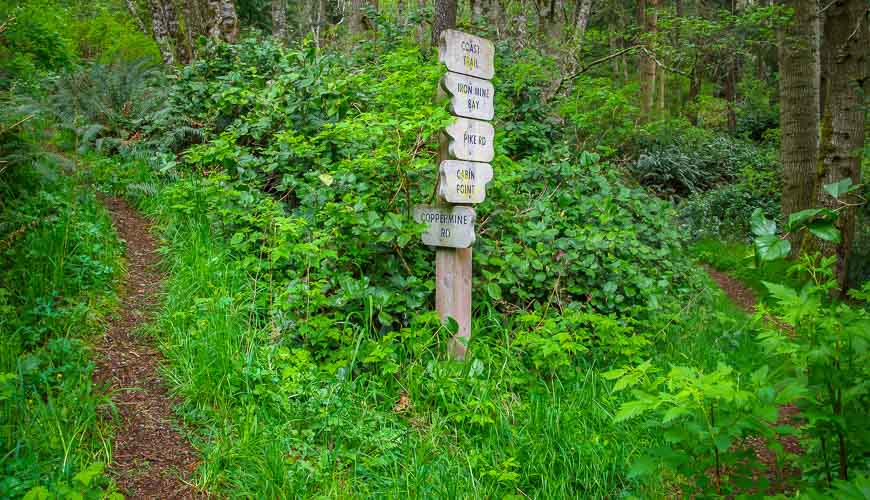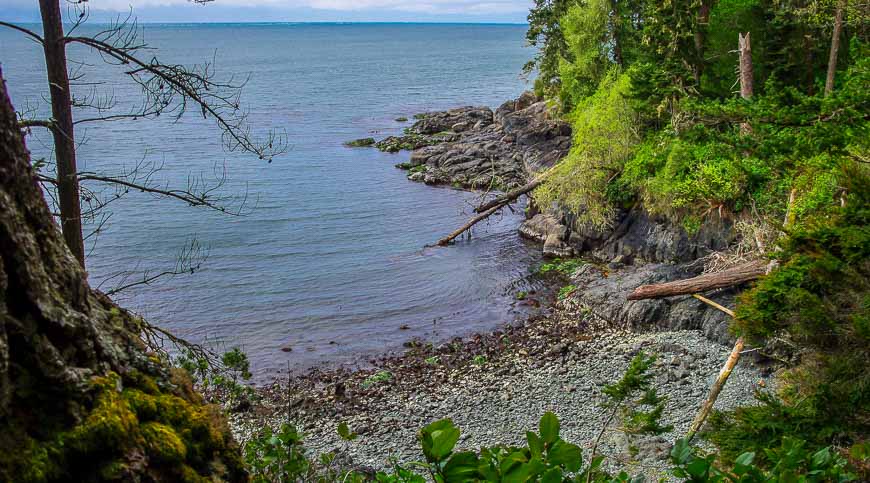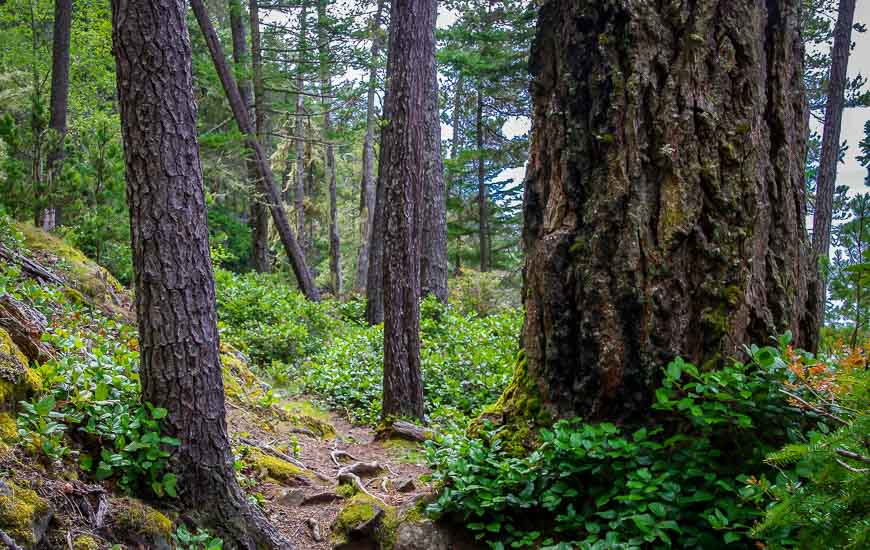 Best time to do the Coast Trail hike
In theory, you can do this hike at any time of the year but it's particularly lovely in spring with the wildflowers emerging. Avoid the hike during high wind storms when the groaning trees are sure to unnerve you or worse topple over. You can't camp overnight but the park is open from sunrise to sunset.
If you only have a day to hike on the west coast of Vancouver Island then this is the trail to do. And petroglyph seekers take note; check out the rocks at Aldridge Point along the coast.
For more information visit the East Sooke Regional Park website.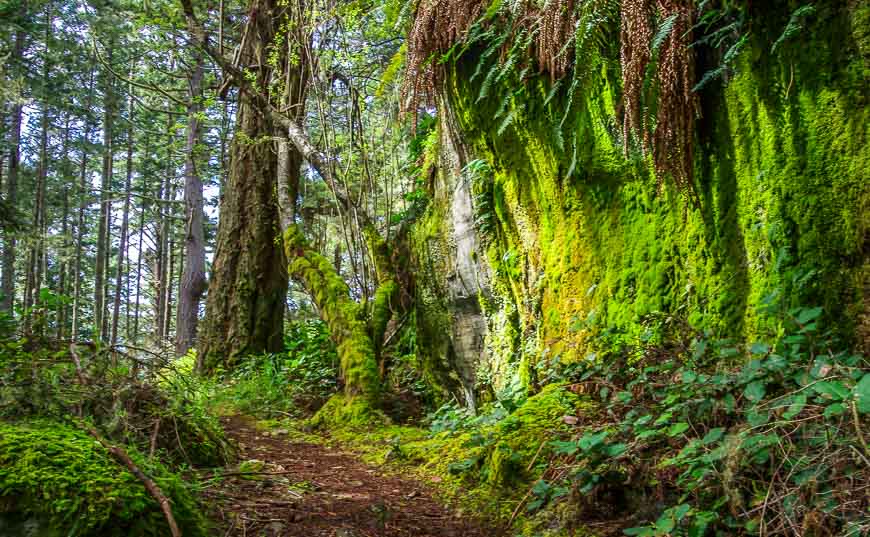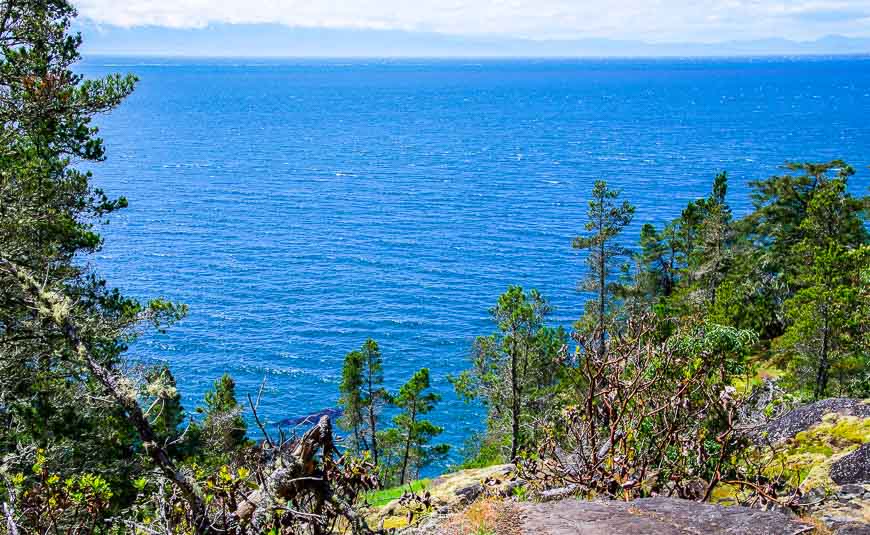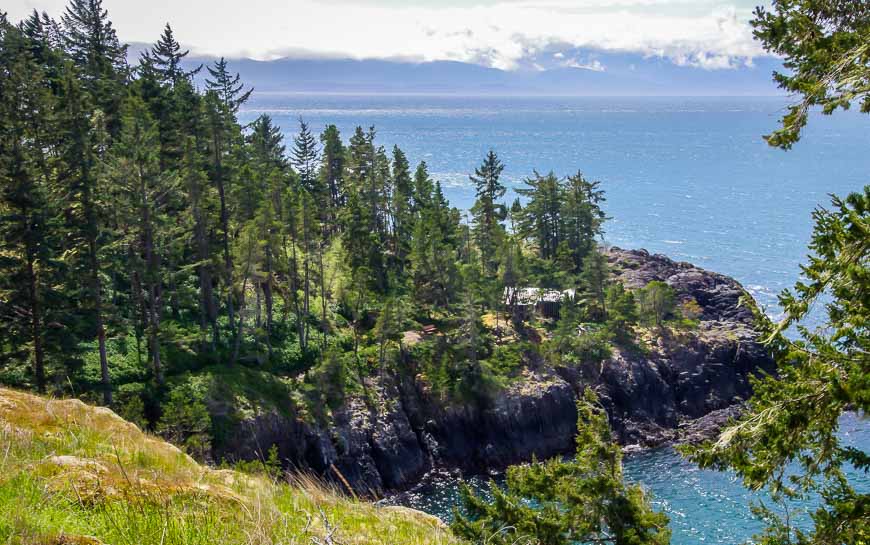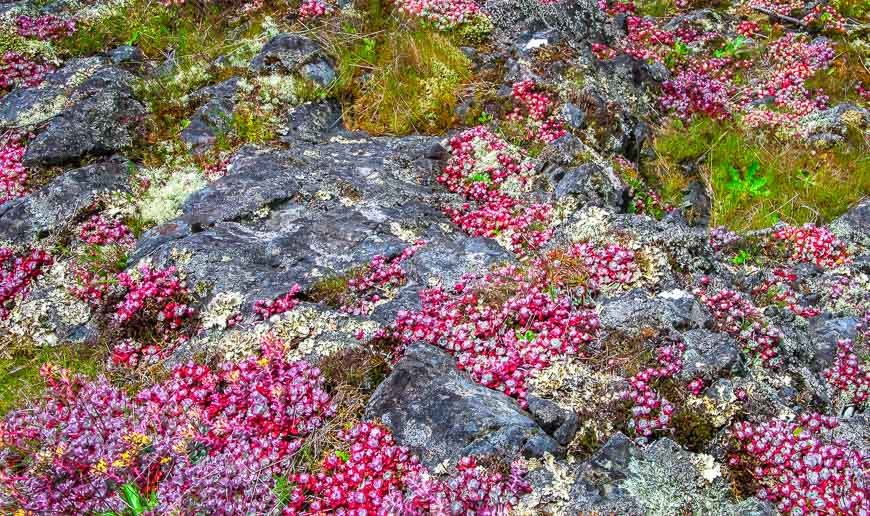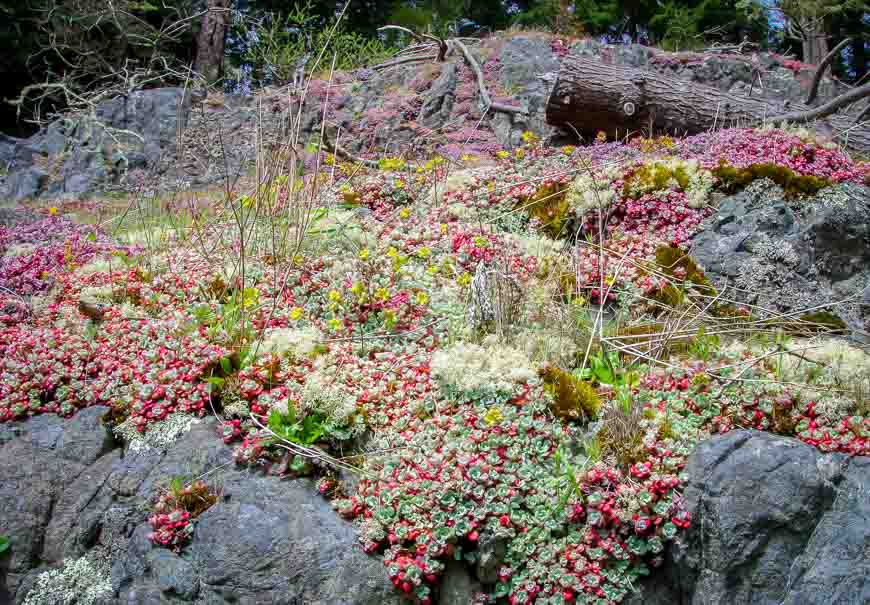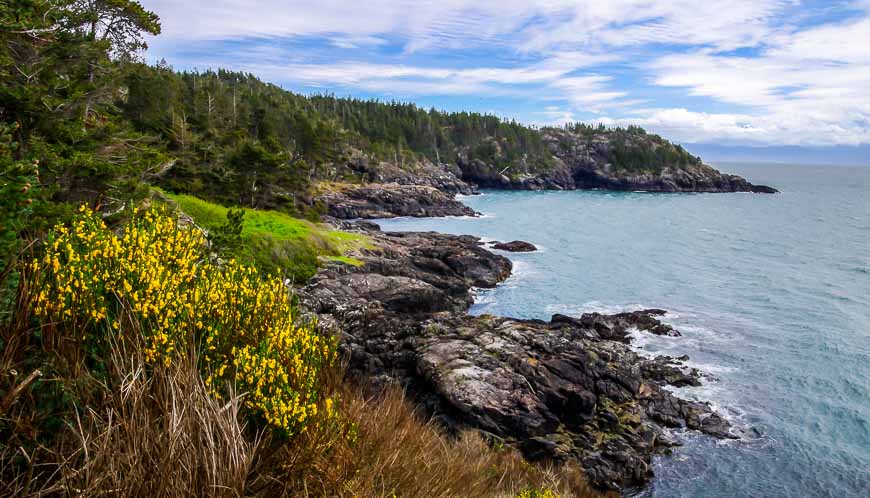 Aylard Farm
If part of your group isn't interested in hiking, they can spend many hours enjoying the area around Aylard Farm. It's a great spot for a picnic. Even better, there's a short but steep trail down to a pocket beach where you can explore the intertidal life. If you're lucky you might even see river otters.
Places to stay in Sooke
This post includes some affiliate links. If you make a qualifying purchase through one of these links, I may receive a small percentage of the sale at no extra cost to you. Thank you very much.
One of the loveliest places in Sooke is the Sooke Harbour House. We splurged and stayed here after hiking the Jian de Fuca Trail. Enjoy beautiful gardens, nicely appointed rooms and delicious food. I highly recommend it.
The Prestige Oceanfront Resort is a great mid-price option – and I can vouch for delicious food in their restaurant. Otherwise check out what is called the exceptional Sooke Point Ocean Cottage Resort.
Location map of the Coast Trail hike
More Vancouver Island hikes you might enjoy
Click on the photo to bookmark to your Pinterest boards.