Hiking in Victoria BC is a year round activity locals and visitors alike can enjoy. While I've done one standout hike in the area – Coastal Trail in East Sooke Regional Park – I hadn't spent any time in the regional parks closer to Victoria. That all changed when I hooked up with guide Ryan Leblanc from The Natural Connection.
According to my trip notes I was going to spend some time practicing Shinrin-yoku, also known as forest bathing. This was all new to me and while I didn't expect to get naked, I really wasn't sure how this would be any different from a hike in the woods.
This post includes some affiliate links. If you make a qualifying purchase through one of these links, I may receive a small percentage of the sale at no extra cost to you. Thank you very much for your support.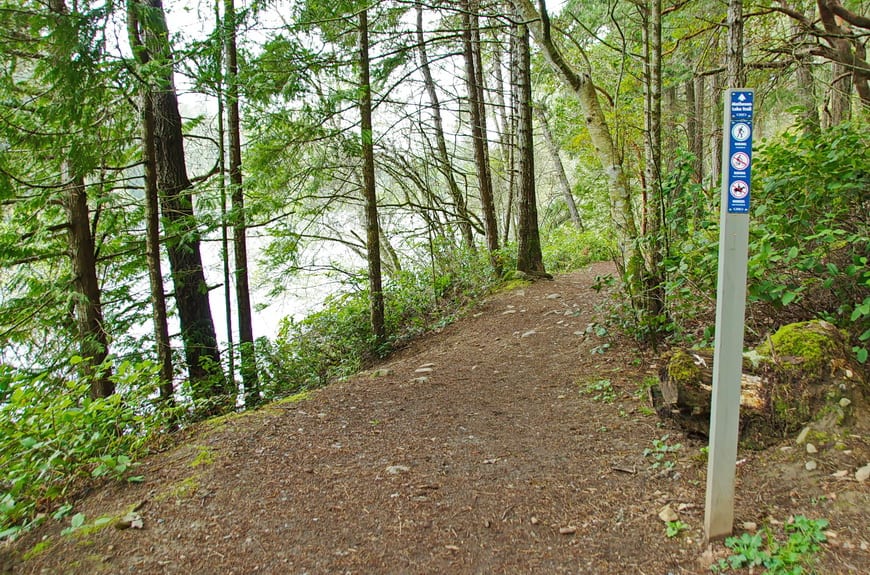 Forest Bathing in Victoria
Right off the bat, I could tell that our first hike of the day – a loop around beautiful Matheson Lake was going to be about the journey, not the destination.
I like to hike quickly – though I do stop to listen to the birds and take photographs. On the 4 km loop around the lake with only a minor amount of elevation it took us double the time it would normally take me.
Here's why.
We started off with a good 5-10 minutes of stretching, something I never do. And then shortly after we started hiking Ryan asked me to pick up a rock and a pine cone. From there I was to transfer all my negative energy and thoughts to the rock and focus all the positive energy into the pine cone. Then I pitched the rock.
I wish I could say all negativity has stayed out of my life since that rock went sailing through the air but it hasn't. Still for the day I spent hiking with Ryan I really did focus on all that was right in my life, of which there is plenty.
Ryan normally takes his clients through a mindful meditation practice though we didn't do that. Perhaps he could sense that just isn't my thing.
He did get me to focus on all five senses (even eating bitter berries) and I credit him for slowing me down so I was wholly in the moment. I also appreciated that much of our hike was done in silence so we could both really focus on nature.
Location map of the Victoria hikes
Hiking in Victoria – The Matheson Lake Loop
The 3.8 km Matheson Lake Loop hike as you can see in the photos, takes you through temperate rain forest with mostly minor ups and downs – with all of 40 metres of elevation gain. In spring, the camas lilies were blooming and the forest had a lovely fresh look and scent to it.
The trail follows the edge of the lake before heading up to a short connector section along the Galloping Goose trail. Then it's back into the woods on a hiking trail where in short order you reach a stream with a small bridge over it.
Look for the beaver dam at the stream crossing and all the paw prints in the mud. If you want to check out a small waterfall go right at the stream crossing, if you're hiking in a counter-clockwise direction. It will add about 15 minutes to the loop hike.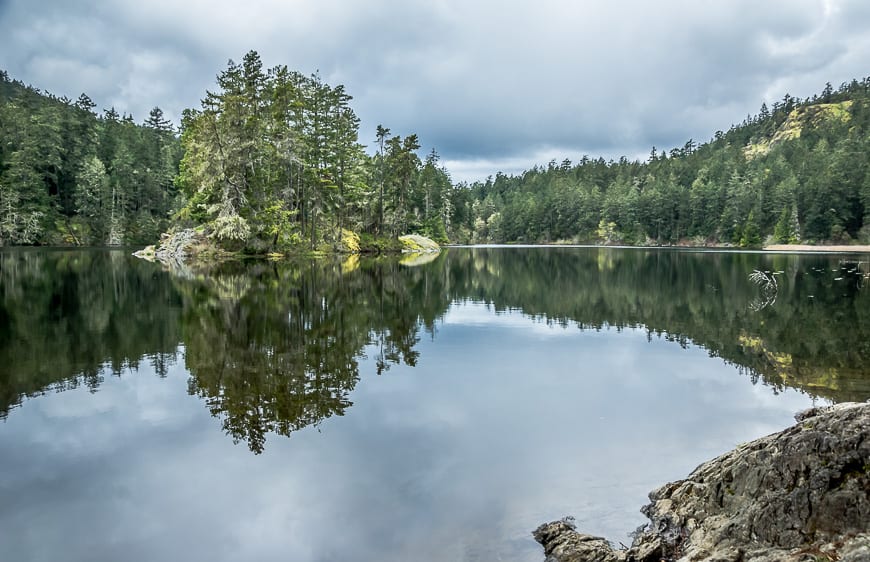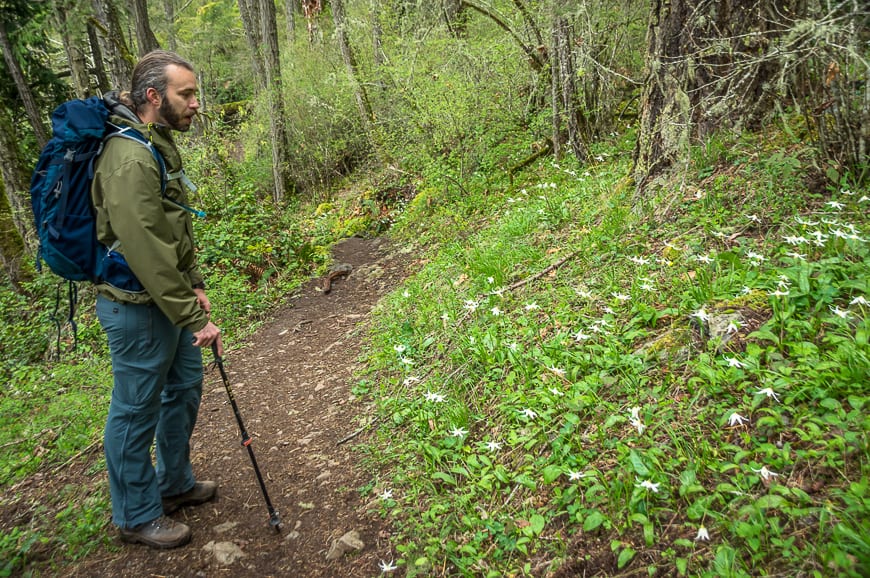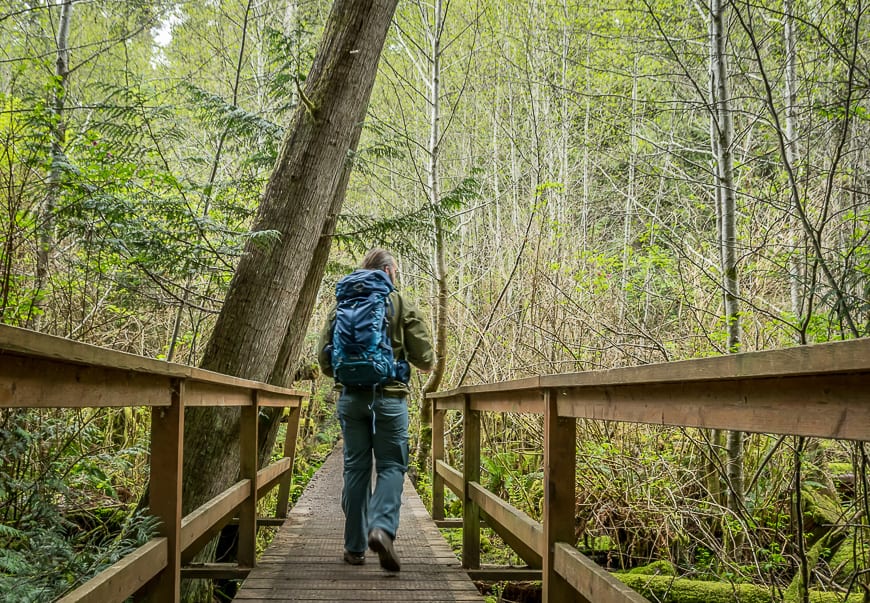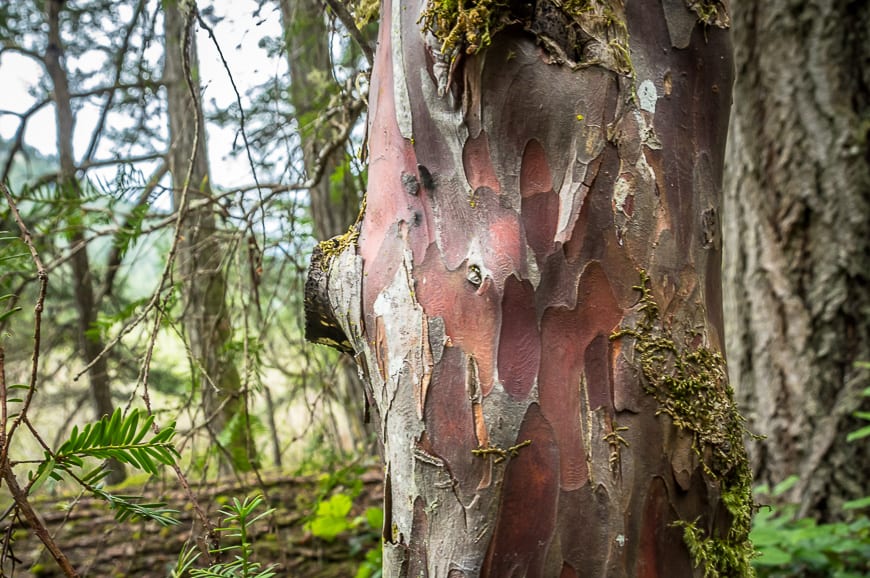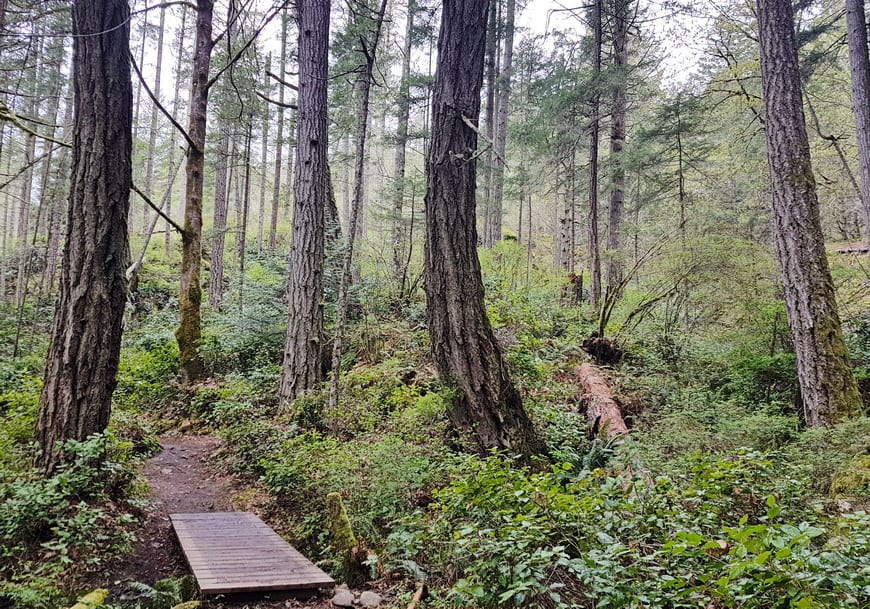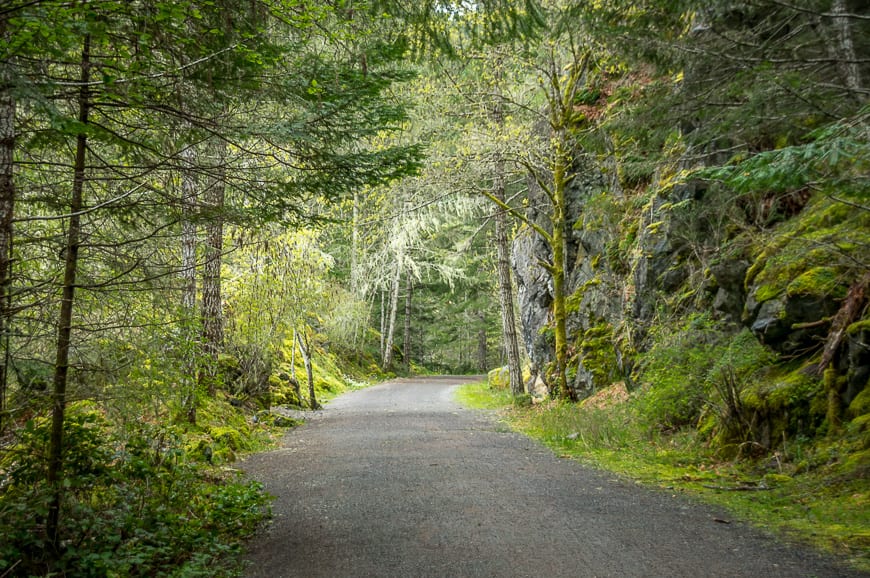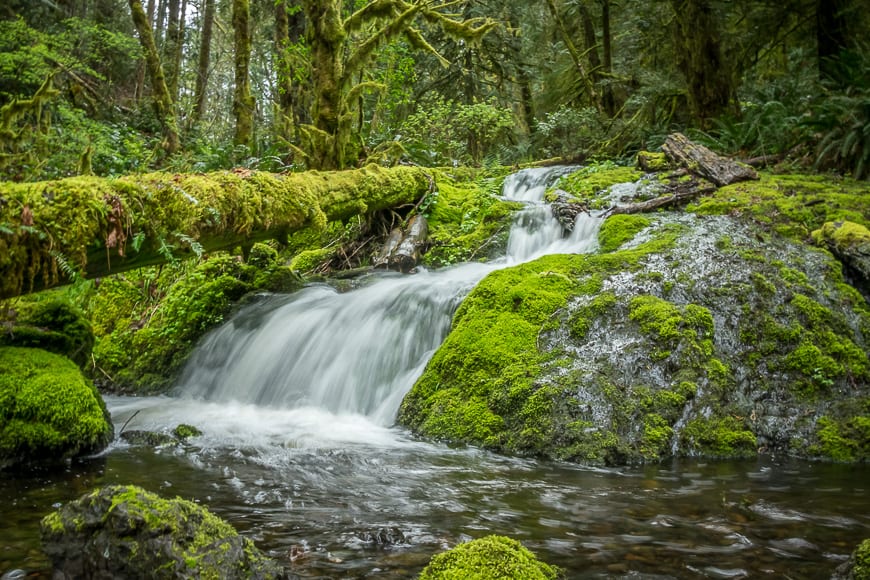 The only real elevation on the loop happens on the south side of the lake when you climb up from the stream. Reach the high point of the hike about 10 minutes after the stream crossing and enjoy some truly lovely views up and down the lake.
From there it's an easy walk back to the parking lot. Ryan suggested I walk on alone for the last 10 minutes so I could get lost in my thoughts – rather a nice way to end off our forest bathing experience.
The trailhead for Matheson Lake is a 45 minute drive from the Inn at Laurel Point in downtown Victoria, where I was lucky to stay for three nights. Once you reach Metchosin take the Rocky Point Road to the intersection with East Sooke Road and follow the signs.
After the hike I'd recommend a stop back in Metchosin at The Broken Paddle for lunch or coffee and dessert.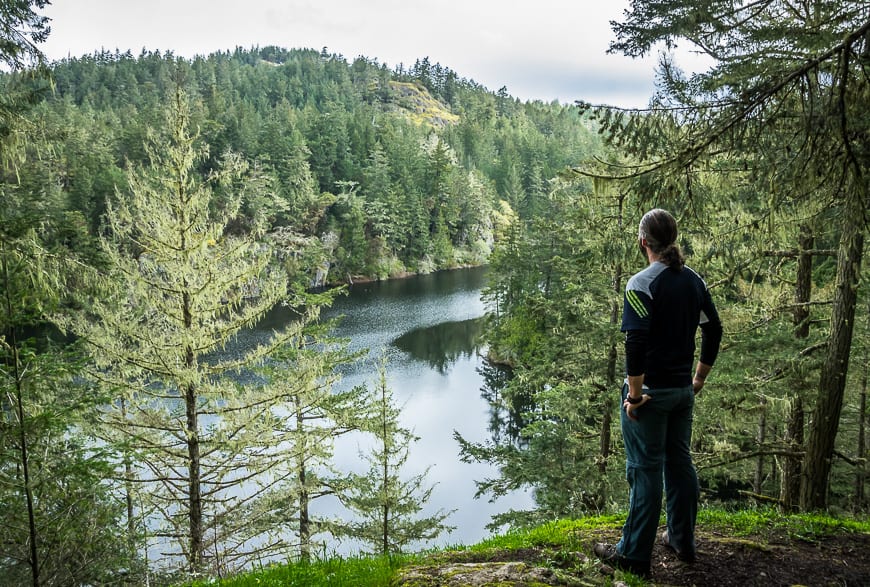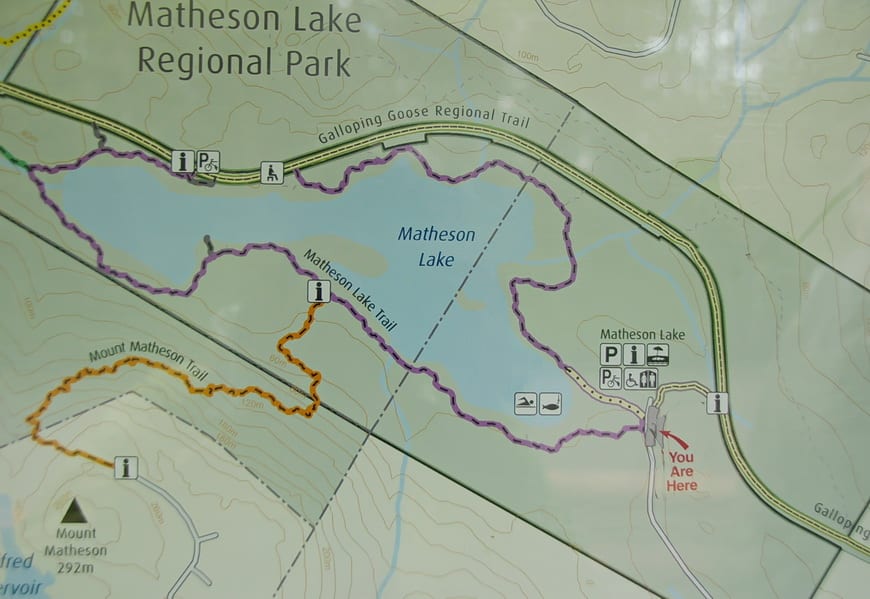 Hiking in Victoria – Lone Tree Hill hike
Our second and last hike of the day was a short one to the top of Lone Tree Hill in Lone Tree Hill Regional Park. Named for a "bonsai-like Douglas-fir tree" that was over 200 years old, all that remains today is a stump.
Even without the fir tree this hike delivers amazing scenery over a climb of just 103 metres. Much of the hike is through a forest of beautiful, smooth-barked arbutus trees.
When you pop out of the trees you end up mere steps from the 364 m summit. Views here on a clear day stretch from the Malahat to the Olympic Mountains in Washington State.
Reportedly when the thermals are good, the summit is a great place for raptors including red-tailed hawks, bald eagles, and turkey vultures so don't forget to look up.
To reach the trailhead take the Trans-Canada Highway to the Millstream Road exit. If you're coming from Victoria turn right on Millstream Road and stay on it to reach the junction of Millstream Lake Road. Turn left to stay on Millstream Road and look for the signed park entrance on the right. There is a small parking lot, a washroom and a map.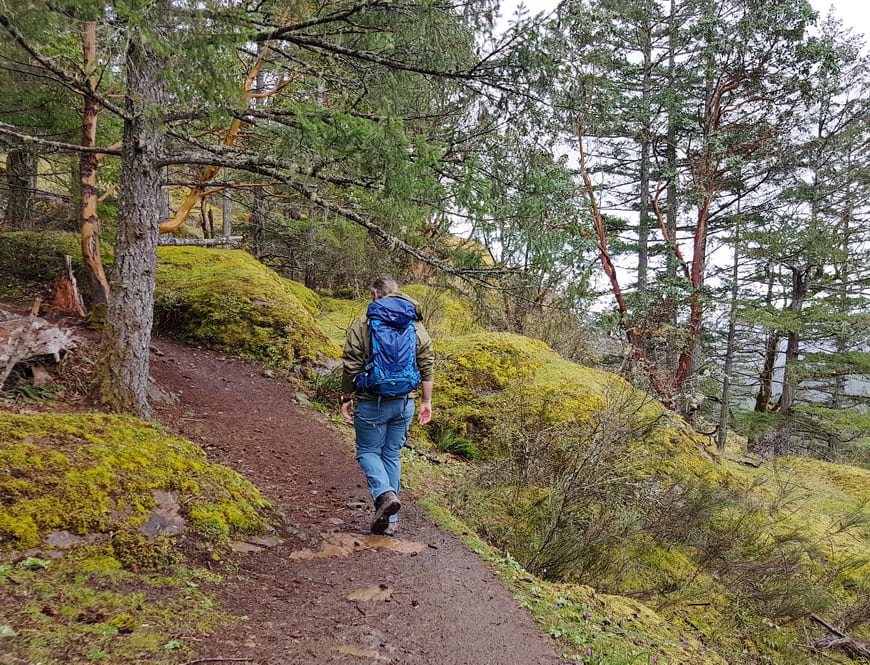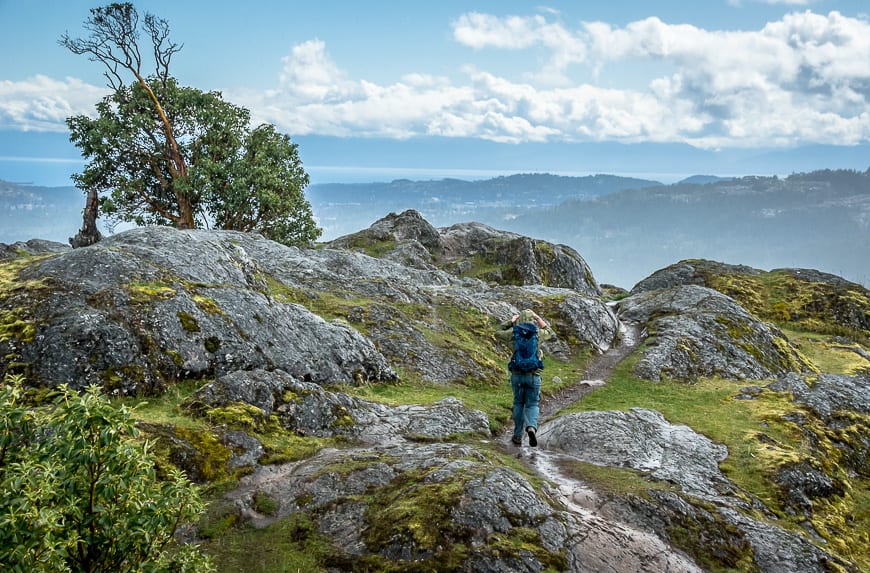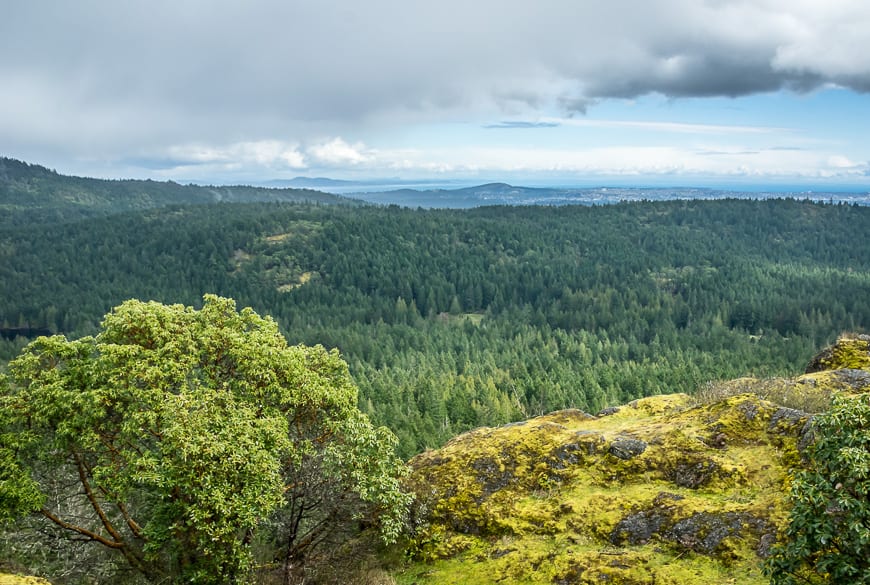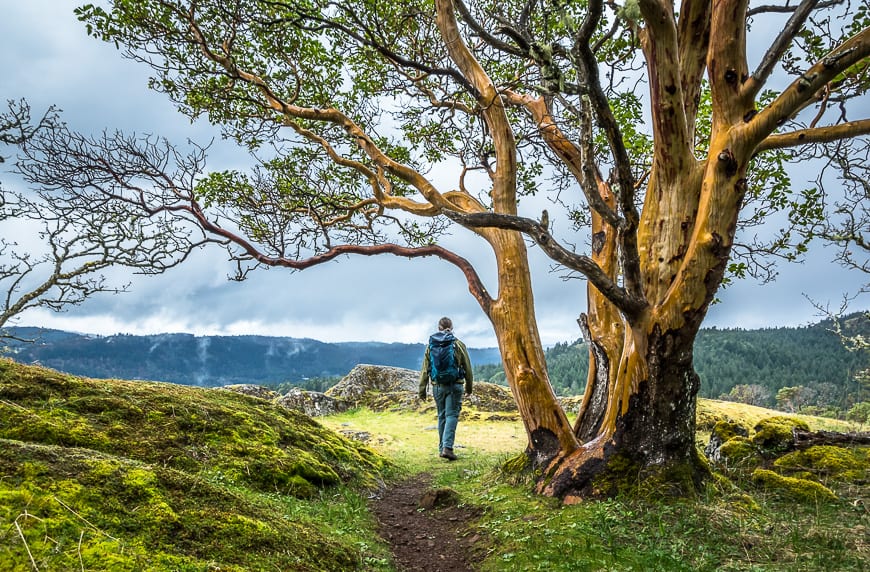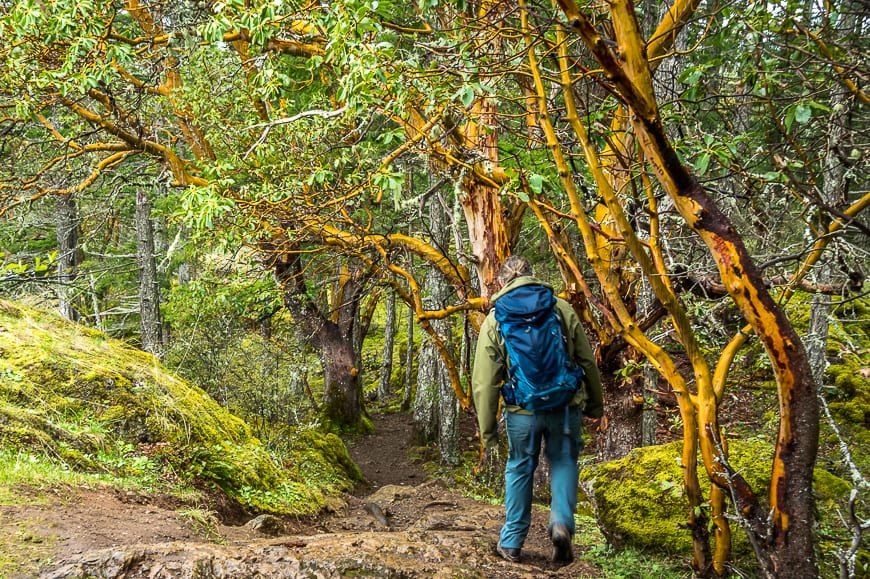 Where to stay when you're hiking in Victoria
I thoroughly enjoyed a stay at the Inn at Laurel Point with views of Victoria's Inner Harbour.
For a self-catering option Urban Den gets superb reviews.
If it's a bed and breakfast experience you're after check Marketa's Bed & Breakfast – rated fabulous.
Save time for exploring Victoria
You'll finish hiking in Victoria and be back in your hotel room by mid-afternoon. That will leave you plenty of time to explore what is one of Canada's most beautiful cities. There are loads of things to do in Victoria, BC so I hope you've booked another couple of days in the city to take advantage of all that is offered.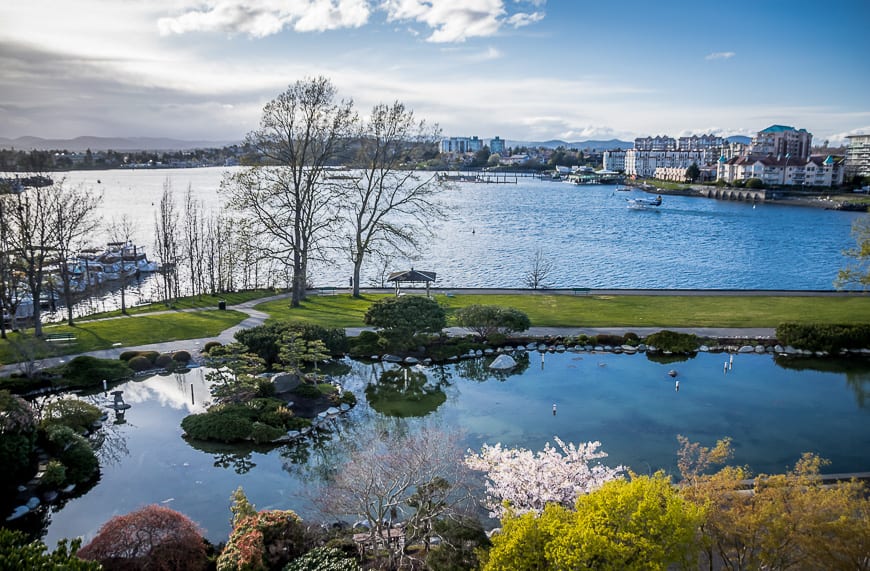 Further reading on things to do near Victoria
Click on the photo to bookmark to your Pinterest boards.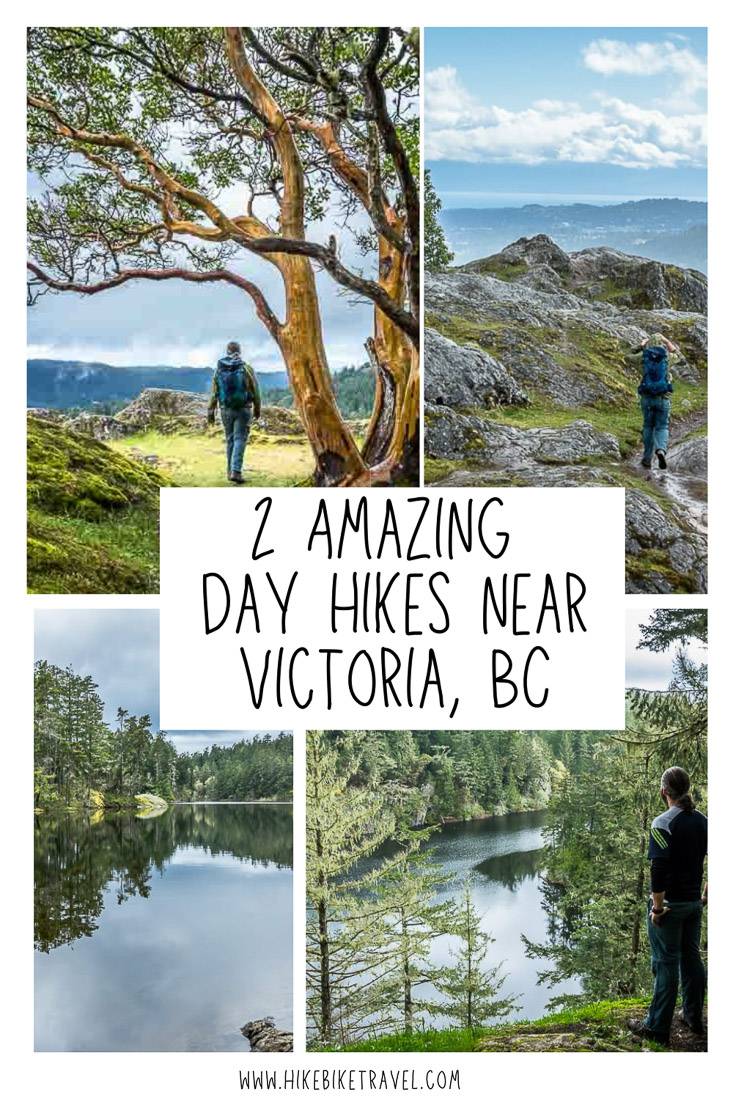 Thank you to Ryan from The Natural Connection for slowing me down and taking me on two outstanding trails and to Tourism Victoria for hosting my stay.