April is an awesome time for cycling in Victoria. While the rest of Canada is under snow advisories (at least some years) or even worse, still buried under many feet of snow, you can head off for a bike ride on an extensive network of flower-lined trails around the city and the surrounding area.
Cycling Victoria BC is a superb way to intimately visit the city as you get to experience it with all your senses. It's especially lovely in spring when the city is filled with beautiful scents and flower gardens that are easy on the eyes.
This post includes some affiliate links. If you make a qualifying purchase through one of these links, I may receive a small percentage of the sale at no extra cost to you. Thank you for your support.
Cycling Victoria BC – The Harbour to Farm Tour
If you are an out of town visitor to Victoria you can easily rent bikes and explore on your own.
But if you're interested in learning the back stories and discovering areas even locals don't know about, sign up for one of the four tours led by Bike Tours Victoria. I spent five delightful hours with owner Matt Oliver on his harbour to farm tour. He doesn't seem to be doing it anymore but The Pedaler offers several choices – both guided and self-guided.
Even though I have cycled the full Lochside and Galloping Goose Trails, on this cycling trip I visited communities I'd never seen before. I also checked out one fabulous garden I'd never even heard of, ate lunch at the marvelous Charlotte and the Quail and for the first ride of the season I spent enough time on the bike to feel like I got some decent exercise. Cue the sore butt.
Matt tells me that his three hour tours are the most popular ones but anyone who does the harbour to farm tour is struck by the variety of landscapes and the garden-lunch combo. Little did I know when I started out what a treat the day would be.
The bike ride starts off on Johnson Street just steps from the Inner Harbour. With the recent opening of the Johnston Street Bridge (after 10 years and a full rebuild because of bad Chinese steel) it's easy to access a viewpoint across the harbour.
It's fun to watch all the comings and goings of ferries, sea planes and boat taxis.
The E & N Rail Trail
In no time we hooked up to the E & N Rail Trail – one that will ultimately be 17 kilometres in length and will connect Victoria with nearby Western communities.
We rode through , past dry-docks where cruise ships come in for week long repairs. Although some of the trail isn't completed, sidewalks and local roads provide stopgap measures.
What I particularly appreciated along the trails we rode were the large maps with a prominent YOU ARE HERE dot. I like to be oriented and have a sense of the route, even if I don't actually have to think about it per se when I'm with a guide.
Ultimately Matt took me on a 30 kilometre loop. From Esquimalt we passed the popular Nest Cafe located next to the Galloping Goose in View Royal. If we didn't have lunch plans I would have stopped for a coffee.
Biking the Galloping Goose Trail
The Galloping Goose Trail runs from the Johnston Street Bridge in downtown Victoria to north of Sooke Potholes Regional Park, a distance of some 55 kilometres.
We only followed a short section of it – some of it glorious and some rather awful, though only temporarily while they do roadwork on a stretch of the Trans-Canada Highway. Be prepared for a couple of kilometres of unavoidable noise and dust.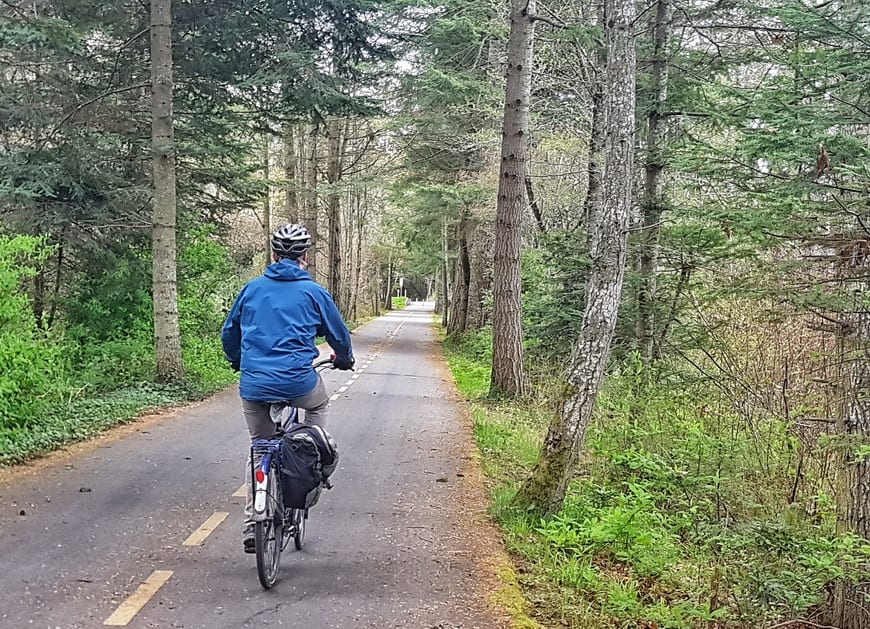 There were a few sections along the Galloping Goose and Lochside Trails that had swaths of camas lilies in bloom. The bulbs themselves were an important foodstuff for the Native people. According to Wikipedia:
"After being harvested in the autumn, once the flowers have withered, the bulbs were pit-roasted or boiled. A pit-cooked camas bulb looks and tastes something like baked sweet potato, but sweeter, and with more crystalline fibers due to the presence of inulin in the bulbs. The eating of too many such baked bulbs – especially if undercooked – can cause excessive flatulence. When dried, the bulbs could be pounded into flour."
A stop at Charlotte and the Quail
Even if you never go near a bike, still plan to visit the Gardens at the Horticulture Centre of the Pacific AND include breakfast, lunch or coffee and desert at Charlotte and the Quail, the onsite restaurant.
You'll find a short but inspired menu with unbelievably good food. (Their other restaurant – Nourish is located in Victoria.) I had the hummus with roasted carrots and grainy bread and oatmeal pancakes with a beet and apple compote, topped with whipped cream and bee pollen – a weird combo I know but I was in a state of complete bliss over my entire meal.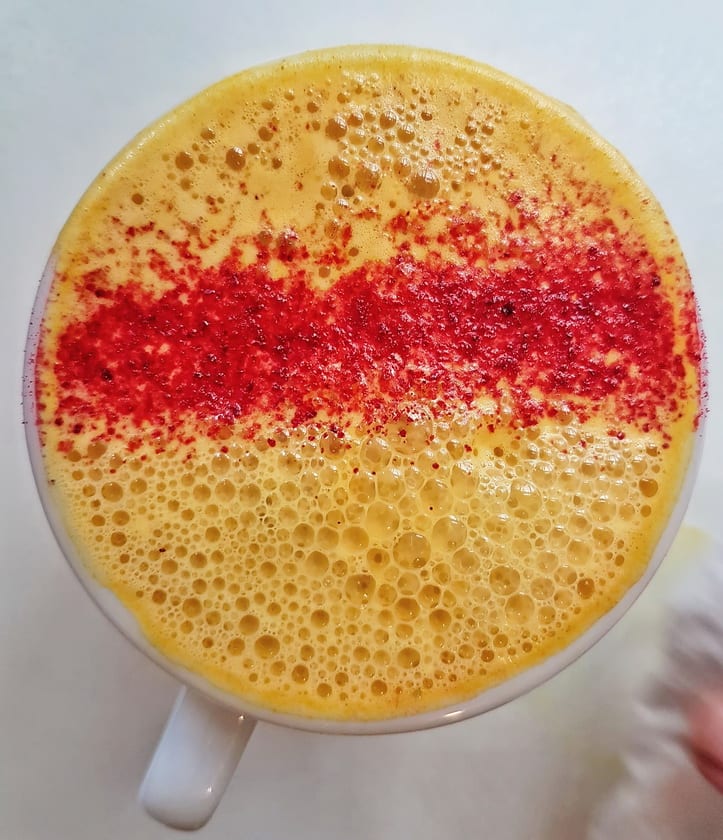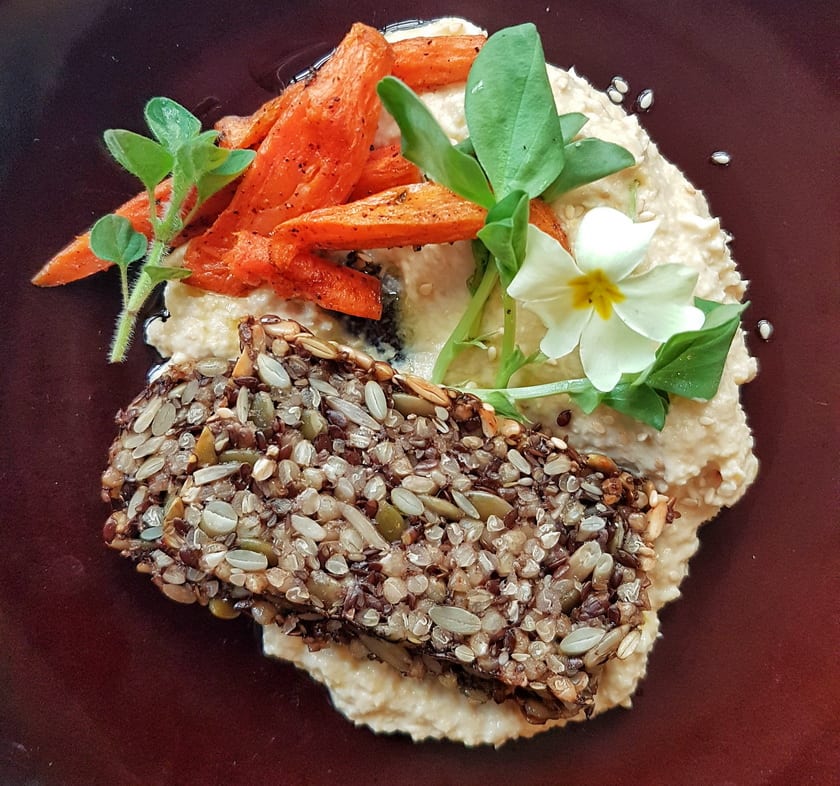 The gardens at HCP, located only about eight kilometres from the famous Butchart Gardens, are open year round.
While the goals at HCP include research, conservation and lifelong learning, visitors can come simply to enjoy the variety of gardens including a Japanese garden with bonsai trees – some of which are 75 years old; a children's garden, the Doris Page winter garden and a cutting garden to name a few.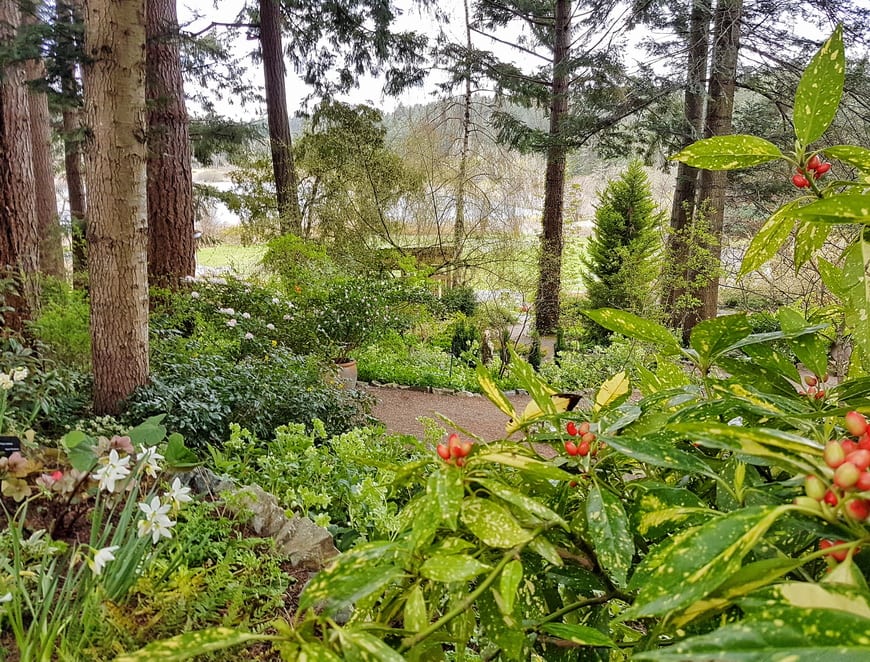 Cycling in Victoria BC – The Lochside Trail
After lunch and a wander through the gardens it was back to biking. The goal was to backtrack a few kilometres, weave through the Royal Oak neighbourhood and pick up the Lochside Trail. It would ultimately deliver us back to our starting point.
The 29 kilometre Lochside Trail runs from the ferry terminal into downtown Victoria. It primarily weaves through the farm country of the Saanich Peninsula. As you get closer to Victoria there are several trestles to cross including the Swan Trestle which allows a glimpse into the beautiful marshland of Swan Lake.
Look for the street art featuring Queen Victoria on a bike after you pass the Switch Bridge.
The five hour bike ride is done at a relaxed pace so there is plenty of time for photography stops or to hear Matt opine on points of interest. For visitors to Victoria a bike tour is a fabulous way to see the city and get off the tourist trail.
Where to stay in Victoria
The Inn at Laurel Point with views of Victoria's Inner Harbour is a great place to stay. I spent a few nights here and found it to be within walking distance of the major sights.
If you're looking for a self-catering option the Urban Den gets superb reviews.
For a bed and breakfast experience check out Marketa's Bed & Breakfast – rated fabulous.
Further reading on things to do near Victoria
Click on the photo below to save to your Pinterest board.
A big thank you to Tourism Victoria for hosting my visit and to Matt for a fabulous bike tour. He's #3 on Trip Advisor for things to do in Victoria so don't just take my word for it. Lots of people agree that this is a great way to spend a day.