I always love to visit the Victoria area in spring, especially if Calgary is still blanketed in snow. There's nothing like arriving to a landscape of colour. On my wish list for my time on the Saanich Peninsula was an April visit to the Butchart Gardens. I'd been before but there's a timeless appeal to the gardens and April is spectacular with all the spring bulbs in bloom. The fall is also a stunner of a time to visit too.
I took my mother with me and our first stop was the conservatory. We ate lunch – though we could have had high tea in a delightful setting. On the day we visited the Butchart Gardens in April, there was hardly a soul around so there wasn't much of a wait. I can't imagine what it would be like on Mother's Day.
This post includes some affiliate links. If you make a qualifying purchase through one of these links, I may receive a small percentage of the sale at no extra cost to you. Thank you very much for your support.
History of the Butchart Gardens
The year is 1904. Mr. Robert Pim Butchart, the original owner, has been mining the limestone quarry for his Portland cement business. His wife, Jennie Butchart, who obviously knows a thing or two about design, has the brilliant idea of turning the quarry into a garden.
He obviously shares her vision and so begins the transformation of the quarry into one of Canada's premier tourist attractions and a National Historic Site – though that didn't happen until 2004.
Jennie Butchart was a gifted garden designer. She used the rock outcropping to great advantage. Then the bones, the permanent and structural components of the garden, like the trees, shrubs and walkways were so well thought out that they have survived to the present day.
Over the years The Gardens have been expanded to include the Rose, Italian, Japanese and Mediterranean Gardens. Plants from their travels – both rare and exotic, were added over time. On top of that thousands of bulbs, annuals, perennials and roses were added to create the stunning garden you see today.
By the 1920's, 50,000 people visited each year. Today that number is closer to one million people per year.
A few cool facts about the Butchart Gardens
The Butchart Gardens cover 55 acres. To keep them looking so impeccable, it takes 50 full time gardeners, 12 part-time gardeners as well as 550 staff in peak season. There is never a weed in sight, or a blade of grass where it shouldn't be.
One fact I read states that the Butchart Gardens are entirely self-sufficient with regards to their irrigation supply. Every year millions of litres of rainwater are collected via runoff from the parking lots and stored in a number of reservoirs and wells.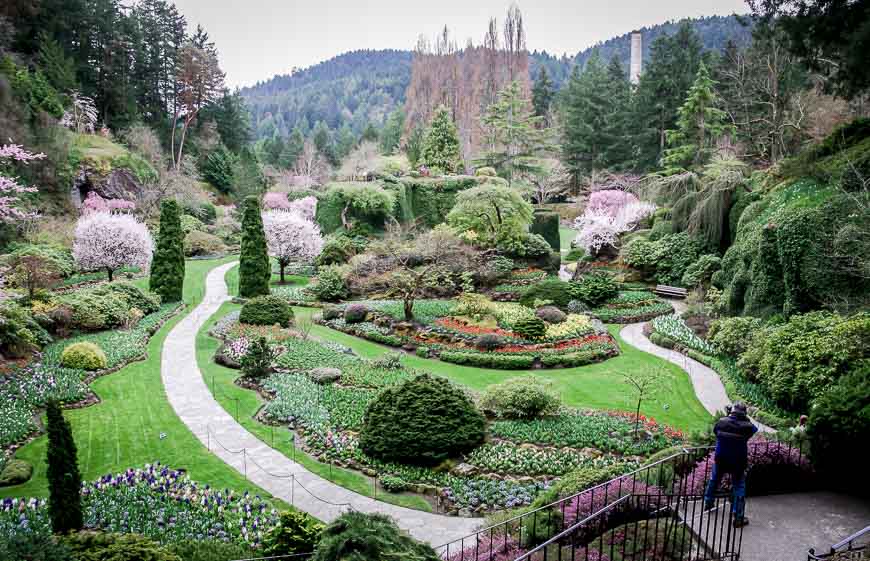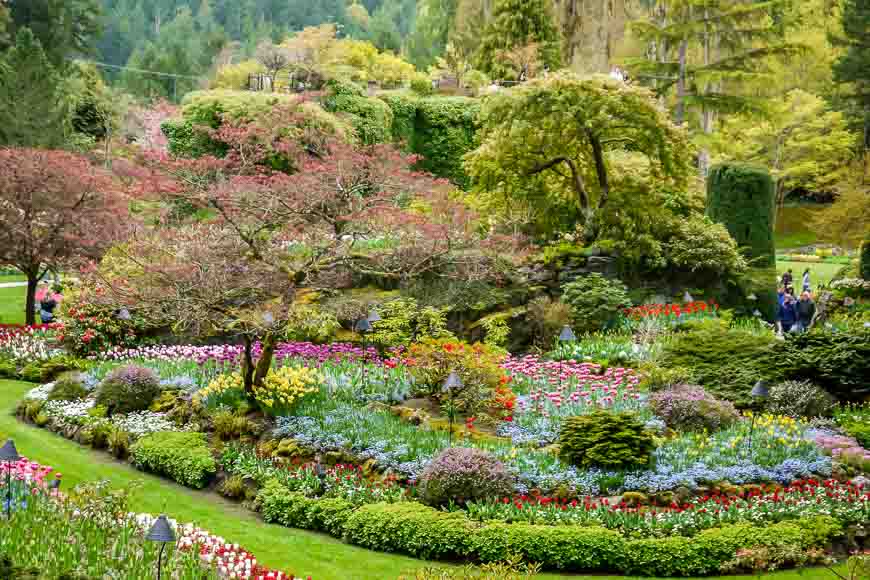 How to make the most of your visit to the Butchart Gardens in April
There's been a lot of thought put into how to manage people and get them moving in an orderly direction. When you buy your tickets you get a map and a guide with a suggested walking route. Follow it, because it makes sense and you won't miss any of the gardens.
The average suggested time in the gardens is 1.5 hours – but if you're a photographer or keen gardener I think you could easily spend a half day.
There are places to pick up coffees and snack along the way plus two restaurants near the ticket office. There's even a Children's pavilion and Rose carousel – and if I was a kid I'd be making a beeline right to the rides.
After walking through the Sunken Gardens and past the Rose carousel you can saunter through the Rose Garden and the Japanese Garden. Paths lined with gorgeous spring bulbs in great colour combinations lead the way.
From the Japanese Gardens you can do a quick side trip down to the waterfront. You might see the odd kayaker, seal or even a float plane landing with guests. Near the finish of the walk you pass through the Italian Gardens. In May they're a colour coordinated delight of pinks, blues and whites.
I think this quote says it all. Bad Gardens copy, good gardens create, great gardens transcend. (Ken Wilbur)
The Butchart Gardens belong in the great gardens category!
Want to book a visit to the Butchart Gardens? Enjoy the Butchart Garden tour with Get Your Guide or a Victoria and the Butchart Gardens tour with Viator.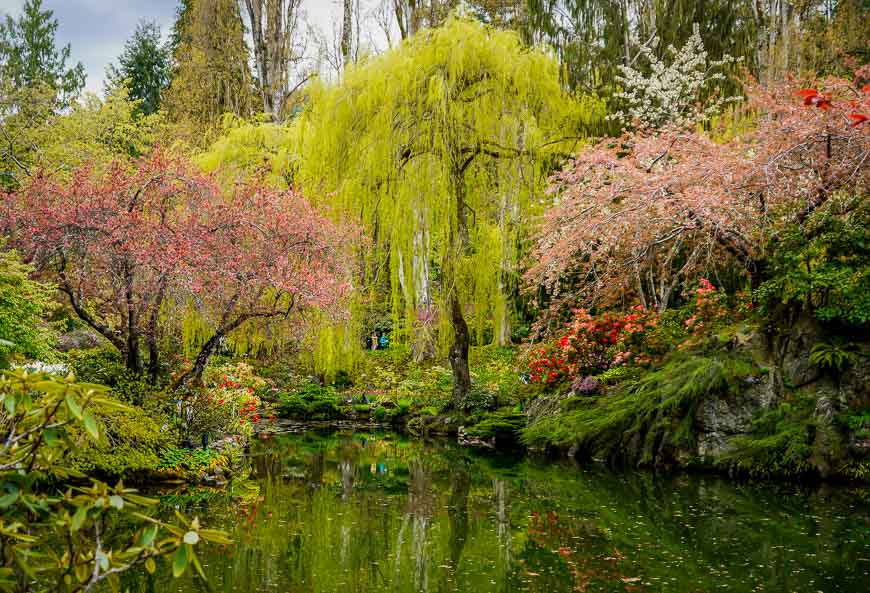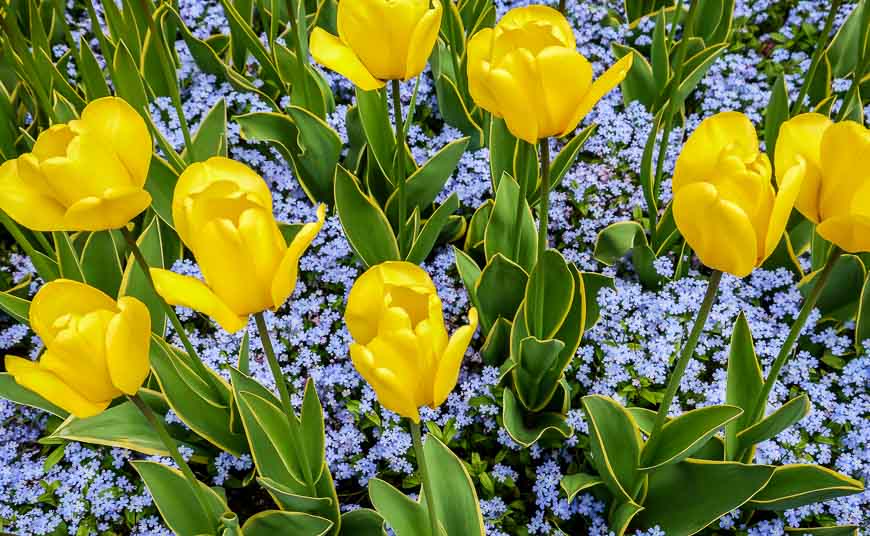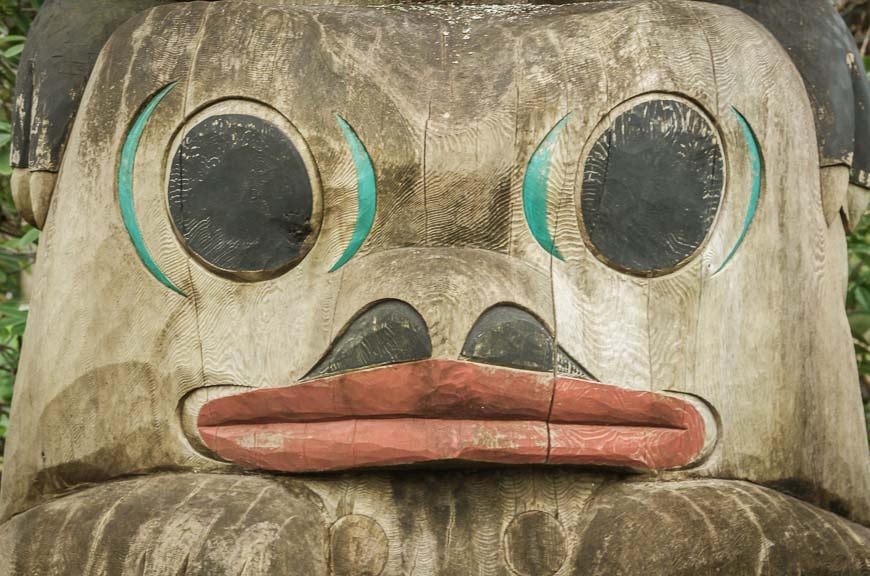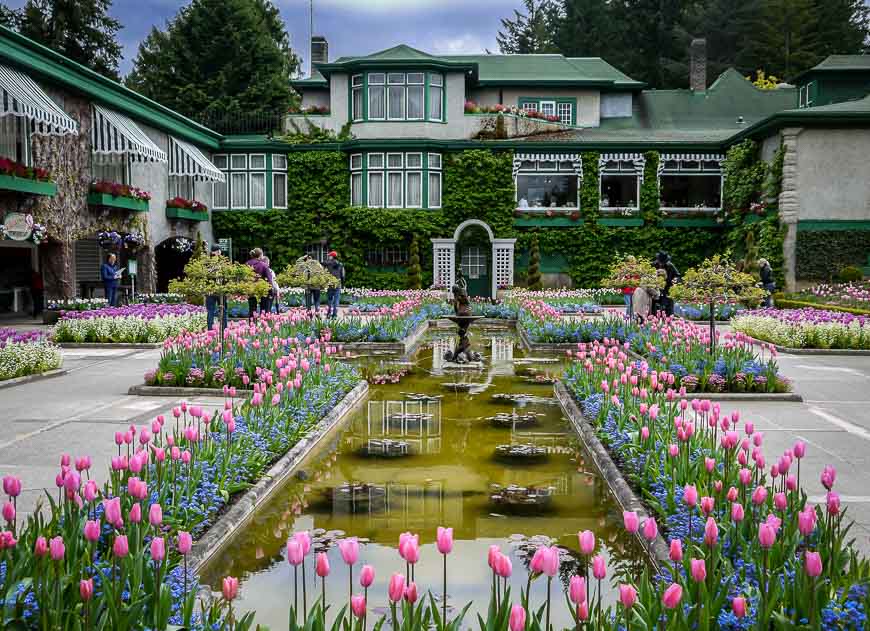 Where are the Butchart Gardens?
The Butchart Gardens are located on the Saanich Peninsula near Brentwood Bay. They are about 20 kilometres from Victoria and a 20-minute drive from the Swartz Bay Ferry Terminal.
Useful information about the Butchart Gardens
The gardens are open year round. In the summer (June 15-September 3) you can visit from 9 AM until 10 PM. Visit their website for information on the other months.
Spring time admission (April 1 – June 14) prices in 2023 are $36.50 for adults, $18.25 for youth 13-17, and $2 for children 5 – 12. Plus tax. Prices vary depending on whether its low or high season.
Plan on a trip to see the fireworks in the summer.
Every night in July and August concerts are offered – from Jazz to Folk to Celtic to Vocal.
If you want to treat yourself on a visit to the gardens
Travel by seaplane from Victoria's Inner Harbour to the Butchart Gardens on Tod Inlet, enjoying superlative views along the way. Enjoy a three course meal followed by an evening stroll in the gardens. Return to Victoria by limousine. If that sounds appealing book here with Get Your Guide.
Further reading on things to do in the Victoria area
Click on the photo to bookmark to your Pinterest boards.