I spent a week in Cabo San Lucas and while I had a great trip, I was truly surprised at what I learned once I got down there. I wanted to share that information with you as it could make a real difference in how you plan a trip. Here are 6 travel tips for Cabo San Lucas that you probably don't know but should before you go.
This post includes some affiliate links. If you make a qualifying purchase through one of these links, I may receive a small percentage of the sale at no extra cost to you. Thank you for your support.
There are two Cabo's but only one Cabo San Lucas
There are two Cabo's. That was news to me. There's party and touristy Cabo – aka Cabo San Lucas and artsy Cabo, known as San José del Cabo. They are about a 35 minute drive apart.
If you're into drinking and adventures head for Cabo San Lucas. But if you want authentic culture and a laid-back vacation choose San José del Cabo. It's also closer to the airport, just as an FYI.
In between the two there are a huge number of resorts. I loved my stay at the Sheraton while others in our group had lots of nice things to say about the Marquis Los Cabos (great views and the Dallas Stars hockey team was resting there.)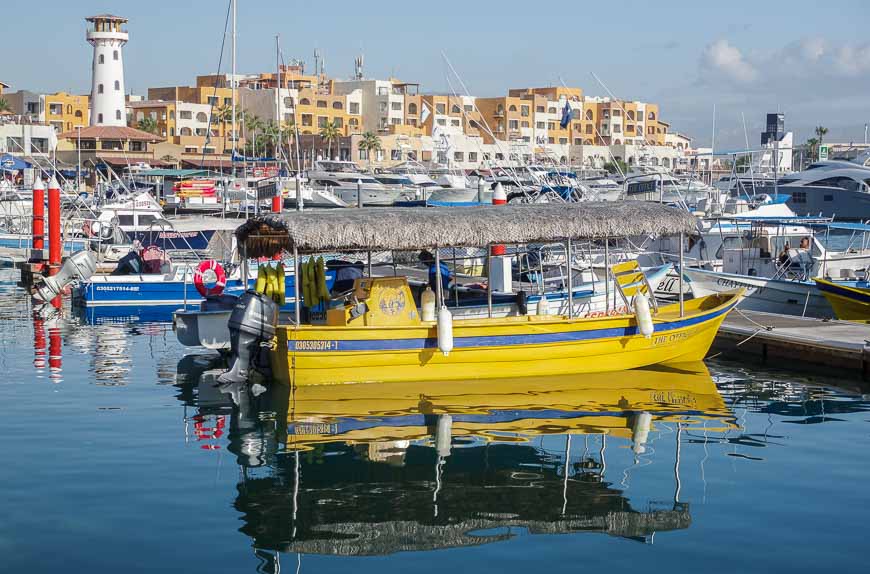 Beaches line the coast but most have dangerous undertows!
What I learned is that most of the beaches have a dangerous undertow and you're taking your chances to swim. (If there is a red flag you shouldn't be swimming at the beach.)
All the resorts have pools but if swimming in the ocean is something important to you, be sure to ask before you book if your hotel offers ocean swimming. (As an example the Hilton Hotel has a great beach for swimming and in Cabo San Lucas, Medano Beach is a good one for swimming.)
All beaches are beautiful and clean. And many like ours at the Sheraton are perfect for a long walk especially if you're prepared to do a little rock hopping. In Mexico beaches are public up to the high tide line.
It's expensive for Canadians to visit Cabo as most everything is based on the US dollar
Taxi rides are a case in point. From our location at the Sheraton (almost midway between the two Cabo's) it cost $US25 to take a taxi one way into Cabo San Lucas and $US35 to take it into San José del Cabo.
There are buses that run between the two towns that will set you back somewhere between $US 2 and $US 3 per person. We used them once and can definitely recommend them.
Your hotel may have a shuttle for a fee but in our case the departure times never worked out. Meals are equally expensive when denominated in US dollars. An all-inclusive vacation may be the most economical way to go – though perhaps not the most interesting way to visit.
The food is downright awesome
Night after night I was blown away with the quality and creativity exhibited. The Sheraton had a couple of good restaurants, should you happen to stay there. But if you want to venture out from your hotel – and you should then I can personally recommend these four restaurants. Flora's Field Kitchen at Flora Farms is a short, bumpy drive from San José del Cabo.
Expect locally grown, organic food creatively prepared in a spectacular setting.
In San José del Cabo there are two other must visit restaurants – La Lupita in the art district for the best tacos you'll ever eat – served up with some great music and Casianos – where the chef will surprise you as there is no menu! In Cabo San Lucas head for Nick-San for gourmet sushi with a Mexican flair.
There are a lot of whales in the Cabo area in winter
In fact I saw so many whales I started to get a bit blasé about seeing them – which isn't like me at all. I'd be drinking my morning coffee and look out to the ocean and quite literally see spray in several places on the horizon – and even a breeching whale.
I do recommend going on a whale watching or snorkeling tour to see them up close.
El Arco or The Arch is touristy but worth the visit
It's a beautiful area where the Sea of Cortez meets the Pacific Ocean at the tip of the Baja Peninsula. As cheesy as it may sound, I think it's definitely worth taking a sunset cruise to appreciate these rocks during the golden hour.
For more information about Los Cabos visit their tourism website.
Further reading on things to do in the Baja
Click on the photo to bookmark to your Pinterest boards.