There are loads of fun and unusual things to do in La Paz Mexico, called the "Gateway to the Sea of Cortez." La Paz, a city of 290,000 inhabitants located on the peninsula of Baja California Sur, is located about 200 kilometres north of Los Cabos. From Los Cabos airport it's a scenic three hour drive to the north.
Between its dry, sunny climate and enviable location on the Sea of Cortez – called the "Aquarium of the World" by Jacques Cousteau, La Paz has plenty to offer adventurous souls like myself. These fun and unusual things to do in La Paz, Mexico will keep you comfortably busy for several days.
This post includes some affiliate links. If you make a qualifying purchase through one of these links, I may receive a small percentage of the sale at no extra cost to you. Thank you very much for your support.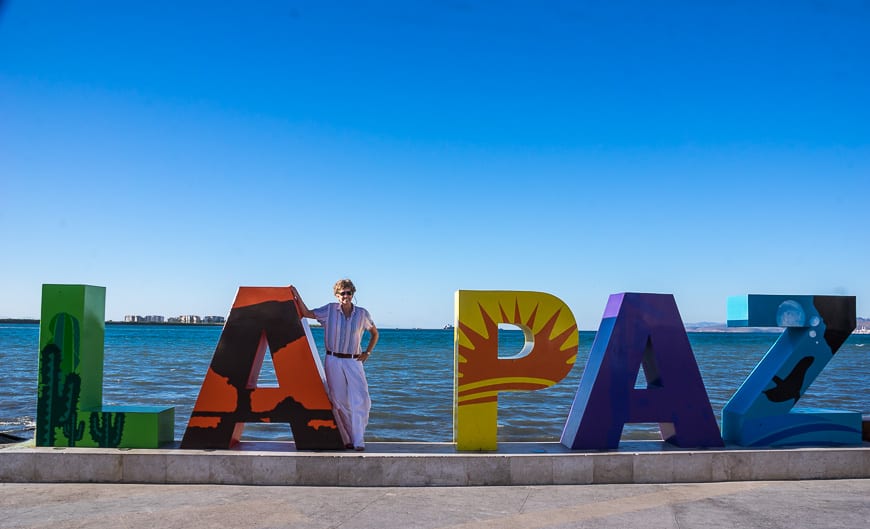 Getting to La Paz from Los Cabos
You can count on a pretty drive to La Paz from the Los Cabos airport. Admire big hills off to the east as you drive north on Highway 19. Vegetation is interesting, colourful and varied and the bird life you can see just from the car is fantastic.
If you haven't eaten, your first and probably only stop on the way to La Paz should be La Garita Del Chilpa, a small roadside restaurant with an authentic Mexican vibe, at about the halfway point. Here you'll find both tourists and locals chowing down on regional food specialties.
Stick your nose in the kitchen like I did and you'll see one of the hard-working Mexican ladies making tortillas at an unbelievable speed.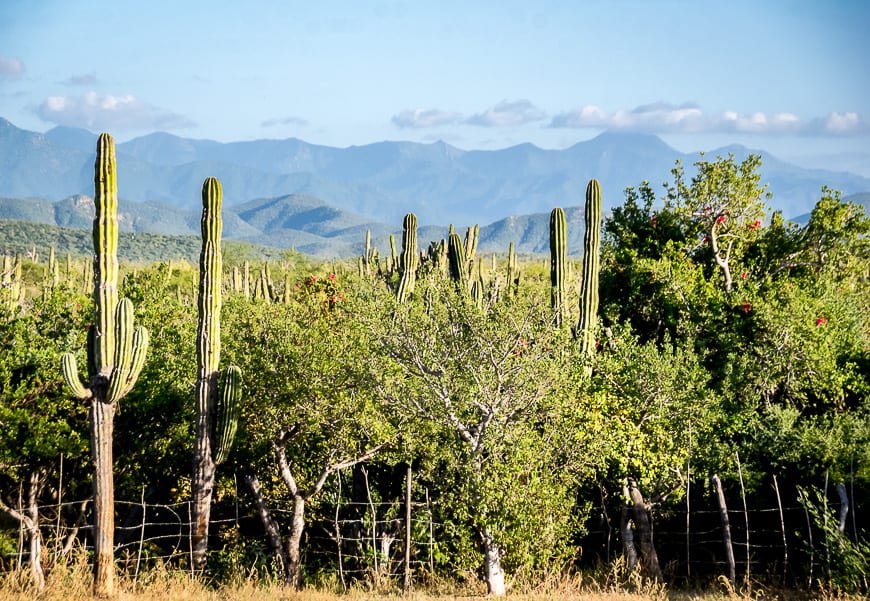 Location map of things to do in and near La Paz, Mexico
How much time do you need in this part of Mexico?
Allow two to three days for La Paz itself – and more if you're happy to hang out on beaches or by a pool at your hotel. Book the Hyatt Place La Place where I stayed if you like a great pool with a view. It's a short drive away from downtown La Paz.
Stroll the Malecón in La Paz
Locals and visitors alike love strolling the Malecón, a seaside boardwalk that runs for 5 kilometres beside the water. It's an especially beautiful spot to catch the sunset.
But it's also worth the walk just so you can take in all the fabulous art along its length. The art speaks to the importance of the sea to the people of La Paz.
Look for statues of Jacques Cousteau, The Old Man and the Sea, the La Paz Dove of Peace, the Mermaid and the Dolphin and the Giant Clam pictured below – along with many more installations.
Enjoy fantastic street art and murals
While there are guides (check out RED Travel Mexico) to give you in-depth tours about the culture, history and architecture of La Paz Mexico, it's also something you can do on your own.
What I especially loved was all the street art, with much of it found just a few blocks off of the Malecón. A project called Ciudad Mural La Paz was organized by a nonprofit organization to help beautify cities in a creative way. Don't miss the Old Man and the Sea, the La Paz Dove of Peace, the Mermaid and the Dolphin and the Giant Clam.
In total 30 murals were painted in La Paz by 27 artists on the streets of Independencia, Melchor Ocampo, Ignacio Zaragoza, Mijares, Mutualismo and Lerdo de Tejada, as well as others.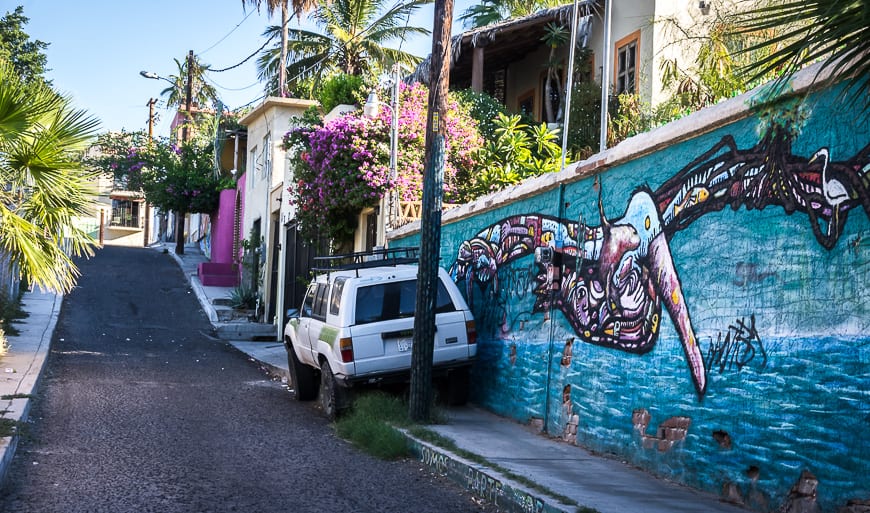 Snorkel with the sea lions at Los Islotes
The Cortez Club offers a half day trip to swim with the sea lions at Los Islotes, about a two hour boat ride away from La Paz. While sea lions may look sweet and cuddly this isn't normally their disposition. If you're looking for a family friendly thing to do in La Paz, Mexico, this is it.
With a lack of predators in the area the sea lions are curious and unafraid of humans. Once in the water you will have them swimming all around you and even occasionally nosing you.
What was equally amazing to me were the truly massive schools of sardines that moved in unison around any object. Below them you could see brightly coloured fish – but not nearly in the same abundance.
The boat ride out and back – though hardly luxurious – offered glimpses of gorgeous Isla Espiritu Santo – reaffirming my desire to come back some day and kayak in the area. We also enjoyed a lunch stop on a beautiful beach.
While we had worn wet suits for the snorkeling, the water was warm enough that I took mine off while I went for a swim. That turned out to be a bad decision as I got stung by a jellyfish (you're immediately supposed to put vinegar on it to stop the stinging) and more than four weeks later I still had the marks on my leg to prove it. Despite that it was a lovely beach for a walk.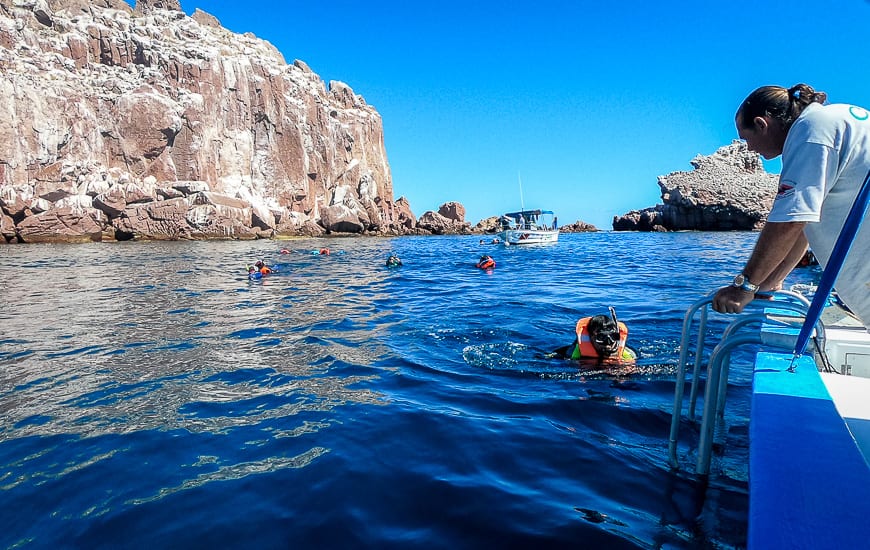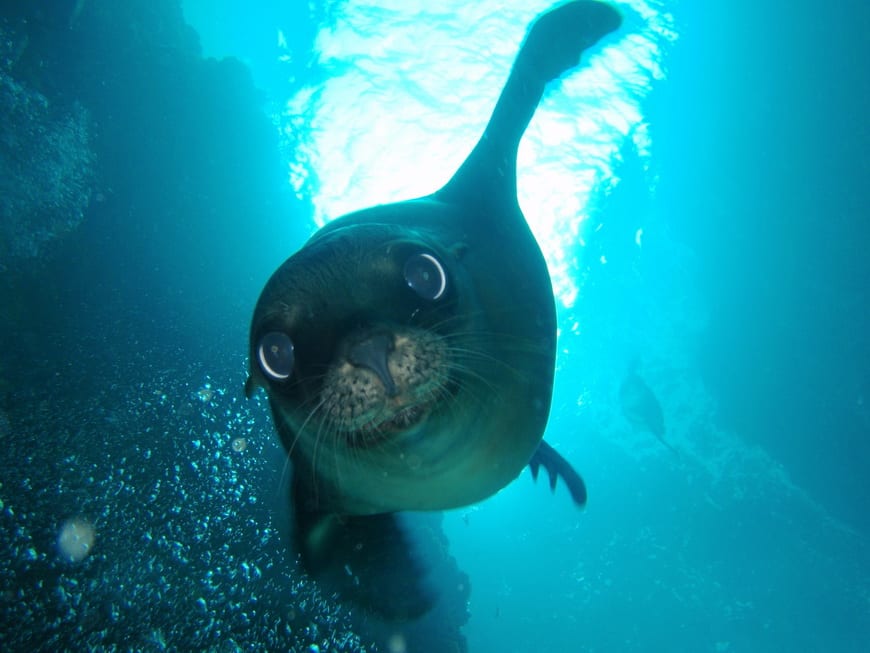 Swim with whale sharks near La Paz
Swimming with whale sharks – the world's largest fish – is truly bucket list worthy and one of the most exciting things to do in La Paz, Mexico.
It's just a short boat ride out from La Paz to the area the whale sharks frequent. You don't get a lot of time to swim – to minimize any undo effects on the sharks but it's still an awe-inspiring experience I'd highly recommend.
Watch: Swimming with Whale Sharks on You Tube
Stand up paddleboard Balandra's Mangrove Lagoon outside of La Paz
Stand up paddleboarding (SUP) is a lot of fun and one of the top things to do in La Paz, Mexico, with or without previous experience. Even if you have trouble standing up – as one member in our group did, you can still enjoy it while either kneeling or even sitting on the paddleboard.
We had a couple of hours with Baja Desconocida paddling – first around the Balandra Lagoon and then over to a deserted beach where we swam, lazed and ate fresh ceviche prepared by the tour company owner's mother.
On the day we did the stand up paddleboarding the weather was perfect with not a whiff of wind – but that didn't stop me from ending up in the water. I almost lost my balance a second time when about a dozen small flying fish came right for my board. They missed me but what a magical experience that was in itself!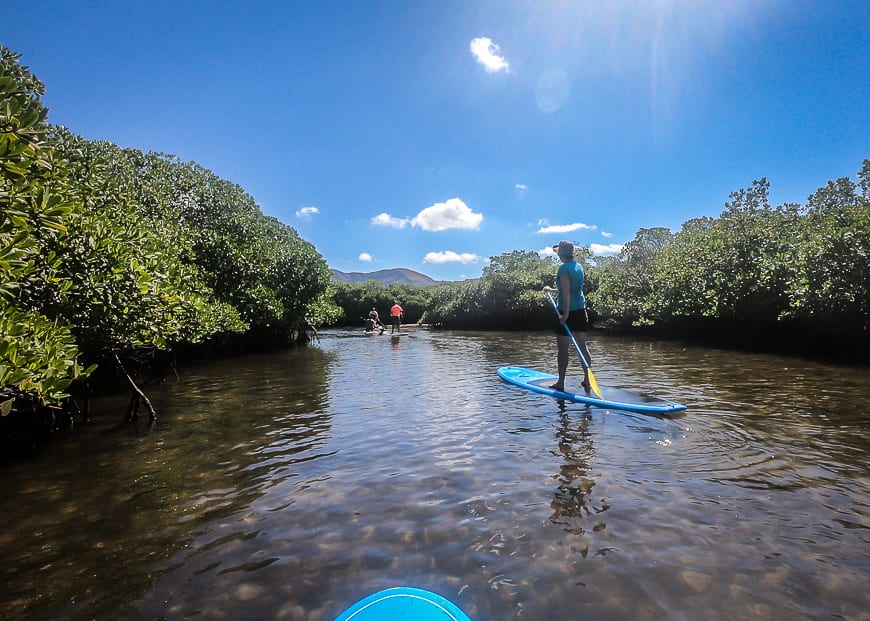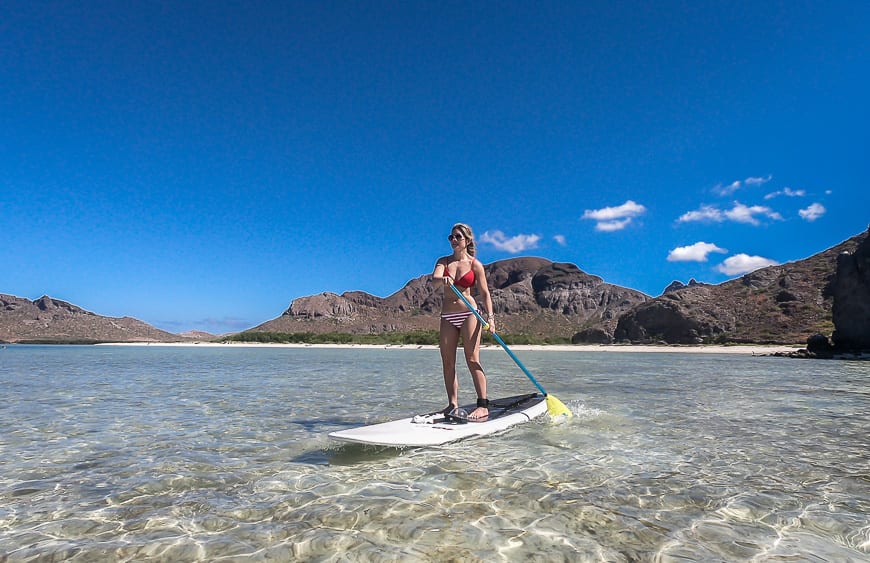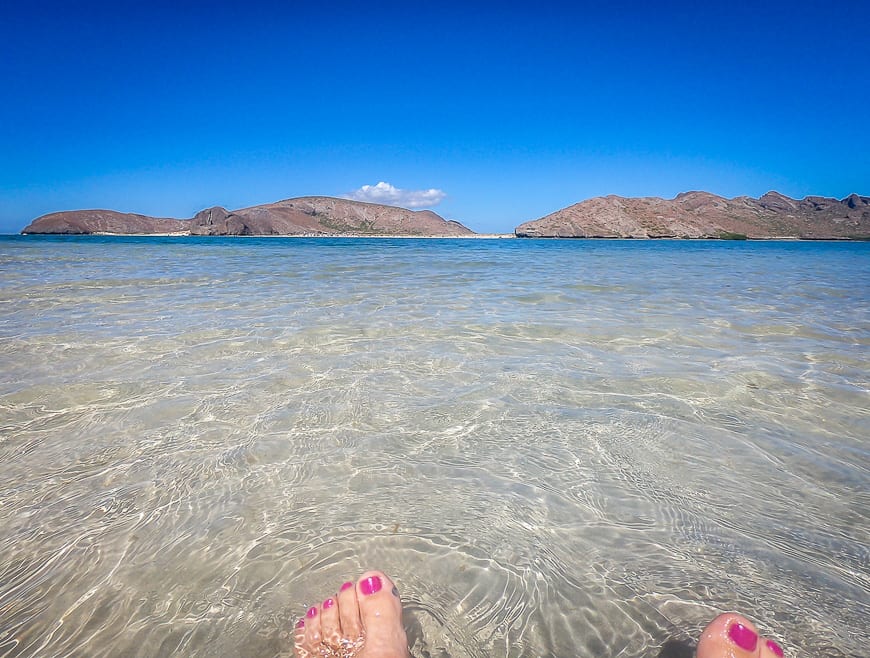 Go kayaking out of La Paz
While I didn't do any kayaking on my recent trip to La Paz, it's something that's most definitely on my wish list. I have kayaked on three separate locations in the Sea of Cortez, but always out of Loreto, a city five hours to the north of La Paz.
I did see that there was some easy kayaking to be done out of Balandra Bay though what I want to do is a multi-day kayaking tour.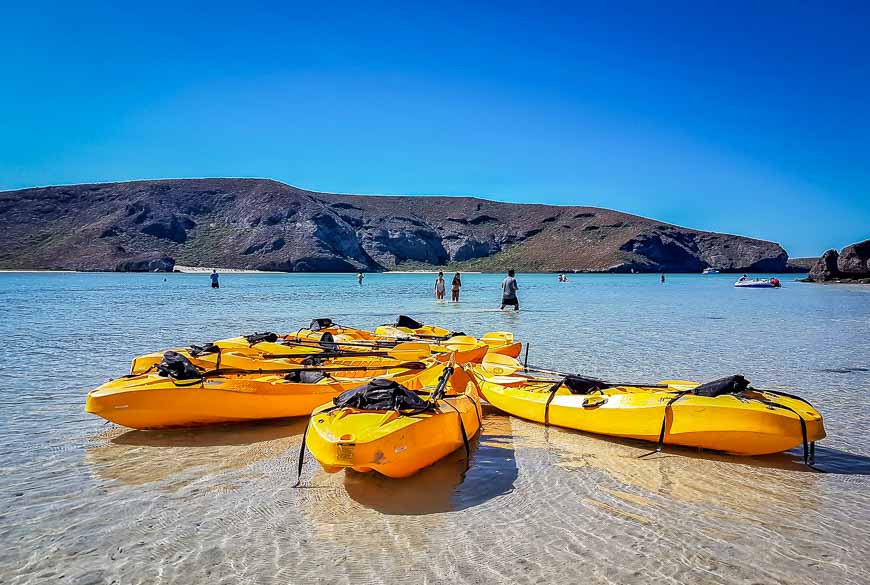 Two trips that have my name on them include a 10-day paddle down the coast from Loreto to La Paz. The other would be a circumnavigation of Espiritu Santo Island, accessed via a boat shuttle from La Paz.
From what I saw of our boat ride out to Espiritu Santo Island and from my previous experiences on the Sea of Cortez, I know the kayaking here would be incredible. There's nowhere else I've been where you get the juxtaposition of ocean and desert – and all the drama resulting from that. So if kayaking is your thing plan a trip to La Paz!
Where to eat and drink in La Paz, Mexico
I'm glad I'm not a food blogger as I always forget to take the photo of the food before digging in. You can expect to eat well while you're in La Paz and drink well too.
Restaurants I recommend include Nim Restaurante – an airy restaurant with high ceilings so even when it's busy you can't hear your neighbour. Try Bismarkcito if you want to enjoy fresh lobster and seafood with a dose of people watching along the Malecón. And Sortis is a Mediterranean themed restaurant.
Where to get great mezcal in La Paz
End the evening at the atmospheric La Miserable Mezcaleria with some mezcal shots. Be warned. Shots are huge. We were happy to share a flight among four of us.
You might change your mind about mezcal after trying out some of these artisanal offerings including one that is aged in leather. I can't remember which one I liked best – and that was after one shot in total!
Did you have any idea that there was as much going on in and around La Paz?
I also highly recommend at least a few days in Todos Santos – one of Mexico's magical towns on the Pacific Coast between La Paz and Los Cabos.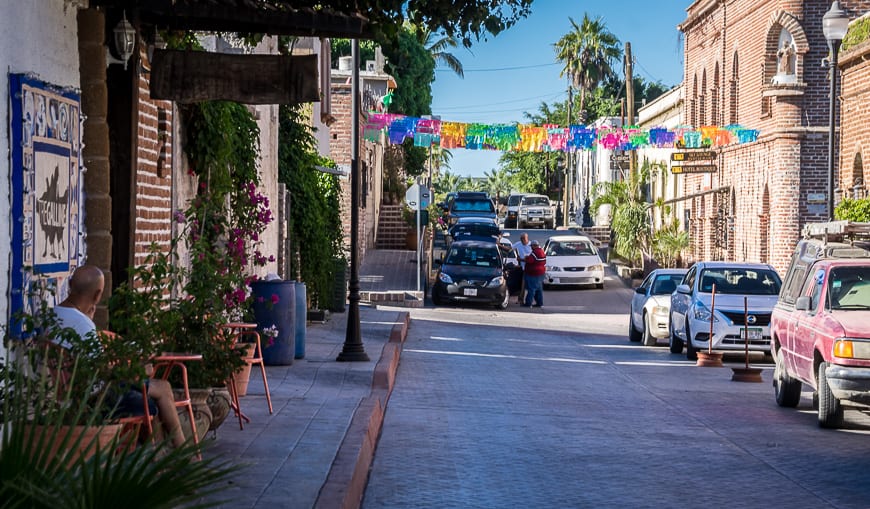 Click on the photo to bookmark to your Pinterest boards.
A big thank you to the La Paz Tourism Board for hosting my stay. I think if you love nature and the outdoors you'll love this place!