Just three hours from Calgary and 90 minutes from Banff, BC's Columbia Valley has plenty to entice you. You'll find hot springs, sandy beaches, countless hiking trails, lakes warm enough for swimming, a beautiful river to paddle, bike trails, and nature galore. If you're an active person who loves hiking, biking, and paddling then I think you'll love a visit to the Columbia Valley between May and October. Invermere and the Columbia Valley is also an amazing winter destination, but that's not the focus of this blog.
In the Columbia Valley there are several communities that lie between Canal Flats in the south and Brisco in the north. Invermere is the largest town with the most services in the valley but the Village of Radium Hot Springs is a great place to use as a base with its proximity to Kootenay National Park. Fairmont Hot Springs is a destination in itself. You'll find a wealth of things to do in the Columbia Valley, so book accommodation and activities in advance, especially on summer weekends.
Location map of things to do in the Columbia Valley and nearby
Stops to make on a drive from Calgary to Invermere and the Columbia Valley
Marble Canyon, Kootenay National Park
If you're driving from Calgary to the Columbia Valley, be sure to stop at Marble Canyon in Kootenay National Park – on any day of the year. Marble Canyon is located on Highway 93, less than 10 km from the Trans-Canada Highway. There is good signage, so it's hard to miss.
It's an easy 1.4 km out and back hike to the end of Marble Canyon. Cross numerous bridges on foot and peer into the turquoise waters of Tokumm Creek swirling below. The mountain backdrop is magnificent, and the power of the creek is at times intimidating – so it's fun to watch from a safe distance.
Look for a couple of Parks Canada red chairs, then sit back and enjoy the view. Allow 20 – 40 minutes depending on how far you hike.
Numa Falls Rest Area
Plan a quick stop at the Numa Falls rest area along Highway 93 in Kootenay National Park. The falls are located 7.3 km south of the Marble Canyon trailhead or 79.7 km from the roundabout in Radium Hot Springs.
From the parking lot at the Numa Falls rest area, it's only a 2-minute walk to see the striking Numa Falls. Be sure to obey the signage and don't hop the fence like I saw one man do. Numa Falls are fast and powerful and one wrong step could be your last.
There are picnic tables near the bridge, or you can sit on the rocks by the parking lot and enjoy a break with a view.
Kootenay Valley Viewpoint
The Kootenay Valley Viewpoint is worth a quick stop if it's a day with good visibility. The viewpoint is 63.5 km south of the Numa Falls parking area. If you're heading for Radium Hot Springs, there is an odd pull off on the right side of the highway where you park your car. Then you walk across the highway and there is a button to press to alert motorists that you're crossing. If you're heading in the other direction, it's a simple pull off to a large parking lot.
From the Kootenay Valley Viewpoint, enjoy excellent views of the Mitchell and Vermilion Mountain ranges.
Valley View Lookout
If you drive 1.4 km up Redstreak Road starting from behind the Radium Hot Springs Visitor Centre, you'll see a small parking area on your left. Get out, walk up a few steps and enjoy the view of the Village of Radium along with gorgeous views of the Columbia Valley. There are picnic tables up here, so it would be a fine place to enjoy a lunch with a view.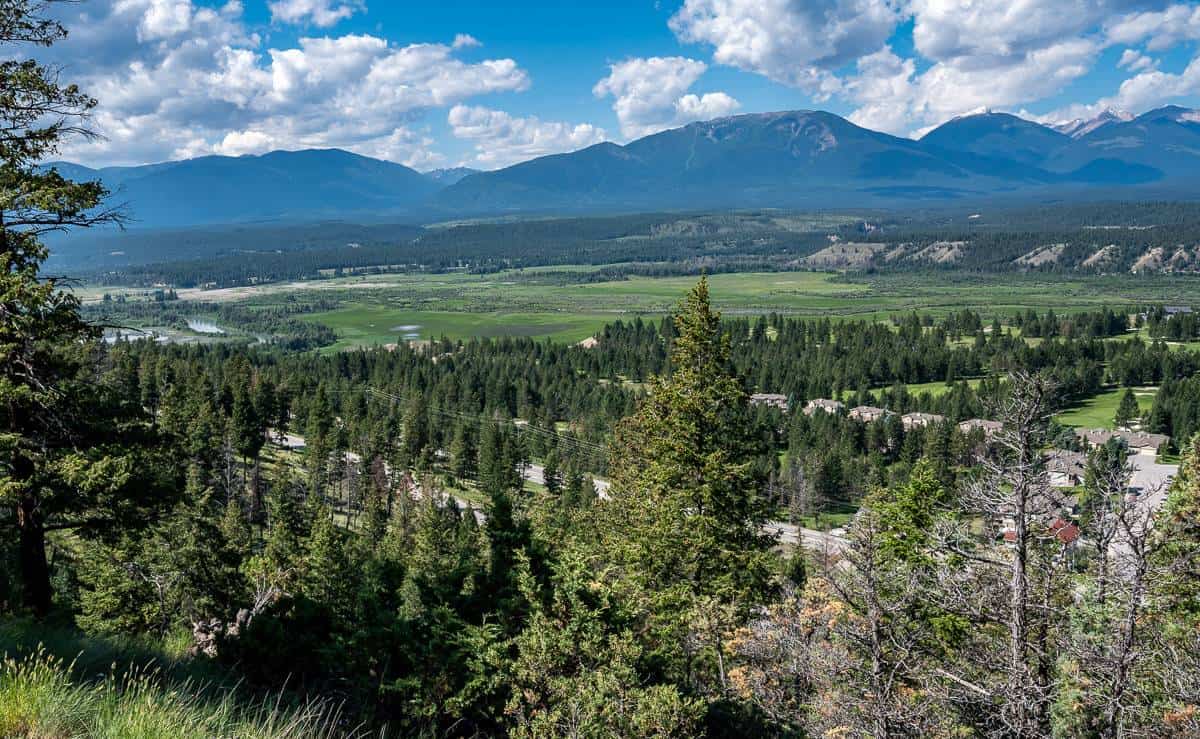 Hiking in the Columbia Valley
The Columbia Valley is blessed with numerous, easy to access hiking trails that are ideal for families or those of you who just want to get out and into nature. If you're prepared to go further afield, there are spectacular mountain hikes around, but you'll need most of a day to do them. All hikes in the Columbia Valley and Kootenay National Park described below can be knocked off in 1 – 2.5 hours.
Mount Swansea Tower Loop
We hiked the 6.0 km (return) Mount Swansea Tower Loop with guide Chris, owner of Playwest Mountain Experiences. We don't normally do guided hikes – but every time we do, we learn something. On this loop hike we passed a grove of trees covered with bright green wolf lichen – something I learned from Chris that is poisonous to canines and wolves. Back in the day Indigenous Peoples managed wolf populations by stuffing ungulate carcasses with this wolf lichen. After feeding on the carcass, they wolves of course would end up dying. I will never look at the lime green lichen without thinking of Chris sharing that story.
Over the 3.0 km one way hike you climb about 350 metres, usually at a gentle grade. Once you top out at the tower, enjoy grand views of the Columbia Valley, Windermere Lake, and the Purcell Mountain range to the west. When you do the hike with Chris, you are served tea and a homemade granola bar at the lookout – all very civilized.
This is a great hike to do if you want a scenic overview of the Columbia Valley. Keen fit hikers can continue from the overlook and hike the Mount Swansea Double Peak Loop, but you'll need the better part of a day to do this.
Chris also offers a half day hike in the Wilmer Wetlands and a mountain sunset and fondue hike near Invermere, along with several full day hiking trips.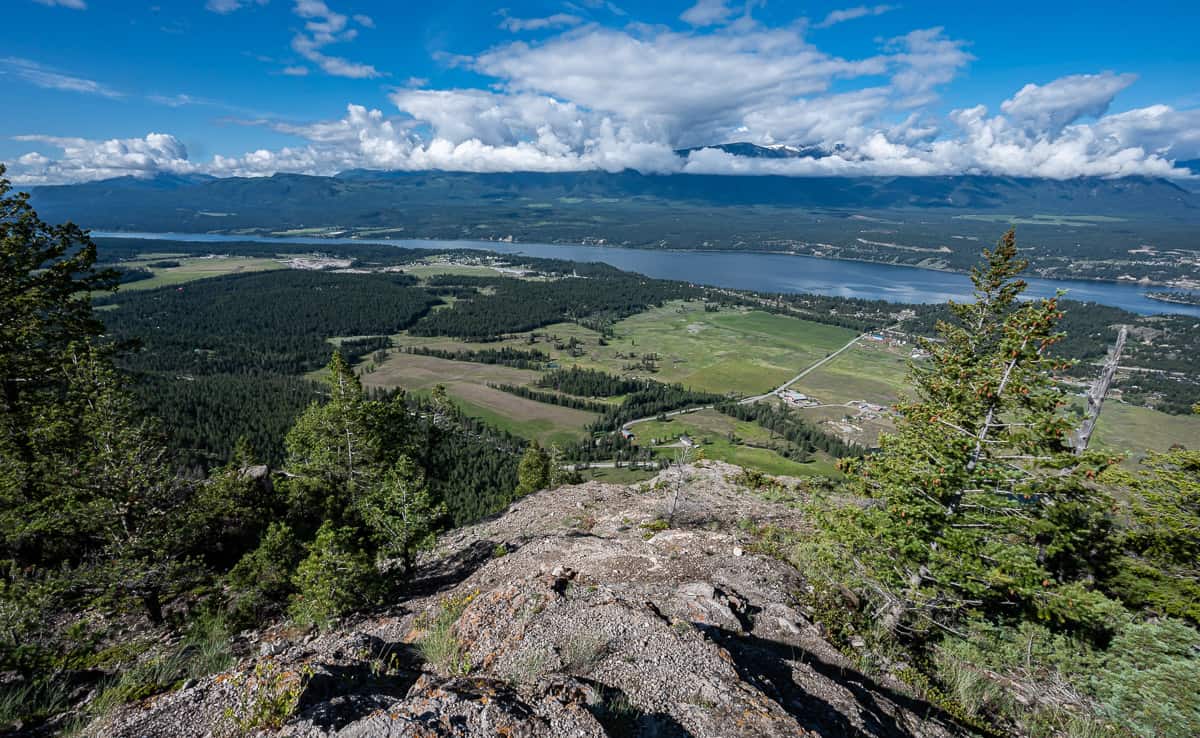 Wilmer Wetlands Trail
The Wilmer Wetlands Trail near Wilmer (a 15-minute drive from Invermere) is part of the Columbia Wetlands, a globally recognized wetland of international importance. It's one of the largest intact wetlands in North America. In the spring, tens of thousands of birds migrate through the Columbia Valley, so as you hike the trails in the Wilmer Wetlands area, even in early summer, you will hear and see some of the 260 species that depend on these wetlands for their survival.
From the parking lot you'll see several trails heading down towards the wetlands. One will take you to a bench with a great view of the wetlands and the Rocky Mountains. We followed what looked like a main trail as it wiggled up, over and around sandy hills, remnants of a lake bottom, ultimately following the shore of the wetlands.
This is one scenic trail and a good one for all ages. Don't forget the binoculars and to get the most out of your hike, download the bird song identification app Merlin.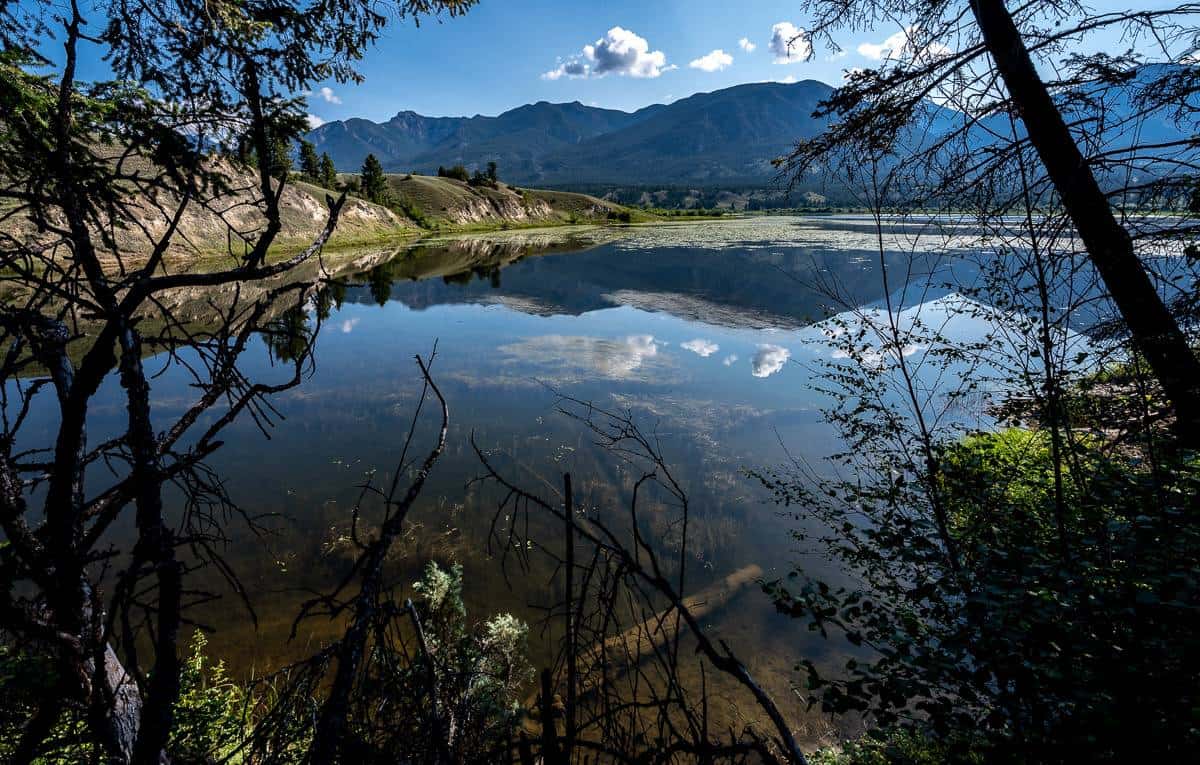 Sinclair Falls/Juniper Trail in Kootenay National Park
If you want a hike close to Radium Hot Springs, check out the scenic Juniper – Sinclair Canyon trail. We parked just inside the west gate of Kootenay National Park, though there is the option to park at the main parking lot for the Radium Hot Springs Pool.
From our parking lot we descended steeply down to reach the Douglas-fir Forest in Sinclair Canyon. We wandered up as far as was safe to get a glimpse of Sinclair Falls. Then it was a climb up and into arid country punctuated by cedar forest along the edge of Sinclair Canyon. Once you gain some elevation, there are excellent views of the Columbia Valley – and the road through the cliffs leading into and out of Kootenay National Park.
There are lovely sections at the top where the trail weaves through open forest on the way to Radium Hot Springs. We did it as a 5.2 km out and back hike. Be prepared to gain 350 m and lose 26o m along the length of the trail.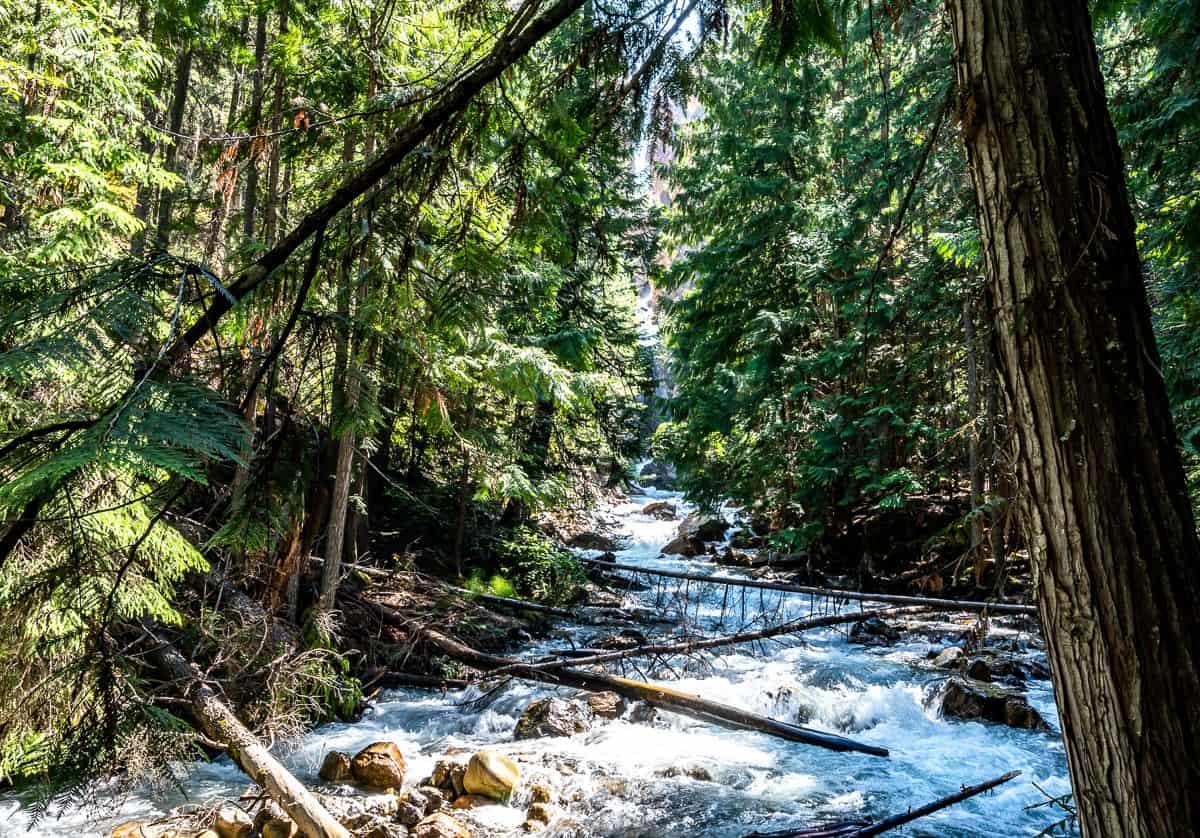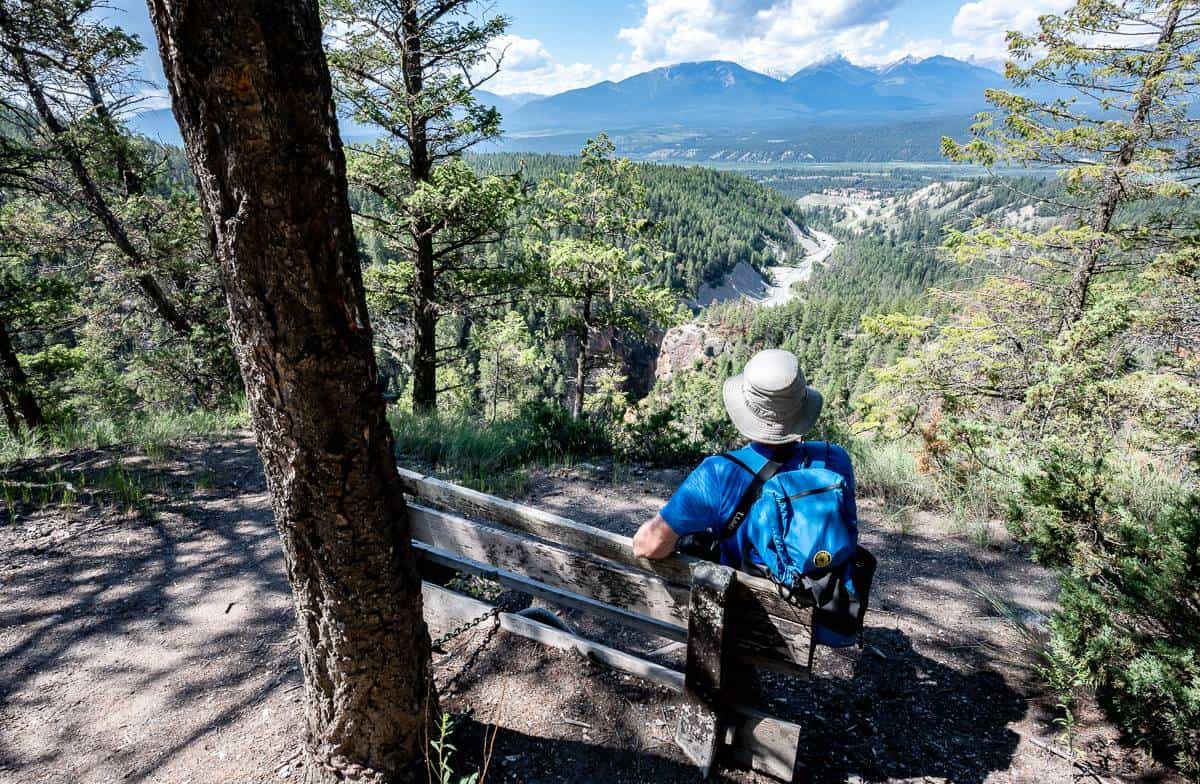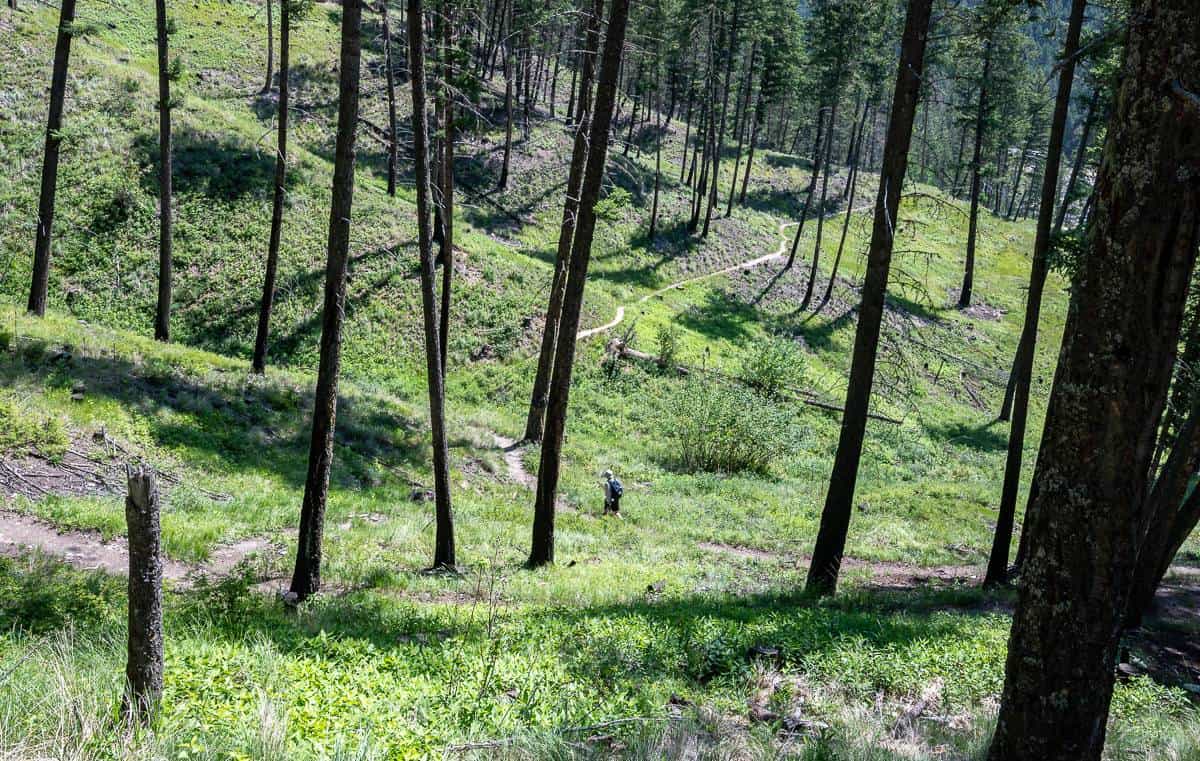 Redstreak Restoration Trail
We asked the man on duty at the ticket booth at the entrance to Kootenay National Park (the Redstreak Road entrance) what hike nearby was short and scenic. He suggested we do the 1 km long Redstreak Restoration Trail. The name doesn't do this scenic hike justice. It's a beautiful little trail, perfect for families, that offers lovely vistas, interesting interpretive signage, and wildflowers galore.
The hike wanders through meadows that are "reborn" by a prescribed fire – with the goal to restore the grasslands and improve the habitat for bighorn sheep. You only need 30 minutes to do the hike – so it's ideal if you're short on time.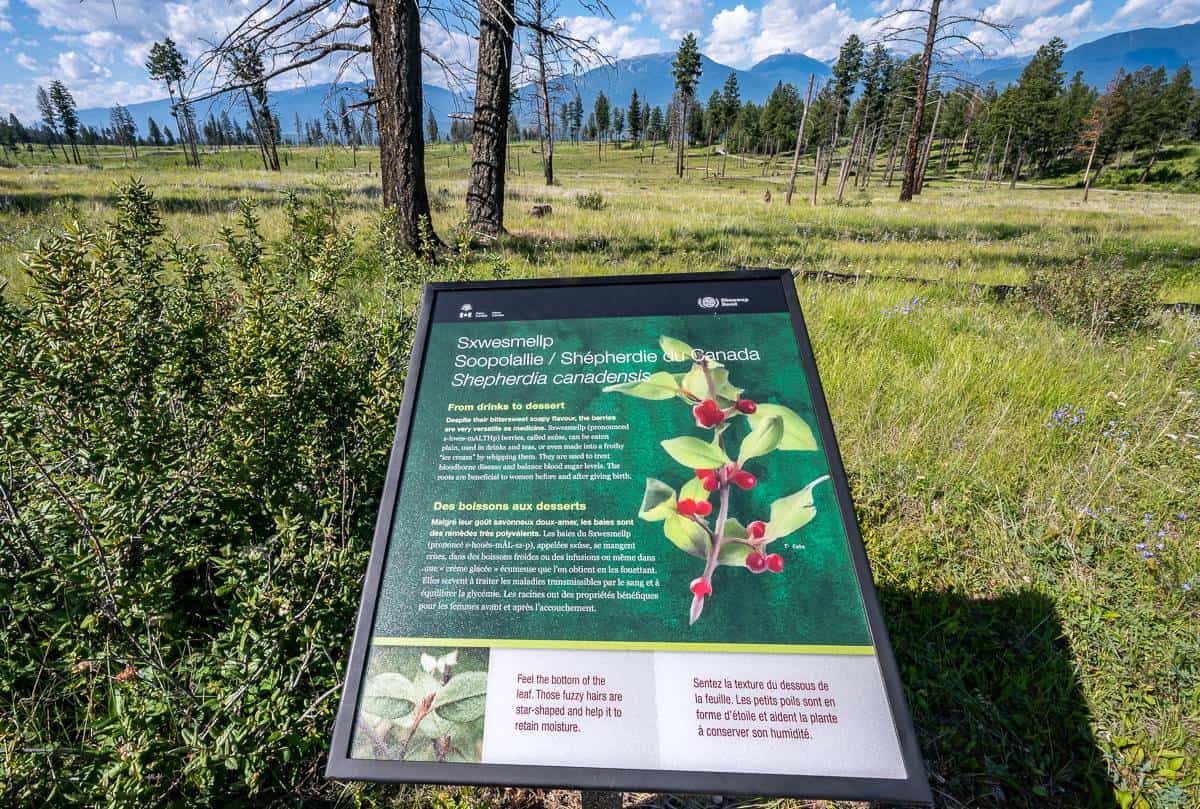 Hoodoos Trail near Fairmont Hot Springs
The Hoodoos Trail near Fairmont Hot Springs in the Columbia Valley is a short walk in pretty forest to reach the hoodoos, a notable landmark when you're driving Highway 93/95 south of Fairmont Hot Springs.
The trail gains 120 m (394 feet) over 1.5 km, so for most people this will be an easy one-hour hike. Once at the top of the hoodoos (stay back) enjoy grand views of Columbia Lake in the distance and the mountains over the Fairmont Hot Springs. We did it in the evening when there wasn't a soul around, just the odd deer.
If you haven't seen the hoodoos from ground level, it's worth the short drive to see them as they are very impressive from the bottom.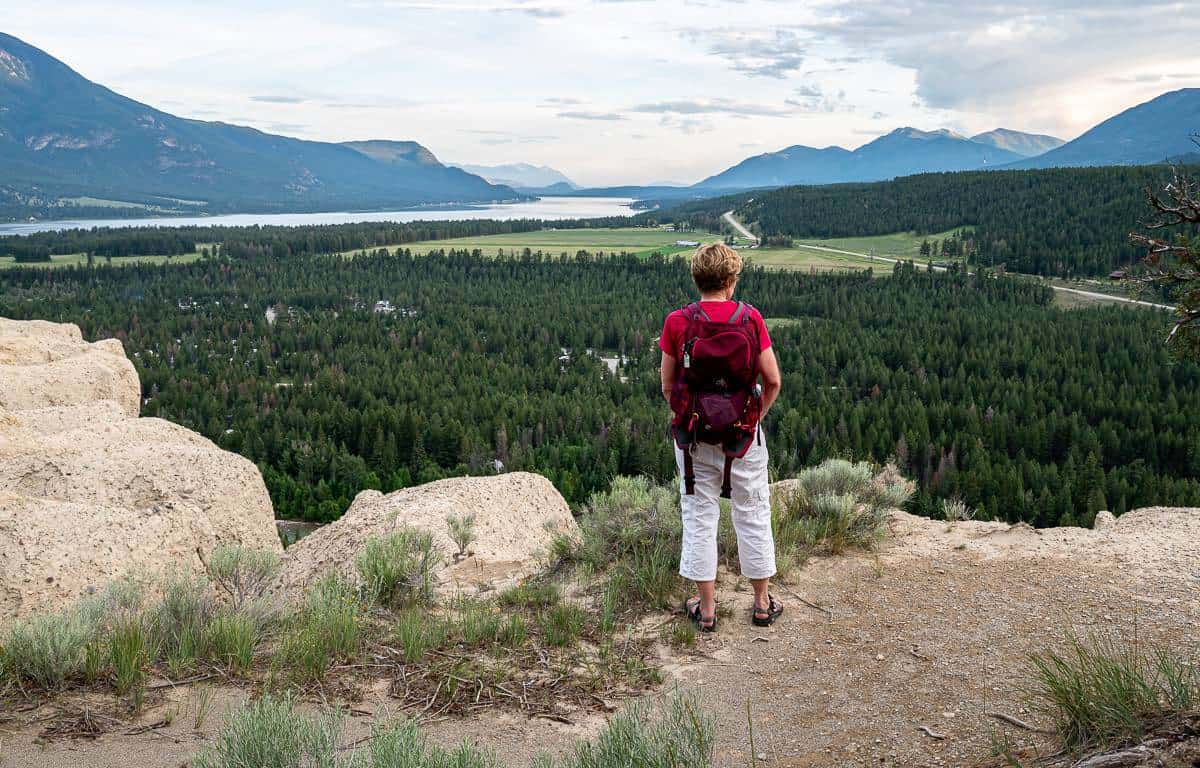 Go mountain biking at Nipika Mountain Resort
Nipika Mountain Resort located 14 km down Settlers Road from Highway 93 is a great place to visit if you're into mountain biking. They have numerous fat tire bikes available – and helmets. They don't charge you anything to bike the trails in summer as they don't maintain them. Fortunately, there are enough bikers out that we only had to deal with a downed tree or two.
We did the 7 km Kootenay Krusher and Wimp Out Loop. The Wimp Out Loop along the Kootenay River was especially scenic, but you wouldn't want to lose your balance and slide down the cliff. I am by no means a hardcore mountain biker, but I sure had fun over about 90 minutes.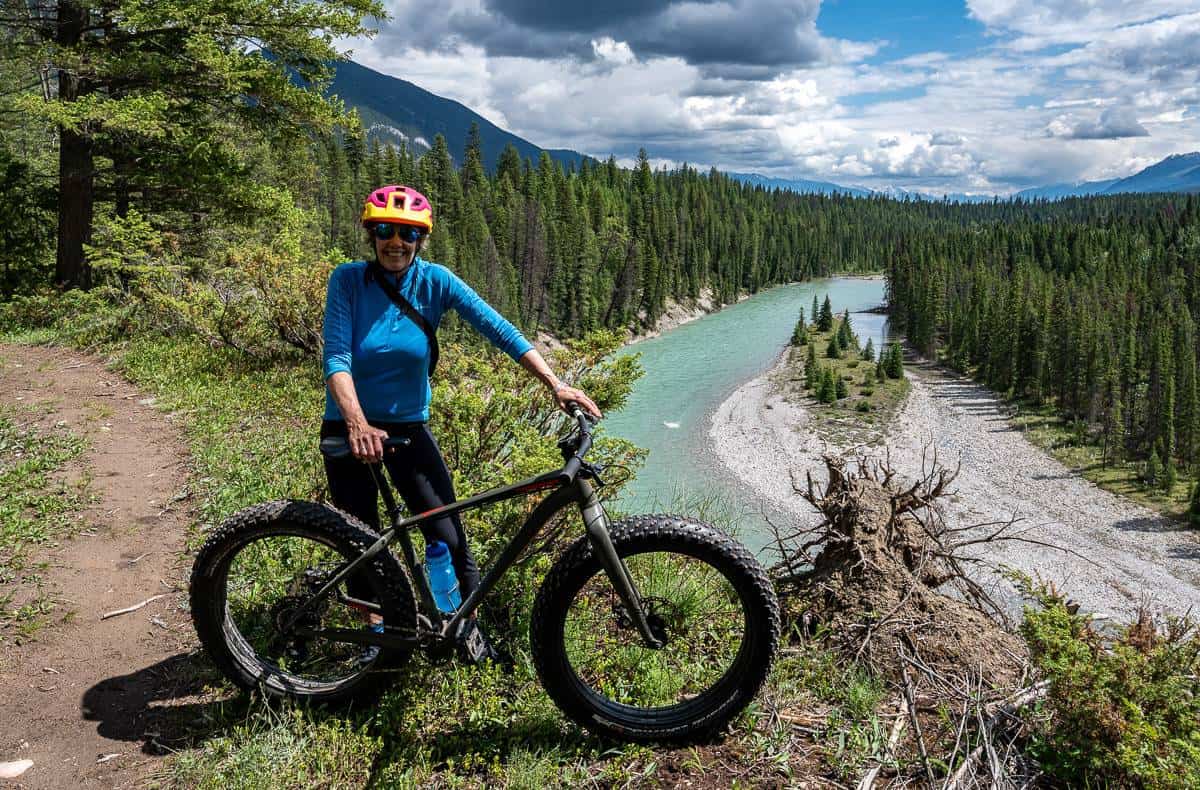 Kayak the Columbia River through the Columbia Valley starting in Invermere
For years I have wanted to paddle the Columbia River through the Columbia Valley starting in Invermere. On a hot, sunny day in June it finally happened. John and I met up with a dozen other paddlers and a couple of guides at the Columbia River Paddle headquarters in Invermere. We got fitted out with PFD's and a paddle – packed some water and a snack – and were off.
Over four hours we lazily paddled 18.5 km from Invermere to the Village of Radium. In places the current moved you along at a good clip, but in others you had to work…a bit to get very far. We stopped when there were interesting things to see like a giant bald eagle's nest, a row of painted turtles lazing on a log, and one big horn sheep just hanging out by the railroad tracks near Radium. We also visited the Wilmer Wetlands and had a chance to get out of the kayak and stretch our legs. The hardy among us went for a refreshing swim.
Kayaking the Columbia River is the perfect summertime activity in the Columbia Valley. And it's far more scenic than I expected – because once you're out of Invermere, you feel far removed from civilization.
When you reach Radium, a shuttle bus will be waiting for you and 20 minutes later you'll be back at your starting point.
Bike the Westside Legacy Trail through the Columbia Valley
The 25-km long Markin-MacPhail Westside Legacy Trail is a multi-use, non-motorized, paved recreational trail that stretches from Invermere to Fairmont Hot Springs on the west side of Windermere Lake. You can start in either town and bike to the trailheads or drive to one of the three parking lots along the trail.
Expect a hillier bike ride than the Banff Legacy Trail. What also sets it apart is long sections without hearing any cars and the feeling that you're immersed in nature. Expect to see deer and hear a lot of birds. I was lucky with a badger sighting.
There are no services along the Westside Legacy Trail, so pack lots of water and snacks. In the summer bike early or late in the day to avoid the heat. Enjoy. It's a great addition to the Columbia Valley.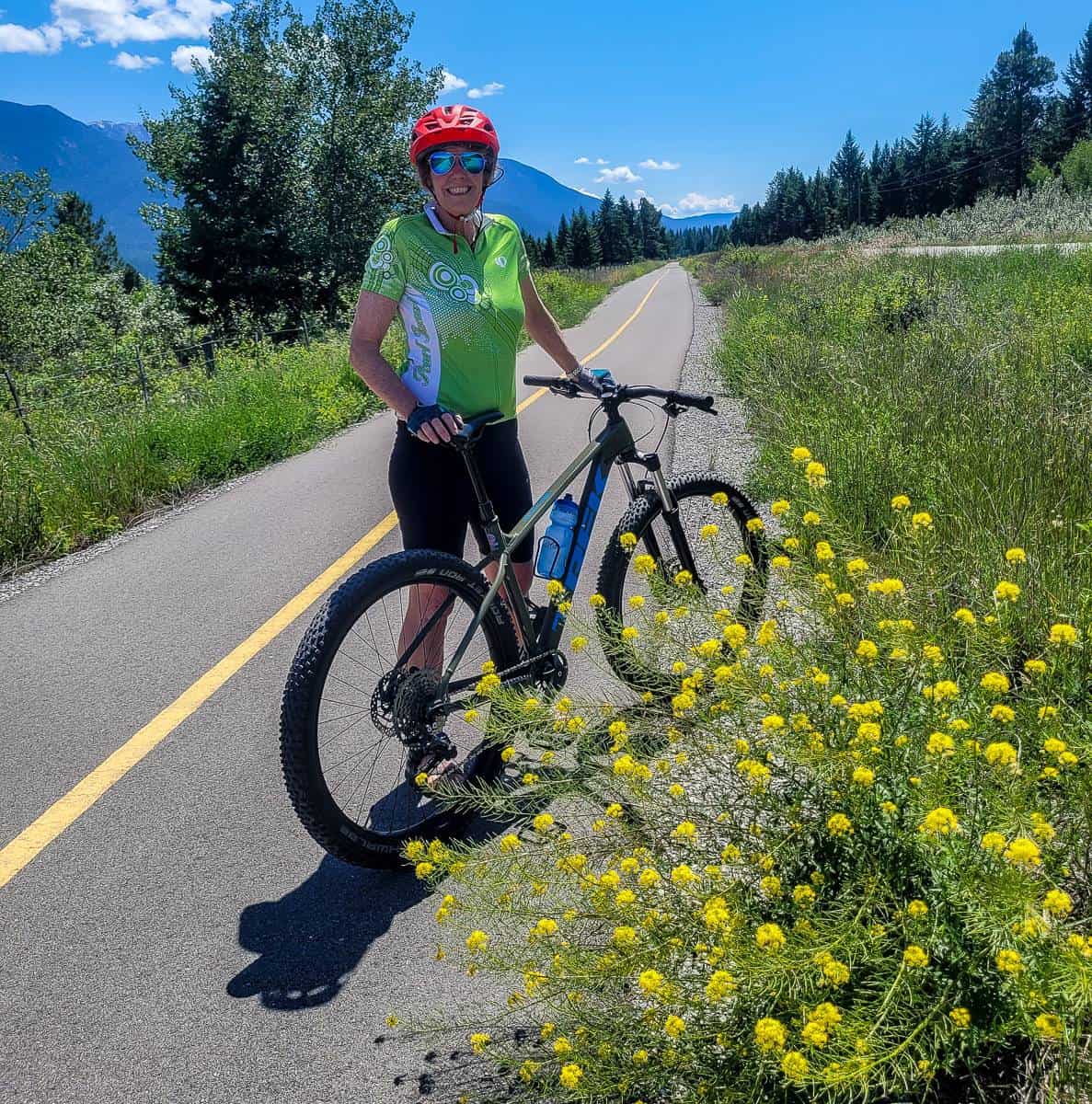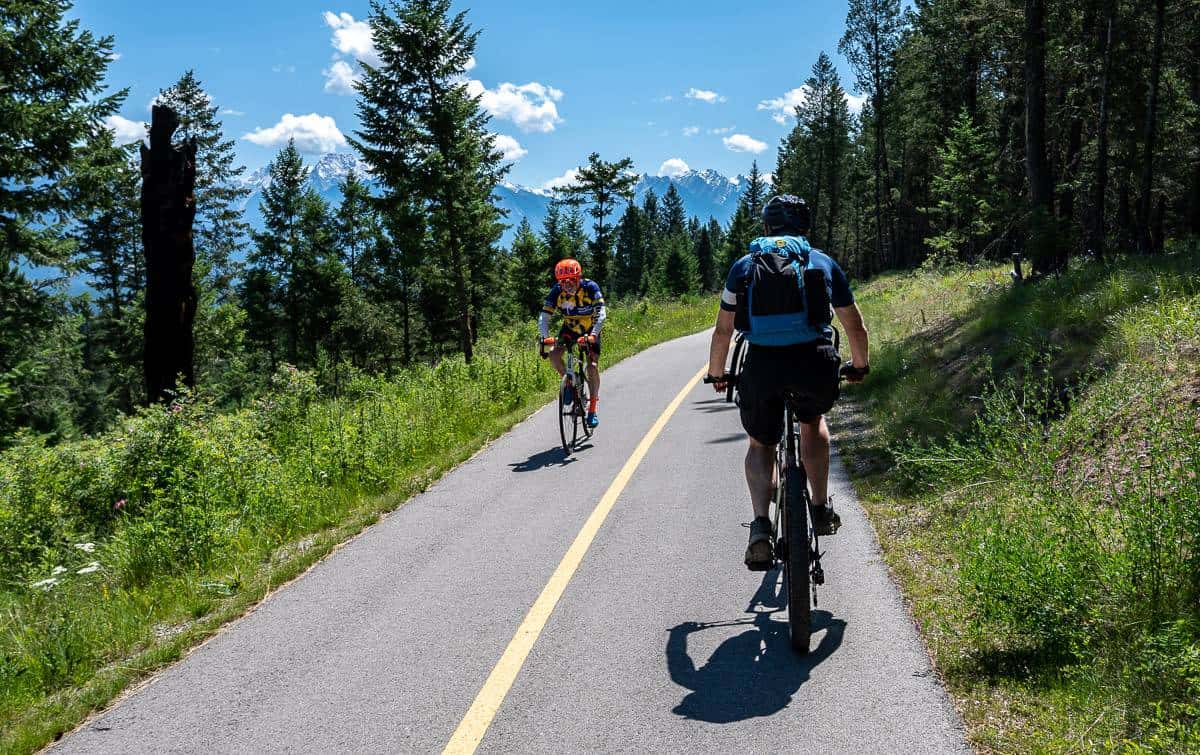 Things to do in Invermere
Roughly 3,300 people live full time in Invermere, though the population soars in summer. It punches above its weight with how many things there are to do – and how many good restaurants and cafes there are. Here's a sampling of what you can do in town.
Visit the Invermere Farmers' and Artists' Market
Every Saturday from mid-June till the second Saturday in September you'll find the Invermere Farmers' Market in the large parking area behind the BMO bank in Invermere. It runs from 9 AM to 1 PM.
The vendors sell a diverse range of products from locally grown produce, Okanagan fruit, fresh baking, mead, honey, jewelry, artwork, Taynton Bay Spirits and more. I always love checking out what the locals are up to – and feel a hint of jealousy when I think of how easy it is to access the market. Take cash as not everyone accepts credit cards – and don't have any expectation of walking away empty-handed.
Explore the shops, galleries and boutiques on 7th Ave
Any small town that has a private bookstore and a great café is a winner in my books. Four Points Books in Invermere offers a great selection of titles. Make a point to wander in and then continue along 7th Street around where you'll find everything from Village Arts showcasing textiles, pottery, jewelry, wood, stone and more to Artym, a fine art gallery.
There are a couple of bike shops, a bakery, a sports store, clothing stores and if you wander all the way down to the Kinsmen Beach area you'll discover Taynton Bay Spirits home to cocktails with names like Blueberry Bombshell – Rooibos Tea, Pickled Vodka, Raspberry Vodka, and Midnight Lakehouse Gin.
Explore the Village of Radium Hot Springs in the Columbia Valley
The Village of Radium Hot Springs is the gateway to Kootenay National Park, so there is lots of hiking very close by. It's also home to the Visitor Information Centre which is well worth a visit to see the compelling wildlife displays. The staff inside are very helpful in suggesting things to do in the national park and close by.
We loaded up with groceries in Radium Hot Springs and had time for only a quick drive through town. Don't miss Main Park – a community hub for local events.
And if you're a candy fan – be sure to stop in at Old Tyme Candy Shoppe. You'll find handmade fudge, retro candies like sour chews and imports like Curly Wurlys.
Hot Springs in the Columbia Valley
There are two hot springs to visit in the Columbia Valley – Radium Hot Springs in Kootenay National Park and Fairmont Hot Springs to the south. One isn't better than the other, just different.
Fairmont Hot Springs
I think hot springs are best visited on rainy or cold days, but judging by my June visit, the outside temperature doesn't seem to put off many people. At the Fairmont Hot Springs there are a couple of pools. One is a swimming and diving pool, so the temperature is kept between 30 – 32ºC. The actual hot springs pool is maintained at a very comfortable 39ºC.
According to their website, "over 1.2 million gallons of fresh mineral water flow through their pools daily". The water is odorless (no rotten egg smell here) and the water is all naturally heated. The Columbia Valley views from the pool are first rate, and there is the option to stay in resort rooms and cabins, just a short walk away from the hot springs.
Radium Hot Springs
I didn't visit Radium Hot Springs on this trip to the Columbia Valley but I have when it's been snowy. I love its location looking out to red cliffs in a dramatic setting and the pool always feels roomy.
You will need to purchase a national park pass to get into Kootenay National Park – along with a pass to the hot springs. On weekends the hot springs are open between 10:30 AM and 9 PM and on weekdays from 11:30 AM to 9 PM on weekdays. The cool pool is temporarily closed as of July 2023.
Wildlife in the greater Columbia Valley – Kootenay National Park area
When you're out hiking or biking in the Columbia Valley, use common sense when it comes to wildlife. When signs suggest you slow down on the highway out of Radium towards Invermere, do it so you don't smack a bighorn sheep. You'll almost always see them on the side of the road on the way to Invermere.
We did see one black bear on the drive to Nipika Mountain Resort and it had zero interest in us – as it should be. But, because this is bear country, I would still recommend that you carry easy to access bear spray when you're out on the trails.
Of course, you're likely to see deer and if you visit during the spring migration, you could hear and see up to 250 bird species. I did see a badger, an uncommon sighting on the Westside Legacy Trail and plenty of ground squirrels and chipmunks.
And if you paddle the Columbia River, you'll almost certainly see bald eagles and painted turtles.
Where to eat in Invermere and the Columbia Valley
John and I tried many but not all the restaurants in Invermere.
Breakfast in Invermere
Kootenay Coffee Works at 4884 Athalmer Road near the highway is a great place to go if you want to grab a coffee and something quick like a muffin. For lunch they offer a roast beef special with Yorkshire pudding – and there is always a home-cooked soup of the day.
The Invermere Bakery on 7th Avenue is ideal if you have a sweet tooth as their apple fritters are excellent as are the cinnamon rolls. They serve good lattes and have lots of items to buy for a lunch on the go.
Stolen Church Coffee Co at 1045 7th Avenue is also a good coffee place, but in the summer, they may be better known for their ice cream and gelato. They have an excellent selection but be prepared to stand in line of a hot summer's day. They have a covered patio which is perfect in the summer.
Begginnings Breakfast & Brunch at 1310 7th Avenue is a friendly place to go for a sit down breakfast. I enjoyed an excellent latte and French toast.
Dinner in Invermere
For amazing fried chicken and cocktails, head to Ullr Bar, just off of 7th Avenue. It's a casual place geared to the young crowd.
Birchwood Restaurant offers a relaxing atmosphere in a welcoming space right beside Ullr Bar – and you'll find plenty of delicious dishes on the menu. Their artisan bread is fantastic as was the chicken curry bowl I had, and the pork chop John enjoyed.
Smokehouse 92 has a reputation for slow cooked, melt in your mouth barbecue. They have a great selection of sides including beans, coleslaw, onion rings – the stuff you'd expect to see on a menu. They are located on the highway across from the turnoff into Invermere – so they're hard to miss.
Where to stay in the Columbia Valley
Winderdome Resort
I cannot say enough good things about the Winderdome Resort, home to three high-end geodesic shaped glamping tents – and open year-round. Not only is the dome completely kitted out – down to details you'd never get around to doing at home, the domes each boast enormous outdoor decks complete with a hammock built into the deck (see photo in the collage). What isn't shown are the two single beds in a loft overlooking the master.
No meals are served but you can cook outdoors and there is a microwave and a large fridge. The kitchen even has charcuterie boards and coffee is provided.
Check prices and availability and book directly with Winderdome Resort if you want to stay in this fantastic dome surrounded by nature. They also have a pool you can rent should you be traveling with a larger party.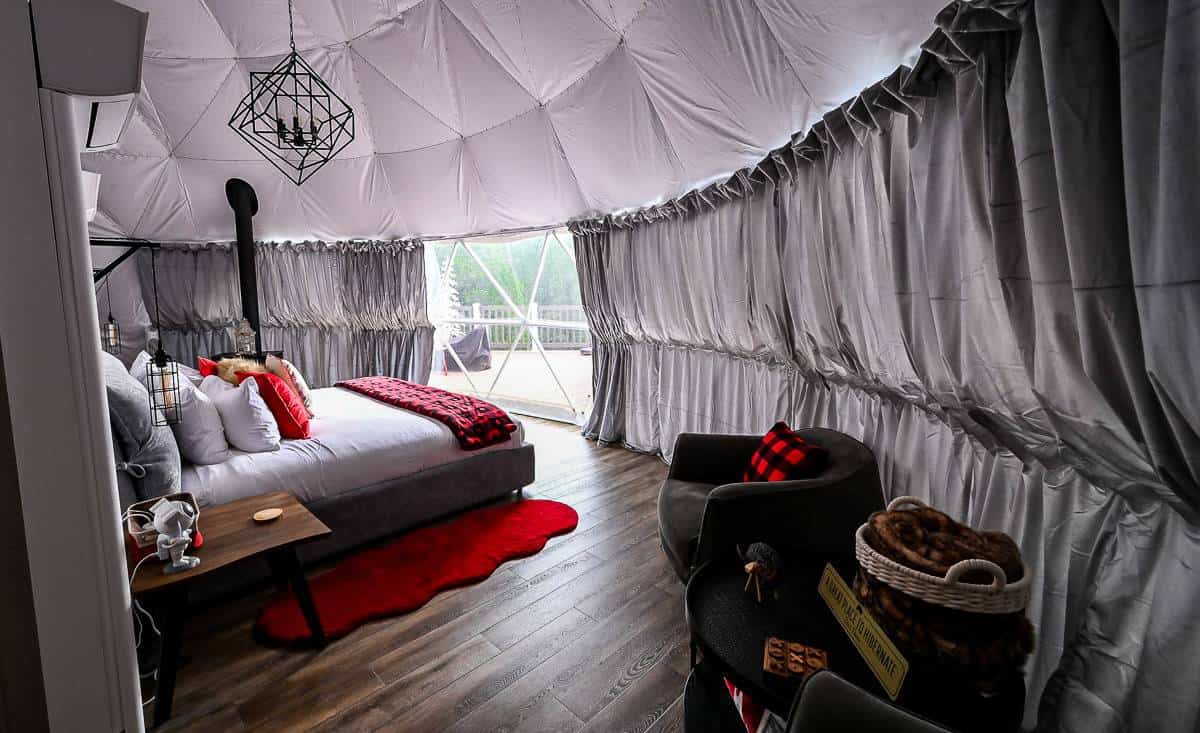 Copper Point Resort
The Copper Point Resort is a great choice if you want to have everything at your fingertips like pools, a spa and onsite dining. It's only a 6-minute drive away from downtown Invermere. As you can see from the photo below, there are playgrounds for kids and tennis courts as well.
Other options in Invermere
Headwaters Lodge at Eagle Ranch Resort, rated superb, boasts an onsite restaurant, and an onsite bike rental.
Fairmont Hot Springs
If you want to be close to the Fairmont Hot Springs, book the Fairmont Hot Springs Resort, rated good.
The Residences at Fairmont Ridge offer fully furnished apartments with a kitchen if you're interested in cooking. The hot springs are a 10-minute walk away.
Other options near Radium Hot Springs
The Inn on Canyon, rated fabulous, is an adult-oriented boutique hotel that serves breakfast. It's only a 5-minute drive to the hot springs in Radium.
Bighorn Meadows Resort, also rated fabulous, features suites with full kitchen facilities and an outdoor pool with a hot tub.
Interested in exploring more of the Kootenays?
Nelson to Rossland area
Nakusp area
Revelstoke – Glacier National Park
A big thank you to Travel Columbia Valley for hosting my stay. All thoughts and opinions are mine alone. I can tell you truthfully that I loved all the things we did in the Columbia Valley and can't wait to go back.
Click on the photo to bookmark to your Pinterest boards.