If you've driven the Trans-Canada Highway between Golden and Revelstoke, British Columbia then you've passed Heather Mountain Lodge & Cabins – but perhaps unknowingly. I know I've seen a sign pointing to heli-skiing in the winter but not once on the multiple times I've driven the Trans-Canada, did I clue into the fact that there was a beautiful lodge, just off the highway. But there is, and though it does cater to the heli-skier in winter, it's a destination lodge come summer and fall, especially if you're either getting married or you're into hiking.
In fact, Heather Mountain Lodge makes a wonderful basecamp for hiking in Glacier National Park. There are 18 day-use trails across a full range of difficulties, with most just a 15 – 25-minute drive west. What a treat it was to enjoy world-class hiking so close by – and then to return to a beautiful roof over our heads, a super comfortable bed, a large bathroom with fabulous Rocky Mountain Soap amenities and memorable food.
Cabin living
There are two cabins, tucked some distance away from the lodge that are available to rent. In the winter that might mean walking past human-sized snowbanks but in summer, it's a 3-minute stroll through wildflowers.
Our cabin was roomy and well-appointed. It came with a king bed, a sofa bed, a fireplace, a couple of red chairs on the deck, a fridge, a Nespresso machine (but with Coffee-mate – my biggest pet peeve in higher end places) and a bathroom with both a shower and huge soaker tub – which in hindsight I should have used after our Abbott Ridge hike.
Although the lodge and cabins are just a short distance off the Trans-Canada Highway, I didn't find the noise level to be troublesome. It's certainly there in the background starting in the morning and ending around 8ish in the evening. I am super sensitive to noise and have been cursing the Calgary helicopters flying over our house at all hours of the day, so this paled in comparison. It was also quieter than many stays I've had in the Banff – Lake Louise corridor where there can be a terrific amount of train noise all night long.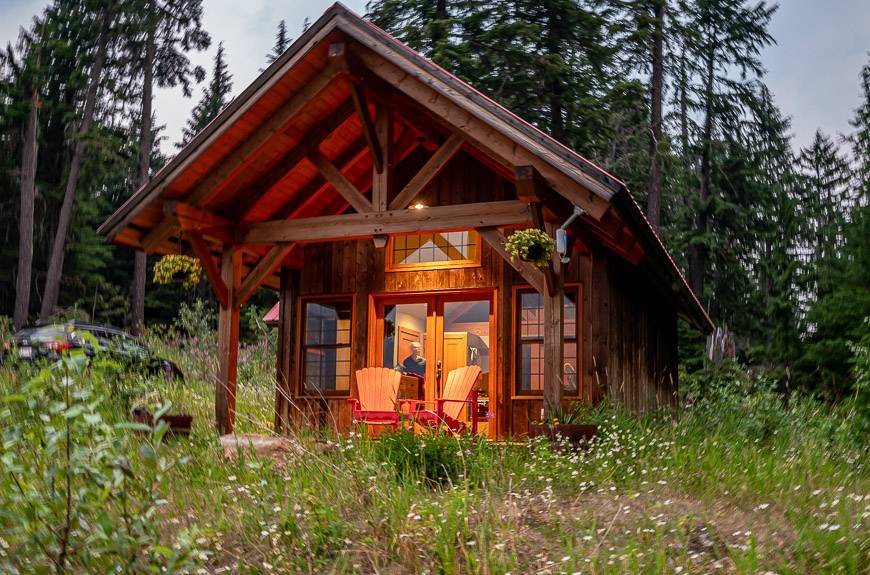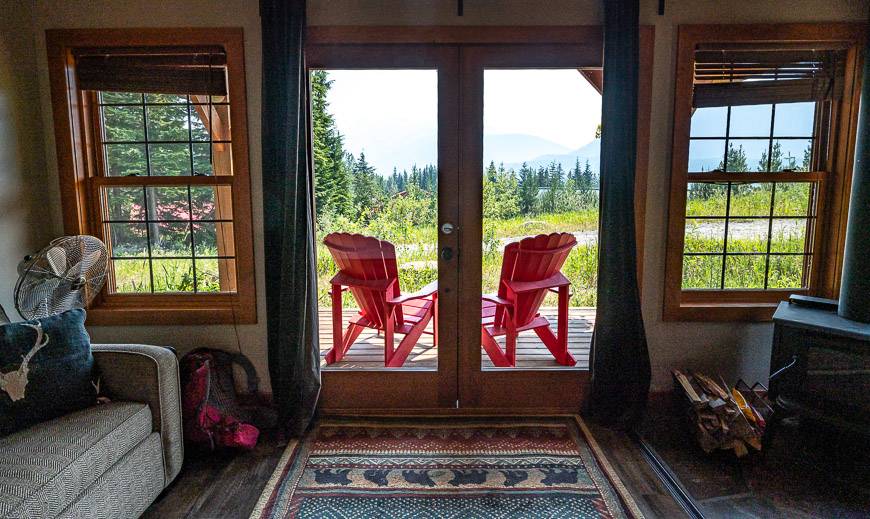 Around the lodge
We didn't actually spend a lot of time around the lodge, partially because we visited during a hot spell. If I was visiting on a cool day, I'd want to try out their barrel sauna. Instead, we did watch numerous helicopters come in to refuel – as it saved them a lot of time by not having to fly all the way to Golden. There were some forest fires nearby – but nothing that came close to threatening the lodge.
Indoors on the upper level of the main lodge, there's a large room with a pool table, comfortable seating and a big fireplace that would be appealing on a cold day.
I was content to enjoy the view from both inside and outside our cabin. John would kindly go down to the lodge at the end of the day and reappear about 10 minutes later with a glass of wine and beer. It was a treat to read, relax and yes – drink wine in bed.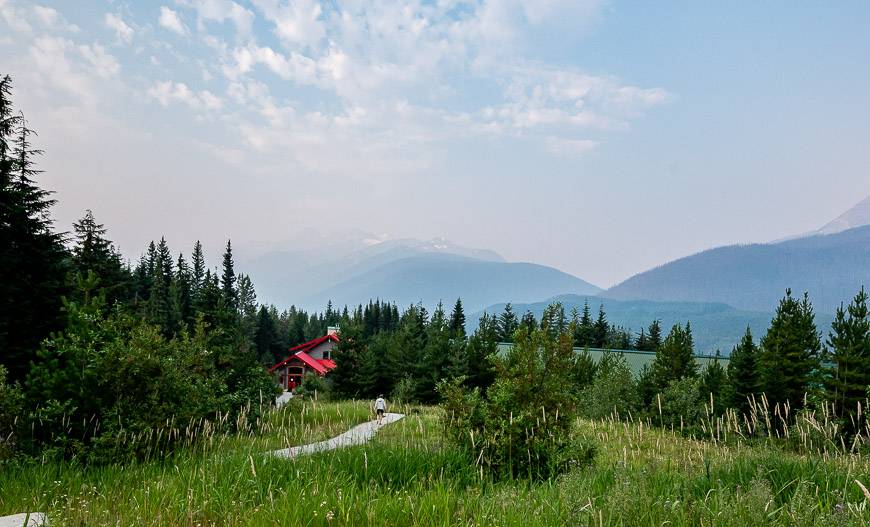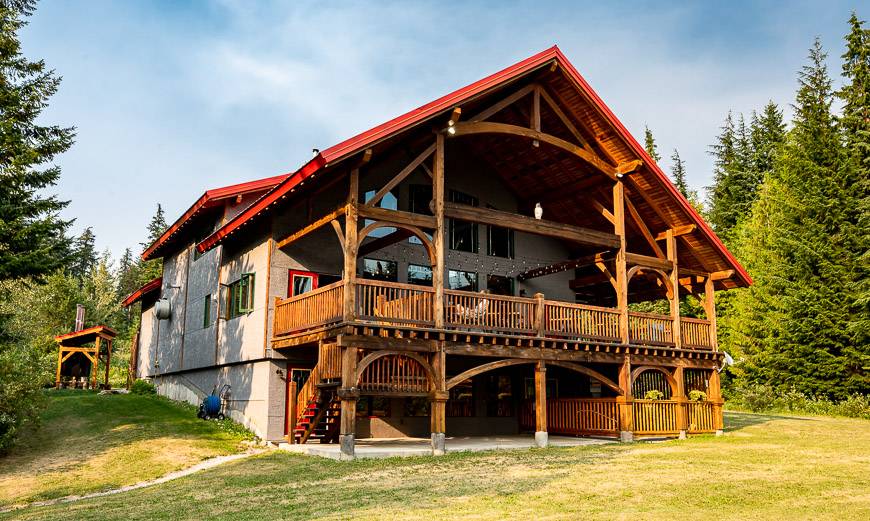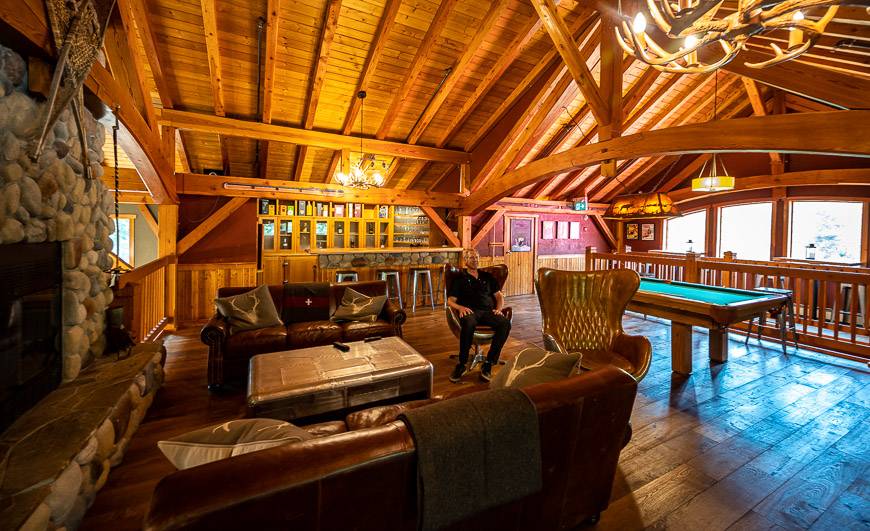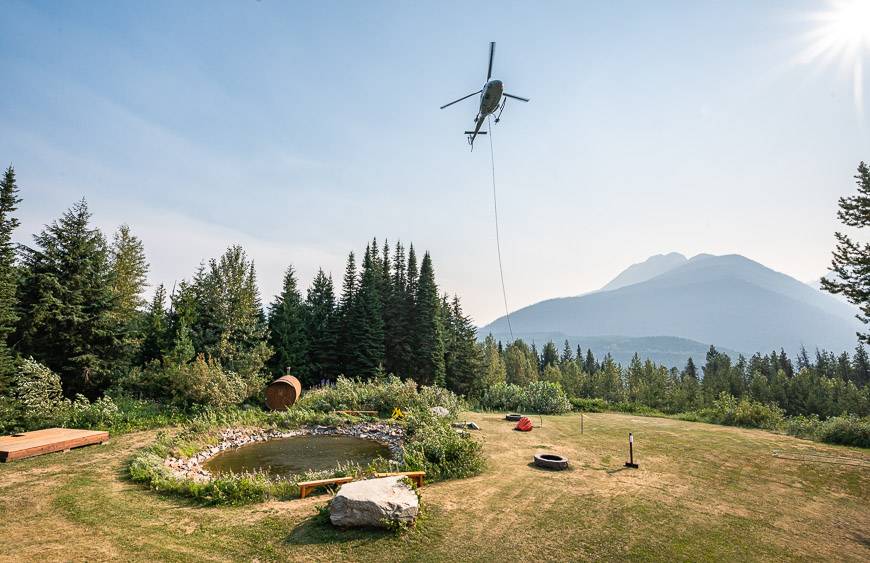 Swoon worthy meals at Heather Mountain Lodge
I am not a food blogger, but I know great food when I taste it. I would have to say the beet salad and wild mushroom pappardelle are as delicious as anything I've tasted in a restaurant. Interesting their chef is Stephan Drolet from Whistler's Bearfoot Bistro, a restaurant that consistently makes Canada's 100 Best Restaurants list. He is committed to sourcing ingredients from as close to the lodge as he can, followed by in province and then in country.
Behind the lodge, there's a new outdoor cooking set up where live-fire and smoked flavours can be judiciously added to a wide range of ingredients. Cue the smoked pistachios in the beet salad and the house smoked pappardelle we enjoyed on the first night and the smoked Swiss chard and grilled leeks on the second.
The presentation of all meals as you can see below is mouth-watering.
Everyone is welcome to dine
You don't have to be a guest at Heather Mountain Lodge to dine in the restaurant. More and more people are seeing some signage on the highway and coming in to eat. It's a great way to break up a long drive on the Trans-Canada Highway. The only word of caution I would offer is to be extremely careful turning left off the Trans-Canada as you're driving east. Turning into the road to the lodge when you're heading west is not an issue.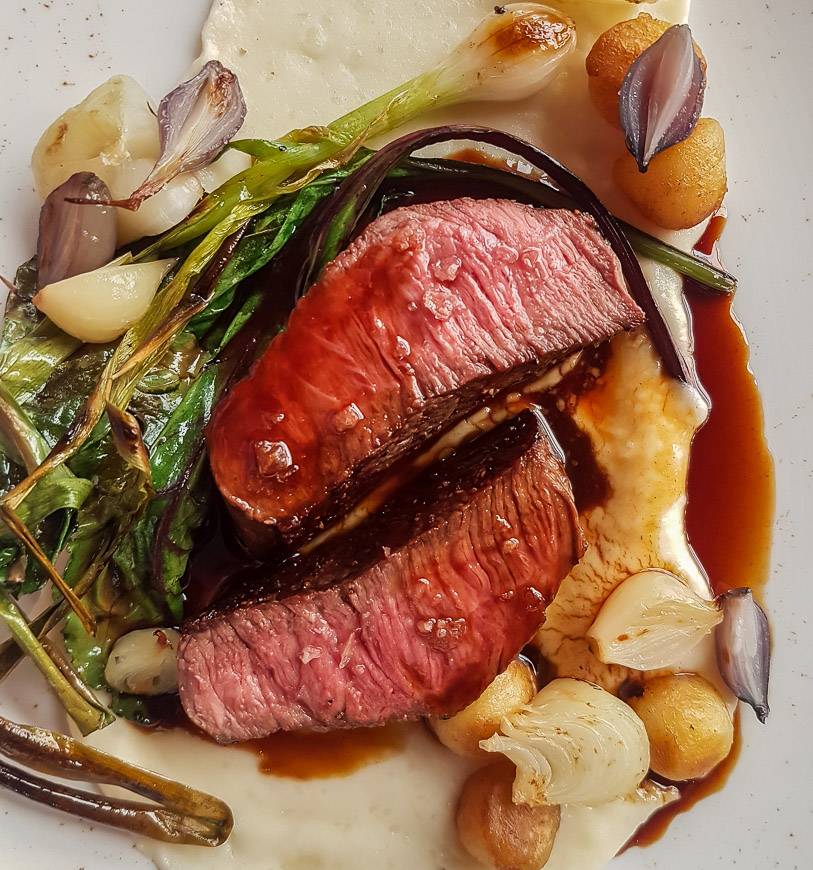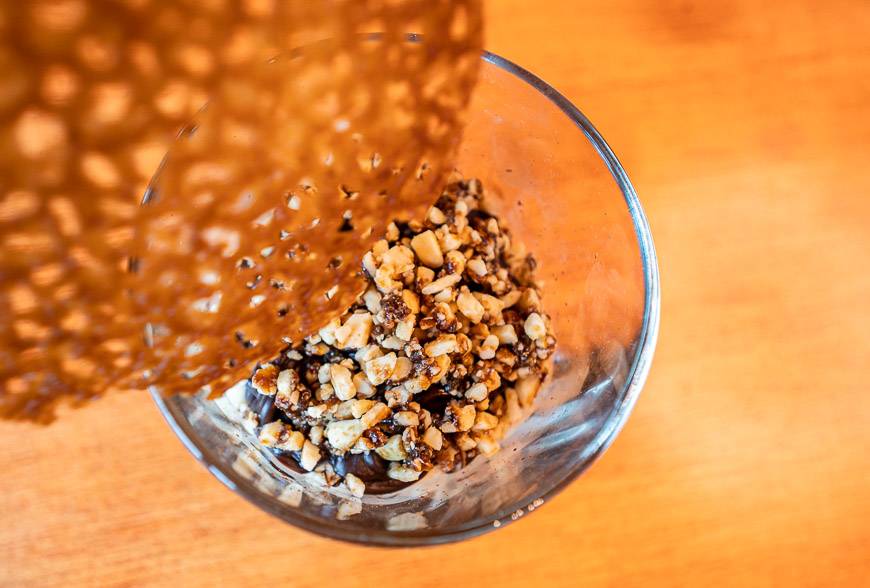 Hikes – both guided self-guided in the area
With its premier location near the east entrance to Glacier National Park, Heather Mountain Lodge is well positioned to be used as a basecamp for day hikes. We did exactly that – hiking Abbott Ridge one day and Glacier Crest another. Both are exceptional full-day hikes with over 1000 metres of elevation gain over a return hike of 13 to 16 km. Another shorter but steep hike I would recommend is Hermit Trail.
There are other easier hikes to choose from in the park but since we didn't have to drive more than about 20 minutes each way, we wanted to be able to take advantage of full day hikes.
The lodge is also able to organize a guide for you. This would be especially helpful to anyone who isn't used to hiking in bear country. A guide is also terrific at being able to assess your hiking abilities and then recommending a hike that would be a great fit. The lodge was kind enough to organize Golden-based guide, Alison Dakin, for us.
She was easy company and well-prepared with a Garmin inReach, water filters, bug and bear spray, extra poles – basically, a lot of the things you might not be traveling with, especially if you flew in from somewhere and rented a car. She can be reached at al@uniserve.com.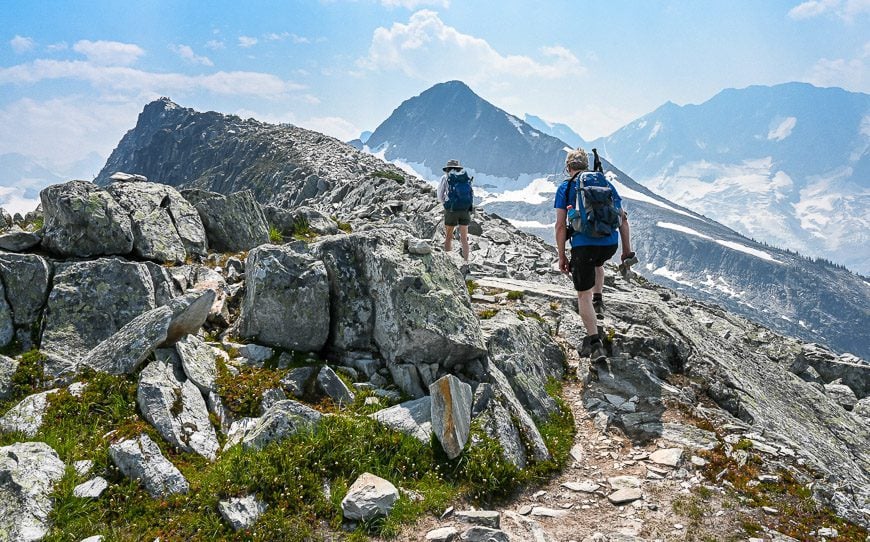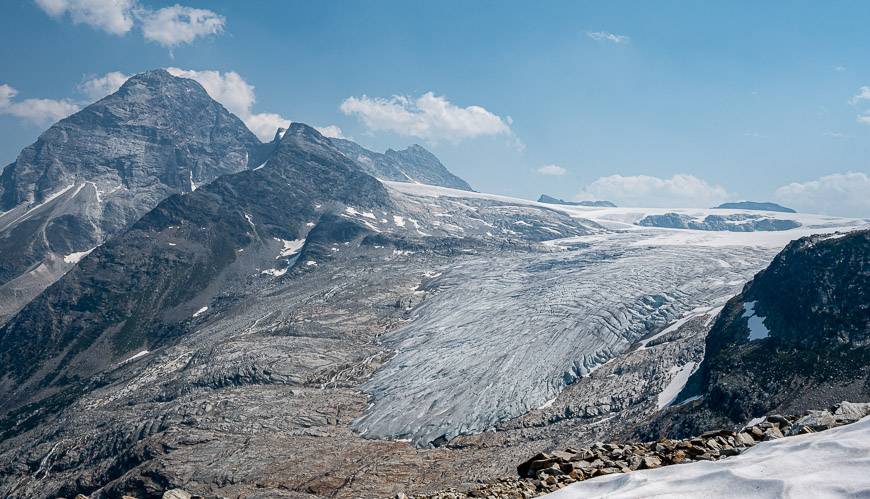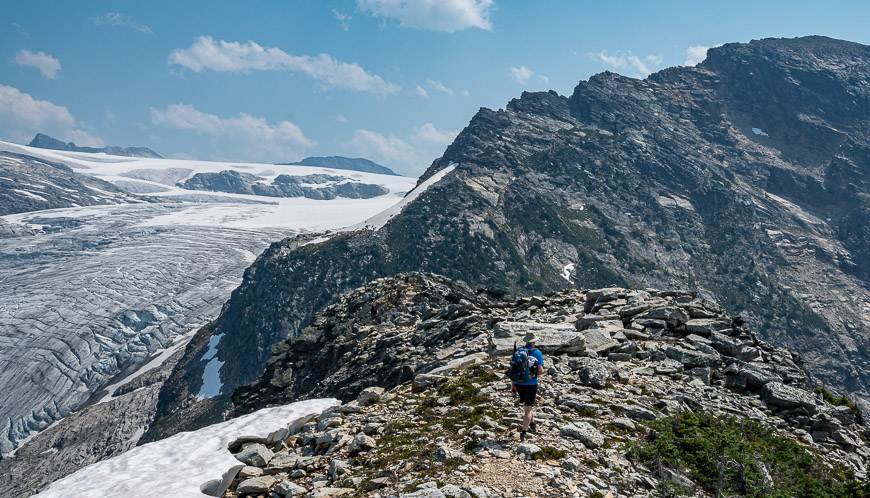 Lodge location
On Google maps the lodge is located here.
From Golden it's a 42 minute drive west via the Trans-Canada Highway. From Revelstoke, it's a a 1hour, 6 minute drive east via the Trans-Canada Highway.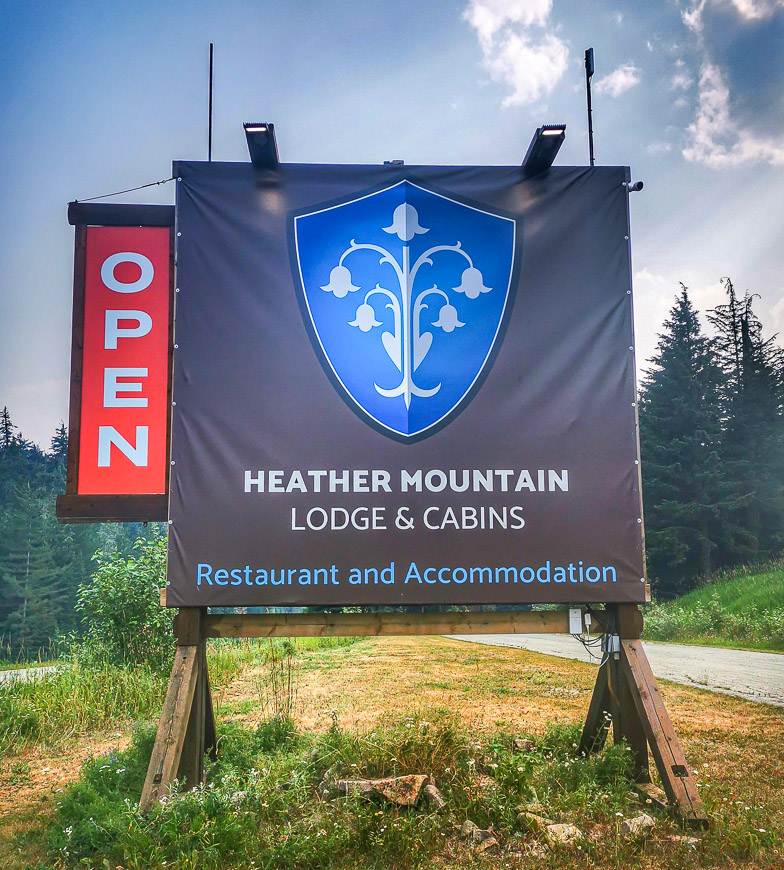 Booking a night or more
It's amazing what a few nights at the lodge can do to make you feel like you've been away for much longer. I was a guest at the lodge but can honestly say I loved the experience, especially staying in the cabin. I can't speak for the lodge rooms, but they would be similarly outfitted.
You can book directly on the Heather Mountain Lodge website. What you might notice if you click on Summer is that they also offer several programs including "Being Bear" in Canada's Glacier National Park with Reno Sommerhalder and a 2-day-2-night package walking in Glacier National Park with Indigenous Interpretive guide Tim Patterson.
Further reading on things to do in the general area
Click on the photo to bookmark to your Pinterest boards.