Looking for things to do in Revelstoke in summer? You won't have a problem filling your day(s). But what you may find is that you haven't allowed enough time to do everything you want to do. I personally would recommend these 11 things to do in Revelstoke, based on trips to nearby hot springs and national parks over several visits. There are also several adventurous activities I wish I'd done (see below) that will have to wait for the next visit to Revelstoke.
This post includes some affiliate links. If you make a qualifying purchase through one of these links, I will receive a small percentage of the sale at no extra cost to you. Thank you very much for your support.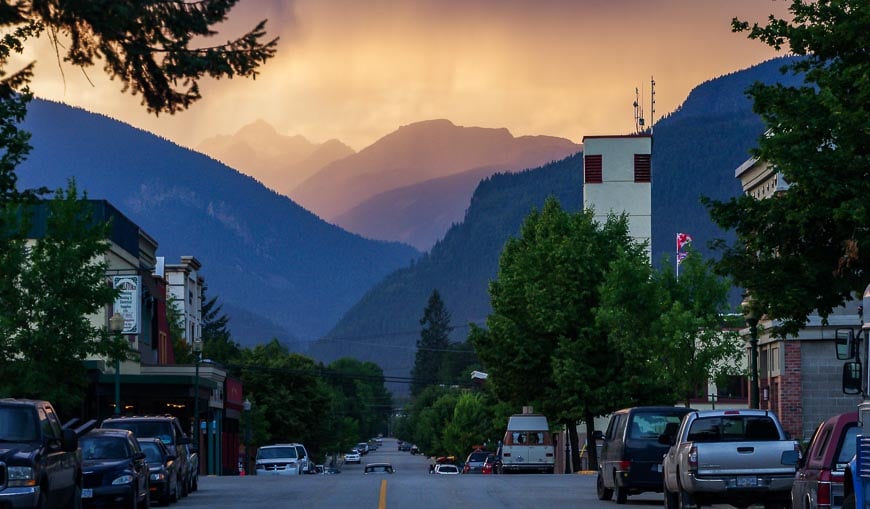 1. Hike in Mount Revelstoke National Park
There's lots of choice when it comes to hiking in nearby Mount Revelstoke National Park. Of the 20 plus hikes, one I'd suggest if you've got 4 – 6 hours, is the 14.2 km return hike to Eva Lake. It's only got 179 m of elevation gain!
The trail takes you through a forest of subalpine fir, Englemann spruce and mountain hemlock with periodic views of the Columbia River – literally thousands of feet below. If you hike in August you'll be treated to wildflower-filled meadows. Eva Lake itself is lovely and worth the walk around. It makes a great lunch spot – or backcountry camping destination.
Another great choice would be the Jade Lake hike that starts from the same trailhead as Eva Lake.
2. Take a hike in Glacier National Park – not far from Revelstoke
Continue past Mount Revelstoke National Park to reach Glacier National Park. Choose an easy hike like the Hemlock Grove Boardwalk Trail – put in place as a legacy to Rick Hansen's 1987 Man in Motion tour.
Or pick one of the many steep hiking trails like the Hermit Trail that takes you into the alpine. Two other superb hikes include the hard Glacier Crest Trail and the more difficult Abbott Ridge Trail that gets you up high in the alpine tundra via a narrow ridge.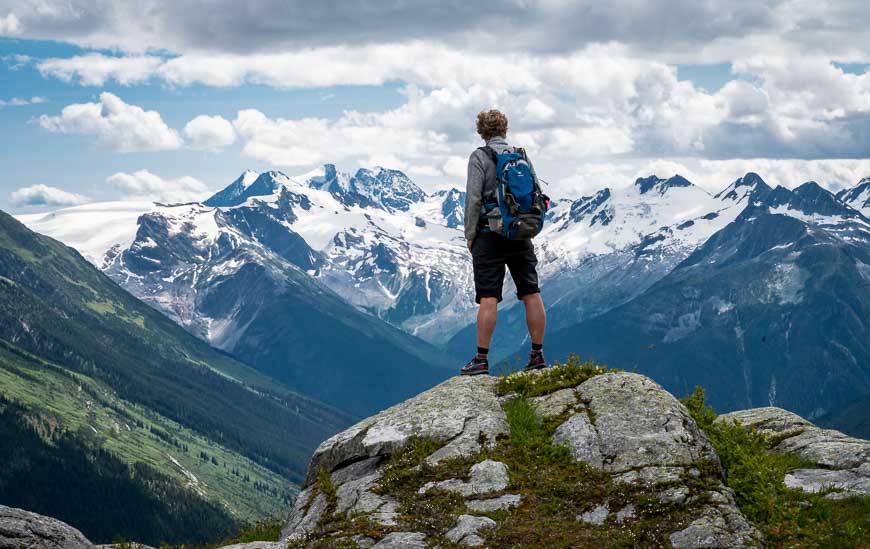 3. Go paddleboarding on the Lake Revelstoke Reservoir
If you didn't arrive in Revelstoke with a paddleboard you can rent a blow-up one from Fine Line SUP. The boards take about 10 minutes to fill with air (a good warm-up to SUP) and then voilá, you're ready to go.
We drove to an obvious launch spot a short distance north of the Revelstoke Dam. There's lots of parking and water access is easy with the paddleboard. On a peaceful, calm weekend morning we had the Lake Revelstoke Reservoir to ourselves. Our goal was to paddle north to Silvertip Falls, located on the east (right) side of the reservoir.
We arrived sooner that we figured and I'm sorry now that we didn't have time to continue up to Martha Creek Provincial Park – a popular destination for paddleboarders. With conditions like you see in the photo below, you can cover a lot of ground in short order.
4. Soak in one of three Nakusp area Hot Springs
As a side trip from Revelstoke head to one or more of the Nakusp hot springs for a soak. There are three I tried. You could visit all the hot springs in a day from Revelstoke if that was your goal.
The Halcyon Hot Springs are the most developed of the three Nakusp hot springs. Not only are there hot, warm and cold pools on the upper deck, they've got a large swimming pool with a killer view over Upper Arrow Lake. You can stay and eat here too. These springs are the closest to the ferry.
For a visit to an undeveloped hot springs visit Halfway Hot Springs – south of Halcyon. While there is a change room and an outhouse, the rest of the hot springs is a series of pools of varying temperature from steaming hot to extremely cold. In winter, access would be an issue unless you're traveling with a snowmobile or skis.
The Nakusp Hot Springs are closest to the village of Nakusp itself. Look for two side by side pools – one warm and one a bit hotter, along with full change facilities, showers and a snack bar with espresso drinks.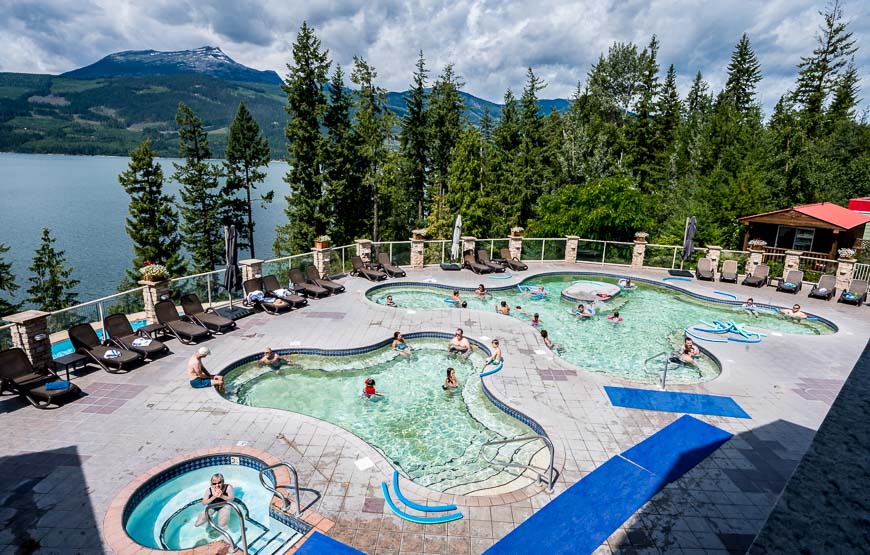 5. Raft the Illecillewaet River
Book a tour with Apex Rafting if you love the thrill of rafting Class I – Class III rapids. With Apex you journey for 26 kilometres down the Illecillewaet River through 20 rapids, broken by scenic sections where you can sit back and watch the mountain scenery slide by.
The rafting tour starts in Revelstoke. After you get your gear and wiggle into wetsuits, it's about a 30-minute drive to the launch site near Glacier National Park. We spent 2.5 hours actually on the Illecillewaet River. By the time 5 PM rolled around, we both felt like we'd had a good upper body workout – though we never had to swim!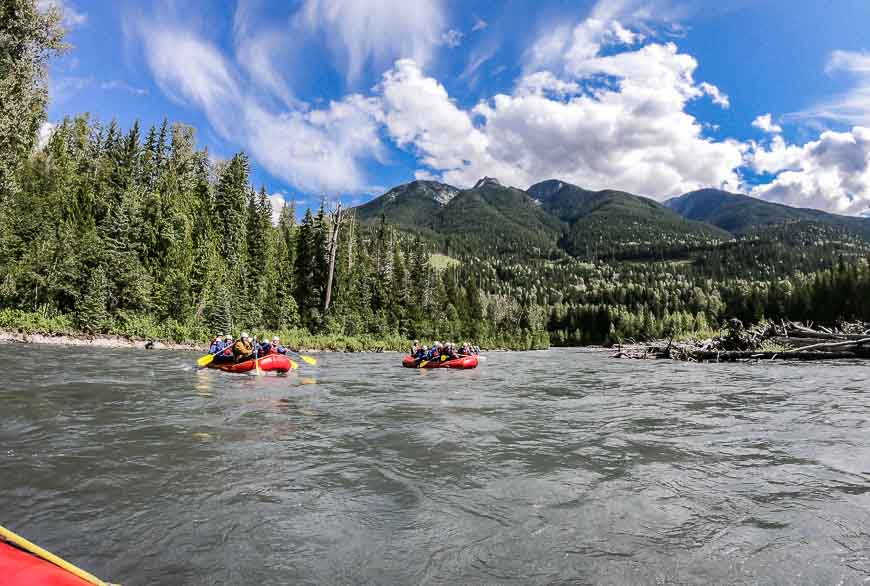 6. Catch the Revelstoke Summer Street Fest
For two months every summer the Revelstoke Summer Street Fest takes place. It's billed as one of the longest running music festivals – with a lineup of diverse musicians playing for just shy of 60 days straight. Best of all, it's free. Pull up a chair, lean on your bike, dance, sit on the ground – whatever works for you. But enjoy the music.
The street fest takes place downtown on a closed-to-cars street beginning at 6:30 PM. Bands play three sets and finish by 9 PM. Some names you might have heard over the last few years include Maritime Kitchen Party, Sister Speak, The Tequila Mockingbird Orchestra and The Derina Harvey Band.
7. Enjoy the Revelstoke food scene
Revelstoke is home to some excellent restaurants, especially considering the size of the town.
Woolsey Creek Bistro
John and I enjoyed a truly exceptional meal – a piece of salmon with wild rice pilaf and an exquisite green chimichurri emulsion from the laidback Woolsey Creek Bistro. Their focus is BC – and it shows both in the food and in the wine list. As our B&B hosts said, this place is a real treat to visit.
112 Restaurant & Lounge
On another evening we dined at 112 Restaurant & Lounge, just around the corner from the street fest. In the second food photo you'll see the mouthwatering plate of scallops I enjoyed. The meal left me in a state of bliss. We also enjoyed exceptionally friendly service.
Main Street Cafe
For breakfast, lunch or brunch check out the Main Street Cafe on Mackenzie Avenue. It's something of an institution in Revelstoke so if it's a sunny weekend be prepared to wait for a table. With luck you could sit outside. Their espresso drinks are excellent – as was the bagel with smoked salmon pictured below.
Mountain Meals
Should you be heading to the mountains for a hike or bike ride pick up a sandwich and baked good from Mountain Meals on 1st Street West. You can order ahead of time too and they'll have your packed lunch waiting for you. I highly recommend their chicken and brie sandwich.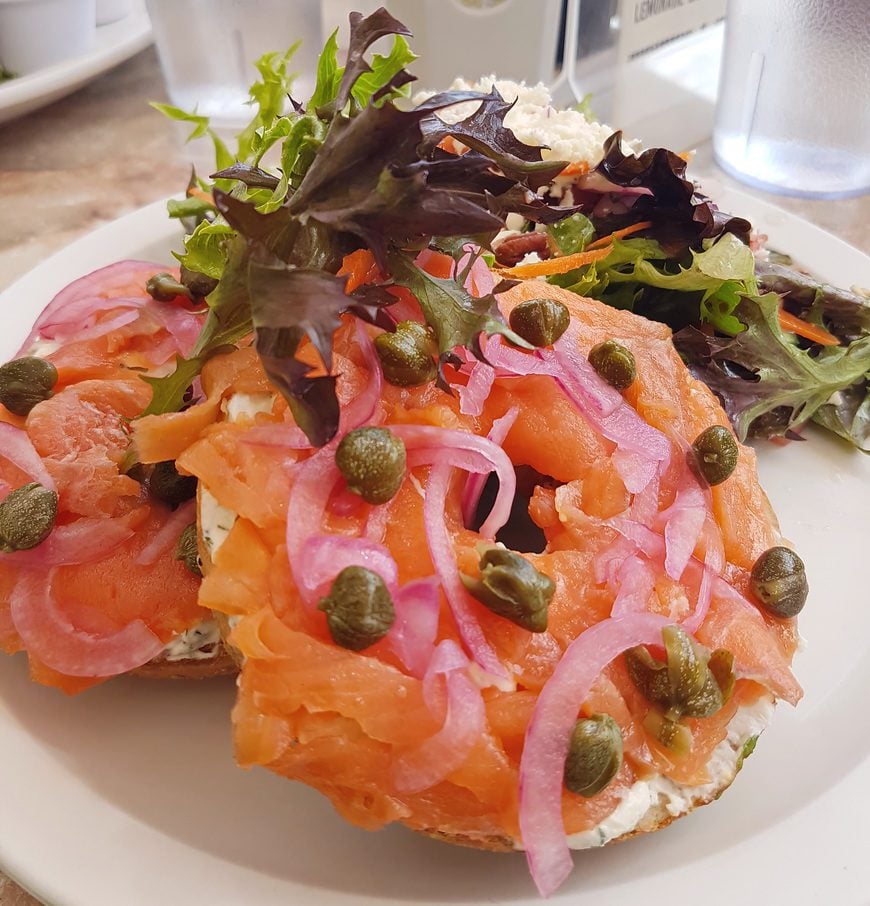 More things to do in Revelstoke if you have time
You could quite easily spend a full week in Revelstoke with all the things to do. Here's what I'd add to a visit next time.
8. Climb a big hill on your bike from Revelstoke
I'd take a road bike and grunt my way up the Meadows in the Sky Parkway in Mount Revelstoke National Park. The road switchbacks over 10 times as it climbs 26 km up the side of the mountain, gaining 1,600 m (5,249 ft). And then I'd have a heck of a great time roaring back down the road. What a workout and what a reward.
9. Ride the Pipe Mountain Coaster in Revelstoke
The Pipe Mountain Coaster is reportedly a game changer when it comes to tourism in Revelstoke. It's now the number one attraction in town bringing in people from all over looking for an adrenaline rush. Sit in a small coaster that gets to speeds of 42 km/hour over its 1.4 km length.
The Coaster operates from the third week of June until mid-October, though its weekends only later in the season. The ride includes a trip up the gondola. You must be 8 years or older and be 4'1″ or taller to ride alone. Save 10% if you pre-purchase your tickets online.
10. Go tandem paragliding out of Revelstoke
I have never tried paragliding but a trip to Switzerland opened my eyes to the sport. John and I watched dozens of people launch solo from the mountains there. While I have no interest in learning how to paraglide by myself, I would like the thrill of being a passenger. Check out Revelstoke Paragliding for more information.
11. Go shopping
I got no further than window shopping on this trip though I do have to say I was impressed with what I saw, especially when it came to outdoor stores. And that's my favourite type of shopping. If you've forgotten anything for an outdoor adventure, you'll have no trouble restocking your wardrobe or gear box.
Where to stay in Revelstoke

The Regent Hotel Revelstoke rated very good, offers onsite dining at The 112 Restaurant and a continental breakfast. Rooms are comfortable and contemporary.

If you're after a B&B experience, you'd well to choose the Courthouse Inn Revelstoke.

If you want to be up on Revelstoke Mountain be sure to check out the Sutton Place Hotel Revelstoke Mountain Resort. It offers condominium style accommodation.

Another option if you're not in a rush, is to spend a full night at the Halcyon Hot Springs Village & Spa. Why rush a relaxing soak in a hot spring?
Where is Revelstoke, BC?
Revelstoke, or Revy as it's called by locals is a town of approximately 14,000 people (according to Telus Insights), situated on the Colombia River in south central British Columbia. The Trans-Canada Highway runs through the town.
From Calgary it's approximately 400 km west, or a 4.5 hour drive. Its 565 km and a six hour drive from Vancouver. Other nearby cities include Golden, BC (150 km east), Vernon, BC in the Okanagan (150 kilometres southwest) and Salmon Arm (103 km west).
There is also the possibility of driving north 100 km from Nakusp. If you do that you'll need to take the free ferry to Shelter Bay from Galena Bay.
In winter it can sometimes be a challenge to get to Revelstoke as you must drive over Rogers Pass (a high mountain pass) if you're coming from the east or the Coquihalla Highway if you're driving from Vancouver. Fortunately in summer, save for the rare freak snow storm, the driving is excellent. And scenic – from all directions.
Location map of things to do in Revelstoke

A big thank you to Tourism Revelstoke for hosting my recent stay. All thoughts – as always are my own. I think this is a mountain town worthy of your time!
Click on the photo to bookmark to your Pinterest boards.