I have driven past the entrance to Mount Revelstoke National Park without stopping at least a dozen times. When I finally made the park my destination I was sorry I hadn't stopped sooner. The park is known for its exceptional summer wildflower displays and there is some excellent hiking – as we found out on the hike to Eva Lake.
I had planned for a visit in early August specifically to try and catch the wildflowers. I'd say they are at their peak about then and over the next couple of weeks.
2020 update: A reader pointed out that dogs are no longer allowed on this trail. It was perfectly legit when I did it.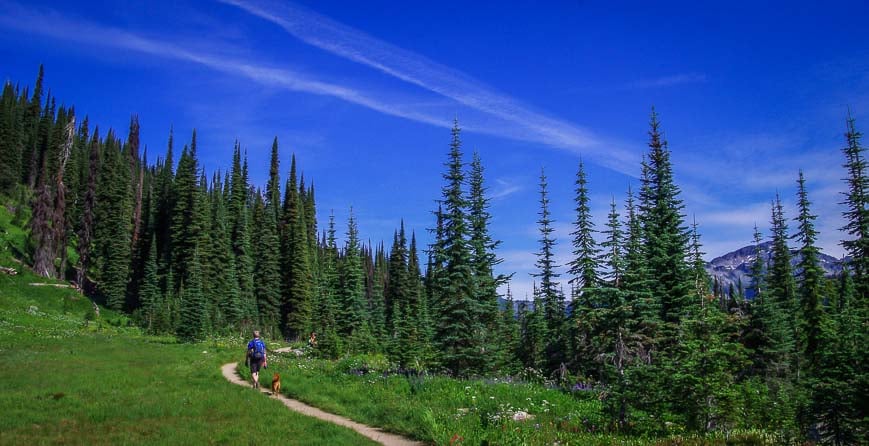 This post includes some affiliate links. If you make a qualifying purchase through one of these links, I may receive a small percentage of the sale at no extra cost to you.
How to get to the Eva Lake Trailhead
Access to the beautiful, turquoise coloured Eva Lake is via a trail at the top of the 26 km Meadows in the Sky Parkway.
The road switchbacks over 10 times as it climbs up the side of a mountain, gaining 1,600 m (5,249 ft). Pop out at a parking lot by Balsam Lake, in a beautiful landscape of sub-alpine tundra. From there you have the option of hopping on a shuttle beginning at 10 AM but it's an easy one kilometer walk to the actual Eva Lake Trailhead via the Upper Summit Trail.
All told it's a 12 km return hike to Eva Lake. Add an extra two kilometres if you don't take the shuttle. (Dogs are not allowed on the shuttle bus.)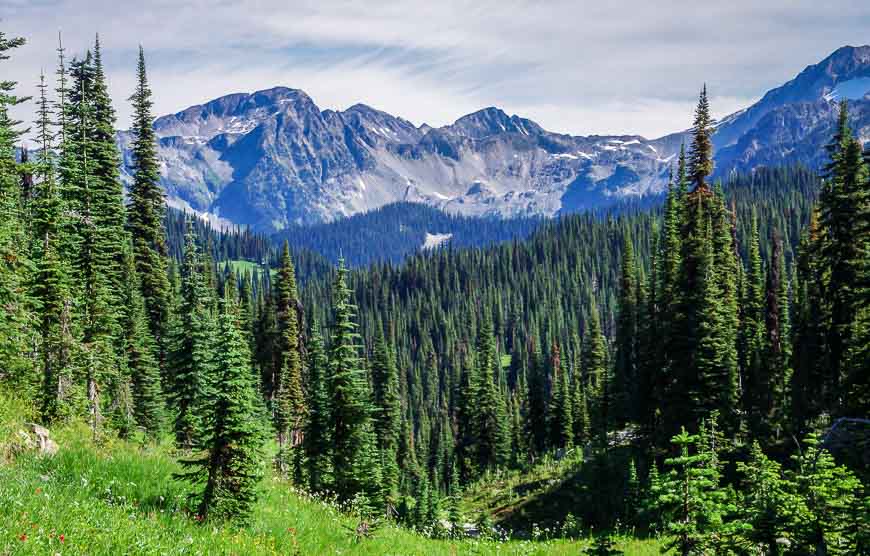 Eva Lake hike description
The trail to Eva Lake changes character as you hike. Initially, it takes you through forest broken by meadows filled with wildflowers. There are intermittent views of the Columbia River, thousands of feet below.
After you pass though the last of the meadows, you enter a world of rock and boulders, home to marmots and pikas. At the 5.4 kilometre mark, look for the first trail intersection.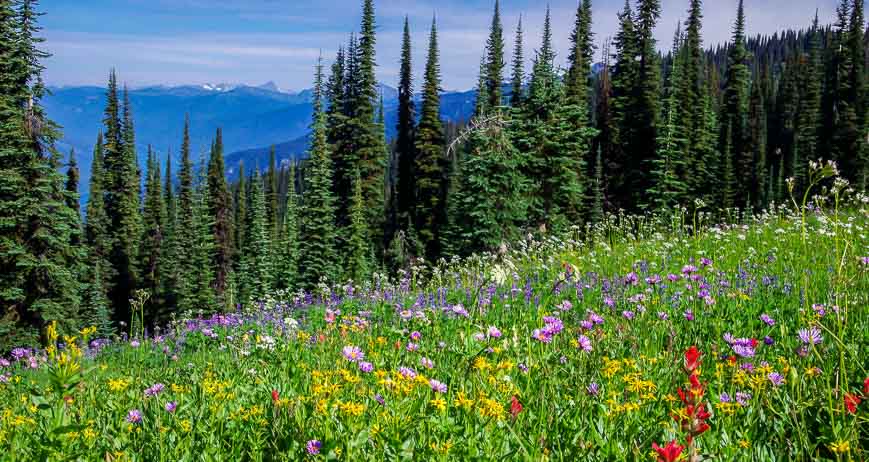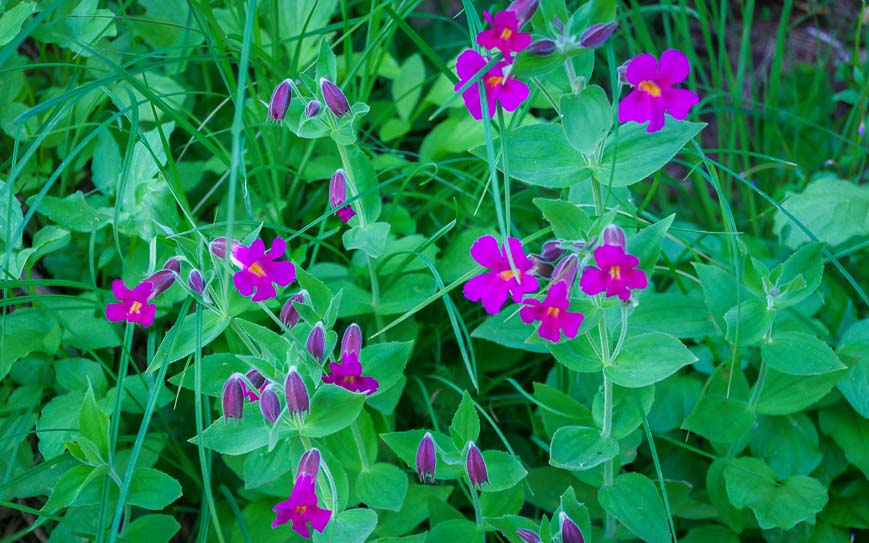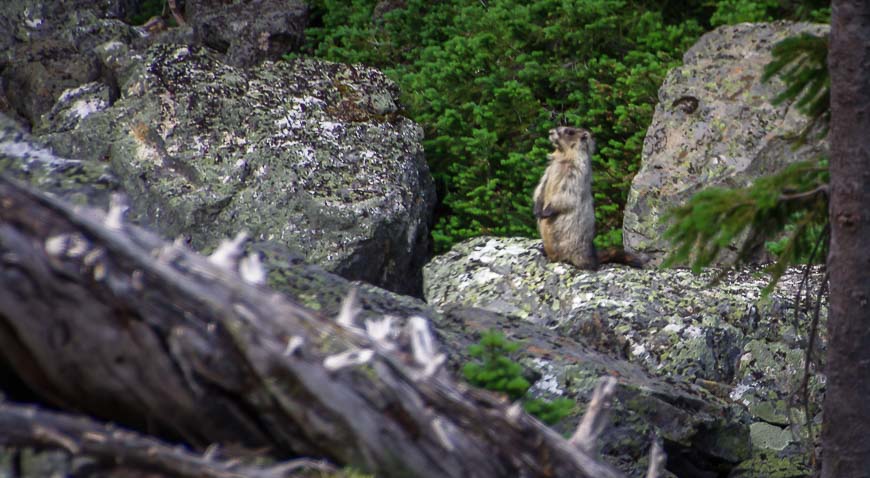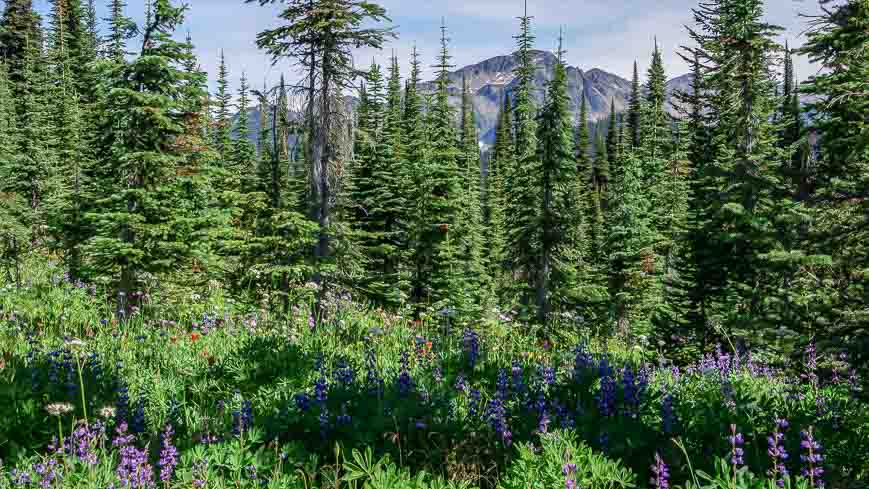 Option to hike to Jade Lake
You have the option of doing a short (0.4 km) side trip to Miller Lake. One minute later there's another intersection – with the option of doing the longer, harder hike to Jade Lake. But if you continue then in roughly 15 minutes you'll arrive at the stunning Eva Lake.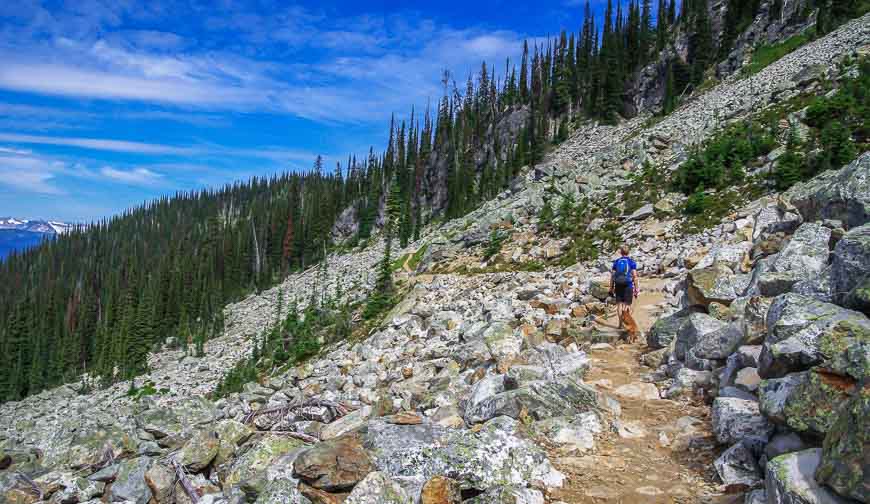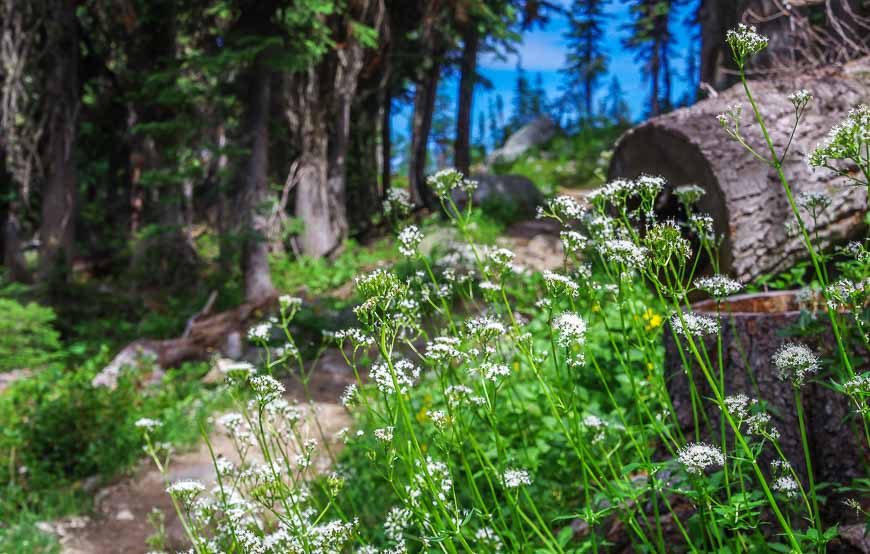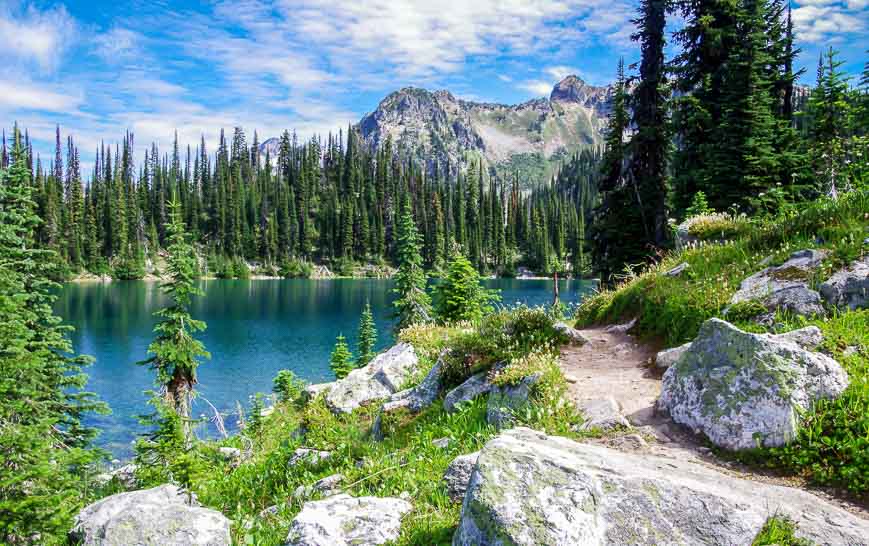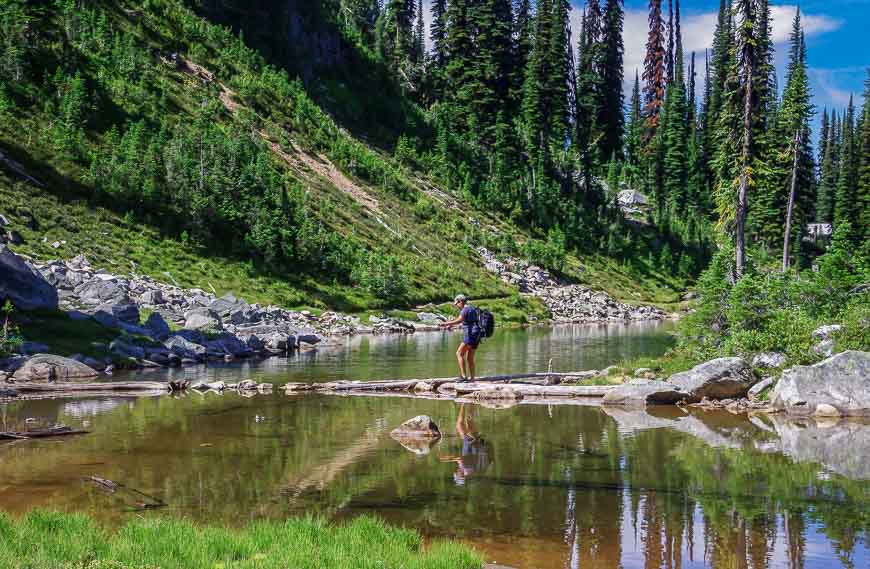 Camping at Eva Lake
It's possible to camp overnight at the lake although there are only four backcountry campsites available on a first come, first served basis. Prices are $9.80 per person per night.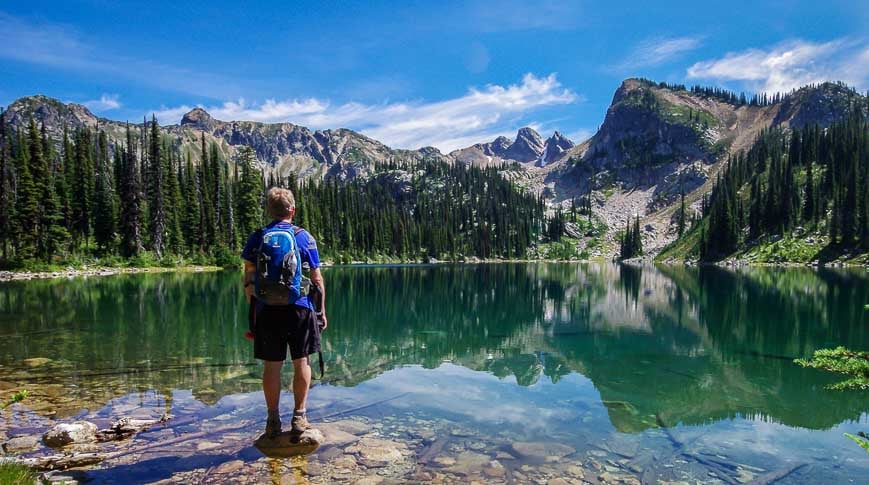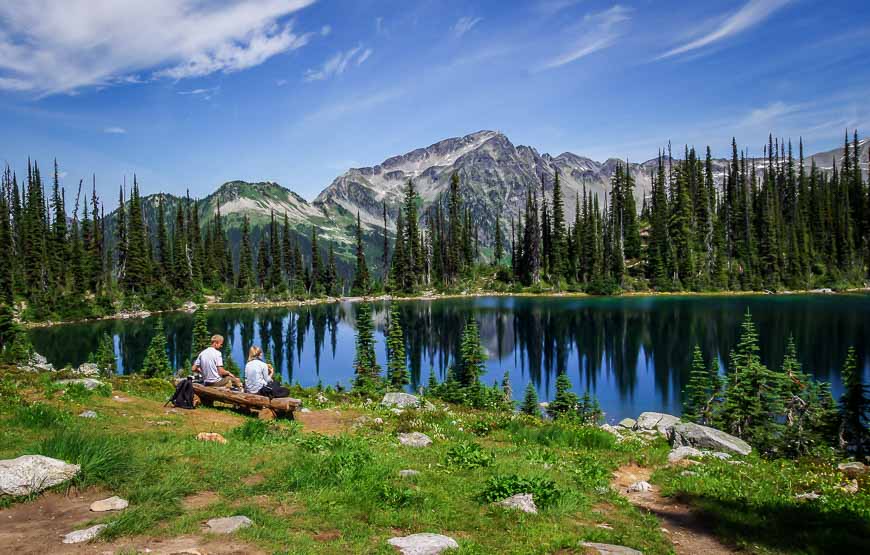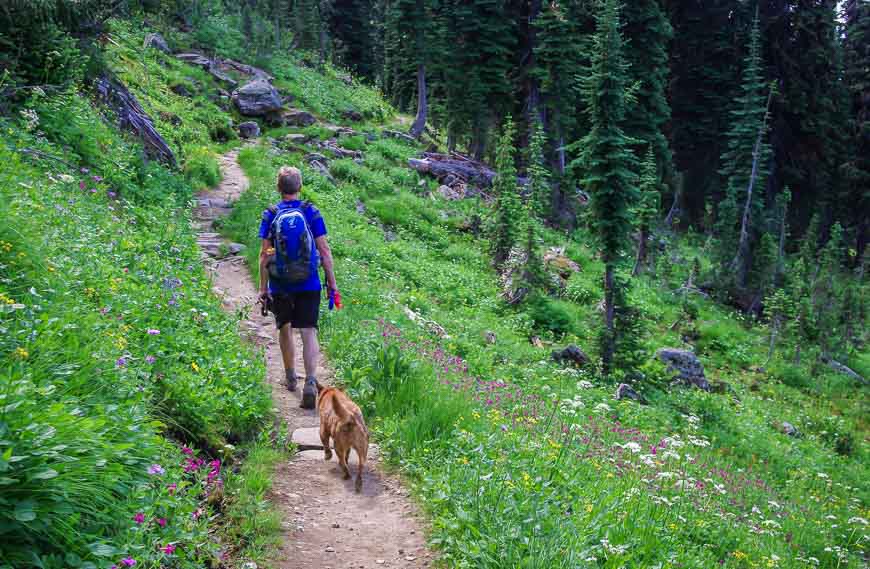 Even without the wildflowers, the hike to Eva Lake is a pretty one.
And cyclists who like a good leg burn might want to bike up the Meadows in the Sky Parkway. The downhill would be worth the effort.
The Meadows in the Sky Parkway is accessed off the Trans-Canada Highway, a few kilometres east of Revelstoke. Revelstoke is roughly halfway between Vancouver and Calgary.
Visit the Mount Revelstoke National Park website for more information.
A few things I like to take on my mountain hikes
For any wildflower lovers out there, you might want to pick up a copy of the book Popular Wildflowers of Alberta and the Canadian Rockies.
For my lunch time stop I swear by my almost weightless inflatable seat cushion.
Where to stay near Eva Lake
Revelstoke is the closest city with Golden a distant second. In Revelstoke there are loads of B&B's including Holten Heritage House where I stayed for a couple of nights in July 2019. If you want to stay on the mountain, the Sutton Place Hotel Revelstoke Mountain Resort would be a great choice. You can cook there too.
The Regent Hotel is another option (called fabulous by hotel reviewers) with an excellent in-house restaurant. It's downtown and within walking distance of lots of good restaurants.
Further reading on hiking in British Columbia
Click on the photo to bookmark to your Pinterest boards.