If you want a big workout in a short amount of time plus high impact mountain scenery, plan to do the Hermit Trail hike in Glacier National Park, British Columbia.
Steep hikes are what Glacier National Park, BC is famous for – and the hike up Hermit Trail is the steepest of them all. But it differs from other hikes in the park in that you end in a rocky alpine bowl, and not on a ridge. Although its steep, its not technically difficult.
This post includes some affiliate links. If you make a qualifying purchase through one of these links, I will receive a small percentage of the sale at no extra cost to you. Thank you very much for your support.
Glacier National Park's Hermit Trail hike details
Distance: 3.2 km one way.
Elevation gain: 819 metres or 2,687 feet.
Level of difficulty: Hard, not because of any technical issues, but because of how steep it is.
Time needed: Allow 3 – 4 hours to do the return hike.
Permit: You need a Parks Canada pass to access the trail. It can be purchased online or at the nearby Rogers Pass Discovery Centre.
Camping: The trail ends at Hermit Meadows where you can book a backcountry campsite.
Nearby mountains to climb: There are several peaks you can explore from the meadows including Mount Tupper, Hermit Mountain, Mount Rogers, and Swiss Peak.
Before you go: Check trail reports before you go. In summer 2022 the snow was still present in mid-July at higher elevation, whereas in July 2021 it was long gone, so expect year to year variability. The same goes for the fall. Avalanche danger can be an issue even in summer if the snowpack hasn't melted.
Bears: Be bear smart and pack easy to access bear spray.
Hermit Trail hike trip report
The Hermit Trail hike gains 819 m (2,687 feet) in just 3.2 km. It starts off gently enough, beginning at an elevation of 1,293 m. But after the first 200 m the grade steepens and remains that way all the way up on long switchbacks up through the sub-alpine forest. The forest is very beautiful with monster big trees, attesting to the amount of precipitation the area receives.
After about 45 minutes of aerobic hiking you break out of the trees, around the 1,900 metre elevation mark. While bird life was in short supply on our hike through the trees, reportedly you might see fox sparrows, hermit thrush, and white-winged crossbills.
Once through the trees you reach a stream where you could refill your water if you've gone through it already. In August wildflowers appear here; their numbers steadily increase as you continue up the trail, as do the views.
Beautiful trail building on the Hermit Trail
One section of trail reminded me of Lake O'Hara hiking. Large stones have been perfectly laid just as they are on the trail to Lake Oesa. It made me wonder if there was a modern day Lawrence Grassi trail builder with many of the stones "thoughtfully and carefully placed in the landscape."
There is one short steep, scrambling section that is made easier with a rope for assistance. From there it's a short distance to reach the top – a rocky, austere looking area with a few marmots around – making me jump with their unexpected ear-piercing whistles.
The trail ends at Hermit Meadows. From there you can explore the peaks that make up the Hermit Range. If that's not your thing, go find a rock with a view and enjoy your lunch. Retrace your steps to return to the parking lot.
We did the 6.4 km round-trip hike in just over three hours, but I'd allow four to be on the safe side.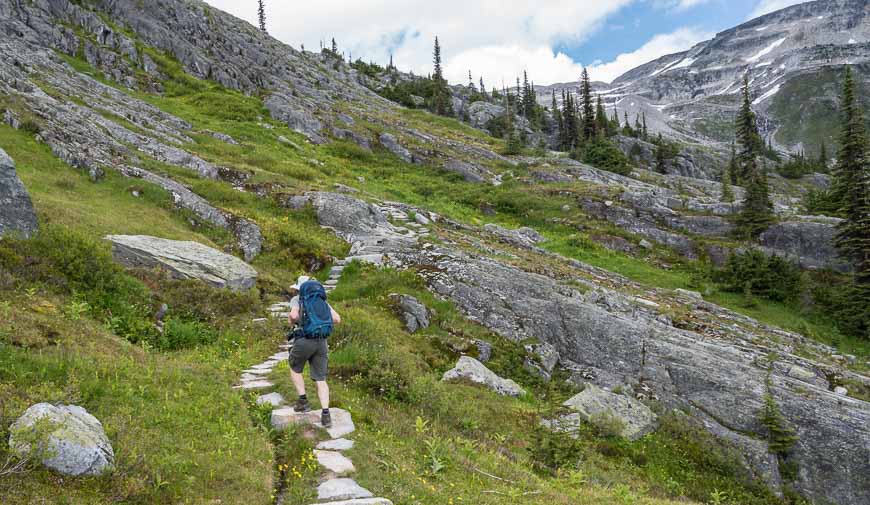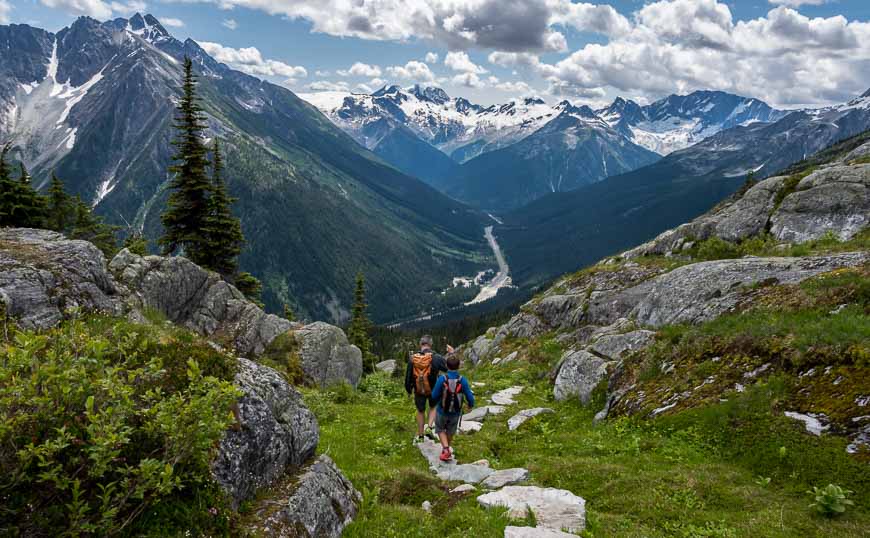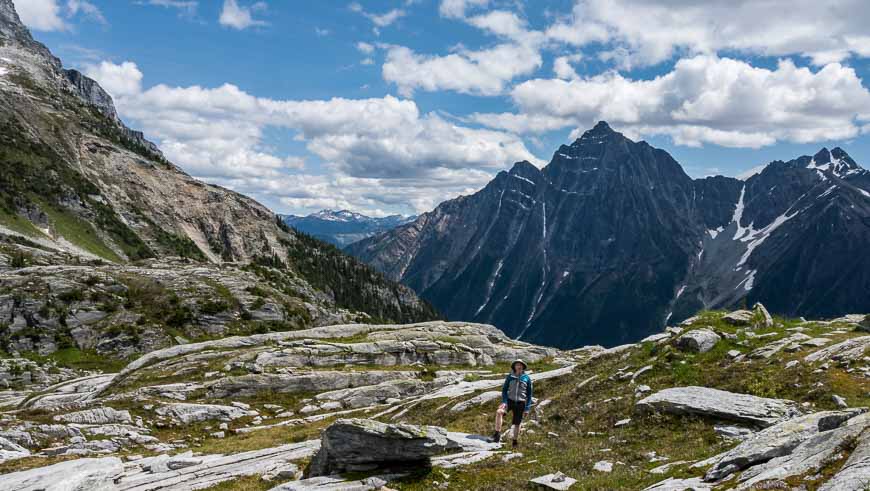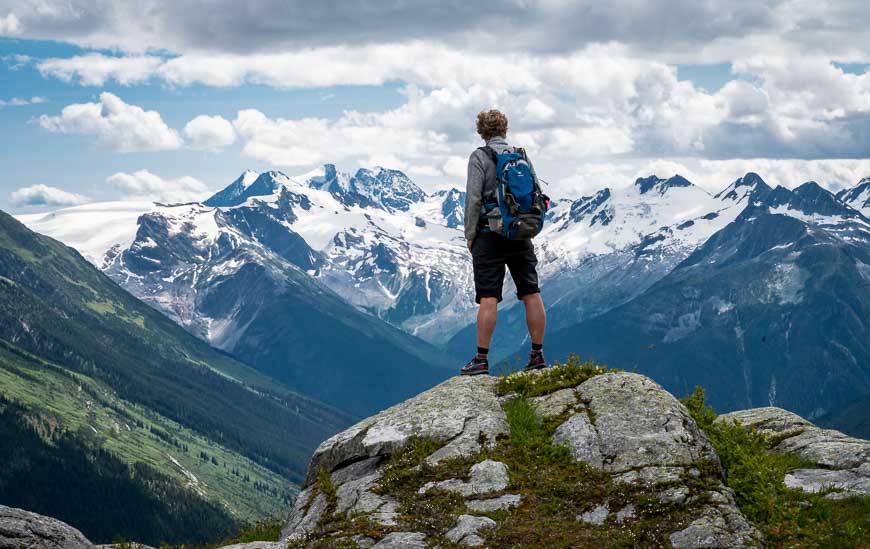 Backcountry camping at the top of the Hermit Trail
The Hermit Trail is one of three trails in Glacier National Park that boasts a backcountry campsite. The expansive, though austere looking campsite – with its location in a world of rock – boasts tent pads, bear lockers and a toilet. Don't forget your fuel and stove as no open fires are permitted.
If you plan to camp, obtain both a Park Pass and a Wilderness Pass. They are both available at the Rogers Pass Discovery Centre or in Revelstoke at Park Headquarters. The backcountry fee is $10.50 per person in 2022. Hermit Meadows is open from July 29th until September 29th, though it is snow dependent.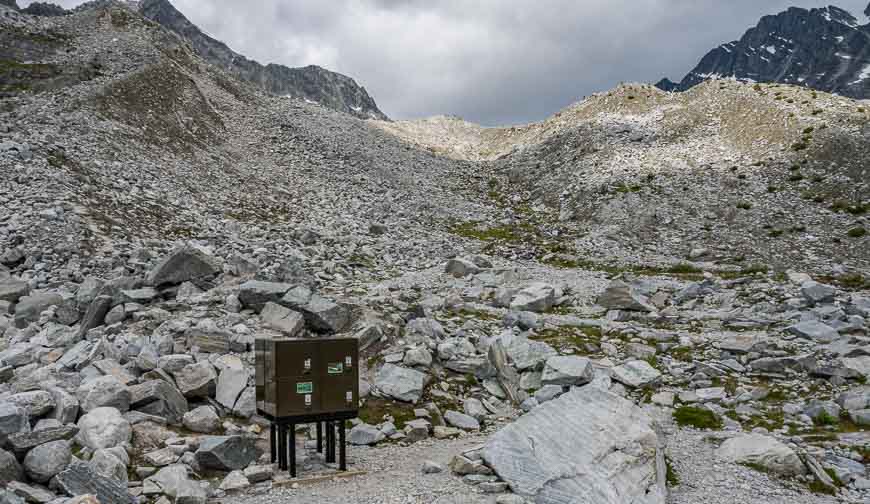 Front country camping in Glacier National Park, BC
Should you want to camp close to the trailhead in Glacier National Park before the Hermit Trail hike, you normally have the choice of three front country campgrounds, all of which are a maximum of 6 km west of the summit of Roger's Pass. They include Illecillewaet, Loop Brook, and Mount Sir Donald – though it is closed until further notice because of a spruce beetle outbreak.
If you're planning to do more hikes in Glacier National Park, Illecillewaet Campground would be a great choice, as that's where most of the hikes leave from. It's available on a first come, first served basis.
Want a roof over your head?
I would highly recommend a stay in Heather Mountain Lodge close to the east end of Glacier National Park. The cabins are especially lovely and the food is excellent.
You could also stage in Revelstoke or Golden if roofed accommodation is important to you.
In Revelstoke, check out Basecamps Resort or the Courthouse Inn if you're after a B&B experience.
In Golden, I would suggest the Basecamp Lodge near the river or the Moberly Lodge, 10 minutes out of town on a rural property.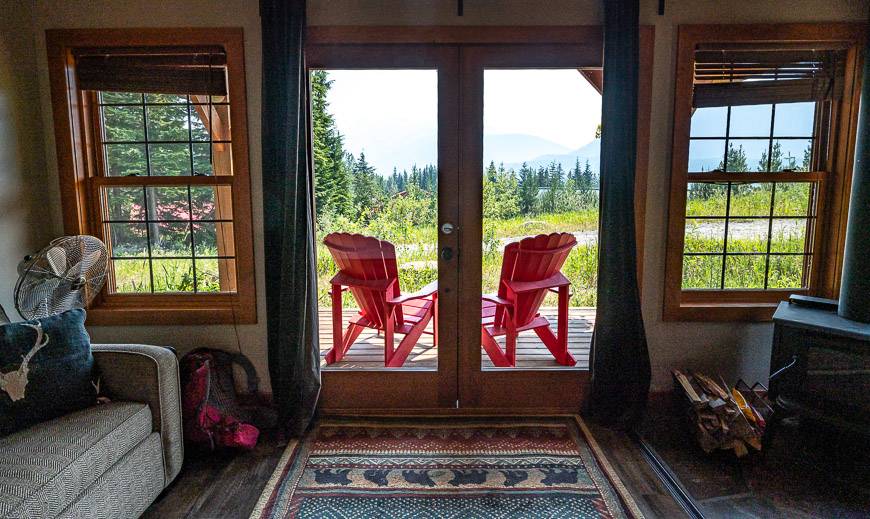 Directions to the trailhead for the Hermit Trail hike
Look for the trailhead 1.5 km east of the Rogers Pass Discovery Centre on the Trans-Canada Highway. Supposedly there is no left-hand turning lane if you are driving east. But there was a lot of road construction around the pass in the summer of 2019. We were able to safely turn left into the parking lot. Perhaps they are adding a left hand turn lane??? If not you'll have to continue east on the Trans-Canada Highway until you find a safe spot to make a U-turn.
From Revelstoke it's 68 km to Roger's Pass and then another 1.5 km east to the trailhead. If you're coming from Golden drive 79.5 km west to reach the trailhead. It's signed on the highway.
Location map of the Hermit Trail hike
Things to do in and near Glacier National Park in BC
Mount Revelstoke National Park is immediately west of Glacier. It too offers excellent hiking. The elevation gain isn't quite so dramatic. I'd recommend the Eva Lake hike especially in August for the wildflowers.
In Glacier National Park, I'd also highly recommend the Abbott Ridge Trail and the Glacier Crest Trail.
In Revelstoke you'll find plenty to do in the summer.
Click on the photo to bookmark to your Pinterest boards.