Three Nakusp hot springs in BC can be visited over the course of a day if you don't mind multiple soaks in soothing, mineral rich waters. And who doesn't? Two of the hot springs (Nakusp and Halcyon) offer onsite accommodation and one (Halfway), the wild one, offers the option to camp.
Each one of the three Nakusp hot springs are very different but all are worth a visit. I was happy to do the research for this post because nothing beats a good soak in warm – and sometimes even cool water. If you've got a couple of days why not combine the hot springs along with some exploration in this pretty part of the Kootenay region.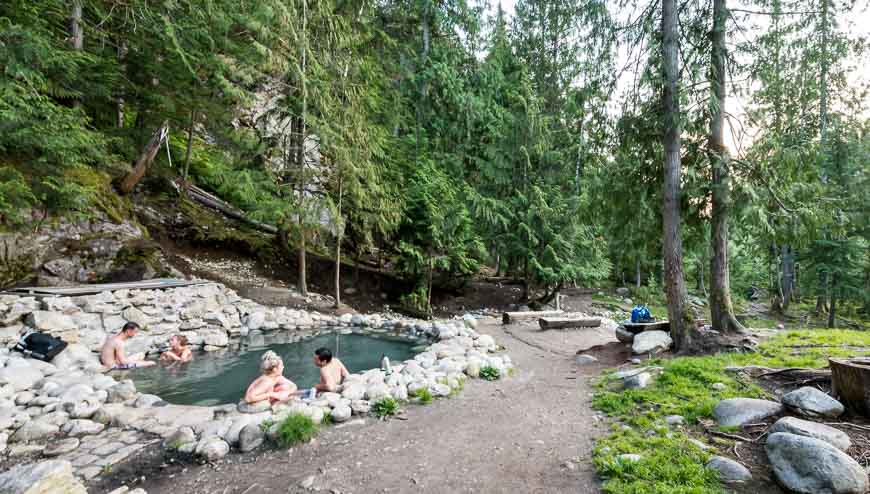 This post includes some affiliate links. If you make a qualifying purchase through one of these links, I will receive a small percentage of the sale at no extra cost to you. Thank you very much for your support.
The village of Nakusp
Nakusp is a village with just over 1,500 residents located beside Arrow Lake in the Kootenays. It's not the easiest place to get to – but that's part of the appeal. Nakusp is approximately 100 kilometres south of Revelstoke via Highway 23 and a free ferry on Arrow Lake. From Nelson it's a 250 kilometre drive north via Highway 6.
Before heading out to visit any of the three hot springs pick up last minute supplies in Nakusp, especially if you're planning to camp at Halfway Hot Springs. And before leaving town, try to fit in an easy walk on the lakeside Waterfront Walkway. Enjoy views to the mountains and of course of Arrow Lake too. Gardeners will appreciate the beautiful flower displays along the walkway.
Nakusp Hot Springs
I must confess that we showed up at Nakusp Hot Springs thinking they were the Halcyon Hot Springs. But that's the sort of mistake I don't mind making.
The Nakusp Hot Springs are the closest ones to Nakusp itself. Situated in the Kuskanax Valley in the Selkirk Mountains foothills, the Nakusp Hot Springs are called "one of BC's best kept secrets." I'd say all three of the Nakusp hot springs are actually BC's best kept secret!!
The Nakusp hot springs, owned by the village, have two pools fed by mineral springs off in the forest. One pool is hot, the other warm. In summer the warm pool is kept at 97°F (36°C) and in winter 100°F (38°C). The hot pool is 103°F (39.5°C) in summer and a steamy 107°F (41.5°C) in winter.
I'm a big fan of cleanliness especially when it comes to public pools. These hot springs made the cut. Not only were the change rooms extremely well kept up and clean but the pools themselves were crystal clear.
Note that you can stay at the Nakusp Hot Springs. There is a campground, an RV site and cedar chalets. For more information visit their website.
What else can you do besides the hot springs?
Granted spending a solid hour soaking in hot springs is a great way to spend part of a day but in the Kuskanax Valley there's even more to do. Hike on over 15 kilometres of trails just off the Hot Springs Road. The Kuskanax Summit Trail offers up big views while the Kimbol Lake Trail takes you to a mountain lake – with access off the parking lot at the Nakusp Hot Springs pool.
Go mountain biking. A popular ride, the Kuskanax Creek/Hot Springs Trail, winds through forests of cedar and hemlock for 8.5 kilometres. It comes out at the Kuskanax Creek Bridge not far from the Hot Springs. There are numerous other trails, many in the gnarly category.
In winter you can snowshoe or cross-country ski on the local trails. And at all times of the year you can enjoy being in nature.
Halfway Hot Springs
If you're looking for natural and mostly undeveloped hot springs then check out Halfway Hot Springs – located almost halfway between the Nakusp and Halycon Hot Springs. While there is a small changing facility and a few outhouses, that's it for development. What you will find are trails that meander between pools and signs warning of poison ivy.
Halfway Hot Springs had a reputation in the past as a party place. I've heard tales of broken glass and much drunkenness. But in 2016 BC Parks stepped in to manage the place. Its been cleaned up with no sign of any glass or garbage. I suspect at times it's still loud and filled with drunk people but that certainly wasn't the case at all when we visited in July 2019. Everyone we met was very respectful.
The temperature of the pools varies wildly – from very COOL to steaming hot near the river. In fact one pool was so hot you could probably boil an egg in it. Check them all out for yourself to discover what temperature best suits you.
As a camper it was particularly nice to simply meander over to the hot springs after dinner. But be warned. You must be able to negotiate a steep set of stairs in both directions – down and then back up. I lost count after 150 stairs.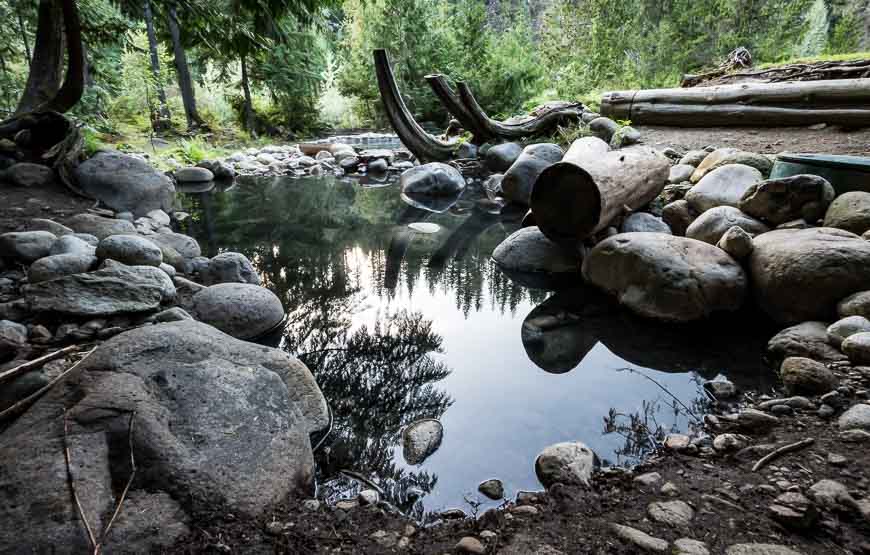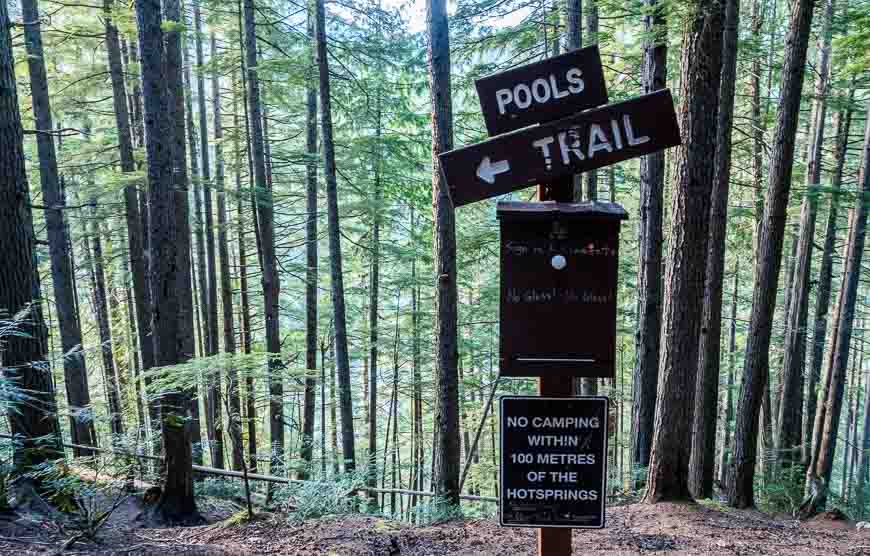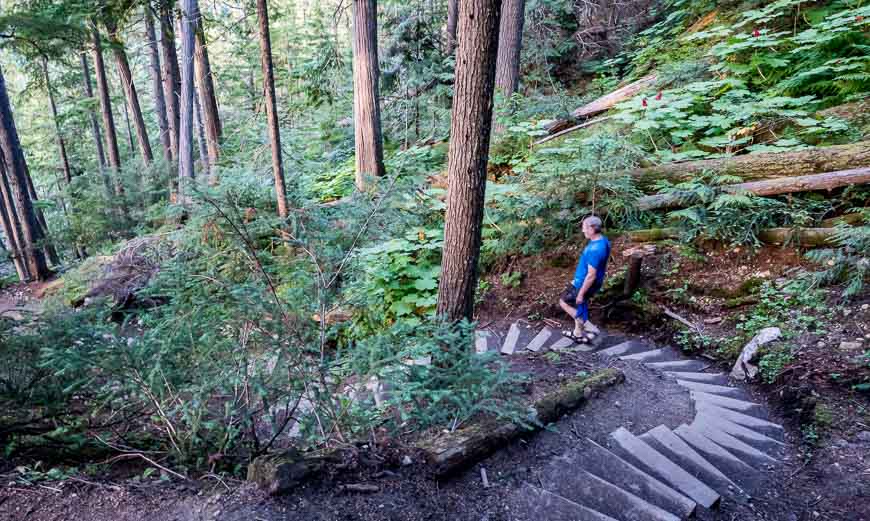 Camping at Halfway Hot Springs
When you arrive at the campground you can expect a personal greeting from Bob Moody – the resident caretaker – along with some info on camping practices and getting to the hot springs themselves. (Note that you must pack out all garbage!!)
There are two ways to camp at Halfway Hot Springs. Both cost $15 cash for the night.
Car-camping is the most popular option but with only 12 vehicle access spots you can count on the campsites filling by about 4 PM on a nice summer day. The vehicle access spots are quite close together so you can also expect both car noise from people driving around looking for a spot and perhaps some noise from your camping neighbour.
Camping on tent pads at the bottom of a steep hill is the second option though you'll have to schlep all your gear. The only thing we ever heard was the Halfway River. And with a wooden tent platform, a picnic table and a massive log to lie on – along with privacy, I personally think it's the way to go. The outhouse was also only a short walk away.
Note: If you're planning to camp, refill any water bottles you have before driving down the steep hill. The spring is on the right hand side of the road as you drive towards the hot springs, about half a kilometre before the steep hill – so you might have to backtrack.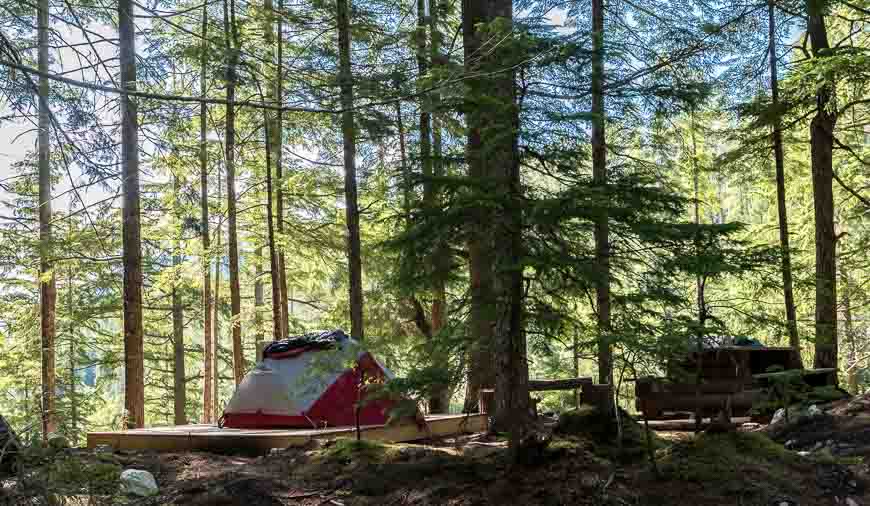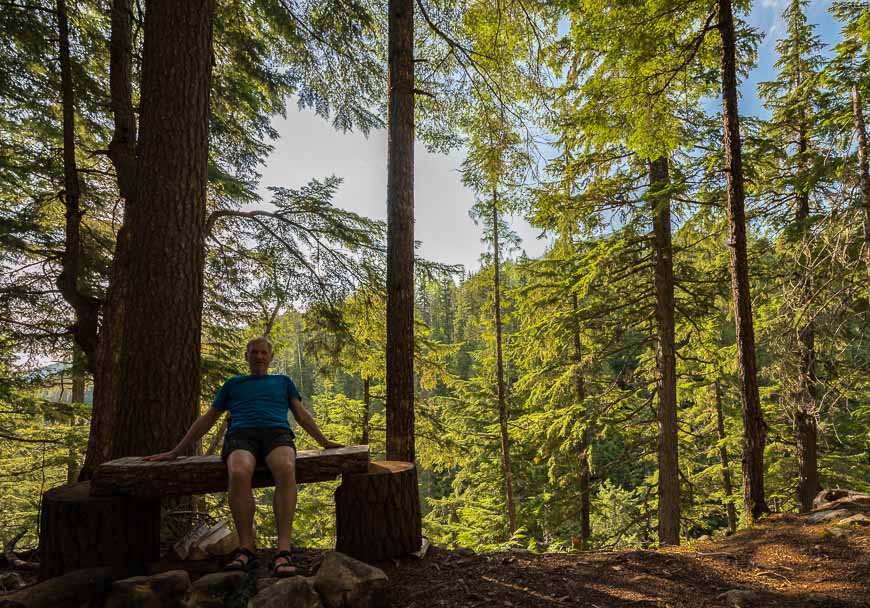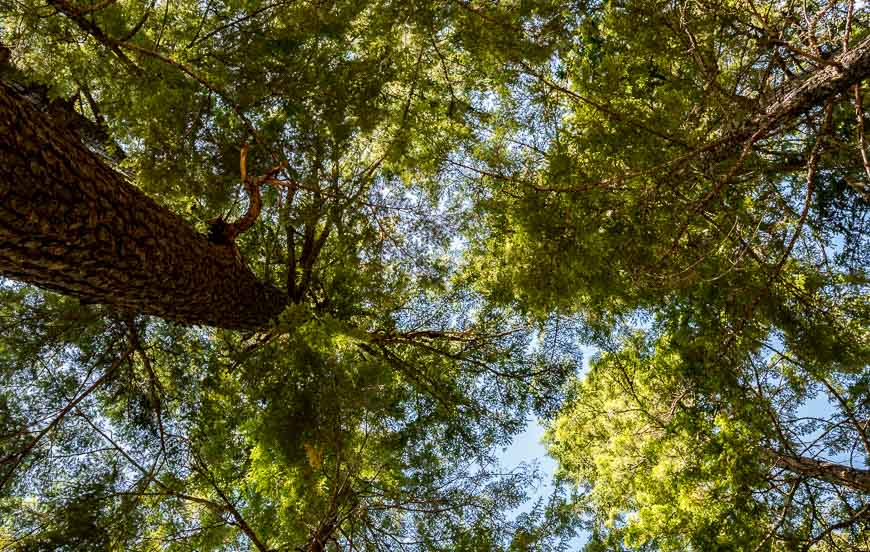 Getting to Halfway Hot Springs
From the corner of Broadway and 6th Avenue SW in Nakusp drive north on 6th Avenue. In short order it becomes Canyon Road North. Stay on this road for about 24 km. You need to look for a BC Parks sign that says Halfway Hot Springs and points to a turn in 400 m before a bridge. Turn right onto the dirt road. If you're coming from Revelstoke and you've taken the ferry on Upper Arrow Lake, drive south for approximately 22 kilometres. Turn left onto the dirt road – looking for BC Parks signage beforehand.
Follow the dirt road for 11 km. If there's a fork in the road be sure to stick to the main road. At 11.5 km you reach a junction. Turn left to go down a steep hill to get to the campground or right for the day use area.
While the hot springs are "open" in winter, you may need to ski, snowshoe or snowmobile in to them. But on the right day, they'd be magical.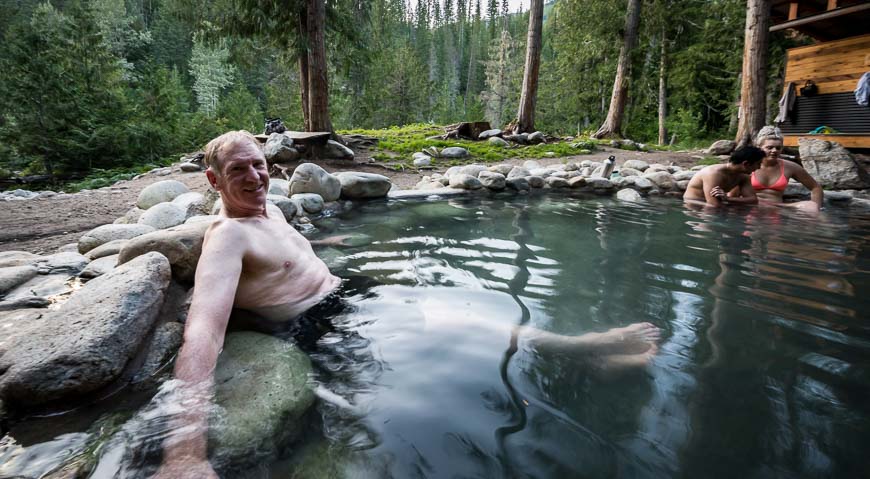 Halcyon Hot Springs
Halcyon Hot Springs is the most developed of the three Nakusp hot springs. It's really a resort with onsite accommodation, a full service restaurant and a host of activities on the lake. Their location is dramatic – with Upper Arrow Lake and the Monashees serving as a backdrop.
On the upper deck are hot and warm pools. If you overheat head for the cold plunge pools. I didn't appreciate how cold the plunge pool was until I stuck my toe in it. Several people had been blissfully hanging out in it – somehow.
And if you'd prefer a swim check out the large swimming pool on the lower deck.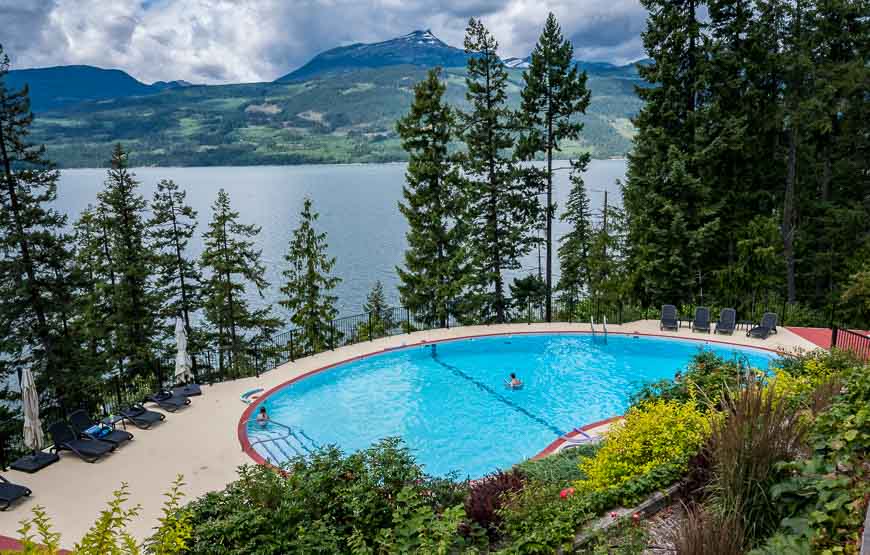 When you've had your fill of the hot springs and pools, head down to the lake. You can rent for either a half day or a full day canoes, kayaks and paddleboards. Fosthall Falls across the lake is reportedly a worthy destination.
When you get hungry, enjoy a meal with a view on the deck at the Kingfisher Restaurant. They do their best to serve locally sourced food – with most of it coming from within 100 miles of the resort. The menus change seasonally and there is a dedicated kid's menu.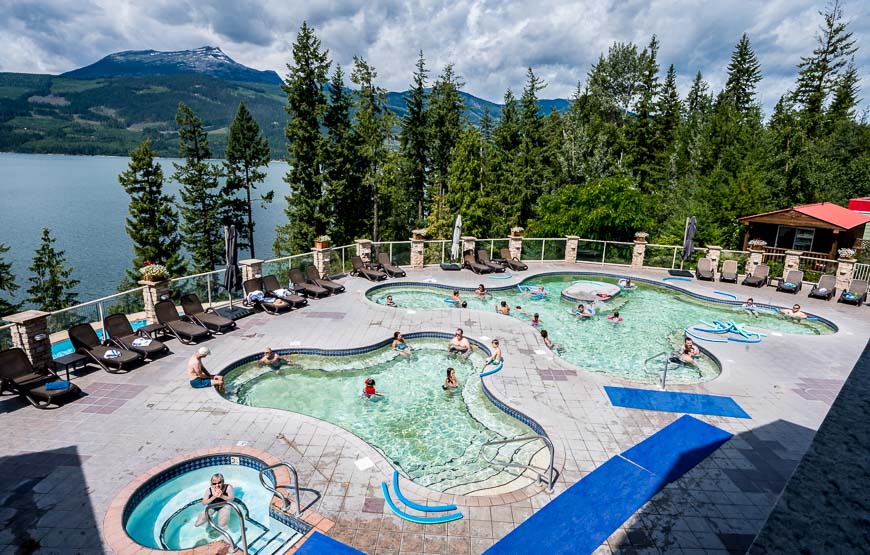 Where to stay in the Nakusp – Revelstoke area
Of course you could stay at the Halycon Hot Springs Resort.
Another option in Nakusp is The Lodge at Arrow Lakes, an 8-minute walk from the beach.
The Arrow Lake Motel, located to the south in Fauquier, would be good for a one-night stay.
In Revelstoke there are many more choices, including some that are upscale. Suggestions include Basecamp Resorts Revelstoke is rated superb and features studio apartments with a kitchen area.
For a B&B, check out the Courthouse Inn Revelstoke.
For a chain hotel check out Ramada by Whyndham Revelstoke.
Location map of the Nakusp hot springs
Other posts from the general area in BC you might enjoy reading
Click on the photo to bookmark to your Pinterest boards.
***Thank you to Tourism Revelstoke with hosting my stay in the area. All thoughts and opinions as always are mine alone.***