Visiting Machu Picchu is high on the list of travelers from around the world. Not only was it awarded UNESCO World Heritage site status in 1983 but Machu Picchu made the list of Wonders of the Modern World in 2007.
What that means today is that visiting Machu Picchu is never going to be a solitary experience. In fact (too many) travelers see it as a rite of passage leading to visitor numbers exceeding 5,000 people per day. Every day is now a wildly busy day at Machu Picchu.
Visiting Machu Picchu – the 5 things you must do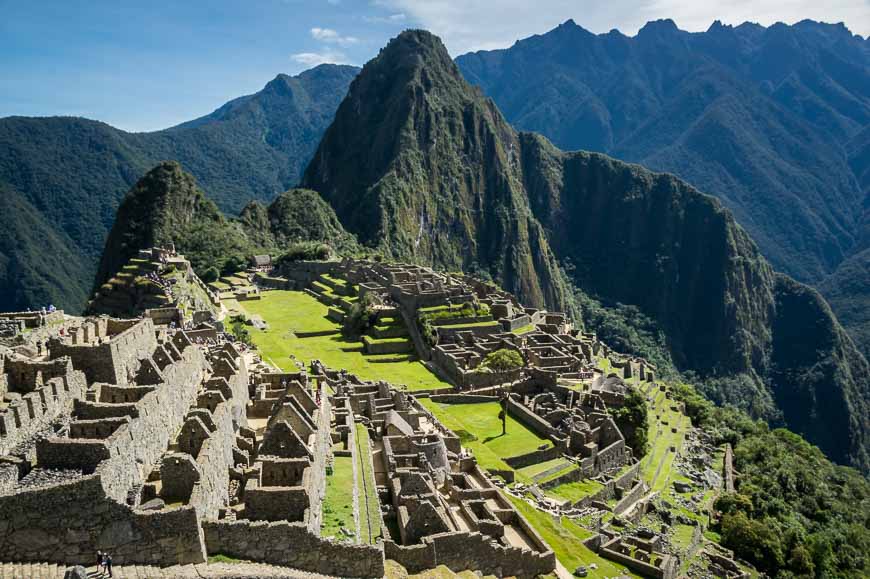 1. Go very early or very late in the day
As blogger Taylor from Travel Outlandish says "Remember that nothing good happens after 10 AM. For the love of God, if you decide to go to Machu Picchu, please wake up and catch the very first bus to the ruins. Once the day-trippers roll in and the site fills with trekkers, Machu Picchu is chaos."
Fortunately on our G Adventures trip we were up and at it early, though not as early as Taylor recommends. We joined the long line of tourists waiting to catch a bus by 5:30 AM. Even though it was crazy busy at the entrance gate, we were still some of the first people in.
2. Hike to the Sun Gate at Machu Picchu
After you've done a quick spin through the upper ruins, snagging those all-important selfie shots, go left at the Guardhouse and look for signs saying Inti Punku. Continue on the trail climbing through agricultural terraces all the way to the Sun Gate.
From the entrance to Machu Picchu you climb approximately 290 metres (951 feet), primarily on uneven stone steps – sometimes with big rises. Expect to be huffing and puffing, especially if you aren't acclimatized. Machu Picchu sits at an altitude of 2430 m or 7,972 feet. It takes about an hour to hike it one way.
The Sun Gate is on a ridge southeast of Machu Picchu. If your timing is such that you show up on the summer solstice, you will catch the rising sun as it passes through the Sun Gate. We were three weeks too early for that. But what we did get was a great overview of Machu Picchu – and a workout.
As the hike to the Sun Gate (Inti Punku) follows the original Inca Trail you're likely to meet people who have been on the Inca Trail for several days finishing their trek to Machu Picchu via the Sun Gate. Most are sporting wide smiles.
3. Hike to the Inka Bridge
We did the hike to the Inka Bridge right after we finished the hike to the Sun Gate. It's not a place where you want to get backed up on as the trail is narrow to the viewpoint and the dropoffs precipitous. As its several hundred metres down to the bottom. Those scared of heights should avoid the trail.
Reportedly the Inka Bridge was built as a secret western entrance to Machu Picchu by the Inka army. It's in poor condition now but you can still get close to it at the far end of the Inka Bridge trail.
Allow about 20 minutes each way to walk it plus lots of time for photos and gawking. It's in a truly spectacular setting.
4. Do a quick tour of the rest of the ruins and leave by 10 AM
After the Inka Bridge you're going to want to enjoy a quick wander through the ruins of Machu Picchu. But I wouldn't linger. The crowds build quickly after 10 AM and so does the frustration level just walking. And there's a line-up that builds to catch the bus back to Aguas Calientes – and trust me you'll be ready to leave by then.
Try for a state of awe as you walk through the ruins and imagine life here in the 15th century. Marvel at the incredible architecture with stone structures made without mortar; the steep terraces used for growing maize, corn and other crops.
Admire the Inti Watana – a ritual stone associated with the astronomic clock, the Temple of the Condor and then call it a day.
Impact of visiting
Is Machu Picchu on your bucket list – whether on a trip like I did with G Adventures or going it alone? How do you feel about visiting overcrowded sites? Much has been written on this problem and UNESCO sends out periodic warnings to Peru about loss of UNESCO status. Most recently The Guardian penned a piece – UNESCO demands answers from Peru over Machu Picchu Airport.
There's no doubt that Machu Picchu is the best example to date of incredibly well-preserved Incan ruins. But I think we, the visitor are part of the problem. In hindsight I would personally (I don't speak for our G Adventures Group) would have been happy to enjoy the sight of Machu Picchu from our vantage point on the Choquequirao trek.
That way some of the mystery would endure. My memory would be one of solitude and not mass tourism. And the sacred location of Machu Picchu would remain in my memory as part of the bigger picture of the vanished Incan empire.
I worry too about the effect on the local population. As a one time flower store owner (early 1990's) in Niagara-on-the-Lake, I can tell you that I went numb every summer with the throngs of zombie like people walking through my store – seeing nothing, feeling nothing. It changes you in a bad way. While you need the visitors to help pay the rent, you resent them at the same time. I saw it in Iceland big time too. And that leads me to my fifth recommendation for visiting Machu Picchu.
5. Treat Machu Picchu and the local people with respect.
If you're going to go, leave no trace. That means you shouldn't climb on rocks, go places that are out of bounds or take a small piece of Machu Picchu with you. It also means treat the local people with warmth, a smile and respect. It is their home and it should be left as you would want your home left. And where you can, put money into their economy. I give high marks to G Adventures for their work in the Sacred Valley.
Budgeting for a trip to Machu Picchu
The one day trip to Machu Picchu was included in our Choquequirao trek price with G Adventures. That made life simple for us and cost wasn't a consideration. Note that the maximum time allowed in Machu Picchu is supposed to be four hours.
Assuming you're visiting Machu Picchu on your own budget for the following:
Round-trip train tickets from Ollantaytambo to Aguas Calientes
Accommodation in Aguas Calientes
Round-trip bus fare from Aguas Calientes to Machu Picchu ($US 34 in 2019)
Entrance fee to Machu Picchu
Add-on of a climb up Huayna Picchu
Some combos like the entrance fee and the climb up Huaya are very popular and should be booked weeks in advance. The bottom line is that a trip here starts at around $US 300.
For a very detailed look at pricing with comparisons for all the options listed above check out this post on How Much Does it Cost to Travel to Machu Picchu.
Best alternative to Machu Picchu – the trek to Choquequirao
The 8 day Choquequirao trek is a superb alternative to Machu Picchu. The ruins of Choquequirao are only partially excavated but they are estimated to be many times larger than Machu Picchu.
It's a tough, minimum two day hike (one way) at altitude to see the ruins at Choquequirao. I think it's a trip that adventurous trekkers would enjoy. The payoff – quiet trails, beautiful scenery and a high probability that you'll have the Choquequirao ruins to yourself.
Unfortunately there is serious talk of adding a cable car to the ruins so go now before that becomes a reality.
What are your thoughts on visiting Machu Picchu?
Click on the photo to bookmark to your Pinterest boards.
Thank you to G Adventures for hosting my trip!!