Leigh and I along with two great friends, Judy and Scot, backpacked in Chile's Torres del Paine National Park for eight days and then proceeded to the Patagonia Eco-Domes near El Chalten in Argentina to do some hiking in Los Glaciares National Park. We were well advised that Patagonia would be windy, rainy, sunny, cold and cool, might snow and did I mention windy.
Our post-Patagonia plan was to fly to Buenos Aires and then take a boat up into the delta in the Entre Rios area – which is actually a great day trip from Buenos Aires. We were looking for some warmth – especially since Calgary can and does do -25°C or less for days and sometimes weeks at a time in February.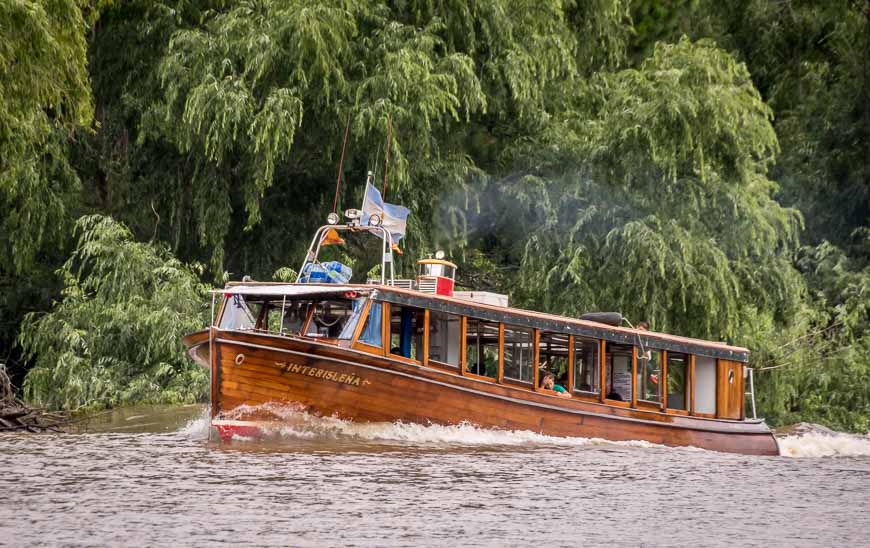 Day trip from Buenos Aires – check out
Entre Rios
Well, we did get our warmth – up to 37 °Celsius which is overshooting the comfortable 20°degrees we were looking for. But we found a very unique environment which became one of the highlights of the trip itself. It got us curious about what else can be found in this unique Entre Rios delta environment.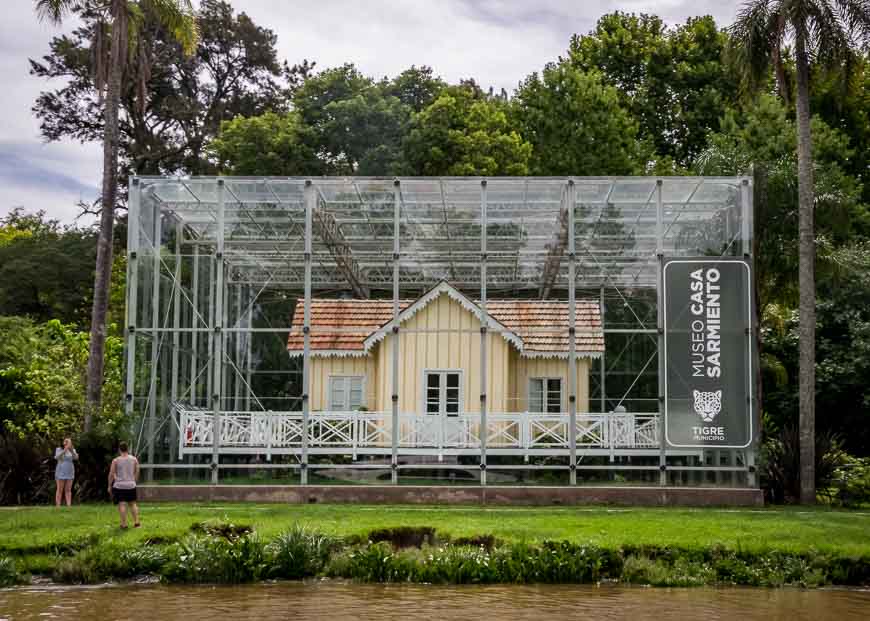 Getting from El Tigre into the delta
We boated up about two hours from El Tigre Fluvial Station in greater Buenos Aires and ended up reading, relaxing, kayaking, birding, swimming and healing our blisters for three very cathartic days at La Becasina Delta Lodge.
There are loads of boats you can take in El Tigre just as a day trip from Buenos Aires – but aim for one of the teak boats as they are particularly lovely.
La Becasina (which is a snipe for you non-birders – a bird with short legs, a long beak and likes to bounce a lot) has very friendly staff, truly marvelous food and wooden walkways linking roomy individual cabins on stilts. While it was very comfortable, it did seem a little past its heyday. Despite this, it was wonderful value and for us it was just the right place at the right time.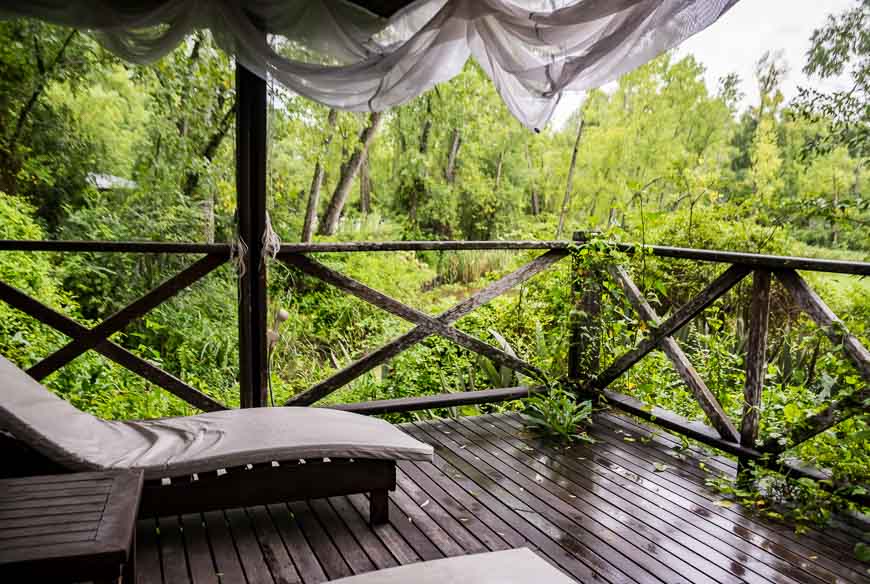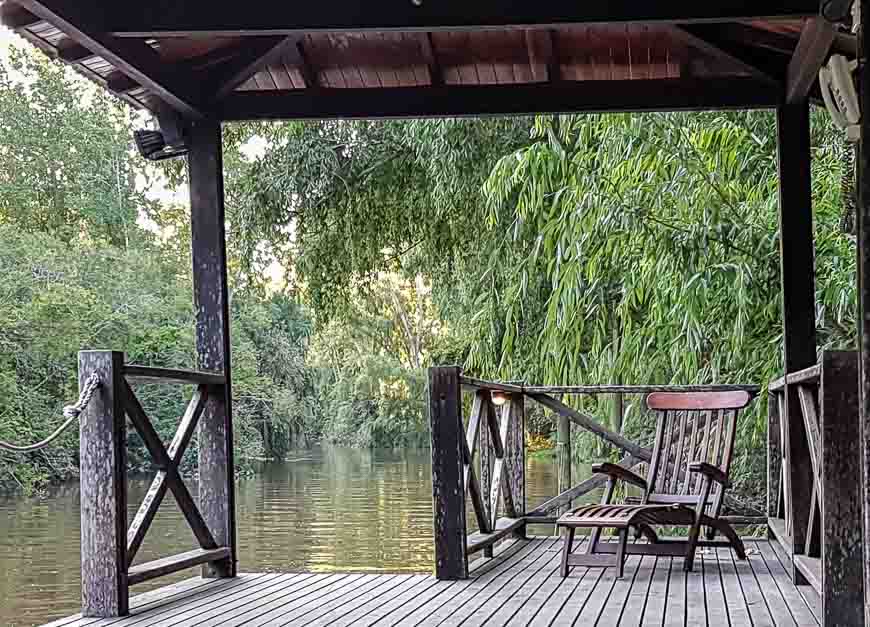 Between Rivers
The delta is in Entre Rios, "Between Rivers" a province in Argentina which is indeed between two rivers; the Paraná River to the west and the Uruguay River and Uruguay itself to the east.
Interestingly, the Paraná River deltafies (new word invented for this blog specifically) that is, breaks into numerous distributary channels and it joins the Uruguay River more or less at 90 degrees from the west.
This delta system is bounded to the south by El Tigre in Greater Buenos Aires and is about 50 km wide going north. It is a vast network of rivers and dug canals that incorporates everything from man's grotesque vanity projects to virtually pristine preserves.
There are two national parks in Entre Rios – El Palmar National Park formed in 1966 to preserve yatay palm habitat in the northern part of the delta and Predelta National Park which sets aside land at the beginning of the delta area where the river first forms islands and splits.
There is an interesting delta culture as we found out from our host, bartender and general fountain of information. His children are fifth generation, settlers originally from Italy, and take a school boat to a hundred-year old school. I guess if you miss the boat you swim?
Closer to Buenos Aires the waterways are lined with industry and city but as you move away you quickly get into waterfront homes and cottages. A playground for the fortunate.
As you move further and further away from the city, the cottages and the general wealth dissipates and nature has a bigger say. We did cross a major ocean-going ship channel perhaps two kilometres wide but north of that it was decidedly more rural and modest. We noticed many forest plantations.
Birding as part of a day trip from Buenos Aires
In booking La Becasina Lodge, my devious double purpose was to be able to sneak in some birding under the guises of relaxation. Our traveling group was on to this amateur ruse and very graciously indulged in it. Eg "Oh isn't that interesting."
Or "what kind of bird is that?" Or if they were feeling mischievous sending me into a swamp to find a rarity of colours so resplendent that they nearly passed out.
I saw things like great kiskadees, narrow-billed woodcreeper (actually very cute not creepy at all), white-throated hummingbirds and other great finds like dusky-legged guans!!!
There are literally dozens of different types around the lodge. Pictured below is a streaked flycatcher and above an eared dove. Handsome no?
One morning I got up early after an impressive lightning show the night previous and went for a little wander on their nature trail. I didn't use the offered bug spray and paid the price so you are now warned.
The trail was alive with birds. Have a look at this beauty hiding in the lush undergrowth. What is it? No clue BUT that is the magic and what I adore about birding. I have the bird book and will delight in going through the one thousand or so birds of Argentina and figure it out. What a triumph that will be. Trivial indulgences!
Perhaps so but the birds are the hosts of this truly unique Entre Rios ecosystem and for something very different give it a try and go with an inquisitive mind. There are very few places on earth like it.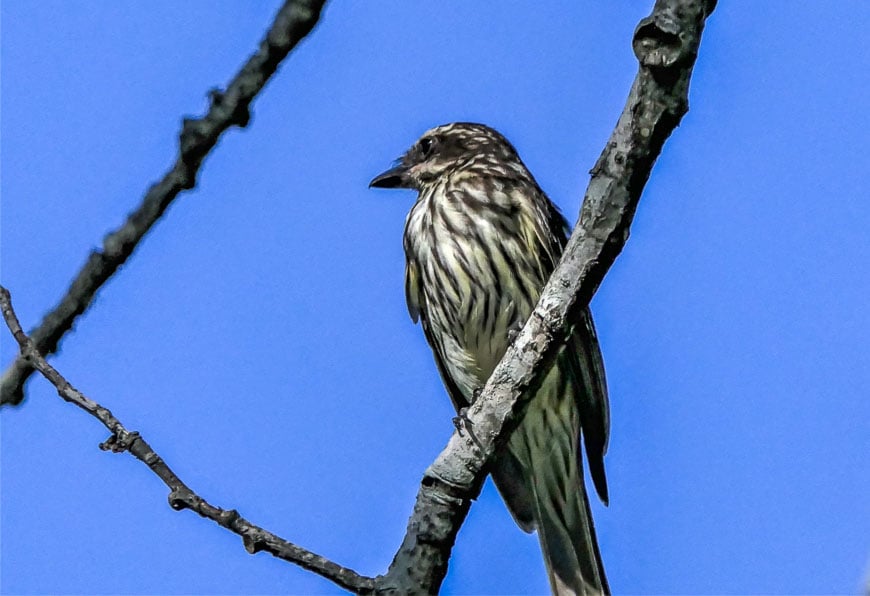 Location map for the delta
Further reading on Argentina
This blog post as you might have guessed was written by my husband, John McAdam.
Click on the photo to bookmark to your Pinterest boards.