Have you ever heard of the Choquequirao trek in Peru? I had not until I spent some time looking through active vacations on the G Adventures website. I don't know how this superb 8 day trek slipped by me. I'm familiar with the other three treks that deposit you at Machu Picchu – the Inca Trail, the Salkantay trek and the Lares trek.
But the Choquequirao trek is the only one I'd recommend, now that I've done it. The main reason is the fact it hasn't been discovered yet. Six of the eight days on trek are incredibly quiet, beautiful and peaceful.
Choquequirao trek video
Before reading the blog post check out this video showcasing the highlights of the trek. You'll really get a sense of how rugged the landscape is.
Choquequirao Trek – background information
The 8 day trek starts in Cachora – almost a five hour drive from Cusco, and ends at the Hidroelectrica train station not far from Aquas Calientes, the gateway town to Machu Picchu.
On six of the eight days you don't see many other trekkers – hence the appeal in my books. It's not until you meet up with the Salkantay trekkers on day 7 that you feel like you're back in civilization.
The trek is varied. It takes you through tropical-like cloud forest through to the high alpine. Occasionally temperatures are sizzling hot at midday but the minute the sun goes down the temperature heads south as well. Daylight is short – about 12 hours – so you get up in the dark and head to dinner in the dark.
We had two guides with us – Joseph and Carlos – or Ooh-la-la – as we called him. Twenty horses, seven horsemen, two cooks and a couple of helpers rounded out our crew. And there were 16 of us. So we were a big group.
Days on the trek are quite long – in the six to seven hour range. Kilometres don't mean much in the terrain we covered though at the end we figured we'd done somewhere around 125 km. Joseph our guide suggested 160 km and I'm willing to go with that!! The high point on the trek is Yanama Pass at 4,660 m or 15,289 feet. Lower down bugs are bad though you'll never see one. Bug spray is a must.
Wondering what a G Adventures Choquequirao trek looks like? Here it is broken down day by day.
Day 1: Bus ride from Cusco to Cachora followed by a 6 – 7 hour hike
The alarm went off at 4 AM. Sleep-deprived already from missing my flight to Peru, I was happy about the five hour bus ride to the start of the trek where I and everyone else caught as much shut-eye as we could.
Somewhere around 9:30 AM we arrived in the village of Cachora – my core muscles well-used from tightening every time we took a curve on the highway. After a quick breakfast we started off – albeit only for about 10 minutes before hopping onto a smaller shuttle and getting to the actual trailhead.
You have to sign in with your passport and write your age and occupation before you head off. I had a quick look at the ages of everyone who'd signed in ahead of me. It was a pleasant surprise to see that it wasn't all just a lot of young bucks in their 20's but many people in their 50's and 60's. At least I had a hope of keeping up.
A five hour descent to the Apurimac River broken by a lunch stop was the order of the first day. Although it was stinking hot, it was also extremely beautiful. I had no idea the landscape would be so rugged and deeply incised by canyons. Or that masses of wild purple grasses and blooming wildflowers would be in such abundance.
At lunch time a decision was made to continue to a camp a couple of hours up from the Apurimac River. Most everyone but me was happy about it but hiking when sleep-deprived is hard. I dug deep and trudged the last few hours up to a camp – crawled into my tent and only came out for a quick dinner.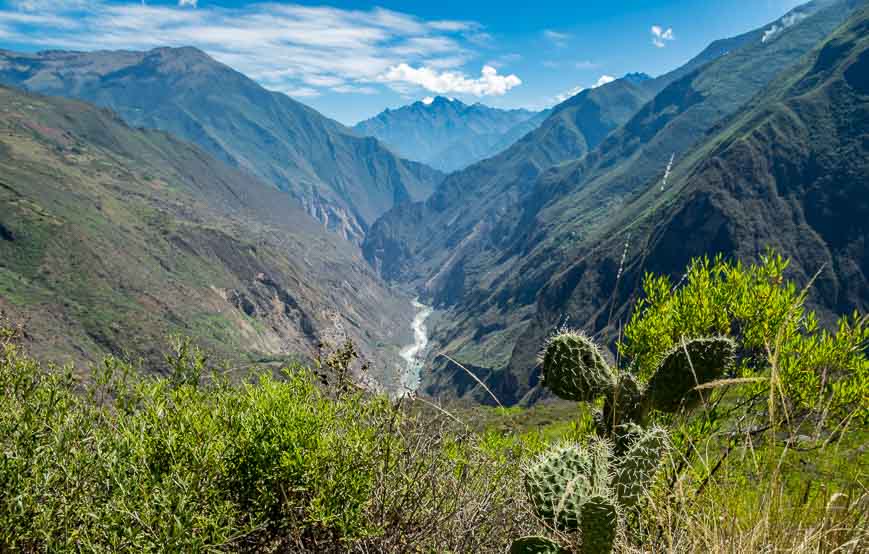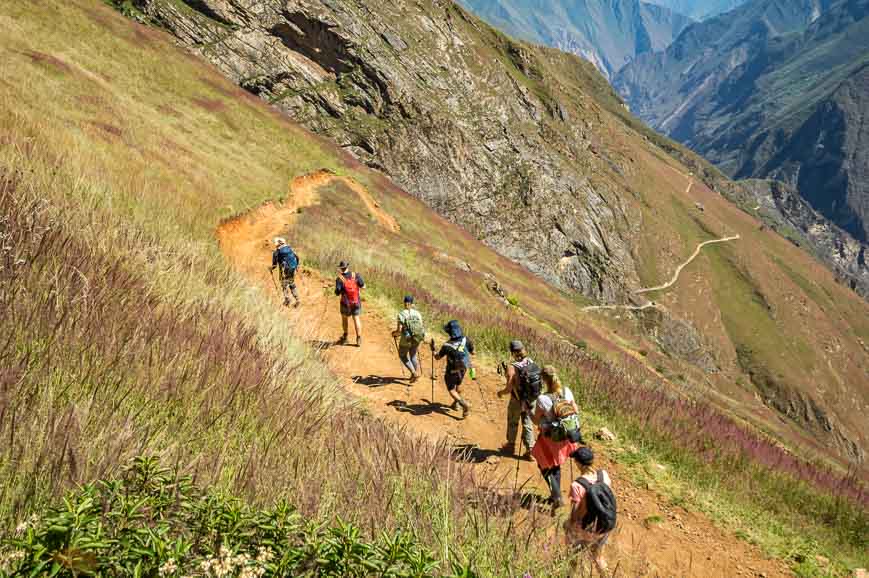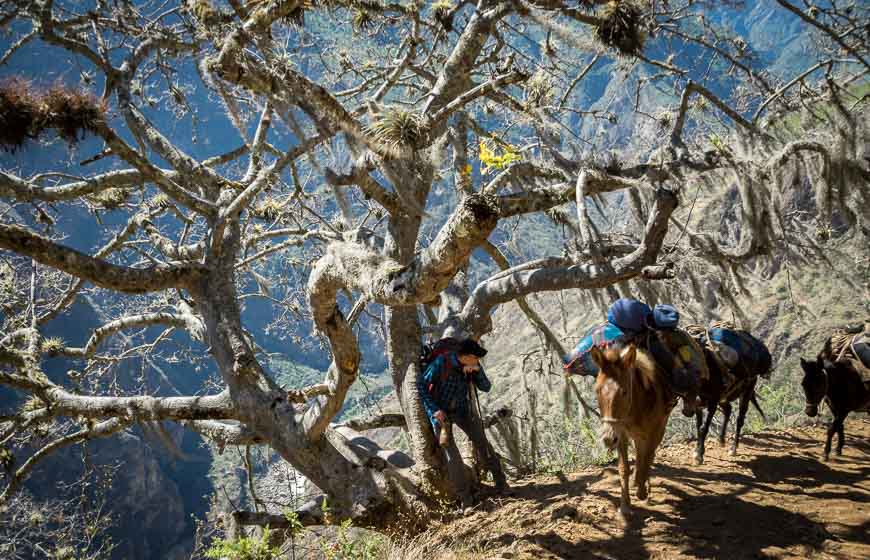 Day 2: Somewhere near Maramata to Choquequirao
The morning started with a steep 2 hour and 10 minute climb to the village of Maramata. At some point along the trek we could look back to the trail from the previous day. It looks precarious in places though it never felt like that.
While the hiking at altitude sure got my attention what I loved about this part of the trail was the whiff of wild mint that I'd catch periodically. And the landscape is phenomenal; at times it looked surreal with plantings on mountains so steep you wonder how people could stand without falling off.
Hiking continued after lunch with a steep descent from our camp to the ruins of Paqchayoq. Some of the terraces are in the process of being restored but what a job that must be. I felt a sense of calm and quiet in the space and enjoyed the beauty of a massive waterfall.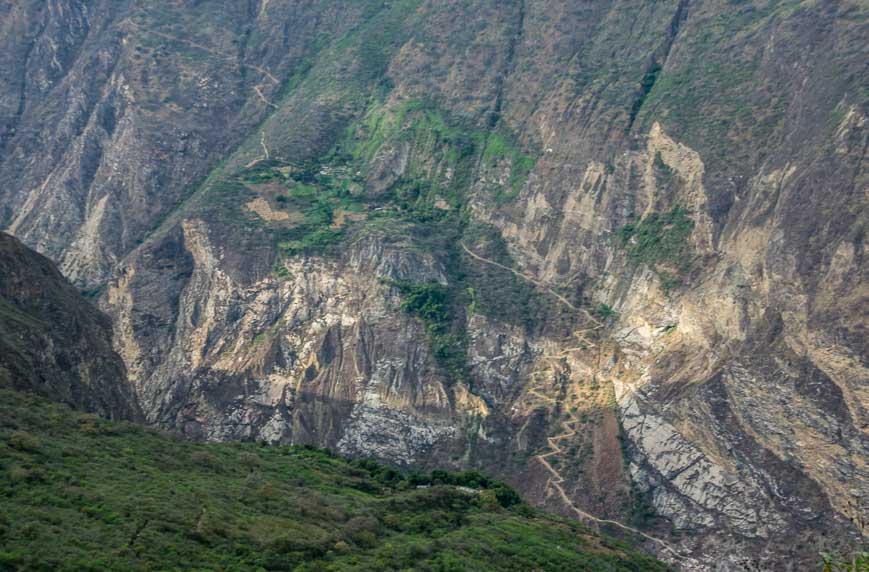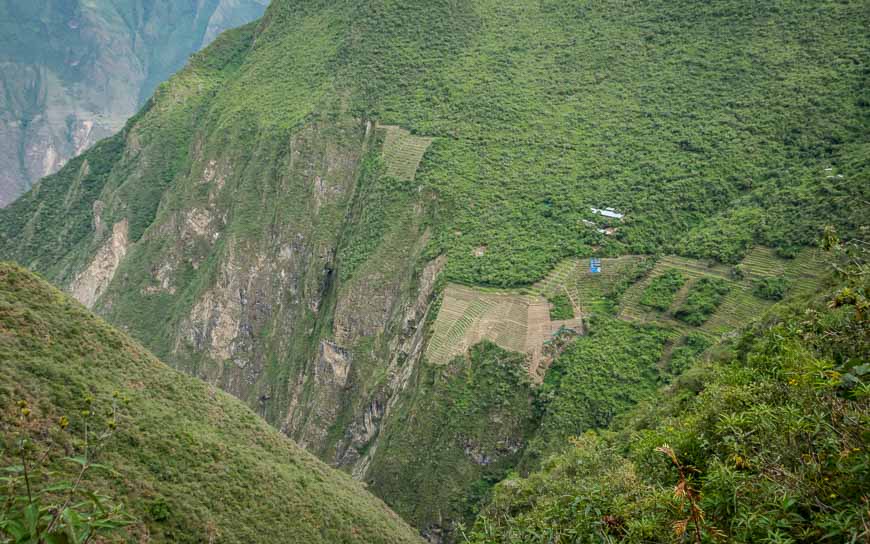 Day 3: Explore the Choquequirao ruins and then hike to Pinchiunuyocc
At night a major thunderstorm lashed the area. I loved listening to the booms but come morning without my headlamp on, I slid out on the way to the bathroom, not once but twice on mud I didn't see. Thankfully the hiking trail was in far better shape than the campground.
It was a short but steep climb to reach the ruins of Choquequirao, which means Cradle of Gold. It was built around the same era as Machu Picchu.
Unlike Machu Picchu that sees upwards of 1,000,000 visitors per year, Choquequirao gets about 5,000 people coming through every year. There is talk however of putting in a cable car to shorten the journey from a two day walk to a 15 minute ride – and bring in up to 3,000 people per day – at least according to Lonely Planet. Visit now before that happens.
We spent several hours exploring the ruins with stops at important buildings to learn their history. While numbers vary it has been suggested that Choquequirao is a much larger site than Machu Picchu but only about 30% of the ruins have been uncovered. There's a ceremonial flat area where perhaps more than the odd animal sacrifice is said to have happened.
After lunch at the ruins we continued for two hours down the mountain and ended up at camping on ancient Inca terraces – my favourite spot on the whole trip.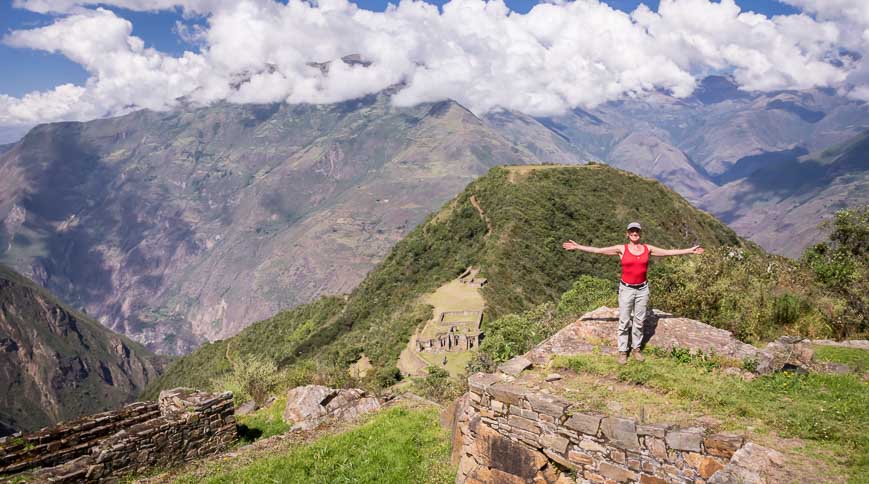 Day 4 on the Choquequirao trek: Pinchiunuyocc to the Maizal Campsite
The day started with a gorgeous 70 minute descent to the Rio Blanco past moss-covered trees, cacti and grasses. Then the climbing started – three hours of non-stop huffing and puffing.
Camp for the night was about halfway up the mountain in the photo below. The backdrop was stunning – and since it was the home of a local family we also got treated to roosters crowing right outside our tent at 4 AM. Trips to the bathroom involved avoiding the pigs.
With a short day of hiking we all had time to get clothes washed – and dried – along with a few hours of much needed R&R.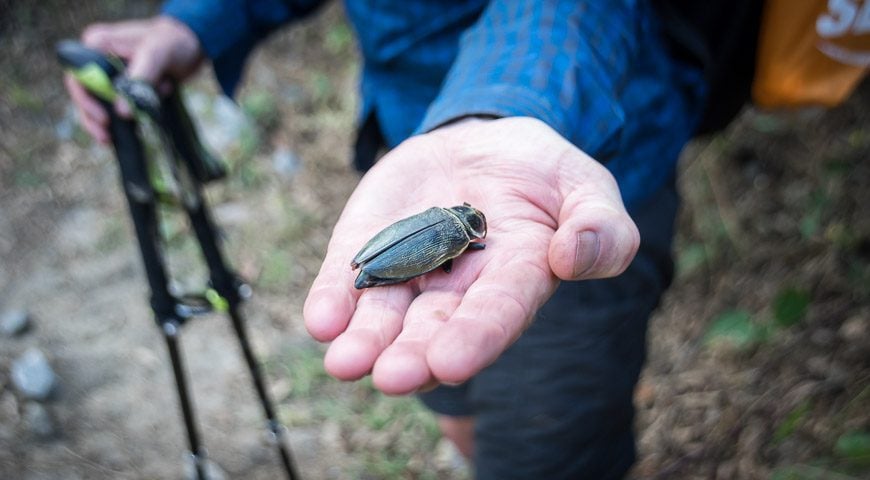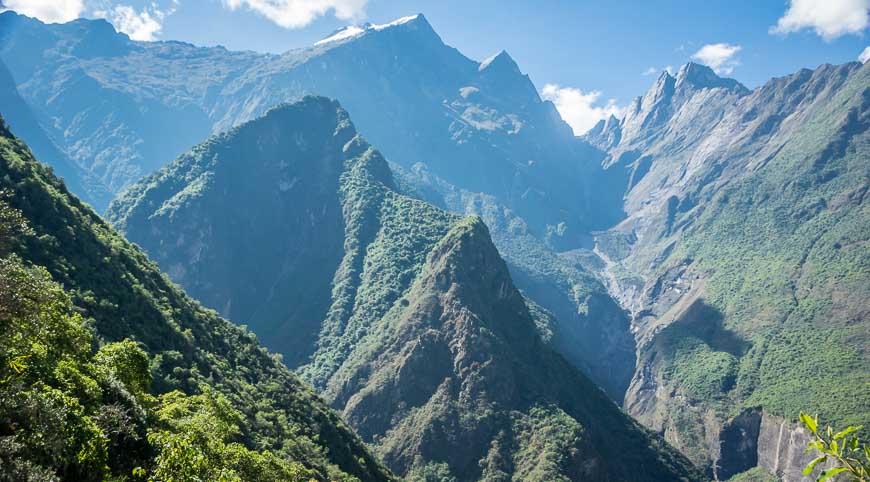 Day 5: Maizal Campsite to Yanama trek
It took us four hours of hiking, much of it through jungle-like vegetation to reach Yanama Pass at 4125 m. Near the top we stopped both to admire the view and to check out Victoria Mines. Tunnels dug into the mountain used by the Incas are still very much in evidence.
Yanama Pass is magnificent – the highlight of the trek for me. Not only are the views of glacier-covered peaks outstanding, but the vegetation and wildflowers added a uniqueness to the high alpine setting.
We enjoyed a long break here, learning about how local grasses found at elevation are woven and eventually made into bridges. Though the pass was a highlight, the descent through a veritable botanical garden filled with blooming lupine trees was a close second.
A late lunch in camp after about seven hours of hiking included a roasted whole sheep (cooked beneath coals in the ground), fava beans, potatoes, salads and even more.
Then there was time to explore the pretty village. It was obvious there wasn't much money around, but every house in the community boasted colourful pots of flowers.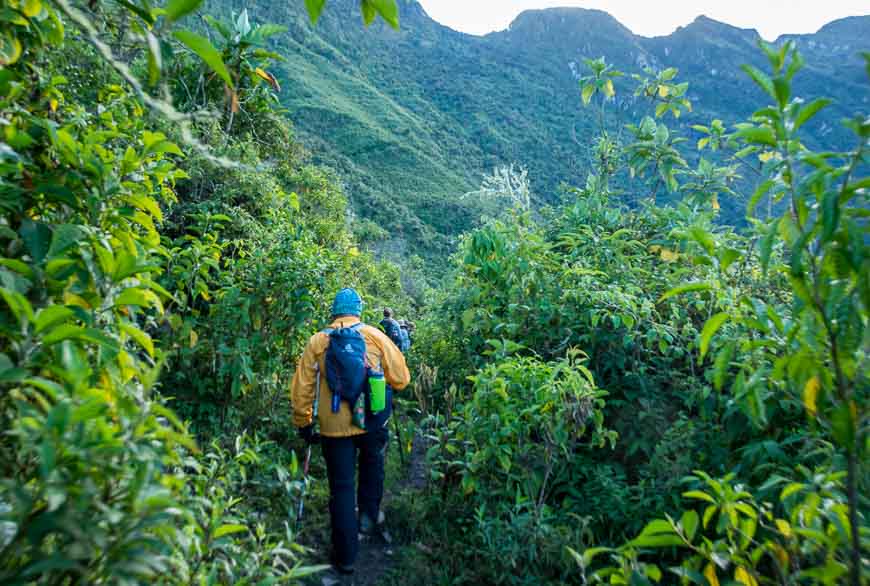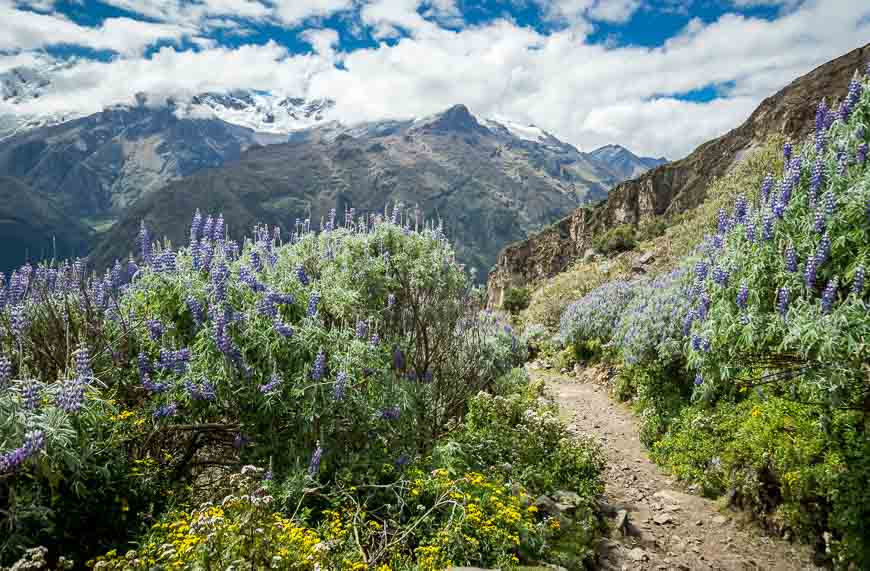 Day 6: Trek from Yanama to Totora
Another pass was in store for us today. The hike started easily with a pretty walk along a road – past more lupine trees and wildflowers. Once we hit the end of the valley, the hard work started.
It took us five hours from camp to reach the pass at 4660 m and while it wasn't remotely as pretty as Victoria Pass, it felt like an accomplishment to make it. I didn't realize that a road crossed the pass. The road resembled a vacuum cleaner hose – all curves on both sides of the pass. Over the few hours we were in the area we never saw a car going over the pass.
Our G Adventures crew had lunch set up just down from the pass. I think we all gave a collective sigh of relief to sit and eat after a tough morning of hiking. From lunch we still had thousands of feet to descend but for once my legs felt like they had some juice. It only took me six days to get acclimatized and into shape!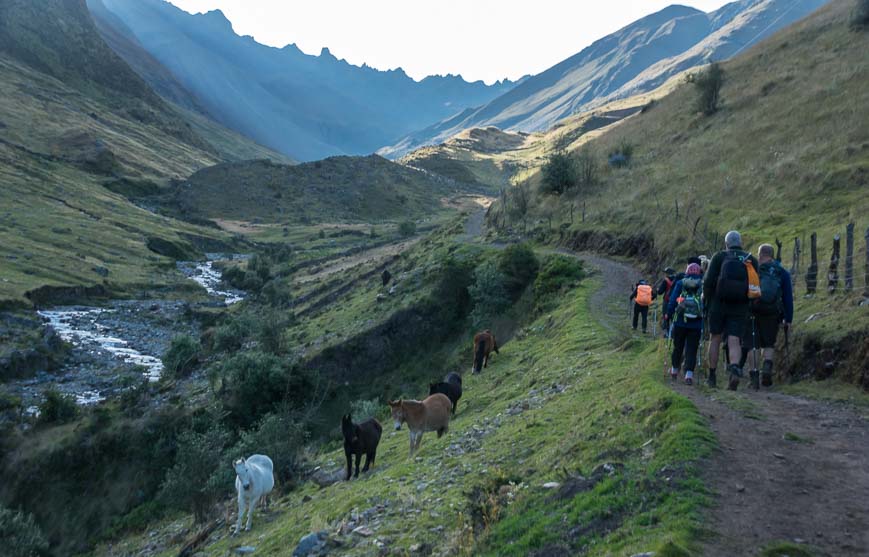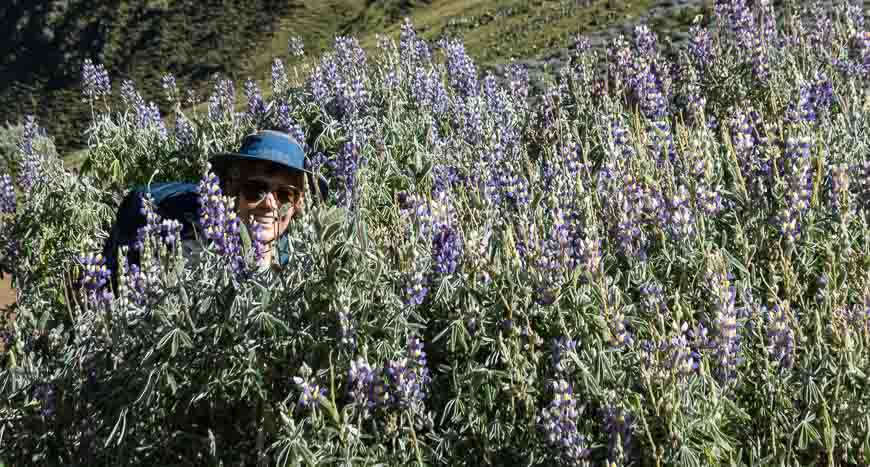 Day 7 on the Choquequirao trek: Totora to La Playa
We say goodbye to any semblance of cold weather and head into a sub-tropical valley. The hike today is another long one – about 24 km – but its mostly downhill. I loved our breaks where we gorged on passionfruit. The one negative was that suddenly the hike was busier with groups from other treks showing up.
Day 8: La Playa to Aguas Calientes on the Choquequirao trek
I thought the final day was going to be a quick, easy one. But it wasn't. However we did stop early on in the hike at a local shade-grown coffee house. We were treated to a cup of freshly roasted and ground coffee that was absolutely delicious. A giant bowl of guacamole – the best I've ever eaten was also produced so we were well-fueled to deal with the steep part of the hike.
By the time we finished climbing we were at a place that offered a fabulous though distant view of Machu Picchu. In some ways I preferred it over the up-close and personal experience at Machu Picchu but that's a future blog post.
The final descent was a steep one. Several people fell so it paid to be cautious. The actual trek itself finished at a train station where we grabbed some lunch before hopping on a train to Aquas Caliente.
After all the hard work of eight days of hiking the end felt anti-climactic as it so often does. I'm really happy I did this trek, despite the difficulty.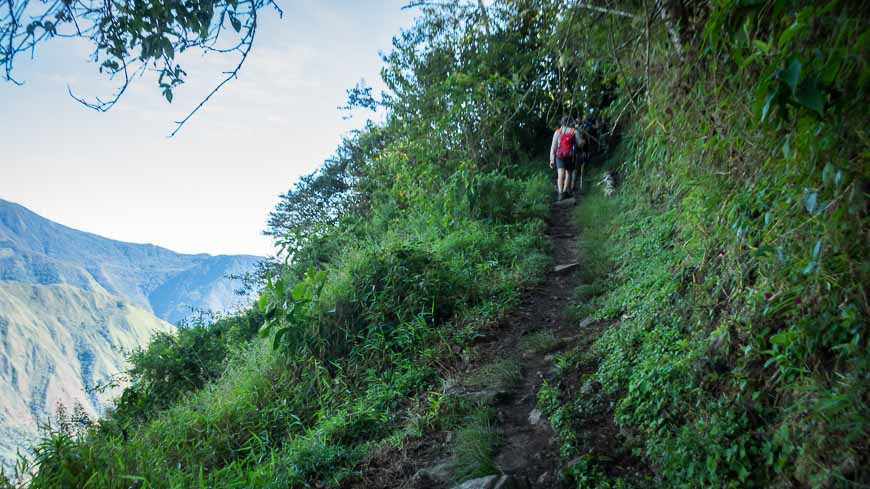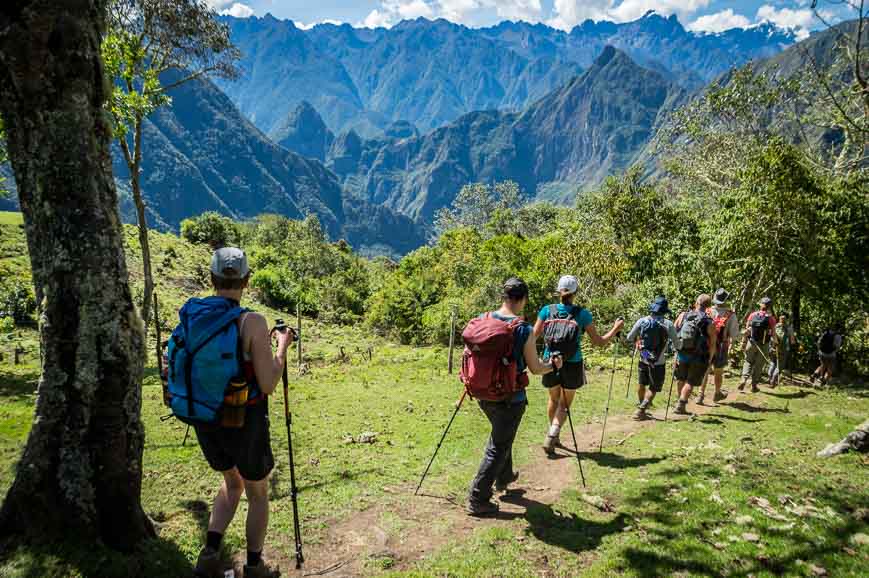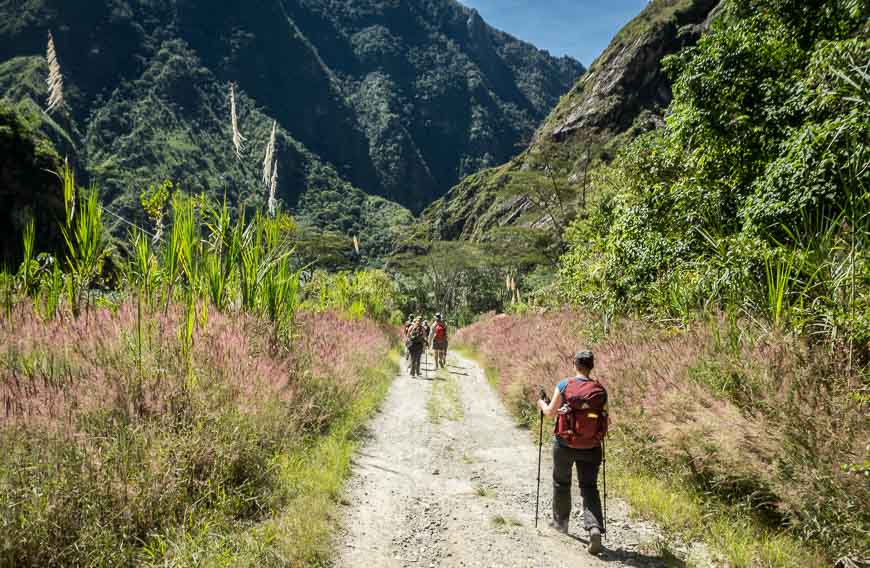 Highlights of the Choqueguirao trek
The G Adventures staff were fully invested in making the trip the best it could be. Freddie the chef did an excellent job cooking. The horsemen worked unbelievably hard and were always smiling. Both trail guides were helpful and Ooh-La-la was especially kind to me.
Every day on trek offered some unexpected highlight – including an amazing cup of freshly ground and brewed coffee along with the best guacamole of my life to a freshly made Pisco Sour on the last night.
What I wasn't a fan of on the Choquequirao Trek
There were a few improvements I think could and should be made.
I'd add a portable bathroom in a private tent so people literally don't have some guy washing dishes right outside the bathroom door on the first night – especially as there was only one toilet for probably about 30 people. Some of the other bathrooms weren't great – but this one was the worst.
Be prepared to have a sponge bath as most of the showers are on the dodgy side. Don't forget waterproof sandals if you opt for a shower as you definitely don't want to step on the floor.
I think most of us were surprised at the heat – and at how early we had to get up so we could beat it. If you're reading this blog you now know about it but a little heads up would have been great.
Most days on the trek ended with lunch at the camp we'd stay at for the night. Usually that would be after 6- 7 hours of hiking. I am a fan of enjoying the hiking journey – and stopping for lunch on route. I would have much preferred to stop for 45 minutes somewhere with a view and a packed lunch. This is the first trek of any I've been on that handled lunch in this manner. But some people didn't mind – so take this observation as mine alone.
I am personally not a fan of staying in busy semi-permanent camps. Give me the wilderness any day – or the Inca terraces which were a huge improvement over the camp on the first night.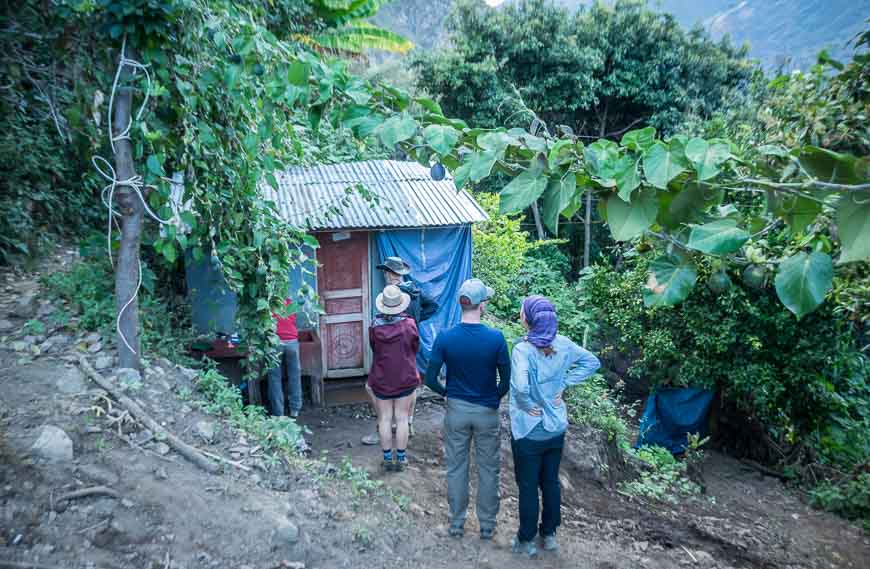 If you're interested in testing your lung capacity and your mettle on an 8 day hike to Machu Picchu you can read the fine print on the G Adventures website.
Further reading on South America
Click on the photo to bookmark to your Pinterest boards.
Thank you to both Prom Peru and G Adventures for making this trip possible.