You're in for a treat on the hike into Kokanee Glacier Cabin. Set in the breathtaking Selkirk Mountains in Kokanee Glacier Provincial Park, the hike delivers non-stop views for most of its 8.5 km length. Even if you can't score a reservation at the cabin, you can still do the hike past Kokanee Lake to the cabin as an out and back day trip or you camp on a first come, first served basis at the Kaslo Creek Campground, just a 10 minute walk from the cabin.
It's an exceptional hike to Kokanee Glacier Cabin – and quite doable even with young kids. Between the marvelous alpine views and the scent of fresh pine, this is a hike I'll remember forever.
This post includes some affiliate links. If you make a qualifying purchase through one of these links, I will receive a small percentage of the sale at no extra cost to you. Thank you very much for your support.
Kokanee Glacier Cabin hike summary
Distance: 17.0 km or 10.6 miles return
Elevation gain: 400 m or 1,312 feet
Time needed: Allow 2.5 – 3.5 hours one way depending on your pace.
Gibson Lake trailhead elevation: 1,565 m or 5,133 feet
Kokanee Glacier Cabin elevation: 1,965 m or 6,445 feet
Level of difficulty: Easy to Kokanee Glacier Cabin
Accommodation options: Book Kokanee Glacier Cabin through the Alpine Club of Canada, 6 months to the day you plan to be there. Or plan to backcountry camp at the first come-first served Kaslo Campground. It's $10 per adult and $5 per child.
Maps for the hike: Kokanee Peak 82F/11 and Slocan 82F/14
Other things to know:
This is grizzly bear country. Although trails are well-used go prepared. Make noise on the trail and bring easily accessible bear spray that is no more than two – three years old. I recommend a bear spray holster to prevent setting it off accidentally.
Recommended reading: Tips for Staying Safe in Bear Country
Dogs are forbidden on all the trails.
Camping is prohibited at Sapphire Lakes.
If you don't have much time, opt for the superb 9.2 km round-trip hike to the far end of Kokanee Lake and back.
Getting to the Gibson Lake Trailhead for the Kokanee Glacier Cabin hike
The Gibson Lake trailhead is one of the easiest trailheads to get to in the Kootenay Rockies. To reach the trailhead drive 19 km north from Nelson on Highway 3A. Turn left onto Kokanee Glacier Park Road and follow it for 16 km until it reaches Gibson Lake.
The road is rough in places and may be a problem but only if your car has very little clearance. Along the way you will pass the Old Growth Recreation Trail. I know several people at the cabin wondered if they were on the right road as there's almost no signage. You'll be climbing for most of its length.
Once you reach the trailhead and you've parked, look for the stack of chicken wire. BC Parks has provided lots of rolls to wrap your car if you're an overnight visitor. Apparently porcupines like nothing better than to chew through brake lines – so it's worth taking the 10 minutes to secure the base of your car.
Before you take off on the hike, it's also worthwhile to do a five minute side trip down to Gibson Lake. It's a pretty spot and a quick visit will give you an idea of the beauty that lies ahead.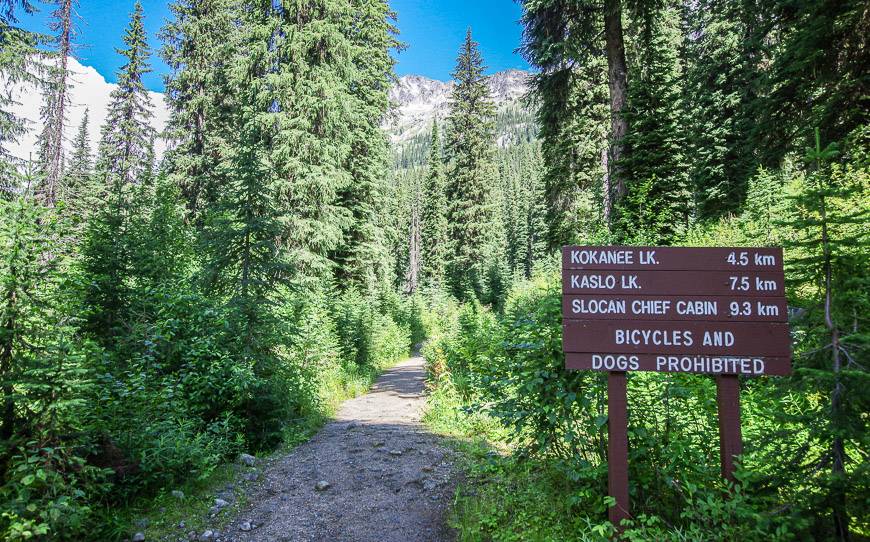 Kokanee Glacier Cabin Hike description
The first destination on the hike to the lodge is Kokanee Lake, 4.5 km away. The bulk of the 400 m elevation gain takes place on this part of the hike. Fortunately all but the first kilometre or two provide superb views and sublime hiking, especially when the wildflowers are in bloom. The forest and undergrowth is dense initially so be sure to make lots of noise in case any bears are in the area.
Kokanee Lake itself is stunning. The colour is surreal – a cross between a deep blue and emerald green, depending on the light.
The lake is also a place of tragedy. It is here that Michel Trudeau, the youngest brother of Prime Minister Justin Trudeau, drowned when he was swept by an avalanche into the lake in November 1998. Kokanee Glacier Lodge is dedicated to Michel Trudeau and many others who have also died in avalanches. (In winter access to the lodge is via helicopter.)
From Kokanee Lake the hiking gets easier as you enter beautiful sub-alpine meadows cut by crystal clear streams and small alpine lakes. Listen for bird song and watch out for aggressive marmots. At a trail intersection at the end of the lake it's only 300 m to the cabin. You can expect to reach the cabin in about three hours hiking time.
Kokanee Glacier Cabin
Kokanee Glacier Cabin is far nicer than any other cabin I've stayed at in the backcountry in Canada. It's got a main floor kitchen and eating area and lots of room to spread out and play board games. The kitchen is also far better equipped than I expected. It comes with a fridge, stove, oven, two coffeemakers (with filters provided) and even popcorn poppers. Everything you need for cooking is also provided – including egg beaters.
With electricity generated onsite, you can charge your camera batteries, have a short but hot shower and enjoy hot running water in one of two private bathrooms. There are flush toilets and an outhouse close by.
Sleeping is dorm style upstairs. You'll have your own bunk – a vast improvement from sleeping in a stranger's armpit as is what happens in most of the huts I've stayed in.
You do not have to be a member of the Alpine Club of Canada to book the cabin in the summer. To reserve a spot call 403-678-3200 in Canmore, Alberta. Rates are $25 per person. It has a sleeping capacity of 20 people in summer. There is a warden onsite who checks you in and helps keep the place running smoothly.
What can you do near Kokanee Glacier Cabin?
Many summer visitors come for two nights so they can take advantage of some of the nearby hikes. Slocan Chief Cabin and Tanal Lake are 1.5 and 2.1 km away from the cabin. The Slocan Chief Cabin, a two story miner's cabin built in 1896 is now preserved as a museum.
Heading up from the cabin you reach Enterprise Pass in about 10 minutes. From here you can also go to Tanal Lake or continue on up to the Sapphire Lakes – about a 90 minute one way hike. Or pull out your camera and explore the beauty of the immediate area around the cabin.
Camping at the Kaslo Lake Campground
The Kaslo Lake Campground is an excellent alternative if you can't get a reservation in the cabin. It's in a pretty area with private campsites. Best of all, it has a bug proof indoor cooking area. Bring cash or prepay your registration fee.
A few things to take on the hike
If you want to reduce the weight of your backpack take a one litre water bottle and refill it along the way.
Just be sure to treat the water with tablets like this or via a filtration system.
Take some gear-aid tape for quick fixes in the backcountry.
If you're prone to blisters, try Compeed – my go to for years now as it really works and blisters heal quickly.
Don't forget to pack some protein bars for energy.
Further reading on the Kootenays
If you're planning to spend more time in the Kootenay Rockies, I highly recommend picking up a copy of the Kootenay Rockies Backroad Mapbook. You'll have weeks of ideas of what to do in the area.
One of the prettiest hikes you'll ever do is also in Valhalla Provincial Park. Check out my post on the hike to Gwillim Lakes.
If you're in Nelson and looking for more things to do in the area read 5 of the Best Things to Do near Nelson, BC. In Nelson itself, these are 10 things you're going to want to do.
And if you love a soak in hot springs, check out these three in the Nakusp area.
For more information on Kokanee Glacier Provincial Park, visit the BC Parks website.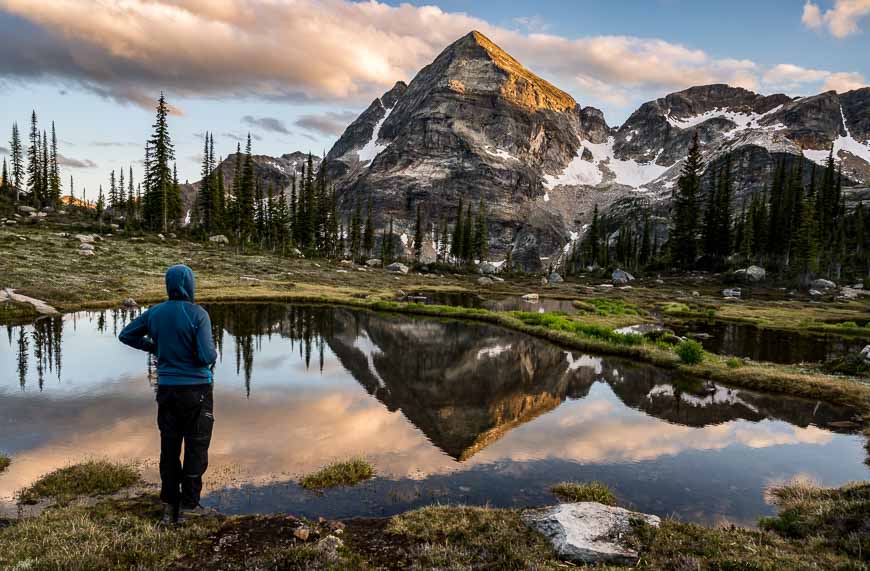 Location map of the Kokanee Glacier cabin
Click on the photo to bookmark to your Pinterest boards.
Thank you to Kootenay Rockies Tourism for suggesting this hike and looking after my overnight stay.