The Paget Lookout – Paget Peak hike in British Columbia's Yoho National Park was not our first choice on a summer weekend. But our plans to hike to the summit of Mt. Saint Piran were thwarted when we arrived at Lake Louise – the starting point, to find the parking lot full. It's always a good idea to have a Plan B as many trails and parking lots fill early in the morning, especially on summer weekends.
I had done some research before we left home and loved the sound of the Paget Lookout hike (it's an old fire tower), just 13 minutes and a 17 km drive away from Lake Louise in Yoho National Park. It turned out to be a fantastic choice. Once at the lookout you may decide like we did, to continue to Paget Peak – but it is a whole level of difficulty harder and is not for the novice hiker or anyone who dislikes boulders and scree.
Paget Lookout – Paget Peak hike summary
Purchase a Parks Canada pass online or at the park office in Field or Lake Louise.
There is no shuttle service to the trailhead, so you will need a rental car or your own car.
Be sure to check out the Parks Canada website for the latest trail conditions – before you start the hike.
The best time to do the Paget Lookout and Paget Peak hike is from late June until early October.
It's 7.0 km round trip for the Paget Lookout hike. Add at least another hour to climb the additional 500 m to Paget Peak over 1.4 km
The elevation gain is 520 metres (1,706 feet) to Paget Lookout and 950 metres (3,117 feet) to Paget Peak
Paget Peak tops out at an elevation of 2,560 metres or 8,399 feet.
Allow 3 hours for the Paget Lookout hike. Add another 2 – 3 hours return for Paget Peak.
Parks Canada plans to offer guided hikes to the lookout again in summer 2023.
Keep an eye out for mountain goats on the slopes of Paget Peak.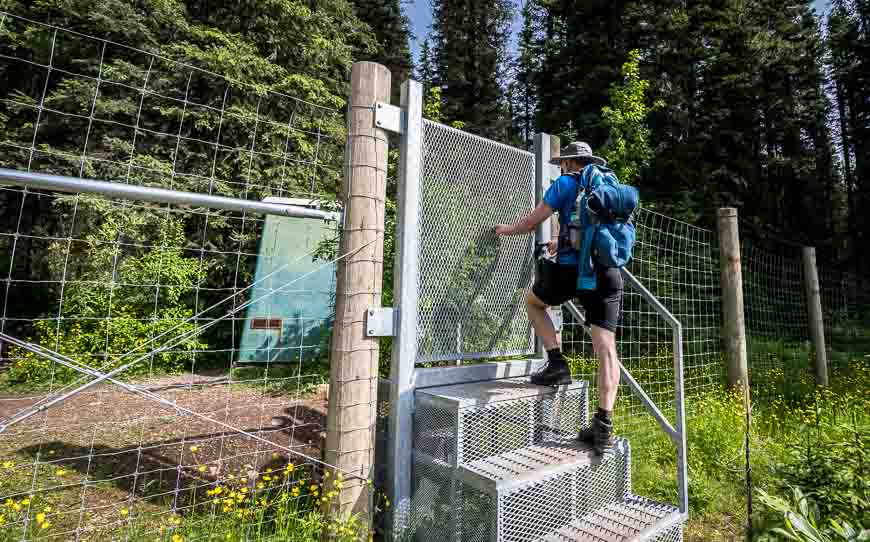 This post includes some affiliate links. If you make a purchase via one of these links, I will receive a small commission at no extra cost to you. Thank you very much!
Finding the Paget Lookout trailhead
From Lake Louise, drive approximately 17 km west via the Trans-Canada Highway. Take the turnoff into the Sherbrooke Creek parking lot – just 0.4 km west of Great Divide Lodge on the north side of the highway across from Wapta Lake.
If you're coming from Field it's an 11.5 km drive to the turnoff. Alternatively park by the Great Divide Lodge and hike the trail you'll find at the back of the parking lot for 0.4 kilometres to meet up with the main trail. (Once on the Sherbrooke Lake Trail, John and I realized we had skied it a few years ago at the end of a very tough day on the 4 day Wapta Traverse.)
This trailhead is also used to access two other hikes – gorgeous Sherbrooke Lake and the reportedly outstanding hike to Niles Meadow.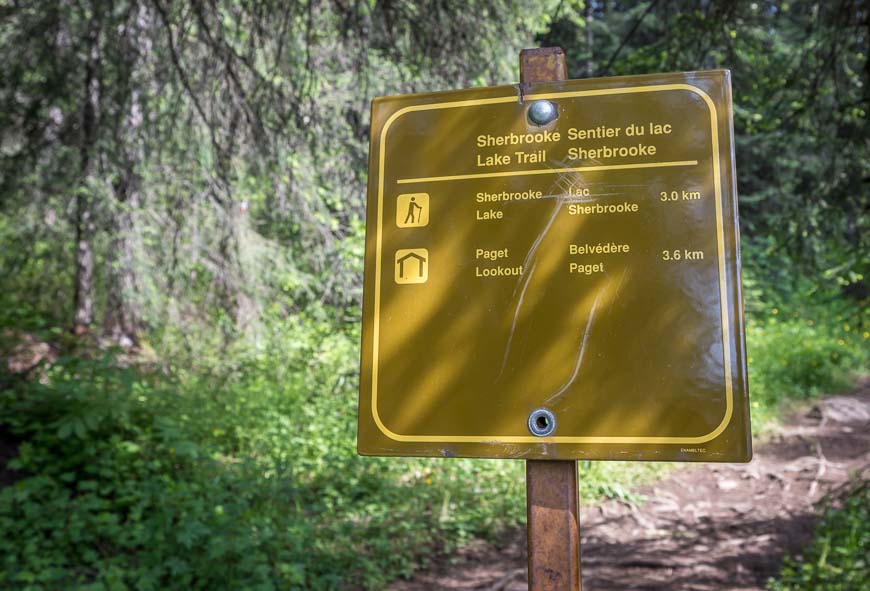 Hike details for Paget Lookout and Paget Peak
Trailhead elevation: 1615 metres or 5299 feet
Map needed: Gem Trek Lake Louise and Yoho
Dogs allowed: Yes on leash. I wouldn't recommend taking a dog up Paget Peak but Paget Lookout would be fine.
Bear country: Don't forget bear spray that is easy to access.
Type of hike: Out and back.
Who can hike it? Families with kids 8 and older should be able to make it to Paget Lookout. Paget Peak is best left for those 12 and older with lots of hiking experience under their belt.
Route description of the Paget Lookout hike
From the parking lot go past the outhouse to reach the gate pictured above. After only a few minutes of hiking you'll reach the first signed junction. Stay left and hike on the Sherbrooke Lake Trail to the junction with the Paget Lookout Trail, a distance of 1.4 km. (If you go right near the start of the trail, you'll end up at the Great Divide Lodge.) This section of trail is in the forest.
At the signed junction to the Paget Lookout Trail, continue hiking in open forest. When the trail makes a hard left turn, you'll start hiking more steeply. Continue on an upward course with the help of six switchbacks. At switchback number five, if you're counting, there is side trail to a cliff top overlook.
As you continue climbing you'll end up in the sub-alpine where you can enjoy views of Kicking Horse Pass, Mount Ogden to the west, Mt. Stephen to the southwest, and Vanguard Peak and Cathedral Mountain to the south.
In total it's just 7.0 kilometres return to the fire lookout with an elevation gain of 520 metres (1706 feet). Allow about three hours to do the return hike. It would combine well with the hike to Sherbrooke Lake – as both are family-friendly if your kids are regular hikers and at least 7 or 8 years old.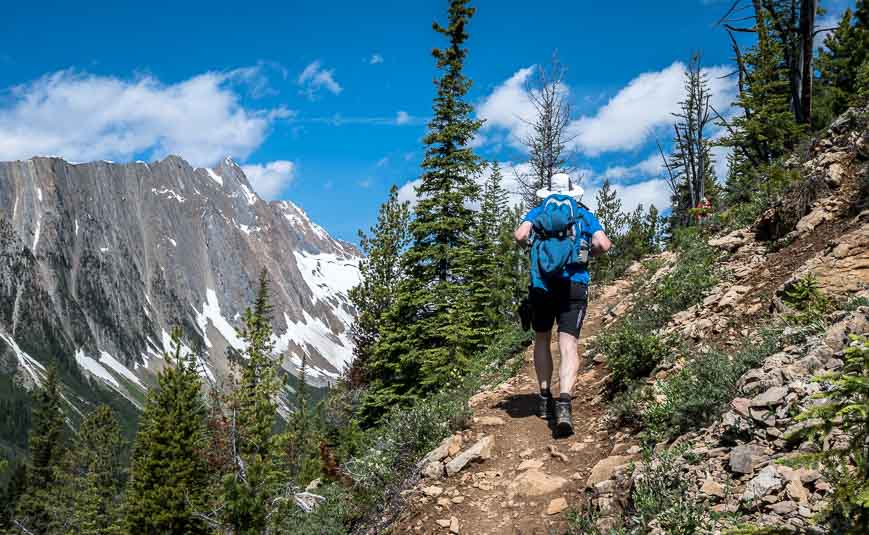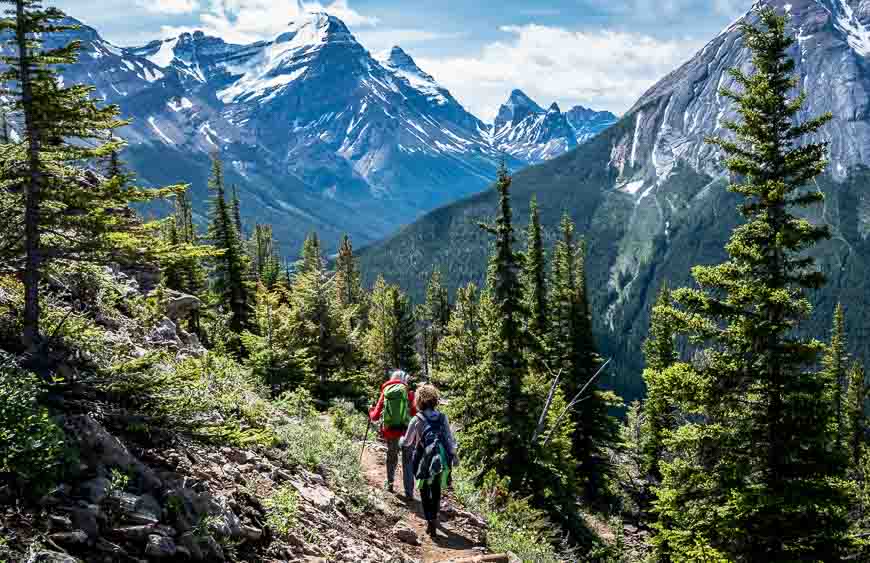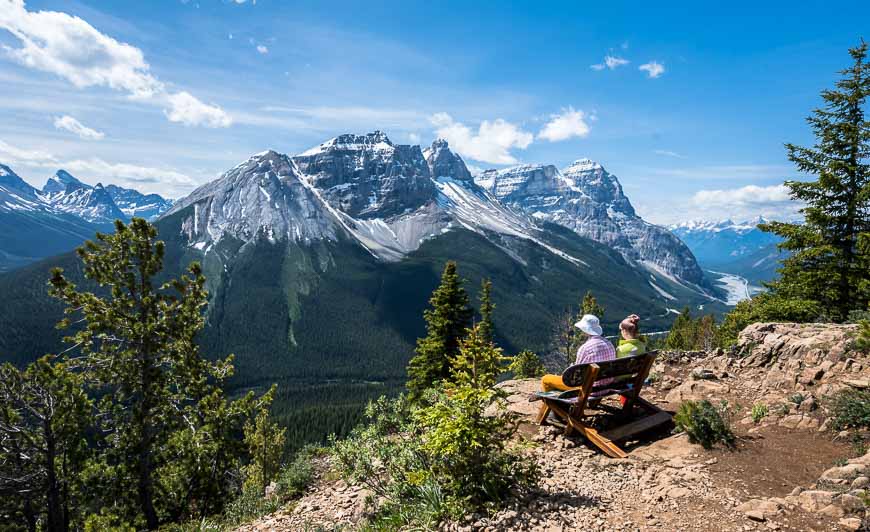 A little about the Paget fire lookout
A number of fire lookouts were built in the Rockies after a couple of terrible fires that happened in 1936 and 1940.
This lookout was named after Reverend E. C. Paget (1857 – 1927), a founding member of the Alpine Club of Canada and someone who attended the first ascent of 2,560 m Paget Peak. (Who gets to attend a first ascent in 2020?)
The Paget Lookout, the oldest fire lookout in Canada's national parks, was built in 1944. It remained in use through to the 1970's when lookout towers were replaced by technology including satellite remote sensors.
Interested in more fire lookout hikes? Check out this book – Fire Lookout Hikes in the Canadian Rockies.
The hike from Paget Lookout to Paget Peak
Before you start the hike up Paget Peak consider a couple of factors. It's further than it looks as the real summit can't be seen from the Paget Lookout. The trail is also scree-filled and really not the place for a new-to-scree hiker. There are a couple of short, exposed sections too – and I know not everyone is a fan of exposure, myself included.
As we hadn't planned to hike the peak, I had stupidly left my hiking poles at home. But I'd recommend a pair of poles – preferably the collapsible sort. Also this hike can be cold and windy at the top so don't forget a windbreaker, a lightweight down jacket if the weather looks threatening, a buff, a warm hat and even some gloves. Wear hiking boots, not running shoes.
From the lookout to Paget Peak you climb 446 m (1463 feet) in just 1.4 km so this is one steep hike. Be extremely careful with foot placement as the last thing you ever want to hear is ROCK – because someone has dislodged a boulder.
The trail to the peak – as we discovered when we saw people bounding down to the lookout, starts behind the lookout tower. Take it. It starts off steeply in the trees and in short order you're on a scree slope. Take notice of your surroundings as we got off track slightly on the descent – and trust me it gets super steep in a hurry.
We had people to follow on the way up though the main trail is quite well-worn. Still there are many side trails so look for occasional cairns. The scree was loose in places but doable.
The final stretch to the false summit takes you through some large boulders that might be a bit unnerving for some. I hadn't realized there was a false summit, as there seemed to be a lot of people tucked into the rocks eating lunches, so it was a bit of a surprise that I had to keep going!
But continue you must – either along the trail at the top or slightly below – which will avoid the airy move I had to make pictured two photos below. While on the airy route, note that there are bomb-proof handholds but for me, anything airy always plays with my mind.
I found the final jaunt over to the true summit where there was a summit register to be a snap. And the views of turquoise-coloured Sherbrooke Lake and the mountains are simply take your breath away beautiful.
This is one outstanding hike to do IF you have the skill-set to do it safely. Keep an eye on the weather too, as there isn't any shelter to speak of until you're back at the lookout tower. Allow another 2 – 3 hours for the hike up and back to the fire lookout, depending on how much time you laze about the summit.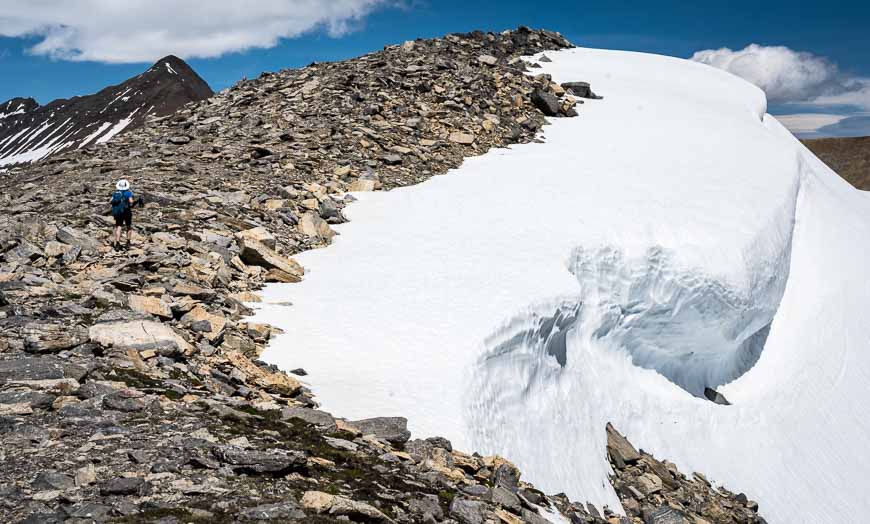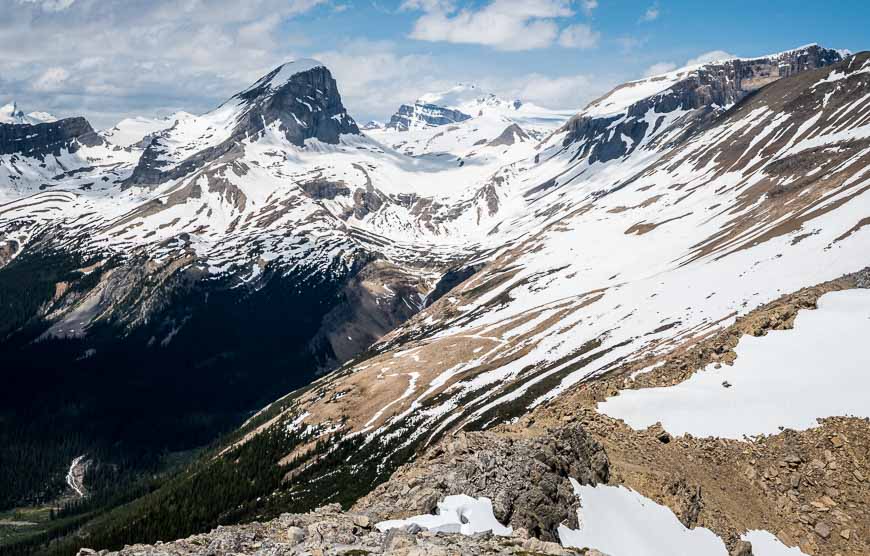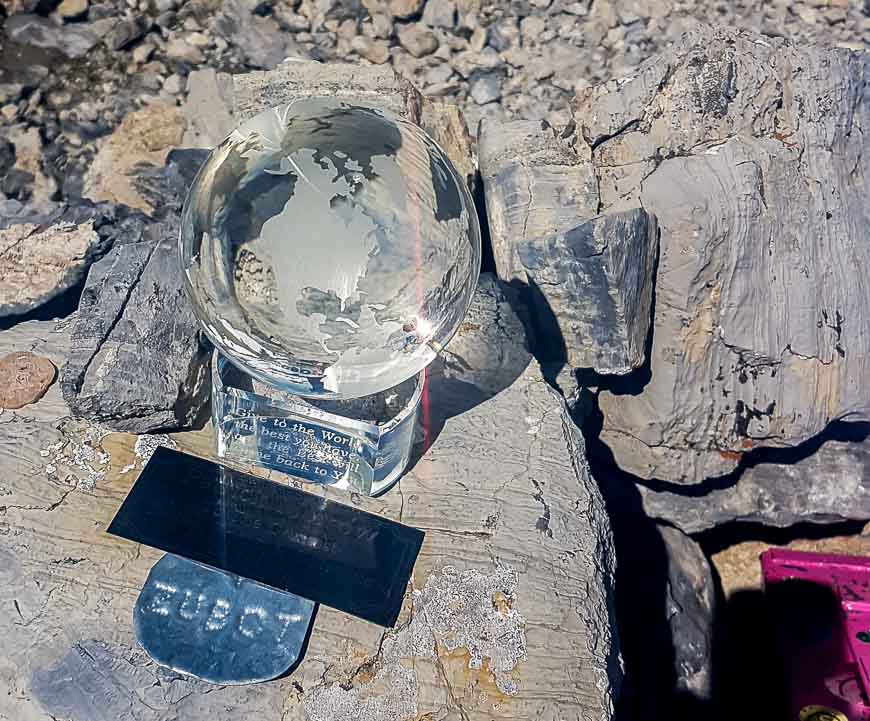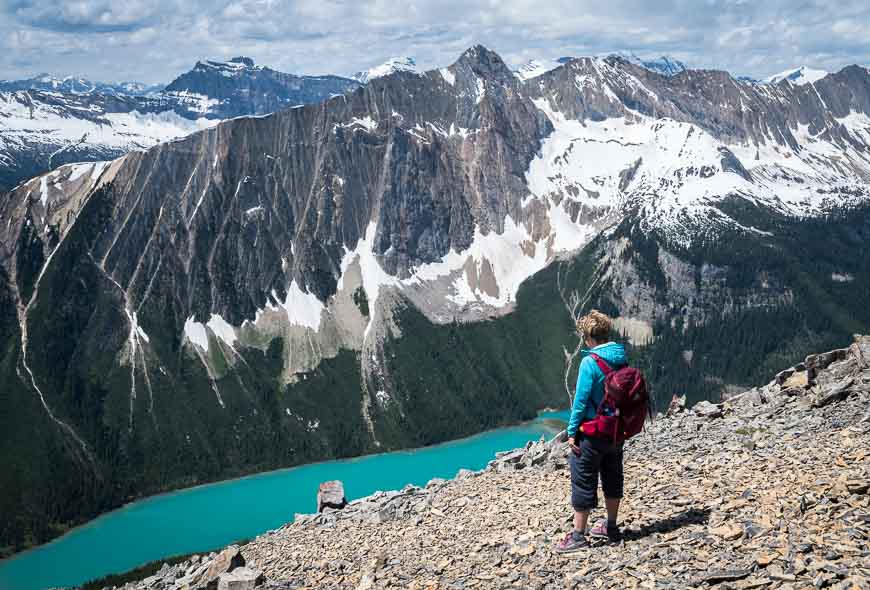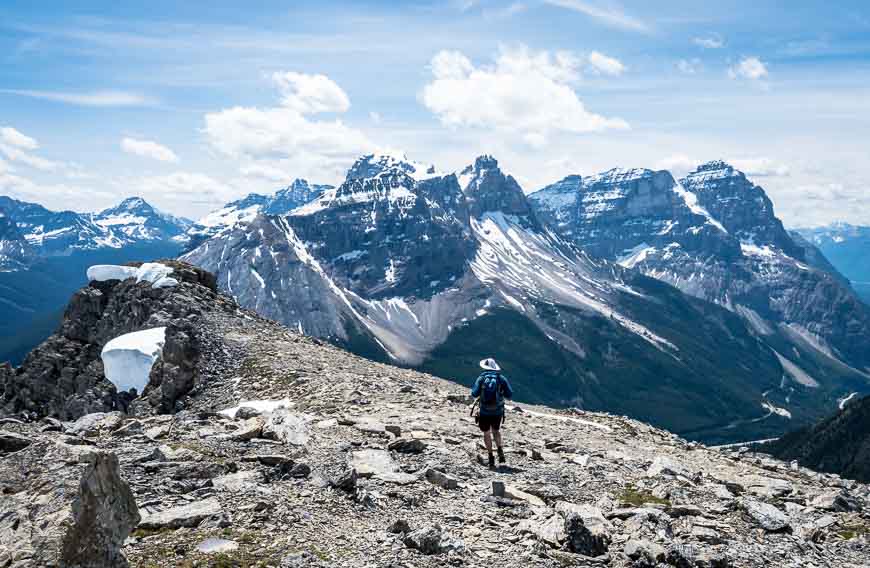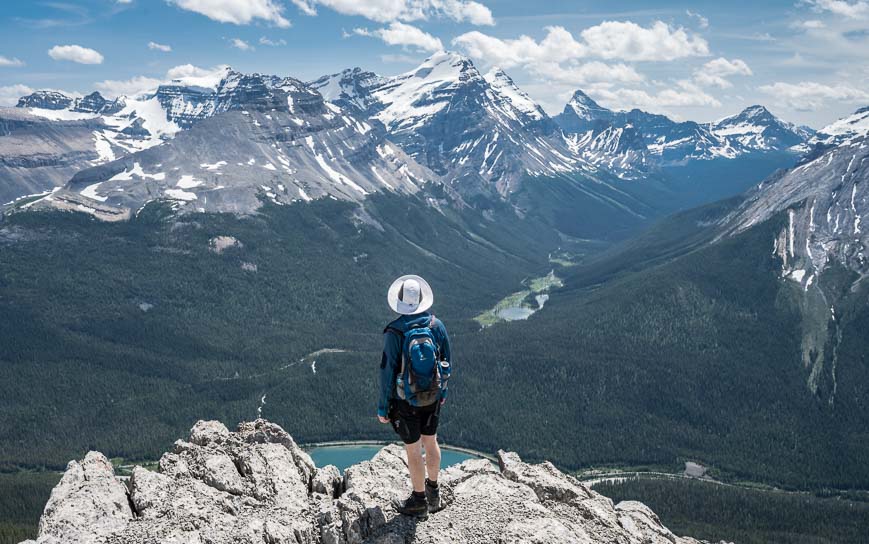 Where to stay near the trailhead
The trailhead for the Paget Lookout – Paget Peak hike is close to both Lake Louise and Field.
Near Field, you can stay at the Emerald Lake Lodge, Cathedral Mountain Lodge or the simpler Charlies Guesthouse.
In the Lake Louise area check out Baker Creek by Basecamp along the Bow River Parkway, The Mountaineer Lodge in Lake Louise Village, and the Lake Louise Hostel. If it's luxury you're after, check out the Post Hotel & Spa.
Further reading on hikes in Yoho National Park
Click on the photo to bookmark to your Pinterest boards.