Maybe you had traditional late summer travel destinations you frequented each year, or you had to cancel plans for new locations to explore – but your adventures aren't completely lost this year. We've got you covered with 11 road trips from Calgary you can do in a day (sometimes a long day!) that will stir your soul. These 11 adventures will have you socially distant, enjoying fresh air, lake-time, sand play, challenging yourself, filling your eyes with glorious trees, and taking in awe-inspiring rocky mountain backdrops.
Now go have fun and check out these road trips from Calgary to places that will feed your spirit.
This post includes some affiliate links. If you make a purchase via one of these links, I will receive a small commission at no extra cost to you. Thank you very much for your support.
Road trips from Calgary – Fernie, BC
There's several good reasons why some call this place the epicentre of the mountain biking universe. Let's sum it up as a massive array of trails, worthy of mountain bike getaways. Not only is there more than 200 km to explore, but there's something for all skill levels.
Downhillers will love the fast and flowy options like Swine Flu, while cross-country fans will enjoy the newly reopened Ridgemont area. To top it off, families can take it easy by riding some of the green options in Montane.
Stay: Get a kitchen unit at Lizard Creek Lodge or if a stand-alone cabin is preferred, check out Snow Creek Cabins.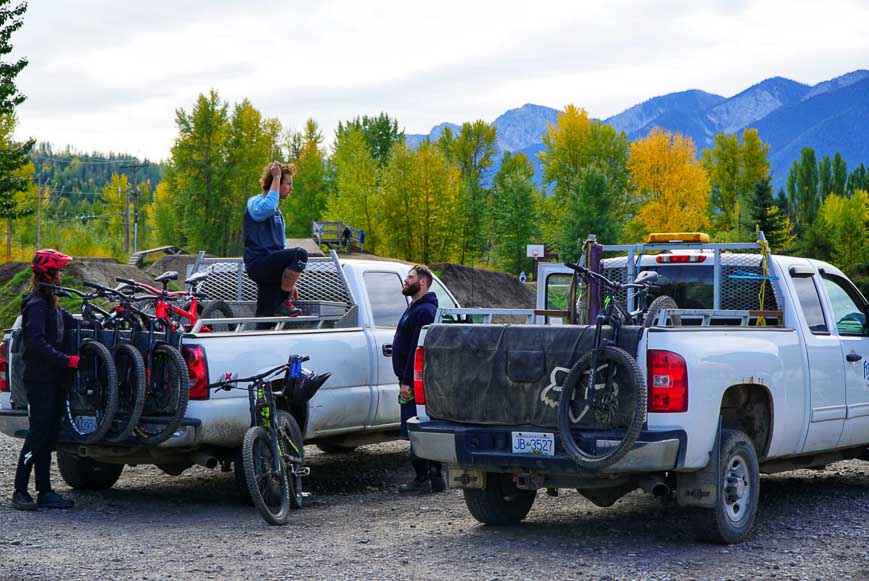 Learn to Fly Fish – Cranbrook and Fernie, British Columbia
This is the summer to learn to fly fish and there's no better pastime to be distant from others. One can find powerful peace, badly needed solace and a tradition that creates lasting memories from learning the art of fly fishing. Hone your skills, book a professional fly fishing guide. Because of the US border being closed, these highly coveted craftsmen have some openings, so get in touch with Elk River Guiding Co. or St. Mary Angler.
Gear: Get the Orvis Clearwater rod and reel package. With its incredible value, this combo still gives you the quality and performance needed for mid-size river casting.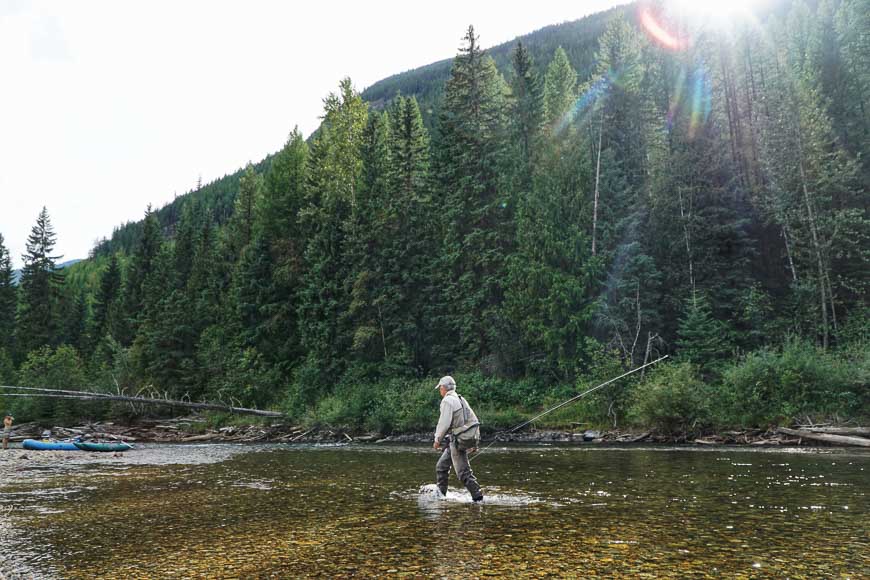 Enjoy a long walk. Kimberley, British Columbia
There is something about a community that is completely flanked by one of the largest municipal parks in Canada. Welcome the Nature Park time in Kimberley, British Columbia, and be ready to enjoy more than 50 km of trails. From hillside to forested, venture to a lake or out to the Horse Barn Valley area for big views overlooking the St. Mary River valley.
Stay: Locate yourself mountainside with kitchens in every unit at the Trickle Creek Lodge. Or stay in your own RV or tent by picking a site with the gentle sound of water putting you to sleep at Kimberley Riverside Campground.
Ride the Range. Thanksgiving Ranch, Alberta
If you purposely follow directions and seemingly end up in the middle of nowhere, you have definitely found a good spot. The Thanksgiving Ranch is the last ranch butting up against the Castle Wilderness, with thousands of acres for horseback riding.
We think you can safely call this your own private Alberta. This is no pony ride where the horses stay in an organized line. Here you can learn to ride properly and head out with the talented cowgirls for a range tour.
Stay: A secret spot. Thanksgiving Ranch, private, fully buffed-out ranch house overlooking the Canadian Rockies.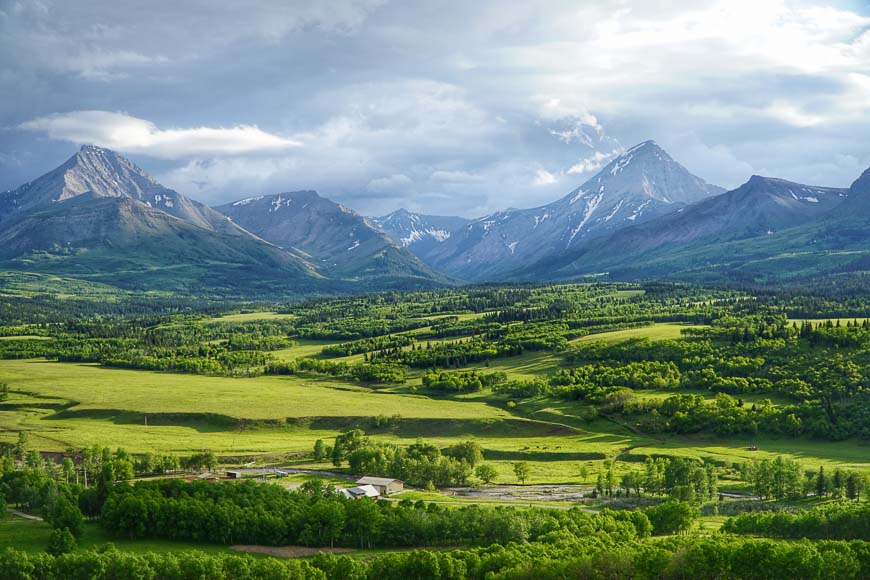 Waterton Lakes National Park, Alberta
In the southwestern corner of Alberta lies the lesser known cousin of Banff National Park – and more importantly – way less visited. In late summer discover Waterton Lakes National Park, with its myriad of trails for all ages and abilities. Take the walk to Bertha Falls, hike the newly reopened Bears Hump for a killer early sunrise shot or stroll along the beachfront in town.
Stay: Looking for value? Bear Mountain Motel is elevator free with private rooms. Or opt for a luxury stay, a short drive away in the private ranch house at Thanksgiving Ranch.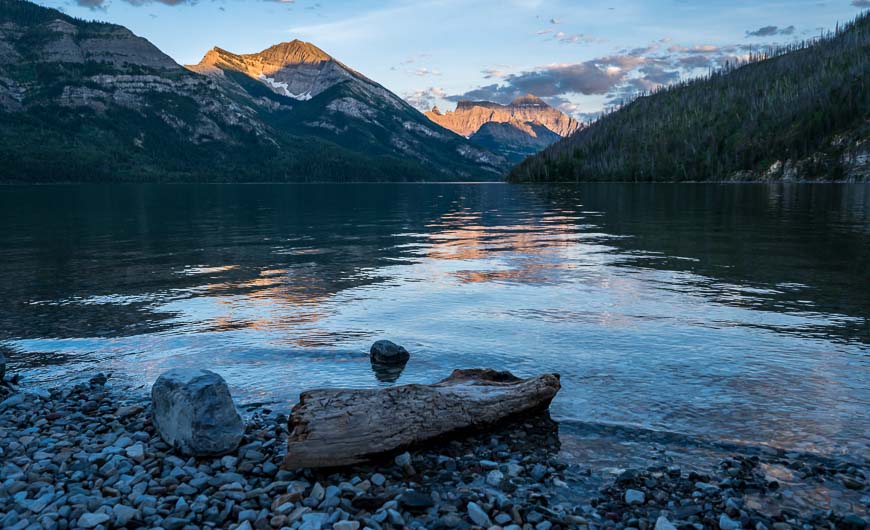 Paddle on. Nelson and Kaslo, British Columbia
Big lakes, unforgettable mountain views and cool craft towns? Sounds like a recipe for a road trip. Add some paddle time by taking a half or full day tour by sea kayaking with Kaslo Kayaking to explore the forested coves and rocky shoreline. Of course, don't forget the swim as there are plenty of spots where you have the beach to yourself.
If you're feeling the heat after your morning stroll of Nelson's historic downtown, rent a paddleboard from Nelson Paddleboard and Kayak Rentals to cool off and enjoy the city's sandy beaches.
Stay: Cool, modern euro-style twist to old school building, check-in to Nelson's The Adventure Hotel. This place offers great value and a variety of room styles.
When in Kaslo, book your stay in advance at The Sentinel, a retreat featuring 10 custom rooms. It boasts 700 feet of waterfront on Kootenay Lake, for post-drive swims surrounded by beautiful massive cedars.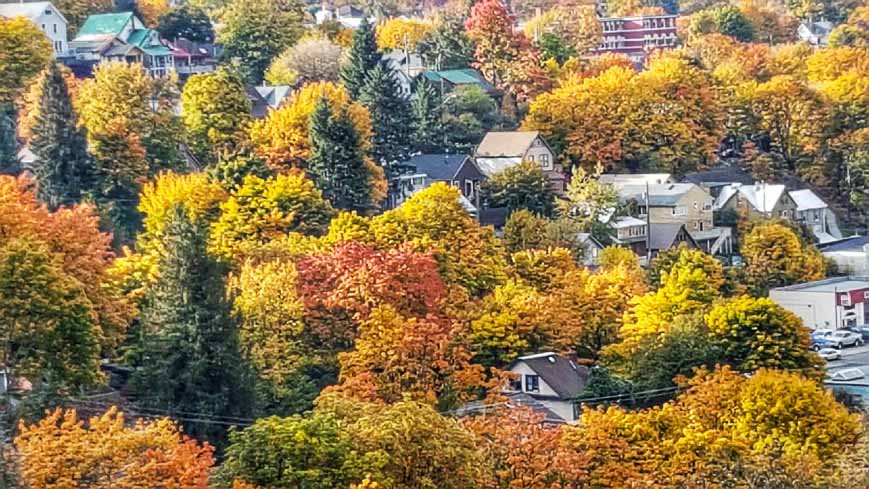 Road trips from Calgary – Whitewater fun in Fernie and Kimberley, British Columbia
Fernie is home to cold water, hot summer and warm smiles. Throw in some whitewater action and you have automatic happiness for everyone in your crew. Be sure to book Canyon Raft Company for a private raft and choose the Elk River, hitting the famed Canyon section. You'll find some fun and pushy rapids, while the adventure seeker in your bunch can ask about cliff diving.
Based in Kimberley, British Columbia, Kootenay Raft Co. runs the pristine waters of the St. Mary River. Schedule an exclusive family journey on one of the best family float trips around, loaded with spray and laughs to create classic, treasured, summer memories.
Buffalo and soak in Golden, British Columbia – One of the easy road trips from Calgary
For a unique double treat, stay at the Rocky Mountain Buffalo Ranch. Don't miss the 10:15 am Buffalo tour with Leo Dorsey, ranch owner, musician, songwriter and soul-filled wilderness guide as you learn about these massive animals and their incredible back-story.
To top it all off after a day of adventure, you owe yourself some real relaxation time. Nothing compares to the feeling of goodness you get from soaking in the AlumiTubs, handcrafted wood-fired on-site hot tub.
Camp on. Roam the Kootenay Rockies region, British Columbia
Road trips are in these days, with RV sales skyrocketing but one of the lowest cost and coolest ways to explore the Kootenay Region of British Columbia is to get your own Yakima SkyRise roof top tent. This comes in a variety of models fitting different vehicle types and is easy to set up. Double down on wonderfully comfortable sleep as you get the benefits of outside time too!
You can book commercial campgrounds in advance throughout the region. Check out Kootenay Rockies for more information on where to camp.
Beach it in Parksville, British Columbia
No one dislikes 3 km of sand to slowly push your feet through. Take that needed time in this season of earlier setting sun, to wander and enjoy listening to coveted friends. Tigh Na Mara Seaside Spa Resort, provides this and more, like fireside moments in your own private cabin in the woods.
Stay: Cool classic log cabins in the tall cedars await at Tigh Na Mara Seaside Spa Resort.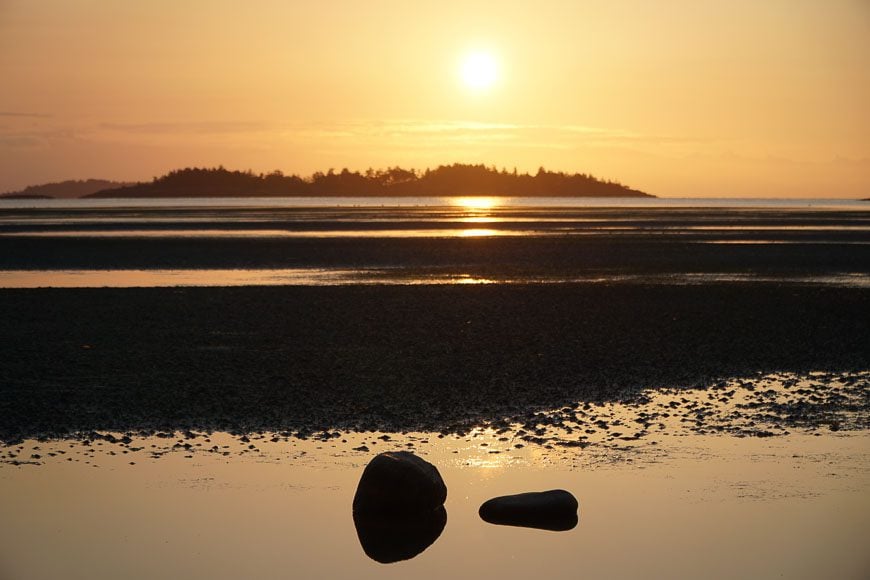 Last minute lake time. Osoyoos, British Columbia
Fall crush season is calling. Pair that with lake time, wine and walks in Canada's only desert. With some of British Columbia's warmest early fall temperatures, get your late season swims in here.
Stay: Check out Watermark Beach Resort, fully kitted out condo units, complete with lakeside views and sunrise coffee time.
Photos thanks to Powder Matt.
Further reading on road trips in Alberta and British Columbia
Click on the photo to bookmark to your Pinterest boards.