If you're looking for scenic road trips in Alberta, then I think you'll find a wide range of landscapes to explore. You can see everything from the backroads of eastern Alberta with its endless fields of yellow canola swaying in the wind to the beauty of the hoodoos in Writing-on-Stone Provincial Park to the gorgeous Cowboy Highway. Of course the grandest scenery of all is in the mountains, particularly along the Icefields Parkway.
Four road trips in Alberta are described below. All showcase Alberta's diverse landscapes. Some can be done in a day, but linger if you can and savour this beautiful part of Canada.
Recommended reading: 15 of the Best Road Trips in Canada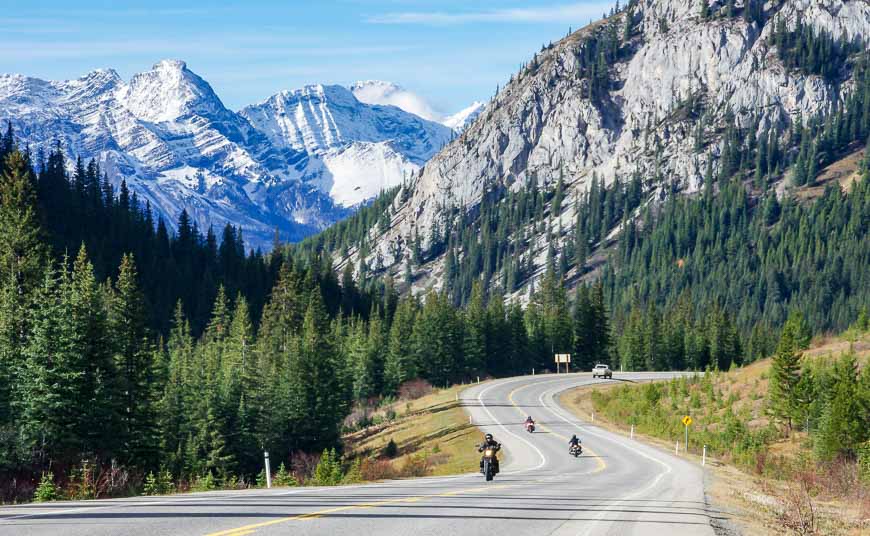 This post includes some affiliate links. If you make a qualifying purchase through one of these links, I will receive a small percentage of the sale at no extra cost to you. Thank you very much for your support.
Before you leave on one of the Alberta road trips
If you love to explore and feel that getting lost is part of the fun, then forget the GPS and leave the maps behind. But if you're a planner and want to visit certain places on your road trip then the Alberta Backroads Bundle Mapbook is just the thing for you. Inside these books is some of the following information: attractions, campsites, hikes, where to paddle, fish, ski, and even snowmobile.
Road trips in Alberta #1: Banff to Jasper via the Icefields Parkway
Distance: 300 km one way
Highlights: Incredible mountain scenery, glaciers, Sunwapta Falls, Mistaya Canyon, Bow Lake, Peyto Lake, world-class hikes
Just shy of 300 km one way, this is one of the not-to-be-missed road trips in Alberta. It can be done in as little as four hours but linger on this drive and take four days instead. It's Canada's most scenic drive!
Spend a night in Lake Louise, more if you have time. There's enough hiking in the area to keep you busy for weeks. Consider a night at the Lodge on Bow Lake.
The lodge is rustic but the views of the Bow and Crowfoot Glaciers are spectacular. Plan to stop at the Columbia Icefields. Take a glacier tour. Do one of the beautiful short hikes along the Icefields Parkway (Wilcox Pass is a standout) and spend the night watching the sun setting over the Icefields.
Other highlights on this road trip include stunning mountain landscapes for the entire drive, Peyto Lake, Mistaya Canyon, Bow Pass, Sunwapta Falls, Athabasca Falls, the area around Saskatchewan River and of course the wildlife – should you see it.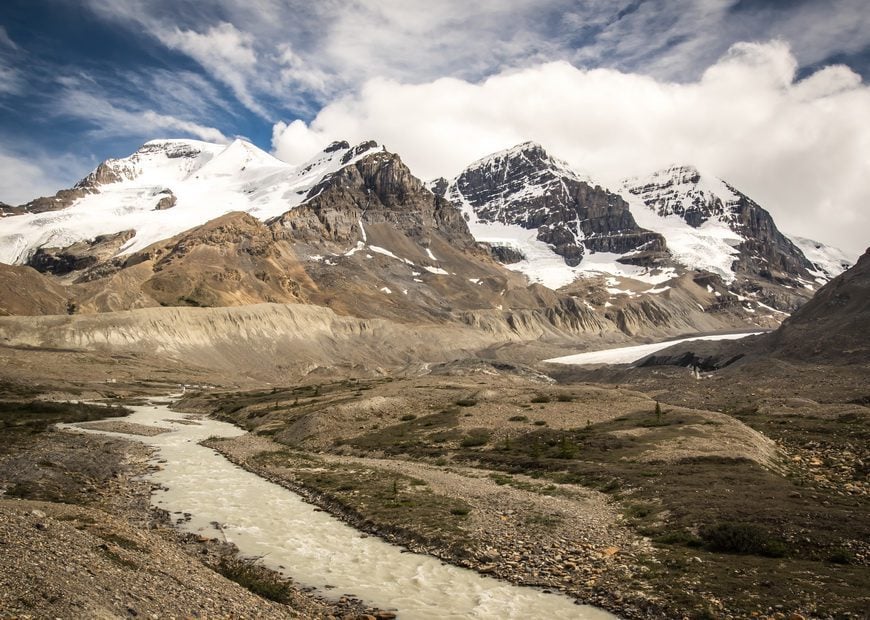 Road trips in Alberta #2: Calgary – Turner Valley – Highwood Pass – Canmore – Calgary
Distance: Approximately 350 km as a loop drive.
Highlights: Mountain scenery, Canada's highest paved road, incredible hiking, wildlife
This road trip in Alberta can be done in a long day, but there are several options where you could night over – or shorten the drive. It's approximately a 350 km loop.
You can do the drive in either direction. If you start early in the morning it's beautiful as you head south out of Calgary to Turner Valley and Longview. Watch for deer sprinting out in front of your car once you turn onto Highway 541.
One of the many highlights of the drive is the climb up and out of Highwood Pass on Highway 40. Standout mountain views await you around every corner. It's the highest paved road in Canada and doesn't open until June 15th. If you have time at the pass, try the Ptarmigan Cirque hike – but don't forget the bear spray.
From Highwood Pass you can continue along Highway 40 all the way to the Trans-Canada Highway and then east back to Calgary.
But if you're up for a little adventure, take the Smith Dorrien/Spray Lakes Trail to Canmore. You'll find it at the bottom of the road on the left as you come down from Highwood Pass. Most of this road is gravel but you don't need a four wheel drive vehicle to do it.
The mountain scenery is fantastic and the drive down into Canmore offers memorable views. If you want to break up the drive spend a night at Mount Engadine Lodge or at one of the many B&B's or hotels in Canmore.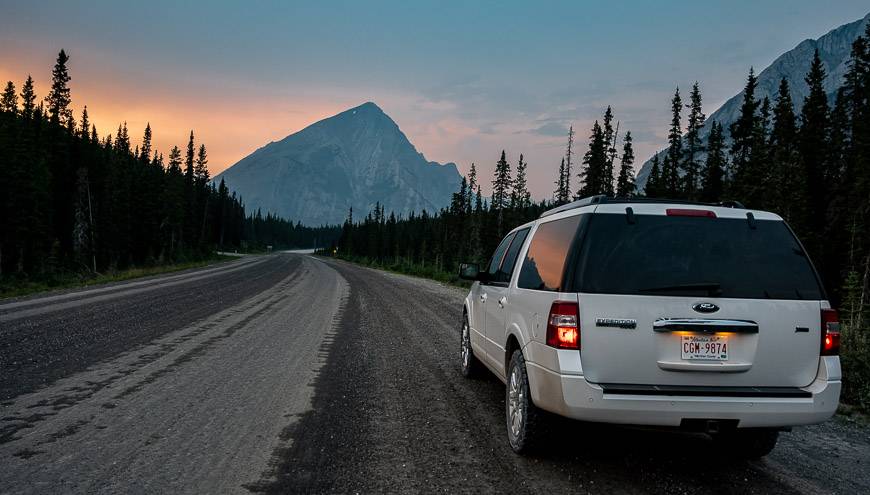 Road trips in Alberta #3: The Cowboy Trail from Black Diamond to the Frank Slide
The Cowboy Trail – otherwise known as Highway 22 parallels the Rockies starting way up near Edmonton and continuing for 735 km all the way to Cardston in the southern part of the province. I personally love the drive from Black Diamond to the Frank Slide, a distance of 148 km one way.
Take time especially on a weekend when farmer's markets are operating to stop in Millarville. If you like steak, make reservations for dinner (on the return) at the Longview Steakhouse – rated as one of the best steak restaurants in North America.
Most of the Cowboy Highway heading south will take you through rolling ranch country. Sometimes there are good mountain views but always you have a sense of space. This is one of the road trips in Alberta where you don't see as much traffic.
Turn west onto Highway 3 to visit the Frank Slide – and don't miss a visit to the Frank Slide Interpretive Centre. Lundbreck Falls, just off Highway 3 would also be a worthwhile side trip. There are lots more things to do in the Crowsnest Pass area if you have the time.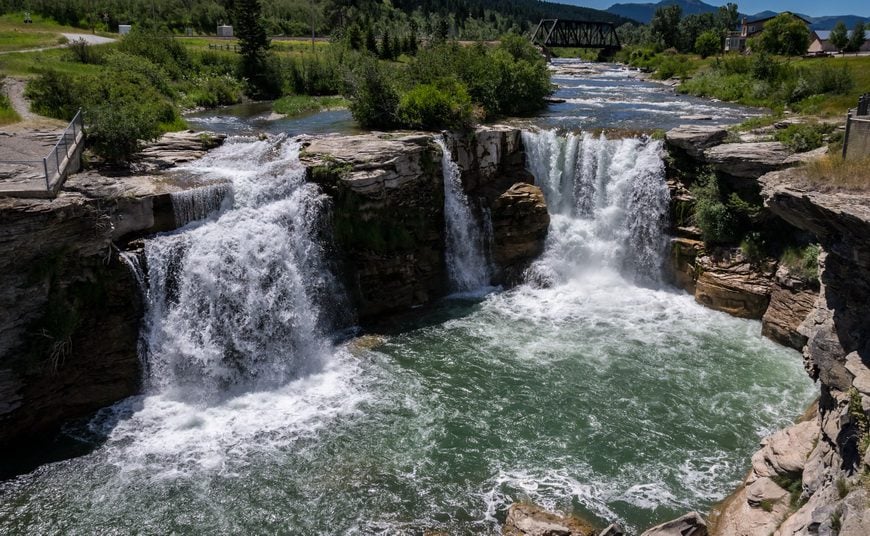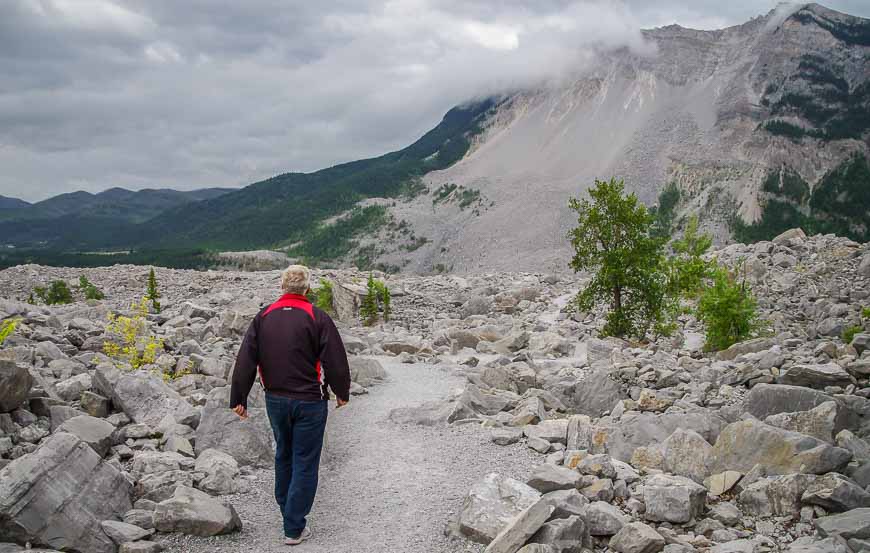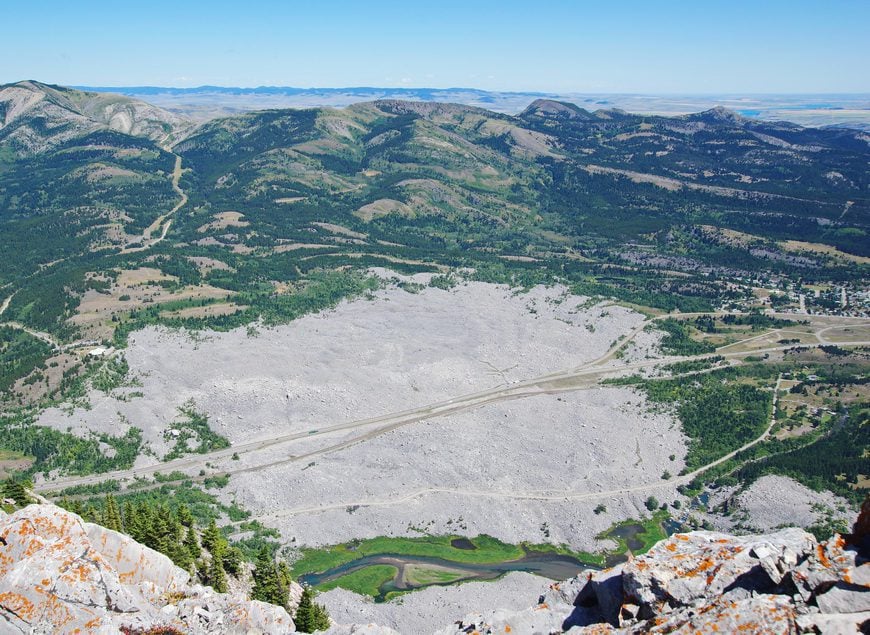 Road trips in Alberta #4: Lethbridge – Writing-on-Stone – Cypress Hills – Medicine Hat – Lethbridge
Total distance: 600 km but it can be shortened.
Highlights: The rock art and hoodoos of Writing-on-Stone Provincial Park, Red Rock Coulee, cafe culture in Medicine Hat, nature in Cypress Hills Provincial Park, hiking in Lethbridge
The southeastern part of Alberta is largely overlooked, yet it's full of gems. If you like to explore backroads through farm country, you can have a lot of fun. Assuming you start in Lethbridge and do a giant loop, this is one of the Alberta road trips where you will end up driving 600 km in total. You could shorten it by bypassing Cypress Hills Interprovincial Park.
I like to find a detailed map and work my way on the backroads to my destination in this part of the world. It's big sky country and particularly interesting if there's a storm brewing.
In summer the fields are filled with canola and flax – perfect for any photographers doing the drive.
Writing-on-Stone Provincial Park is beautiful with it's eroded rock formations along the picturesque Milk River. Take a Rock Art tour with an interpreter and perhaps even spend the night.
The drive north towards Medicine Hat passes by loads of ponds filled with ducks and birds you don't normally see, especially in spring and early summer. Do the side-trip to Red Rock Coulee, especially if you're a photographer.
Cypress Hills Provincial Park is only 40 minutes from Medicine Hat. It's home to a unique and beautiful landscape of lakes, prairies and forested hills, the highest east of Ontario. There are interesting nature tours you can do along with hiking and kayaking. It's certainly worth a visit.
Medicine Hat is often overlooked, but the downtown core is charming and loaded with cafes. Include a guided tour of the Medalta Museum, a fascinating industrial museum that looks at the brick and pottery factories that flourished around 1912. Then return to Lethbridge.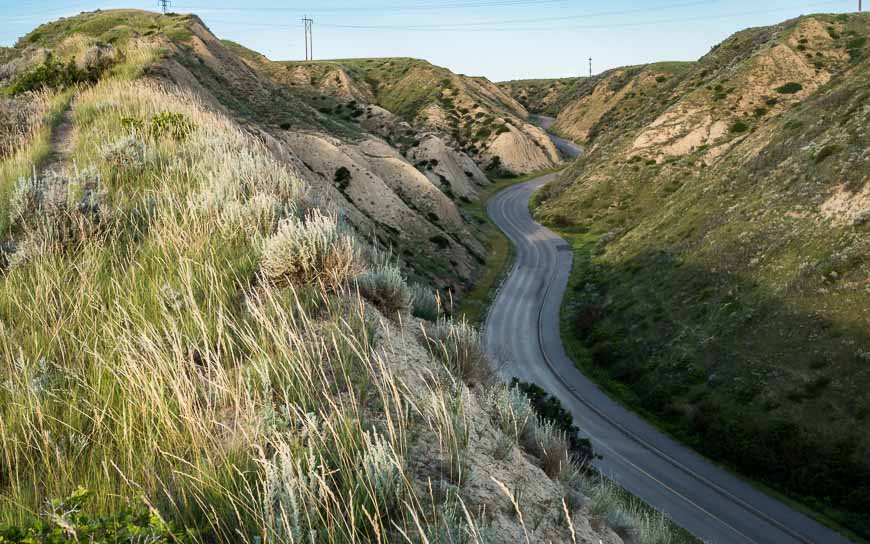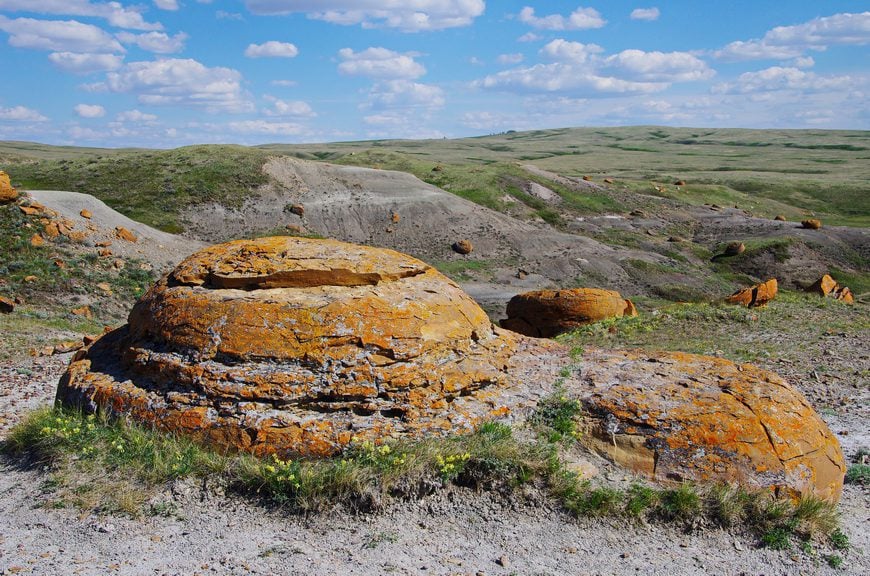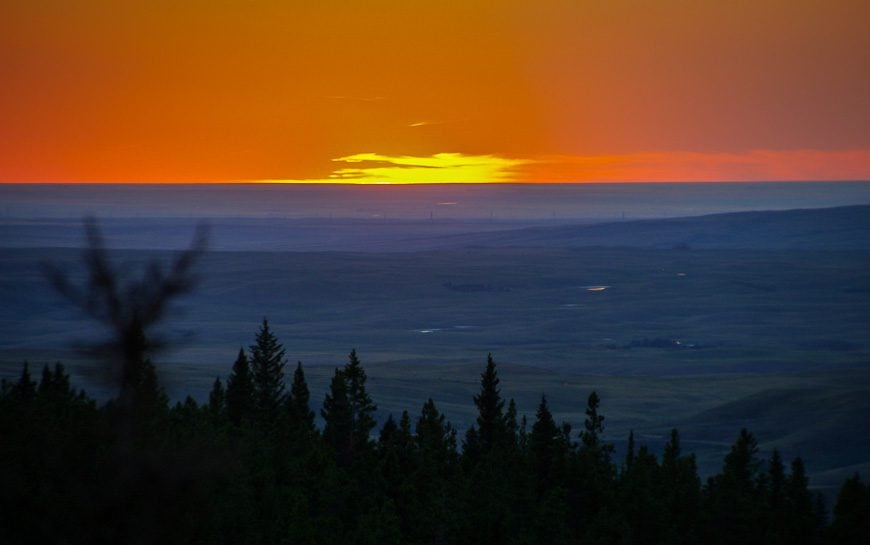 Location map showing the road trips in Alberta
Further reading on things to do in Alberta
Click on the photo to bookmark to your Pinterest boards.