Hiking in Alberta is incredible. We're spoiled here with an abundance of outstanding day hikes to choose from. These 16 hikes described below give you but a taste of what is out there. With three national parks and the Rocky Mountains you can expect plenty of world-class mountain views, gorgeous high alpine lakes and with a little luck some wildlife sightings.
If you haven't done a lot of hiking in bear country read my tips here before heading out and always take the 10 essentials for hiking.
Should you be in the planning stages of a trip to Alberta read Best Things to do in Canada for Outdoor Lovers. This post covers more than just hiking. You'll find info on how to get to Alberta, how to get around and some of the sights to see that don't involve a hike.
Location map of the must do Alberta hikes
Crypt Lake Trail, Waterton Lakes National Park
Unless you hit a weekday in the shoulder season, expect company on the Crypt Lake trail. The boat runs until Thanksgiving weekend in October.
Distance: 17.4 km round-trip with a 690 elevation gain
Difficultly: Moderate Time needed: 5 -7 hours
Highlights: A boat ride to the trailhead, waterfalls, a gnarly section that includes a ladder, tunnel and chains, beautiful alpine lake with a beach at the end of the hike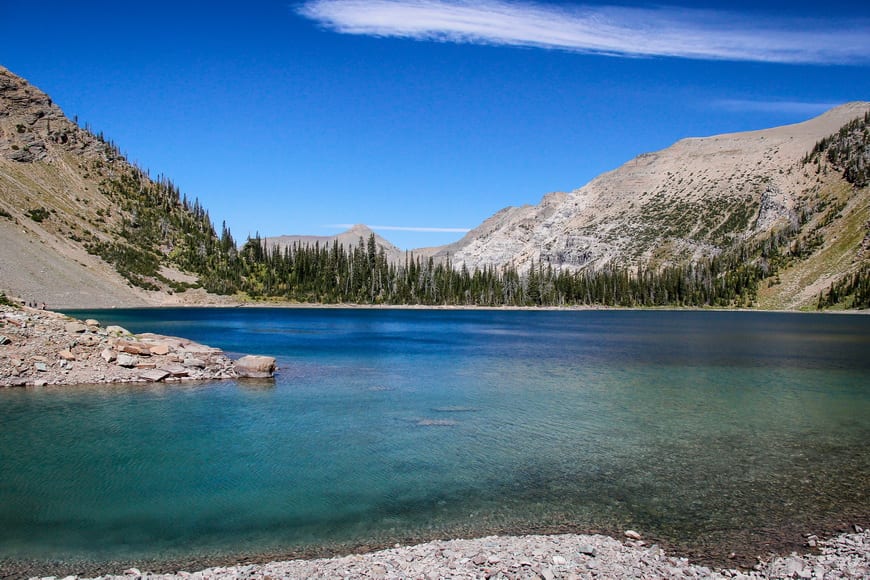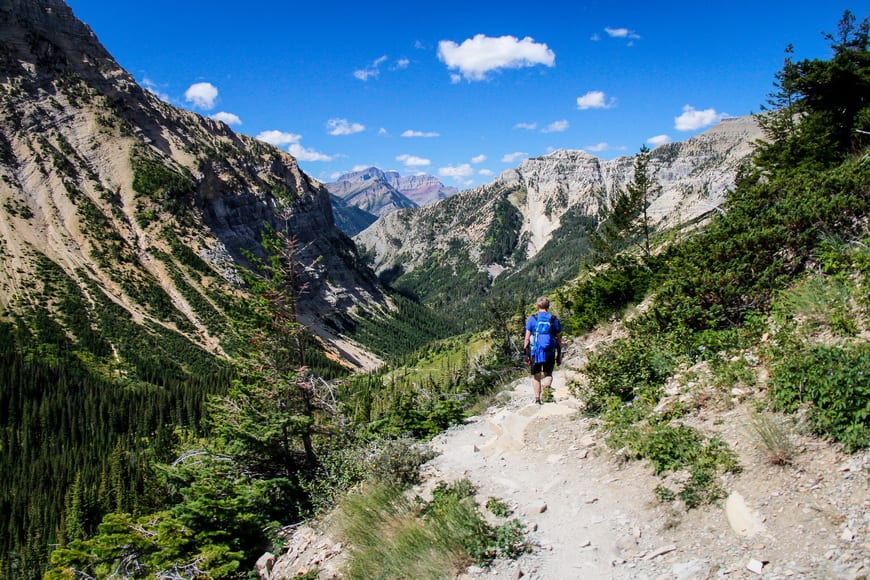 Turtle Mountain, Crowsnest Pass Area
The one hike where you may feel a wee bit of tension at the summit as it is predicted that there will be another rock slide at some point.
Distance: 6.2 km round-trip with 780 m of elevation gain
Difficulty: Challenging Time needed: 3 – 6 hours
Highlights: At the top you can see where Turtle Mountain broke off to cause the Frank Slide in 1903. Superb views off the Frank Slide itself. Great view of the town of Blairmore and up and down the Crowsnest Valley. There is the option to scramble to the South Peak (where monitoring equipment is in place to detect movement) but it's about an hour each way even though the distance isn't great.
Read: 5 of the Best Hikes in the Crowsnest Pass Area
Prairie Mountain, Kananaskis Country (Bragg Creek area)
I only do this hike in the winter or the shoulder season as there are definitely prettier hikes out there to do in spring and summer. But you can't beat it for a work-out or to get your mountain fix as the trailhead is just 45 minutes from Calgary.
It can be bloody cold and windy on top and ice-cleats are recommended in winter. It's dog friendly but they are supposed to be on a leash.
Distance: 7.6 km with 726 m of elevation gain
Difficulty: Moderate to difficult because of the steepness Time needed: 2.5 – 4.5 hours unless you're superhuman
Highlights: Prairie and mountain views; you can see Calgary on a clear day
Read: Prairie Mountain: A Year-Round Day Hike from Calgary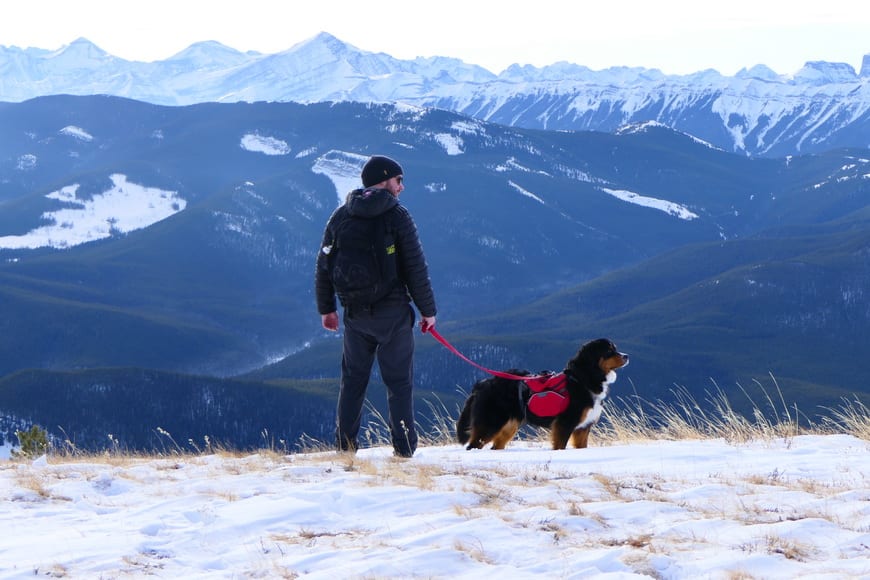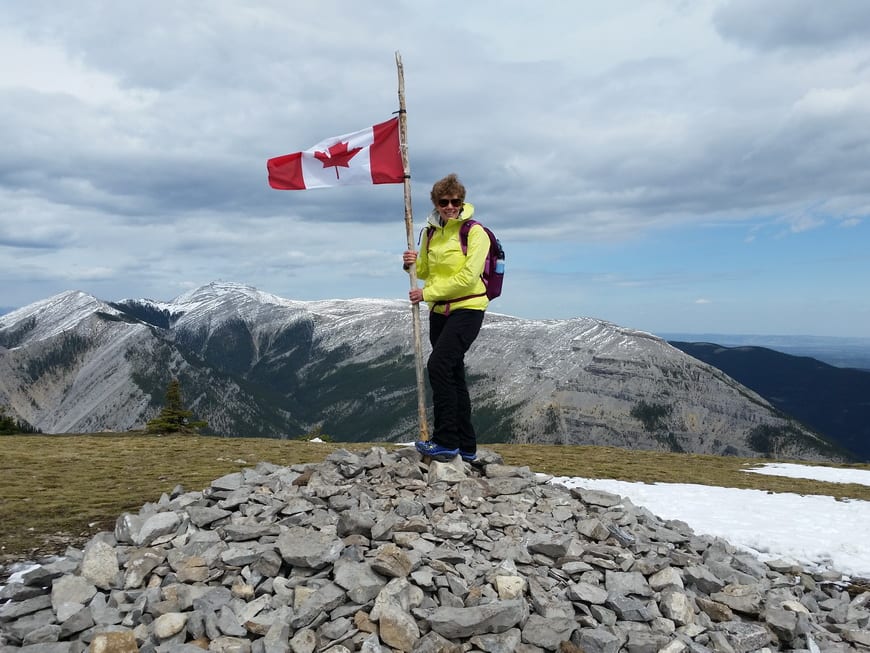 Buller Pass, Kananaskis Country
This is a great hike off the Smith-Dorrien Road in Kananaskis Country. In fall, larches provide a blast of colour. From Buller Pass you can see Guinn Pass and Ribbon Lake.
Distance: 13 km round-trip with a 671 m elevation gain
Difficulty: Moderate to hard Time needed: 6 hours
Highlights: Waterfalls, great views from Buller Pass, option to continue to Ribbon Lake where there's a campsite but would be a long day hike
Read: The Stunning Hike to Buller Pass in Kananaskis Country
Burstall Pass, Kananaskis Country
Bring a pair of water shoes if you're not good at jumping streams as there's a long wet area you have to get through to get to the good stuff. Also a great trail to do in the fall with some larches.
Distance: 16.4 km round-trip with a 667 m elevation gain
Difficulty: Moderate Time needed: 5 hours
Highlights: Stunning valley, beautiful meadows and terrific views up high. Options to continue from the pass or bag a peak. Great for a family hike too.
Read: The Hike to Burstall Pass in Kananaskis Country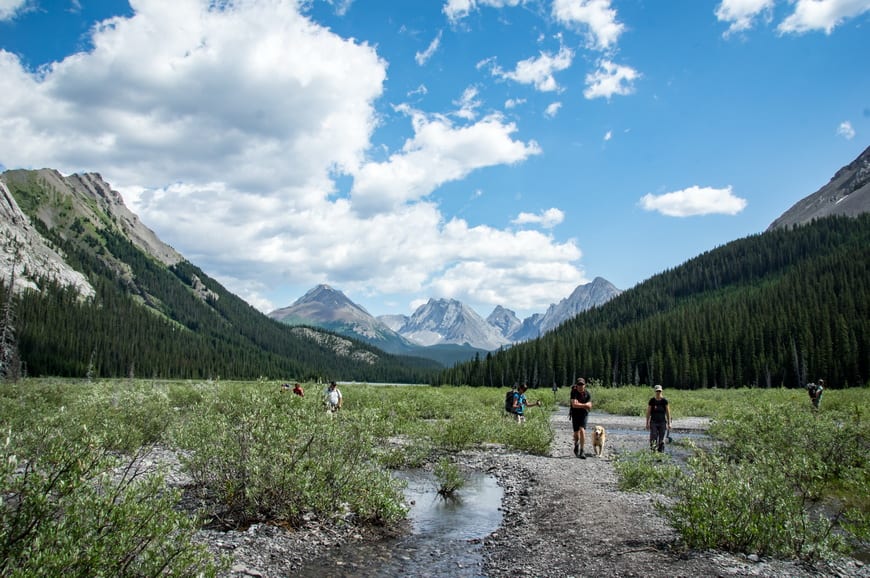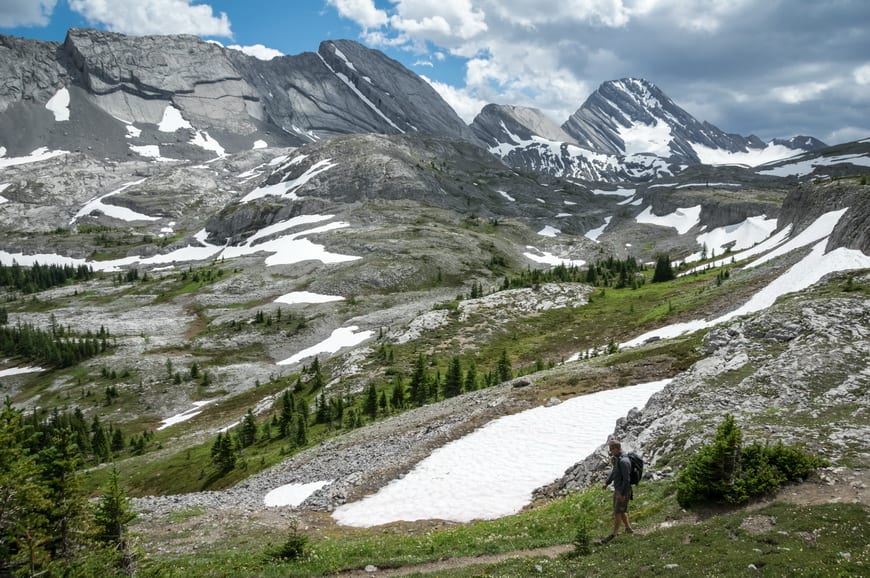 Wasootch Ridge, Kananaskis Country (off of Highway 40)
A steep hike gets you onto an undulating ridge with expansive views.
Distance: 11.7 km round-trip with 750 m of elevation gain
Difficulty: Moderate Time needed: 5-6 hours
Highlights: Well-defined trail along the ridge line offers views of Wasootch Creek and the Nakiska Ski Hill. It becomes a scramble near the end and most people turn around when the going gets tough. I hear it's a good one to snowshoe or hike in the winter.
Read: Hiking in Kananaskis: The Wasootch Ridge Trail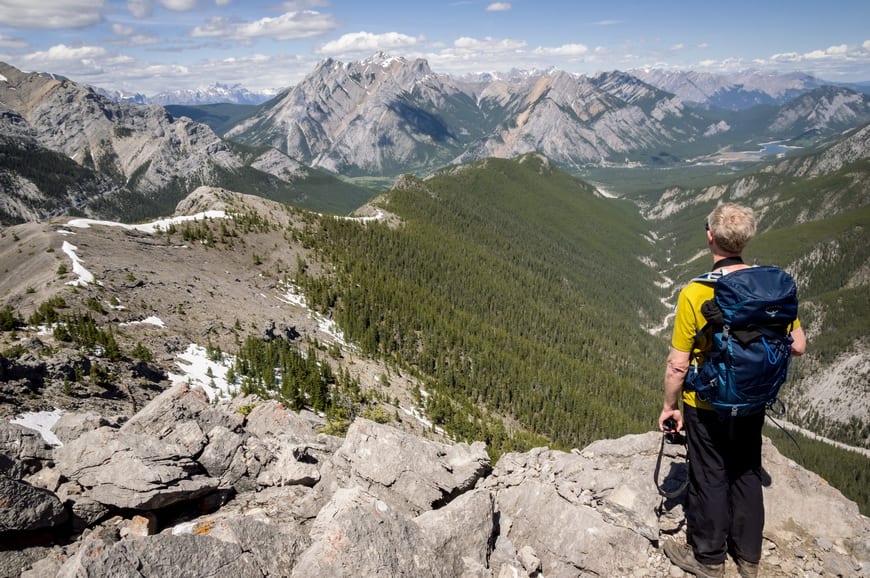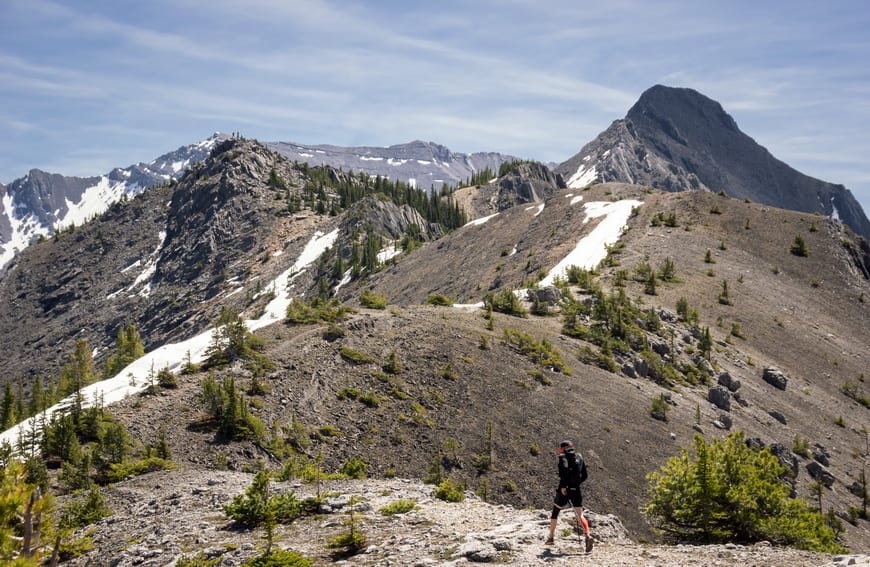 Opal Ridge South, Kananaskis Country
More of a scramble at times than a hike so you're less likely to see people on this one. Lots of variety and a high possibility of wildlife.
Distance: 6.3 km round-trip with 900 m of elevation gain
Difficulty: Hard Time needed: 5 – 6 hours
Highlights: A varied hike with lots of surprises; rock pillars near the ridge line are unexpected; views into a valley you almost never see are fantastic as are views across to Fortress Mountain.
This hike is not for beginners.
Read: Kananaskis Hikes: Opal Ridge South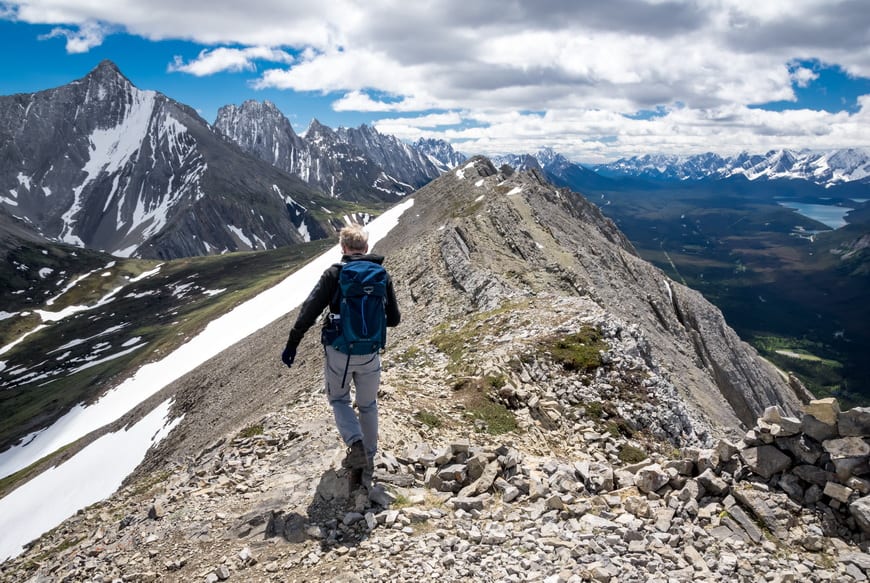 Grizzly Ridge, Kananaskis Country from Highwood Pass
The Grizzly Ridge hike shares a trailhead at the Highwood Pass parking area with the Pocaterra Ridge hike but the hiking experience is completely different. This one rewards with a tiny summit via a short ridge and a bit of easy scrambling. It's one of the best hikes in Kananaskis Country – and yet you probably won't see many people.
Distance: 9.6 km round-trip with an elevation gain of 518 m to the col plus an additional 165 m to the summit
Difficulty: Moderate to difficult (only at the very end) Time needed: 4-6 hours to the summit
Highlights: Larches in the fall; stunning views in the Highwood Pass area; fun watching people scramble on Mt. Tyrwhitt
Read: The Grizzly Ridge Hike in Kananaskis Country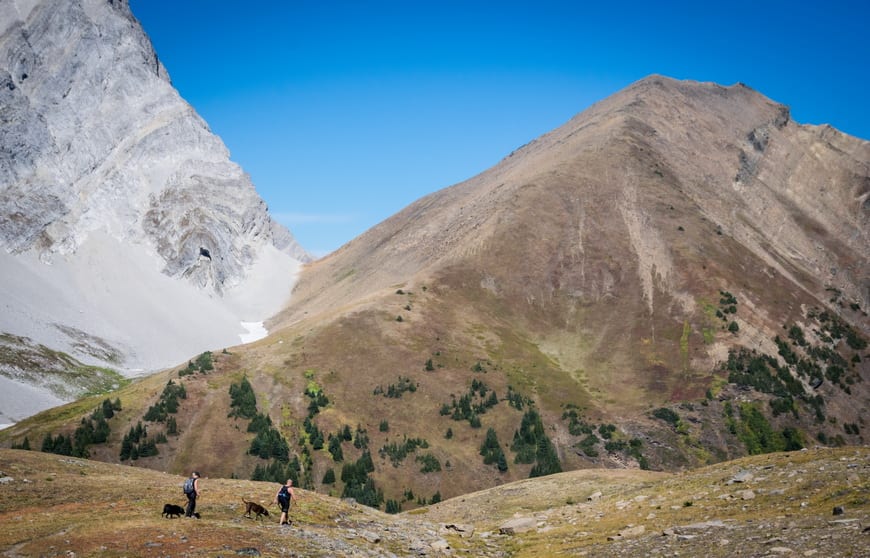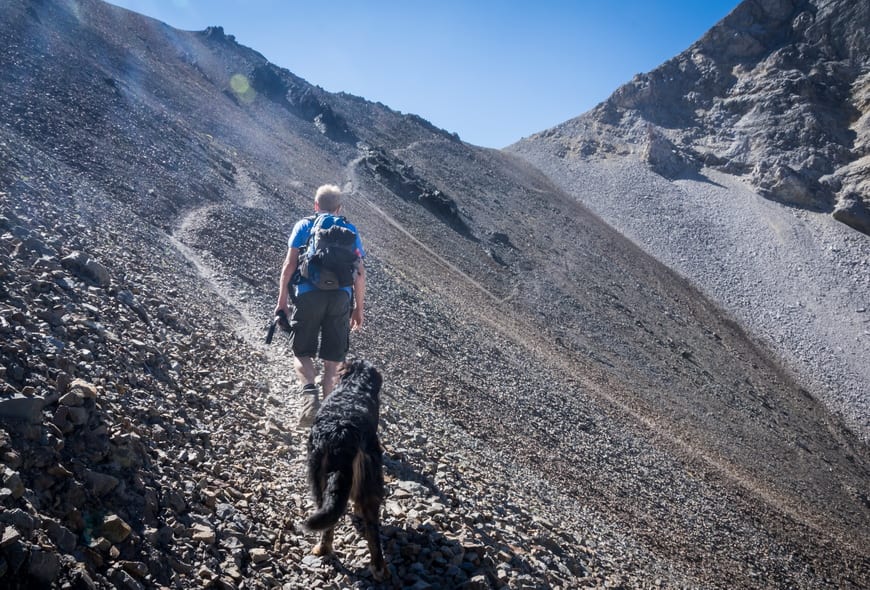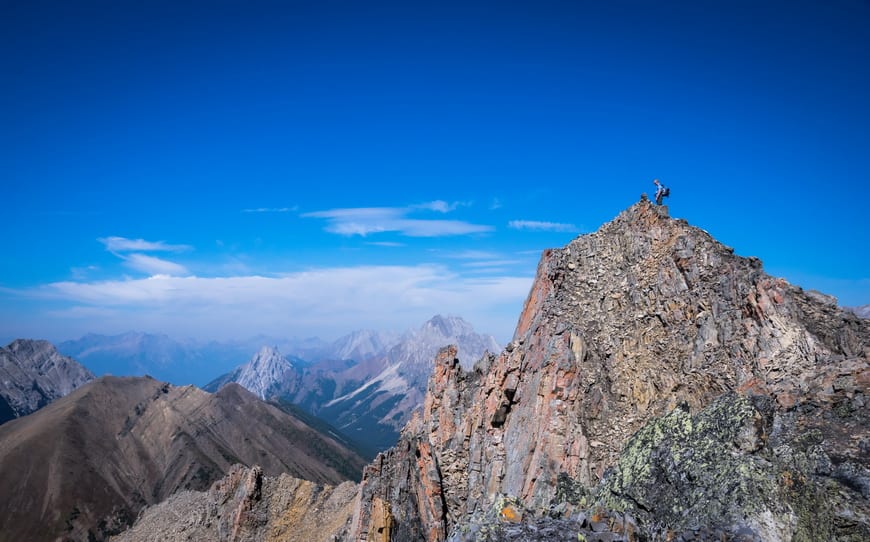 Pocaterra Ridge, Kananaskis Country from Highwood Pass
Plan a car shuttle – parking one at Little Highwood Pass and one at Highwood Pass. This hike is best done as a one way affair starting at Highwood Pass. I'd recommend larch season for the intense blast of yellow. Outstanding.
Distance: 8.9 km one way (and only do it as a one-way hike) with a 950 m elevation gain and a 640 m loss
Difficulty: Moderate Time needed: 6 hours
Highlights: Phenomenal hike in larch season. Once you gain the ridge the views are some of the best in the Rockies.
Read: The Pocaterra Ridge Hike in Kananaskis Country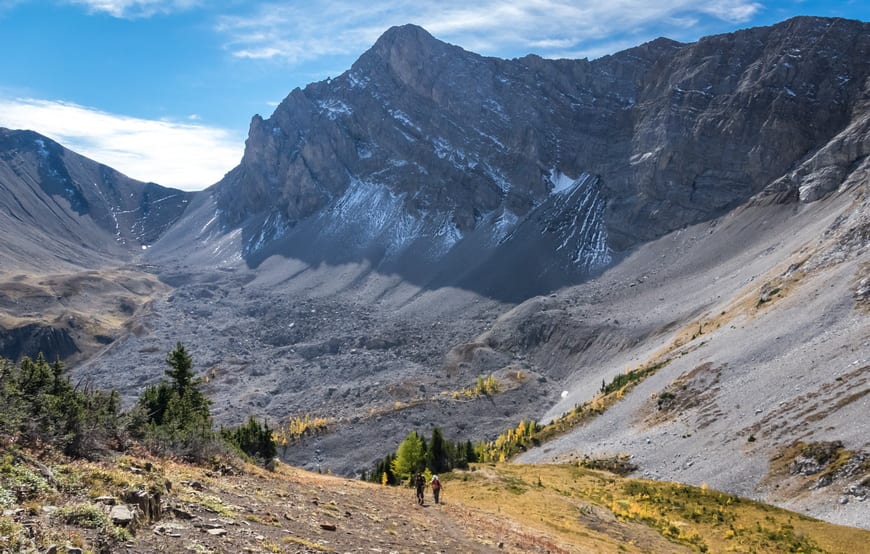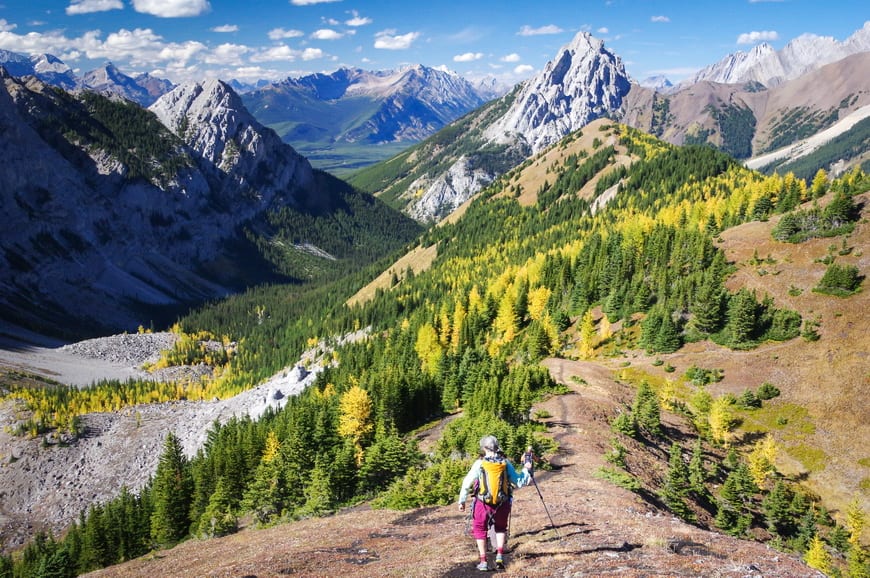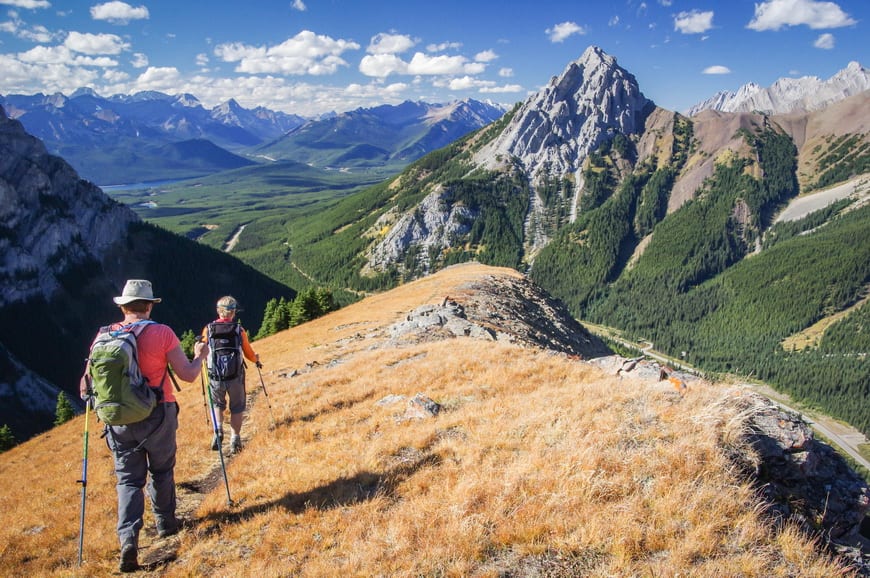 Ha Ling Peak near Canmore
One of the early season hikes that will get you into shape for summer hiking. Heavily trafficked. Reopened in summer 2019 with improvements to the trail. Closed again in 2022 until 2023 while the Goat Creek parking lot gets a facelift.
Distance: 5.6 km round-trip with 762 m of elevation gain
Difficulty: Moderate Time needed: 4 – 5 hours
Highlights: Steep trail delivers you at the edge of the mountain overlooking the city of Canmore. Great views also of the east end of Mt Rundle (EEOR).
Read: The Fantastic Hike to the Summit of Ha Ling Peak
Aylmer Lookout, Banff National Park
Count on a long day but most of it offers view of Lake Minnewanka. From the lookout it feels like you can see forever. This is prime grizzly country (we saw mama bear and her three cubs) so go prepared.
Distance: 23.4 km return to the lookout with 570 m of elevation gain; add 230 m and 3.6 km round-trip for Aylmer Pass.
Difficulty: Moderate because of the length Time needed: 7 -8 hours
Highlights: Superb views up and down the entire length of Lake Minnewanka.
Read: Banff Hikes: The Aylmer Lookout Trail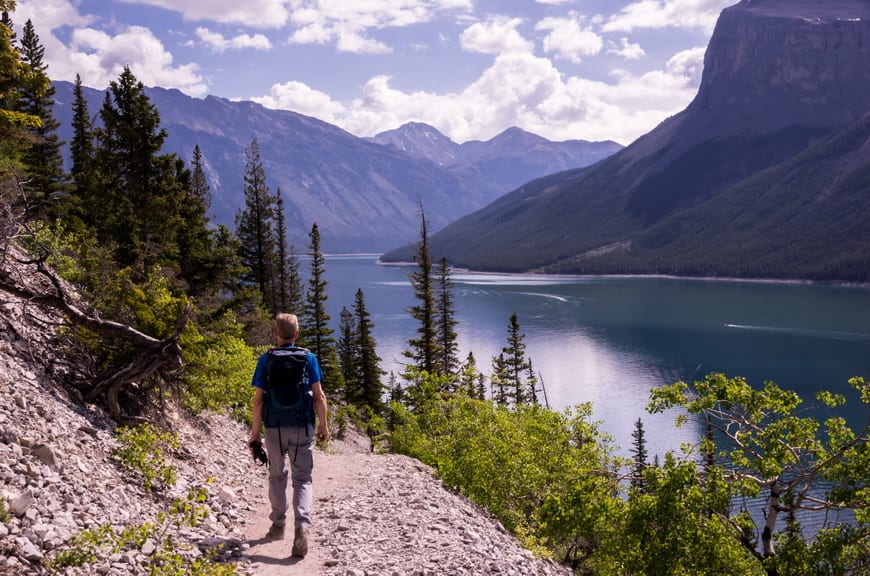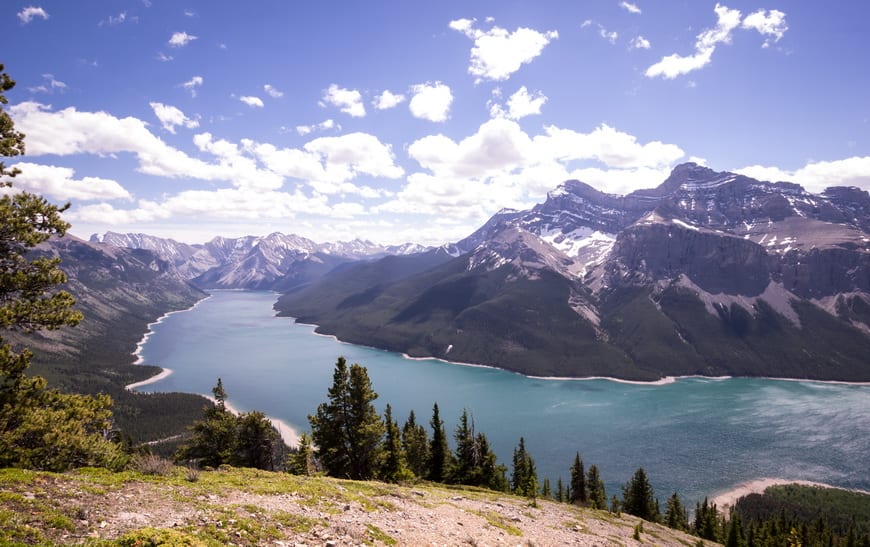 Fairview Mountain, Banff National Park
It's a steep climb to the top but the view is worth the effort. Lake Louise looks puny 1,000 metres below. The early part of the hike is superlative during larch season.
Distance: 10.6 km round-trip and 1,014 m elevation gain
Difficulty: Moderate Time needed: 4- 6 hours
Highlights: The highest trail in the Rockies; interesting and unusual perspective of Lake Louise: in-your-face mountain views of Mt. Temple
Read: A Hike to the Summit of Fairview Mountain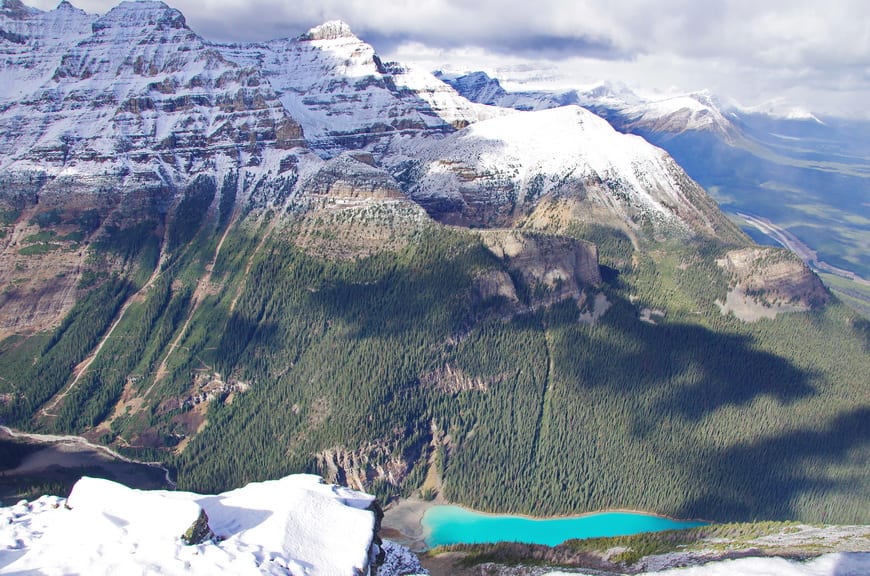 Parker Ridge, Banff National Park
A popular family-friendly hike with zero route-finding issues. Quick access to the high alpine along with superb views. If you're heading for the Columbia Icefields a great hike to stretch your legs.
Distance: 4 km round-trip to the saddle with 272 m of elevation gain, 11 km round-trip to the ridgecrest and 593 m of elevation gain
Difficulty: Easy Time needed: 1-2 hours for the saddle; 4-5 hours for the ridgecrest
Highlights: Views start within 15 minutes of hiking; great views of the Saskatchewan Glacier; option to hike to the ridgecrest – which few people do
Read: The Parker Ridge Trail, Banff National Park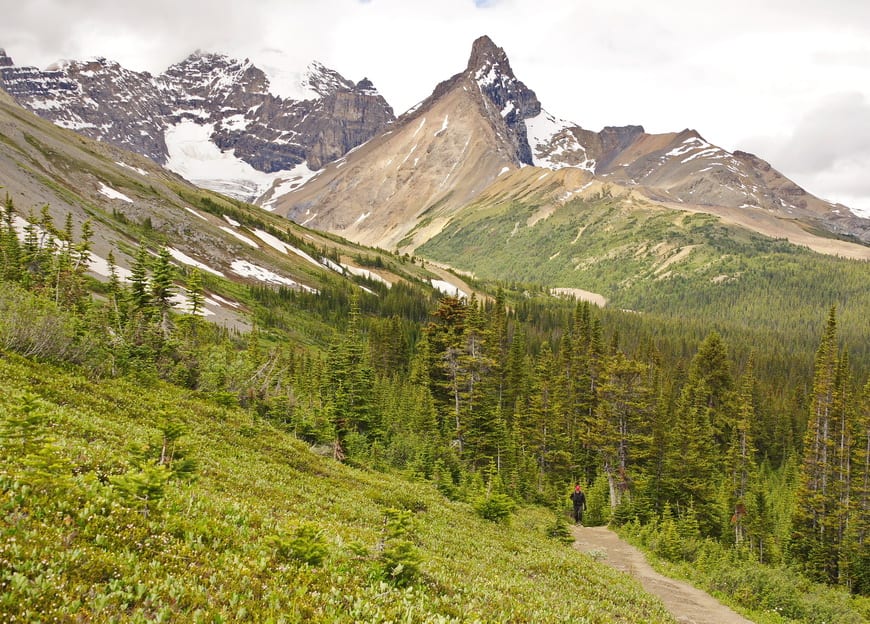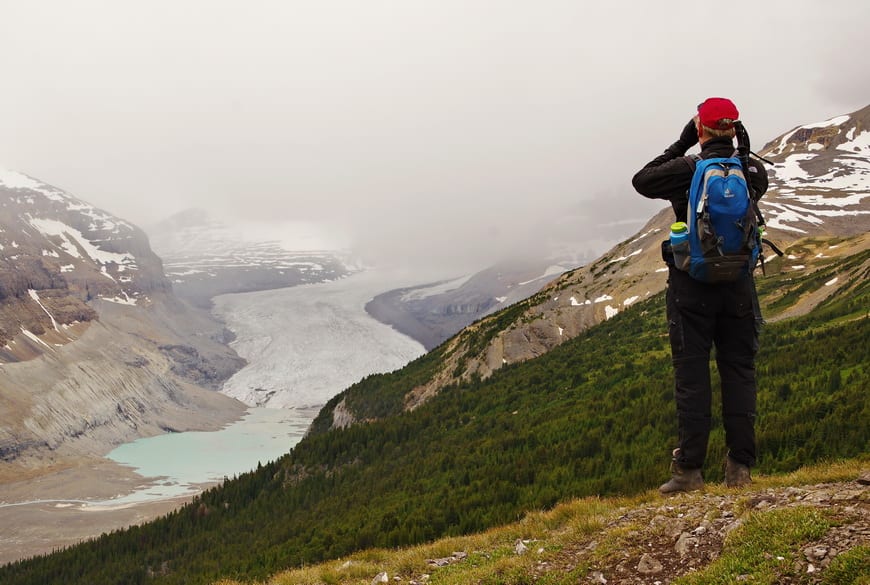 Helen Lake and Cirque Peak, Banff National Park
Big effort reward ratio on this hike. Nothing like amazing glacier views within a short time of starting the trail! One of the best wildflower hikes in the Rockies if your timing is good.
Distance: 14 km return for the ridge above the lake and 550 m of elevation gain. Add another 493 m to summit Cirque Peak.
Difficulty: Easy to the ridge but moderate for the peak Time needed: 4 hours for the ridge, 6 – 7 hours for the peak
Highlights: Gorgeous summer wildflowers, mostly above tree line; mountain and glacier views
Read: The Helen Lake Hike in Banff National Park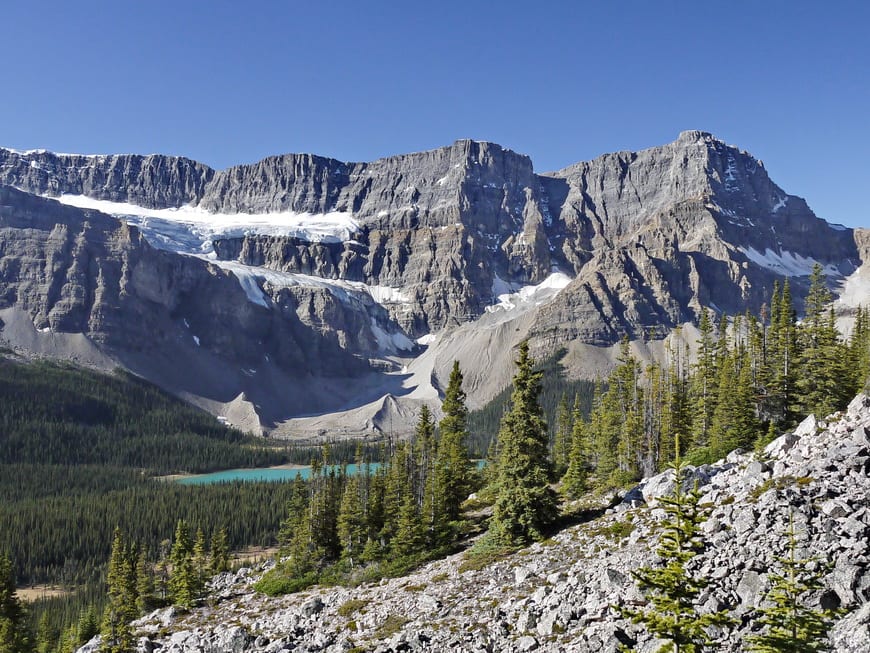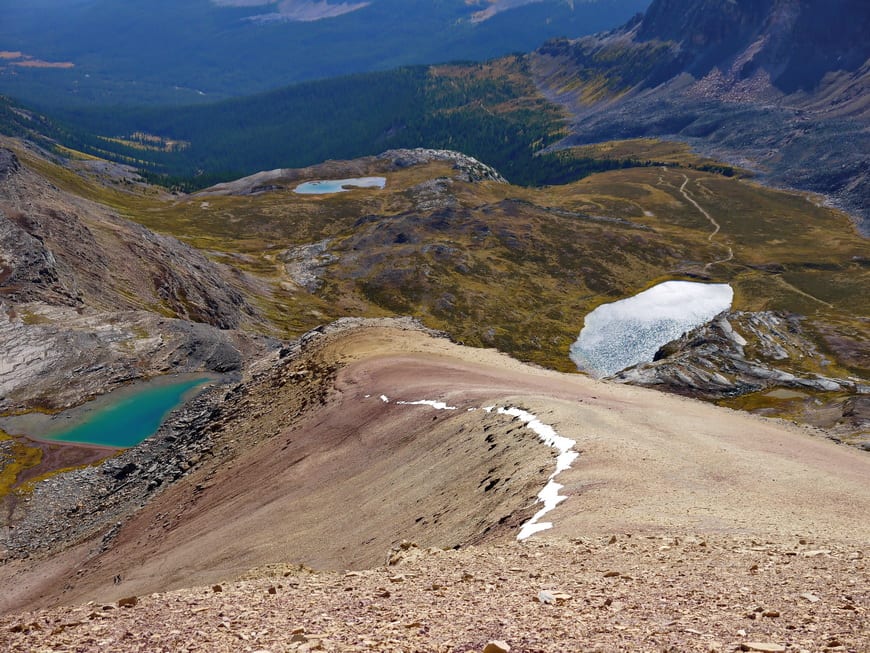 Wilcox Pass, Jasper National Park
Once you clear the trees after a steep start you're rewarded with some of the finest scenery in the Rockies.
Distance: 9.8 km round-trip with 409 m of elevation gain
Difficulty: Moderate to the meadow, then easy Time needed: 3-4 hours
Highlights: Bighorn sheep sightings are almost guaranteed; meadows are gorgeous; scenic red chair views over to the Columbia Icefields; side trails offer even better Icefields views; option to scramble up Mt. Wilcox
Read: 5 Stunning Hikes to do Along the Icefields Parkway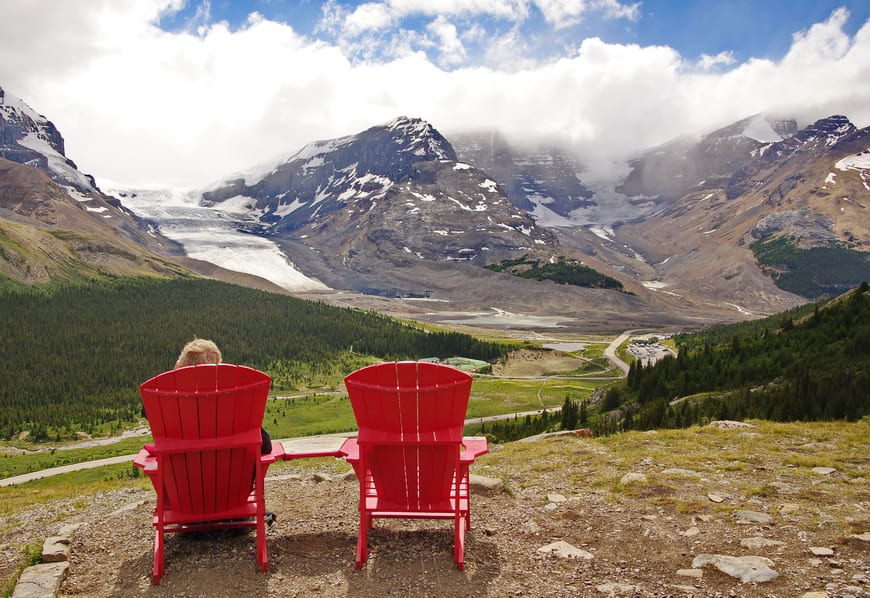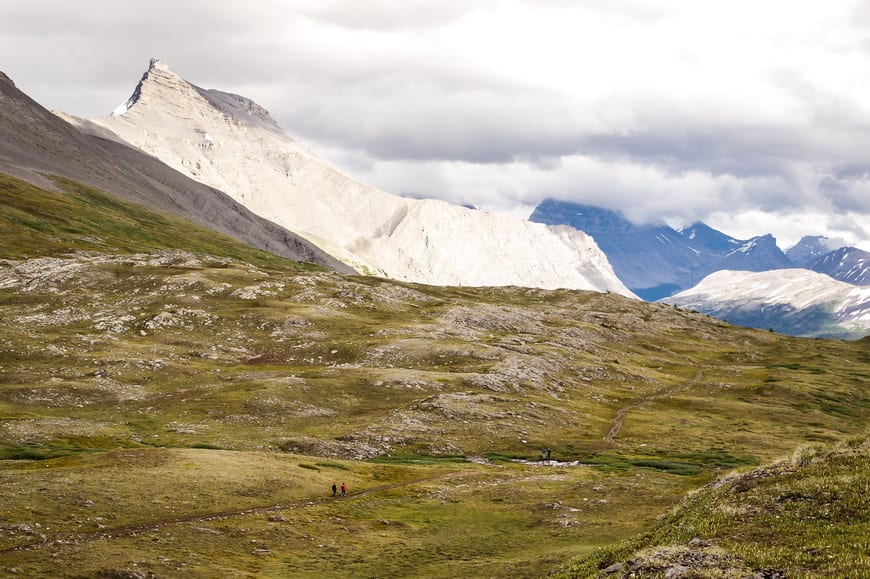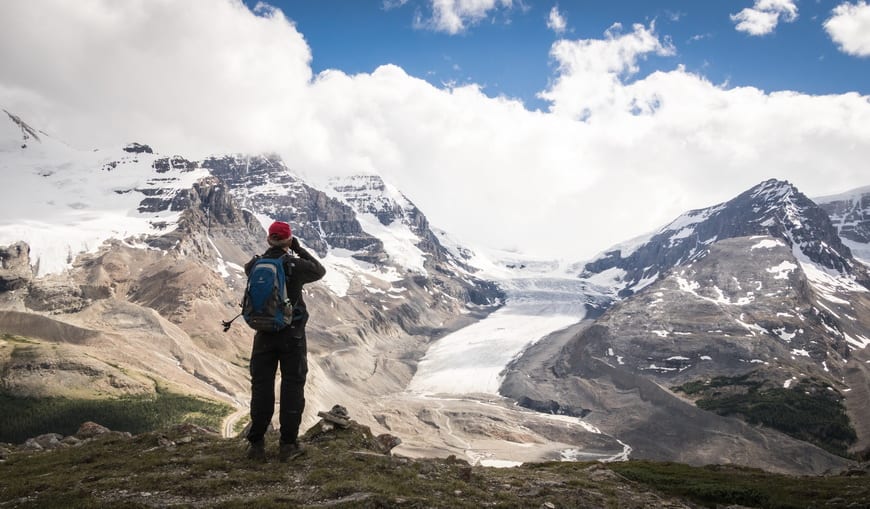 Path of the Glacier Trail at Mount Edith Cavell, Jasper National Park
After a winding drive up a mountain road you land in a world of glaciers, mountains and wildflowers. Follow the paved path to Cavell Pond but the loop that includes Cavell Meadows is highly recommended.
Distance: 1.6 km return with 70 m of elevation gain BUT there is an option to do a longer loop that includes Cavell Meadows
Difficulty: Easy Time needed: 1 hour, but more if you want to do longer loops
Highlights: Wildflower filled meadows if you go beyond Cavell Pond, glaciers, mini icebergs and towering cliffs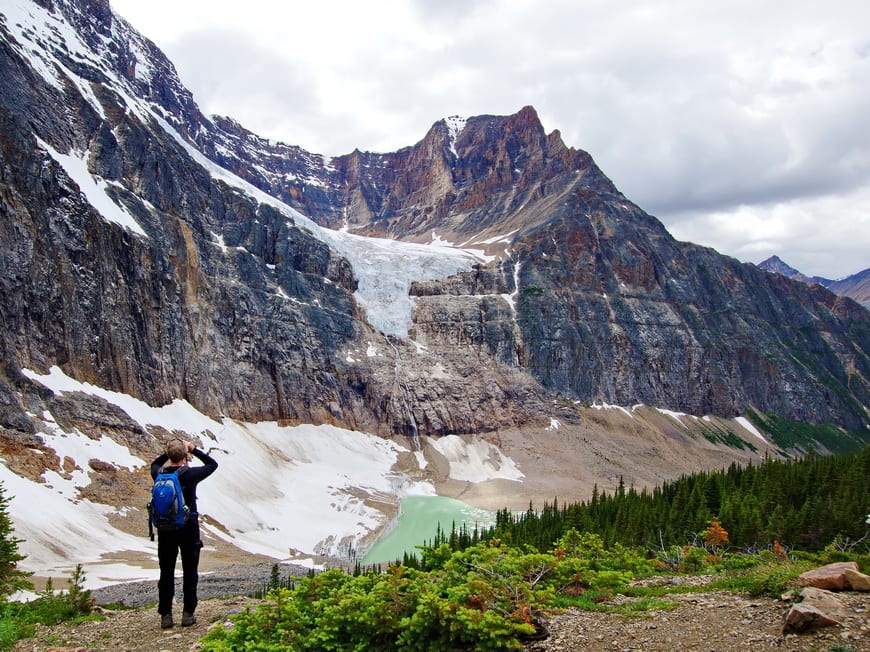 This post includes some affiliate links. If you make a purchase via one of these links, I may receive a small commission at no extra cost to you.
5 things I pack on every hike (other than the 10 essentials)
I like something soft to sit on at lunch time. It can be as simple as your mitts on a warm spring day but I swear by my almost weightless inflatable seat cushion. It helps keep my butt warm, dry and comfortable.
The older I get the more I like using hiking poles, especially so when a stream crossing is involved. Invest in a good pair, preferable ones that are collapsible (perfect for travel too). Even though expensive, carbon poles are wonderful for their weightless quality.
No matter how the day starts I always carry rain gear. And I find a ball cap or brim hat with a chin strap invaluable in the rain or on a hot, sunny day.
I always pack a buff as it's inexpensive, multi-purpose and yet it takes up almost no room. It can keep your hair in place on a windy day or warm your neck and head on a cold one.
I don't pack gaiters on every trip, though there are a lot of hikes where I end up needing them. In summer I prefer the half gaiters as they are ideal for keeping pebbles and sand out of your shoes.
Another nice addition for those of you who love wildflowers is a simple guide like this one – Alberta Trees and Wildflowers: A Folding Pocket Guide to Familiar Plants.
Useful maps
The other thing I'd recommend taking are some of the Gem Trek maps. I know a lot of people are happy having maps on their phones but I personally love a paper map – preferably waterproof. For Canmore and the Kananaskis area this is the map to get. The Kananaskis Lakes map is also very useful.
For the Wilcox Pass and Parker Ridge hikes there is a Columbia Icefield map. In Waterton, the parks people can give you a map or you could buy one with more detail here.
Further ideas for Alberta hikes
Click on the photo to bookmark to Pinterest.