The Lake Louise hikes described are some of the best you'll find in Banff National Park – and even in Canada. Superlative mountain and alpine lake scenery is the reward for your hiking efforts. The downside to most but not all of the Lake Louise hikes are the sheer number of people on the popular trails – especially Lake Agnes and the Plain of Six Glaciers.
If you can do it, book accommodation somewhere close to Lake Louise so you can spend more time hiking than driving. Then over three or four days knock off any number of these Lake Louise hikes but note that there are some new policies in place when it comes to parking.
Because of limited parking at both Lake Louise and no public parking at Moraine Lake as of 2023, there's a new booking system for the shuttle service. For detailed information go to the Parks Canada website. It looks like you HAVE TO make a reservation and there is no walk-on service. Some of the seats will be available as a rolling window – 48 hours ahead of time. There is also the option to take a Roam bus to Lake Louise from Banff – and from there you can catch a Parks Canada shuttle to Moraine Lake.
Best Lake Louise hikes summary
If you haven't done a lot of hiking pick one of the easier Lake Louise hikes to start with and build up.
No matter what the day's weather forecast or the difficulty of the hike, take the 10 hiking essentials.
If you're in bear country always carry a can of bear spray THAT IS EASILY ACCESSIBLE. I recommend keeping it in a bear spray holster so you don't accidentally set it off.
Practice Leave No Trace principles.
Always let someone know where you're going and when you're due back.
Before you head out on any of these Lake Louise hikes, check to see if dogs are allowed. Taking dogs on the Moraine Lake shuttle is likely going to be problematic.
Check Banff National Park trail reports before you go. Trails get closed on short notice for many reasons, particularly for bear activity.
Location map of the best Lake Louise hikes
Click on the three dots near the top right-hand corner to email a copy of the map.
The Plain of Six Glaciers – one of the most popular Lake Louise hikes
It's a beautiful though busy hike to the Plain of Six Glaciers which ends near the Plain of Six Glaciers Teahouse. If you want to avoid the crowds hike early in the morning or late in the afternoon.
The hike takes you along the shoreline of Lake Louise for the first couple of kilometres. From there it gently climbs through the moraines – with some interesting views of Lake Louise from an angle you don't often see. As you get closer to the end of the hike, admire the sight of the Lefroy and Victoria Glaciers riddled with crevasses.
The hike finishes in an otherworldly setting. Enjoy it with a picnic of your own or take advantage of the teahouse but note the hours before you head off.
Distance: 13.8 km (8.6 miles) and 380 m (1,247 feet) elevation gain
Time needed: 3 – 4 hours
Level of difficulty: Easy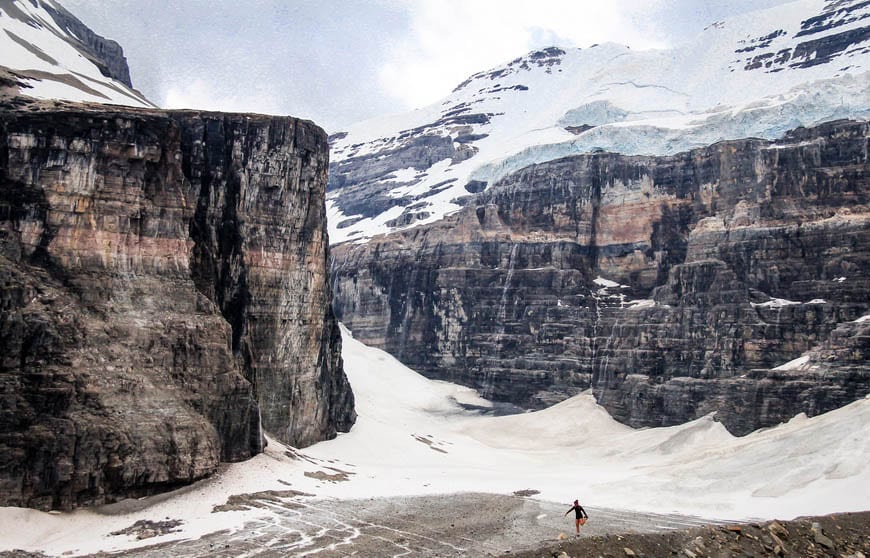 Big Beehive hike – one of the best hikes for Lake Louise views
The trail to the Big Beehive takes off from Lake Agnes so follow the directions the lake. Then pick up the trail as it curves around the west shore of Lake Agnes. Switchback up the gully at the end of the lake to reach a four way intersection.
To reach the Big Beehive go left and continue on an easy trail through pretty woods until it dies out at a viewpoint. Retrace your steps to return.
You can actually return to Lake Louise via the Plain of Six Glaciers but you would go straight at the intersection at the top of the gully to reach the Highline Trail. There is also the option to go right and do the challenging Devil's Thumb. It's on my list but beware that there is a short section on it with exposure.
Distance: 9.6 km (6.0 miles) return with 540 m (1,772 feet) of elevation gain
Time needed: 3 – 4.5 hours
Level of difficulty: Moderate
Read: The Lake Agnes – Big Beehive Hike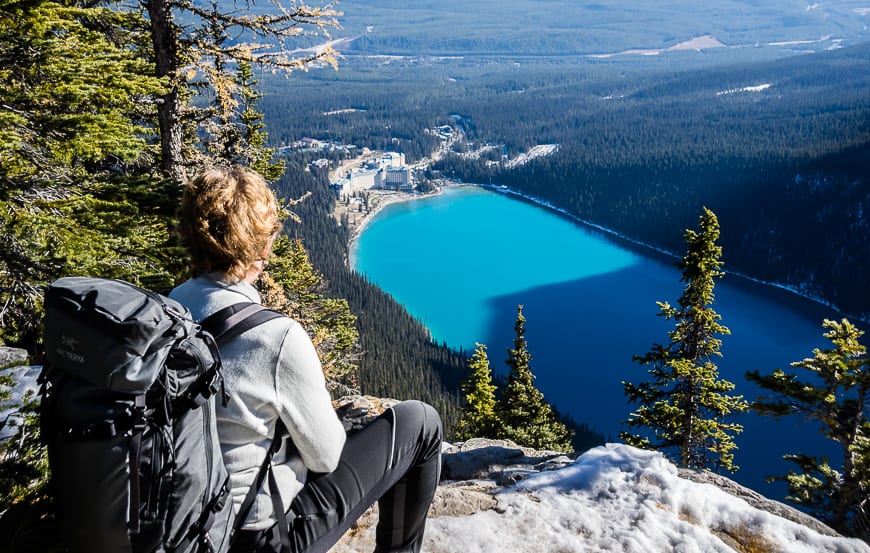 Fairview Mountain hike – one of the top Lake Louise hikes for views
It's a wonderful hike to the summit of Fairview Mountain with a lot of elevation gain but the reward is an outstanding view of Lake Louise. We did it in October when there was snow on the ground for the last 30 minutes of hiking. Be sure to carry icers with you if that's the case.
The hike initially heads through forest – with very few views but that all changes when you reach the Saddleback. Some people may want to turn around here as that's when the climbing starts in earnest. Note that in late September this area puts on a great larch display.
It's only 1.6 km from the Saddleback to the top of Fairview Mountain but the elevation gain on this section is 414 metres. However, within minutes of starting up from the Saddleback, the mountains fill the frame. It's an awe-inspiring sight for the next few hours. Be sure to take breaks – just to revel in the mountain views.
The descent was fast. We were back on the shore of Lake Louise in 2 hours!
Distance: 10.6 km (6.6 miles) with 1,014 m (3,327 feet) elevation gain
Time needed: 4 – 5 hours
Level of difficulty: Moderate to hard depending on your fitness level.
Read: A Hike to the Summit of Fairview Mountain
Little Beehive Hike
The Little Beehive hike delivers some of the best scenery in the Alberta Rockies – though to do it you have to walk up most of the way to Lake Agnes and that part of the hike is often ridiculously busy.
Before you reach Lake Agnes you'll see signage pointing you to Little Beehive at the 3.0 km mark. It's only about a 20 – 25 minute hike in from here. The views of the Big Beehive and of Lake Louise itself are simply breathtaking.
Part way up towards Little Beehive you can turn onto the trail that takes you up Mt. Saint Piran – but that will add hours of hiking time to your day. (See below.)
Length: 8.2 km (5.1 miles) return and 490 m (1,608 feet) elevation gain
Time needed: 3 – 4 hours including a stop at Lake Agnes
Level of difficulty: Moderate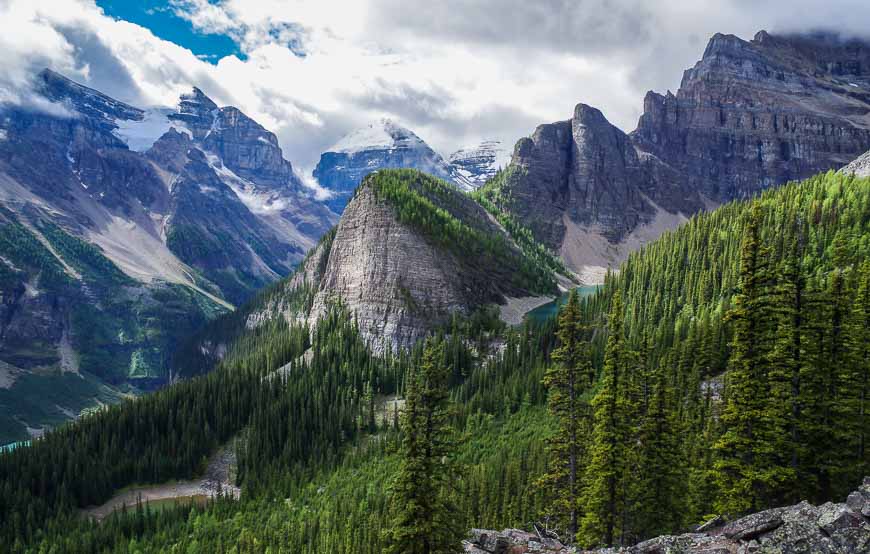 Lake Agnes Teahouse hike – one of the premier Lake Louise hikes with a teahouse at the end
The Lake Agnes Tea House hike is probably the most popular of the Lake Louise hikes even though it's not the most beautiful. It's an easy one though – with food offered at the end – and that in itself is compelling for many.
The Lake Agnes trail heads up into the woods from Lake Louise, passing Mirror Lake at the 2.6 kilometre mark. In the fall I've seen this lake fully dried up. From here you can approach Lake Agnes on one of two trails – with the trail that goes left at Mirror Lake offering the steepest, most direct route.
From Lake Agnes you can hike the Little Beehive, Big Beehive, Devil's Thum, and even Mt. Saint Piran. But most people just do it as an out and back hike.
Distance: 7.0 km (4.3 miles) round-trip with 390 m (1,280 feet) elevation gain
Time needed: 3 – 4 hours
Level of difficulty: Easy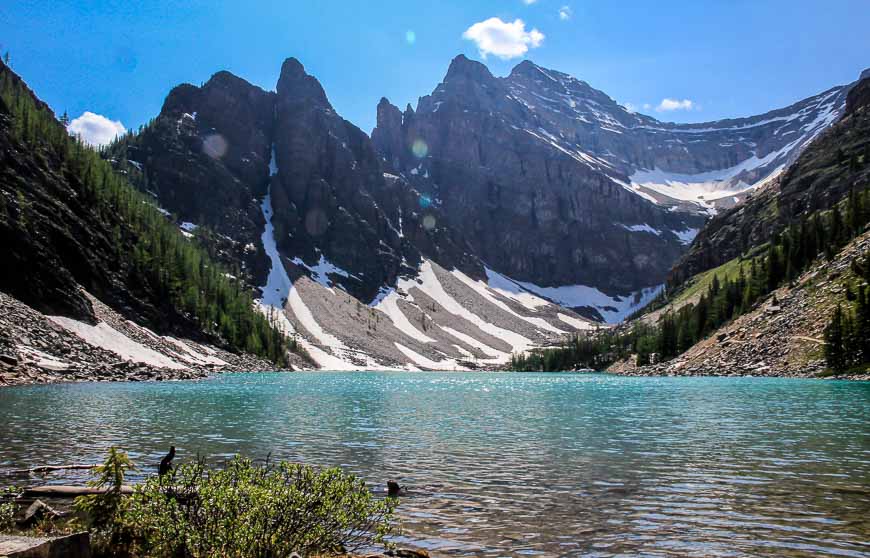 Mt. Saint Piran hike – one of the lesser known Lake Louise hikes
Mt Saint Piran is described as an outstanding hike by the authors of Don't Waste Your Time in the Rockies.
Follow the trail as though you were going to Little Beehive but part way along – about 400 m before the Little Beehive summit, look for a beat up trail sign in the woods on the left. The path takes you up through larch trees and then onto a rocky slope.
Once you dispatch with the trees, the trail is easy to follow but be warned that the last 15 minutes of hiking is on a spine atop loose rocks. From the top some of the most gorgeous picture-postcard scenery in Banff National Park unfolds. You can see as far as the Waputik Icefield to the north and the Bow Valley to the east.
Distance: 13 km with 910 m elevation gain
Time needed: 4 – 6 hours
Level of difficulty: Moderate
Consolation Lakes hike
Start from the Moraine Lake parking lot and head over a large rockslide and into the forest. After 1.6 km of hiking head right to reach a boggy meadow. Then it's just another 1.5 km to reach the north end of Lower Consolation Lake. To continue to Upper Consolation Lake, it's another 30 minutes or so of hiking,
This doesn't tend to be a busy hike but it does offer an excellent effort – reward ratio.
Distance: 6 km (3.7 miles) with less than 100 m (328 feet) elevation gain
Time needed: 1.5 – 2.5 hours
Level of difficulty: Easy
Larch Valley – Sentinel Pass – one of the top hikes near Lake Louise
The hike to Larch Valley and Sentinel Pass is one of the most impressive day hikes in Banff National Park. On this hike it's required, by law that you hike as a tight group of four between July 12th and October 8 because the trail traverses prime grizzly bear habitat. Fortunately that is rarely in effect these days as the grizzlies seem to have moved off – but beware that could change on a dime.
Start at Moraine Lake just past Moraine Lake Lodge. Steeply climb for 2.5 km via a series of switchbacks to reach Larch Valley. In late September, this is probably the most popular area in the park as it's a study in yellow as the larch trees needles turn colour.
Pass Minnestimma Lakes and continue up into a craggy, austere environment via more switchbacks. At Sentinel Pass – elevation 2611 m – you will be at the highest point reached by a maintained trail in the Rockies. Views are sublime in every direction you look.
Distance: 11.6 km return with an elevation gain of 726 m
Time Needed: 4 – 5 hours
Level of Difficulty: Moderate
Check rates and availability of Moraine Lake Lodge. It's in a wonderful location and you can enjoy walking out the front door to numerous Moraine Lake area and Lake Louise hikes.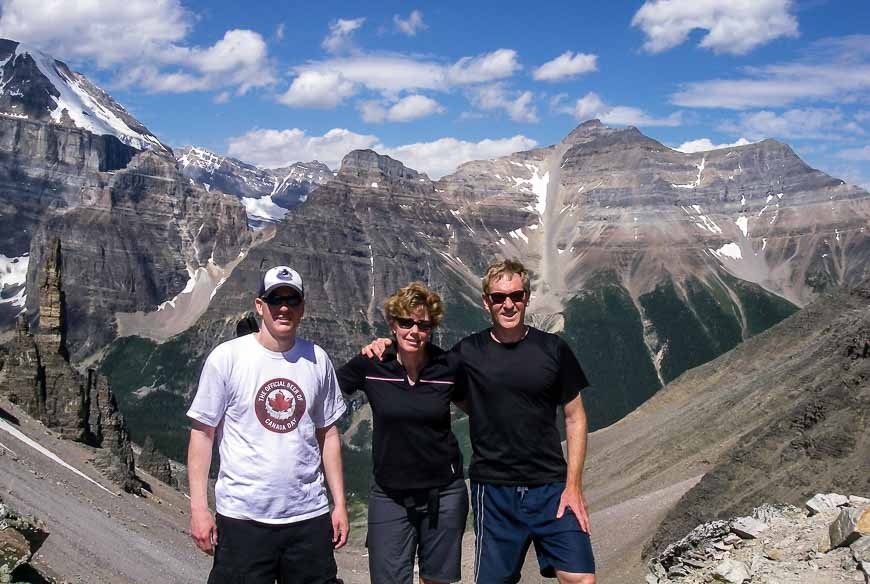 Eiffel Lake – Wenkchemna Pass hike
The Eiffel Lake hike shares the same trailhead as the highly popular hike to Larch Valley – see above. If you do the hike in summer, you can expect to see an incredible array of wildflowers along with golden-mantled ground squirrels, pikas, and whistling marmots.
The big reason to do the hike – at least as far as Eiffel Lake – is the close-up views of the famous 10 peaks. If you're short on time don't feel like you have to go to Wenkchemna Pass, though if you do enjoy the hike in what has been called "intriguingly desolate moraine." Except for the start, Eiffel Lake is one of the quietest Lake Louise hikes when it comes to the number of people you'll see.
Distance: 11.2 km (.0 miles) return and 405 m (1,329 feet) elevation gain to the lake, 19.4 km (12.0 miles) return and 725 m (2,379 feet) elevation gain to the pass
Time needed: 5 – 6 hours
Level of difficulty: Moderate
Lake Annette and Paradise Valley hike or backpack
The hike to Lake Annette is pretty enough and Lake Annette is lovely – especially as you can admire the north face of Mt. Temple. But the truly exceptional scenery lies after the lake. Set aside a full day so you can do it.
After Lake Annette head up Paradise Valley. The hike into Paradise Valley is one of the loveliest Lake Louise hikes, and you won't see a lot of people.
There are a couple of options when you reach the intersection signed for Sentinel Pass.
You could continue up to Sentinel Pass and then back to Moraine Lake – but you would have to hitchhike or arrange a car shuttle back to the Lake Annette trailhead. You could go up and back from Sentinel Pass and then onto the Giant Steps – where Paradise Creeks streams over quartzite slabs. Or you could nix the pass and simply do the loop that includes the Giant Steps.
There is the option too of camping in Paradise Valley. Be sure to reserve a backcountry permit 24 hours out.
Distance: 11.4 km (7.1 miles) return with an elevation gain of 250 m (820 feet) to Lake Annette; 20.3 km (12.6 miles) return and 400 m (1,312 feet) elevation gain for the full circuit
Time Needed: 4 – 5 hours or 7 hours for the circuit
Level of Difficulty: Moderate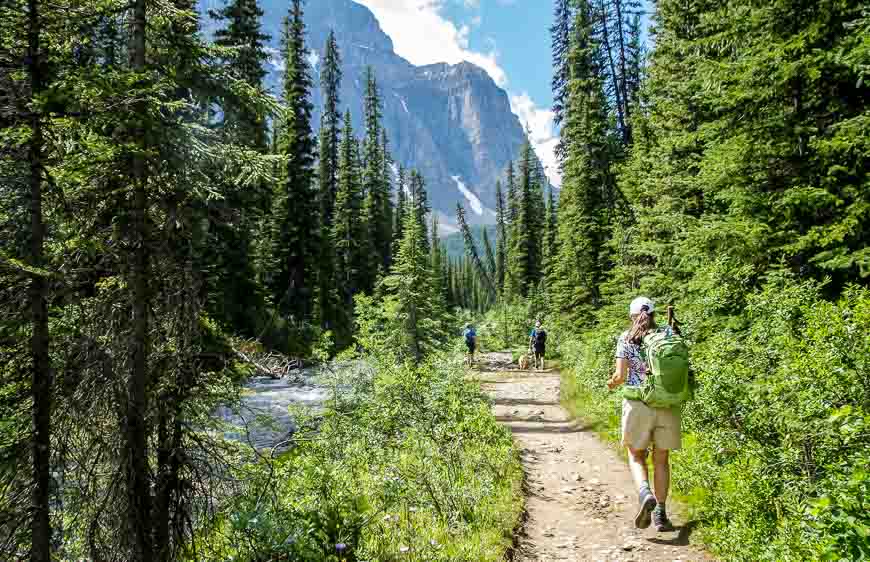 Where to stay in and near Lake Louise

If you want to be on Lake Louise it will cost you. The Fairmont Chateau Lake Louise enjoys the best views of the lake but with a price.

Deer Lodge is a more affordable option and just a short walk away from the lake. Their updated rooms are great.

Paradise Lodge and Bungalows, a kilometre from the lake would be another option.

In Lake Louise Village the Post Hotel and Spa is lovely and the food is great but it's not on the lake.

If it's cozy log cabins you're after check out Baker Creek By Basecamp.

An affordable hostel option is this one in Lake Louise.
Further reading on hikes in the Canadian Rockies
Click on the photo to bookmark to your Pinterest boards.